Given its ability to control several problematic garden pests, it's no surprise many homeowners want to know how to spread diatomaceous earth on the lawn. Diatomaceous earth is a naturally occurring substance that is highly efficient in achieving pest control. This powder destroys crawling pests on contact, yet it doesn't hurt your lawn, plants, food crops, family, pets, and beneficial insects.
Using DE on your lawn is straightforward and requires no special tools. The powder is usually available at the garden center and is cost-effective compared to chemical pesticide options.
The tiny molecules making up the powder are incredibly sharp. When pest insects contact diatomaceous earth, the waxy coverings on their exoskeletons are absorbed and scraped off, causing them to perish quickly. If you're struggling with fire ant and flea bites or notice your lawn becoming patchy and grub infested, a diatomaceous earth lawn treatment is an excellent solution.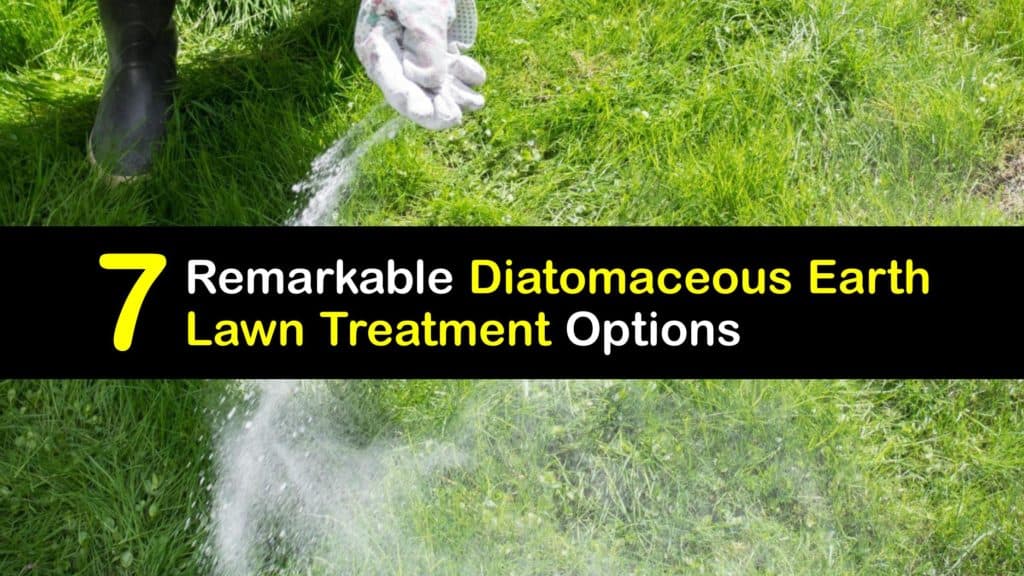 Using DE on Your Lawn
If you've ever wondered how to spread diatomaceous earth on the lawn for pest control, the answer is simple. Diatomaceous earth lawn treatment offers pest control against many annoying insects without using harmful substances. Using DE on your lawn is fast and effective.
Is Diatomaceous Earth Safe?
Though it looks much like white or cream talcum powder, diatomaceous earth is comprised of fossilized diatoms, the remains of a minuscule aquatic organism. Its skeleton is made from a naturally occurring compound known as silica.
Given its origin in nature and lack of toxicity, diatomaceous earth is safe to use and has many roles as a natural insecticide. Two grades of DE exist, each with differing uses.
Food grade DE is required for organic pest control as it is higher quality than pool grade and safer. Pool-grade diatomaceous earth undergoes high heat treatment, making it useless for pest control.
Diatomaceous earth poses no harm to beneficial insects like ladybugs, birds, and bees, and it won't hurt plants, including food crops. In fact, diatomaceous earth is good for plants and crops because it eliminates common pests. As contact is required for effect, DE works against crawling pest insects such as aphids, fleas, bed bugs, and cockroaches. Homeowners may safely use diatomaceous earth around pets and children.
How to Spread Diatomaceous Earth on the Lawn
Diatomaceous Earth or DE powder works through contacting crawling insects to remove the unwanted pests from your yard. Comprehensive coverage of diatomaceous earth over the grass is vital to ensuring the insect pest touches the powder.
As it's safe and non-toxic, DE powder may be spread by hand, as long as some simple safety precautions are observed. Distributing is best done on a dry day with no rain forecast for several days.
Working methodically from one corner of the yard where the infestation of unwelcome pests is worst, reach into the bag and throw out handfuls of powder, aiming to achieve a good cover as you gradually work back until the problem area is well dusted.
Specialized powder spreaders are available from most garden centers. If you purchase a spreader, load it with diatomaceous earth per the manufacturer's guidelines and use it to spread a generous layer over your lawn.
Preparing a DE Solution
If you don't have a powder spreader to distribute your diatomaceous earth or have a large surface to treat, it might be easier to create a DE liquid solution and use a spray bottle or large garden sprayer.
Combining diatomaceous earth with water does not reduce its efficacy in destroying insect pests; it does, however, offer a different method of application that some homeowners may find more convenient.
Shake the solution well to ensure the powder is combined, and add to your sprayer. Start at a set point and work over the grassy area, spraying slowly and carefully to ensure you achieve good dispersal.
Diatomaceous Earth Lawn Treatment for Ant Colonies
Finding an ant mound on your lawn is troublesome. Fire ants are aggressive insect invaders who leave stinging itchy bites on their victims, and their ant relatives are invasive and annoying. Before you purchase a chemical pesticide to address the ant issue on your lawn, consider using a natural solution and eradicate the ants using diatomaceous earth.
While a comprehensive treatment works to deter ants if you've already spotted a mound, colony, or ant trail, a more targeted application is best. To get rid of ants in your yard permanently, take your powder or DE solution and sprinkle or spray a thick layer directly onto any mounds or ant trails, and thoroughly cover the immediate area where any activity is seen to destroy the insects.
Diatomaceous Earth for Lawns and Flea Control
Among all potential garden pests, fleas are perhaps some of the worst to find lurking in your grass. These tiny black nuisance bugs lurk in your lawn, jump onto your family and guests to administer painful bites, and even make their way into your home via your pets.
With health issues such as flea allergy dermatitis and the diseases carried by the flea, it's crucial to rid your yard of these biting pests as soon as possible. Spread or spray diatomaceous earth over your lawn, and make a second pass focusing heavily on the most infested areas. As a welcome bonus, diatomaceous earth kill ticks in your lawn and other bugs too.
If you're unsure where the problem spots are, look for shady areas or places your pets spend a lot of time. Treat your pets with an appropriate flea remedy and check your home for flea activities to gain complete flea control.
Eliminate Lawn Grubs using Diatomaceous Earth
Lawn grubs or beetle larvae are unsightly white soft-bodied bugs often found in grass. They hatch in spring and early summer months. Though they don't bite, their presence is unsettling, and most people are eager to remove them from their lawn. Although they generally cause no threat to humans, they quickly destroy grass if left unchecked.
Diatomaceous earth is a perfect natural solution to eradicate lawn grubs and stop them from feasting on the roots of your grass until your lawn withers and dies so use as natural grub worm killer. Whether you've seen the grubs or notice dry brown patches of grass indicative of their presence, cover your entire lawn in a generous layer of DE powder or spray to destroy them.
Precautions When Handling Diatomaceous Earth
Any dust or powder product, including dry diatomaceous earth powder, may be dangerous if breathed in significant amounts. The delicate tissues of the respiratory system might be irritated by the dust's rough edges, so precaution is necessary when working with diatomaceous earth. Use safety goggles and a dust mask to protect against irritating particles.
It's also crucial to realize that diatomaceous earth is not a quick-acting pesticide because it is not a strong chemical. When you use diatomaceous earth dust for insect control, it's normal to take a few days before you start to notice a difference in your yard.
Diatomaceous earth powder is safe, non-toxic, and straightforward to use to deter pests and make your lawn a fun place to hang out again. Whether you're looking for a natural pest control option for fleas, ants, and other pests in your grass, or you prefer to use a pesticide safe for children and pets, DE powder is ideal.
For questions about diatomaceous earth lawn treatment, consider contacting the National Pesticide Information Center for further support and guidance on using this organic pest treatment for your lawn pest control needs.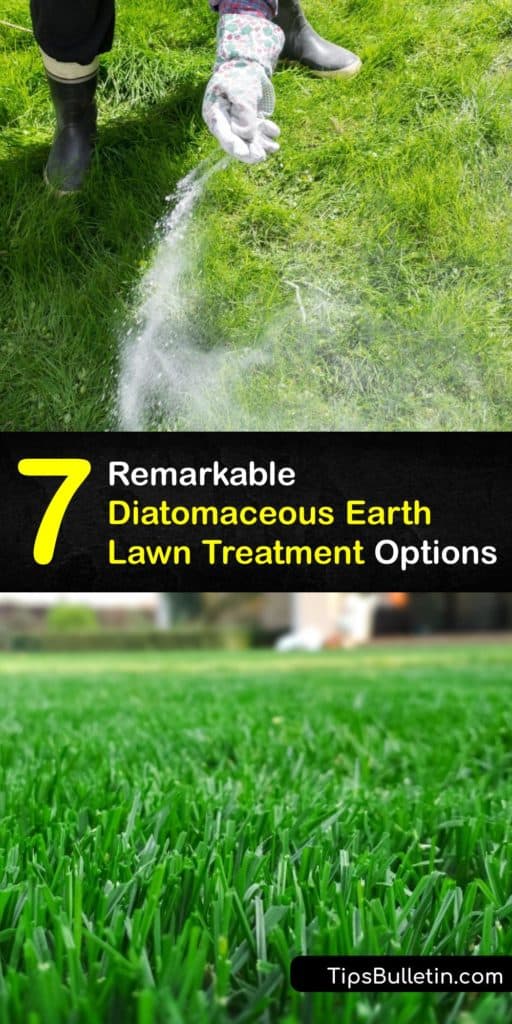 If you loved this article on how to spread diatomaceous earth on the lawn, please share these brilliant tips for using DE on your lawn with your friends and family on Pinterest and Facebook.