Bamboo is a fantastic hypoallergenic material for sheets and pillowcases that works exceptionally well when paired with memory foam pillows. But the bamboo fibers that do such good work keeping you cool and comfortable get dirty and cleaning the fabric without harming it can be tough. Understanding how to wash bamboo pillows ensures that you and your loved ones enjoy peaceful nights and wake up on clean and comfortable bedding.
When you know the tricks to washing a bamboo pillow, you sleep comfortably and with confidence. Our article gives you fantastic cleaning tips and answers the question, "Can you wash bamboo pillows?" with a resounding yes.
This guide provides you with suggestions for regular cleaning and supplies bamboo pillow washing instructions to break out when you encounter a tougher cleaning challenge, too. With our recommendations and some elbow grease, you have a response ready for any bamboo pillow cleaning problem you encounter.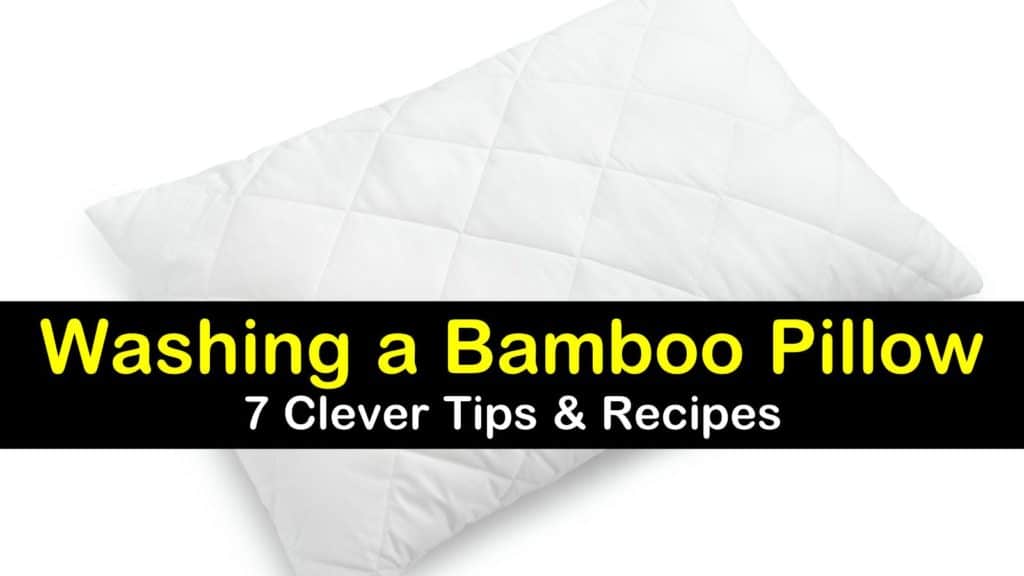 Washing a Bamboo Pillow
Washing items made from specialty fabrics and interiors requires different care than standard cotton or polyester. You take care of washing a down blanket differently than one made from fleece.
When we talk about the best way to wash pillows made from bamboo, we refer to getting both the memory foam pillow and the bamboo-fabric pillowcase clean and smelling great.
A good washing regimen uses standard cleaning approaches for regular wash days. There are lots of cleaning methods that leave bamboo cloth and memory foam as pristine as the day you bought them without causing wear or other damage.
Bamboo Pillows – Regular Cleaning
This section addresses ways of getting bamboo pillows clean that won't harm them. These cleaning options are perfect additions to your daily or weekly cleaning schedule and are just the thing to get your cushions back to like-new condition.
We include tips for how to use the sun to keep your pillows clean, and you also get a great natural dust mite spray recipe. Our low-impact cleaners do the job and leave your cushions looking beautiful.
Air Out the Pillow
One of the primary bad-smell sources from bamboo pillows is off-gassing. When you open a package of Miracle bamboo pillows from Amazon Services or another seller, the pillows are generally fresh from the factory and have a strange smell.
To get rid of the smell and ensure that folks who use them experience a pleasant night, air out the pillows thoroughly as part of your cleaning schedule. A regular airing-out keeps the pillows smelling sweet and clean and results in positive pillow reviews for the manufacturer.
A big production isn't necessary when you have a planned program to air out pillows to remove bad smells. No need to hang the cushions on a clothesline for this process, either.
Remove the pillowcases and place them and the pillows in a spot with good airflow. Nature does the rest of the heavy lifting and takes care of any lingering smells. If you set your pillows out to air for an hour a week, they stay clean and odor-free.
How to Wash Bamboo Pillows
Bamboo might seem to be a tricky fabric to wash when you read the care instructions, but a little attention ensures that your bamboo pillowcases stay in great shape for years. If you encounter stains on the pillow cover fabric or are cleaning up after you've had a visitor sleep on the pillows, a trip through your washing machine takes care of the issue.
A machine wash with cool water temperature is the perfect solution to clean vomit from mattress covers without a problem, and it's ideal for keeping pillowcases clean. Open the zipper, remove the pillow, and get ready to wash the pillowcase. Unless you have enough pillowcases for a full load, add them to an existing load of like-colored fabrics.
Wash the laundry on a gentle cycle in cold water, and use the mildest detergent possible. Dry washable pillowcases in your dryer with no or low heat or air dry them on the line if you're concerned about potential wear.
Spray the Pillow to Prevent Dust Mites
Memory foam and bamboo fabric are excellent materials for pillows, but over time, dust and dirt in your home can introduce critters into the pillows that cause breathing problems and destroy your sleep.
Dust mites love the nooks and crannies in memory foam and are happy to set up house if given the opportunity. Deny the parasites their home and keep the entire pillow smelling beautiful with regular treatment with a DIY dust mite spray.
Combine the essential oils and water in a spray bottle. Give your bedding a light misting with the spray once a week, and allow it to air dry. Clean feather pillows in the same way and get them smelling fresh without damaging the interior.
Remove the pillowcases and spray the pillows directly if you're concerned about an infestation. Regular sprayings keep mites and other critters at bay without impacting the foam's ability to maintain your sleep position. It can also be effective as one of the home remedies to get rid of bed bugs, too.
Put Your Pillows in the Sun
Some dust-mite infestations require a little more treatment than a spray down, unfortunately. No worries, though; one of the best disinfecting agents around is in the sky, waiting to show off its stuff. There's truth in the old saying about sunlight being a disinfectant, and it's an ideal cleaner for bamboo pillows.
A regular dose of sunshine removes dampness and discourages dust mites and mildew from setting up shop in your pillows. It's a great way to wash a memory foam pillow without using any cleaners. Using specially designed pillow-hanger clips is the best way to hang your pillows in the sunlight, but regular clothespins do the job in a pinch.
Hang your pillows in the sun once a month to kill off dust mites and remove any lingering humidity that might encourage mildew and infestations. Don't leave the cushions in the sun all day after they dry, as too much sunshine can break down the memory foam. After their sun treatment, fluff the pillows, cover them and place them back on the bed.
Of course, you need to take a different approach when you clean outdoor cushions as they get the fresh air they need all the time anyway. Spot treat stains as they occur and fluff in the dryer occasionally to eliminate traces of pollen and dirt.
Can You Wash Bamboo Pillows?
Regular cleaning methods keep your pillows in fantastic shape for a long time, but some stains and odors require harsher measures. If you encounter a bamboo pillow with stubborn stains or bad smells, it might be time to pull out a hardcore cleaning choice.
Having a few robust cleaners ready to go saves you time and heartache and helps you to have clean pillows ready for your next guest.
Heavy-Duty Cleaning Options
This section shows you how to wash bamboo pillows when they get too dirty or infested for your usual cleaning approach. We give you cleaning solutions that use plain water and detergent, and you also get instructions on the best way to soak your pillow to deal with ground-in dirt, oil, and mildew. Our support helps you maintain beautiful bedding and ensures that your family sleeps comfortably.
Hand Wash the Pillow in Plain Water
Washing memory foam and bamboo covers can be daunting because the foam sucks up water and holds onto it. The added humidity can make matters worse than before you started cleaning.
It's safe to get your pillow wet if you know what you're doing, though. A proper hand washing gets your pillow clean and ready for more use.
Immerse the pillow covers and pillows in a basin of water no hotter than body temperature, and put on the gloves. Use your hands to agitate the cushions and covers. Wring the pillow out a few times as you work. Rinse thoroughly with clean water, and hang the washed items to air dry. Treat your pillows to a water cleaning at least once a year.
Wash Your Pillows in Detergent
Water by itself often cleans your bamboo pillows, but some stains require a tougher cleaner. A mild laundry detergent fits the bill perfectly in these situations and leaves your cushions in fantastic condition.
If you encounter a pillow that needs some extra TLC before going back into service, try cleaning it with laundry detergent or a specially formulated pillow cleanser.
Put on your gloves, and add a teaspoon of gentle detergent to your bowl of water. Never use bleach, which can damage memory foam. Add the pillows and cases, and agitate them thoroughly.
Rinse the items thoroughly in clean water to remove any trace of soap. The cushions should be damp but not soaked when you finish rinsing and wringing them out. Hang the covers and pillows to air dry them.
Soak Stubborn Stains
Even the most conscientious homemakers run into bamboo pillows and related products with persistent stains or odors. It can be tempting to toss your soiled pillows and make a new purchase, but that costs you money and time.
It's possible to bring your bamboo pillows back from the dead using nothing more than water, detergent, and patience. A good soaking can cure your pillows of all sorts of ills with the proper care.
Add detergent to the water and immerse your pillowcases and whole pillows in the same manner as when you hand wash them. After you agitate the items thoroughly, let them sit in the soapy water for half an hour.
Rinse the pillows and covers completely, and wring them out to keep them from being waterlogged. Let the clean bedding dry out before fluffing and returning it to use.
We hope you had an educational adventure reviewing our answers to the question, "Can you wash bamboo pillows?" Bamboo viscose pillowcases over memory foam are the perfect combination and ensure that you'll experience a deep sleep and sweet dreams.
But bamboo pillows can get dirty, and it can be a challenge to get them clean again. Our guide shows you the best options for washing a bamboo pillow so that you're never caught with dirty bedding again.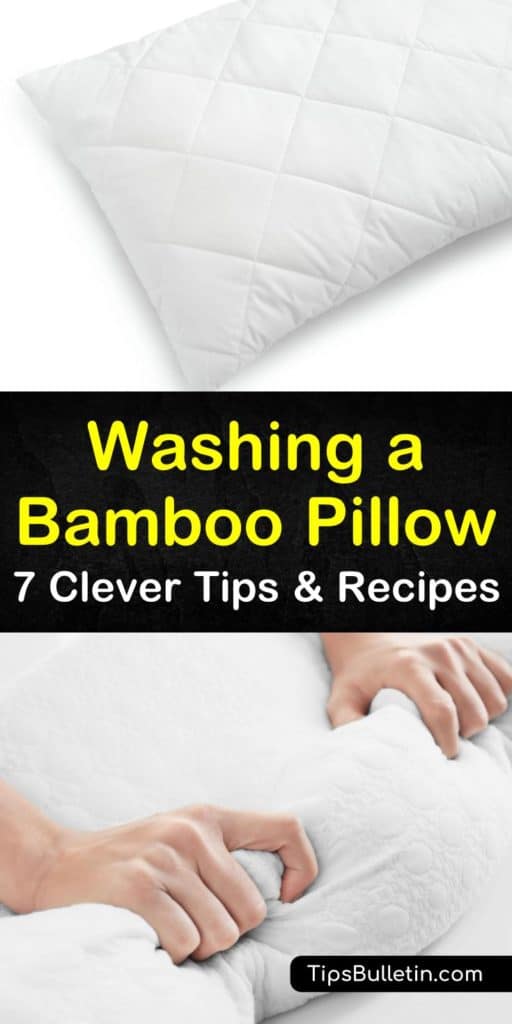 Thanks for reviewing our pillow-cleaning suggestions. If you enjoyed finding out about how to wash bamboo pillows, Facebook and Pinterest are ideal venues to share information on cleaning pillows.