Bedding is the icing to most bedrooms. Comforters and pillows are soft, comfortable, lush, and warm. Cleaning them is no easy task, which is why most people clean them professionally.
Are you looking to save money on dry cleaning services but still want your dirty and dusty down comforter cleaned? Just like regular clothes, shoes, and toys, you can wash your comforter in the convenience of your home. Not only will you save money, but you'll assure yourself nights of safe and clean sleep.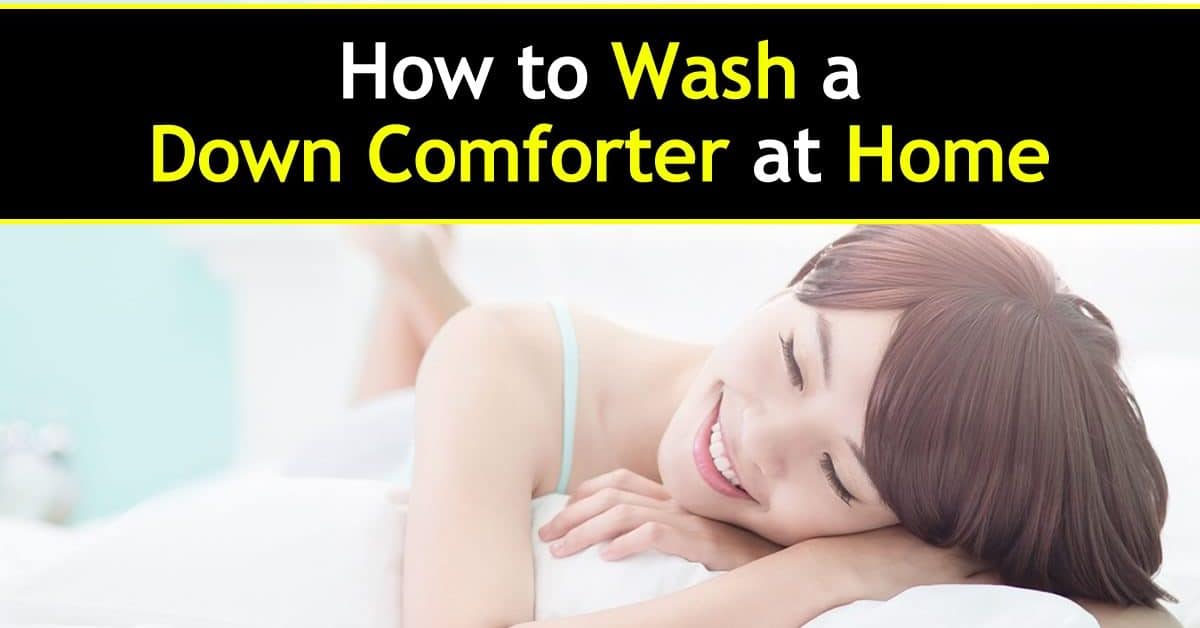 In this article, you're going to learn how to wash a down/feather comforter at home, and how you can wash pillows at home.
Washing a Down Comforter at Home
Washing polyester blankets is easy at home. Throw them in the washer and dryer and you have a clean blanket. However, cleaning a down comforter is a little different.
While you should have your comforter cleaned professionally every few years, this brings up a problem: it will probably become dirty before then. So you might want to consider washing it at home, which will save money and keep dust at bay.
If you want to clean your down comforter at home, here's how you're going to want to do it. First, make sure to keep an eye on your comforter while it's on your bed.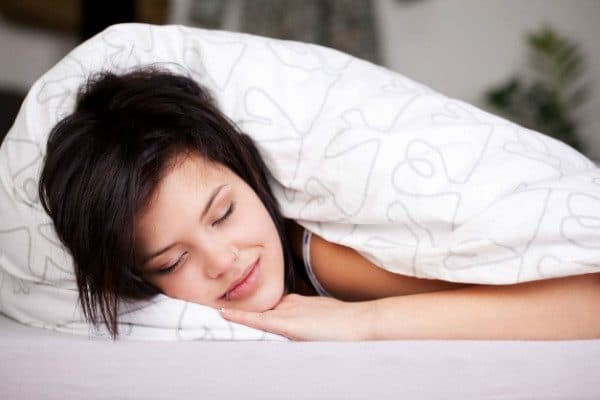 Manufacturers use the feathers of geese, ducks, and other soft birds in down comforters, so if you're finding feathers around, it probably means your comforter has a hole in it. Stitch up these holes when you find them, and while you're at it, take the spot-cleaner to any small stains.
Before you clean the comforter, check your laundry machine. If you have a front-loading, heavy duty washing machine, then you should be good. If you have a top-loading washing machine, you'll want to consider taking it to a laundromat.
Top-loading washing machines have agitators that can injure the comforter during the cleaning process. Even if you do have a front-loading, heavy-duty washing machine, check to make sure that the material sits comfortably inside; you don't want it "jammed" in there.
If you have the owner's manual, check it for the recommended size. Otherwise, do a quick Google search of the make and model of your washing machine to find the manual online.
Complete a cursory check to detect bed bugs in the comforter, then use a mild detergent and briefly run the machine before you put the comforter inside. Letting it run allows the water to mix with the detergent, resulting in a more thorough clean.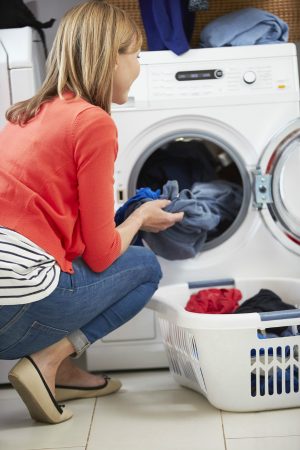 Double up on the rinse cycle, because comforters can absorb a lot of soap. If you think of it, interrupt the cycle right before the spin cycle and squeeze out some of the water, which will help lighten the fabric.
For drying, pull out the comforter. You'll notice that it may look flatter and smoother than usual. An unusual appearance is typical. If you're washing a white comforter, the fabric might appear stained when you pull it out. The material will return to its regular white once dry.
Consider letting the comforter air dry before putting it in the dryer, but make sure you have plenty of time to do so. Down takes a long time to dry, so you'll want to stick it in a warm, dry place (out in the sun is ideal) and have plenty of patience. Exposure to sunlight is also what kills dust mites naturally so you effectively kill two birds with one stone!
Move the comforter to a machine dryer once it has started to dry. Use the low heat setting so to avoid shrinking. Check while it's drying, first and foremost to fluff the fabric, and secondly to check for any clumped down.
Clumpy down means the down is still wet and needs more time. Last but not least, wait until the comforter is dry. Again, patience is key here.
Depending on the heat level of the dryer, you could be looking at anywhere from 4 to 12 hours for the comforter to dry. Once it's dry, stick it on your bed. Your down comforter is now fresh, clean, and ready for the evening.
While these instructions work quite well to take care of your down comforter, you can also clean couch cushions in the same way. However, if the covers are not removable, you can spot clean most ugly stains with some dish soap, vinegar, and water.
Can You Wash Pillows at Home?
Can you wash pillows? Yes. Pillows are just like comforters, and no matter how they appear or come, you can always wash them. Pillows attract dust over time and need cleaning.
Additionally, you can clean throw pillows in much the same way, depending on the material and any embellishments. Many throw pillows have removable covers that make cleaning them easy.
Regular Pillows
Start by removing the pillowcase (or sham). Additionally, inspect your pillow to see if there's a zipper. Certain types of pillows have zippered cases that should be removed and washed in a separate load.
The way to wash down pillows or other types is to place them carefully in your washing machine. Try to do at least two pillows at a time so that the load is balanced.
Add the detergent and pillows to the machine. If your pillows are white, you can also add a mixture of dishwasher detergent, bleach, and Borax to make your pillows shine white and get yellow stains out of pillows.
Start the wash cycle and your washing machine will handle the rest. Unlike with comforters, you can use warm water. Consider sending it through a second rinse cycle, just to make sure all of the soap leaches out of the fabric.
How you dry your pillows depends on their design and the filling.
Down pillows: If you have down (feather-filled) pillows, use the air-dry setting.
Synthetic pillows: the synthetic material can degrade in high heat, so use the low heat setting.
Once the cycle finishes, inspect for any excess moisture. The last thing you want to do is stick wet pillows on your bed and have them develop mildew while your face is on them.
Feel around for spots of dampness and smell the center to see if you can detect any moisture. If you do, put them back in the dryer. Otherwise, your pillows are ready to go.
Memory Foam Pillows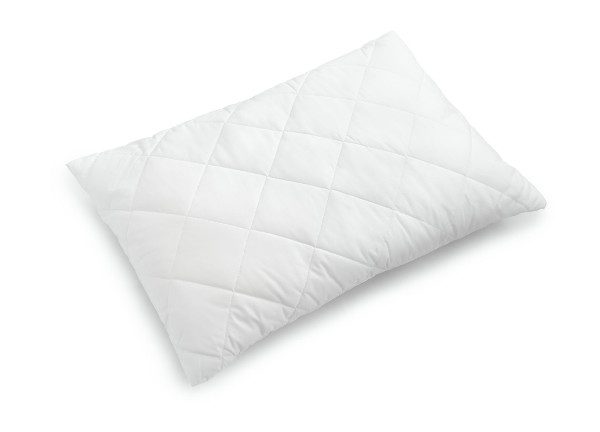 Can foam pillows be washed to get rid of stains and odors? Yes, you can wash memory foam pillows and clean a memory foam mattress, but bear in mind that you'll need to wash them by hand. Washing machines tend to be hard on memory foam, so manually cleaning them is the better option.
Just like with regular pillows, remove the cases/shams. You can wash these in a machine as usual, in most cases. Next, find a tub and fill it with enough warm water to submerge the pillow. You can also use your sink if it's clean enough and big enough.
Add liquid detergent like you would with a machine washer. Add about a tablespoon for each pillow, so if you have two pillows, add two tablespoons. Use your hands to "agitate" the mixture.
Work the soap into the pillow as though you're giving it a massage. Squeeze and squish it. Make sure the material is getting a thorough treatment. It may take some extra time to do an adequate job.
When you've reached a satisfactory point, start rinsing. Bear in mind that the rinsing process will probably take longer than the washing process because you want to make sure to remove any excess soap. Keep an eye on the water as it drains from the fabric, and even when it looks clear, spend a few more minutes to be sure. You want to make sure you're through.
Avoid drying the pillow in a machine, because the high heat of a dryer can damage the memory foam. Instead, place it on a towel in a dry place. If you have the option to do so, leave it in the sun.
Let the pillow to dry for a while, and before you bring it back to your bed, examine it carefully for signs of dampness. If there's any doubt, leave it to dry some more. The last thing you want to do is put your pillow on your bed only to find out that it's growing mildew.
Sleep Well, Sleep Clean
Washing your comforters, duvet cover, and pillows is necessary if you want to have safe and clean living and sleeping conditions. While the task may seem to be difficult at first, you have seen how the right know-how and preparation makes washing your bedding an easy and stress-free affair.
In this article, you learned how to wash a down/feather comforter at home. You also learned that pillows are washable, and you learned how to wash regular down pillows as well as memory foam pillows.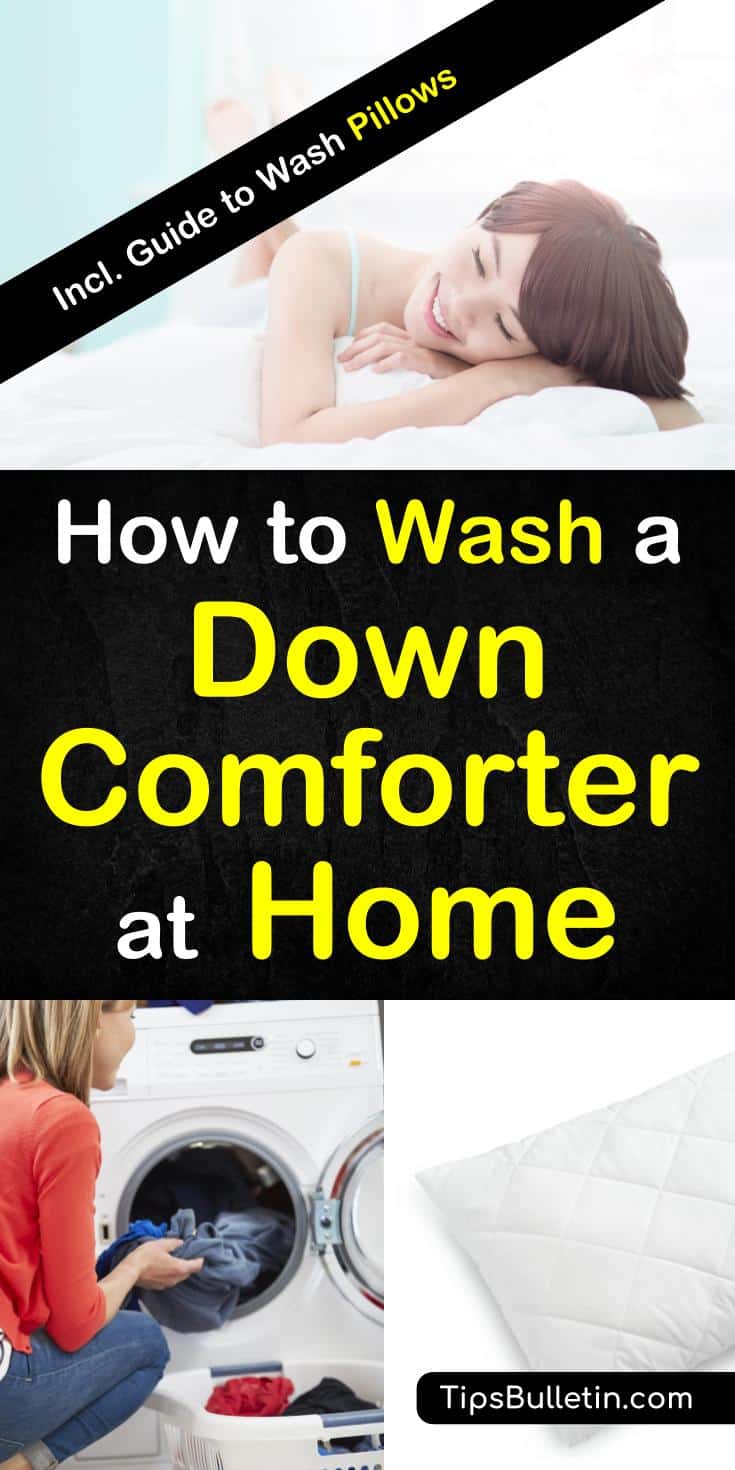 Do you know someone who could use some tips on how to clean their bedding? Use the buttons below to share about how to wash a down comforter at home to Facebook, Twitter, and Pinterest.