Creating a natural border around a garden, yard, walkway, or driveway is a great way to add eye-catching texture and structure. Short hedges provide a soft visual barrier between areas while adding natural beauty to the yard. While it's easy to think that evergreens take up a lot of space, there are quite a few low growing evergreen shrubs for borders.
Edging shrubs add structural appeal to focal points of the yard while creating a natural flow to the space. Most people think of boxwood when considering planting shrubs for borders, but there are quite a lot of other evergreens that are perfect for creating a natural barrier in the yard.
Many evergreens even produce flowers and black berries or bright red berries, such as the holly, or ilex, for seasonal interest. Here, you can find evergreen trees to grow quickly around your property for a beautiful border.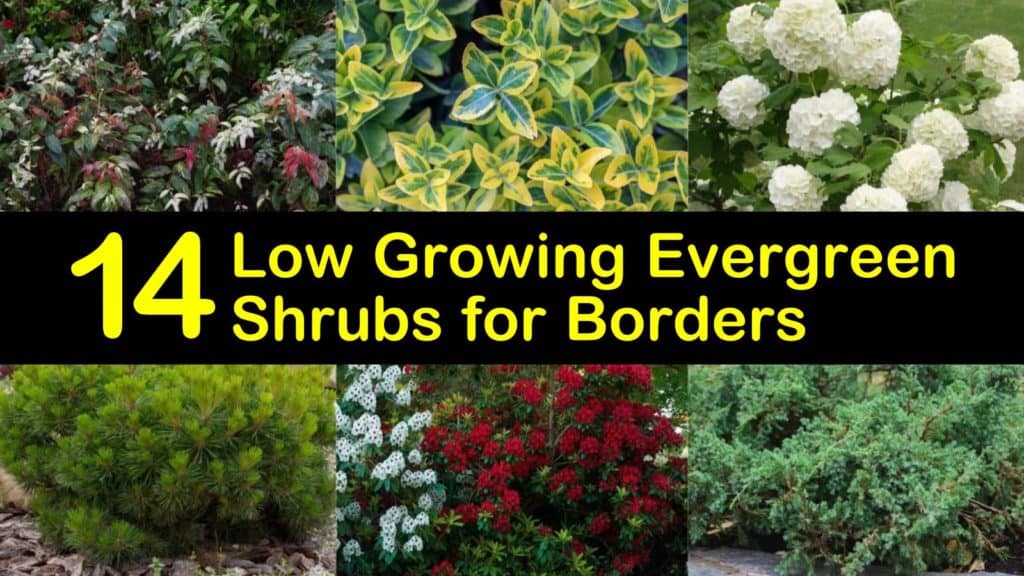 Edging Evergreens for Garden Borders
Before you run to your local garden care center and pick up low growing shrubs, there are a few things to consider. The amount of space you have in your yard, which hardiness zone you live in, how much sun your backyard receives during the day, and placement are all crucial factors when choosing evergreen bushes.
What is an Evergreen shrub?
Some evergreen shrubs have needle-like leaves while others have simple leaves. Both types of evergreens are shrubs that stay green all year round no matter what the temperature or weather conditions.
Their never-ending greenery makes them ideal as a natural fence, garden border, or edging along the yard. Unlike evergreen trees, shrubs are smaller and generally rounded, with several stems growing from ground level rather than a single trunk. Read on to find small pine trees for your front yard that will enhance your landscaping.
Do Evergreens Grow Anywhere?
Evergreens grow just about anywhere and are easy to grow. The key to growing these types of shrubs in your area is to determine your USDA hardiness zone. Each zone determines which kinds of plants grow for specific locations.
The hardiness map is broken up into numbered sections based on the average annual winter temperature and is useful for choosing the right shrubs for your area. While most evergreens tolerate full shade, they grow best in part shade to full sun.
Where Should I Place Border Evergreens?
Border evergreens are a great way to separate specific areas of your yard. Consider growing hedging plants around a flower bed to accentuate the garden along the walkway to your front door to create a stunning path between the driveway and your yard or around your home as foundation plantings.
Border shrubs are also an excellent way to separate your yard from your neighbors without being intrusive. If neighbors, wildlife, or someone else's pets are a problem, think about privacy shrubs with thorns to deter unwanted visitors from entering your property without an invitation.
Shrubs for swimming pool landscaping not only add beauty to the area but shield it from potentially prying eyes.
Are Evergreen Hedges Easy to Maintain?
While evergreen shrubs are easy to maintain, they do require routine care to thrive. Water and feed your plants regularly to encourage root development and good plant health. Prune the evergreens as needed to help the shrubs keep their uniform shape, keep them tidy, and promote bud growth near the plant's edges.
When shearing your hedges, make sure to keep the bottom wider than the top to prevent lower branches from losing foliage. Use mulch around your shrubs to prevent the soil from drying and discourage weed growth.
Yew (Taxus bachata)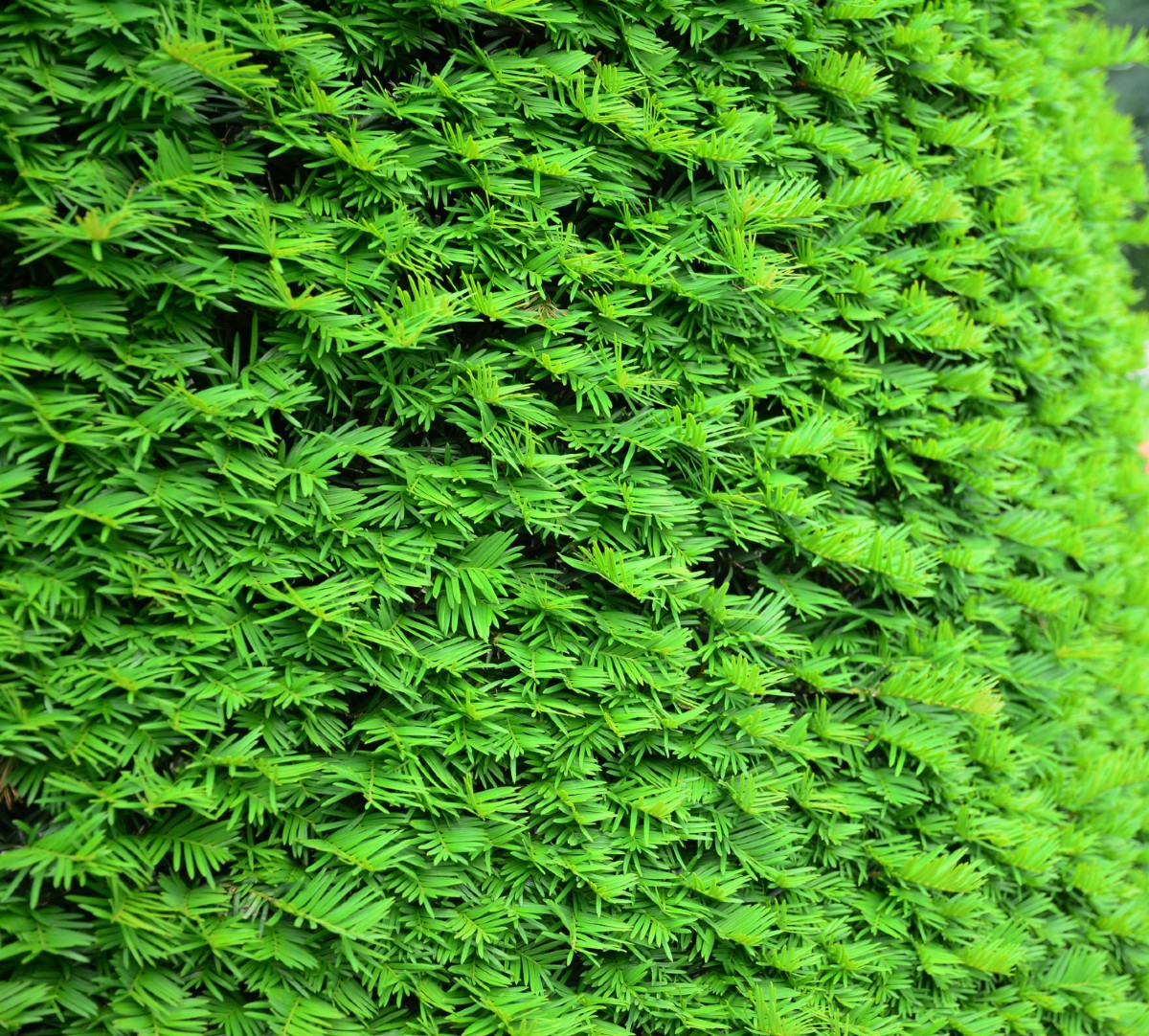 The yew is a long-lived shrub that comes in many low growing varieties, making it ideal for hedging around a garden or pathway. It has soft-needled green foliage with occasional red berries that are toxic to people, but birds enjoy eating.
Yews are small green shrubs that are easy to prune and shape and are tolerant of many conditions, including drought. They thrive in zones 4 through 7 and grow well in both shady and sunny locations. The average height and width of low growing varieties is 4 feet.
Azalea (Rhododendron) – Low Growing Evergreen Shrubs for Borders with Colorful Blooms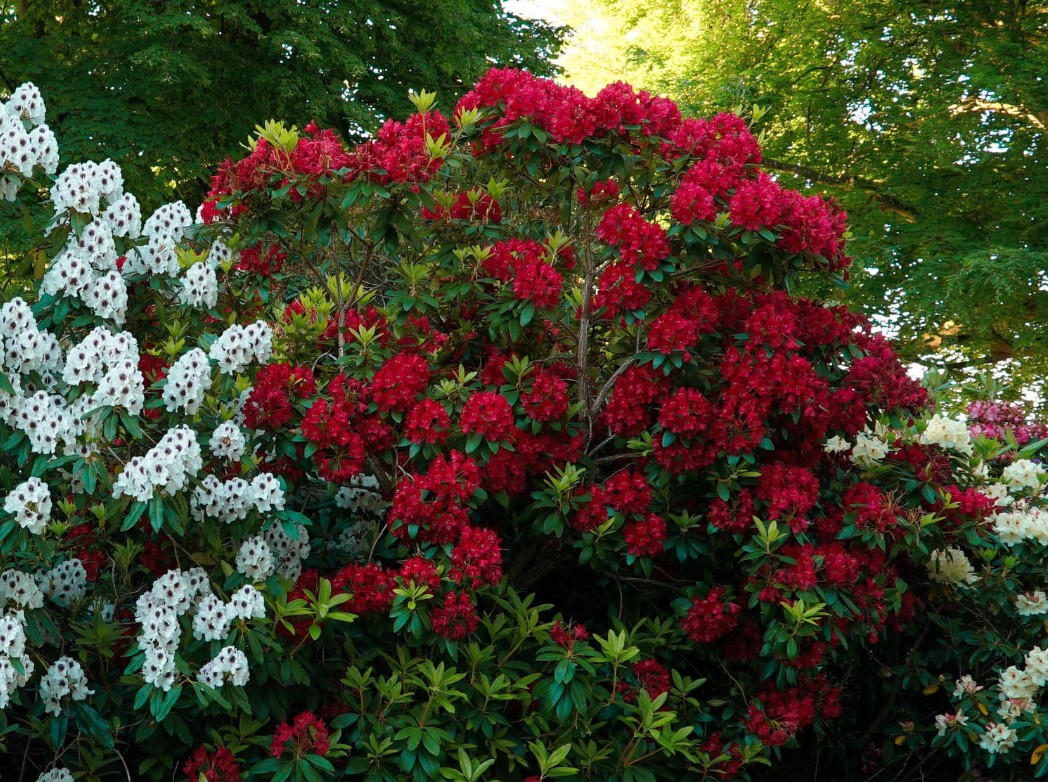 Azaleas come in deciduous and evergreen varieties and produce profuse blooms of varying colors in the spring. The fragrant colors range from purple, red, and orange to white, yellow, and pink flowers. They have broadleaf foliage in deep green shades. Although they only bloom for a short time, the display is breathtaking.
The evergreen varieties grow to a height of 6 feet or less and have a mound-like shape, making them an ideal border shrub for the yard. These easy shrubs to grow are deer resistant, enjoy partial shade, and grow best in zones 3 through 9.
Rainbow Leucothoe (Leucothoe fontanesiana)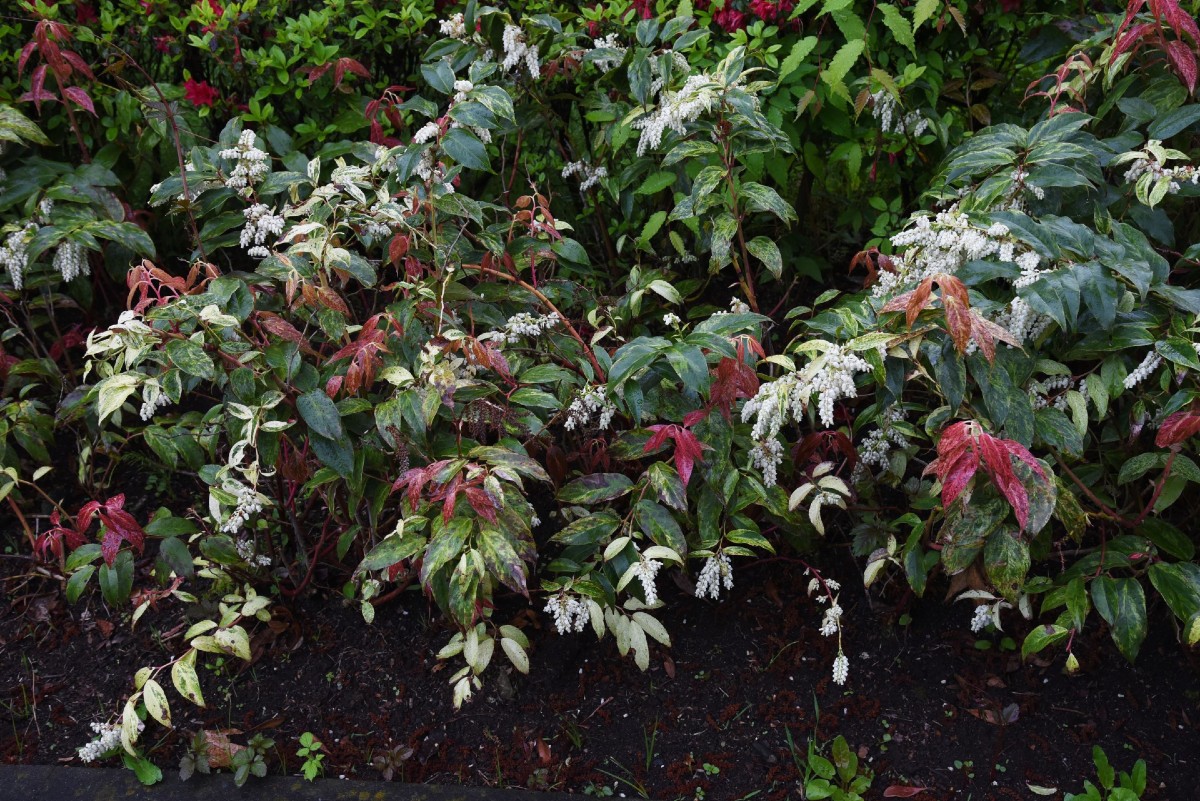 This hardy evergreen shrub requires very little care with variegated foliage that provides a splash of color to the yard in shades of green, pink, bronze, and cream. Its leaves are thick and grow on 2-foot long drooping stems, giving the shrub a whimsical look.
This bush requires acidic soil for optimal growth and thrives in zones 5 through 8. It grows best in wet areas of the yard and tends to spread quickly. The rainbow leucothoe grows to a height of 3 to 5 feet and produces clusters of flowers.
Boxwood (Buxus) – Traditional-Style Evergreen Border Shrub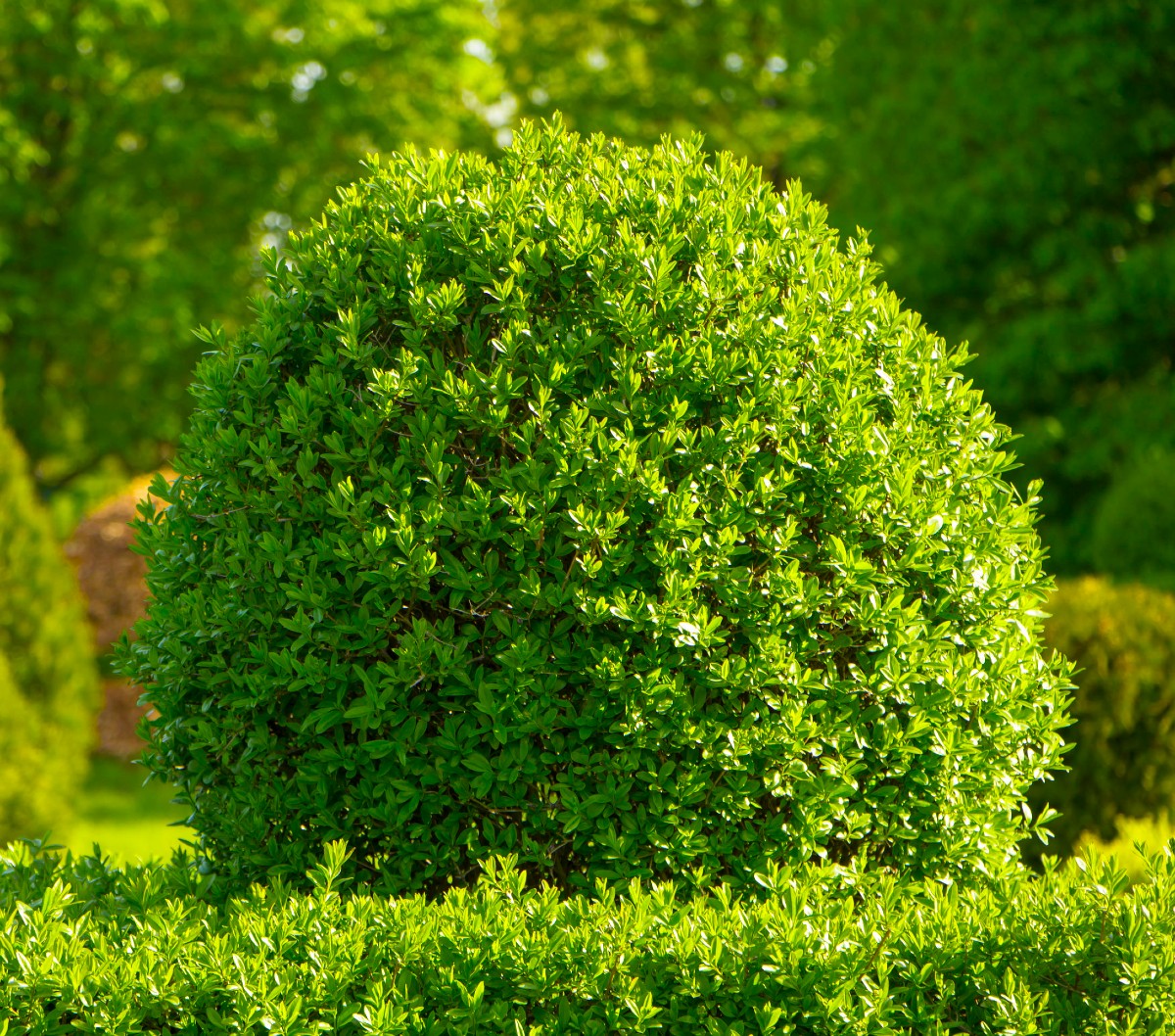 Boxwood is a traditional shrub enjoyed in formal gardens. It is easy to manipulate and maintain into different sizes and shapes, making it the perfect shrub for edging. It has glossy green leaves, which give it an elegant appearance.
It's easy to keep boxwood at the height of 1 to 3 feet, depending on the type and amount of pruning it receives. This deer resistant shrub thrives in zones 4 through 8 and enjoys part to full sun.
Arborvitae (Thuja)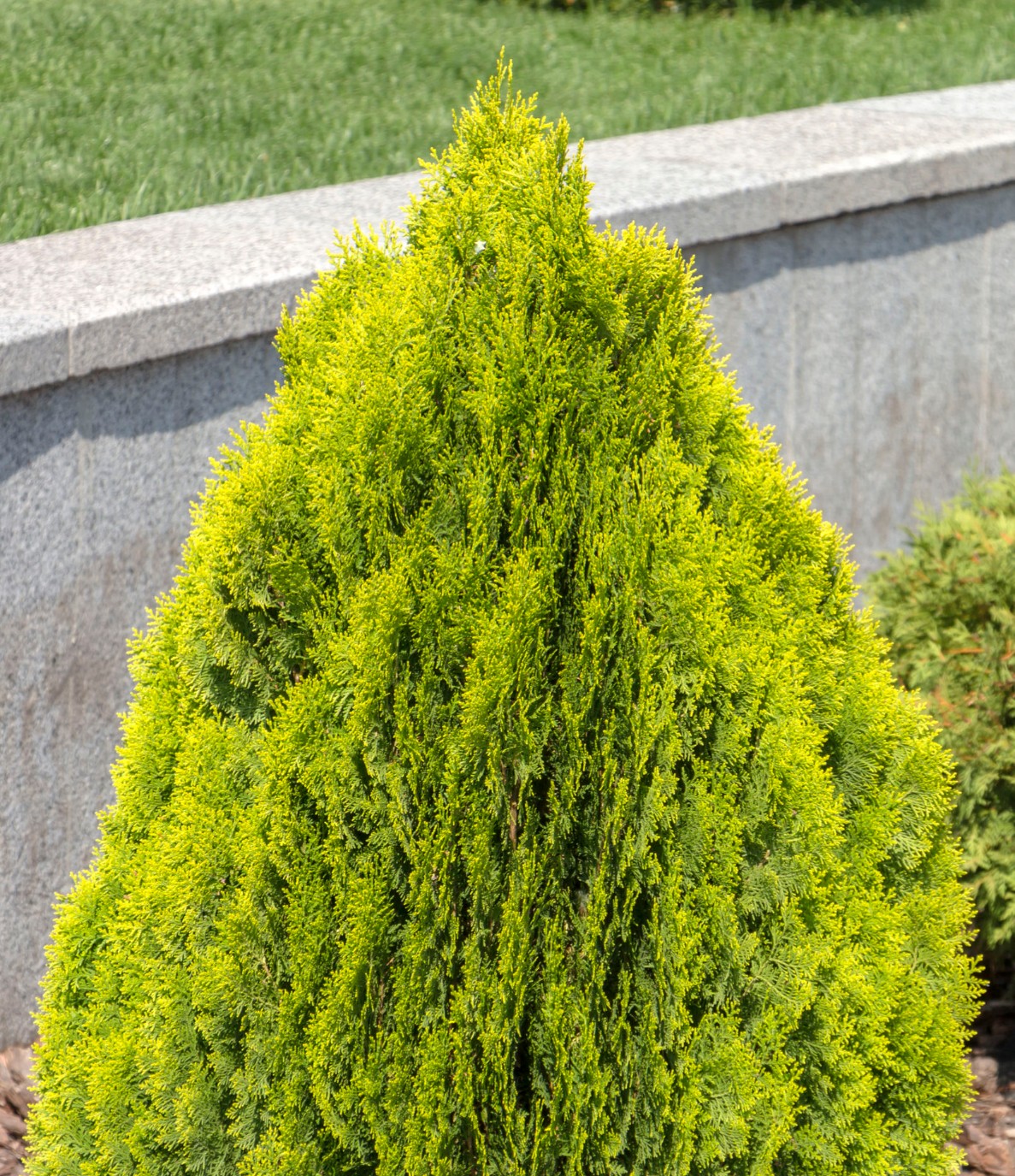 This popular shrub is a favorite for use as a border or hedge because of its fast growth rate and hardy appearance. It has dense green foliage that takes on a bronze cast during the fall and winter months.
Arborvitae is drought tolerant and deer resistant. This bush thrives in zones 2 through 7 and enjoys part to full sun. The smaller varieties have a trim, pyramidal shape, which gives it a regal appearance as a border shrub.
Yucca (Yucca filamentosa) – Flowering Evergreen Shrub with Unique Flair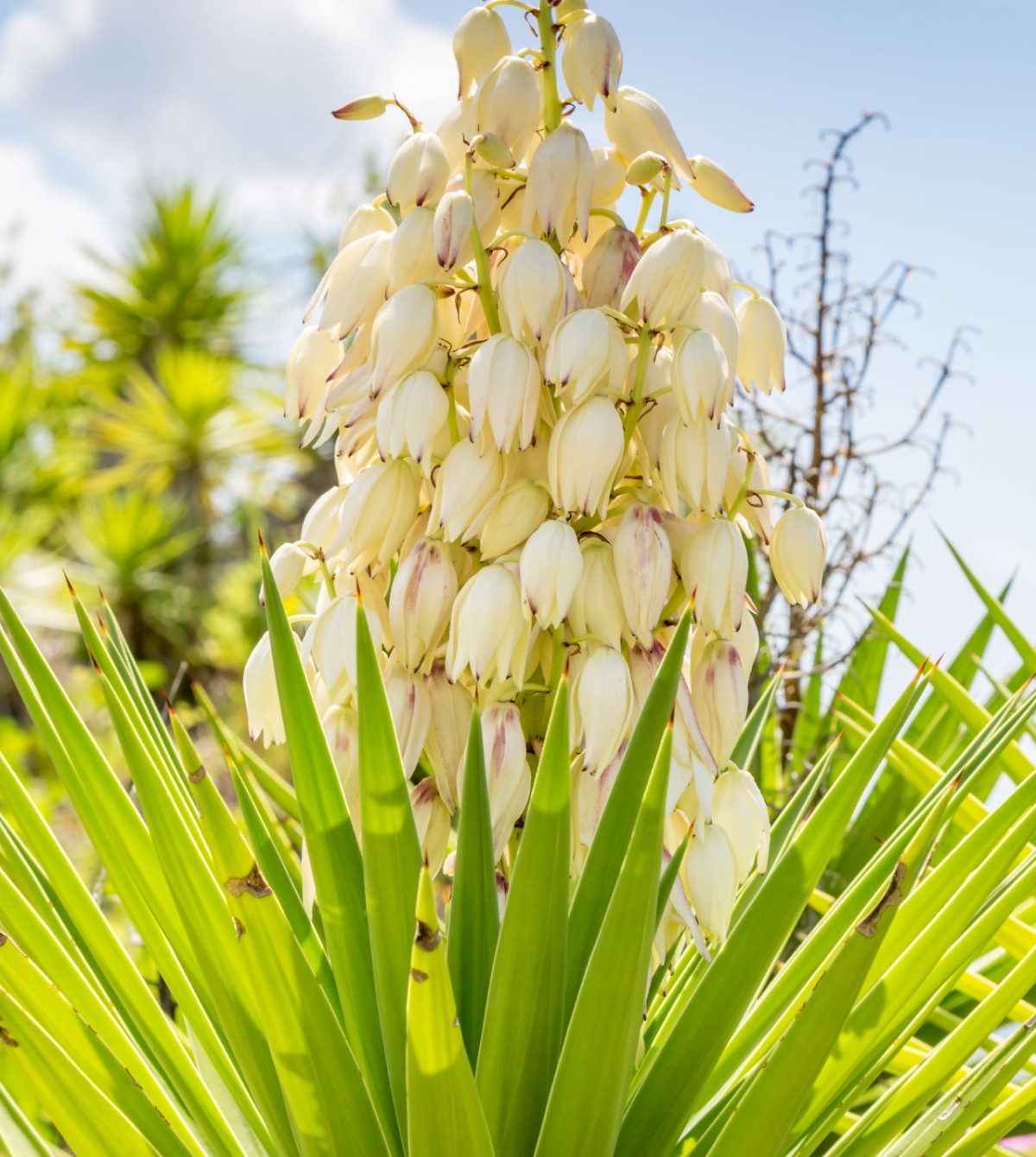 Yucca is a robust plant that you probably don't associate with evergreen bushes. However, this plant is a unique addition to any border area. It has long blades of evergreen foliage and produces tall candelabra-like blossoms in white and pink shades throughout the late summer and fall.
Small varieties of Yucca grow approximately 3 feet in height and 3 feet wide. These low maintenance plants are deer resistant and drought tolerant and thrive in full sun areas in zones 4 through 11.
Barberry (Berberis)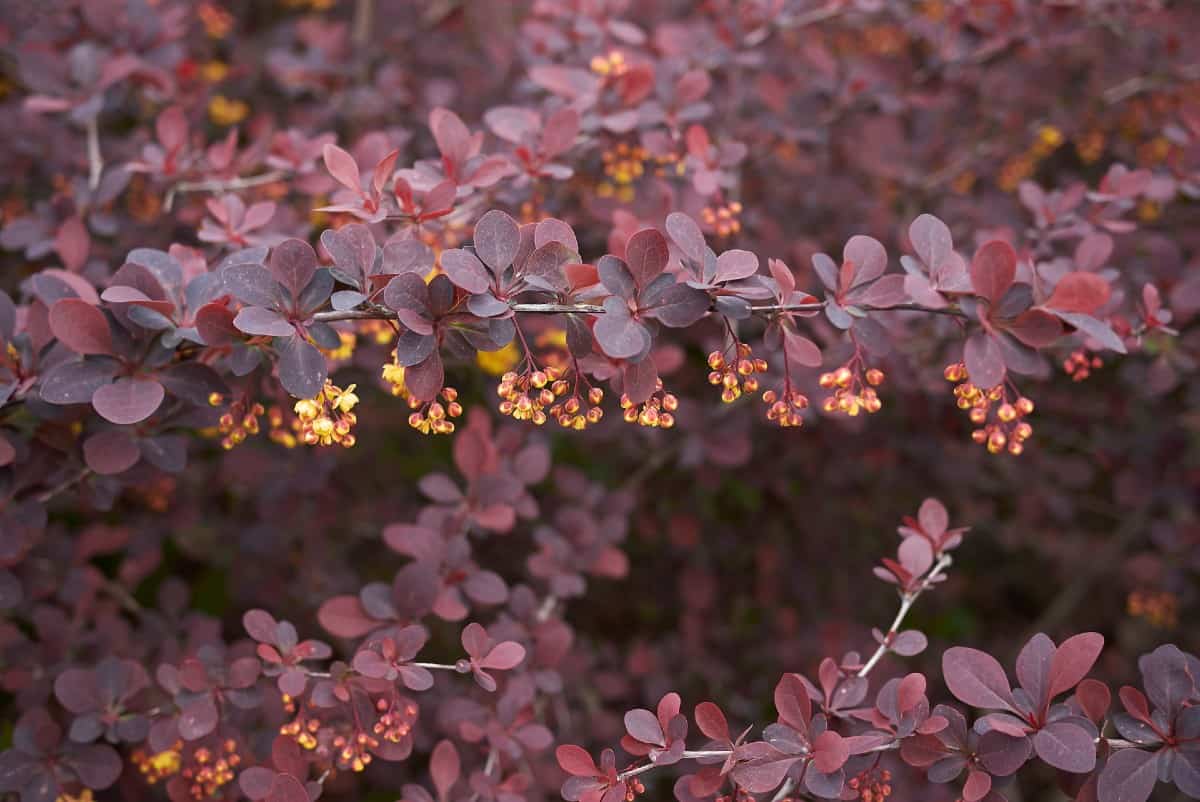 This classic shrub provides interest to the yard throughout the entire season with its vibrant foliage. Its evergreen leaves add consistent color to a border in shades of green, yellow, and rich burgundy.
Barberry is a tough hedge plant that thrives in zones 3 through 9. It has an average height and width of 5 feet and enjoys partial to full sun. This low maintenance shrub is deer resistant and drought tolerant.
Euonymus (Euonymus fortunei) – Natural Border with Colorful Fall Foliage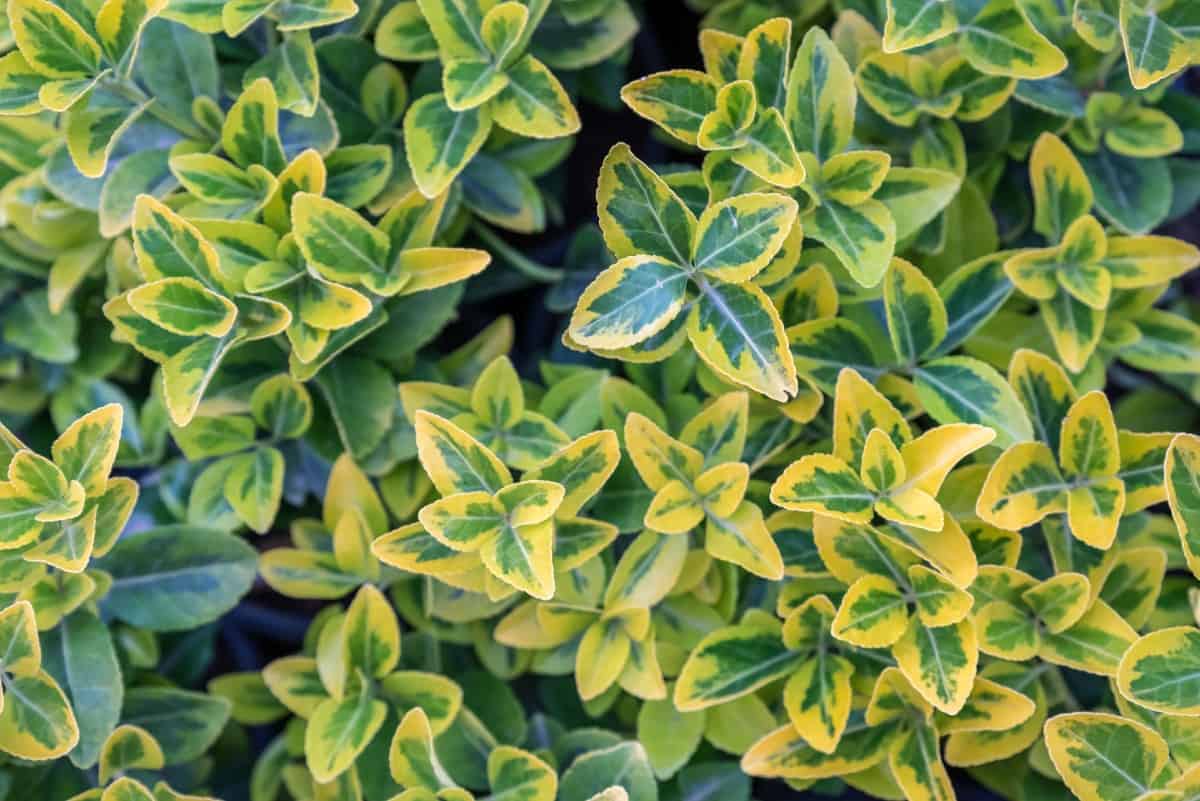 There are many varieties of Euonymus, one of the most common being the burning bush with its stunning orange and red foliage during the fall months. Other types produce hot pink and orange fruits that attract birds to the yard.
Some types have a sprawling evergreen habit, and all thrive in zones 4 through 8. They are low maintenance, deer resistant shrubs that thrive in both shade and sun. The smaller varieties have an average height of 3 feet, and some types spread up to 15 feet.
Mugo Pine (Pinus mugo)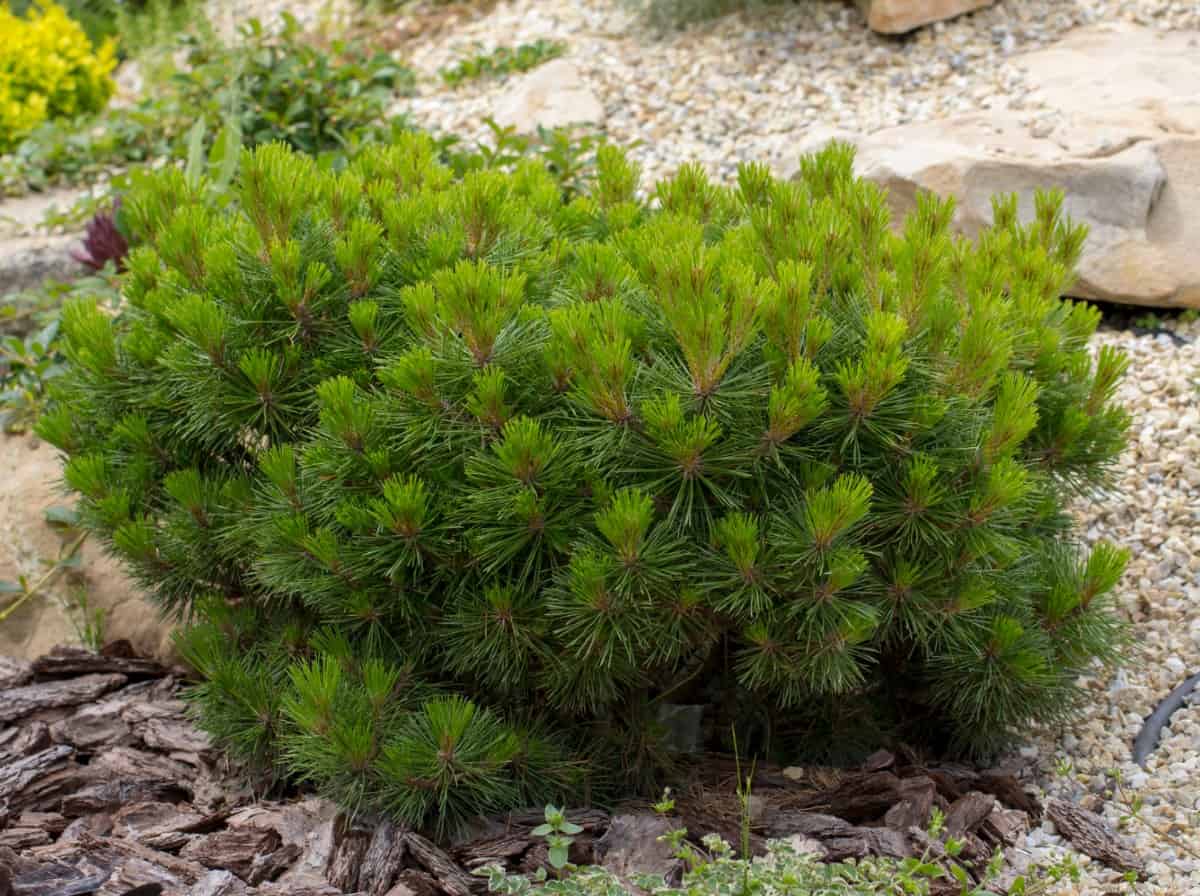 The Mugo pine has a low growing habit that makes it appealing as an edging shrub or groundcover in rock gardens. This easy-growing shrub stays small and maintained with its bright green needle-like foliage.
This species of conifer has a mature size of 3 to 5 feet tall with a spread of up to 10 feet wide. It flourishes in zones 3 through 7 and enjoys full sun to part shade. They are a hardy shrub that is also drought tolerant.
Cherry Laurel (Prunus laurocerasus) – Border Shrub that Attracts Pollinators to the Yard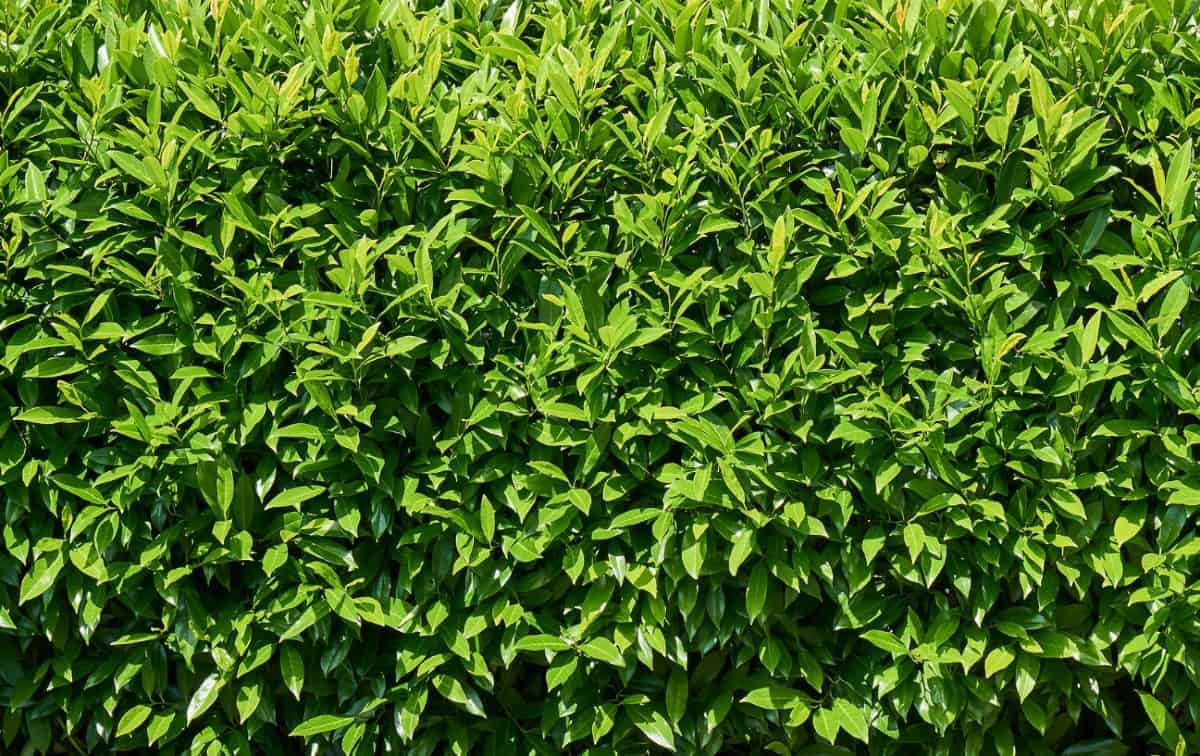 Cherry laurel attracts birds to the area with its cherry-like red fruits. It is fast-growing and produces sweet-smelling, white flowers during the early spring. Birds, bees, and other pollinators are attracted to this bush, giving it more appeal to the yard.
This handsome evergreen shrub tolerates shady areas. Cherry laurel thrives in zones 5 through 9 and is deer resistant. This bush requires pruning in the early summer after it blooms for optimal growth.
Dwarf Norway Spruce (Picea abies 'Pumila)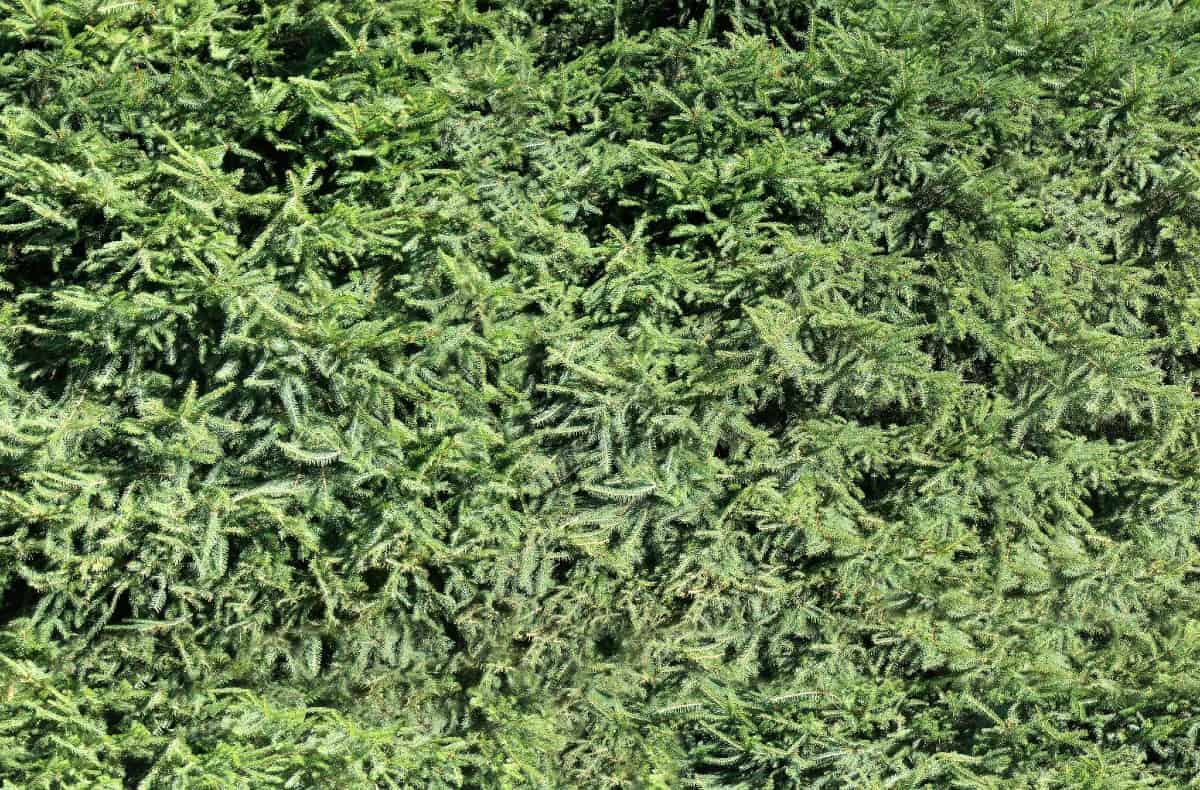 The dwarf Norway spruce is the perfect shrub for using as a border along a pathway or garden with its rounded shape. This plant doesn't outgrow the area, and its hardy dark green foliage makes it unbeatable for the yard.
This informal hedge reaches a mature height of 2 to 3 feet. As dwarf shrubs for full sun locations in zones 3 through 8, this spruce is both attractive and serviceable. Prune this deer resistant and drought tolerant shrub occasionally to keep it tidy.
Viburnum (Viburnum opulus) – Evergreen Shrub Border with Fragrant Showy Flowers
Viburnum produces highly fragrant white and pink flowers with stunning foliage and stem color. Not only is this shrub ideal for planting as a border, but it is so diverse, that there is bound to be the perfect one for your garden.
This flowering bush blooms in the spring and provides colorful fall foliage in zones 2 through 9. It is low maintenance, deer resistant, drought tolerant, and thrives in part to full sun. The smaller varieties reach an average height of 3 to 8 feet with a spread of 3 feet.
Pair your viburnum with short perennial grasses to make a statement and to highlight the different species in the same location.
Juniper (Juniperus)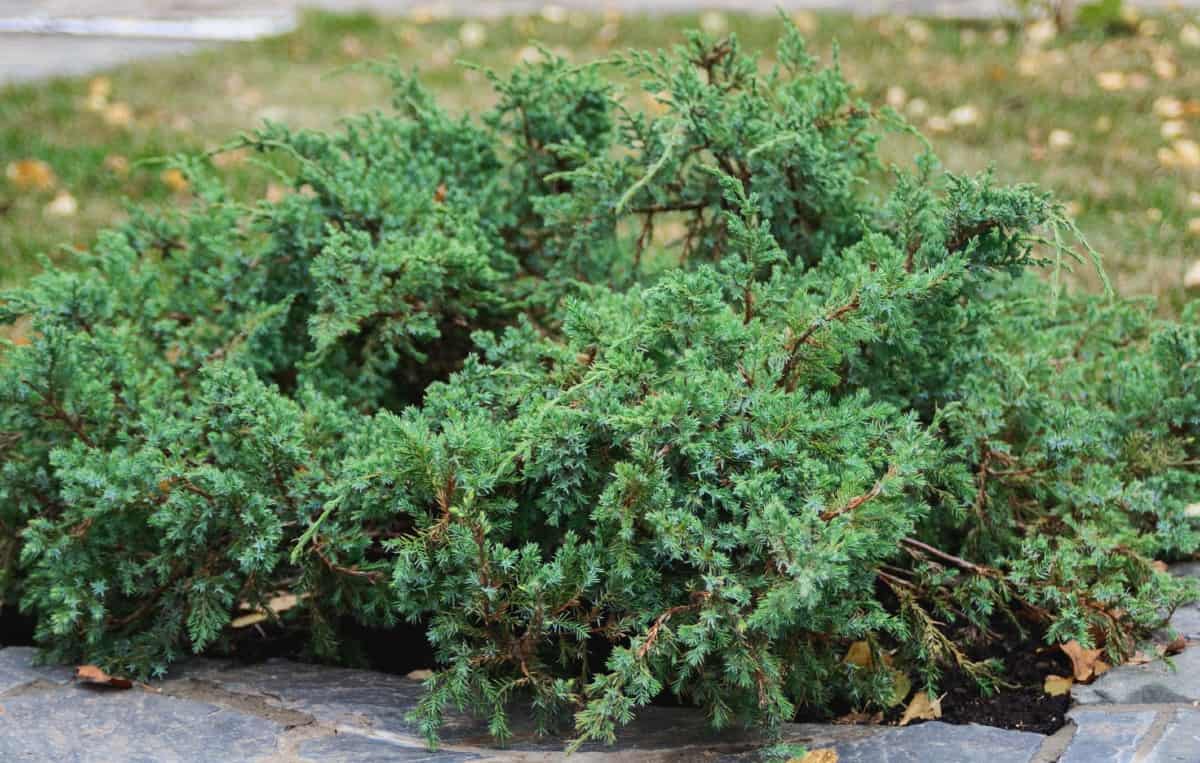 There is a vast variety of juniper varieties, ranging from ground cover to hedge-style. They have blue-green and gray-silver foliage that range from small, sharp needles to scale-type leaves.
These low maintenance conifers are deer resistant, drought tolerant, and make a great natural border for the yard. They grow best in zones 3 through 9 and thrive in part to full sun. The small varieties of juniper average 3 feet tall, and they provide winter interest to the yard.
Japanese Andromeda (Pieris japonica) – Evergreen Shrub with Chains of Flowers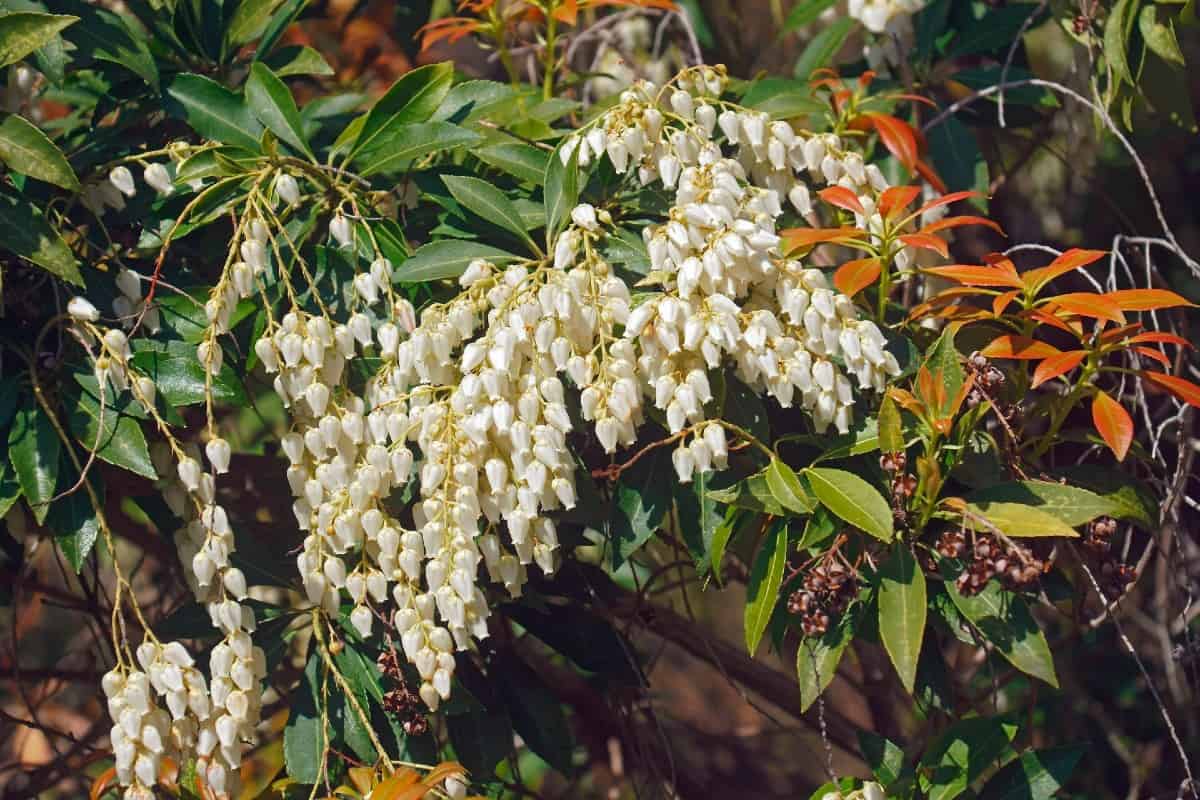 This shrub goes by many names, including the lily of the valley bush, due to its dainty white, red, and pink flowers that resemble tiny bells. The flowers grow along a stem in chains of fragrant blooms during the spring with new foliage growth in shades of orange and red.
The Japanese andromeda grows best in zones 5 through 8 and enjoys partial to full sun. It is low maintenance and deer resistant, and the small varieties grow to a height of 3 to 8 feet with a width of 3 feet.
Finding the perfect evergreen shrub with the right profile for creating an edge around your flower garden or walkway is easy once you know what to look for in a plant. Place flowering shrubs along the path to your home or pruned boxwood around a garden. However you decide to plant your shrubs, they are sure to add curbside appeal.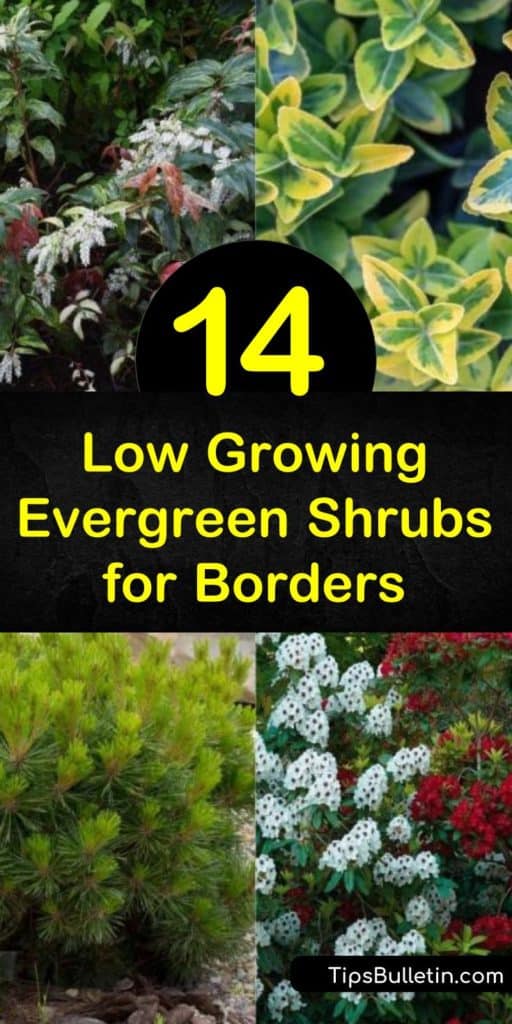 Choosing proper low growing evergreen shrubs for borders creates a naturally attractive barrier around outdoor spaces to give your yard visual appeal, so why not share our evergreen border shrub list with your friends on Pinterest and Facebook?