Centipedes are creepy and unsightly, especially house centipedes. They scurry across the floor with their endless tiny legs, which causes an immediate panic reaction. If you'd prefer to avoid commercial insecticides to kill those creepy-crawlies, use a natural centipede repellent to eliminate them.
Centipedes and millipedes are arthropods found throughout the United States and are predatory by nature. Their primary food source is insects such as bed bugs, cockroaches, silverfish, and termites. While most do not bite humans, some have a painful sting. Preventing a centipede infestation in your home is vital to keeping your house safe and bug-free. There are several reasons centipedes are attracted to your house.
If your home offers these pests a steady food source with the right kind of damp and cool environment, they are more than happy to stick around. Keeping the area dry and insect-free are the first steps in eliminating centipedes.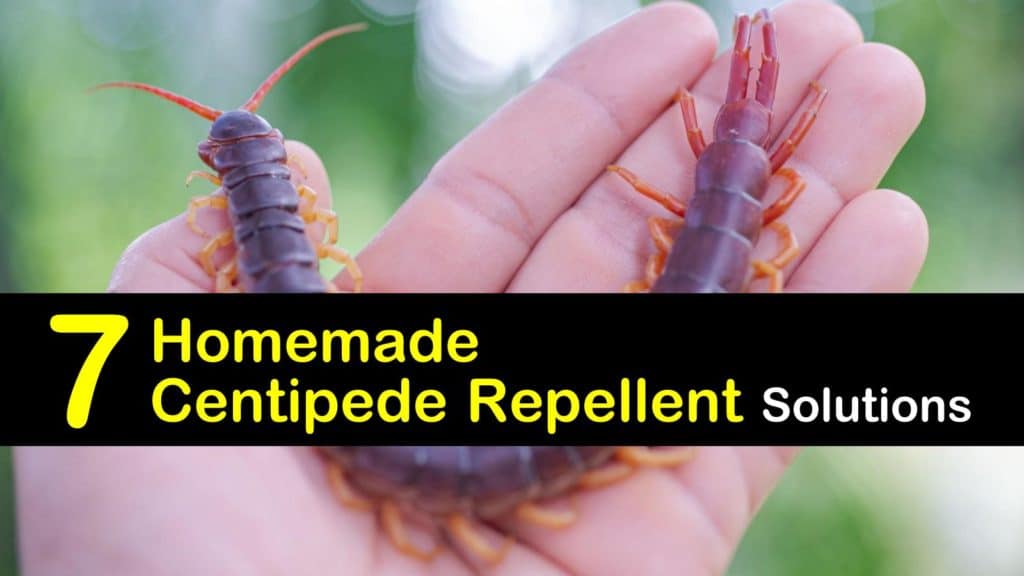 How to Repel Centipedes Naturally
There are many ways to eliminate house centipedes and make sure that they do not return. Does alcohol kill centipedes? Sure, it does, but there are other solutions.
Learn how to get rid of centipedes using natural home remedies and how to set up a home defense against these household pests without calling in pest control.
How to Kill Centipedes with Sticky Traps
Placing sticky traps around your home is a useful tool for killing pests. Not only do the traps capture and kill centipedes, but they are an excellent tool for monitoring a centipede problem.
To make this natural centipedes killer, pour equal amounts of corn syrup and water into a saucepan and bring the liquid to a boil.
Cut pieces of construction paper to the desired size and use a paintbrush to apply the sticky solution to one side of the paper. Place the traps in dark and damp areas of the house and check them regularly.
Make a Homemade Centipede Repellent Spray
Centipedes have very sensitive antennae and a strong sense of smell. Use this against them by making a homemade centipede repellent with tea tree oil.
Fill a bottle with water and add about 25 drops of tea tree oil. Shake the liquid well to mix and spray the solution in crevices and small cracks, and along the doorways, windows, and any other entry points.
This remedy should also take care of an earwig infestation in my house, too. Very few insects can handle tea tree oil, including fleas.
How to Repel House Centipedes with Mint and Pepper
What repels centipedes, and what are some good natural spider repellents? While we enjoy the flavor and scent of mint, many insects hate the smell of it and avoid it.
Add a little cayenne pepper, and those centipedes are sure to stay away. Here is how to repel house centipedes with mint and pepper.
Grow mint plants around the outside of your home near doorways and windows and areas where centipedes have access to the inside.
Grow mint around the patio or porch to keep them from invading your outdoor sitting space. Sprinkle a fine layer of cayenne pepper around the same areas for an extra boost of protection.
Killing Centipedes with a Natural Centipede Repellent Spray
Many essential oils are useful for killing and repelling centipedes, and peppermint is one of the best. Not only does peppermint repel centipedes, but it eliminates spiders and other creepy crawlies as well.
Fill a glass bottle with water and add 25 drops of peppermint essential oil. Shake the bottle well to mix and label it for future use. Spray the liquid anywhere you see centipedes or to prevent silverfish in the bathroom, including baseboards, entryways to the home, damp and dark spaces, and other hiding places.
Use this spray to keep spiders out of basement areas or anywhere else in the house.
Eliminating Centipedes with Boric Acid
Boric acid works to kill insects in a couple of different ways. First, the insects ingest the powder, which causes damage to their digestive system and stomach.
The second way that it kills them is by damaging their exoskeleton, which causes the insect to die from dehydration. Boric acid is also an excellent slug deterrent.
To get rid of millipedes and pesky centipedes, fill a plastic squeeze bottle with boric acid and squeeze the powder along areas where centipedes frequent. Apply it across wall cracks, crevices, and other hiding spaces. If the area is damp, the dust does not affect their exoskeleton, but they ingest it and die from poisoning.
Using Diatomaceous Earth to Kill Centipedes
Diatomaceous earth, or DE, is a naturally occurring powder that acts as a mechanical insecticide. The insects walk across the powder, which sticks to their exoskeleton and leaves small cuts on their body.
Diatomaceous Earth Centipede Killer
Spread a layer of food-grade diatomaceous earth around the outside of your home in areas where you see centipedes frequent or as one of the easiest home remedies to kill silverfish and roaches that may invade the house.
Look for small and damp areas, dark corners, and any spaces where insects enter your home. After the centipedes travel over the dust, they eventually dehydrate and die.
How to Keep Centipedes from Entering the Home
After you eliminate an existing centipede problem in the home, it's essential to take specific measures to ensure that those pesky insects do not return.
Begin by cleaning up the area around your home. Rake up wet leaves and mulch that are close to the outdoor wall and discard them in garbage bags, and move stacks of wood to the outer edge of your yard.
This not only keeps the centipedes away from your home, but eliminates their food source, such as termites, silverfish, and cockroaches. Centipedes are attracted to damp areas. Check for leaky faucets inside and outside of your home and repair them as soon as possible.
Use dehumidifiers in areas of your home where dampness is persistent, such as the basement, garage, laundry room, or bathroom. Caulk any cracks in the foundation of your house, as well as gaps in windows and doorways.
There are many organic ways to fix a centipede problem in the home without calling in an exterminator. Many natural ingredients such as peppermint and tea tree oil, cayenne pepper, and boric acid, are highly efficient at controlling a centipede population.
Keeping those household pests at bay with a natural repellent and setting up dehumidifiers in damp areas of the house ensure that your home is bug-free.
Recipe for Natural Centipede Repellent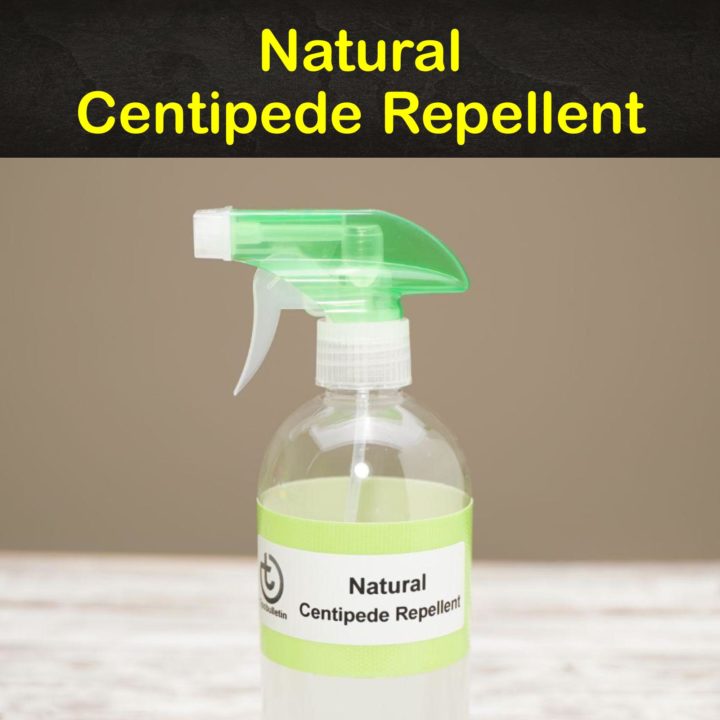 Natural Centipede Repellent
Stop centipedes in their tracks!
Materials
2 cups of water
24 drops of tea tree essential oil
Tools
Measuring cup
16-ounce glass spray bottle
Instructions
Add the water and tea tree oil to the sprayer.
Shake to combine thoroughly.
Spray any centipede access points.
Notes
You may find that this spray also deters ants and other bugs.
Freeing your home of creepy insects using a natural centipede repellent is a great way to eliminate bugs without using harmful products, so why not share our centipede repellent solutions with your friends and family on Facebook and Pinterest?