Have you ever noticed a hummingbird fly into your yard, darting this way and that, before leaving? That tiny bird was probably searching for a food source to sustain its high metabolism. Filling your garden with perennials for hummingbirds not only gives them the food they need to survive but fills the space with vibrant color and beauty.
Contrary to what you make think, hummingbirds do not have a strong sense of smell. They rely on colors to find flowers rich in nectar, the high-sugar food they require to maintain energetic flight.
While most species of hummers are only three to five inches in length, their tiny bodies need a constant food source to match their high metabolic rate. One of the best ways to give these birds what they need is to plant their favorite perennial flowers.
The cool thing about these flowers is they tend to be brightly colored and vibrant. They provide nectar for all types of pollinators, but they are also a great addition to the flower garden.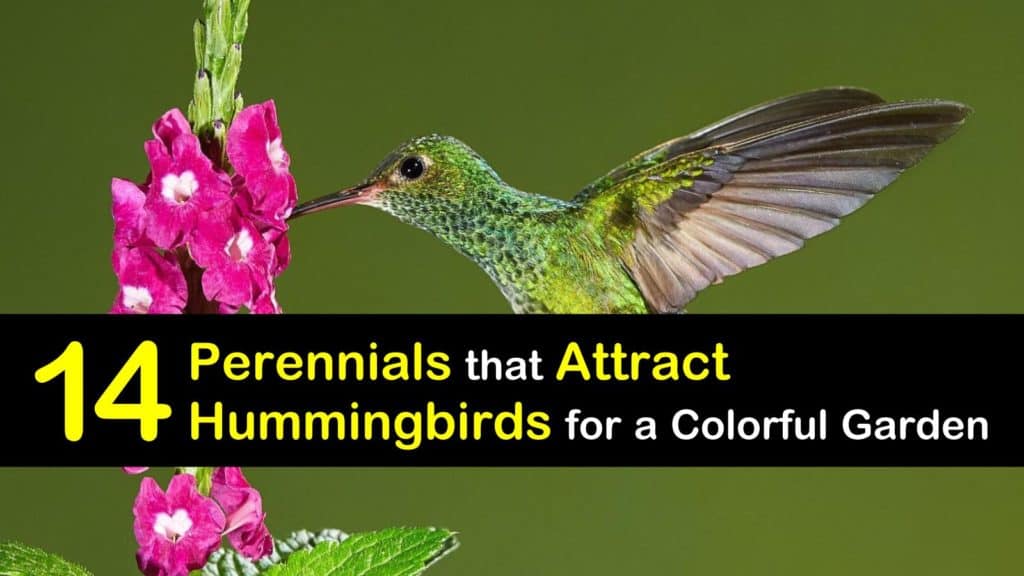 Perennial Plants that Attract Hummingbirds to the Yard
There are so many different varieties of plants and flowers that it's hard to know which ones are nectar-rich for pollinators such as hummingbirds.
Not only that, but which ones are a good choice for growing in your yard? Not to worry. Although there is an assortment of annuals attracting hummingbirds to your yard, we'll help you pick the perfect perennials for your hummingbird friends in this article.
Which Types of Perennials Attract Hummingbirds?
Hummingbirds have many favorite native plants that provide them with sweet nectar. Some annuals, such as petunia flowers and impatiens, draw birds to the yard, but there is also a good selection of perennials.
These birds prefer plants that produce tubular flowers with bright red blooms, which is a signal to the bird that they are rich in nectar. Plants such as bee balm, daylilies, and columbines are some of their favorites and are easy to grow.
Where Should I Grow Hummingbird Flowers?
These tiny birds need a safe and shady place to rest between feedings, so try and plant hummingbird flowers near a shade tree or wooded area.
Check the plant care guide for your favorite flowers and put them in areas of the yard according to the amount of sunshine they require. Make sure you choose perennials with a USDA hardiness zone that matches your area.
Are Hummingbird Perennials Hard to Maintain?
Most perennials are easy to grow and maintain, but it all depends on the type. Check the plant care tag for specific requirements, such as sun or shade, soil type, and watering needs.
All plants require a bit of extra TLC after you first plant them. Cover the ground around the plant with a layer of mulch to retain moisture and keep weeds at bay.
Water them regularly until they establish themselves and feed them as needed. Some flowers require deadheading to encourage the plant to put more energy into future growth.
Are there Other Ways to Attract Hummingbirds to My Yard?
While the best way to attract hummingbirds to your yard is to plant their favorite flowers, there are other ways to keep them happy and safe.
Consider planting trees or shrubs near their food source. These trees provide a safe perching area for the birds to rest and encourage them to nest near the flowers.
Hummingbirds need protein along with the sweet nectar, so avoid using pesticides in the yard to provide their diet with insects. Place a drip fountain or misting device near the flowers to give these birds a water source for drinking and bathing.
For an additional source of nectar, try making hummingbird nectar from a 4:1 ratio of water to sugar and adding it to a hummingbird feeder. Having multiple food sources makes many hummers happy.
Bee Balm (Monarda)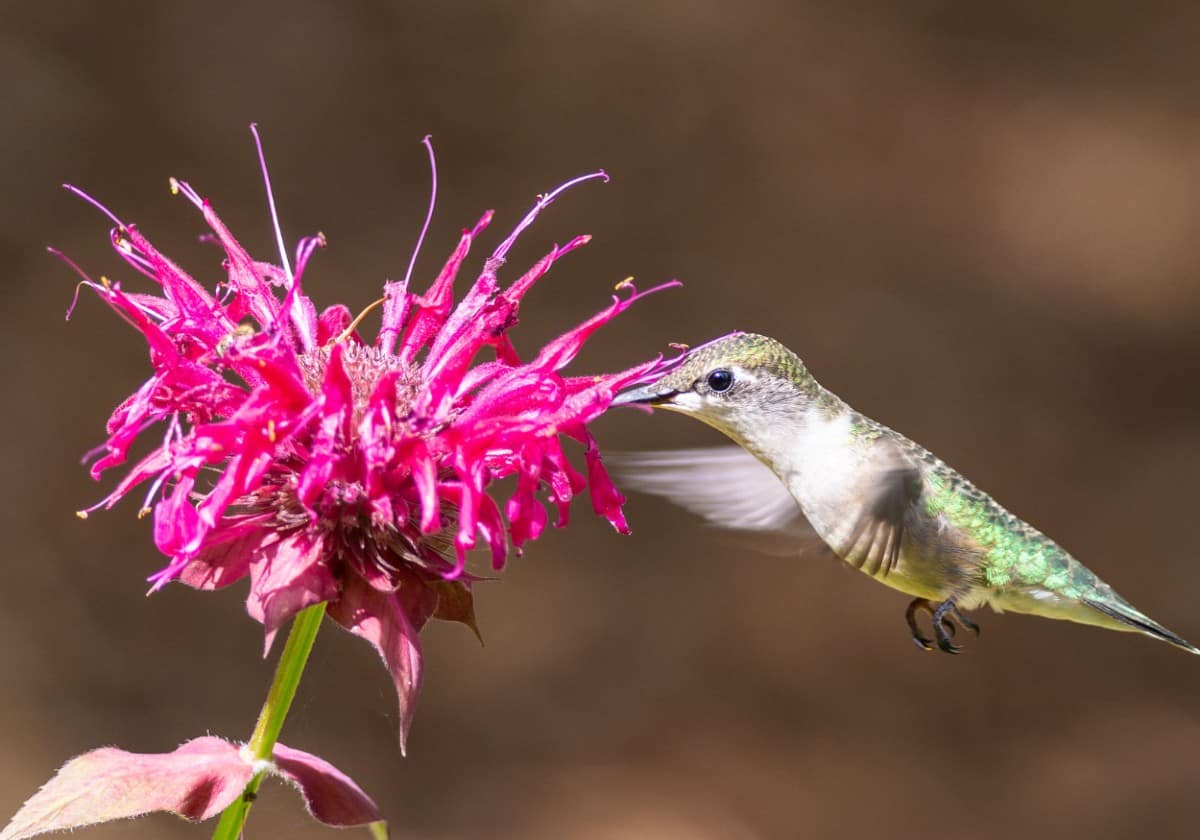 These zone 6 perennials that bloom all summer have bright red, purple, pink, or white blossoms that resemble fireworks and draw all types of pollinators to the yard. It is a vigorously growing perennial with long stems and is an excellent addition to the garden.
Bee balm blooms from summer through fall and has an average height and spread of 1 to 3 feet. It thrives in full sun in hardiness zones 3 through 9. This low maintenance plant is deer and rabbit resistant, and drought tolerant.
Columbine (Aquilegia) – Perennials for Hummingbirds with Unique-Looking Flowers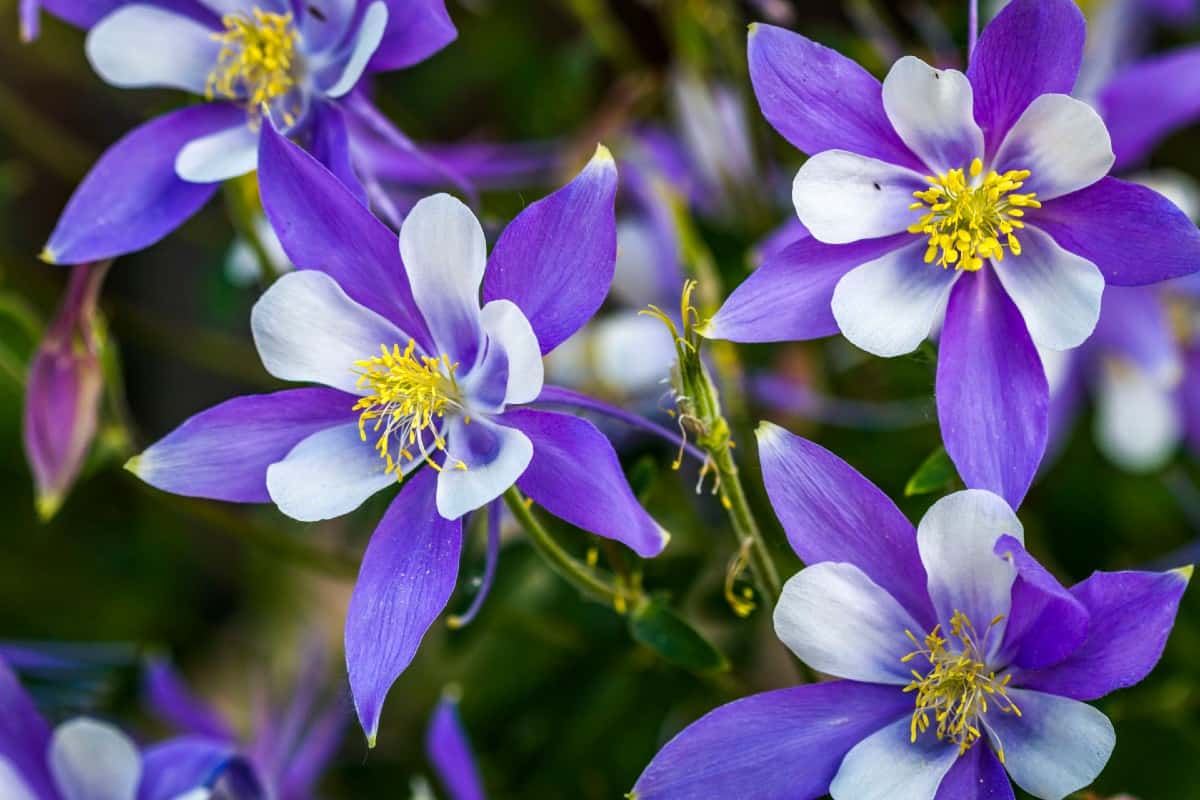 Columbine produces unusual flowers with dangling bell-like shapes. The blooms have spurs at the back and come in almost every color, including purple, red, blue, orange, white, yellow, and pink.
They fill the garden with exotic blooms from spring through late summer. These perennials grow 6 inches to 3 feet tall and spread up to 2 feet, depending on the species.
They enjoy part to full sun and grow well in containers or a garden setting. These low maintenance flowers are deer resistant and make an excellent cut flower for the home.
Cardinal Flower (Lobelia cardinalis)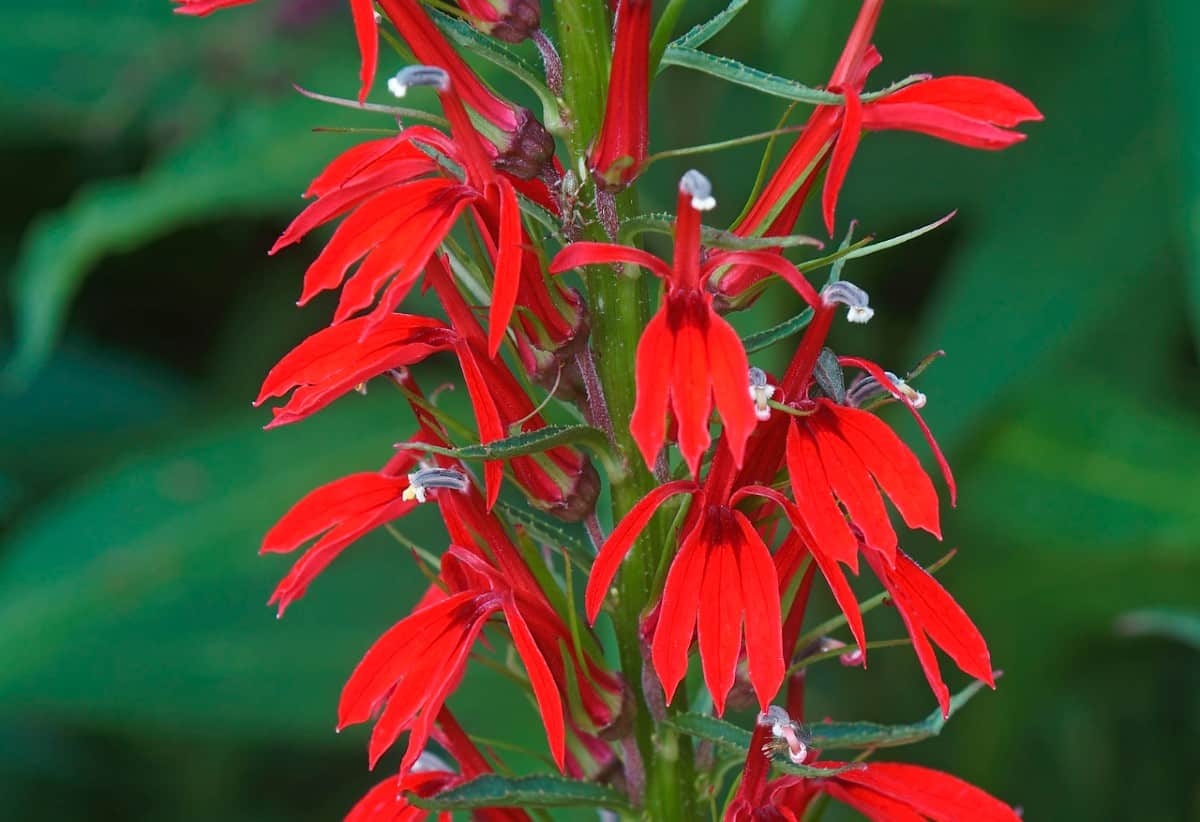 This clump-forming perennial grows in an upright manner and produces a profusion of densely packed flower spikes in bright red shades from mid-summer through fall. It has glossy green, lance-shaped leaves that complement the bright flowers.
This type of lobelia grows 2 to 4 feet tall and 1 to 2 feet wide. It prefers full or partial sun and thrives in zones 3 through 9. This hummingbird-magnet is deer resistant and low maintenance.
Coral Bells (Heuchera) – Colorful Foliage Plant that Attracts Hummingbirds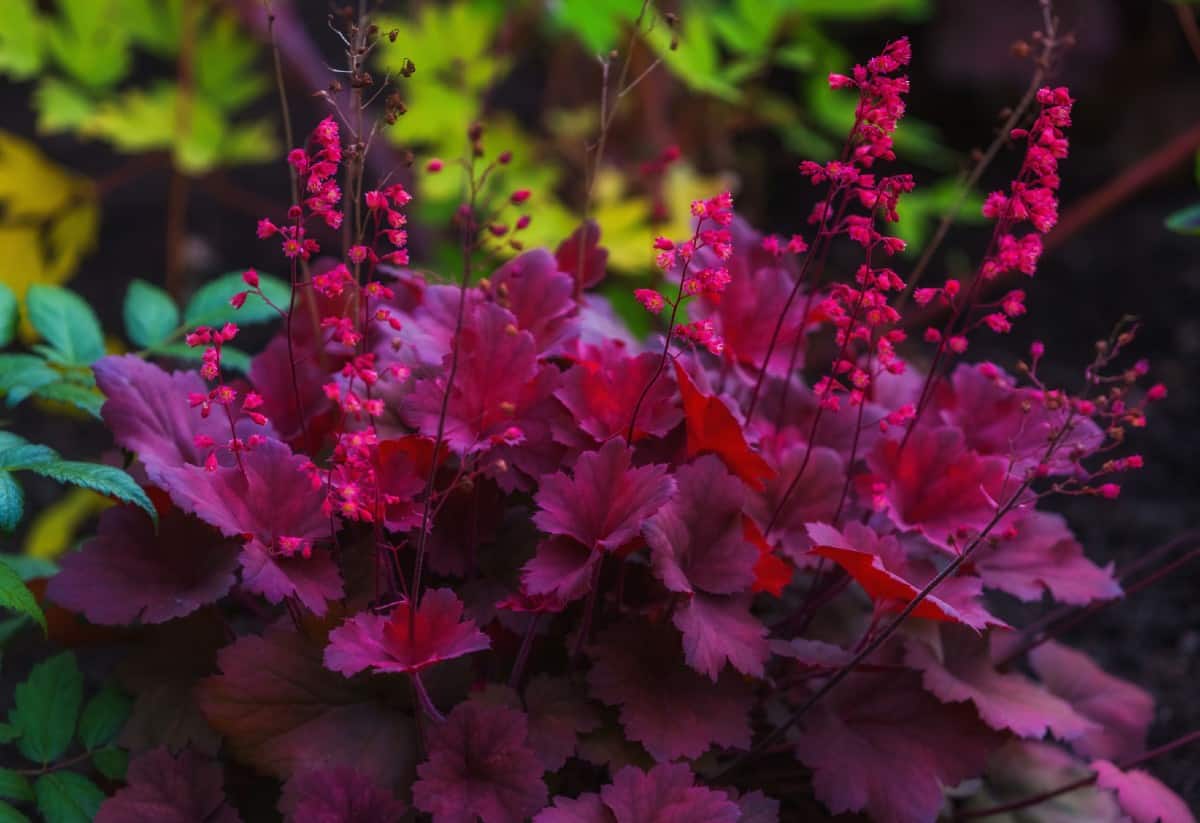 Coral bells come in a wide range of varieties with leaves that are green, purple, gold, and rose. They grow in round mounds and produce tall stems of bell-shaped flowers in shades of red, pink, white, and coral.
This perennial is a low grower with a mature size of 12 to 18 inches. It prefers part shade to full sun and grows best in loamy soil. Coral bells bloom from spring through summer and are hardy in zones 4 through 8.
Foxglove (Digitalis)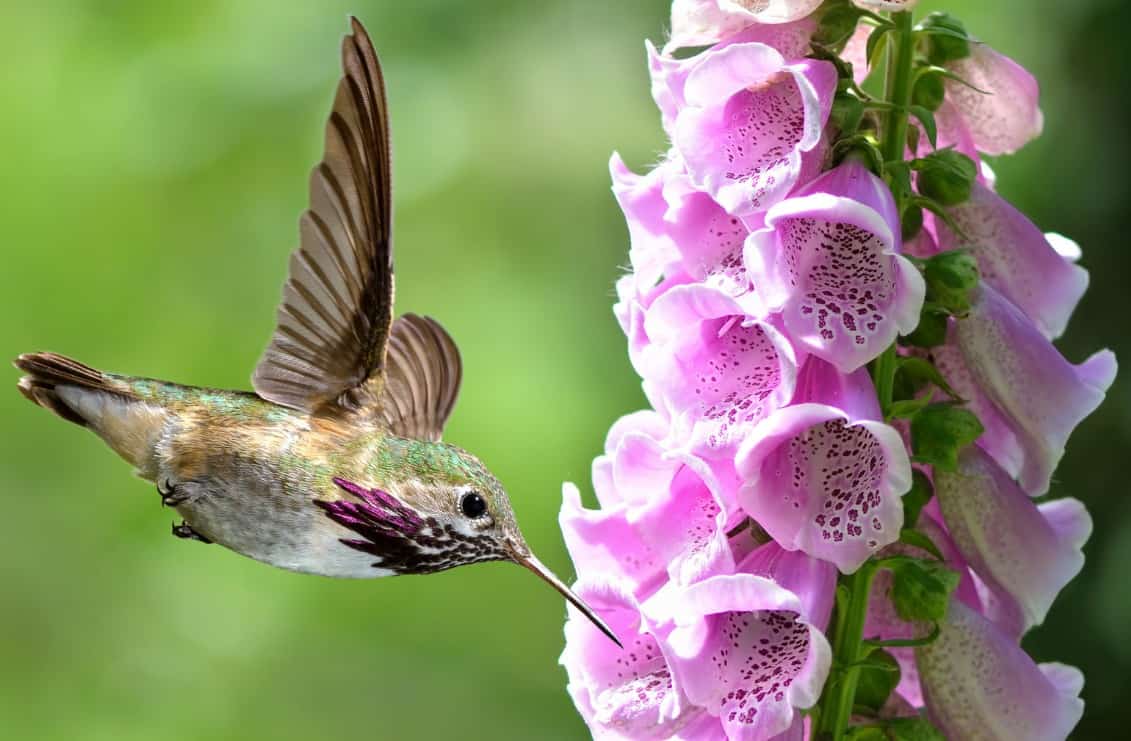 This eye-catching plant is tall and slender with tubular blooms that hummingbirds love. The flowers vary in color from pink and purple to red, yellow, and white and bloom during the early summer months.
Foxgloves are hardy in zones 4 through 10 and grow 2 to 5 feet tall and 1 to 2 feet wide. They tolerate partial shade or full sun and are deer resistant. These plants are poisonous, so use caution with pets and children.
Salvia (Salvia officinalis) – Hummingbird Plant with Tall Flower Spikes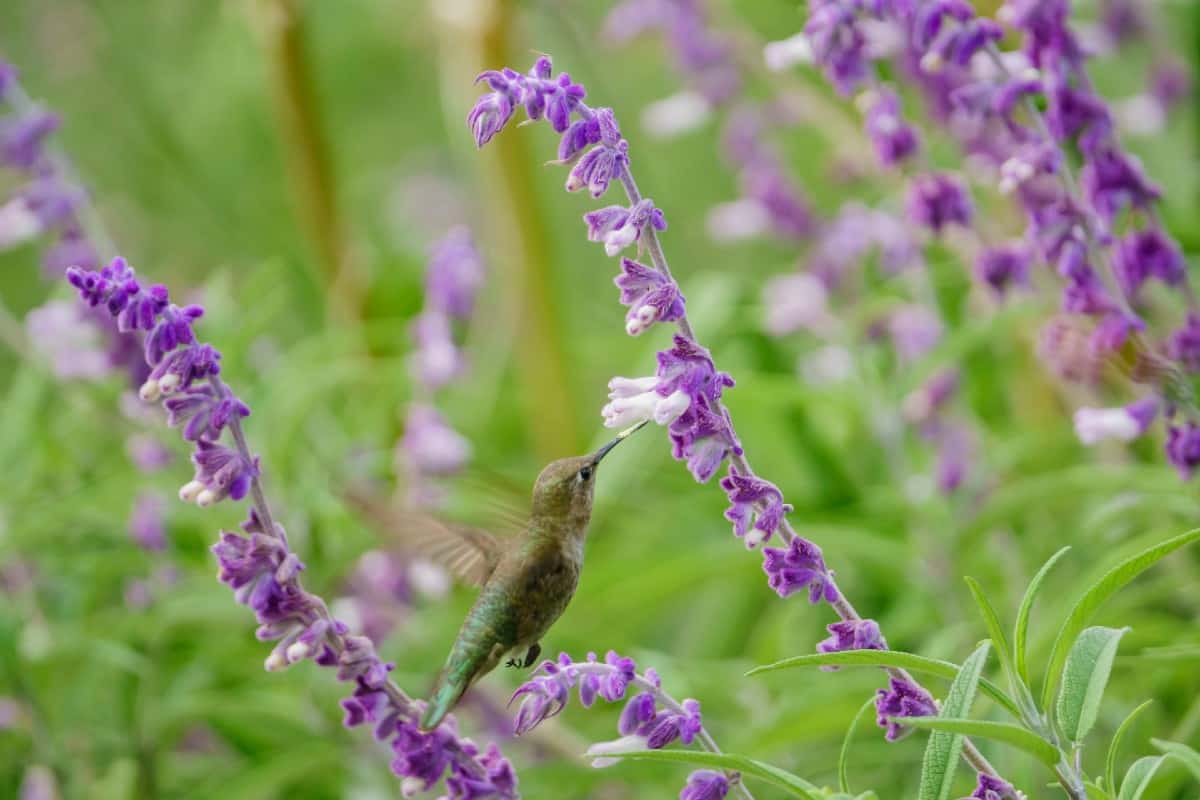 This plant is a mint relative with a long blooming time. Salvia comes in many colors, including red, purple, blue, white, and pink, and blooms from spring through fall. The flowers grow in tall spikes above blue/green foliage.
Salvia is drought tolerant and deer resistant. It grows in hardiness zones 3 through 10 and prefers full to part sun. Depending on the type, this plant grows 1 to 3 feet tall and wide.
Beard Tongue (Penstemon)
This ornamental flowering plant produces lance-shaped foliage with spikes of stunning tubular flowers in shades of red, pink, white, and purple. The flowers have a pollen-free stamen and bloom in the early summer.
These herbaceous perennials thrive in zones 3 through 9 and prefer sunny areas of the yard. Most of these plants have a mature size of 3 feet tall, and some types are short-lived
Daylily (Hemerocallis) – Hummingbird Flower with Many Colors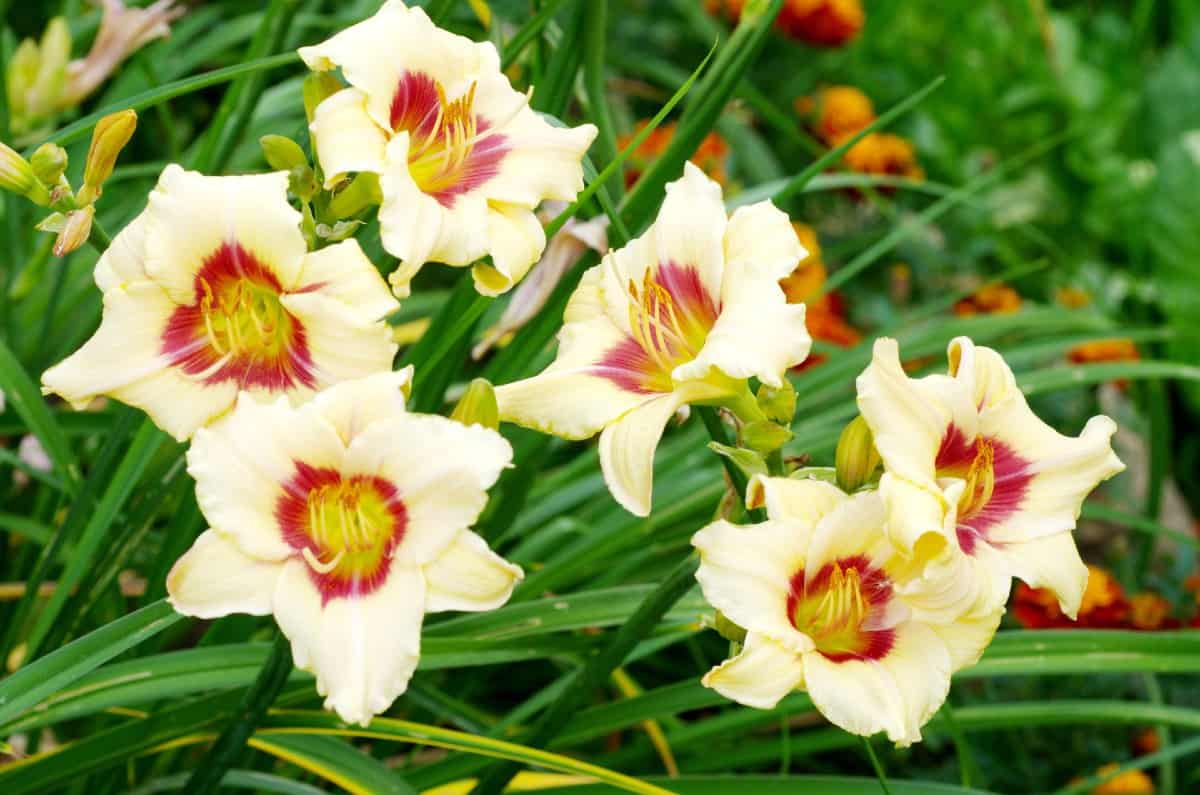 Daylily flowers come in a wide assortment of colors, shapes, and sizes. There are so many that it is hard to choose a favorite. They produce colorful red, purple, orange, pink, yellow, and white flowers from summer through fall.
These fragrant flowers prefer part or full sun and are hardy in zones 3 through 10. They are low maintenance and drought tolerant and have an average height and width of 3 feet. For excellent flowers at the beach, plant a daylily garden or add them to your existing landscape.
Fuchsia (Fuchsia magellanica)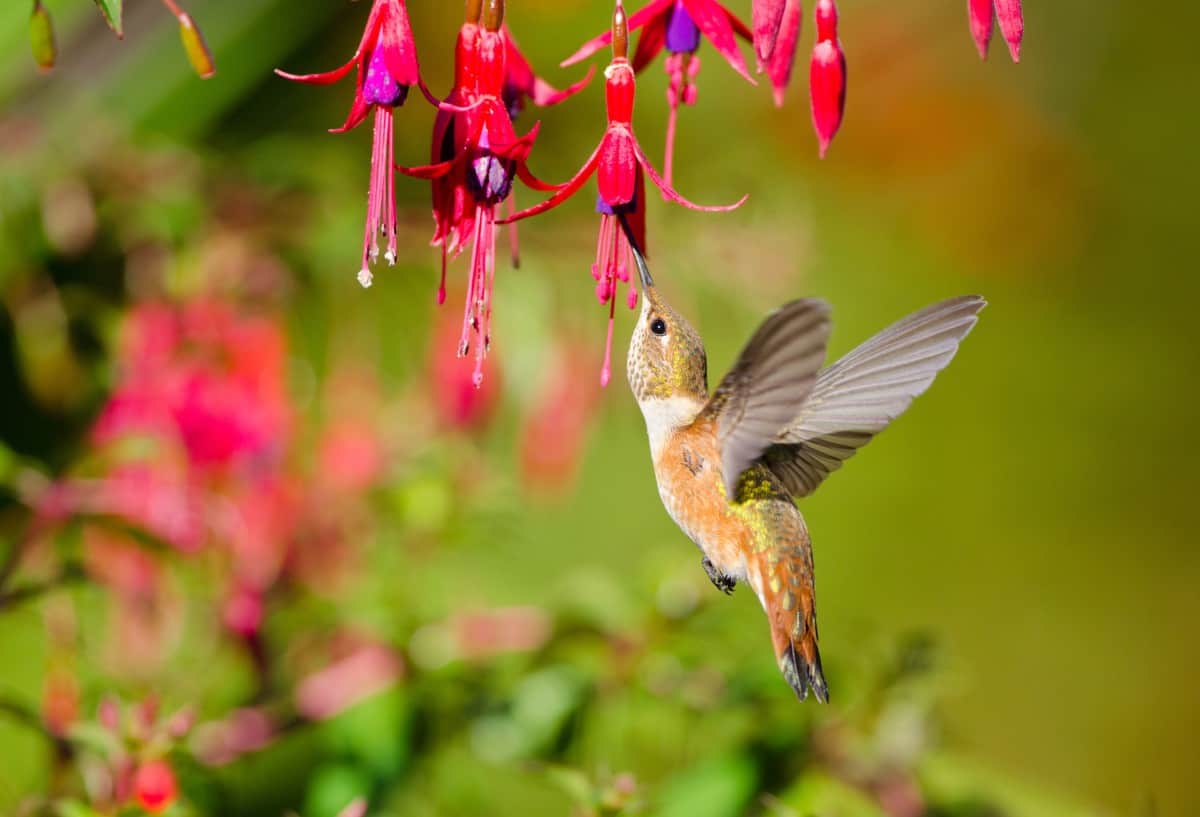 Fuchsias produce drooping stems of colorful flowers with a layered appearance. They bloom from summer through fall in vibrant multi-colored hues of purple, pink, orange, white, and red flowers, and are an excellent choice for hanging baskets.
These elegant flowers are perennial in zones 8 through 10 and annual everywhere else. Fuchsias have a mature size of 1 to 3 feet and tolerate both shade and sun.
Tall Garden Phlox (Phlox paniculata) – Tall Flowering Hummingbird Plant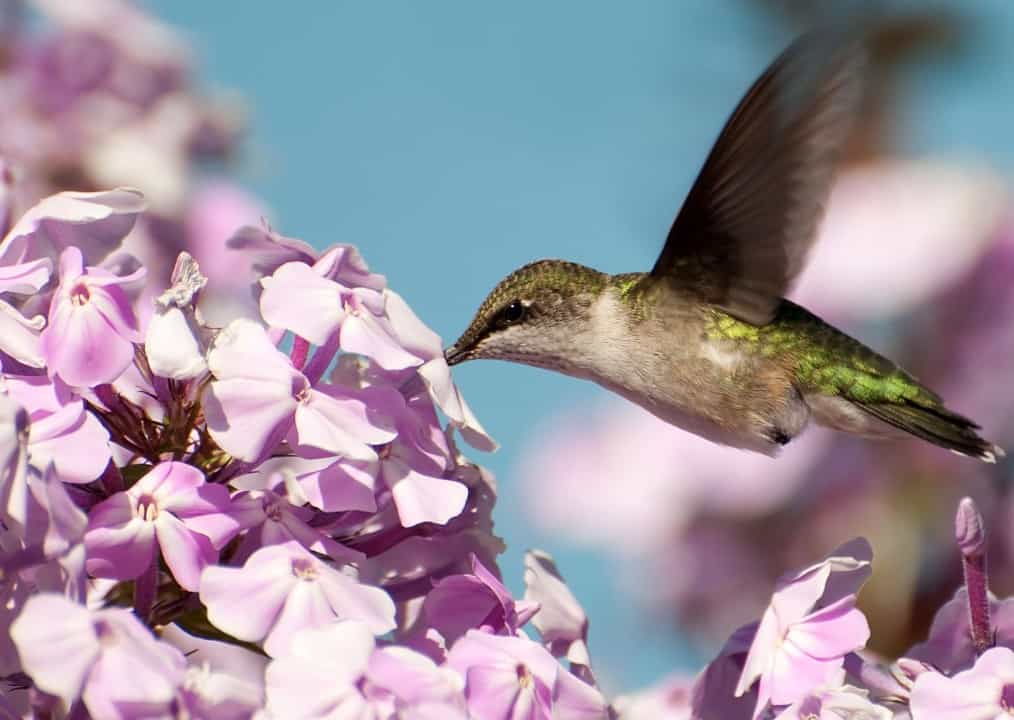 These plants come in a wide array of colors. It grows in upright clumps and produces showy blooms in varying shades of purple, pink, red, and white. The fragrant flowers bloom from summer through fall.
Tall Garden Phlox has a mature height of 1 to 3 feet. It thrives in part and full sun in hardiness zones 4 through 8. This hummingbird flower is drought tolerant and low maintenance.
Honeysuckle (Lonicera)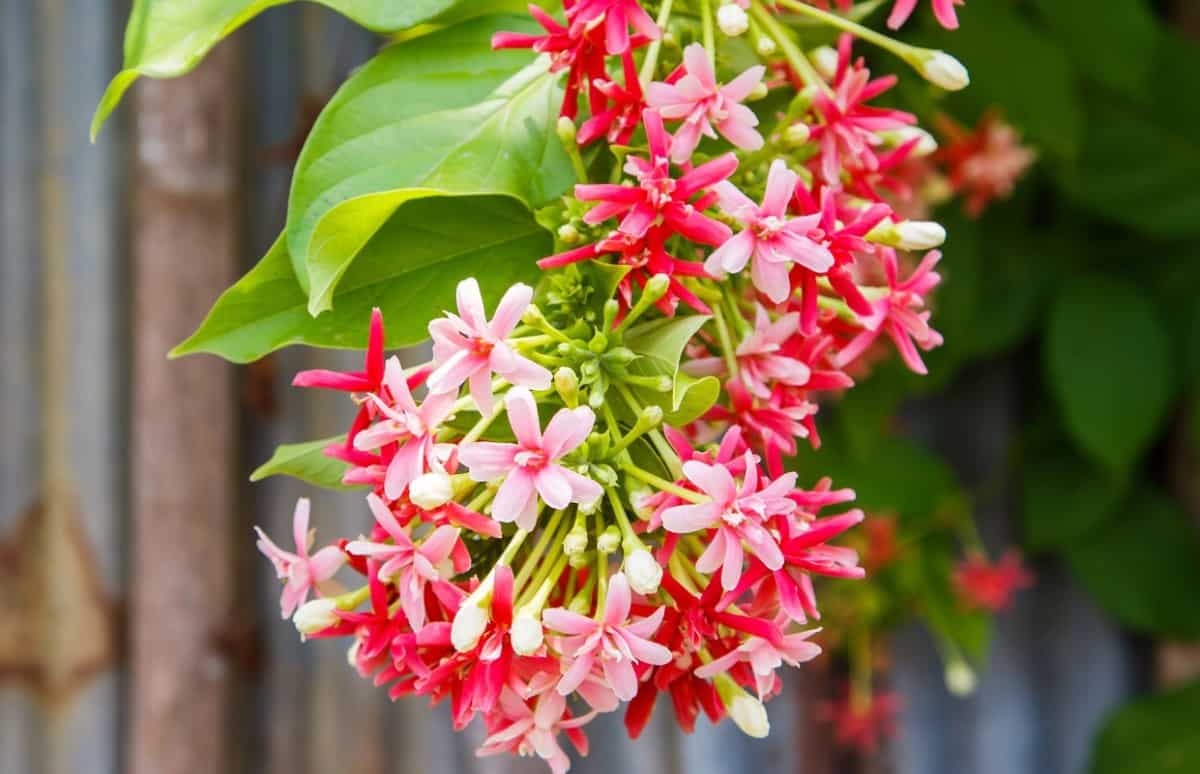 Honeysuckle is a flowering vine that hummingbirds adore. It produces fragrant red, white, and pink flowers from summer through fall. The blooms grow in attractive clusters and look stunning growing along a fence or arbor.
This easy-care climber grows 20 feet in length or more, making it a great choice for natural privacy. It prefers sunny areas of the yard, is low maintenance, and hardy in zones 4 through 9.
Butterfly Bush (Buddleja) – Stunning Perennial Bush that Hummingbirds Love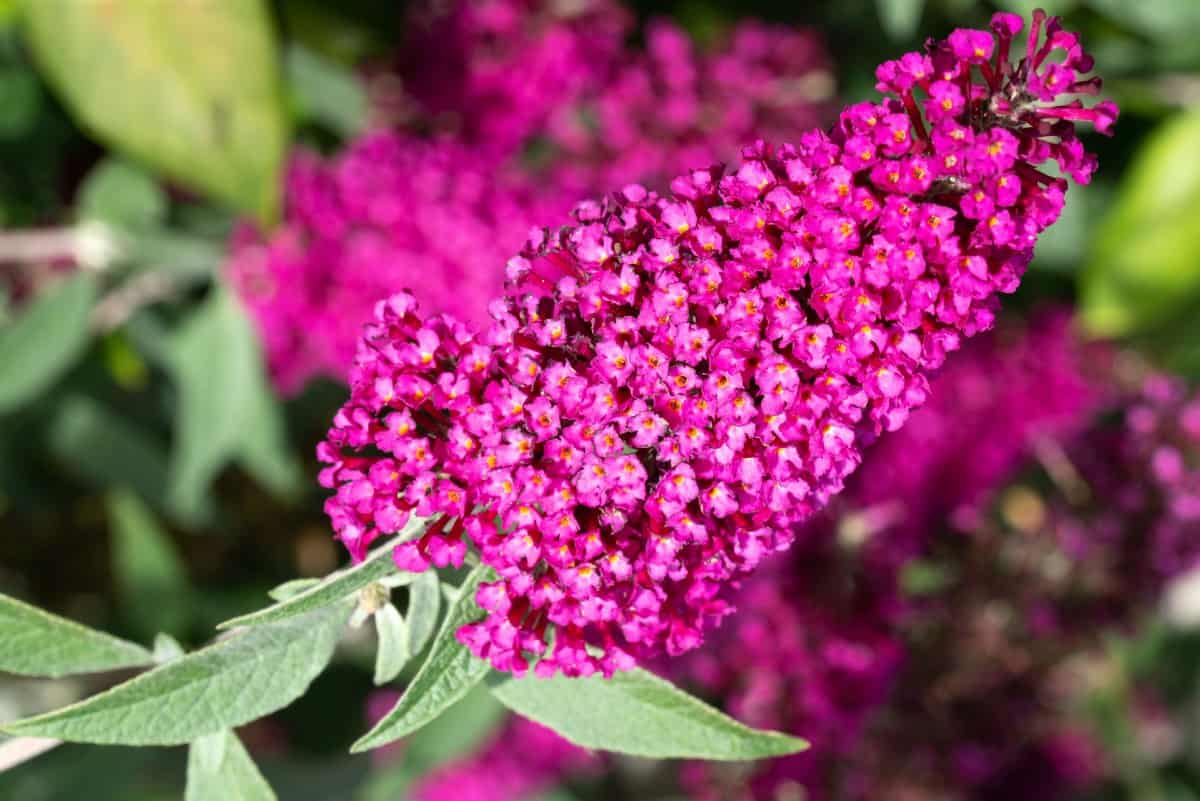 This flowering shrub produces flower spikes that not only draw in butterflies but hummingbirds as well. It has an arching habit and blooms colorful red, blue, white, and pink flowers all summer long.
The butterfly bush has an average mature height and width of 8 feet and is hardy in zones 5 through 10. It thrives in sunny areas, and is low maintenance, deer resistant, and drought tolerant, making it an easy-care perennial.
Giant Hyssop (Agastache rugosa)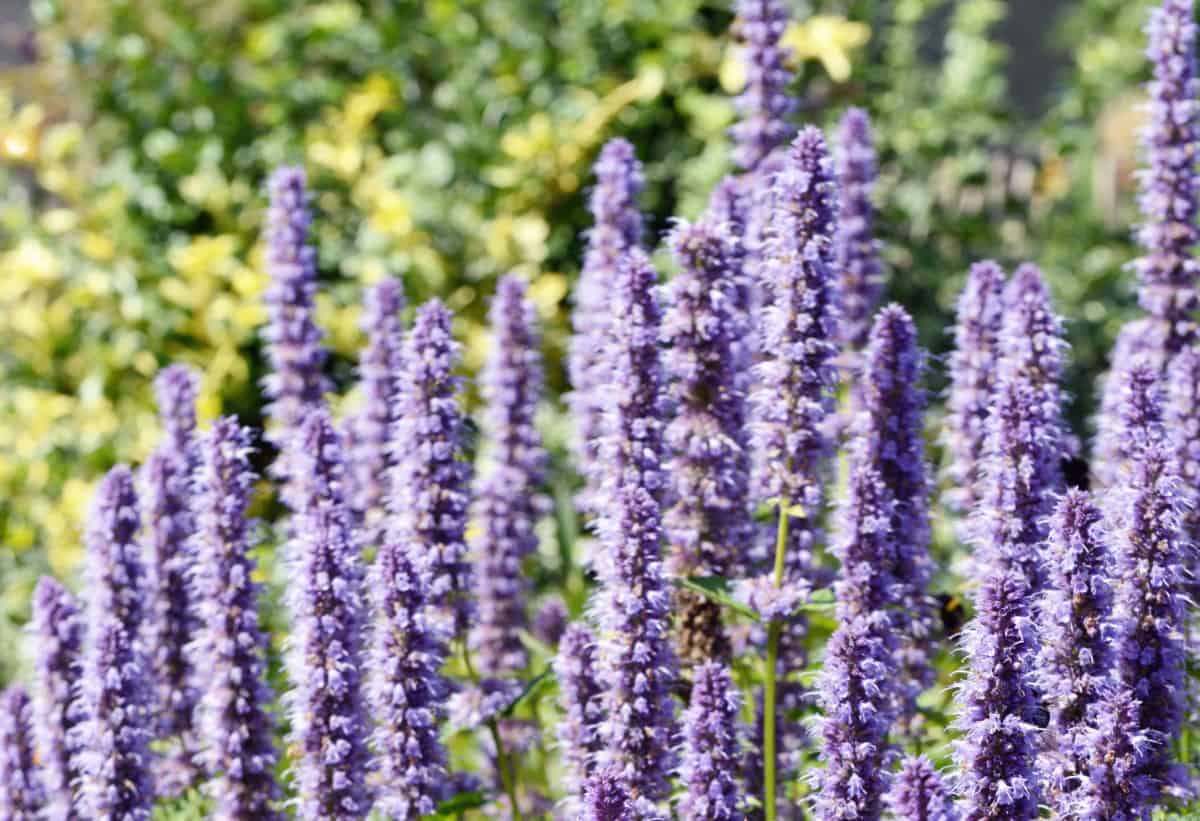 Giant hyssop has aromatic, dark green foliage and produces tall spikes of lavender/blue flowers from mid-summer to early fall. The showy flowers are adored by all types of beneficial pollinators, including hummingbirds.
This long-season plant grows well in full sun and is hardy in zones 5 through 9. It is drought, heat, and dry-soil tolerant after it establishes. This type of hyssop has a mature size of 2 to 3 feet tall and 1 to 2 feet wide.
Red Hot Pokers (kniphofia) – Hummingbird Plant with a Unique and Stunning Flower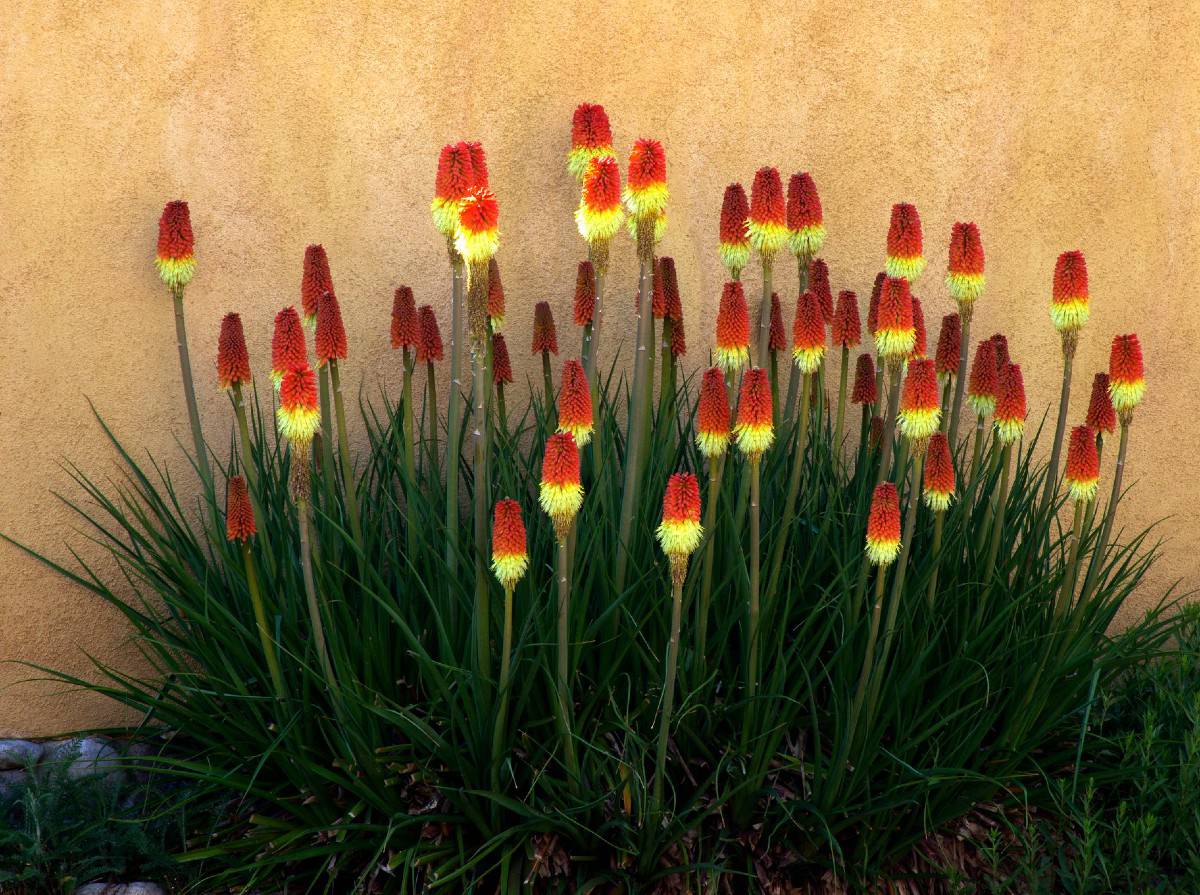 Red hot poker plants are sometimes referred to as torch lilies. Their unique flowering growth gives them a torch-like appearance. There are several different stunning plant types with blooms in shades of orange, yellow, and red.
These herbaceous perennials range in height from 1 to 2 feet or more. They thrive in hardiness zones 6 through 9 and prefer full sun and well-drained soil. These plants are drought tolerant and do not like sitting in moist soil.
There are many different types of flowers that attract hummingbirds, but their favorites tend to be tubular flowers that are brightly colored.
Planting these flowers throughout your yard is a great way to feed these adorable birds. Not only that, but you get the chance to enjoy watching their flight as they dart from plant to plant.
Filling your outdoor space with perennials for hummingbirds is a win-win situation for both the bird and you, so why not share our hummingbird plant guide with your family and friends on Facebook and Pinterest so that they get to enjoy the beauty as well?