Spent mushroom compost is an organic alternative for adding nutrients and enhancing garden soil quality. The process of farming with mushroom spawn creates mushroom compost as a leftover from the mushroom spores harvesting process. Although gardeners view most homemade composts as universally good, some plants don't like mushroom compost.
Achieving the best mushroom compost benefits comes from applying the compost at the base of your plants. After growing mushrooms, use the mushroom compost at the start of the growing season by mixing the spent mushroom substrate with vegetable garden soil. Some mushroom farmers even create a layer of mushroom soil on their property before using grass seeds.
Plants absorb nutrients from the compost through roots via regular watering. Follow our ways to use mushroom compost as a newbie and find the benefits for indoor plants by adding the necessary nutrients for healthy plant growth. However, some mushroom growers refer to mushroom compost as a soil conditioner. Due to the high pH of the compost, not every plant benefits from growing with mushroom compost in its soil.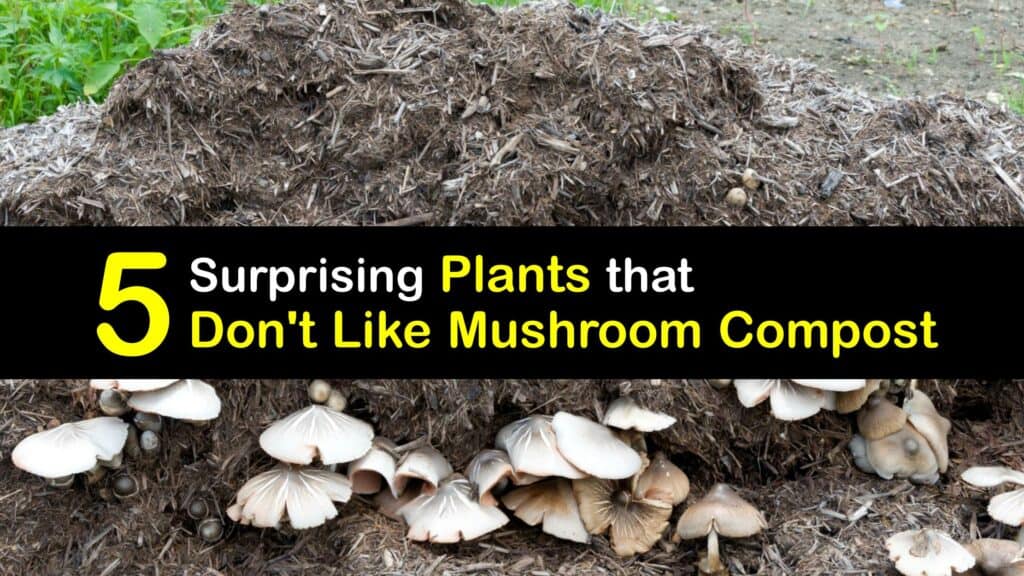 What is Mushroom Compost Not Good for?
Mushroom compost is a unique and versatile amendment for garden soil. It adds moisture and nutrients to the soil in preparation for new plants, and it's even useful as organic material mulch.
Despite its benefits, mushroom compost has a pH similar to alkaline soil, making it a poor choice for many plants. Read on to discover the best methods for using homemade compost for your plants to get the best outcomes.
Acid-Loving Plants that Don't Like Mushroom Compost
The opposite is true if you think mushroom compost is good for tomatoes. Mushroom compost is known for its alkalinity, making it a poor match for plants that thrive in acidic soil.
When looking at the pH level of organic matter, mushroom compost falls near a seven, making it neutral. Because of its pH, fresh mushroom compost neutralizes acid in garden soil, and when used around tomato plants and fruit trees, it prevents them from getting vital nutrients for their growth.
Vegetables that Don't Like Mushroom Compost
Although acid-loving plants are likely the first thing that comes to mind when looking for vegetables that don't like mushroom compost, many other crops struggle to grow in this medium. The availability of nutrients in mushroom compost diminishes because alkaline soil is less soluble than acidic soil, affecting plant nutrient uptake.
Many root crops like carrots, potatoes, and beets don't do well if grown in mushroom compost. Some home gardeners found that carrots did well in the compost due to the high amount of nitrogen; however, this is only effective when using a small amount of compost at the roots of the carrot plant.
Salt Sensitive Plants
What is mushroom compost not good for? The compost is high in soluble salts and nutrients that prove harmful for germinating seeds, weed seeds, and plants that are sensitive to salinity in the soil. Crops with moderate to severe sensitivity to salt in the soil are among the vegetables that don't like mushroom compost.
Staple crops like lettuce, squash, and cucumbers are sensitive to salt. Although not every vegetable has salt sensitivity, those that do suffer when grown with mushroom compost. Any added salinity to the soil for these plants affects their quality and fruit production.
Flowers that Don't like Mushroom Substrate
Many flowers thrive in acidic soil, which makes them a poor choice to grow with mushroom compost. Aside from the lack of acidity in mushroom compost, it also has high salt levels that threaten the water level of plants growing in garden spaces near mushroom compost.
Many flowers and decorative plants fall near the middle when it comes to the pH of their soil, but most lean toward acidic soil. The alkaline conditions that mushroom compost provides could result in flowering plants having stunted growth or a lack of blooming flowers due to the poor intake of nutrients.
Avoid Using Mushroom Compost with Berries
Most berries, including strawberries and blueberries, prefer acidic soil. By default, most garden soil is somewhat neutral, and soil amendment helps adjust the pH of the soil to make it suitable for berry shrubs and trees.
The acidity of soil refers to soil with a pH below seven, and although mushroom compost pH sits around seven, the pH range for blueberries is 4.0-5.3.
Strawberries have a slightly better range going from 5.5-6.3, but mushroom compost's ability to neutralize the acid in the soil means young plants that rely on acid may suffer. Without taking in the proper nutrients, plants that develop flowers and fruits may fail to produce flowers or fruits.
Mushroom Compost Alternatives
Mushroom compost may not work for every plant in the garden; however, there are alternatives to improve soil quality without negatively affecting plant growth.
While some home growers grow plants in mushroom compost, peat moss or basic potting soil amended with finished compost provides indoor plants with enough nutrients to grow healthy.
Compost made from earthworm activity is another option for amending your garden's soil with a compost that won't harm specific plants. Aged manure from chickens added to your regular compost pile creates a highly rewarding compost for the garden.
The best way to introduce nutrients to garden plants is through compost tea. Use homemade compost from your regular compost bin with wheat straw and manure. Soak the ingredients in water to pull nutrients and create a DIY fertilizer for mushroom substrate for all your outdoor plants.
Although mushroom compost is a unique way to add nutrients to your soil, using the compost properly requires planning to ensure the plants you introduce the compost to can handle the alkaline pH. Plants that thrive when grown in mushroom compost include non-acidic fruits like cantaloupe, honeydew, and mangoes.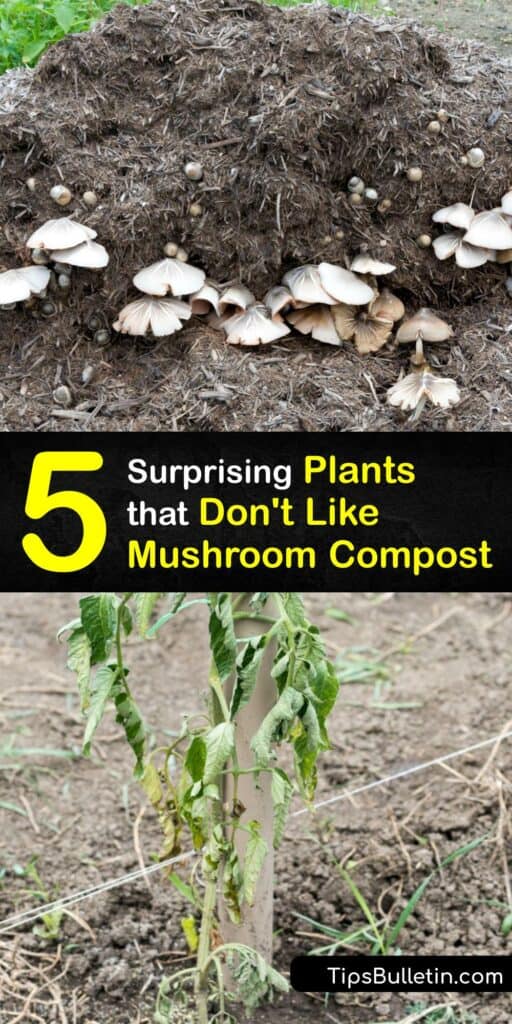 We hope you learned about plants that don't like mushroom compost from our article, and if it answered questions like, "What is mushroom compost not good for?" please share our guide on Facebook and Pinterest with your friends.