Most growers agree that the vegetable garden is just not the same without tomatoes. It's no wonder since there are so many kinds to choose from and ways to use them in the kitchen. Learn about the different types of Roma tomato varieties, ways to use them in recipes, and how to grow them in your garden.
These succulent fruits range from bite-size to extra large, and Roma tomatoes fall somewhere in between. Some may say that all tomatoes are created equal, but this is far from the truth.
Some tomatoes are quite large and so juicy they are best eaten over the kitchen sink, while others are as small as a grape and pop in your mouth with sweetness. And then there is the Roma tomato, a paste tomato that is meaty and flavorful.
Not only are there different tomato varieties, but there are also types with varying flavors and colors. Some tomato plants produce the typical red fruit we are all familiar with, and others have orange, golden, and even burgundy fruit.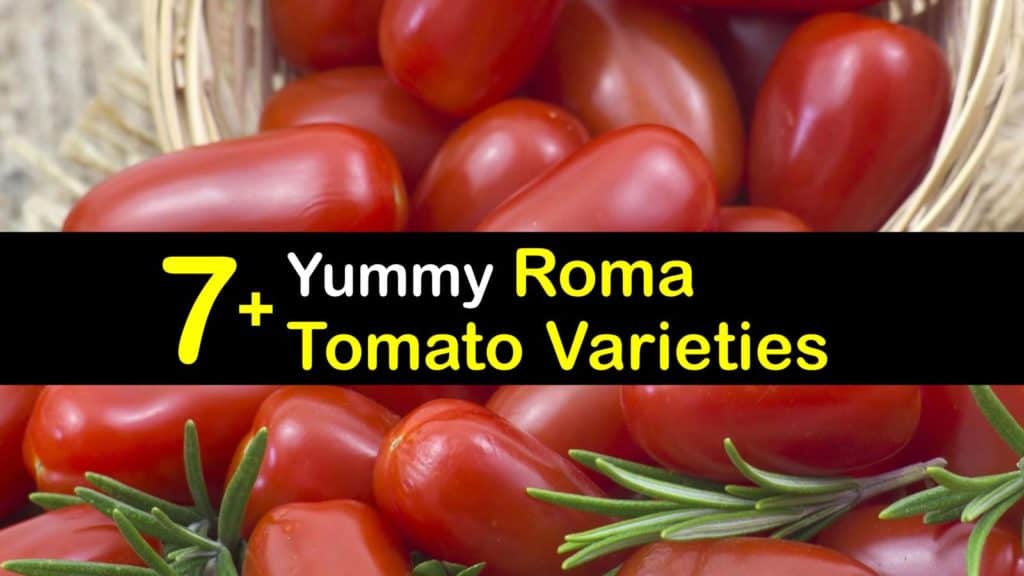 Growing Different Types of Roma Tomatoes
There are so many different types of tomatoes that it can be hard to choose which ones to grow at home. Growing cherry tomato plants is easy, but so are Romas and beefsteak tomatoes.
Roma tomatoes are the perfect choice for preparing your favorite Italian dishes, and a bountiful harvest keeps your pantry well stocked with canned tomatoes.
We'll explain the differences between some of the more popular Roma tomatoes and how to grow your own at home.
What are Roma Tomatoes?
There are well over 10,000 tomato cultivars, including determinate and indeterminate varieties and heirloom and hybrid types. So, what are Roma tomatoes, and what makes them so unique?
Roma Tomatoes
Unlike the large and juicy beefsteak tomato, Roma tomatoes or Italian plum tomatoes have the perfect blend of sweetness and meaty texture.
They are oblong and firm and larger than the cherry tomato. Their meaty flesh makes them ideal for preparing homemade tomato paste, ketchup, and sauce, and they are the perfect tomato for canning.
Are There Different Roma Tomato Varieties?
There are many different Roma tomato varieties names, and while they are all relatively the same size, their color, texture, and flavor make each one unique.
Roma Tomato Varieties
Unlike other tomatoes that are either determinate or indeterminate, most Roma tomatoes are determinate tomatoes. These grow as a bush and stop growing once they reach a certain size.
There are two categories of tomatoes, and these are heirloom and hybrid. Open-pollinated, heirloom tomatoes are grown from seeds passed down through the generations, while hybrid types are modified to be more disease-resistant.
How to Grow Different Types of Roma Tomatoes
All types of Roma tomatoes are easy to grow as long as you provide them with the right amount of water, fertilizer, sunshine, and care.
Here is how to start your tomatoes from seed, transplant them into the garden after the last frost, and care for your plants for a high yield of fruit at the end of the growing season.
All tomatoes are different, so it's essential to read the seed packet instructions before planting to determine depth and spacing.
However, the most common rule of thumb is to plant your seeds just below the soil's surface and grow tomato plants indoors about seven weeks before the last frost.
Fill a seed starting tray with a potting mix and make a shallow hole in each compartment. Put a couple of seeds into each hole and push dirt over the top. Pat it down lightly with your hand, and mist the surface with water until it's moist but not soggy.
Set the tray in a sunny window where the temperature is between 75 and 80°F and keep the dirt damp. After about seven days, the seeds begin to germinate, and in one month, the true leaves appear.
At this time, go through your seedlings and remove the smaller, weaker ones, so there is only one plant in each section.
Wait until the nighttime temperatures are consistently around 55°F before transplanting them into the garden, and make sure to acclimate your plants beforehand.
Take them outdoors for a couple of hours each day for a week, and increase the amount of time outside to prepare your young plants for the transition.
To transplant them in the garden, prepare the bed with organic, rich soil and dig deep holes about 24 to 36 inches apart. Make sure the garden receives six to eight hours of full sun daily.
Place each plant deeply into the hole so that only the upper leaves are above ground to encourage roots to grow along the stem. Position a tomato cage over the plant to provide it stability as it grows.
Fill in the hole, pat the dirt down lightly, and give your new plants a good drink of water. Spread a layer of mulch over the dirt to prevent weeds, retain moisture, and halt fungal diseases such as verticillium and fusarium wilt.
If your soil lacks calcium, use a well-balanced fertilizer and sprinkle eggshells over the ground to prevent blossom end rot.
Watch for pests that like your tomatoes, too. Take care of cutworms on tomato plants quickly so they don't destroy the entire plant.
The Martino Tomato for Cooking
What are Roma tomatoes, and which ones are good for cooking? These oblong tomatoes are meatier than cherry and beefsteak tomatoes, and the Martino Roma is an ideal choice for cooking.
Martino tomatoes are determinate, and they take 70 to 80 days to mature. These pear-shaped fruits grow on compact plants that rarely need staking. They weigh two to three ounces and have disease resistance to early blight.
This Italian heirloom tomato has dry flesh, a meaty texture, and very few seeds. The fruits are bright red with dark green foliage, and they taste great eaten fresh or for making tomato paste, sauce, and salsa.
San Marzano – The Famous Italian Roma Tomato for Canning
There are many types of Roma tomatoes, and this variety of plum tomatoes is one of the most popular for canning. They are an Italian tomato and are often more expensive than other domestic types.
The San Marzano tomato is thinner and longer than many other Roma types and has fewer seeds. These deep red tomatoes are well-balanced in flavor, tomato intensity, and sweetness, with just the right amount of acidity.
These Roma tomatoes are one to three inches long and a favorite for canning because they are some of the best tasting heirloom tomato varieties. It's easy to find cans of San Marzano tomatoes at your local grocery store. They are tasty roasted and divine in a marinara sauce.
What is the Amish Paste Tomato?
The Amish Paste tomato is a slightly irregular plum tomato that weighs eight to twelve ounces. It is an indeterminate tomato that is USDA certified organic, and many growers consider it the ultimate paste tomato.
This cultivar was first acquired from Pennsylvania Amish communities, and the fruits ripen throughout the growing season. They vary in shape and take roughly 85 days to mature.
Amish paste tomatoes are medium sized and deep red, with few seeds and thick skin. Their juicy and meaty flesh makes these tomatoes a wonderful choice to make tomato paste or sauce and add to a fresh salad.
The Lycopene Rich Heinz Tomato
Heinz tomatoes are rich in lycopene and grow on bushy plants loaded with heirloom tomatoes. They are a determinate tomato that is popular in ketchup.
Heinz tomato plants take 65 to 80 days to mature. They produce fruits that weigh six ounces and grow two to four inches in size. They have a smooth, slightly flattened surface and tangy, juicy flesh.
The unique flavor of these Roma tomatoes makes them an excellent choice for making homemade ketchup. They are also great on sandwiches and added to sauce and puree.
Sunrise Sauce Tomatoes for Container Gardens
These bright orange Roma tomatoes produce high yields of fruits on short vines, making them a great candidate for growing in containers on a balcony or patio. They are indeterminate tomatoes that take roughly 55 to 60 days to mature.
Growing tomatoes in bucket or pot is just as easy as putting them in the garden. These tomatoes weigh three to four ounces, and the plant grows 30 to 36 inches tall. This sauce tomato is low maintenance and disease resistant to verticillium wilt and fusarium wilt.
Sunrise sauce tomatoes are deliciously sweet and meaty with the traditional red Roma flavor. They are easy to peel and complement salads and sandwiches and tasty cooked in a variety of sauces.
Growing tomato plants in your garden is well worth the time and effort, especially when you grow different varieties. Roma tomatoes are not only simple to grow, but they provide you with high yields at the end of the growing season.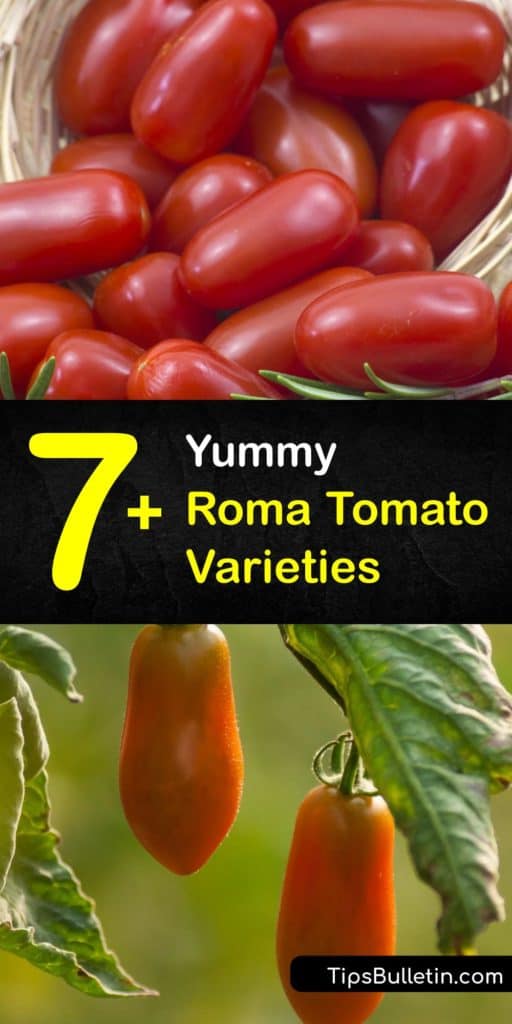 We hope you enjoyed discovering the different Roma tomato varieties and how to grow them at home, and we'd love it if you'd share our Roma tomato guide with your tomato-loving friends and family on Pinterest and Facebook.