It's no secret that bees provide numerous benefits for flower beds, as well as our environment. To draw the bees in, gardeners either design a bee-friendly landscape or use a few shrubs that bees love.
Creating a bee-friendly landscape requires a little more work than planting a few shrubs, though, as gardeners must think about shelter and water in addition to a bee's food source.
Planting a few shrubs that bees love works well for everybody because of how versatile they are in any style of landscape. Grow them as focal points in your flower beds, trim or shape them into hedges, or use them as backdrops to highlight other plants in your beds.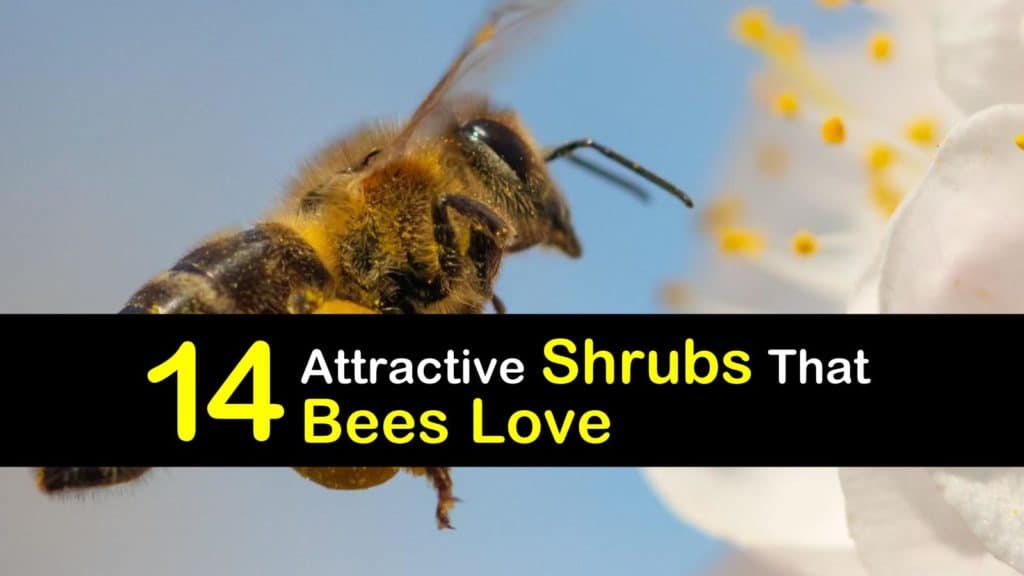 Choosing the Best Flowering Shrubs for Your Yard
Some gardeners even use shrubs as transition points in landscape design. Even if you only want to bring in a few bees or want to create a bee haven, adding shrubs that bees love to your landscape benefits everyone.
Before you run out to your local nursery to purchase flowering shrubs that bring the bees, take a minute to determine the best ones for your yard. Consider the growing conditions your yard presents, as everybody's yard offers something different.
Think about the amount of sunlight required for each shrub to ensure you match the lighting requirements. Use shrubs with different blooming periods to provide a food source for bees for a more extended period.
The majority of flowering shrubs begin blooming in the early spring, so intermix some with late summer or fall blooming times to draw bees throughout the year.
For the first year, flowering shrubs require regular watering, especially when there is little to no rainfall. Consider using drought-tolerant shrubs if you live in a drier climate or an area that deals with droughts.
Use a drip-style irrigation system or soaker hose to deliver the correct amount of water to your newly planted shrubs and opt for native shrubs as they adapt the best.
Before planting shrubs, always make sure there is enough room for it to reach its mature size. Planting the shrubs in too small of an area results in more pruning than necessary later on down the line.
Before you attempt to prune the bushes, do some basic research to ensure you are pruning it correctly. Incorrect pruning affects next year's blooming ability.
Before you try to bring the bees to your yard, check out your home and any other structures on your property and treat exposed wood with sealer, stain, or paint to initiate carpenter bee prevention. While not usually a pest to humans, they easily destroy untreated wood very quickly.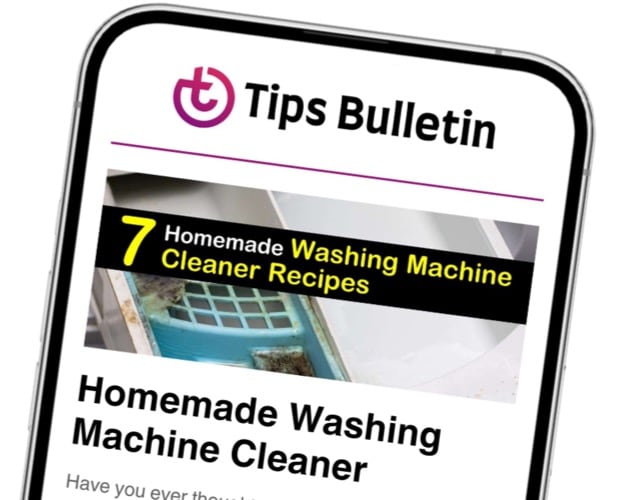 Finally, an email that Transforms Your Home.
Get the latest home and garden tips from our experts, delivered straight to your inbox.
Flowering Shrubs that Bees Love
When planting shrubs for bees, always dig the hole two times bigger than the root ball and the same depth. Backfill the hole and create a mound around the base of the shrub to allow extra earth to soak in as you water.
While carpenter bees also like your flowering shrubs, you don't want them nesting in the wood of your home or deck. Use natural ways to get rid of carpenter bees in these areas so they nest elsewhere while still enjoying the flowers in your yard.
Shrubs that Bees Love – Darwin's Barberry (Berberis darwinnii)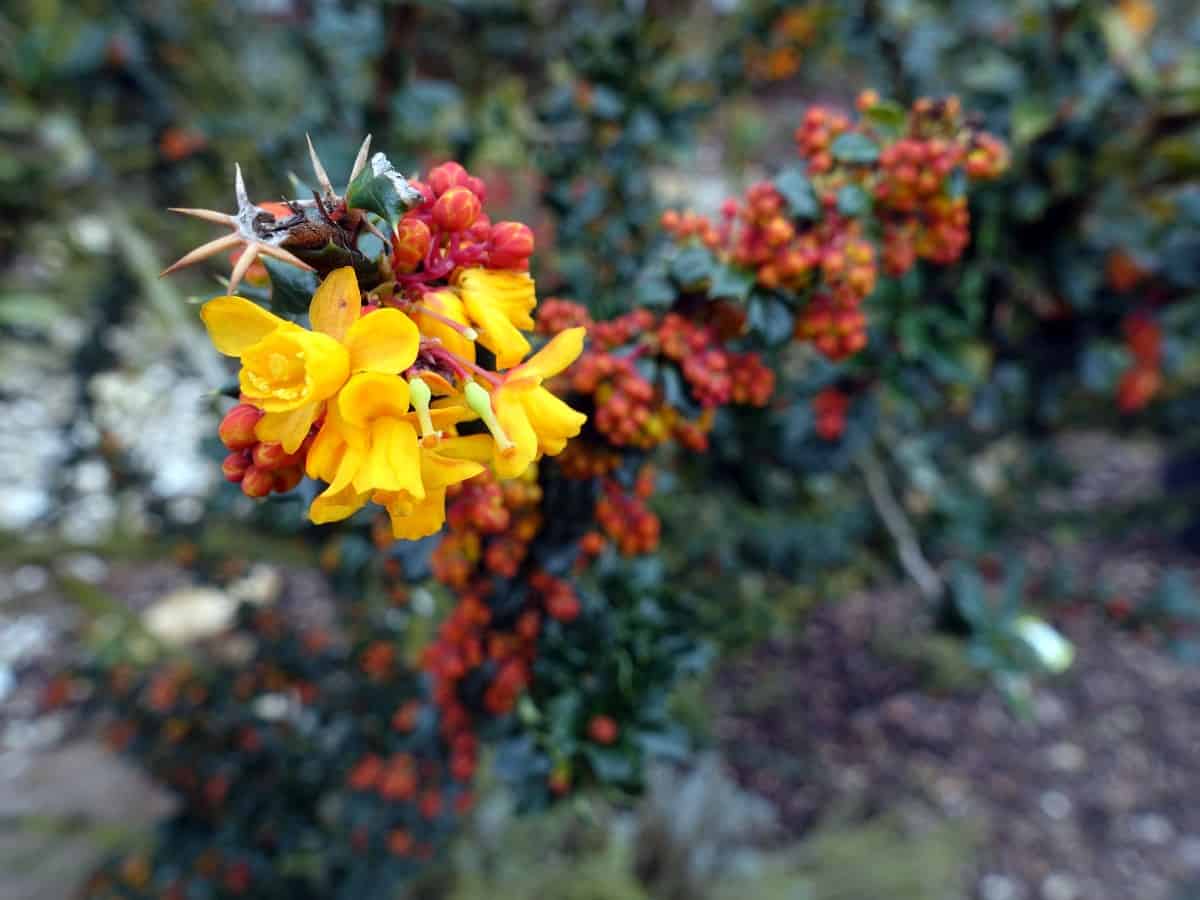 As colorful evergreen plants, Darwin's Barberry is an excellent shrub choice for attracting queen bees. The abundance of orange flowers in the early spring brings hoverflies and bees, but more importantly, the queen bee, as she is actively feeding as she works on building her colony.
Darwin's Barberry has small green foliage that resembles holly leaves. The orange flowers give way to non-edible blue berries that several varieties of birds find appealing. Plant your Darwin's Barberry in average, well-draining soil in full sun to partial shade.
Butterfly Bush (Buddleia)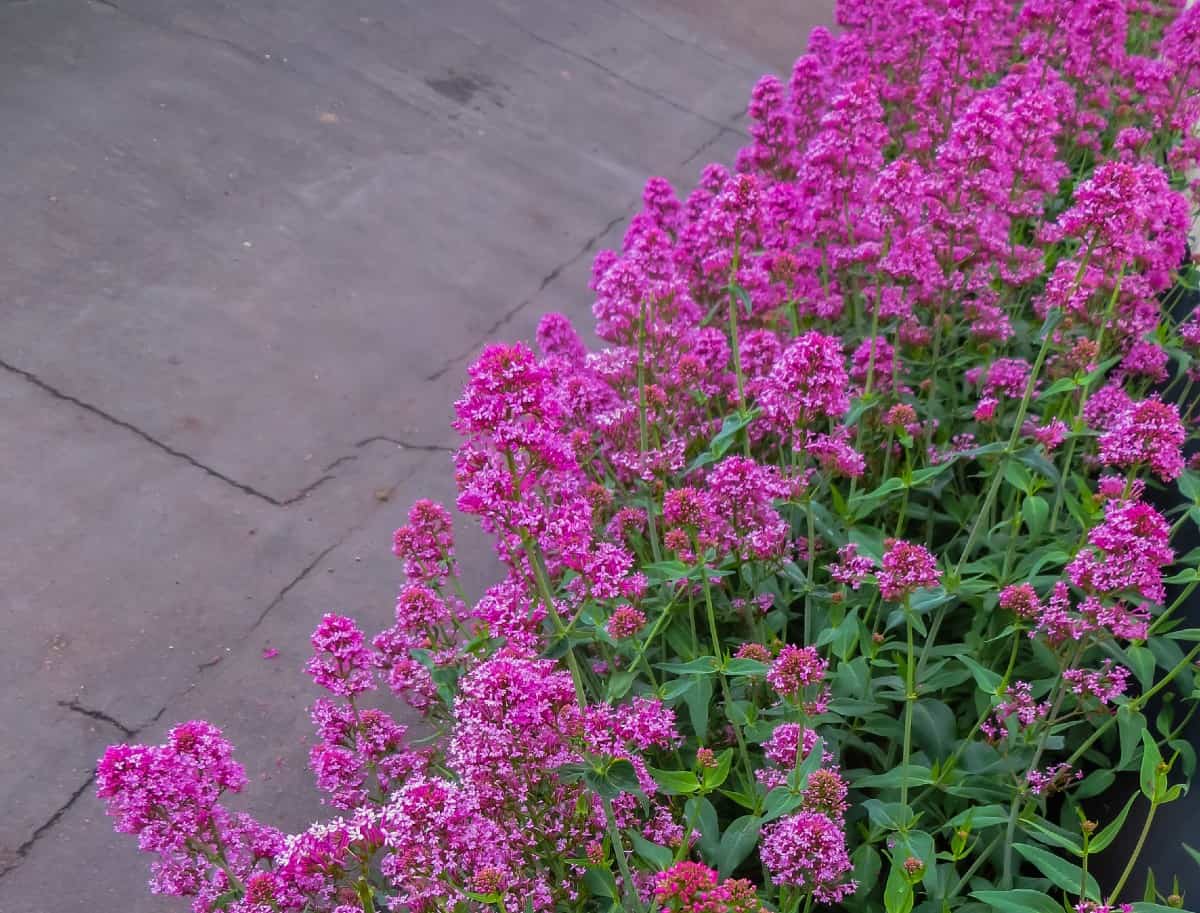 Butterflies are not the only pollinator attracted to Butterfly Bush; bumblebees are as well. Many insects are drawn to the panicles of these flowers for honey bees, which offer tubular flowers in shades of purple, lilac, and pink, depending on the cultivator purchased.
They bloom from summer to autumn and produce long, spiked trusses filled with flowers. Although a shrub, some species grow into small trees and are hardy enough to grow just about anywhere you plant them.
Always plant this low-maintenance deciduous shrub in the spring and take care of pruning and deadheading in the late winter for a healthy-looking shrub.
California Lilac (Ceanothus)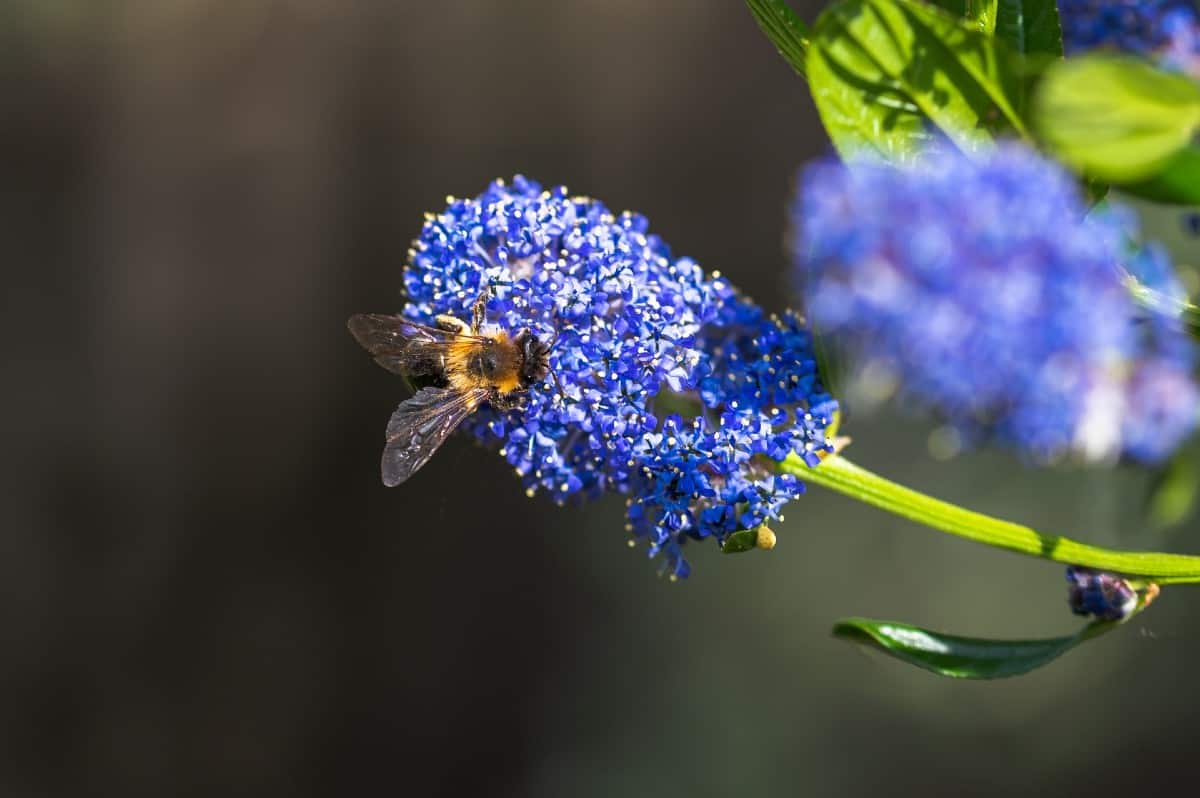 An evergreen shrub, the California Lilac offers blue and pinkish or blue flowers known to attract solitary bees, bumblebees, and honeybees. Different varieties of the California Lilac provide different blooming times.
The earlier bloom times are an excellent option for when food sources are limited for foraging bees. This drought-tolerant ornamental shrub requires little maintenance and even can be trained to grow as a small tree.
When planting these shrubs, select a location with partial shade to full sun with excellent drainage. Use clay, sand, or loamy soil on the alkaline to neutral side and keep it moist.
Viburnum (Viburnum spp.) – Bee Loving Shrubs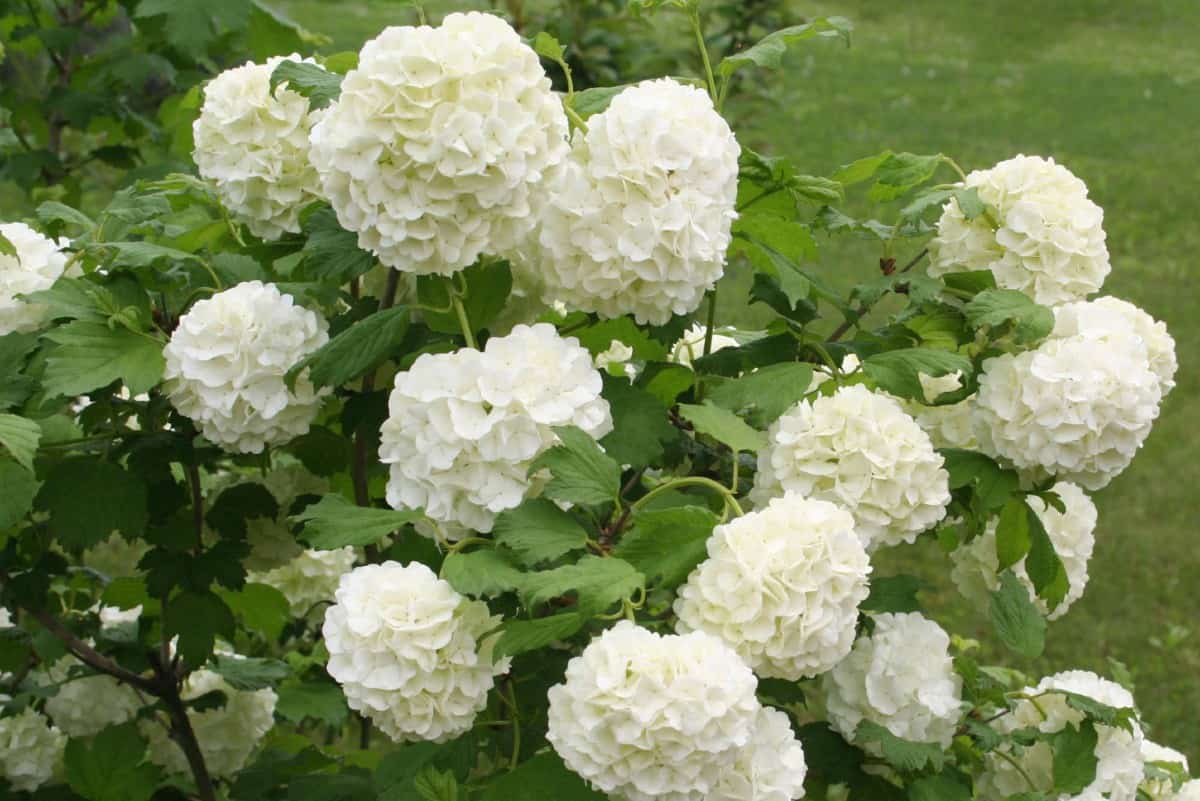 There are around 150 species of Viburnum, ranging from evergreen, semi-evergreen, and deciduous. In the early spring, most species of Viburnum produce fragrant flowers that attract bees and hummingbirds.
Once the colorful blooms of these old fashioned flowering shrubs give way, non-edible fruit takes its place. As you plant your Viburnum shrubs, pay attention to the type you are planting, as they all have different requirements.
Most species prefer full sun, but others do well in partial shade. Viburnum adapts well to different soil conditions, but all require well-draining soil and prefer it organically rich.
Blueberry (Vaccinium)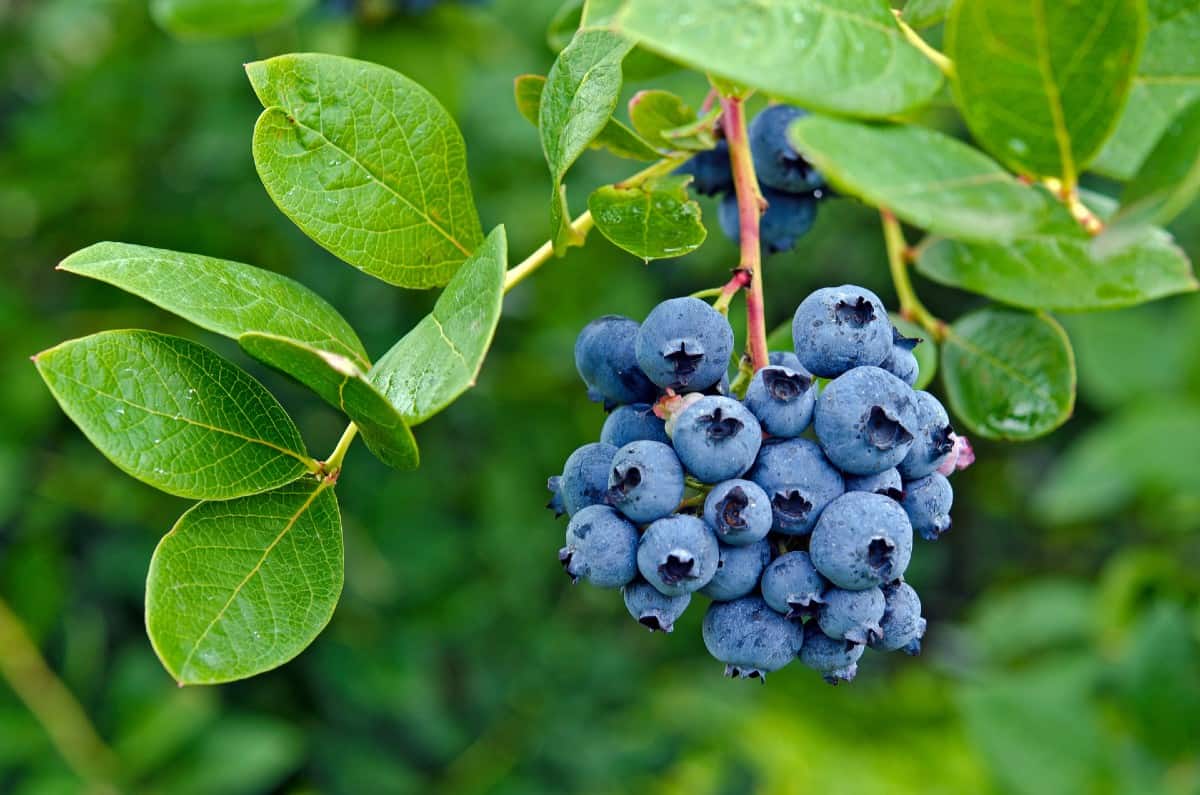 Growing blueberries in your garden allows you to attract mason bees and provide a delicious snack for your family. The flowering shrub blooms creamy-white bell-like flowers in the early spring that gives way to fruit.
The foliage turns a lovely shade of scarlet during the fall. Plant your blueberries in the beginning to middle of the spring and, when possible, use plants that are at least one year old.
There is no difference between bilberry and blueberry when it comes to sunlight. Choose a sheltered location with lots of sun for the best crop potential. Use soil that can retain moisture but is well-draining to prevent problems from the shallow root system.
Currant (Ribes)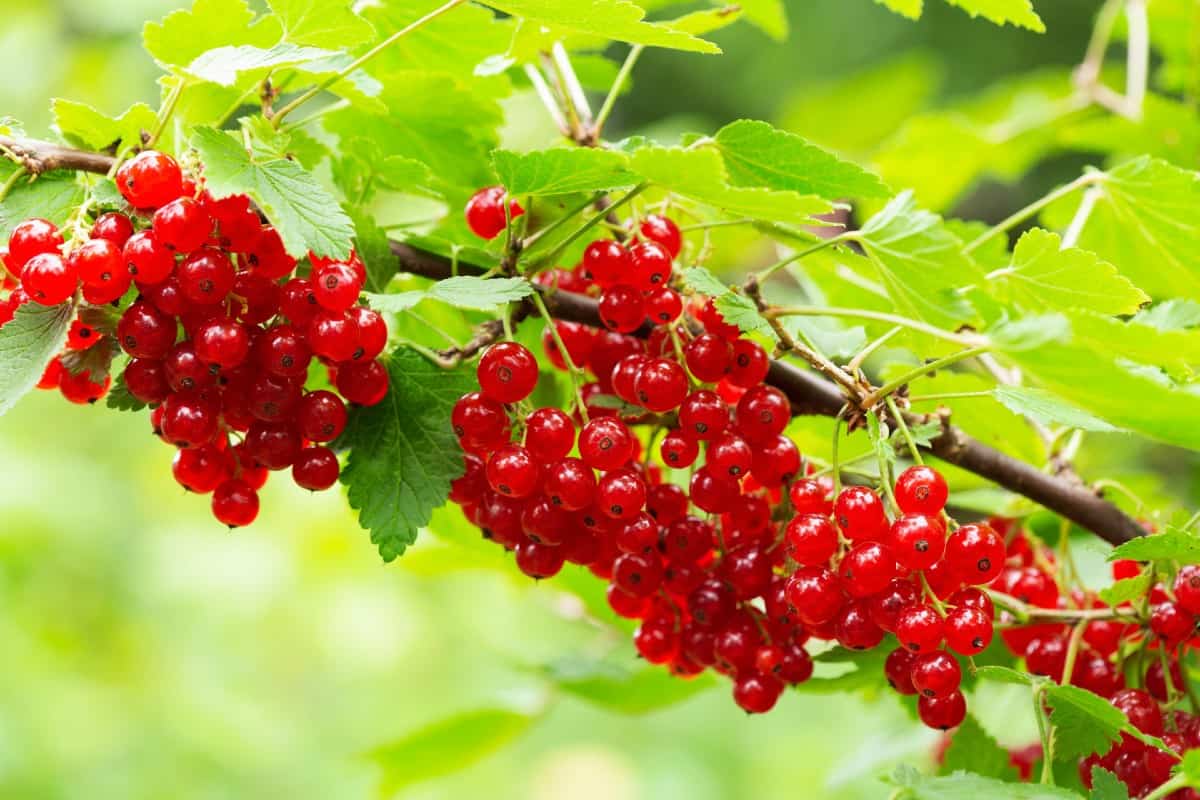 Currant shrubs are practical and provide interest to flower beds. Currants come in black, red, pink, and white. Pink and red are tarter, so most use them in jams and tarts, while white is eaten off the bush.
Before growing currants, check local restrictions, as they are prone to white pine blister rust. As a self-pollinator, only one shrub is necessary for fruiting, but two provide better results.
These bushes require fertile, well-draining soil and prefer the colder conditions in zones three through five. They are fine in full sun but do best with partial shade in the afternoon.
Bee-Friendly Shrubs – Panicle Hydrangea (Hydrangea paniculata)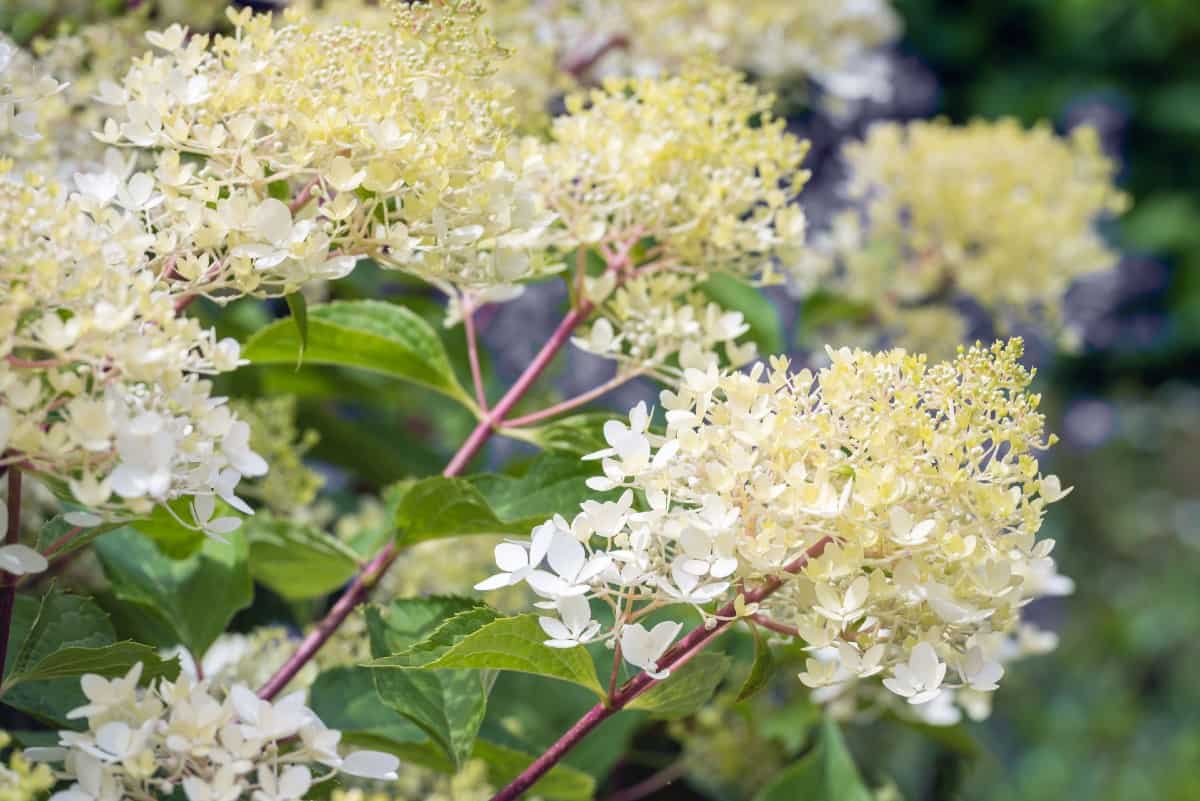 Unlike other Hydrangea cultivators, bees and other pollinators love the Panicle Hydrangea. The deciduous shrub grows in zones three through eight with bloom time beginning in July and ending in September.
This species offers clumps of white flowers. As all the blooms occur on the current growth, prune back the shrub in the late winter or beginning of spring.
It's possible to train this shrub as a small tree, but it does better as a multi-stemmed bush. Plant these in full sun with some afternoon shade in well-draining soil.
Hebe (Hebe spp.)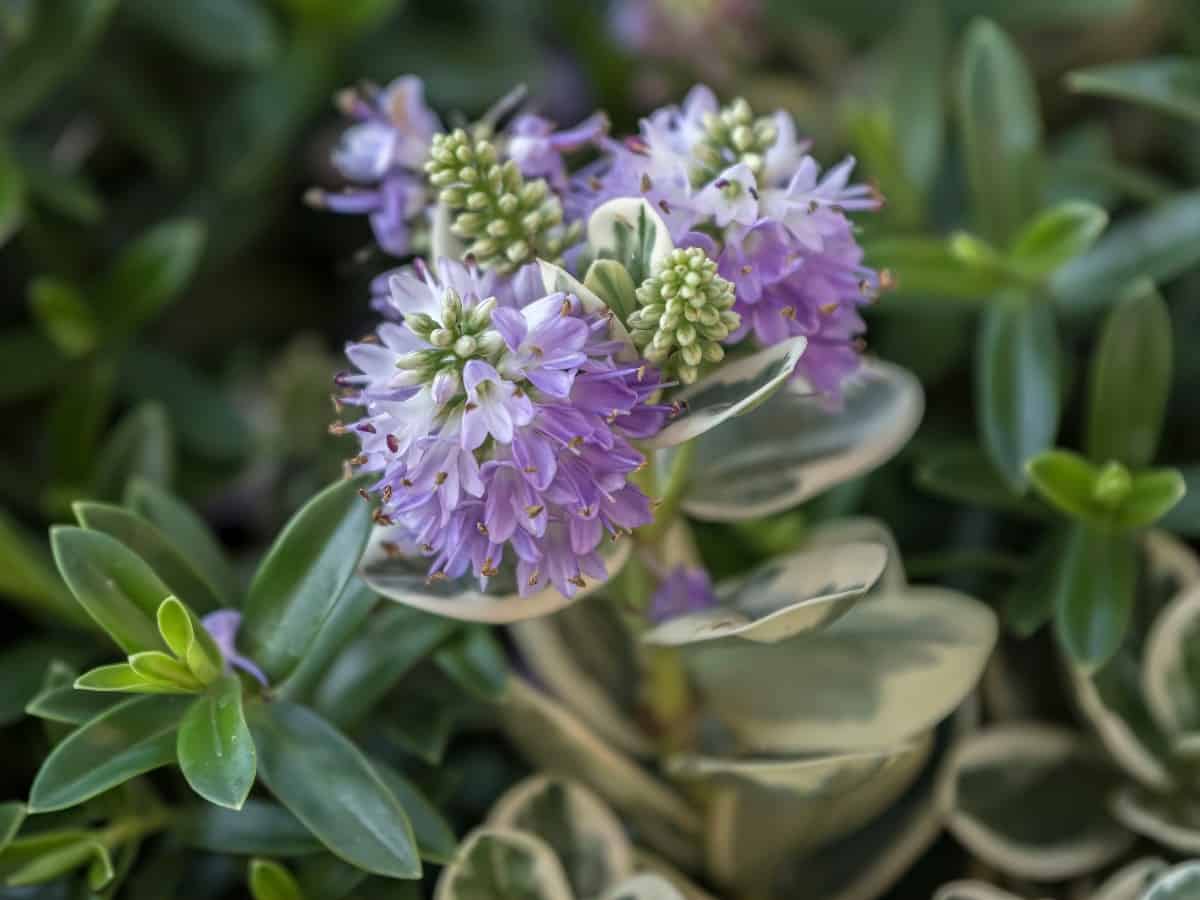 Hebe plants are named for the Greek goddess of youth and are a versatile evergreen shrub that is easy to care for. Different species of Hebe are available depending on what you are after.
These shrubs range in height from three to six feet tall. Small and large-leafed species are spiked crimson, pink, white, to deep blue colored flowers.
These shrubs' versatility is great for gardeners as it allows them to be grown in several ways. Most specimens adapt to all soil types, but they all prefer loose and well-draining soil. Choose a planting location with full sun, although they tolerate part shade.
Hebe makes excellent evergreen border shrubs for separating your yard from your neighbor. Enjoy color in all seasons.
Aster (Astereae)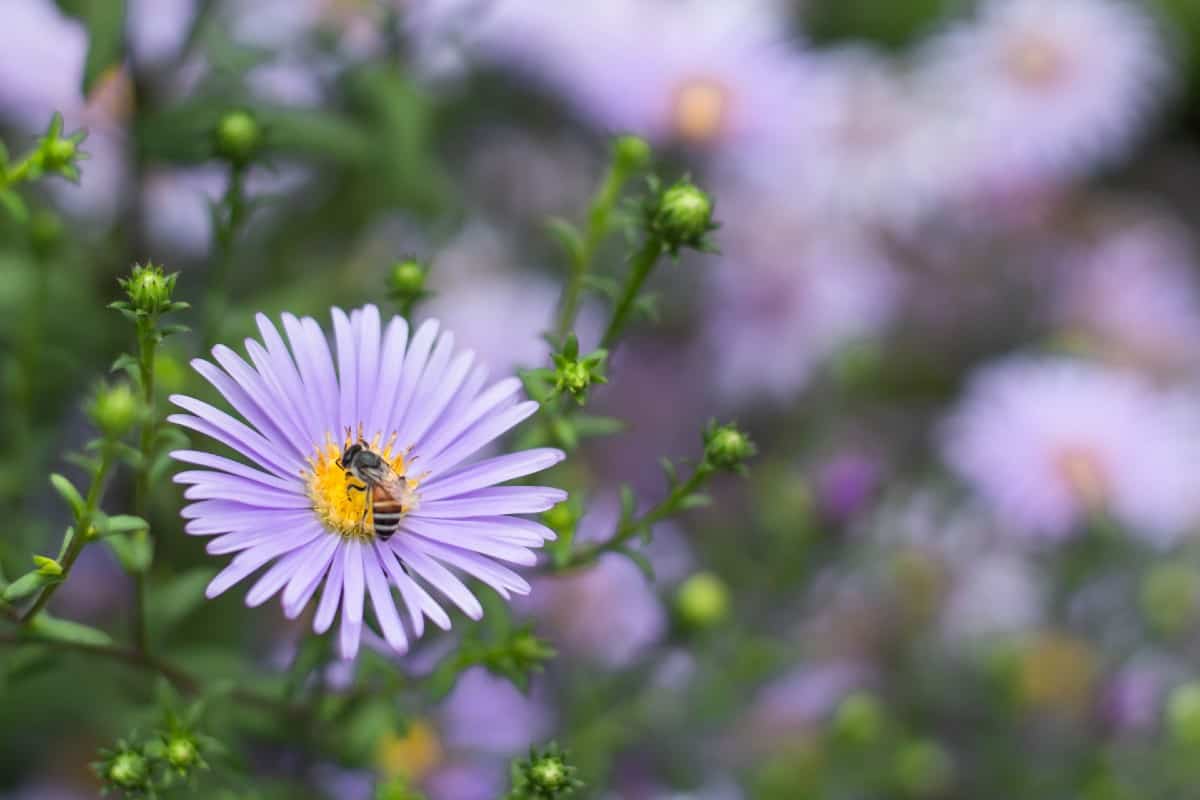 The best cultivator to use when creating a pollinator-friendly garden is a New England Aster, although other specimens also work well. Asters are one of the latest blooming flowering shrubs to provide sweet nectar for bees to feed upon.
The daisy-like pink, blue, red, or purple flowers open after everything else in the garden. For optimal growth, plant Aster in full sun.
They tolerate partial shade, but it reduces the number of blooms during the growing season. Avoid clay or other wet and heavy soil, as it leads to root rot and stay away from sandy soil as it causes wilting.
Red Claws (Escallonia) – Shrubs Bees Love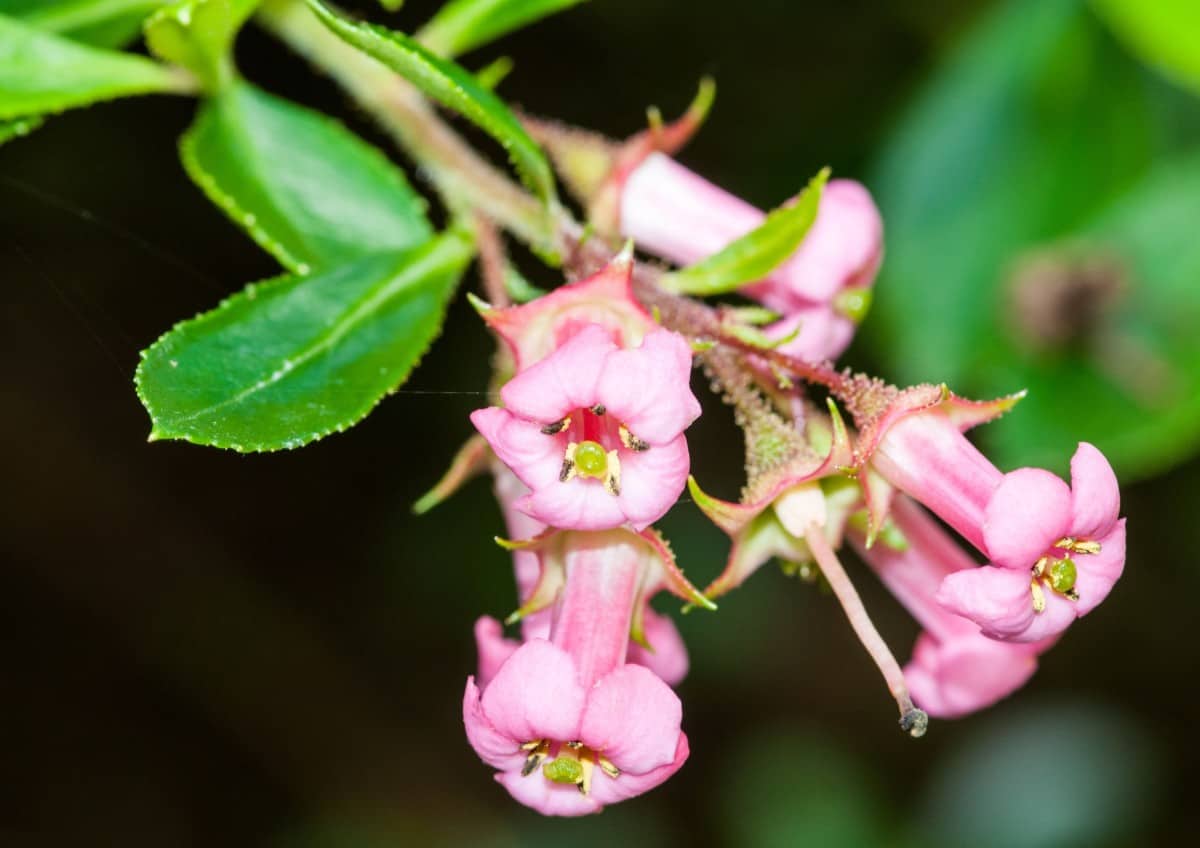 Red Claws come in two flower colors: deep crimson red and white. The red ones draw in hummingbirds as well as bees and other pollinators.
The red flowers begin appearing in the late spring and continue to bloom until the early summer. These red flowers stand out against the green leaves.
Red Claw works well as a hedge style plant and is quite tolerant of soil conditions. The main soil requirement for this shrub is well-draining soil. For optimal growth and blooming, plant it in full sun, but it does tolerate part shade.
Common Privet (Ligustrum vulgare)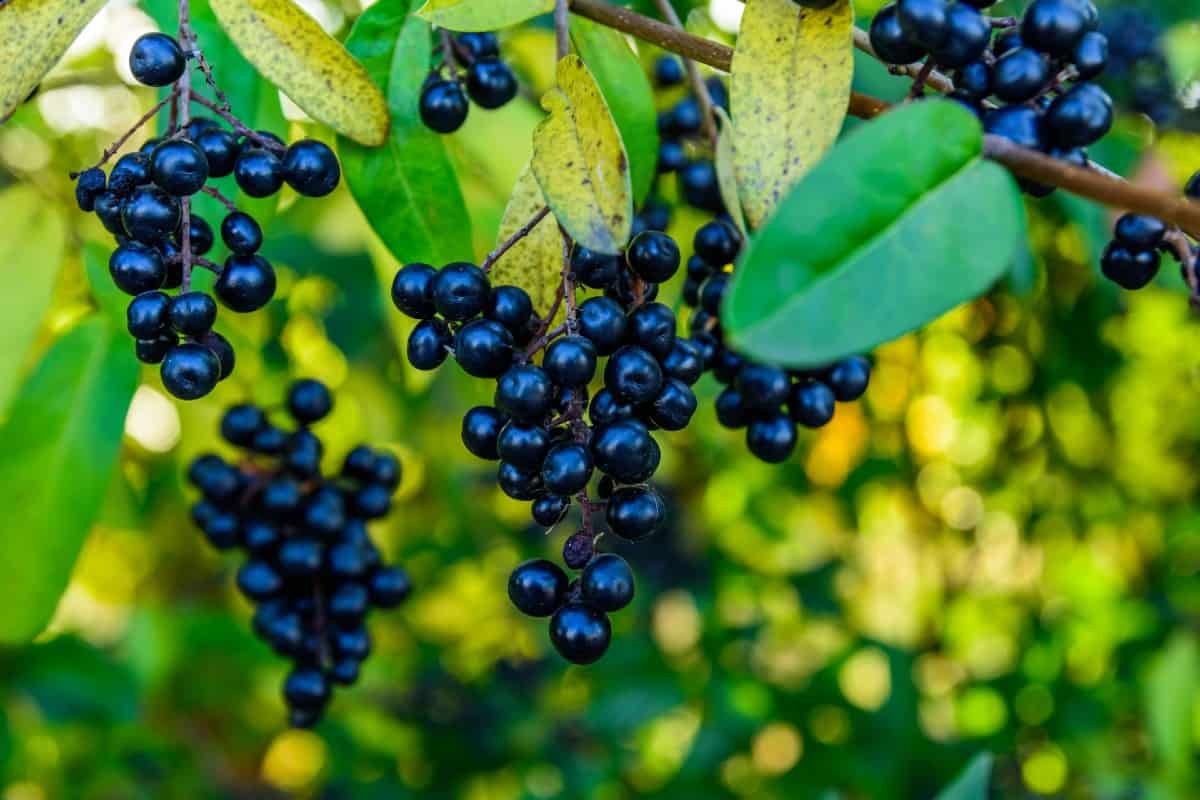 Privet is best known as a topiary rather than a bee attractant, but it works well for both. Common Privet is a food source for pollinators through its tubular-shaped white, showy flowers.
Spent flower heads give way to small, dark-colored berries that birds enjoy. Take note that in some areas, Common Privet is considered invasive, so check with your local nursery before planting.
The two inch long panicles appear in the early summer and give way to the fruit by the middle of summer. Plant this shrub in full sun in well-draining soil and prune back twice by late summer.
Manuka Tree (Leptospermum scoparium)
Although named the Manuka Tree, it is a flowering shrub and is well recognized for attracting honey bees that make Manuka honey. The Manuka Tree adds appeal to all gardens through its fragment and showy pink flowers sitting against the evergreen foliage.
Once fully established, the Manuka Tree requires minimal care, just weekly watering during the dry summer months.
For optimal growth, feed and prune back the shrub once a year. In coastal areas, plant this specimen in full sun, but anywhere inland, use partial shade.
Shrubs that Bees Love – Firethorn (Pyracantha)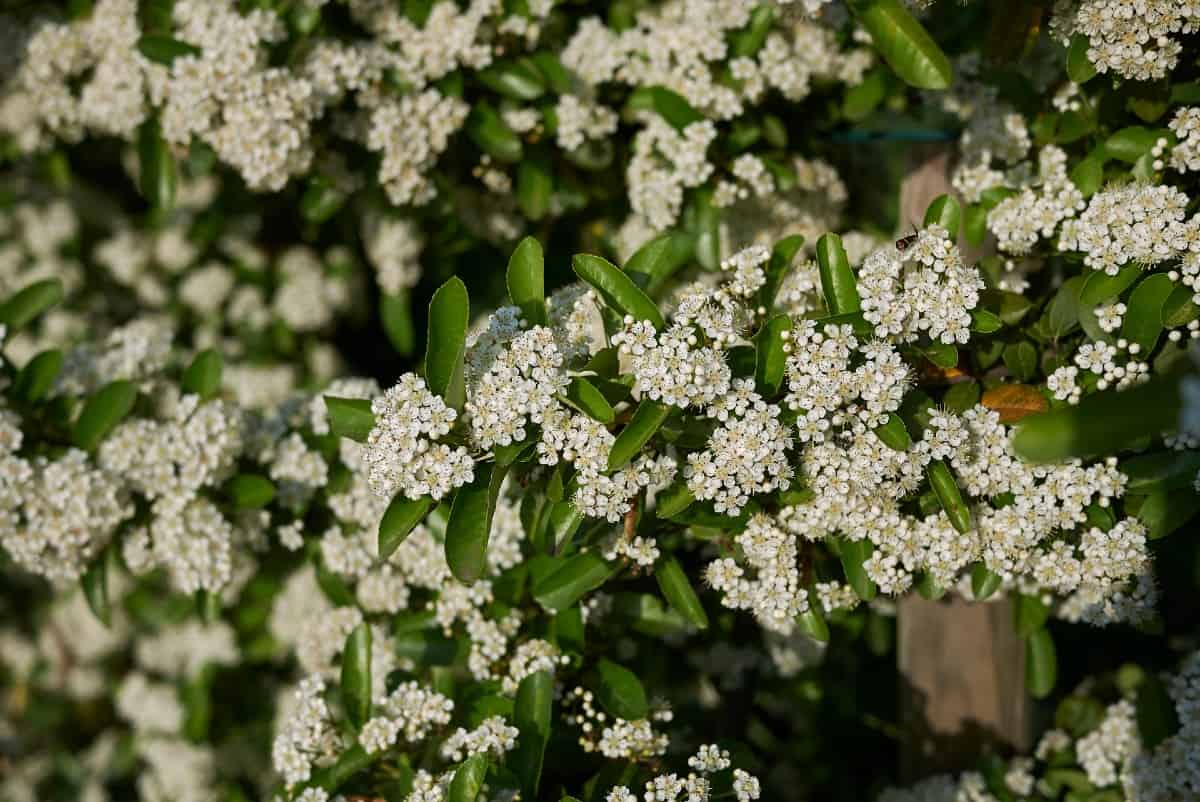 Bees appreciate this small tree or tall shrub that reaches up to 16 feet tall with a similar width. They are versatile and the best low maintenance shrubs with shiny green leaves that produce small white blooms during the beginning of summer.
These flowers turn to orange or red berries in the late summer and stay until the winter. A thorny shrub, Firethorn is relatively easy to grow as it adapts to a variety of growing conditions.
Firethorn does well in full sun, partial sun, and shady spots. For smaller plants, keep the soil on the drier side, as damp soil creates larger shrubs.
Japanese Spirea (Spiraea japonica)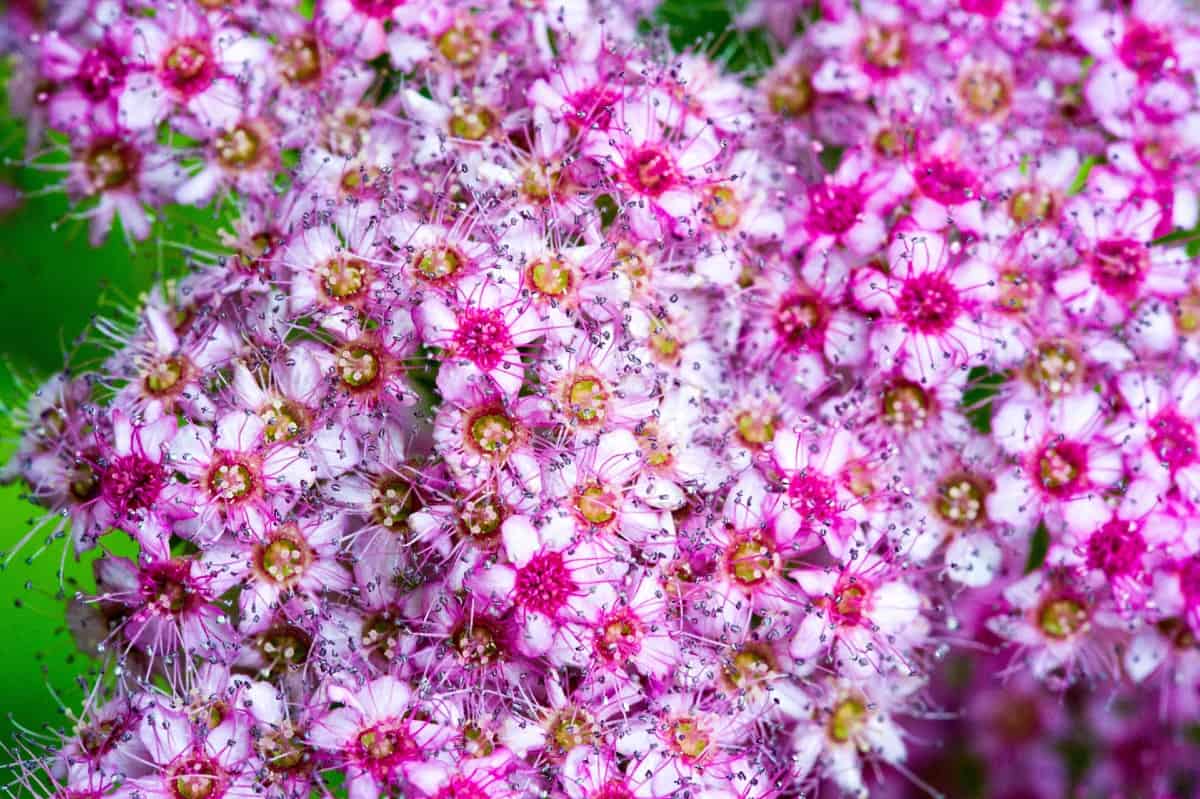 If you are looking for a low-growing ground cover to fill in the garden while attracting bees, use the Alpine Japanese Spirea as it only reaches two feet high with a six-foot spread. The light pink blossoms stand out among the small blue-green leaves.
These compact mounds require full sun for optimal blooming but survive in partial shade. Always use well-draining locations, as the Japanese Spirea doesn't tolerate wet areas. Prune after flowering to help encourage a second round of blooms.
If you become concerned that you have too many bees and are uncomfortable after you grow some of these plants because they work so well, make a bee deterrent spray to spritz outdoor areas where you don't want bees to congregate.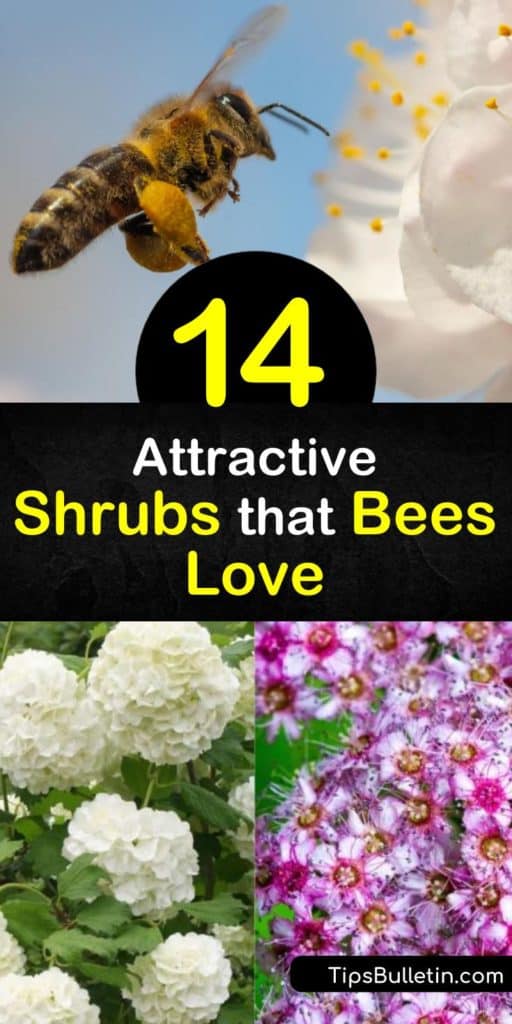 Thank you for reading about our thoughts on flowering shrubs to attract bees to your garden. If you found our suggestions on flowering plants helpful, please take a minute to share these shrubs that bees love with others on Facebook and Pinterest.