If you long for a yard filled with fragrant flowers, beautiful trees, and colorful butterflies, look no further. These pollinators are attracted to rich nectar sources and are easy to lure by using the right native plants. The best way to attract these fluttering insects to your yard is to plant a variety of trees for butterflies.
Nectar is an critical food source for adult butterflies. It provides them with sugar, proteins, enzymes, amino acids, and vitamins. Some flowering trees contain more nectar than others, are favorites among butterflies, and draw them to the area for a regular meal.
There are more reasons than one to landscape with butterfly trees. Not only do they provide them with a source of food, but these trees offer them shelter and water as well. Some butterflies even lay their eggs on the leaves of these trees to create a new life cycle of pollinators.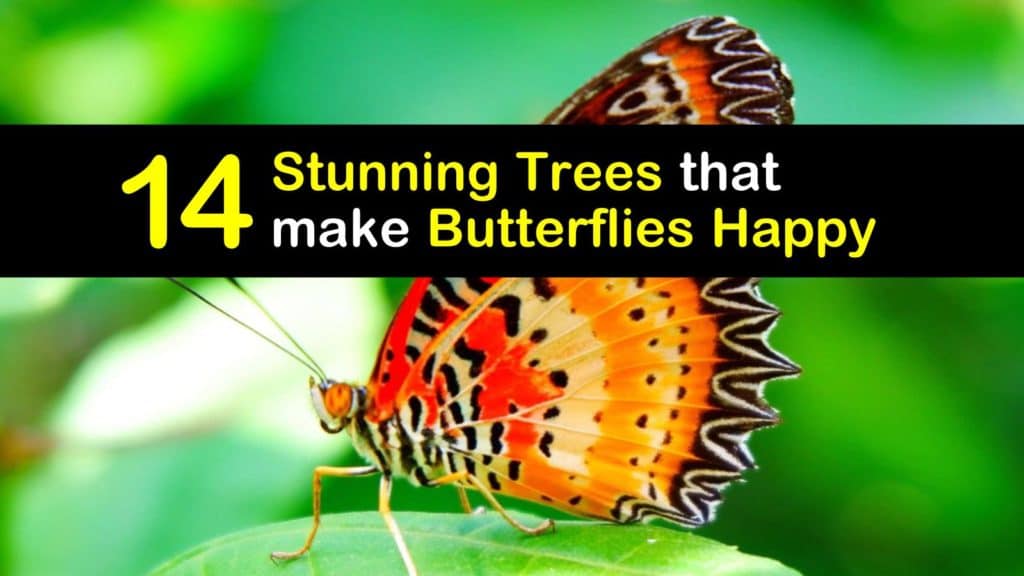 Creating a Butterfly Oasis with the Right Types of Trees
There are a variety of trees to choose from for landscaping purposes, but not all trees produce the delicious nectar that butterflies love.
Not only that, but not all butterfly trees grow in your region. We'll help you choose the best trees for luring butterflies to your yard and create a haven for pollinators.
Don't forget about other types of plants for butterflies, too. Plan a mixture of annuals, perennials, shrubs, and grasses that appeal to a variety of flying creatures.
What perennials attract butterflies? Plants like milkweed, butterfly weed, and more will bring many different pollinators to your yard.
How do Trees Bring Butterflies to the Yard?
Growing butterfly trees in the yard provide pollinators such as the black swallowtail, pipevine, eastern tiger swallowtail, buckeye, and pawpaw butterfly several reasons to hang out in your area.
Many of these trees produce nectar-rich flowers in the spring or summer. They visit the trees to snack on the nectar while pollinating them as they go about their business.
Some butterflies have favorite trees for laying eggs on the leaves. These trees also give butterflies a place to rest in the shade and shelter away from predators.
Which Types of Trees do Butterflies Enjoy?
Fennel, parsley, and other plants draw butterflies to the yard, but many trees attract pollinators as well. Three common tree types support multiple species of butterflies. Willow, chokecherry, and oak trees attract tiger swallowtail, spring azure, coral hairstreak, viceroy, red-spotted purple, and many others.
Some of these trees are host plants for butterflies, too. Hosting trees such as the common hackberry tree attract mourning cloak, comma, snout, and hackberry butterflies.
Where Should I Plant Butterfly Trees?
Before planting a butterfly tree in your yard, inspect the area for sunlight and moisture. Choose a spot that has enough space to accommodate the tree at its mature size.
Look for a sunny or partially shaded area with well-drained soil. Make sure there are no plumbing or septic pipes in the area of planting.
For extra interest, add some annuals for butterflies below the trees. Ensure that the get enough sunlight according to the plant care tag.
What Else Can I do to Create a Butterfly Oasis?
Creating a sanctuary in your yard is a great way to provide a safe and happy place for butterflies to eat and rest. A garden filled with nectar plants and a landscape of butterfly trees is a great place to start.
Plant these in an area that gets some sun but is also sheltered from winds. Butterflies enjoy sun-bathing, so place flat rocks in full sun areas to provide them with a warm resting spot on cool mornings.
Make sure they have a water source such as a mud puddle, wet sand, or shallow birdbath.
You may also consider growing fruit trees both for you and the butterflies and other pollinators. Many of these "flutter-byes" enjoy snacking on overripe fruit that may fall to the ground or you could put fruit slices in a special feeder for them and for some bird species to eat.
Black Cherry Tree (Prunus serotina)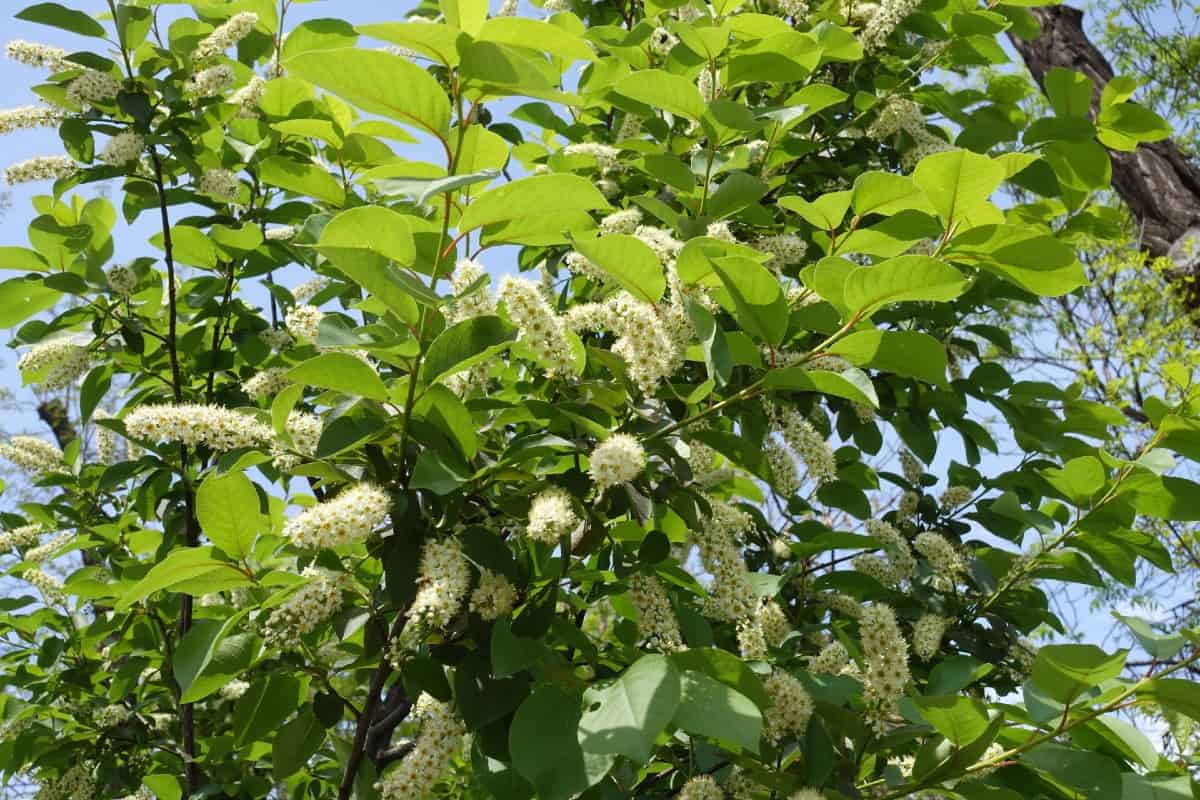 The black cherry tree has mature bark that resembles burnt potato chips, and crushing any part of the tree releases an almond fragrance. It grows fragrant white flowers in the spring that attract tiger swallowtail and red-spotted purple butterflies.
This tree is a native to eastern North America, is hardy in zones 3 through 9, and enjoys full sun and a wide range of soils. These trees have a mature height of 60 to 90 feet tall.
Flowering Dogwood (Cornus florida) – Trees for Butterflies with Long-Lasting Blooms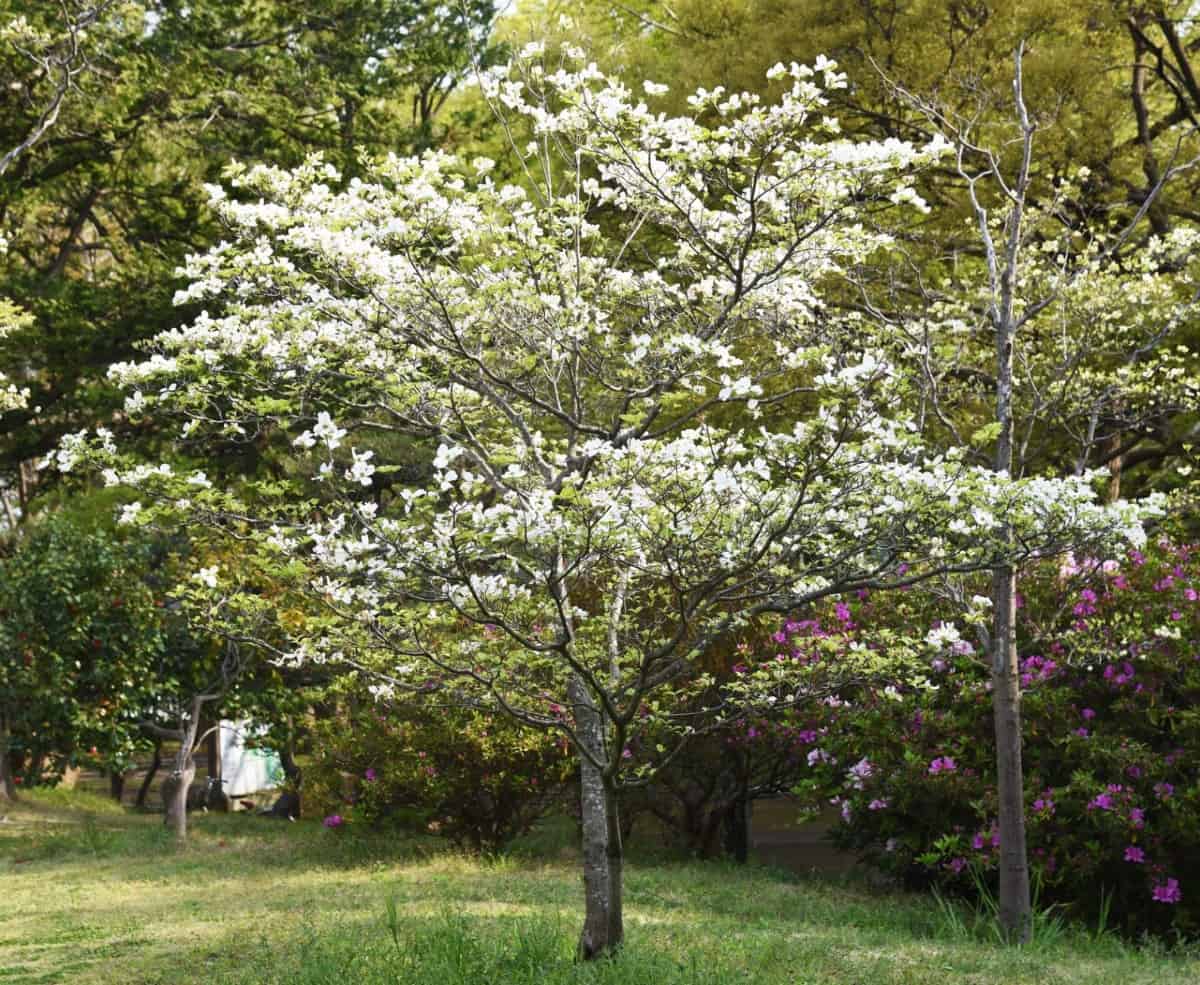 Flowering dogwood has a spreading crown that produces long-lasting white, pink, or red flowers in the spring, and scarlet leaves and red fruits in the fall. It attracts all types of butterflies, including the white admiral, hairstreak, and question mark butterfly.
This tree grows best in part or full sun and is hardy in zones 5 through 9. The flowering dogwood grows 15 to 40 feet tall and adds four-season interest to the yard.
Butterfly Bush (Buddleja)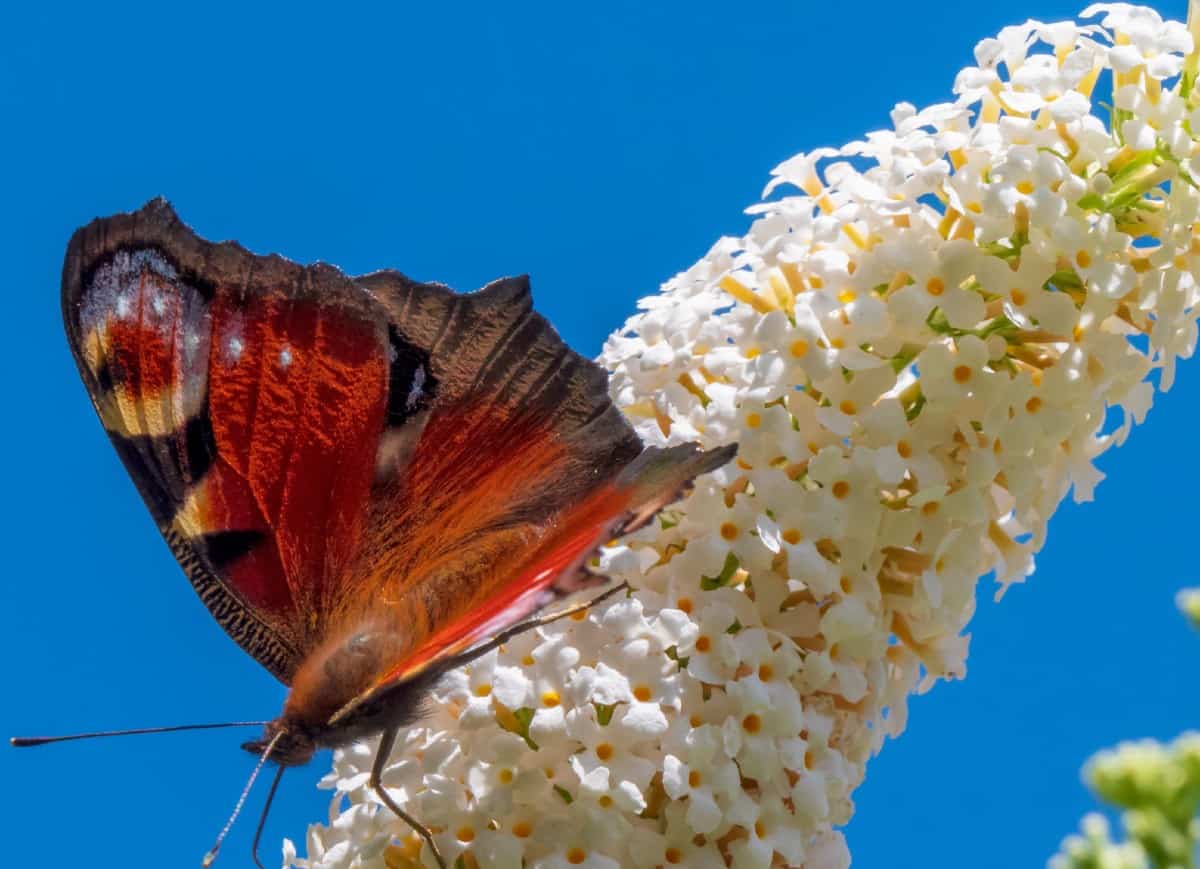 The butterfly bush is irresistible to both butterflies and hummingbirds with its fragrant red, pink, blue, and white flowers that bloom all summer.
It has a shrub form with a fountain-like shape and flower spikes, making it an appealing plant for a natural border.
This shrub is low maintenance, drought tolerant, and deer resistant. Butterfly bushes prefer full sun, have an average height and spread of 8 feet, and are hardy in zones 5 through 10.
Black Willow Tree (Salix nigra) – Butterfly Tree with a Whimsical Appearance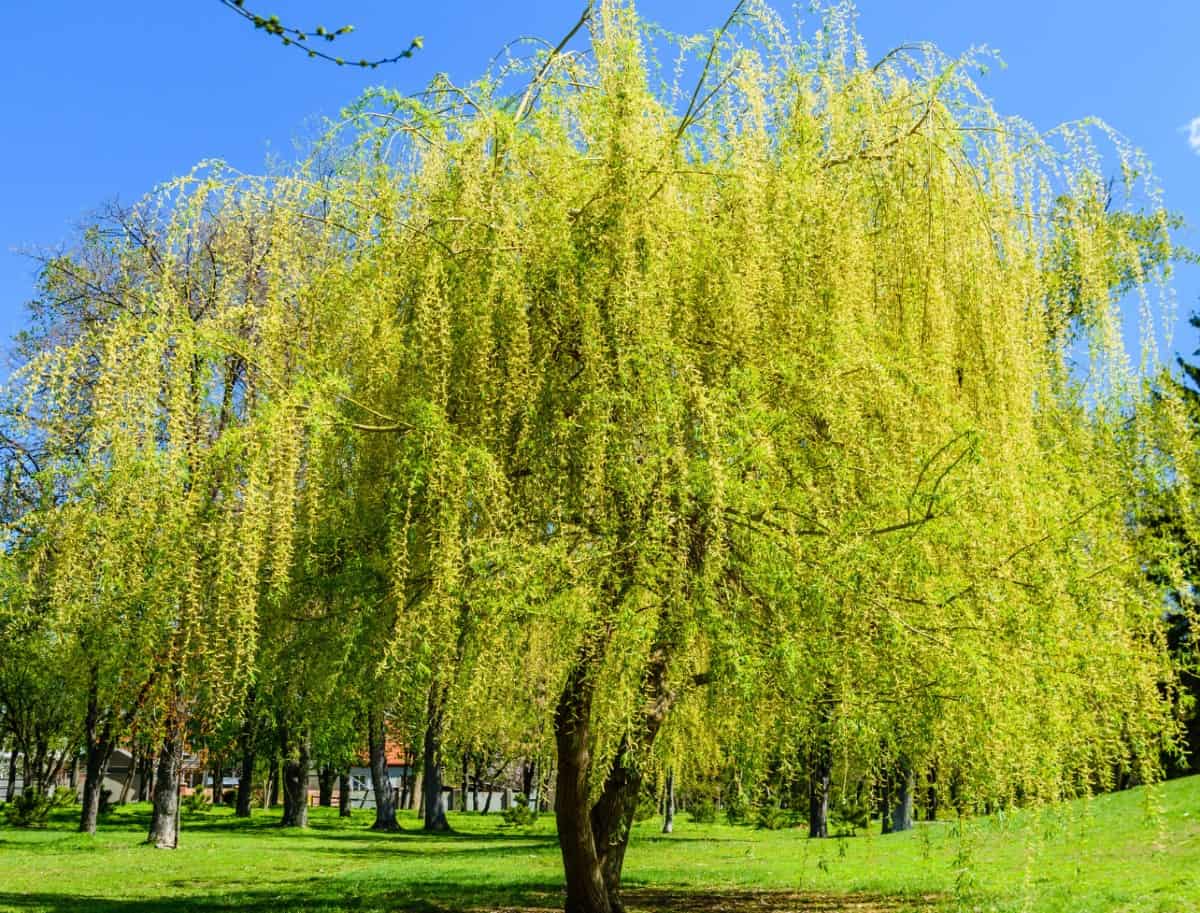 This tree is a typical willow with a slender trunk and elongated leaves. These yellow flowering trees have small brown capsules of seeds and attract brown elfin, Compton tortoiseshell, and Northern pearly-eye butterflies.
This small to medium-sized tree grows well in moist conditions and is both a tree or shrub, depending on the maintenance.
It thrives in both partial shade or full sun and is hardy in zones 3 through 8. Black willow trees have a mature height of 10 to 148 feet, depending on the area.
Eastern Redbud Tree (Cercis canadensis)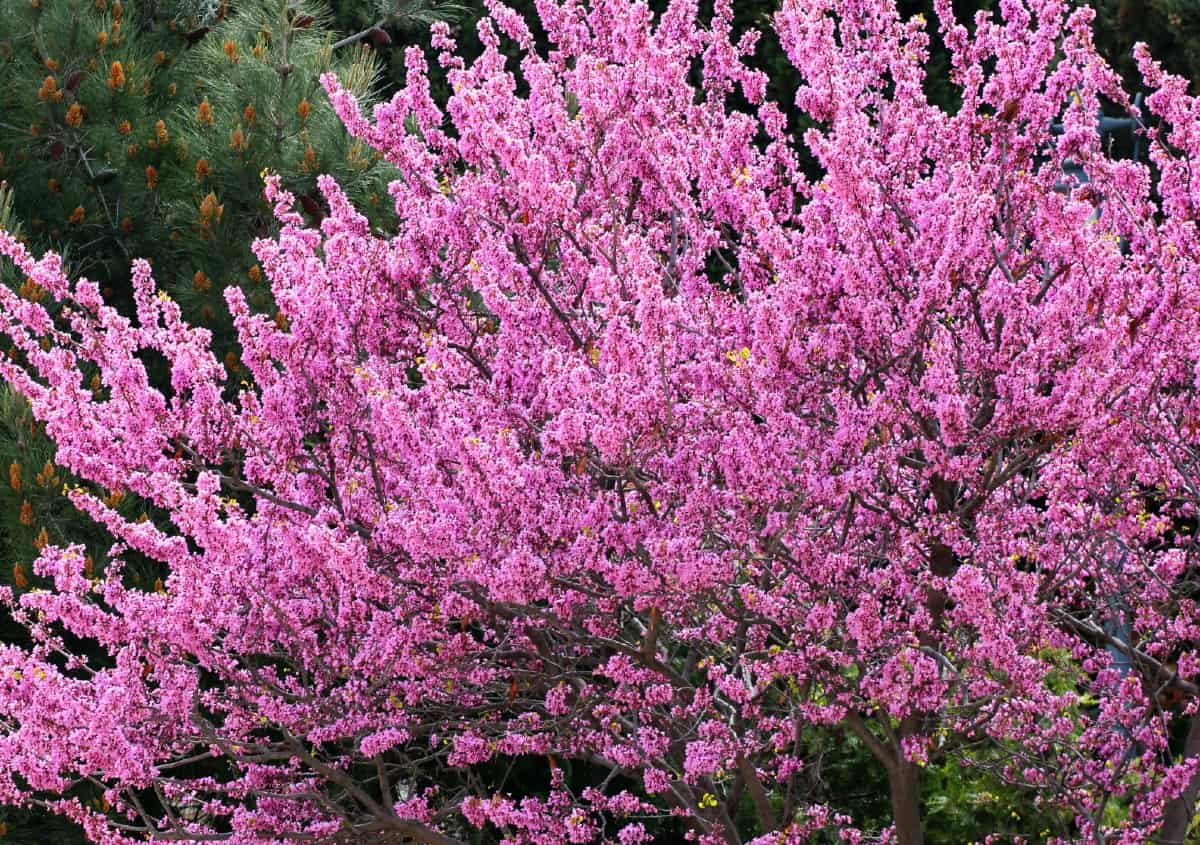 These small landscaping trees are one of the earliest trees to bloom as winter ends. They produce pink blossoms during the early spring and attract zebra swallowtail, spring azure, and silvery blue butterflies to the landscape.
Eastern redbud is native to eastern and midwestern United States and is hardy in zones 4 through 9. This redbud tree prefers part shade to full sun, and its mature height of 20 to 30 feet makes it an excellent choice for a cozy yard.
Chokecherry Tree (Prunus virginiana) – Tree with Dainty White Flowers and Edible Fruit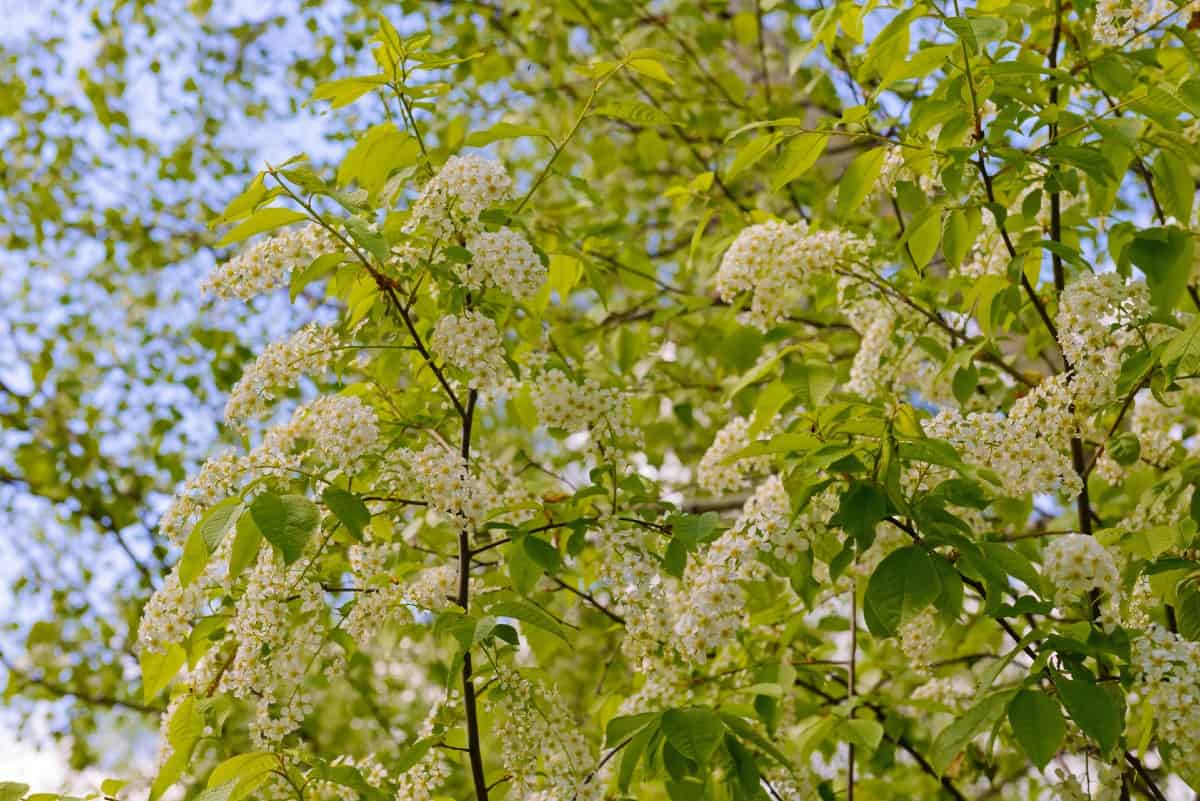 This tree produces sprays of dainty-white flowers full of nectar and is a favorite among silvery blue and American lady butterflies. Its fruit is a tart drupe that is common for sweetened fruit preserves and wine.
The chokecherry tree has a mature height of 20 to 30 feet and is hardy in zones 2 through 7. Also called the Virginia bird cherry, it grows best in part shade to full sun and moist soil.
River Birch Tree (Betula nigra)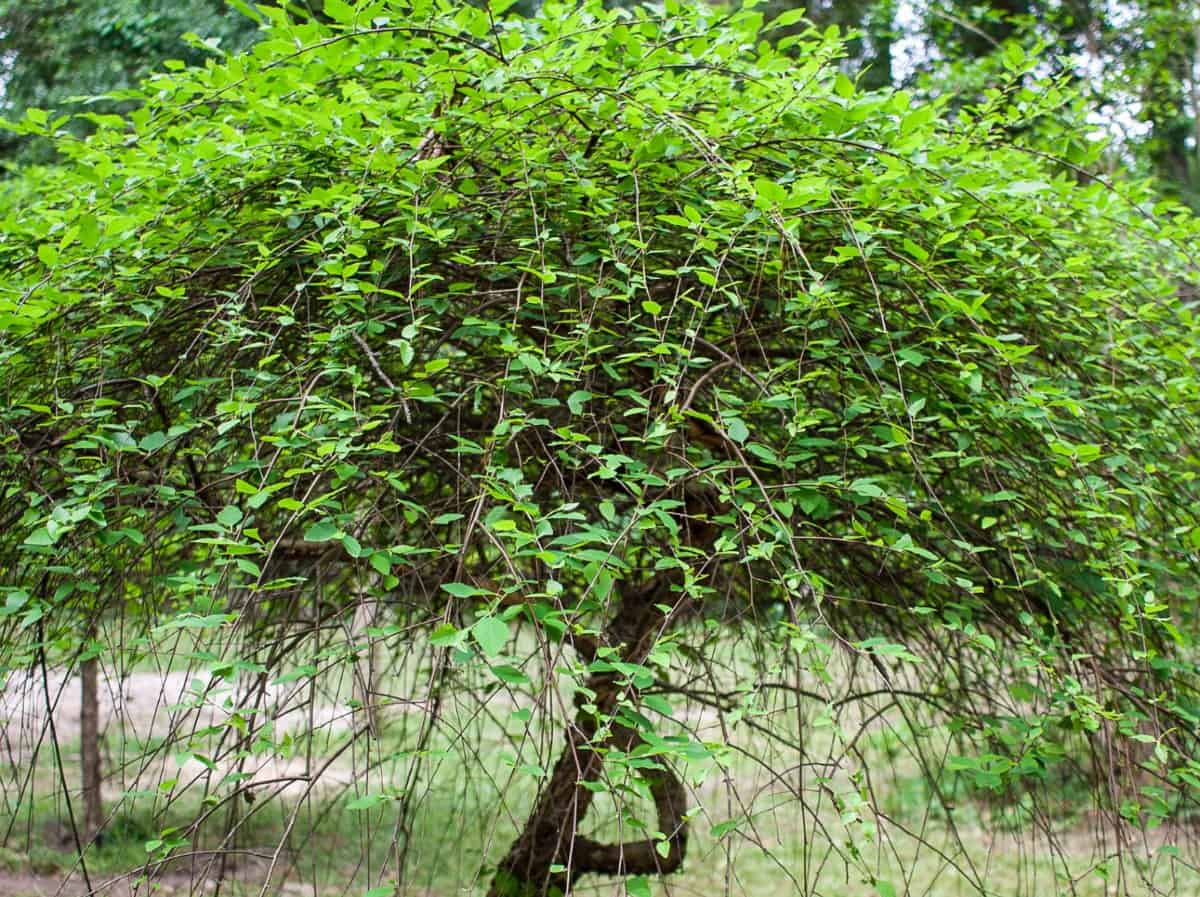 River birch trees are an ideal choice for growing along wet areas such as a pond or stream. It grows with multiple trunks, has peeling brown bark, and produces flowers that the northern pearly eye butterfly enjoys.
This flowering tree has a mature size of 40 to 70 feet tall and requires part shade or full sun. River birch trees are hardy in zones 4 through 9 and tolerate both wet and dry conditions.
Spicebush (Lindera benzoin) – Large Butterfly Shrub with Four-Season Interest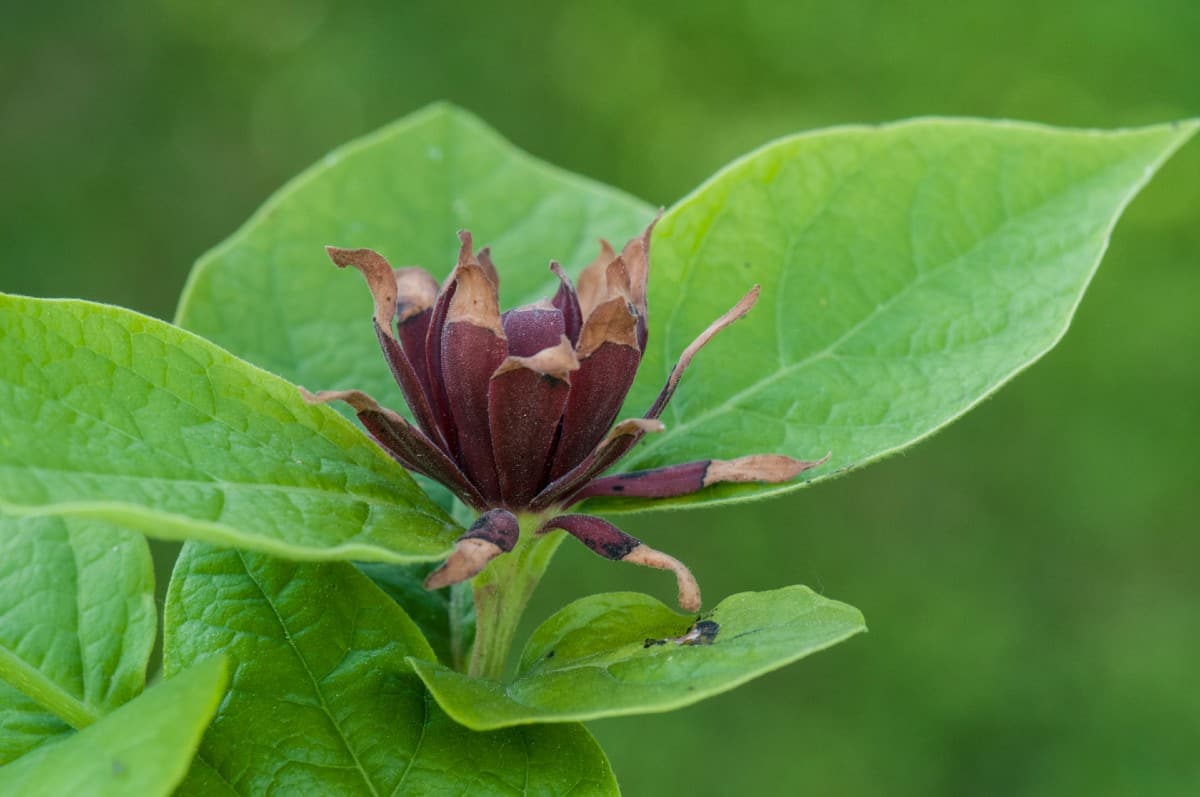 This butterfly-loving bush is a host plant for the spicebush swallowtail butterfly. These perennials caterpillars like blooms with small yellow flowers in the spring, has thick, green leaves during the summer, and bright yellow leaves and red berries in the fall.
This deciduous shrub grows 6 to 12 feet tall and thrives in hardiness zones 4 through 9. The leaves of the spicebush give off a pleasant fragrance if you crush them, and these trees with ornamental berries provide winter interest.
Sassafras Tree (Sassafras albidum)
Sassafras trees have medium green leaves with spectacular colors during the fall and are commonly ground up and used for spices. They also produce small fruits that birds love and attract King's hairstreak and American lady butterflies to the yard.
This tree needs full sun or part shade to thrive and grows 30 to 60 feet tall. Sassafras trees are hardy in zones 4 through 9 and grow best in well-drained soil.
Sourwood Tree (Oxydendrum arboreum) – Ornamental Tree with Fragrant Blooms
This garden tree bears white blooms that resemble lily-of-the-valley flowers during the summer and attracts King's and Edward's hairstreak butterflies to the yard. Its green foliage turns bright red during the fall.
Sourwood trees grow 20 to 75 feet tall, depending on the area, and are hardy in zones 5 through 9. They prefer part shade or full sun and are a great ornamental addition to the yard.
Staghorn Sumac Tree (Rhus typhina)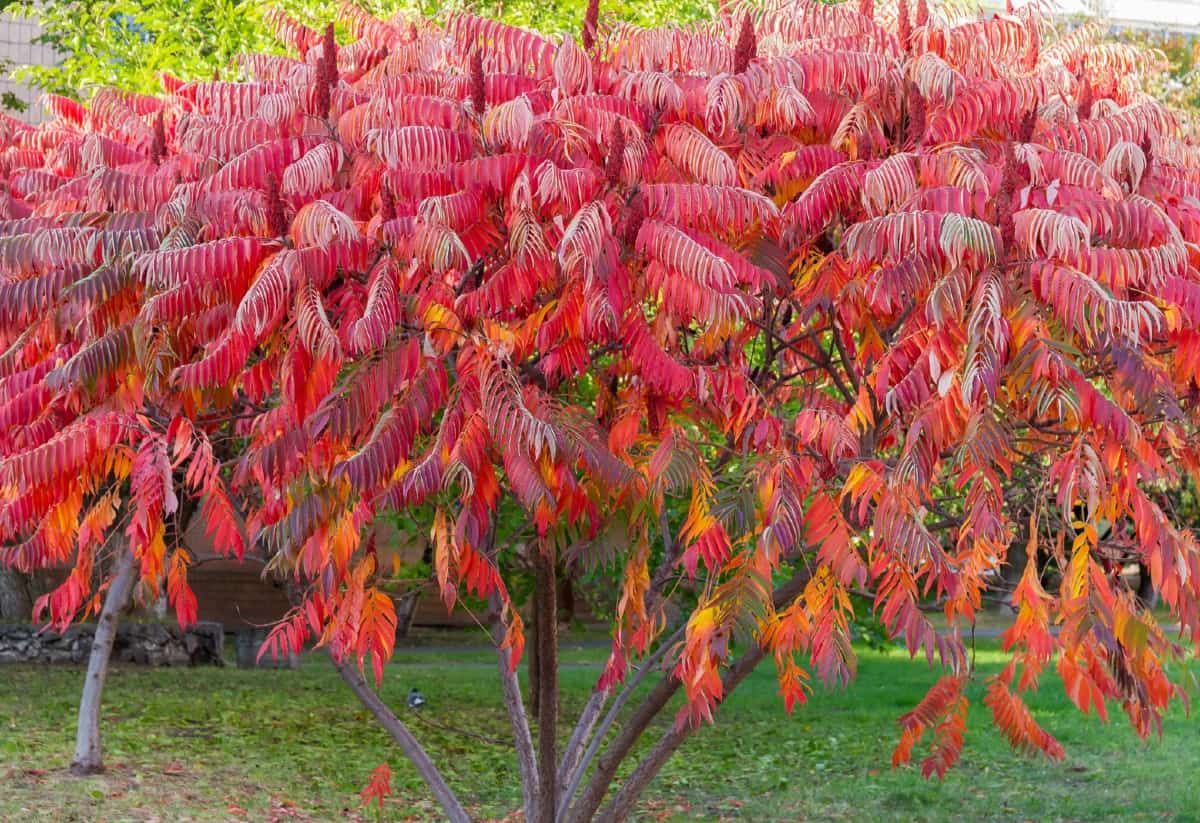 This small tree has open branches, and the hairy stems resemble stag horns, which give this tree its name. It has fern-like green leaves that turn vibrant colors in the fall.
It produces fuzzy red fruits and green-yellow flowers that attract red admiral and summer azure butterflies.
Staghorn sumac trees have a mature height of 15 to 25 feet tall and are hardy in zones 4 through 8. They are drought and dry soil tolerant, rabbit resistant, and prefer part shade or full sun.
Sweetbay Magnolia Tree (Magnolia virginiana) – Compact Tree with a Sweet Fragrance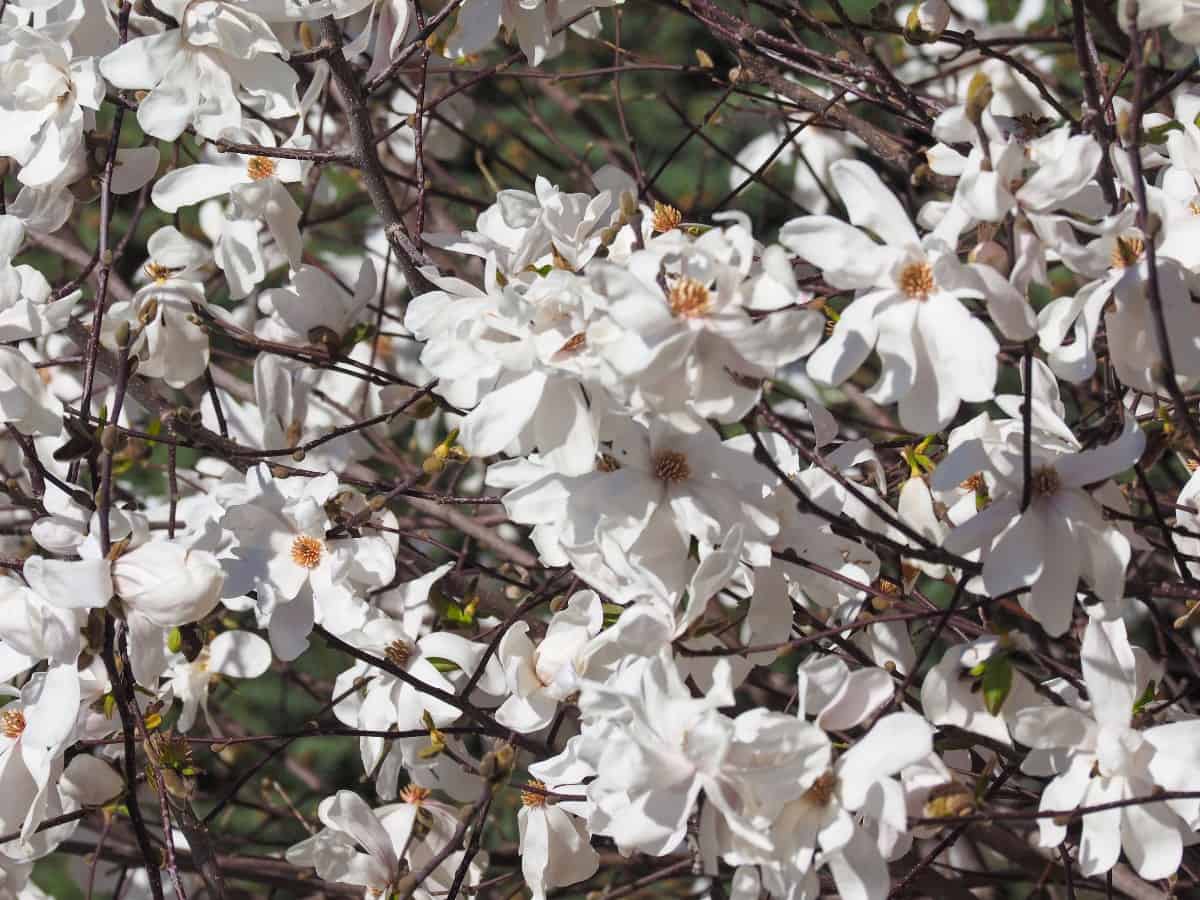 These magnolia trees have exotic-looking cones and creamy white flowers in the spring and summer. The blooms have a sweet and lemony fragrance, and the leaves have a spicy scent that attracts a variety of butterflies to the yard.
These trees require slightly acidic soil to thrive and love both part shade and full sun. They thrive in hardiness zones 5 through 10. This tree grows anywhere from 30 to 50 feet, depending on the area.
Rose of Sharon (Hibiscus syriacus)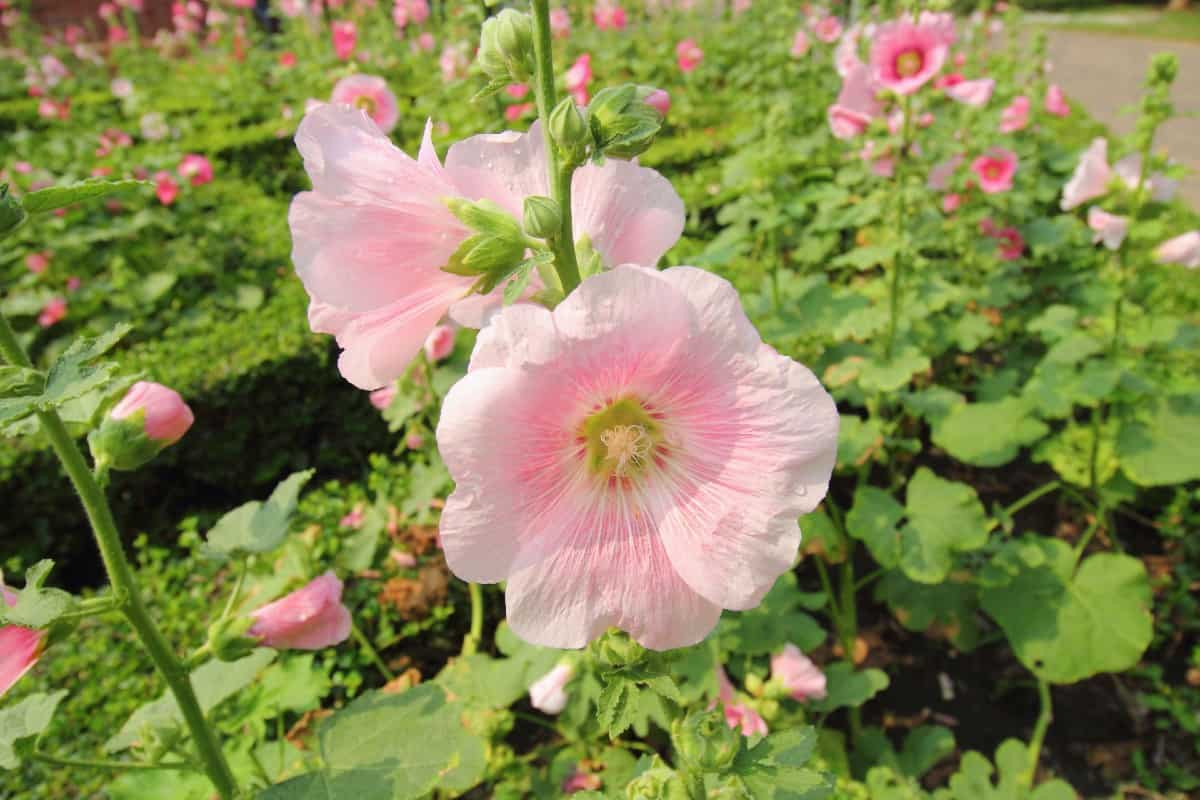 Rose of Sharon is a hibiscus shrub that bears many blooms with a prominent stamen that is appealing to many different butterflies. Its flowers come in shades of red, white, lavender, and blue.
This flowering shrub blooms from late summer through fall and has a mature size of 8 to 10 feet tall. Rose of Sharon grows best in zones 5 through 9 and loves partial shade or sun.
Firebush (Hamelia patens) – Flowering Shrub with Tubular Shaped Flowers
This attractive shrub is not only beautiful but serves many purposes. Butterflies and hummingbirds love its nectar-rich, orange-red flowers that are tubular shaped, and the stems and leaves are popular for relieving insect bites and rashes.
Firebush is not cold hardy and grows best in zones 8 through 11. It requires plenty of sunshine and grows as a 4 to 5 foot mounded bush, but it is easy to train as a small tree.
Coneflower, milkweed, and other flowers are common in the garden for enticing the painted lady, swallowtail, and monarch butterfly to the area.
Still, there are many trees that these pollinators love as well. Trees are a great way to provide butterflies with the food they require while furnishing them with a safe place to rest and shelter.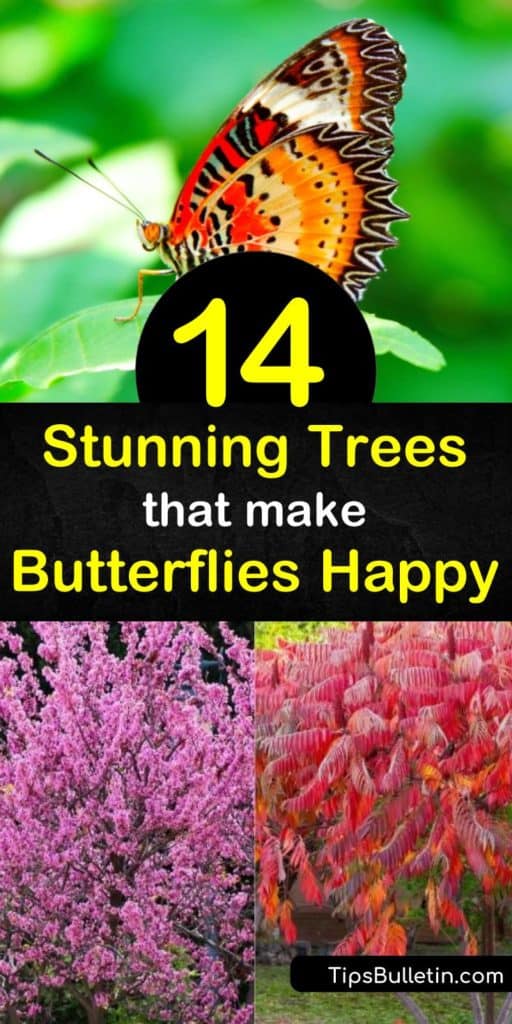 Creating a haven for pollinators filled with nectar sources is easy by planting trees for butterflies, so why not share our butterfly tree guide with your friends and family on Facebook and Pinterest, so they enjoy a butterfly garden as well?