Nothing says spring more than the fluttering of pink petals on the wind as they cascade to the ground. Pink represents inner peace and harmony and instills a feeling of calmness. What better way to create a relaxing landscape than to plant trees with pink flowers?
Imagine a yard scattered with trees of many sizes, their delicate branches full of spring flowers in different shades of pink, filling the early summer air with their sweet nectar while attracting many pollinators and birds.
If pink is your color, this vision is a treat to behold in a tranquil garden atmosphere. It may be a surprise, but many flowering trees produce pink blooms, and some of them even have stunning hues in the fall.
These trees range from small and ornamental to stately and majestic, so there's bound to be one suitable for your yard space.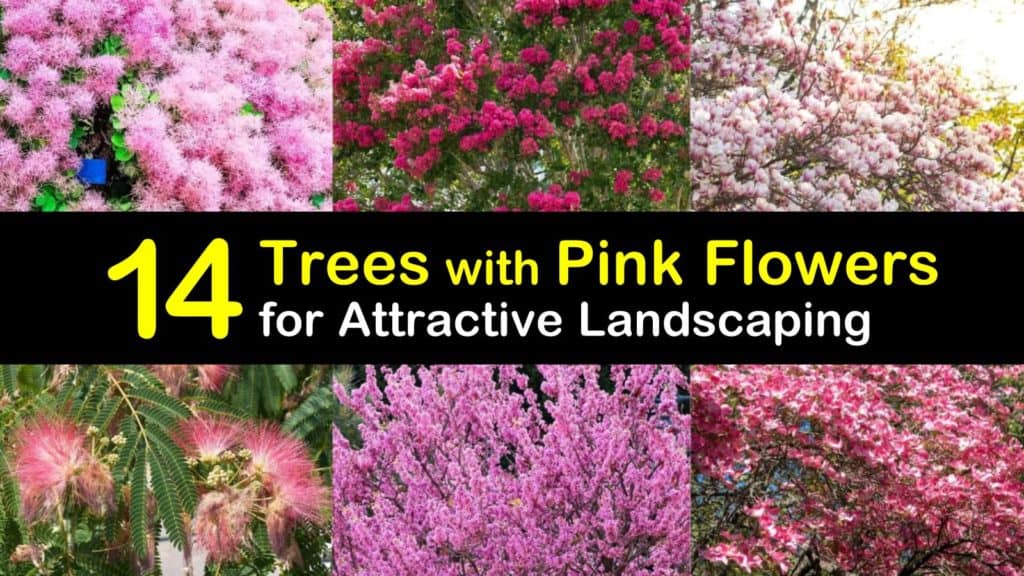 Creating a Delicate and Vibrant Landscape with Pink Flowering Trees
Creating a pink landscape is relatively simple, but there are a few things to take into account before filling your yard with trees. We'll help you pick the perfect trees for your yard based on size, shape, and growing conditions.
Which Trees have Pink Flowers?
Not all trees flower, and the ones that do grow in various tones, ranging from white flowering trees to yellow to pink and red.
Dogwood trees, Eastern redbud, and magnolia trees have beautiful pink blossoms, and many fruit trees, such as pear trees, also have pink or white flowers.
When do Pink Flowering Trees Bloom?
The blooming time of trees depends on the type. Some trees flower in early spring, even before they grow their leaves, while others take their time and offer blooms at the end of spring or early summer.
Some trees even blossom during the stark months of winter. If you plan your landscape wisely, it's possible to have pink color scattered throughout the yard for several months each year.
What are the Benefits of Growing Flowering Trees?
Besides the apparent beauty that these trees offer the space, there are many other benefits to growing them in your yard.
Many types of pollinators, such as honey bees, bumblebees, butterflies, and hummingbirds, adore these trees for their nectar and are a sight to see fluttering about.
While being trees that hummingbirds like, as well as other critters, they also offer protection while hiding unattractive views. They diminish carbon dioxide in the air and reduce energy costs in your home.
How do I Know which Trees to Grow in My Yard?
The first step in picking your next tree is to look at the plant care tag. Check its USDA hardiness zone and make sure the zone you live in falls within its range.
The second thing to check for is the mature size of the tree. It's essential to choose one that fits the size of your yard at full growth. Plant a tree no closer than 15 feet from structures such as your home and garage.
Eastern Redbud (Cercis canadensis)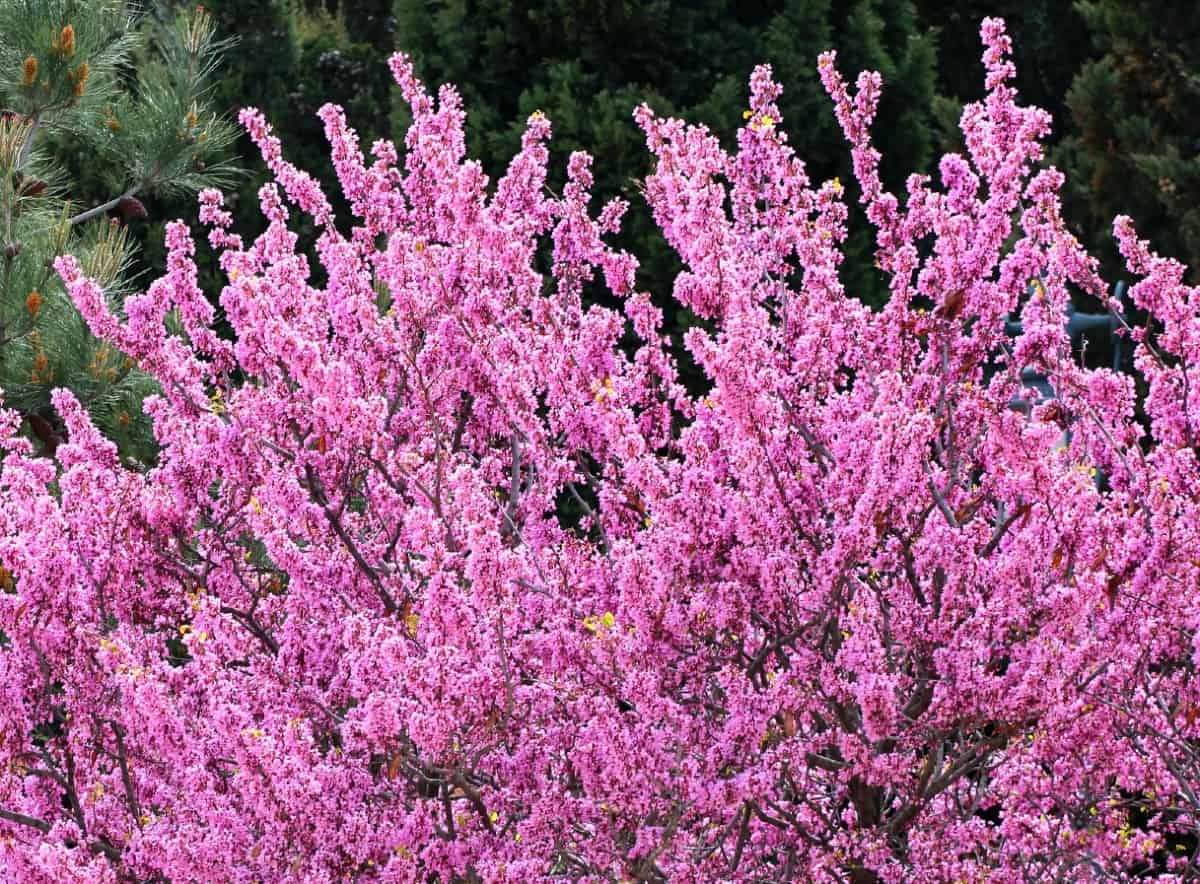 These multi-trunked, pretty blooming trees have horizontally tiered branches and a rounded crown that fills with clusters of rosy-pink flowers in the spring while the stems are still bare of leaves. Bean-like seed pods erupt afterward and persist into winter.
The tree has bright green, heart-shaped leaves that turn blue-green during the summer and green-yellow in the fall.
It performs best in full sun but endures part shade. The Eastern redbud is hardy in zones 4 through 9 and has a mature size of 20 to 30 feet tall and nearly 35 feet wide.
Flowering Dogwood (Cornus florida) – Trees with Pink Flowers and Four-Season Interest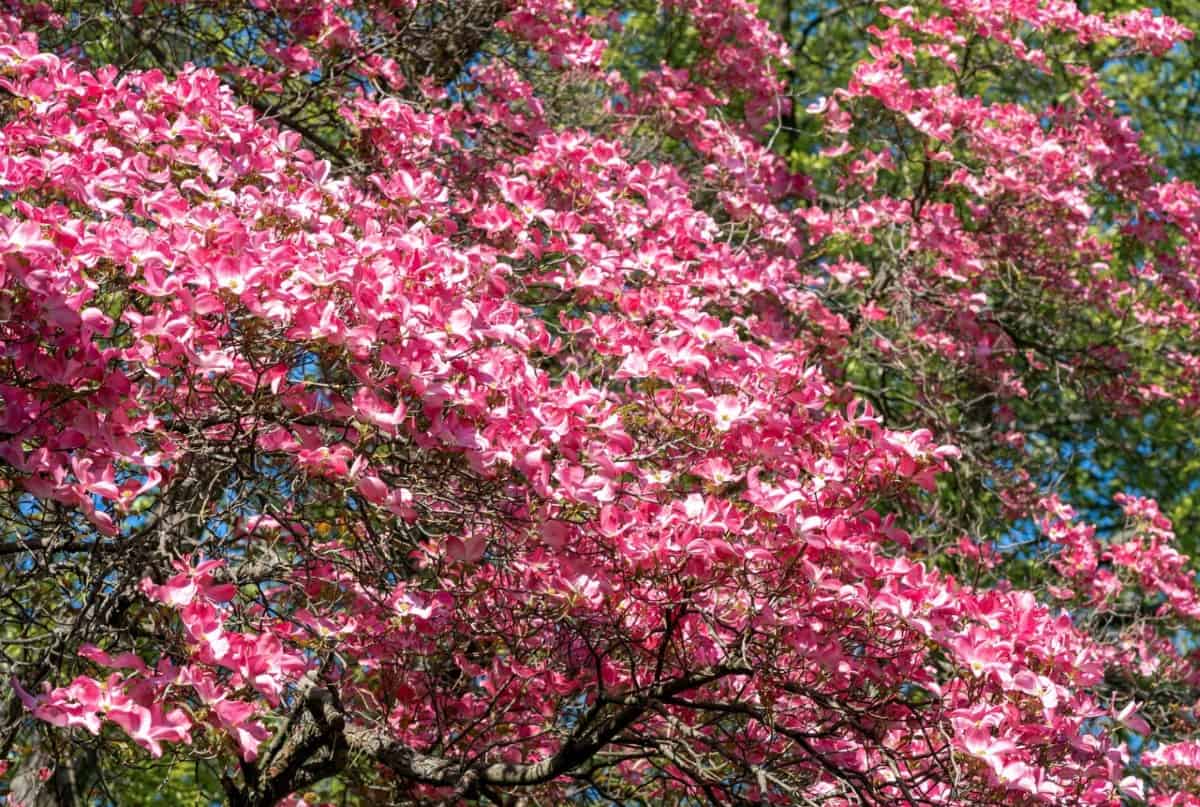 This dogwood tree has a four-season interest with its canopy of elegantly tiered branches covered with star-like pink blooms in the spring.
It has round orange-red fruit, and oval, mid-green summer leaves that turn bright red for fall color, and attractive winter bark.
These ornamental trees grow 15 to 30 feet tall and wide and are hardy in zones 5 through 9. They are generally pest-free and tolerate both part shade and full sun. Dogwoods are deer resistant and require little to no pruning to flourish.
Crape Myrtle (Lagerstroemia)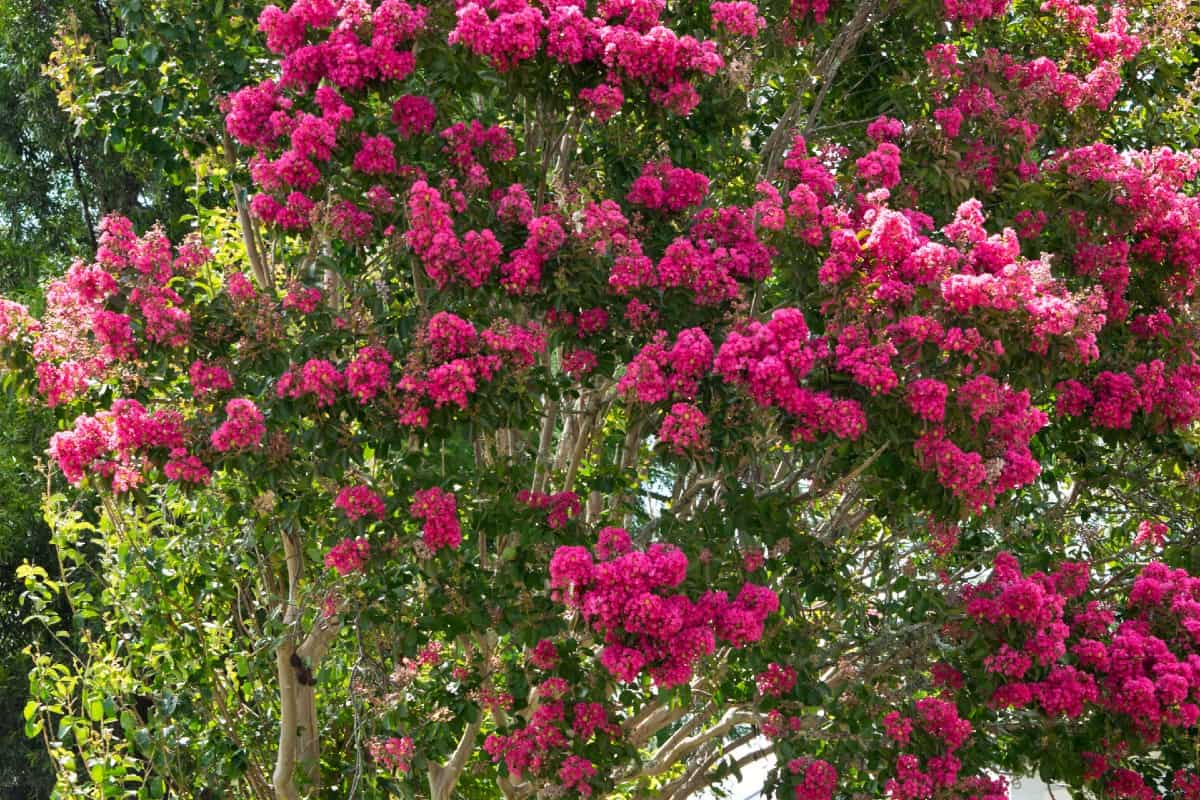 There is a wide range of crape myrtle trees with varying sizes, shapes, and colors. The pink types have abundant flowers in the summer through fall that stand out against burgundy or green foliage.
Crape myrtles are often thought of as lilacs of the south and are hardy in zones 6 through 9. They have sculptural trunks and grow to a height of 8 to 20 feet, depending on the variety. These sun-loving trees grow quickly and attract birds to the yard.
Jane Magnolia (Magnoliaceae) – Ornamental Tree with Large Pink Blossoms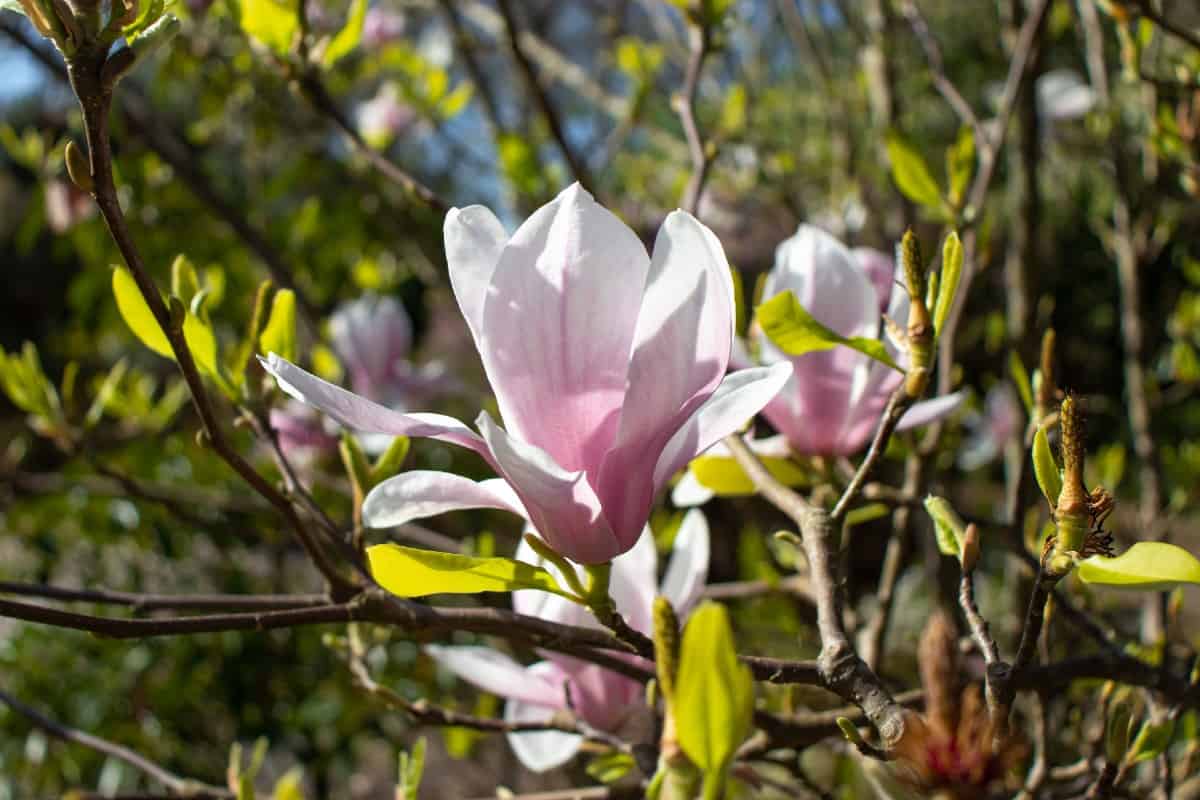 The Jane magnolia is a hybrid with fairly large flowers that grow 8 inches across when fully open. They are tulip-shaped and begin burgundy-purple when closed and fade to pink after opening.
This deciduous tree also grows as a shrub with multi-branches and has a mature size of up to 15 feet tall and nearly 12 feet wide. Jane magnolia trees are hardy in zones 4 through 8 and grow well in part shade or full sun.
Crabapple (Malus)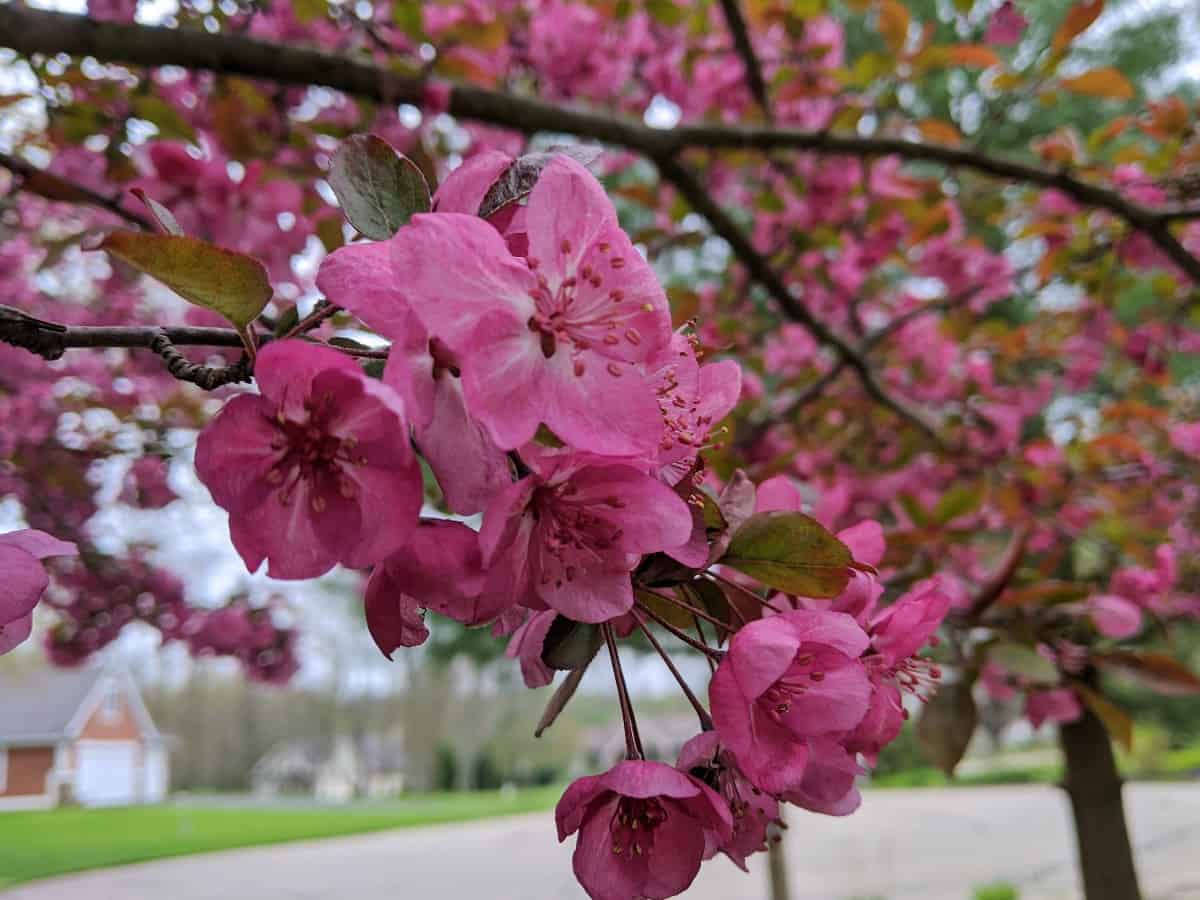 There are many different crabapple trees, and they all have either white or pink single or double flowers. They show their colors for about a month starting in spring, followed by mini-fruit from late fall through winter.
Birds and critters love crabapple trees, and they are also the best trees to block neighbors and provide privacy. They are deciduous and grow 10 to 20 feet tall and wide in hardiness zones 3 through 8. These flowering trees are good for growing in sunny areas.
Kwanzan Cherry Tree (Prunus serrulata) – Fruitless Cherry Tree with Double Blossoms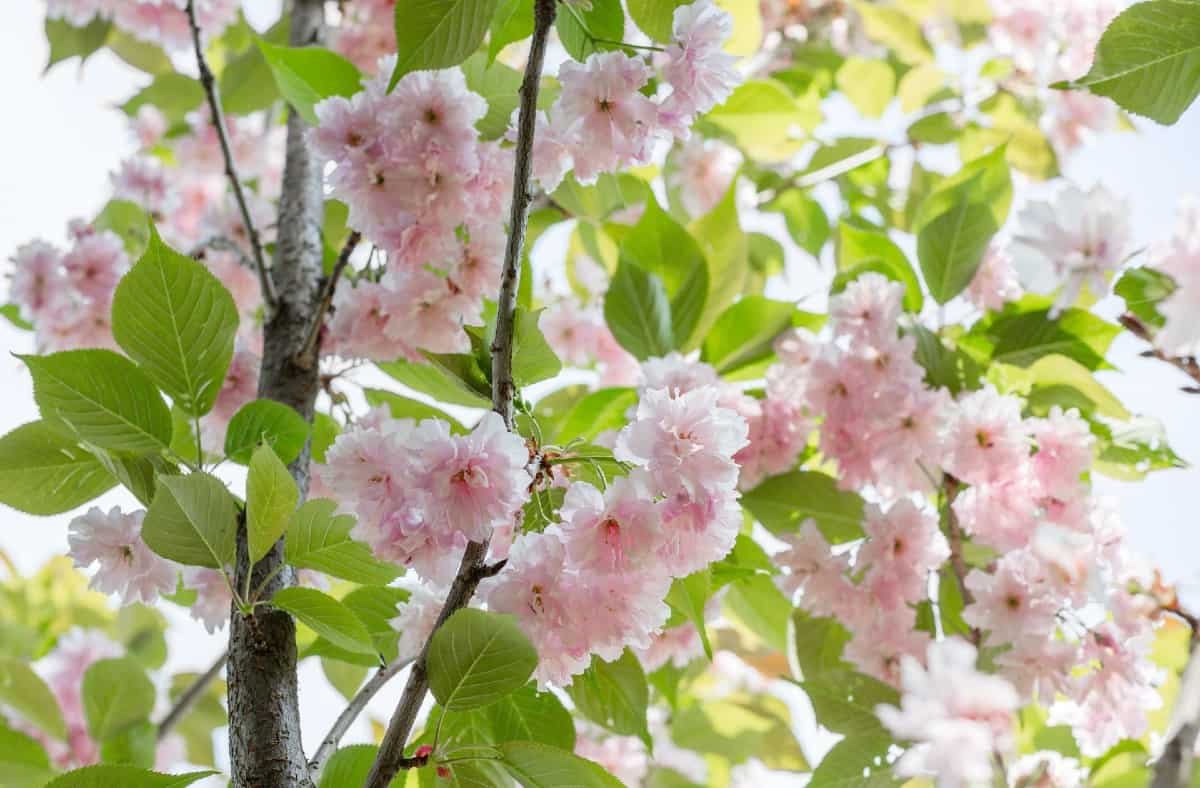 This flowering cherry tree is ideal if you enjoy pink floral displays without the hassle of fruit. This sterile tree has double flowers and 5-inch long, serrated, dark green leaves. It is a highly ornamental cherry tree with a lovely vase-shape.
The yellow-orange tones of this tree add interest to the yard during fall. It is very adaptable, mildly drought tolerant, and thrives in hardiness zones 5 through 9. The Kwanzan cherry tree needs full sun to flourish and grows up to 30 feet.
Japanese Flowering Apricot (Prunus mume)
The Japanese flowering apricot is a unique, dwarf flowering tree that produces rose-pink single and double flowers with a spicy fragrance in late winter. They fade away as the dark green foliage makes an appearance for the summer.
This deciduous tree is easy to grow, and it enjoys the rays of full sun. It has a rapid growth rate and a dense, rounded habit. This flowering apricot tree has a mature 20-foot tall size and is hardy in zones 6 through 9.
Chocolate Mimosa Tree (Albizia julibrissin) – Unique Tree with a Sweet Fragrance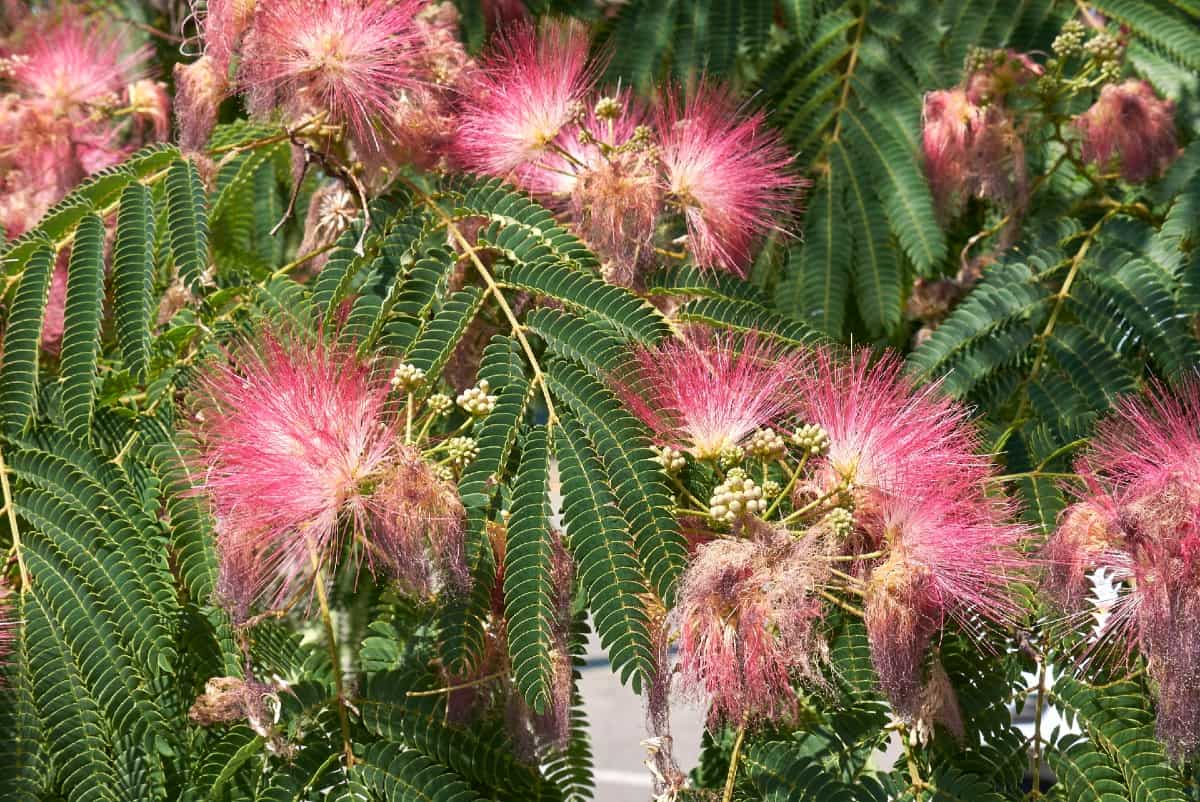 The foliage of this tree has a rich and deep chocolate tone, and it produces showy, powder-puff flowers in late summer with a sweet fragrance. These trees that attract birds and butterflies are also enjoyed by humans.
The chocolate mimosa tree is suited for growing in USDA hardiness zones 7 through 10, and it grows to 20 feet tall and wide. It is both heat and drought tolerant and rarely needs pruning.
Saucer Magnolia (Magnolia X soulangeana)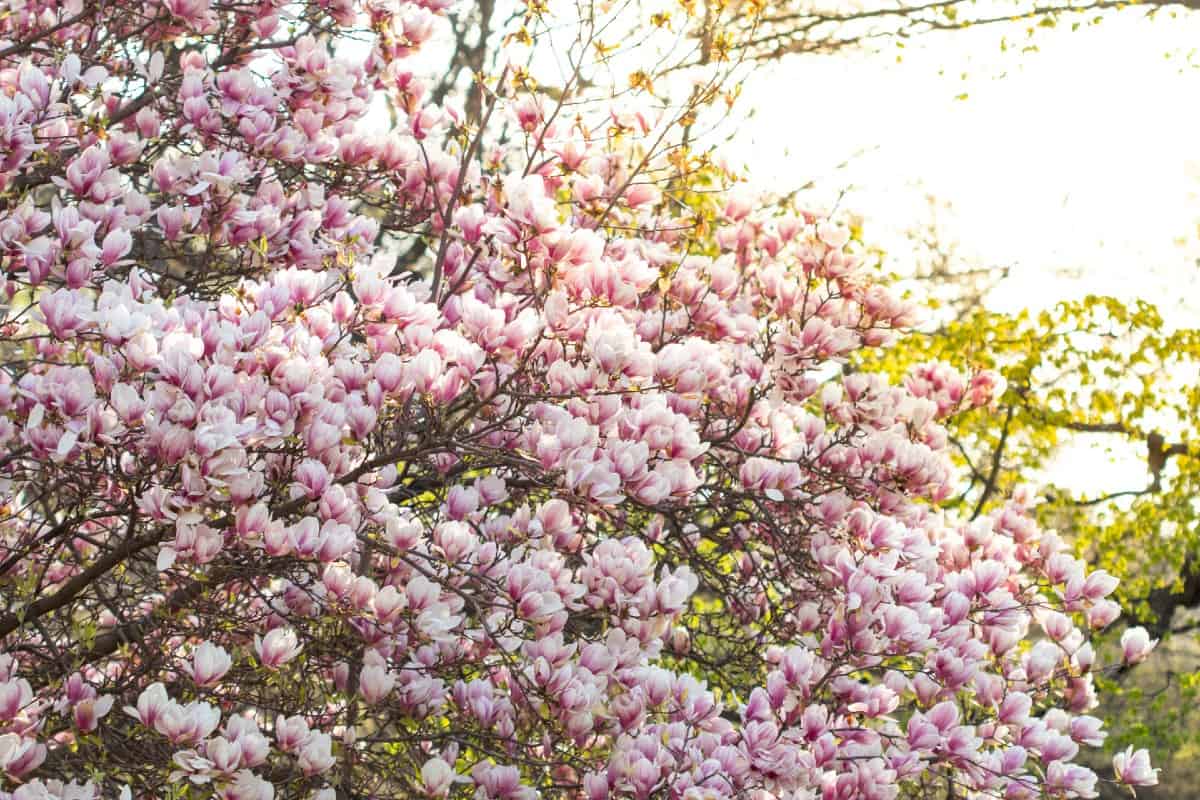 This spreading tree has an incredible display of profuse flowers in early to mid-spring. Their fragrance is enticing, and they appear on bare branches before the green leaves unfurl. This tree has silvery bark, and the leaves turn golden brown in the fall.
Saucer magnolias start with upright growth and mature to a rounded habit. They attract birds and butterflies and are most hardy in zones 5 through 9. These magnificent trees flourish in part or full sun and grow 15 to 20 feet tall and wide.
Pink Weeping Cherry Tree (Prunus pendula) – Whimsical and Elegant Tree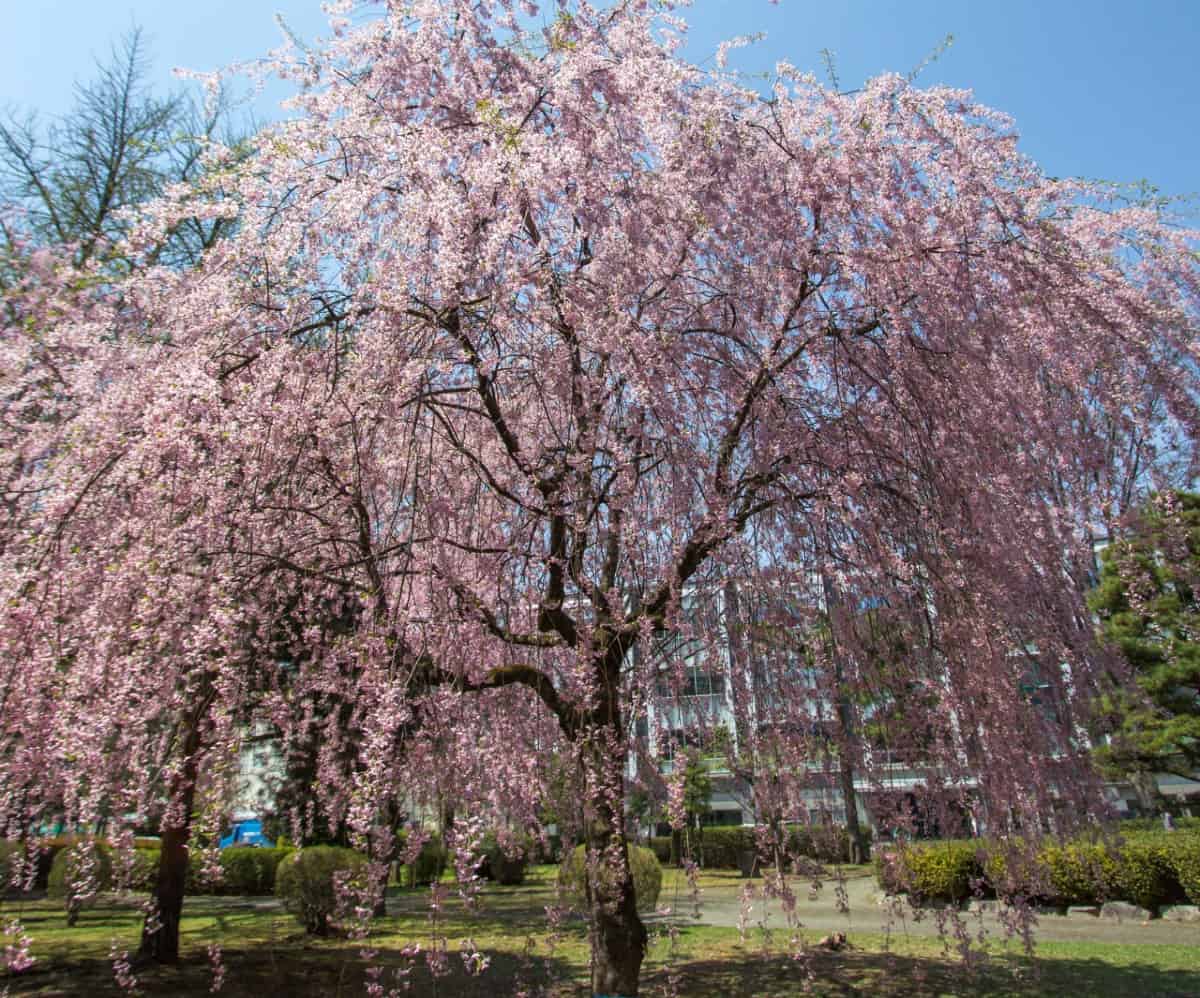 The weeping cherry has a curtain of frothy pink flowers in the spring, growing with grace along slender, flexible branches that appear to sweep gently toward the ground.
The serrated shiny, green leaves emerge after the petals fall, creating a vibrant blanket below.
Weeping cherry trees are hardy in zones 4 through 8 and grow to a mature size of up to 30 feet tall and 25 feet wide. They prefer growing in sunny locations, require moist, well-drained soil, and attract birds and butterflies.
Hong Kong Orchid Tree (Bauhinia blakeana)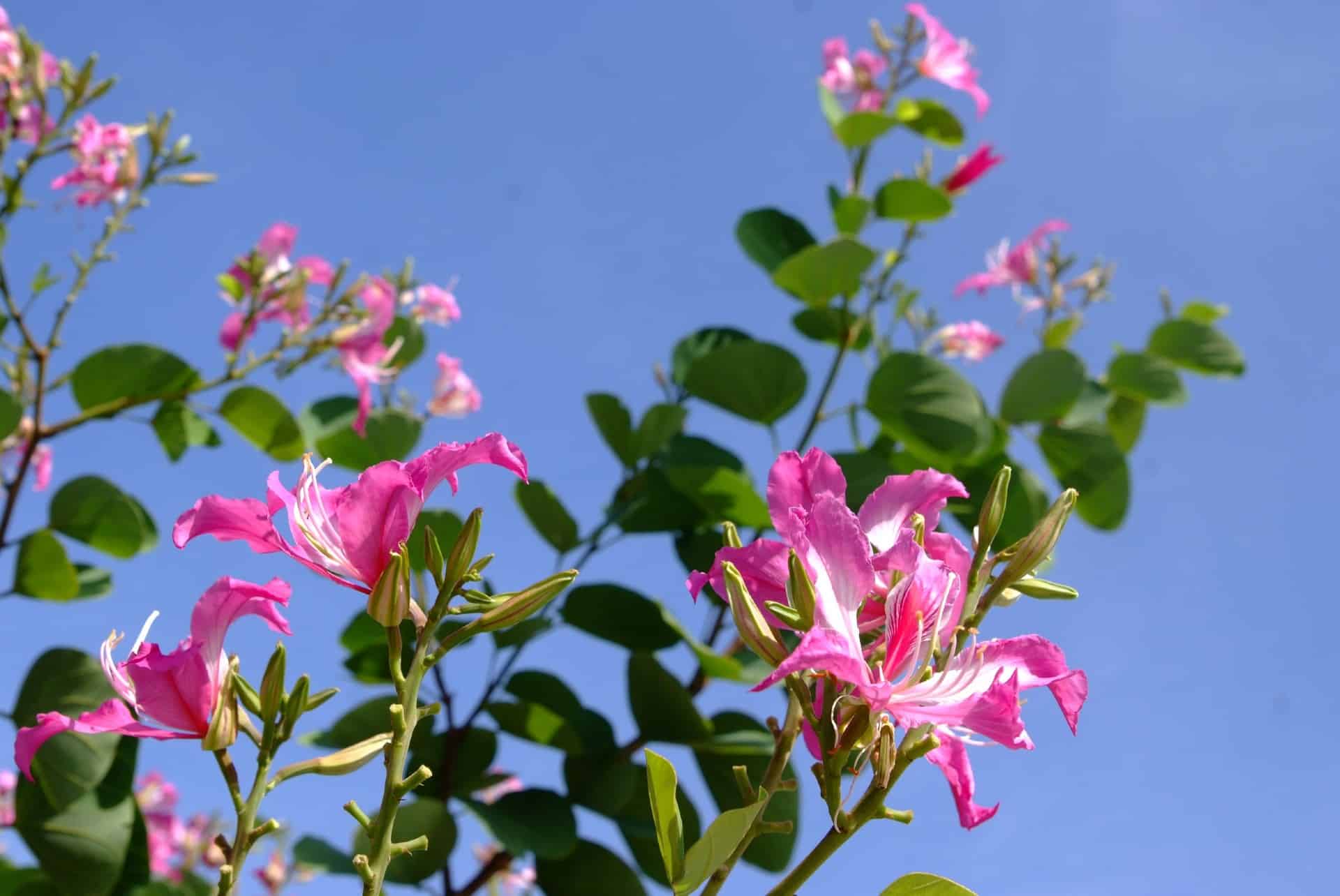 The Hong Kong orchid tree is a gorgeous specimen for any landscape. Young trees have an irregular shape which can be pruned over several years for a more uniform appearance.
Blooms can be pink, shades of purple, and rose and grow up to six inches long. Orchid trees adapt well to a variety of growing conditions, including urban locales. This tree grows best in hardiness zones 9 to 11.
Higan Cherry (Prunus subhirtella) – Cold and Heat Tolerant tree with Pastel Hues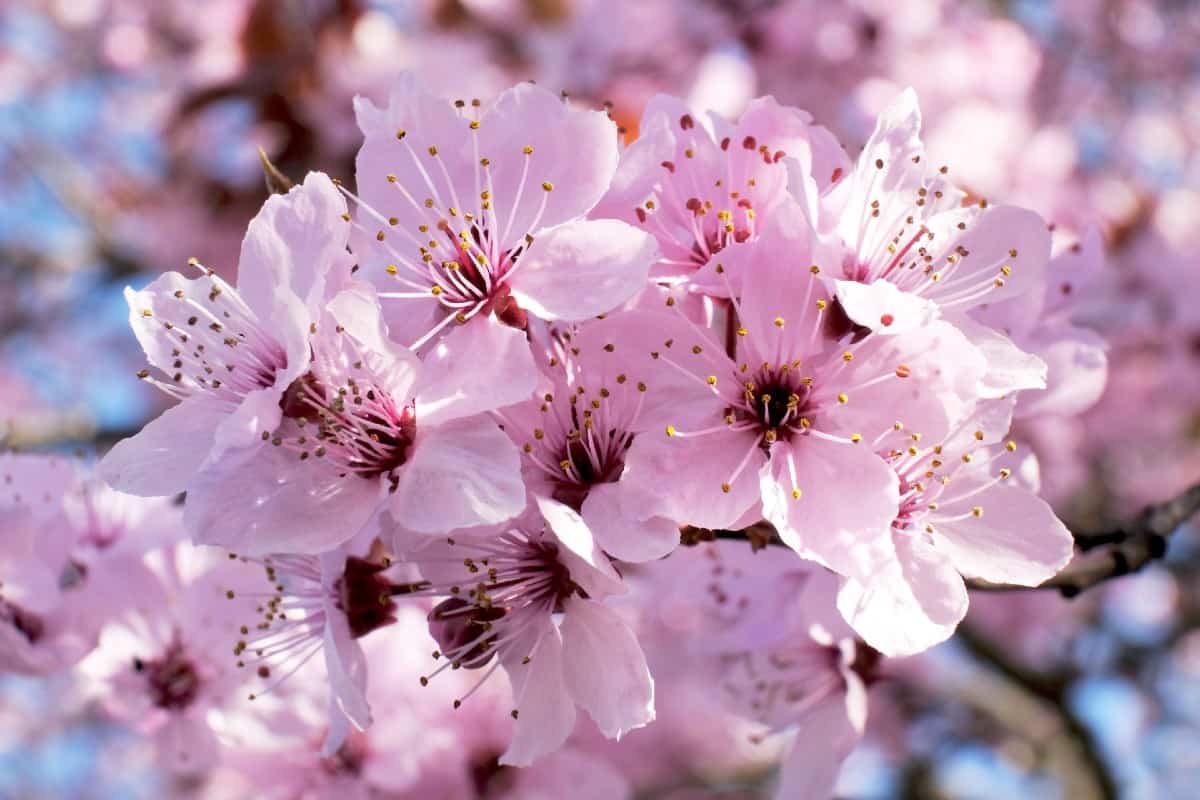 This medium-sized deciduous tree has dainty, pastel pink blossoms in the spring with sporadic appearances in the fall.
They are semi-double with ten petals, each with tones that change from deep to light as they mature, and their dark green leaves create a stunning summer canopy.
These ornamental trees are more heat tolerant and cold hardy than other cherry trees and an excellent choice for a lawn specimen. They have a mature height of 20 to 30 feet tall and are hardy in zones 6 through 8.
Red Horse Chestnut (Aesculus × carnea)
This tree has a broad-rounded habit with a thick canopy of lustrous green leaves with up to seven leaflets. It displays 8-inch long cone-shaped panicles of rose-colored flowers in late spring that are attractive to pollinators.
This deciduous tree grows 30 to 40 feet tall and wide. It prefers moist, fertile soil and part shade or full sun. The Red horse chestnut tree is suitable for growing in hardiness zones 5 through 8.
Smoke Tree (Cotinus) – Large Deciduous Tree with a Smoky Appearance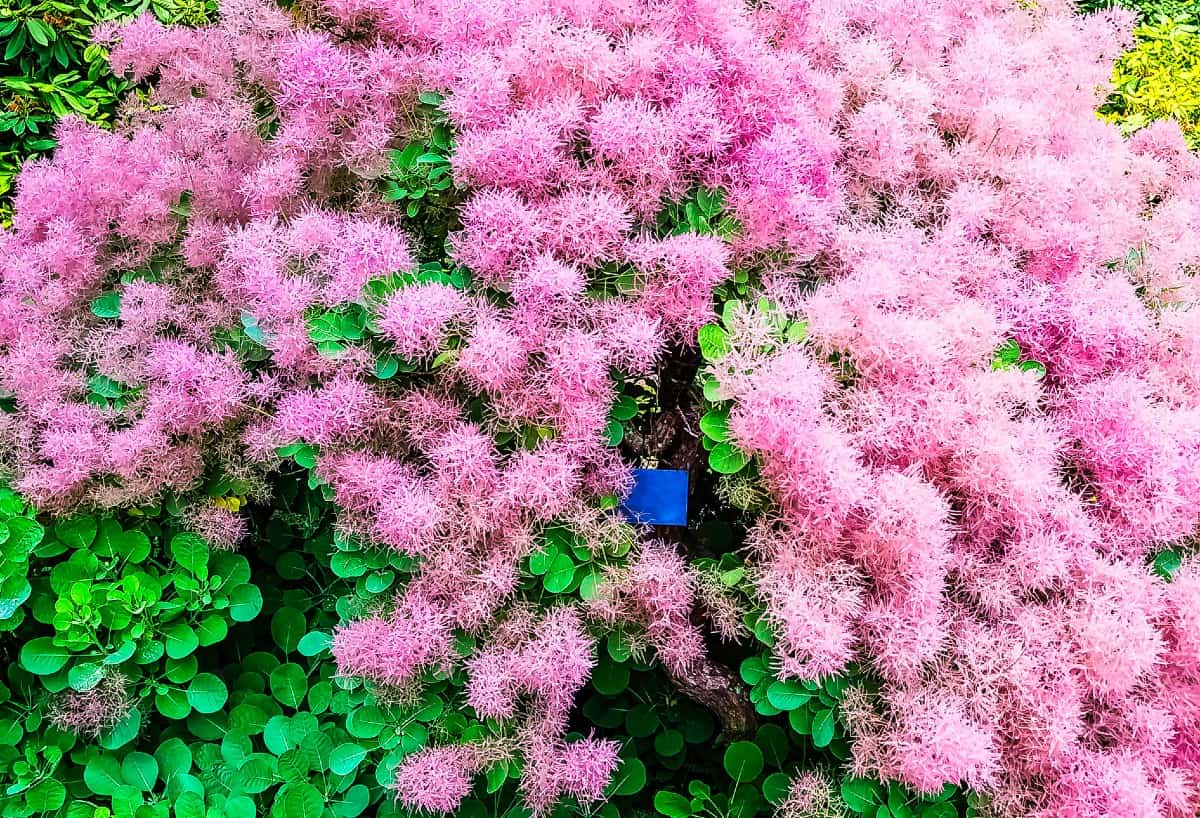 This large, deciduous tree has airy flower plumes covering the canopy with a pink, fluffy haze during the summer. It has rounded, rich blue-green leaves that turn brilliant purple, red, and orange in the fall.
Smoke trees are excellent as a specimen plant, and pruning is not necessary to keep them maintained.
They are deer resistant, drought tolerant, and have no pest or disease issues. These unique trees are hardy in zones 4 through 8 and grow up to 30 feet tall and wide.
Everyone has a favorite color, and each color is associated with making us feel a certain way. Pink has a sort of innocence about it, and flowering trees instill a feeling of promise with the changing seasons.
Not only are these trees stunning to look at, but they're easy to grow under the right conditions.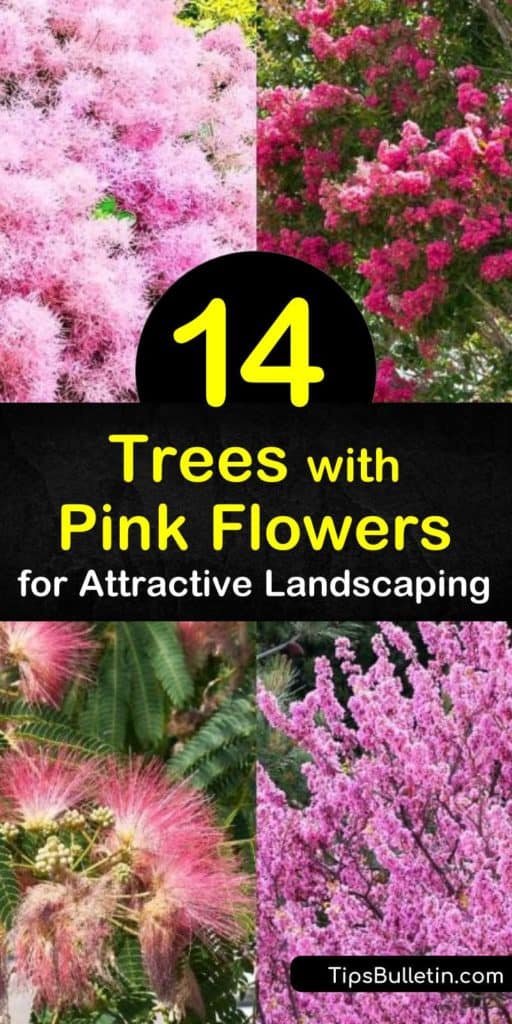 Growing trees with pink flowers creates a yard full of peaceful harmony, so why not share our pink flowering tree guide with your friends and family on Facebook and Pinterest?