Children and the young at heart look forward to Halloween when they get to pick a round, orange pumpkin for a jack-o-lantern. The holidays just aren't the same without homemade pumpkin pie. Did you know that many different types of pumpkins range in size and color?
Pumpkins signify autumn as the temperatures cool, the days get shorter, and the leaves fill the skyline with vibrant colors before falling from the trees. "I always remind my gardening class that this is the perfect time to celebrate the season's bounty by picking pumpkins," says Julia Hodges, a seasoned authority on plants, gardening, and growing food.
It's at this time that we get out our fall jackets and head to the local pumpkin patch to browse through hundreds of gourds searching for the perfect pumpkin to adorn the front porch in celebration of the changing seasons.
Pumpkin Types and How to Grow Them
While we picture a medium-sized, orange gourd as a typical pumpkin, some are white, steel-blue, blue-gray, and green.
Some pumpkins weigh as little as a pound and some weigh up to 300 pounds. With so many to pick from, it's often challenging to know which type to grow in a home garden.
With all the different types of pumpkins, it's a good idea to understand their differences before you decide to grow them in your yard.
Some grow considerably large and require more space to grow. We break down pumpkin types into six categories and show you how to grow and care for your own pumpkin patch.
What's the Difference between Squash and Pumpkin Types?
Are pumpkins the same as squash? While orange pumpkins like the typical Connecticut Field variety are simple to spot, other pumpkin types look like squash, so it's easy to see the confusion.
To ensure you choose your gourds correctly, learn the differences between squash and pumpkin, their growing habits, appearance, flavor, and nutrition. Planting spaghetti squash and pumpkins is a similar process, along with most other gourds and squashes.
Pumpkins and squash types like winter squash, butternut squash, and cushaw squash grow on a vine, are a part of the same family, and have a similar sweet and earthy taste. Butternut squash growing season is the same for pumpkins.
However, you harvest pumpkins in September, and their stems are firm and hard, while you pick squash in the fall and winter, and their stems are hollow and loose.
Pumpkins are a source of potassium and vitamins E and C, and squash is rich in vitamin B6, magnesium, and fiber.
Both contain omega 3, omega 6, and vitamin A, and their seeds are edible, but pumpkin seeds are rich in fatty acids, while squash seeds contain high amounts of fiber and protein.
How Many Varieties of Pumpkins are There?
Like the different kinds of zucchini, there are many varieties of pumpkins (Cucurbita) and squash varieties. From small gourds that fit in the palm of your hand to oversized pumpkins that weigh as much as an adult, there is a type for everyone.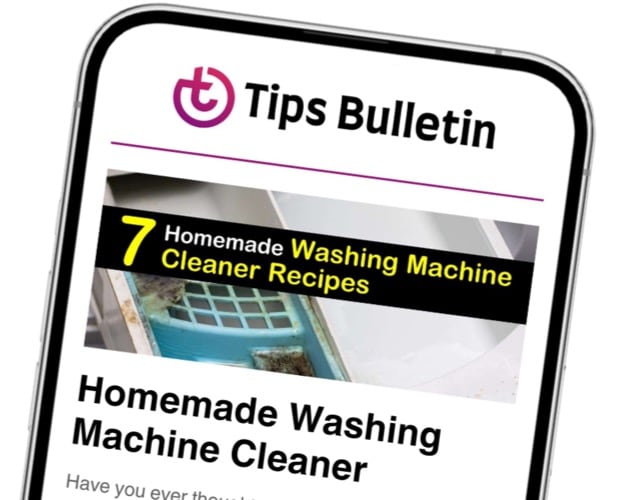 Finally, an email that Transforms Your Home.
Get the latest home and garden tips from our experts, delivered straight to your inbox.
There are also bizarre-looking pumpkins with a warty rind and those that look like they came out of a fairytale. Explore the six categories of pumpkins to help you narrow your search for the perfect gourd.
The largest heirloom and hybrid pumpkin varieties are jumbo pumpkins. These types grow anywhere from 75 to 300 pounds, and the largest of these pumpkins weighed in at 2300 pounds.
They are not usually grown for consumption but for displays and county fair prize-winning. The next type is the blue-green pumpkin. These varieties have a blue-hued rind, which is an ideal color to contrast against the traditional orange.
There are white pumpkins that have white skins and are perfect for modern fall decorating. Some of these types have orange flesh, while others have a white interior.
The red-orange pumpkin varieties are common at the market, but they range from light to deep orange. Some of them have moist flesh, perfect for pie-making, and others are more suitable for carving.
Mini pumpkins are some of the more adorable types with their small size and shape. There are orange and white types, and they are all perfect for small hands.
Finally, there are novelty pumpkins, like the Marina di Chioggia pumpkin, which are precisely what their name implies. They grow in strange shapes, colors, and textures and are a great choice if you enjoy oddities.
The Impressive Jumbo Pumpkin
These are the largest of all the pumpkin types and take up quite a lot of space in the garden. If you're looking for the largest pumpkin to show off to your friends or enter in county fairs, and you have the room, jumbo varieties are the ones for you.
There is more than one type to choose from, and here are some of the more popular.
While there are many types of jumbo pumpkins, we have three favorites – the Atlantic Giant, Big Max, and Prizewinner pumpkin.
The Atlantic Giant is an orange pumpkin that grows up to 300 pounds. However, it needs high potassium fertilizer to grow to reach this size.
Big Max varies in color from pale salmon to bright orange and weighs from 100 to 300 pounds, while the Prizewinner pumpkin is a hybrid with a uniform shape, vibrant orange skin, and weighs 75 to 150 pounds.
What are Blue-Green Pumpkins?
Of all the varieties of pumpkins, the blue-green types are the most unique. The color gives them an other-worldly appearance, and seeing one for the first time makes you wonder if it's real. Here are some of our favorites and how to use them after harvesting pumpkins from your own garden or a pumpkin patch.
Jarrahdale pumpkins have a deeply ribbed shape similar to the classic Cinderella pumpkin with steel-blue skin and bright orange flesh. This heirloom variety is native to New Zealand, and it typically weighs six to ten pounds.
The Kakai pumpkin weighs six pounds, and it has a camouflage appearance with its blue-gray skin and thick orange stripes. It is not a popular eating pumpkin but is ideal for carving, and its seeds are a stunning bright blue color.
The Kabocha is a Japanese pumpkin with dark green skin and sweet, firm yellow flesh that holds its shape while cooking.
Different Types of White Pumpkins
The white pumpkin varieties have a ghostly appearance and are a good alternative to the orange types for a monochromatic display. If you're looking for a gourd with a striking look, here are several white pumpkins to get you started.
The Casper pumpkin has pure white skin with dense orange flesh. It grows ten to 16 pounds and is an excellent eating gourd. Its minimal ribbing and round shape also make it a good choice for displays.
Lumina pumpkins have pale orange or yellow flesh and bright, white skin. They weigh 12 pounds and are ideal for carving and painting, but these gourds don't last as long as others.
The Flat White Boer Ford pumpkin looks like it's been squashed under heavy weight with its flat appearance. It grows wider than it does tall, has dense flesh and a small seed cavity, fantastic for making pies.
The Most Common Red-Orange Pumpkins
Of all the pumpkins, the red-orange types are the most common for making jack-o-lanterns and pumpkin pie. However, many different types of pumpkins fall into this category.
Of all of the red-orange pumpkins, the Cinderella type is one of the most popular. This pumpkin has a fairytale look that resembles Cinderella's carriage with a round shape and flat top. In addition, it is dark orange, has deep ribbing, and is easy to stack on top of one other.
The Autumn Gold is an award-winning pumpkin with a spherical shape and slight ribbing that makes it look like a basketball, while the Blaze pumpkin has pale orange skin with deep orange markings that look like flames. It is also resistant to diseases and productive in the garden.
Mini Pumpkins for Fall Decoration
While mini pumpkins are too small for carving, they are ideal for a tabletop decoration or mixing with larger pumpkins for extra appeal.
There are several types of these mini gourds in varying colors, ranging from small to super-small, and they are all wonderful choices for fall decor.
The mini pumpkin types are the cutest with their size and shape. Baby Bear pumpkins have sweet and moist flesh and seeds without hulls that are excellent for snacking.
Baby Boo varieties are tiny white pumpkins that only grow three inches across, with vines reaching up to two feet, perfect for small gardens.
Jack Be Little pumpkins are the same size as Baby Boo, except they are the typical orange color and are perfect for growing in a container with a trellis.
The Unique Appearance of Novelty Pumpkins
Novelty pumpkins have a fun and extraordinary appearance and shape. These quirky types are perfect if you enjoy giving people something to talk about, and their odd-looking rind gives them an extra spooky feel for Halloween.
Fairytale types are medium-sized pumpkins weighing about 15 pounds. They are not strange-looking like other novelty pumpkins with their orange color, deeply ribbed, and flattened shape.
The Knucklehead pumpkin weighs up to 16 pounds and has an elongated shape that stretches upward. It is orange with green blisters that resemble warts, giving it a gruesome look.
Warty Goblin also has green and orange blistered skin, but this type has a thick rind not suitable for carving.
How to Grow Common Types of Pumpkins
Pumpkins are a fall staple, and they are suitable for everything from decoration to baking pies. Why head to your local farmer's market or pumpkin patch for a pumpkin this fall when you can grow your own?
Here is how to plant and grow common types of pumpkins in your backyard garden by starting them from seeds.
When growing pumpkins from seeds and after the last frost passes in spring, follow the instructions on your pumpkin seeds for appropriate spacing and depth since this varies depending on the type. Choose a full sun area of the garden and sow the seeds as directed.
Push dirt over the top of them, pat it down lightly, and water right away without disturbing the seeds. Do not allow the garden soil to dry out during the germination process.
Caring for Pumpkins in the Garden
It's easy to think that plants care for themselves after you get them started. However, pumpkin plants require the right amount of water, food, and TLC to thrive.
Here is how to care for your pumpkin patch throughout the growing season and things to watch for as they grow.
Once the seedlings appear, ensure that your plants receive about an inch of water weekly and spread mulch over the ground to retain moisture and prevent weed growth. Pumpkin plants are heavy feeders, so give them an all-purpose vegetable fertilizer as recommended.
Cucumber beetles, vine borers, and squash bugs are common pumpkin plant pests, so keep an eye out for their activity as your plants grow. Use insecticidal soap or remove them by hand as needed.
Powdery and downy mildew are also common problems with these vines, resulting in a white powdery substance and lesions on the foliage. If you encounter them, remove the damaged leaves and use a fungicide.
Harvesting and Storing Pumpkins
You go through the trouble of planting pumpkin seeds and caring for your new plants as they grow. The days are getting shorter, summer winds to an end, and harvest-time has finally arrived.
Find out when and how to harvest pumpkins, the right ways to store them, and how long they last after removing them from the garden.
When the pumpkins reach the desired size and the rinds harden, it's time to harvest them. Use pruning shears to cut the vines, leaving a few inches of the stem attached to the gourd.
Cure the pumpkins for longer storage by placing them in a sunny location for ten days to harden the skins. After curing them, store them in a single layer on a sheet of cardboard in a dry, dark, and cool area where the temperatures are between 50 and 60°F.
What to do With Pumpkins after Harvesting
While pumpkins look decorative sitting on your front steps or a windowsill, there are many other uses for buying or growing gourds like pumpkins. What can you do with all the pumpkins after a bountiful harvest? Here are some of our favorite uses for these gourds, and some of them may surprise you.
Did you know that all parts of the pumpkin are edible? The seeds are fantastic roasted, and all you need is a baking sheet, some olive oil, and salt. Bake them in an oven heated to 300°F for 45-minutes for a healthy snack.
The rinds are delicious if you prepare them like dill pickles, which prevents food waste. All that's required to make pumpkin pickles is cubed rinds, vinegar, sugar, water, spices, and canning jars.
There are many popular ways to prepare pumpkin flesh, such as making puree, pie, muffins, bread, pancakes, and coffee cake. More uncommon uses include chili, fruit leather, spice latte, butter, ravioli, and champagne.
Instead of adorning your front stoop with the typical bright orange pumpkin this fall, why not fill it with pumpkins of all sizes and colors?
There are so many pumpkin types to choose from, but no one ever says you can only choose just one. Growing your own in the garden is a great way to enjoy crispy pumpkin seeds and homemade pumpkin pie at the end of the season.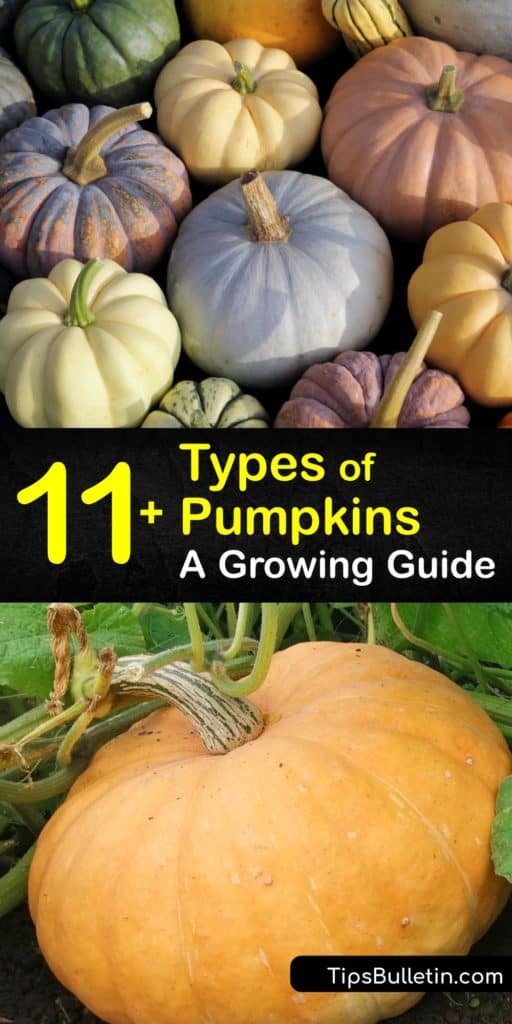 Now that you understand the different types of pumpkins to help you choose your next favorite gourd to grow in the garden, why not share our pumpkin guide with your family and friends on Facebook and Pinterest?