The allium world is vast, and it's often confusing knowing which ones to use when a recipe calls for onion. Some are the perfect garnish, while others like the Vidalia are best for caramelizing, grilling, or pickling. Discover some of our favorite types of red onions and tips for growing and cooking them at home.
There are many different types of onions. White onions like Bermuda have white flesh and a pungent flavor. In contrast, shallots, chives, scallions, green onions, leeks, and spring onions have a mild flavor.
There are yellow types of onions with a sweet flavor, such as Vidalia onions, Walla Walla, Maui, and Spanish onions. There are small, sweet onions like Cipollini and pearl onions. However, if it's red onions you're interested in, you've come to the right place. There are many red onion varieties, and they are a little sweeter than white or yellow onions, with varying degrees of sharpness, depending on the type.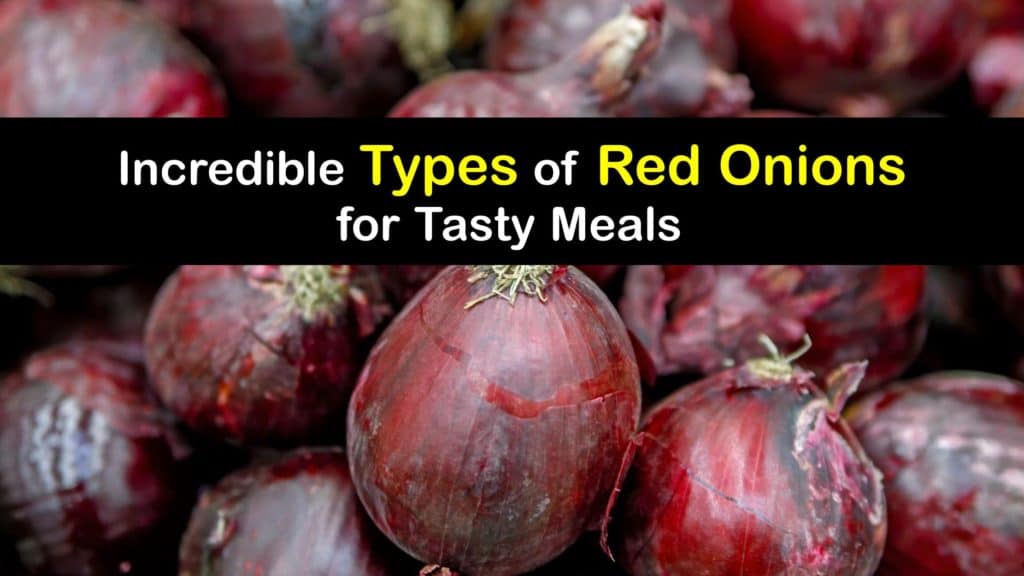 Growing and Cooking with Red Onions
Red onions are delicious raw on salads, sandwiches, burgers, tacos, guacamole, and salsa. While there are other names for red onions and many types, they are all cultivars of the onion. Depending on the variety, they are colorful and have a spicy to mild flavor.
Learn about popular red onion varieties, how they compare, and ways to use them in recipes. Find tips for growing your own red onions at home and how to prepare them in a yummy dish at the end of the growing season. There is little difference between white and red onion when growing them – they require the same basic care. The same holds true for the red onion vs yellow onion and other bulb varieties.
Are There Other Names for Red Onions?
You've probably noticed the bins of assorted onions at your local grocery store or farmer's market. What makes a red onion stand out from other types of onions, and are there other names for red onions?
Red Onions
Some European countries refer to red onions as purple onions, and both purple and red types are the same. They have reddish-purple papery skin with similar colored lines and white rings on the inside.
These onions have higher sugar content, are generally sweeter than yellow and white onions, and their sharpness depends on the amount of fertilizer and sulfur in the soil.
While white and yellow onions are ideal for making onion rings, red onions are better for raw dishes. However, they also taste good caramelized and cooked in Mexican, Italian, Asian, and American cuisines.
How Many Red Onion Varieties are There?
There are six main onion types and many red onion varieties. Their crisp texture and vibrant color make them ideal for serving raw as a topping or recipe addition. However, the different types vary in flavor, pungency, and size, and some of them store better than others.
There are many varieties of red onions, and some of our favorites for home growing are Red Beauty, Dark Red Brunswick, Flamenco Red, Red Wing, and Red Baron onions.
Red Beauty is a smaller red onion that only requires 100 days from seed to harvest, while Flamenco Red takes up to 115 days to mature and stores well for four to six months.
Dark Red Brunswick is a dark red, medium to large onion with a flattened top, and Red Wing is a smaller-sized onion that stores better than many other kinds. Red Baron is a medium-large onion with dark skin and a sharp taste.
Tips for Growing All Types of Red Onions
While all onions are reasonably simple to grow, there are a few things to know when planting and caring for them in a home garden. Follow these gardening tips for different types of red onions to ensure you get the best onion crop.
To give your onion plants a good start and the best way to grow red onions, prepare a garden bed with a time-released fertilizer or organic material before planting. Mix two inches of compost in the dirt and work it beneath the planting furrow to ensure the onion roots find the nutrients efficiently.
Onions grow ideally in soil with a pH between 6.0 and 6.8, and they thrive in areas with plenty of sunshine. Plant the bulbs one to two inches deep, covering the roots well without setting the neck too deeply. Space them six inches apart and water them without drenching.
Ways to Store Red Onions Short and Long Term
Proper food storage is essential to prevent spoilage and waste, whether growing onions at home or purchasing them in bulk from the grocer. Discover a few ways to store varieties of red onions to keep them fresh and ensure they last as long as possible.
The ideal way to store whole onions and the best place to store onions is to place them in a well-ventilated container such as a bin, basket, or large bowl. Keep the bin in a cool, dark, and dry place, and regularly check the onions for sprouts.
Put cut onions in an airtight container and keep them in the fridge for up to one week. Some people claim that submerging them in cold water during storage reduces the pungent aroma.
One tasty way to preserve your onions is with a pickled onion recipe. There are quite a few to choose from. Try several different ones to see which you like best.
Making French Onion Soup with Red Onions
Nothing is more comforting than a large, steaming bowl of soup on a chilly day, and this recipe is perfect if you love the taste and aroma of onions. While you can use any type of onion, we prefer red onions with their mild, sweet flavor.
Pour three tablespoons of oil into a pot and add the onions. Cook them on medium heat while stirring for 15 minutes or until softened. Turn the heat to medium-high and add the remaining olive oil and butter. Cook them for 15 more minutes until they start to brown.
Sprinkle sugar and one teaspoon of salt over the onions and cook for ten to 15 more minutes before adding the garlic and cooking one more minute. Deglaze the pot by adding the wine and scraping the brown bits from the bottom and sides of the pan.
Pour the beef stock into the pot and add the bay leaves and thyme. Bring the soup to a simmer, cover and lower the heat, and cook it for about half an hour.
As the soup simmers, brush both sides of the French bread slices lightly with olive oil and bake them for about six minutes in a 450°F oven. Top them with cheese, return them to the oven to bake until the cheese is bubbly, and place one cheesy toast on top of each bowl of soup.
There is nothing quite like the onion flavor of white, yellow, or red onions, and homemade French onion soup and stir fry is not complete without them. However, their oniony taste varies by type, and it's essential to understand their differences before using them in a side dish.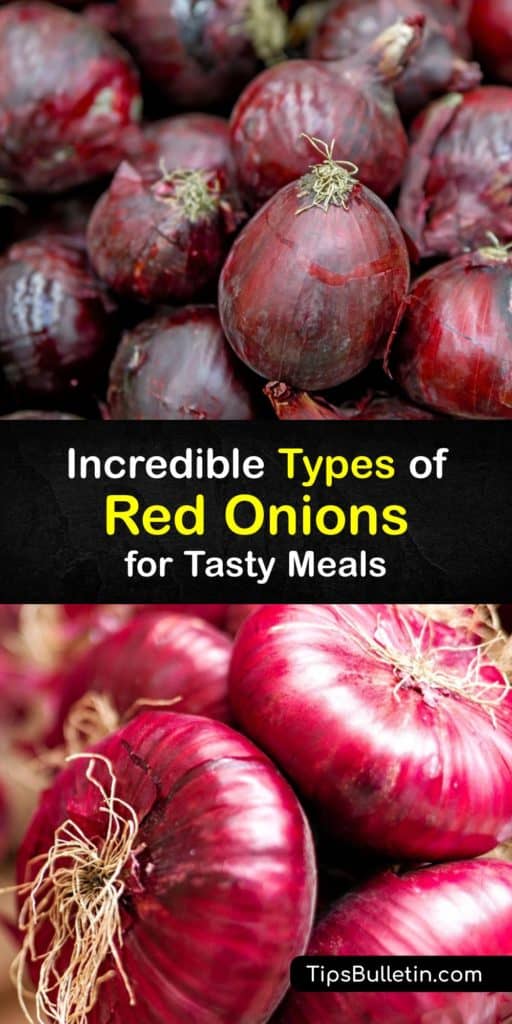 We hope you pick your next favorite onion from the many types of red onions, and we'd appreciate it if you'd share our red onion varieties and growing tips with the onion-lovers in your life on Pinterest and Facebook.