Onions are gluten free, are a vital ingredient in many dishes, and help create some of the most beloved meat and vegan meals around. However, raw onions can go bad in a hurry, leaving you with nothing to add zing to Mexican dishes and BBQ plates. When you know how to pickle onions, you can eliminate that issue.
Quick pickled red onions can solve your problems and give you a reliable food source all year long. This article looks at pickling onions from top to bottom. You'll find out how to preserve your onions with one of our pickled red onion recipes that doesn't require a long cook time.
We also show you why onions are worth preserving for the long haul and include some recipes with pickled onions that you can use to spice up any meal. Before long, you'll be ready to start preserving.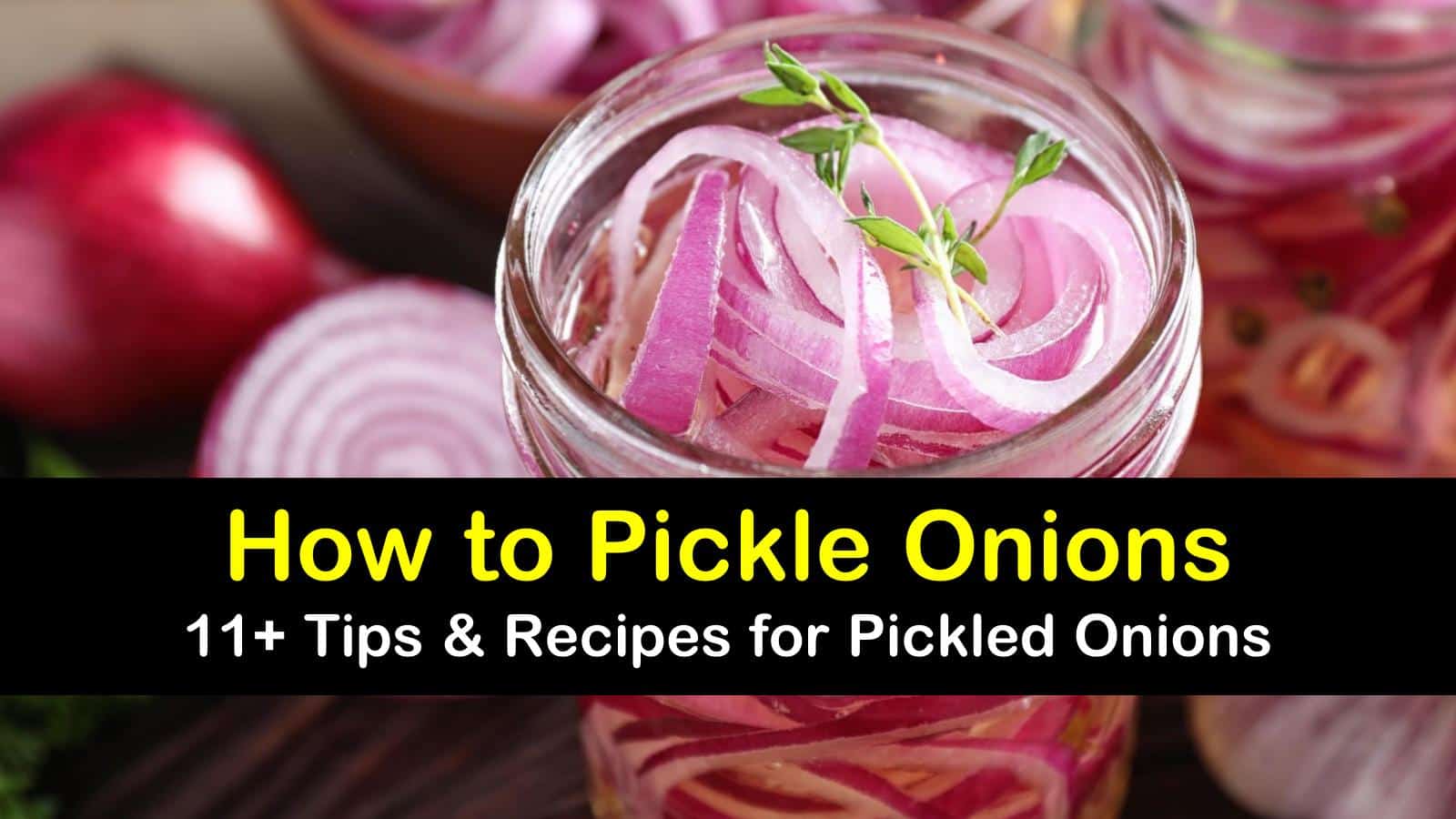 The Best Ways to Pickle Onions
Storage methods are an important part of food preservation. Whether you are keeping chicken salad fresh in the fridge or pickling onions, it's crucial to do it the right way and know how long the food will last before it spoils.
How long will onions last after pickling? This depends on whether you use a canner after pickling. Canned pickled onions last for several years, while refrigerated pickled onions last a couple of months.
If you want your onions to last for a while, you'll need a quick pickled red onion recipe that works every time. Not every method on how to pickle onions will be right for your needs, though.
Perhaps one meal calls for onions with some heat, while another requires pickled onion with no extra spices. Having a pickled red onion recipe ready for every occasion ensures you're never caught unawares again. Pickling is one of the best ways of storing onions and the results are fantastic.
Why Pickle Onions?
When you set out to learn how to pickle onions, you soon discover that there are many recipes you'll need to master so that you have the perfect pickled red onion recipe for every dish.
That's a fair amount of labor to get your onions into the jars. So, what's the big deal with onions? Is there something special about onions that makes them worth preserving? Can you substitute shallots for onions in the recipes? Experiment with onion varieties to get nice flavor differences in your pickled onions.
It's important to note that pickling is not the only way to preserve onions. Learn how to freeze onions, can them, or take advantage of short-term storage options in the pantry or root cellar. You can even dehydrate them so that your onions last for a long time.
Quick Pickled Red Onions
This section provides you with a range of recipes for pickled onions that gives you great results the first time and every succeeding time you make them. We provide the best methods for plain pickled onions as well as fantastic recipes for all sorts of dishes.
You'll find pickling recipes for Asian dishes and some excellent spicy, hot, citrus, and herb pickling solutions, as well. Prep time for these recipes is short, and total time should only be around 15 minutes or so. You're sure to find the perfect pickling recipe for your needs.
One ingredient that is necessary for all pickling recipes is vinegar. Pickle cucumbers with vinegar, onions, or another vegetable with this versatile liquid. It's what adds some nice zing to your pickles and helps the veggies last longer.
Plain Pickled Onions
You don't have to get fancy to enjoy delicious pickled onions. If you immerse onions in a vinegar brine, you've created pickled onions. It's a great way to store cut onions and they turn out delicious.
This easy recipe is all you need for most meals and will preserve your onions perfectly for weeks on end. It makes a fantastic general condiment for burgers and hot dogs and other main dishes. Use this pickling option to produce a hearty onion flavor with no additional elements.
Slice the onion into thin circles and bring three cups of water to boil in a pot. Combine the vinegar, salt, and sugar, if desired, in the pickling container. Stir to dissolve.
Place the raw onion slices in a sieve and place it in the sink. Pour boiling water over the onions, and wait for them to drain. Put the onions in the pickling jar, and stir with a blunt stick or butter knife to remove any air bubbles. Seal and store the jar in the refrigerator.
You can use this same recipe or one similar for quick pickled beets or for another vegetable of your choice. Pickling adds a unique zesty flavor to your favorite veggies and makes a delightful side dish to any meal.
Experiment with pickling your veggies. Try to make quick pickled daikon or pickle some cabbage. You may be surprised at how delicious they taste.
Herb Pickled Onions
If you want a bit more complexity in your meals, try subbing in some herb pickled onions for the plain ones we looked at before. The extra flavors merge with the onion and create an enjoyable and delicious meal.
Your family will be delighted by this pickling recipe. You can also use it for how to pickle radish slices. Add ½ tsp sugar for sweet pickled onions or radishes.
Cut the onion into halves. Place onion halves on a flat surface, and cut the onion into rounds. Bring three cups of water to a rolling boil, then combine the vinegar, salt, garlic, berries, seeds, and herbs in the pickling container until the salt dissolves.
Place the slices in a sieve, and par-blanch them by pouring boiling water on them. After the onions drain, place them in the pickling jar. Use a blunt stirrer to remove air bubbles, and then seal and store the jar in your refrigerator.
Try this mixture of spices in a pickled asparagus recipe for a different taste than a traditional pickling medley. You may find that you prefer it!
Pickling is a great way to add unique flavor to fruits and veggies. Experiment with a pickled mushrooms recipe or one for apples. The possibilities are almost endless.
Citrus Pickled Onions
Onions work well with unusual flavor combinations such as fruit and citrus. The combination of citrus peels and onion in this recipe creates a remarkable taste profile that works well with burgers, hot dogs, and other main courses. Try these quick pickled onions at your next BBQ.
Bring roughly three or four cups of water to a boil. Meanwhile, slice the onion into thin rounds. Pour the vinegar into the pickling jar, and add the sugar and salt.
Stir to dissolve the solids, and then add the citrus peels to the mixture. Place your sliced onion in a sieve, and slowly pour boiling water on them and wait for the onions to drain.
Add the onions to the pickling container, and remove air bubbles with a stir stick. Seal and store the pickling jar in the refrigerator.
Asian Pickled Onions
Perhaps you're looking to whip up a delicious Chinese meal tonight. Nothing works better with Asian dishes than pickled onions treated with special spices.
This pickled onions recipe goes together with all sorts of Eastern meals, including Thai, Japanese, and Filipino recipes. They're just what you need to put your meal over the top.
Slice the onion into thin circles. Bring three cups of water to a high boil and combine the vinegar, salt, sugar, and spices in the pickling jar. Add the onions to a strainer, put it in the sink, and pour the boiling water on the onions.
After they drain, add the onions to the vinegar mixture, and use a stirrer to get out all air bubbles. Let it cool to room temperature. Seal the jar, and then store it in the refrigerator.
Try this recipe for a variation when you make pickled peppers. The spices give the peppers an interesting flavor.
Hot Pickled Onions
One of the most common uses for pickled onions is as a garnish for Mexican food or barbeque. Pickled onions are perfect for salsas, guacamoles, and other meals that require some bite to work well.
When you're preparing something spicy, reach for your hot pickled onions. Use them as a topper for leftovers, as well; hot pickled onions go great with last night's meal.
Boil around three or four cups of water in a pot and slice your onion into thin rounds. Put on gloves, and slice the jalapeño pepper into circles. Add the vinegar, salt, peppercorns, red pepper, sugar, garlic, chili powder, and pepper rounds to the pickling jar and stir.
Place the sieve in the sink, place the onion slices in the sieve, and pour boiling water over them to par-blanch them. Let the onions drain, and then add them to the pickling liquid. Stir the mixture with a blunt knife or stirrer to remove air bubbles, and then seal and refrigerate the jar.
Pickled Red Onion Recipe
This section looks at why we expend the time and energy to create quick pickled red onions. In this section, learn about the health advantages you get from regular onion consumption.
We close this article with some fantastic recipes that include pickled onion and other pickled veggies so that you get good use from your preserved goods. You'll wonder why you waited so long to start pickling.
Health Benefits
In addition to adding excitement to your meals, you'll reap health rewards from regular onion consumption. You get few calories but lots of nutrients in onions, which make them an ideal diet food.
Onions are rich in vitamins, especially vitamin C, and they also contain plenty of B vitamins, including pyridoxine and folate. Onions are also potentially heart-healthy and are a great addition to a heart-conscious meal.
They contain antioxidants to lower free radical levels. Studies also show that onions appear to decrease triglycerides and bring down cholesterol levels. If you're looking for a delicious ingredient that makes your palate happy while it aids your health, look no further than onions.
Pulled Pork Sandwich with Pickled Onions
This sandwich is savory and filling, and it works wonderfully with pickled onions. Plain pickled onions work well here, but you can try the hot or Asian varieties for a flavor twist. Bon appétit!
Toast the buns and heat the pork in a small saucepan. Add a little broth to moisten the pork. Place a cup of pork on each bottom bun and top with onion, cilantro, and radish. Add a dollop of mayo or Sriracha to the top buns and serve.
Arugula Salad with Pickled Red Onions
One of the best uses for pickled onions is on a salad. Onions on a salad are already lovely, and when you add the bite you get from pickling, you create a salad with depth and character. Herb pickled onions or Asian pickled onions work very well here.
Add the arugula, tomato halves, and about a third of the pickled onions. Toss the three ingredients until combined.
Add the olive oil, honey, champagne vinegar, mustard, a little ground pepper, and about ½ tsp salt to a container, and shake until combined and emulsified. Coat the salad with a little vinaigrette and toss. Season with pepper and salt to taste.
Asparagus and Red Onion Frittata
Frittatas are perfect meals for any time of day, whether morning, noon or night. This complex and flavorful dish is halfway between a pizza and an omelet, and it will become one of your family's favorite recipes. It's easy to make and a proven winner.
Fill a large bowl with ice water. Bring a small water pot to boil, and add a bunch of spinach. Wait for 10 to 20 seconds until the spinach wilts, then transfer the spinach bunch to the ice water. After squeezing as much liquid as you can from the spinach, chop it roughly.
Crack the eggs into a blender and add milk, cheese, and the chopped spinach. Add salt and pepper, and blend until light green with spinach flecks. Place a cast-iron skillet over medium heat and add the butter.
After the butter melts, add the olive oil. Then, add the asparagus and cook for about five minutes until it becomes tender. Meanwhile, chop the other bunch of spinach.
Add the second chopped batch to the skillet a little at a time while stirring until the newly added spinach wilts. Reduce the heat, and add the egg mixture to the skillet. Stir to mix everything. Cook over a low flame until the frittata mostly sets, about 20 minutes or so.
Turn your broiler on high and place the skillet under it. Broil your frittata until it is golden brown and solid. Remove from the broiler, allow to cool, and then cover the top of the frittata with pickled red onion. Serve by itself, or serve as a side dish.
Lemon Pepper Salmon with Pickled Onions
Salmon is a wonderful-tasting fish that you can prepare in no time, and red onion is the perfect ingredient to pair with it. The onion enhances the salmon and results in a meal that delights the senses. You'll be asking for seconds of this tasty meal.
Preheat the oven. The temperature should be 350°F for convection ovens and 400° for regular ovens. Set the filet on parchment and season with lemon pepper on both sides. Place dill sprigs on the top side, and drizzle the salmon with olive oil to anchor down the dill.
Put the parchment on a sheet pan, and place in the oven. The filet will take about 15 minutes to cook; the thickest part should have an internal temperature of 120 to 125°.
Add diced onions, capers, and chopped dill to the mayonnaise to create the remoulade. Remove the filet from the oven when cooked and top with pickled onions. Serve with remoulade on the side.
Ahi Tuna and Pickled Onion Dip
Want to produce a delicious snack for guests when you don't have a lot of time? This savory dip is perfect for a quick meal and will astound you with its deep, rich flavor. Use the Asian or hot pickled onions for a little more zip.
Mix the tuna, jalapeño, and Sriracha in a bowl. Set aside the avocado, add all remaining ingredients, and stir well. Top with the diced avocado and serve.
How long does this unique tuna salad last? Refrigerate for a day or two before tossing.
White Pizza with Pickled Onions
Not every pizza needs to be the standard pepperoni-and-mozzarella model. White pizza is a delicious pizza option and allows you to get more adventurous with your toppings. Our white pizza recipe is a guaranteed crowd-pleaser and the perfect way to use those leftover pickled onions.
Heat the oven to 500°. Mix the garlic, cheeses, and oil in a bowl, and season the mixture with salt and pepper. Divide the dough into equal halves and wait for ten minutes.
Stretch one half of the dough onto a ten-inch pizza round on a sheet pan. Cover with half the cheese mixture, and then top the pizza with half of the onions, pickles, and Soppressata.
Bake about ten minutes or so until the cheese is golden and the crust is brown. Repeat for a second pie if needed.
We hope you had a lovely experience reviewing our recipes for pickled onions for tacos and other meals. Onions are essential ingredients for all kinds of meals, and we want to make sure that they don't go bad.
Our guide to pickling onions gives you essential pickled red onion recipes and shows you how to make those quick pickled red onions shine in our handpicked and time-tested meals.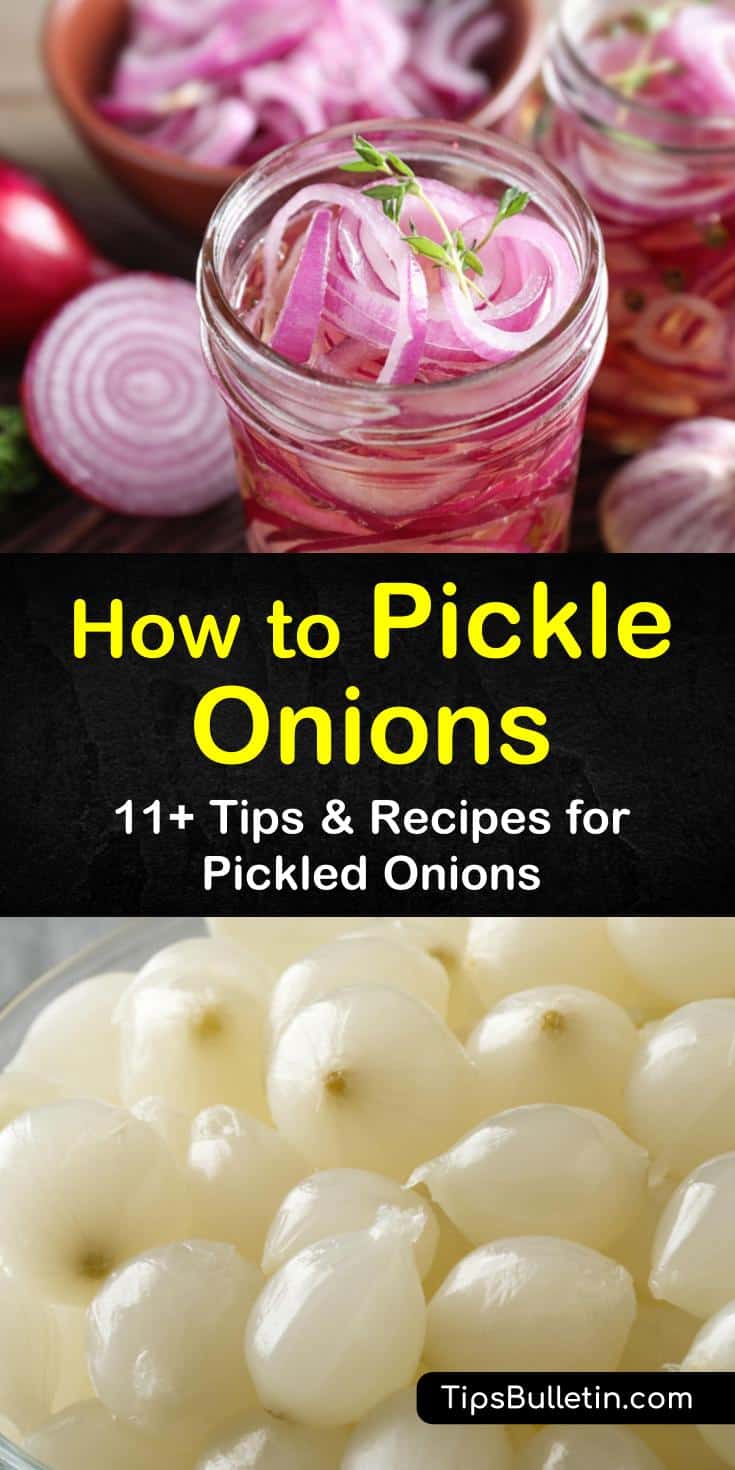 Thanks for reading our onion pickling guide. Facebook and Pinterest are great places to share how to pickle onions, as you might wish to help others discover the joys of pickling onions like you did.