Crickets are known for their signature chirping sound. While this sound is meaningful to crickets, it's irritating to humans. Male crickets rub their wings together, making sound through friction to attract female crickets. Knowing what attracts crickets helps make sense of why it seems like crickets spend all night chirping just outside your window.
Many crickets live worldwide, and they thrive in warm moist environments. In some parts of the world, house crickets live as pets or feeder insects for reptiles. In Asian countries, natives view crickets as good luck; however, many countries view crickets as nuisance pests.
Crickets look similar to grasshoppers with their cylindrical bodies and strong hind legs. They also share a resemblance to spider crickets. Spider crickets, also known as camel crickets or cave crickets, resemble true crickets due to their back legs but belong to a different family.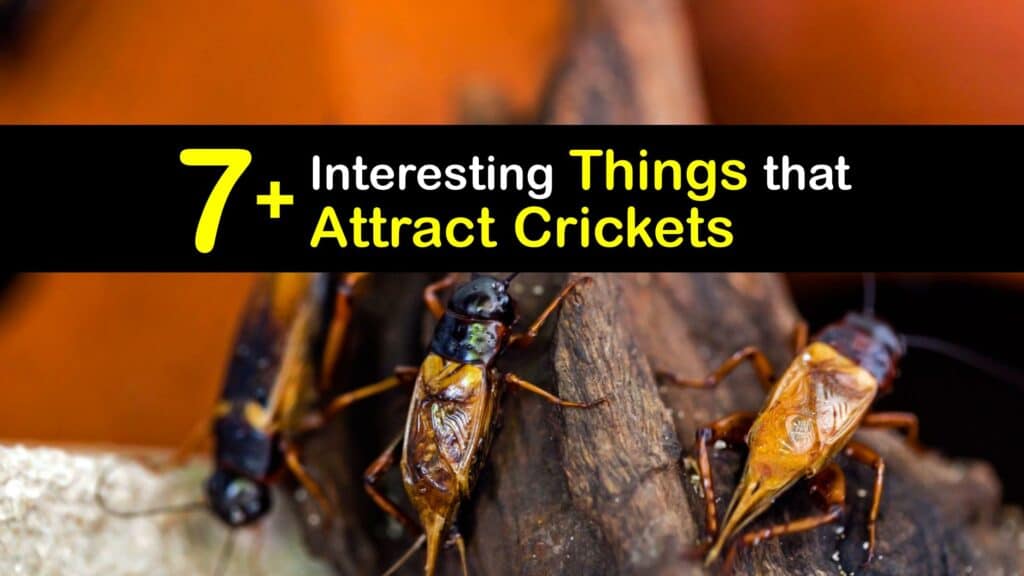 What Are Crickets Attracted To?
Although the outdoor conditions suit them, some cricket species accidentally find their way indoors. Under the right circumstances, crickets may survive inside for a short time, but what about our homes draws crickets in?
If the sound of field crickets chirping at night keeps you up, take steps to keep crickets away from your home. Understanding what crickets like is key to preventing crickets from finding their way into moist areas of your house.
What Do Crickets Look For?
Crickets are no different from most insects; they require food, light, and shelter. Throughout their life cycle, crickets burrow into the ground and make tunnels to create nests for female crickets to lay eggs.
These caves provide a safe space for crickets away from natural predators like mice, frogs, bats, and some birds. In the wild, inclement weather forces crickets from their burrows and closer to dry structures near homes, and crickets even make their way indoors in search of better shelter.
Outdoor Lighting That Attracts Crickets
Crickets are nocturnal insects and like most bugs, enjoy light sources. Porch lights and indoor lights you turn on at night become beacons for crickets, who have poor visibility, to navigate in the dark.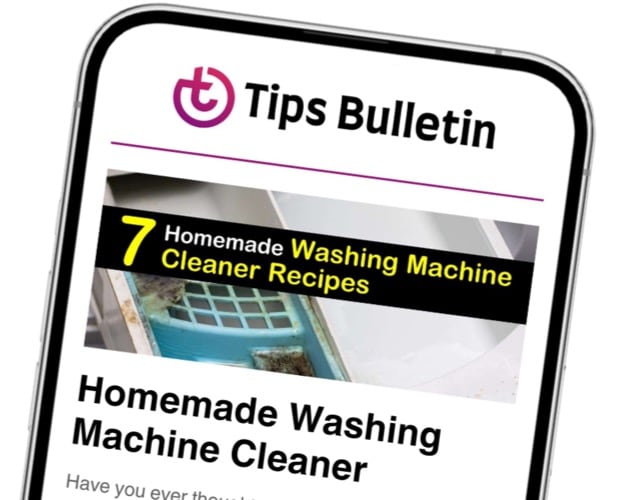 Finally, an email that Transforms Your Home.
Get the latest home and garden tips from our experts, delivered straight to your inbox.
Insects often associate lights outside with warmth and shelter; however, not every cricket is phototactic, meaning light does not attract them. Crickets also associate light sources with safety from natural predators. One way to reduce crickets visiting your outdoor lights is to swap UV lights for LED or yellow lights.
Crickets Seek Safety Indoors
One reason that crickets find their way indoors is in search of shelter and warmth. Crickets seek areas that mimic their outdoor environment. Cracks in your home's foundation are easy entry points for crickets.
Spaces in your home with lots of moisture, like crawl spaces, are ideal for crickets. These spaces indoors provide safe locations for female crickets to lay eggs. Find cricket eggs inside your walls and cupboards.
Shelter Near Your Home
Insects like Jerusalem crickets, although not true crickets, find shelter near homes when hiding from predators or avoiding inclement weather. Outside your house, common shelters for crickets include wood piles, tall grass, bushes, and rock piles.
These areas hide crickets, allowing them access to burrow underground to lay eggs and find moisture from rainfall. These areas provide shelter for mole crickets during the day before they leave at night in search of food.
Using Gardens and Yards for Food Supply
If you have garden beds near your house, it's common to find crickets in the yard or the garden soil. Crickets are omnivores, and a normal cricket diet consists of plants and meat. Plant debris, grains, produce from the garden, and bodies of dead insects serve as a food source for crickets.
Crickets like bird feeders or bowls of pet food outside as a source of protein. To prevent crickets from gathering and thriving outside your home, monitor your yard to remove any food sources for crickets.
Moisture: What Attracts Crickets
Crickets need moisture to survive, especially if they wander inside. Because homes are not damp environments that hold onto moisture, crickets seek out areas with excess moisture to get enough water. Leaky pipes, pooling water in the basement, and dripping faucets are perfect gathering places for crickets.
Crickets are more likely to seek shelter indoors if you live in a humid environment. Crickets may remain inside to breed and lay eggs if the humidity closely mimics the outdoors.
Clearing Clutter to Avoid Crickets
Like wood piles next to your house, clutter inside your home attracts crickets. Cardboard boxes in messy basements are perfect hiding places for crickets. Crickets lay eggs in these areas and remain out of sight to avoid pest control. Clean cluttery spots to resolve the pest problem.
When dealing with a cricket infestation in your basement, removing boxes of clutter may not be enough to reduce the number of crickets. Removing their shelter forces crickets into the open, making it easier to eliminate them.
Outdoor Cricket Test
Determining the locations of your yard infested with crickets allows you to target insecticide methods in the right area to make it most effective. Listening to the chirping is the easiest way to determine if crickets are outside. If you want to pinpoint the location in your yard where crickets make their home, using a soap soak is a simple way to draw out crickets.
Add water to a bucket before adding dish soap. Mix the water to create suds before pouring the water evenly across your yard. If crickets have tunnels in your yard, the soap forces them out of the soil.
Getting Rid of Crickets with Diatomaceous Earth
If you've confirmed a problem with crickets by your house, there are various methods for reducing their numbers without using harsh insecticides. Understanding answers to the question, "What are crickets attracted to?" is beneficial because the same things they enjoy help you eliminate them.
Diatomaceous earth is one of the best ways to repel crickets naturally. Made from the crushed bodies of fossilized sea creatures, food-grade diatomaceous earth (DE) does not threaten humans or pets; however, the sharp edges are fatal for small insects.
If crickets in your yard or garden are a problem, sprinkle DE in these areas to kill crickets. When crawling across ground treated with DE, the sharp edges of the diatoms cut into the bodies of crickets. These cuts are not fatal, but they cause crickets to lose moisture by damaging their exoskeleton. Over time, these damaged crickets dry out and die.
Read on to discover more scents that will repel crickets from your yard using natural methods.
Pest Control Cricket Trap
Because crickets are small, they are easy to kill with homemade traps. One popular cricket trap is a sticky trap made using a DIY sticky substance that won't dry out as it catches crickets. To make a simple sticky trap for crickets, fill a shallow bowl with molasses and leave it in the yard, basement, or crawl space.
The sweet smell of molasses draws crickets in, and after jumping into the bowl, they cannot escape, eventually dying in the sticky trap. Add a piece of bait on top of the molasses to entice crickets to visit. Dried sweet bread is the best bait for cricket traps because it has a stronger scent than fresh bread.
Making Cricket Traps with Corn Syrup
Another sticky trap involves using corn syrup and water to make a sticky substance for trapping crickets.
Warm water and syrup on the stove until it boils and thickens. Cut the cardboard into squares before spreading the syrup onto the surface and placing the cardboard in your basement or crawl space.
Are Crickets Dangerous?
It's no secret that crickets can be annoying. Their mating chirp is piercing, which is mainly why these insects are pests. Despite this, do crickets pose any real threat to our daily life if they find their way inside?
Although crickets have teeth, they are not harmful to humans. Crickets usually flee when encountering a human due to fear that humans are a predator. While they may not be dangerous, crickets that invade your home pose a different type of threat.
Field and house crickets living inside your house seek animal protein to eat. Cotton, wool, silk, and fur are ideal targets for crickets. If unchecked, crickets might chew on portions of fabrics left in your home's basement or crawl space. Crickets prefer cloth soiled with food or perspiration.
If the constant chirp of crickets is an ongoing problem, hiring a professional is one option for cricket control. If your pest issues are minor, try our recommendations to eliminate suitable areas for crickets. With regular lawn care and being mindful of any clutter, reduce the number of crickets hanging around.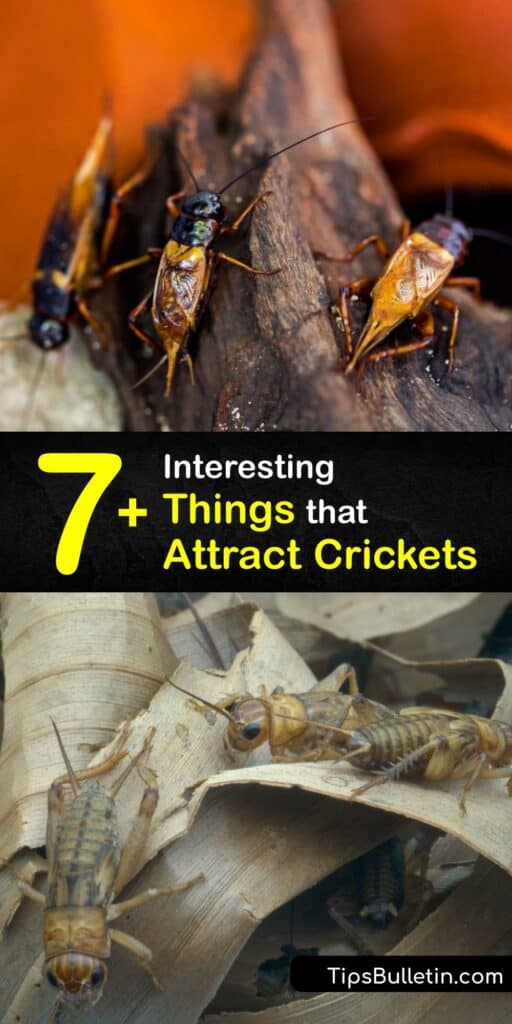 We hope you learned what attracts crickets with help from our guide and will share our article to answer questions like "What are crickets attracted to?" on Facebook and Pinterest.