If you are searching for one of the most popular herbs to incorporate into your vegetable garden, grow basil plants. Basil varieties are straightforward regarding germination and allow you to have access to fresh basil throughout the summer. One of the important parts of growing basil is understanding when to plant basil so the herb can grow under the right conditions.
In this article, we show you how to plant basil as well as when to harvest basil. Additionally, we provide other helpful tips and tricks so that you can grow the best-tasting basil possible.
Growing basil in your garden comes with several advantages. You can purchase basil at your local grocery store. However, planting the herb in your garden gives you access to pesticide-free basil leaves.
Not only does planting basil give you immediate access to a popular spice, but it also serves as an excellent companion plant for the other vegetables in your garden.
Growing basil alongside tomatoes, peppers, and root vegetables adds more flavor to the foods and promotes faster growth.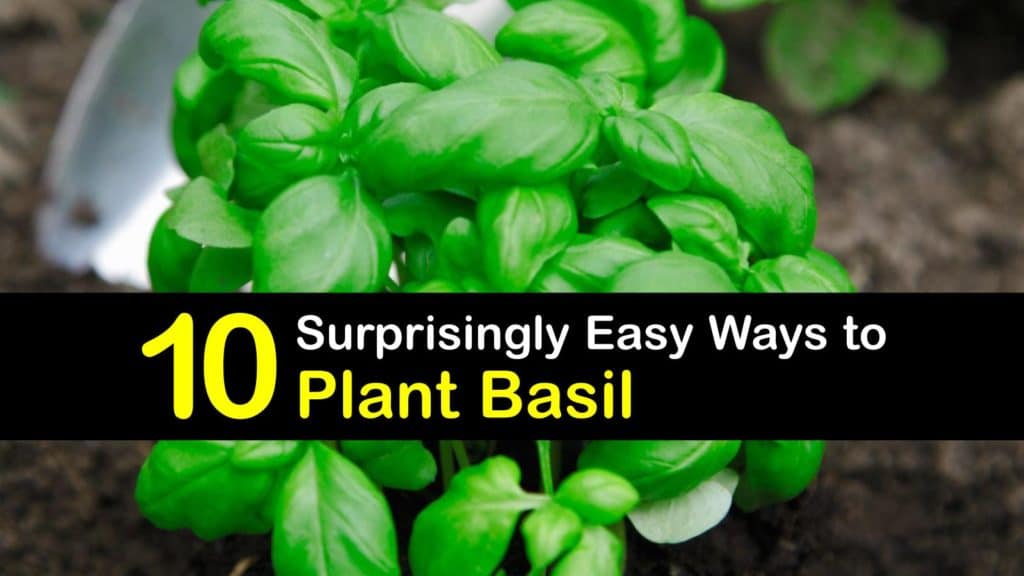 Different Types of Basil
Basil seeds are one of the easiest herbs to grow in a vegetable or herb garden, and there are several different varieties. The most popular basil type is Genovese basil, also referred to as sweet basil. This basil variety is a terrific addition to Italian sauces and pesto.
Other common basil types are Thai and lemon basil. Thai basil has a distinct spicy flavor and adds a desirable kick to Asian cuisine. Lemon basil tastes best with Mediterranean salads and fish and is a wonderful companion plant for other vegetables in the garden.
Determining the best time to plant asparagus, basil, and other crops in your garden depends on the veggie or herb. Pay close attention to seed packet or seedling label instructions.
How and When to Plant Basil in Your Garden
Planting basil seeds, or Ocimum basilicum, are one of the annual plants that need to be replanted each growing season. One benefit of growing basil is that you can do so indoors at first if the temperatures are too cold.
Understanding when to plant basil and the best way of propagating basil plants gives your herb the optimal chance at thriving and producing an ample harvest. Different vegetables and herbs have varying requirements. When to plant celery and tomatoes are not the same as basil.
Start your basil seeds outdoors after the danger of frost passes and overnight temperatures are above freezing levels.
To germinate basil, it's necessary to know how far apart to plant basil seeds and seedlings for optimal growth. Sow your seeds about ¼ of an inch in the soil and space each basil plant at least six inches apart.
When growing basil indoors, use a grow light to ensure the soil is warm enough. In an outdoor environment, set your basil plants in an area that receives plenty of sunlight.
Proper Soil and Fertilizer for Basil Plants
Growing your basil in the proper soil and fertilizer is vital to supply the plant with the essential nutrients required to thrive. Learning when to harvest basil and plant the herb is relevant when gardening.
However, to ensure your plant grows quickly, use rich soil with plenty of organic matter. Work a well-balanced fertilizer with equal phosphorus, potassium, and nitrogen levels into the soil before you sow basil seeds to ensure the nutrients are evenly spread out in the ground.
By combining the proper soil and fertilizer, basil varieties like Spicy Globe receive plenty of nutrients.
What to Plant with Basil for Optimal Taste
There are many cultivars to plant with your basil after the last frost of the season that promote steady growth.
Companion planting for basil reduces the chances of fungal diseases, promotes faster growth, and saves space in your garden. Whether you are planting Anise or Lemon basil, learning what to plant with basil is a smart move.
Basil is a natural bug repellent to plants like tomatoes, asparagus, and root vegetables. The basil's scent drives destructive tomato hornworms and asparagus beetles away while attracting natural predators like ladybugs.
Planting basil with other herbs like chamomile, oregano, or chives increases the flavor of leaves. Understanding what to plant with basil is helpful to making germination easier.
How much Sunlight and Water do Basil Plants Need?
A fundamental aspect of understanding when to plant basil is growing the plant in the ideal location.
Basil grows faster when it receives six to eight hours of full sun each day. Even if you grow basil indoors, set the container near a window that receives plenty of sunlight.
Water your basil plant at least once a week, so the herb gets one inch of water. Basil prefers moist soil, so the roots develop deep into the potting mix.
When growing basil in containers, the plant may demand a little more water compared to outdoor plants. To avoid dry soil, sprinkle a little mulch over the top of the ground to slow evaporation.
When to Harvest Basil for the Best Tasting Leaves
As temperatures reach 75 to 80℉, the basil plant begins to produce leaves rapidly, making it crucial to know when to harvest basil. Usually, basil takes about 50 to 75 days to reach its full maturity after sowing the seeds.
Identifying whether or not your basil leaves are ready for harvest is quite simple. There are two quick ways to check if your basil leaves are ready to be picked.
One indicator is the number of leaves on the branch; when there are six pairs of leaves on a stem, they are ready for harvest. Another sign basil is ready is if there are flower buds on the plant, which signals the leaves are ripe.
How to Harvest Basil Leaves
The basil plant is exceptionally efficient concerning leaf production, so learning how to harvest the leaves is essential to keep up with the production rate. To ensure you do not damage the leaves, it's important to properly harvest basil.
Are you wondering when to harvest basil for the best taste? Harvesting early in the morning provides the most flavor.
With a sharp pair of scissors or gardening shears, snip the basil leaf at the stem's base. Because the herb sprouts leaves throughout the entire summer, harvest basil leaves once every two weeks.
How to Dry Out Basil Leaves for Storage
To keep basil on hand for recipes in the future, dry it and preserve it in airtight containers. Mason jars and other airtight containers prevent any outside air from reaching the basil leaves, extending the product's overall shelf life.
Remove the stems from your basil leaves with a pair of scissors and set the leaves on a piece of paper towel. Set the paper towel in a well-ventilated area to dry.
Check on the state of the leaves each day. When they are dry, transfer them to the sealed container of your choice.
Store Basil Long-Term in the Freezer
After you learn when to plant basil and when to harvest basil, learn how to store the freshly picked herb. Keeping extra basil in the freezer is the perfect method to maintain the exceptional flavor while also preserving freshness.
Coarsely chop your fresh basil with a food processor and put the chopped leaves in a small bowl. Drizzle enough olive oil on the leaves and stir the mixture until they are lightly covered.
Olive oil prevents the leaves from spoiling and changing color in the freezer. Transfer the mixture into ice cube trays and set them in the freezer.
Keeping Your Basil Safe from Harmful Pests
As a basil grower, you must be aware of a couple of pests so you protect your plants from unnecessary damage. The two most common insects that suck the plant's nutrients from the flower buds, stems, and leaves are aphids and Japanese beetles.
Pouring and mixing the ingredients in a spray bottle allows you to distribute the solvent evenly on the affected plant.
Spray your DIY aphid repellent directly on the plant's leaves and around the soil. The dish soap and vinegar suffocate and kill the insects it comes in contact with, while the scent of peppermint repels future pests.
Create a Tasty Homemade Pesto with Fresh Basil
Are you wondering how to use your fresh basil from your garden? Creating a homemade pesto is a delicious way to use up basil leaves. As a dressing for chicken, and pasta salads, pesto adds fantastic flavor to any dish.
In a food processor, combine basil, garlic, pine nuts, and Parmesan cheese. As the food processor is running, add the olive oil slowly until the mixture is uniform. For a little bit more flavor, season your pesto with salt and black pepper.
There are various aspects of growing basil that every gardener must know when growing the popular herb—knowing what to plant with basil speeds germination. Understanding when to harvest basil ensures your leaves have the most flavor possible.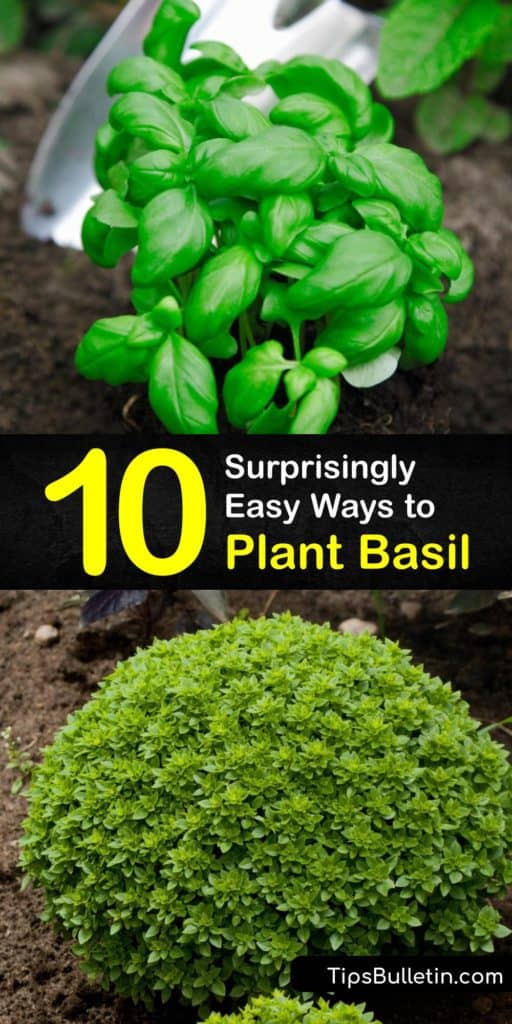 If you learned when to plant basil, share this article with tips for growing basil with your family and followers on Facebook or Pinterest.