Fresh tomatoes and basil are a match made in culinary heaven, and no pesto is complete without this herb. Fresh basil is aromatic with a slightly savory taste, and snipping leaves from your own garden is a delight within itself. We'll show you how to plant basil to have basil leaves on hand for your favorite recipes.
Without herbs, food is boring and bland. Imagine marinara sauce without oregano, seafood without thyme, or pasta salad without basil. These plants add flavor, aroma, and color to dishes, and combining them creates delight for the senses.
Dried herbs are a common sight in the spice cabinet, but the tender leaves of fresh herbs are a chef's best friend. We often pick them up from the grocery store at the last minute, but garden herbs are more flavorful. Basil is one of the most enjoyed and one of the easiest to grow in a windowsill or outdoor garden. There are also several types to choose from to suit your palate.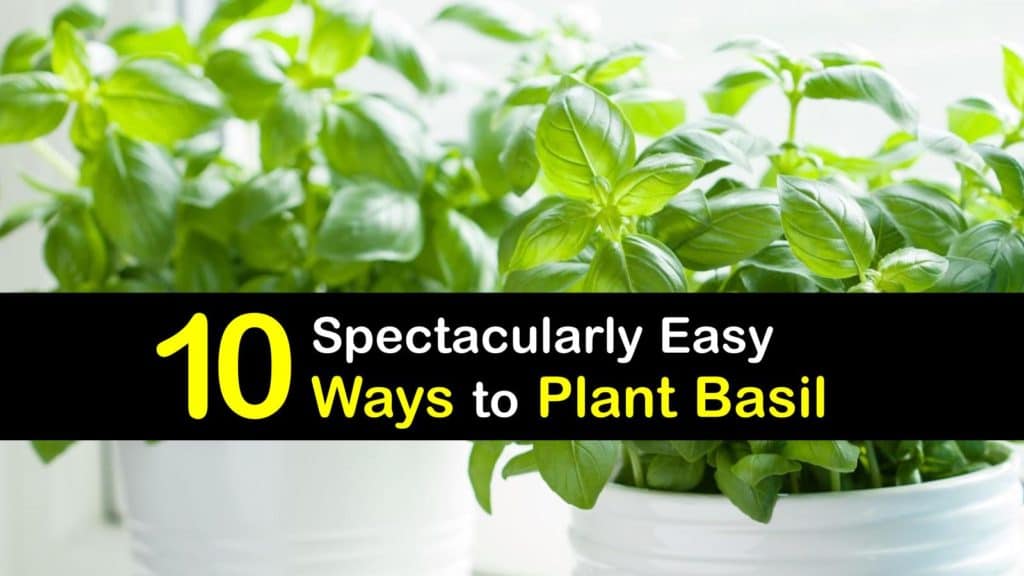 Growing and Caring for Basil Plants
There is nothing better than sprinkling freshly chopped basil leaves over a pizza or into a homemade sauce; growing your own is easier than you think. Basil is also one great substitute for bay leaves if you have a recipe that calls for them.
We'll show you how to grow basil plants at home, how to care for them, and ways to store them after harvesting.
What is Basil, and Are There Different Types?
While there are many questions when growing basil, such as how far apart to plant basil and how much sun it needs, it's important to understand the plant first.
There are several basil varieties, each with its own taste, and knowing the differences helps you choose the right one to plant.
Basil (Ocimum basilicum)
Unlike other herbs, basil is an annual and does not grow back every year. It is an herb from the mint family that is a favorite in Italian cooking, as well as Thai, Vietnamese, Mediterranean, and Indonesian.
The leaves are large and delicate with a smooth veined texture, and they have a slightly peppery taste and sweet smell.
There are more than 60 different basil varieties, ranging from purple, lemon, and lime basil to cinnamon, Greek, and lettuce basil. Common cultivars include sweet basil vs Thai basil, while other types such as Spicy Globe and Genovese are less known.
How Deep to Plant Basil Seeds Indoors
There are a few important things to understand when learning how to plant basil indoors. First, to plant basil from seed, it's a good idea to start it indoors to help the herb get a healthy start without having to battle outside conditions.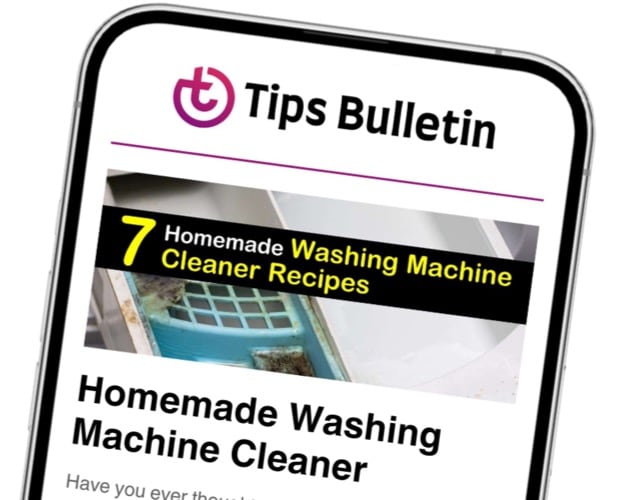 Finally, an email that Transforms Your Home.
Get the latest home and garden tips from our experts, delivered straight to your inbox.
Start the basil seed planting process about seven weeks before the last frost if you plan on transplanting it outside.
Prepare the soil by moistening it with just enough water to hold the dirt together in your hand, and then fill the pots with it until it's half an inch from the top.
Place a couple of seeds into each pot and cover them with the recommended amount of dry soil. Read the packet to determine how deep to plant basil seeds, or plant them roughly twice as deep as the seed size.
Mist the pots with water from a spray bottle and set them in a warm, full sun window where it is about 70°F or beneath a grow light.
How Far Apart to Plant Basil in the Garden
After planting basil seeds and watching the seedlings emerge, it's time to decide where to move your plants. If you choose to transplant them to the garden, it's essential to know how far apart to plant basil and how deep to place it in the soil, just like when you plant strawberry plants or other fruits and vegetables.
Before transplanting your basil in a garden setting, it's vital to harden off the plants first by taking them outside each day for a couple of hours for about a week.
Plant them in the ground once the daytime temperature reaches 70°F with night-time temperatures above 50°F. Dig holes in the garden about ten inches apart, carefully remove each plant from their pot and place them in the ground.
Cover the area around their roots with soil and pack it down gently. Water them around their base and cover the dirt with mulch if the weather forecast calls for unexpected frost.
It's helpful to plant basil with ground cherries to repel unwanted insects away from the fruits. Basil also grows well with many other plants.
How to Plant Basil on the Patio
A garden bed is not the only place to plant basil outdoors. If you don't have a backyard or have limited space, consider growing an herb container garden on your porch or patio. This is a simple and convenient way to keep your basil close at hand.
If your basil is already growing in large enough pots, then it's easy to move them to the patio by hardening them off first. Two weeks after the last frost, take the pot outside for two hours on the first day, and then increase the time each day for a week.
By the end of the week, the potted basil is safe to stay outside overnight. Basil growing in a seed starting tray also requires hardening off.
After they acclimate, remove the seedlings from the tray and transfer them into a larger pot or raised bed, making sure to space them about ten inches apart. Set the pots in direct sunlight and make sure they have proper air circulation to prevent fungal growth.
Caring for Your Basil as it Grows
While basil is quite easy to grow, it still requires attention to provide you with tasty, healthy basil leaves. Here is how to care for your plants, whether you grow them indoors or transplant them in an herb garden.
Basil Care
Basil plants are prone to fungal growth, so do not plant them too close together to ensure adequate air circulation. If you plant them outside and there is a chance of frost, cover them with empty containers or pots before night-time.
Spray newly planted seeds with water to help them germinate in moist soil, water seedlings twice a week, and give mature plants a drink when the top inch of dirt is dry.
This herb requires a good deal of sunshine so grow it in an area where it receives six hours of sun each day.
How Long does Basil Last?
Now that you know how deep to plant basil and what to give it to grow healthy and strong, you probably wonder how long you get to harvest savory herb leaves before the plant dies.
Basil Growth
Since basil is an annual, it grows quite fast. This herb only takes about a week to germinate, and a basil plant fully matures in about a month.
Trimming the leaves regularly and pinching off the top foliage encourages new growth and stops it from producing flower buds and going to seed. A healthy basil plant lasts up to six months under the right conditions.
Dealing with Common Basil Plant Problems
All plants have enemies, and basil is no exception. While they don't suffer from too many diseases and some insects avoid this herb, there are still some issues to contend with. Here are a few problems and ways to avoid them.
Bacterial leaf spot is a common issue caused by bacteria, and the symptoms include spotted leaves and streaked stems. To alleviate this problem, make sure your plants have plenty of air circulation and water them without splashing the foliage.
Another obstacle basil contends with is insects and aphids are the most common. They are tiny green bugs that hide on the underside of leaves and destroy the entire plant if left alone.
Remove them by hand or spray them off the plant with water as soon as you notice them.
What to do if You Have too Much Basil
How can you have too much basil? Basil is a fast-growing herb, and planting an entire packet of seeds rewards you with many basil leaves all at once. If you have more herbal plants than you know what to do with, consider drying them for spice cabinet storage.
Separate the basil from the stems, rinse them under cool water, and pat them dry with paper towels. Spread the leaves on the trays of your food dehydrator and follow the instructions for your model.
Use the herb setting or set it 100°F. Dry them until they are crispy and crumbly, crush them into tiny pieces, and store them in a container with an airtight lid.
When is a Good Time to Harvest Basil?
Watching your herbs grow and smelling the fragrant leaves as they mature fills you with anticipation. Your tomato sauce, vinaigrette, and pesto await fresh basil, but when are basil leaves ready for clipping?
Basil Harvest
This herb is ready to begin harvesting about 50 to 60 days after planting. Pinch off the leaves as needed, starting from the top of the branch down, while leaving the bottom two leaves.
Basil has a short lifespan, but it is possible to encourage more growth and make it last a little longer. To do this, snip basil leaves early and keep at it while it grows to produce extra stems, with each cut stem doubling.
How to Store Basil after Harvesting
A basket full of fresh basil leaves fills your kitchen with the sweet and savory scent of herbs, but now what do you do with them to keep them fresh for future meals? Here is how to store basil in the fridge and freezer, so not a single leaf goes to waste.
After clipping basil leaves, wrap them in a damp paper towel, place them in a plastic storage bag, and set them in the fridge for up to four days.
To keep cut basil fresh if the basil leaves still have stems, put them in a glass of water and cover the leaves with a plastic bag. Set the jar in the fridge for up to one week.
You can tell if basil is gone bad if the leaves become droopy and slimy.
To freeze basil and store fresh basil long term, chop the leaves into desired pieces and place them into ice cube trays. Drizzle olive oil over them and set them in the freezer until they are solid.
Transfer the cubes to a freezer bag before returning them to the freezer, and add them to soup or stew as needed.
Why take a trip to the store every time you prepare a recipe that calls for fresh basil when it's more convenient to grow this herb at home?
Not only is this plant perfect for the beginning gardener, but it also grows easily indoors on a windowsill or outdoors in a garden bed or container.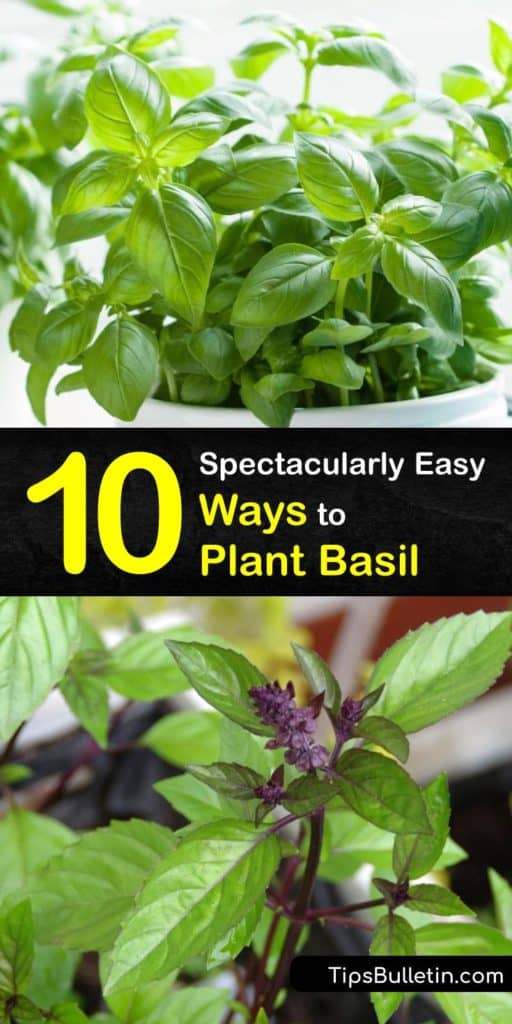 We hope that you enjoyed learning how to plant basil to give your recipes the flavor they deserve, and we'd love it if you'd share our basil growing guide and tips with your herb-loving friends and family on Pinterest and Facebook.