A trip to your grocery store or farmers' markets is often confusing if you are unfamiliar with the different summer and winter squash types. With so many gourds ranging in size, shape, and color, it's easy to understand the confusion. Learn the differences between zucchini vs squash, how to grow them at home, and prepare them in a healthy side dish.
The squash family is full of versatile veggies, from crookneck and acorn squash to zucchini. They are low in carbs and contain high amounts of minerals, vitamins, and disease-fighting antioxidants, like vitamin C, manganese, and potassium. In addition, their texture and mild taste make them perfect for cooking in a wide range of recipes.
However, there are two main groups of squash, and it's vital to understand the difference between winter and summer squash to ensure you grow and use the right one for grilling, baking, sauteing, or adding to cooked dishes.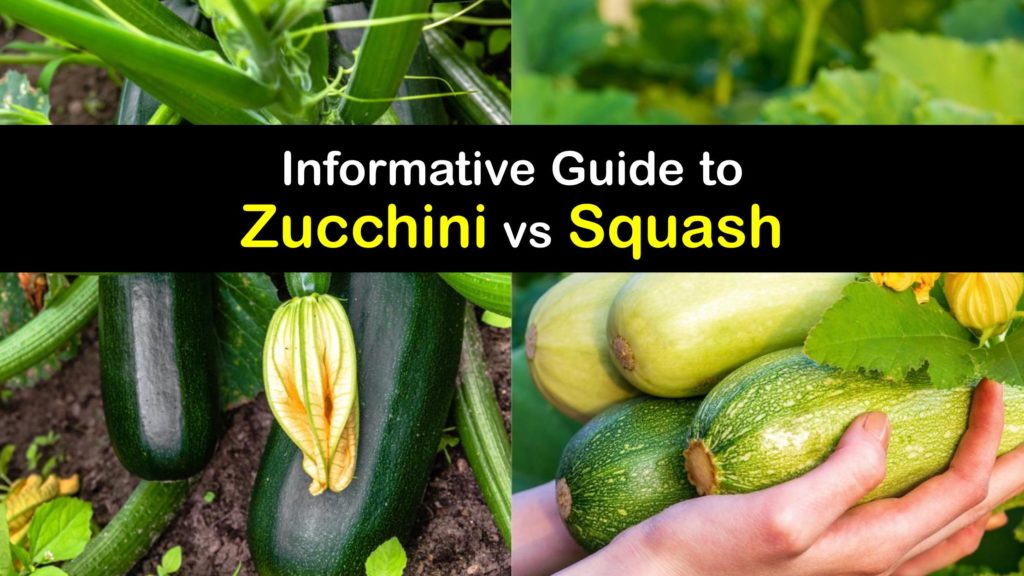 Differences between Zucchini and Squash
Zucchini is one of our favorite garden veggies throughout the summer months. It is versatile and delicious in zucchini bread, zucchini ratatouille, or baked with olive oil and Parmesan cheese, but are zucchini and squash the same vegetable?
Discover the difference between squash and zucchini and how they are similar to help you better understand their growth habits, appearance, texture, and flavor. Explore their nutritional benefits and tips for growing them in the veggie patch.
Are Zucchini and Squash the Same Veggie?
Are zucchini and squash the same thing? Zucchini (Cucurbita pepo), or courgette, is a type of squash that comes in different varieties. In other words, zucchini is a squash, but not all squash are zucchini.
Some are winter squash, while others are summer squash. Find out about their growing differences to help you determine which squash plants are suitable for growing in your area.
Squash is a species that belongs to the gourd family, and there are both winter and summer varieties. Plant summer types in early spring and harvest them throughout the summer months while the fruit is young. Winter varieties have a long growing season; pick the fruit in the fall before a heavy frost.
Acorn squash, Delicata squash, Hubbard squash, butternut squash, crookneck squash, and spaghetti squash are examples of winter squash, while straightneck squash, yellow squash, pattypan squash, Chayote squash, and zucchini are summer squash types.
In addition, there are varieties of each squash and more than one type of zucchini. For example, there are round zucchini, golden zucchini, and green zucchini, to name a few.
What's the Difference between Squash and Zucchini?
With all the different squash types, it's often challenging to tell them apart. Some have a thick rind that requires peeling, while others have thin, edible skin. Learn about the appearance and flavor difference between squash and zucchini.
Winter squash has a hard shell, making it ideal for long-term storage, while summer squash is soft-skinned, tender, and moist. The rind color of different squash and zucchini types varies. Some have a dark green or light green rind, while others have orange or yellow skin. For example, zucchini squash and pumpkin are different types of squash. They have very different flavors and textures.
Squash generally has a nutty, mild flavor and a silky texture, while zucchini has a mildly sweet taste, and you eat it raw or cooked. However, the texture and flavor change according to how you prepare it. Sauteing zucchini makes it crispy, while pureeing zucchini brings natural sweetness.
Nutritional Difference between Zucchini vs Squash
All squash varieties are nutritious and healthy additions to your diet, but some types have more vitamins and minerals than others. Learn the nutritional values of zucchini vs squash to ensure you get the most out of your veggies.
There is not a lot of difference when comparing the nutritional values of zucchini vs squash. However, summer squash packs more nutrition, containing high levels of vitamin A, vitamin C, vitamin B6, magnesium, riboflavin, folate, fiber, and other vitamins and minerals.
However, zucchini is highly nutritious as well. It contains vitamins A, C, K, and B6 and a range of necessary minerals, such as manganese, potassium, and magnesium. It has 62 calories, 3 grams of carbs, 2 grams of protein, less than a gram of fat, 8 grams of fiber, and 7 grams of sugar.
Growing Zucchini and Squash in the Garden
Squash is an excellent plant to add to the home garden, whether you grow zucchini, pattypan, or butternut squash. Here are a few tricks to encourage your squash plants flourish and produce an abundance of fruits at the end of the season.
Zucchini and other squash plants grow ideally in fertile, well-drained soil with high amounts of organic matter. They also need the right amount of sunshine to thrive, and planting them in an area where they get more than six hours of full sun each day promotes healthy growth.
Squash plants need space to sprawl, and planting them three to six feet apart ensures they have enough room to flourish. Some types, like zucchini and yellow squash, require support from a trellis to keep the fruits off the ground.
Water your plants weekly to ensure they get one to two inches of water, especially during drought. Apply balanced fertilizer just before planting in the spring and again once the vines begin to bloom.
Keep an eye out for pests as the plants grow and remove them by hand immediately or use insecticidal soap to eliminate them. Squash vine borers, aphids, cucumber beetles, and squash bugs are common insects that cause havoc to squash plants.
Consider installing row covers over your plants to keep your young squash plants safe from destruction, and remove the covers when the plants bloom to allow pollinators to do their job.
Diseases are another issue plaguing squash plants, including downy mildew, powdery mildew, and gummy stem blight. Be on the look out for white fuzzy mold on zucchini plants so that you can eliminate mildew when it first appears. The best strategies to prevent these issues are to perform crop rotation, sterilize tools after each use, keep the bed free of plant debris, remove infected leaves and stems immediately and water your plants at ground level.
When are Zucchini and Squash Ready to Harvest?
Ask any gardener, and they'll tell you that harvest time is the best part about growing their own food. However, some veggies grow quickly, while others take longer to produce. Find out how to tell when your zucchini and squash are ready for harvesting and how to pick them from the plants.
Winter squash types have a long season and take 80 to 110 days to reach maturity. Zucchini, pattypan, and other summer varieties are ready to begin harvesting about 45 to 60 days after planting.
If you're unsure when to harvest your winter squash, press your fingernail into the flesh. If the rind pierces easily, it's immature. Summer squash is more straightforward to harvest since the fruits are edible as soon as the skin is glossy and simple to pierce.
Use a pruner or sharp knife to cut the fruit from the vine, and be sure to leave a short stem attached to the fruits to extend their shelf-life.
Keep winter squash in a cool, dry area where the temperature is between 50 and 70°F for two to four months. Squash has a thicker skin and will last a bit longer in the fridge than zucchini. Zucchini squash is bad when it starts to feel soft and look limp.
How to Use Zucchini and Squash in a Recipe
There are many ways to prepare squash; sometimes, the easiest is the tastiest. Prepare a simple zucchini and squash side dish that takes less than 15 minutes; it perfectly pairs with any dinner.
Halve the squash and zucchini, cut them into half-moons, and set them to the side. Melt butter in a non-stick skillet until foamy, and add the onion and garlic. Cook for five minutes while stirring, and add the zucchini, summer squash, salt, pepper, and herbs. Saute the veggies for eight to ten minutes and serve immediately.
We love growing and preparing many types of squash. However, zucchini is one of our favorite summer squash varieties. Zucchini plants provide an extended harvest, and we don't have to peel the tender green skin when preparing them in a dish.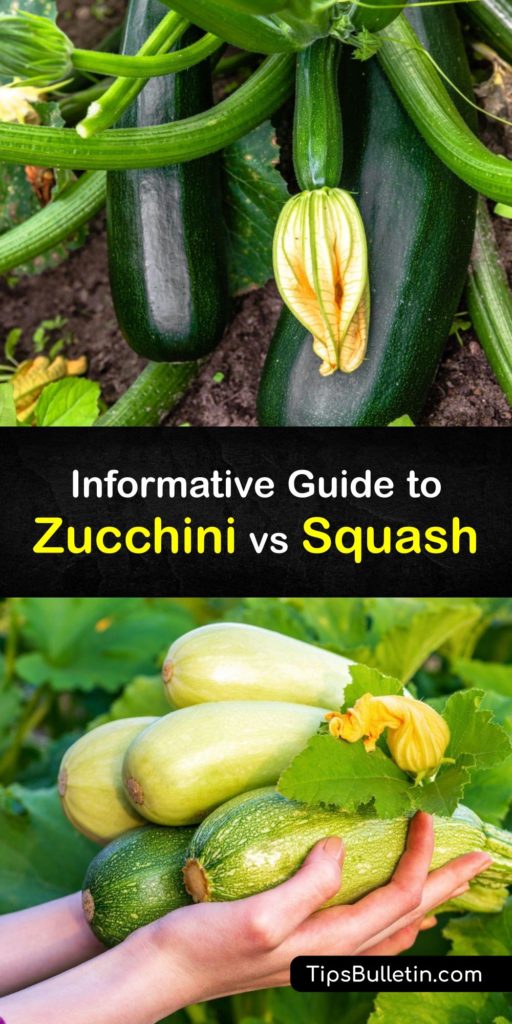 Now that you understand the difference between zucchini vs squash and how to grow them at home, why not share our squash and zucchini guide with the veggie-lovers in your life on Facebook and Pinterest?