Laminate wood flooring is an excellent way to bring the look and feel of hardwood floors into your home without the extra cost. While these floors are easier to maintain than a wood floor, they still need special attention when it comes to cleaning. The best ways to clean laminate wood flooring are the simplest and most straightforward.
Laminate wood floors are a synthetic flooring product that is designed to mimic wood beneath a clear protective layer. This type of flooring comes in various color shades and wood grain styles.
While it is relatively easy to maintain, laminate flooring can become dull and unattractive over time if it is not cared for and cleaned correctly using the right cleaning products and methods.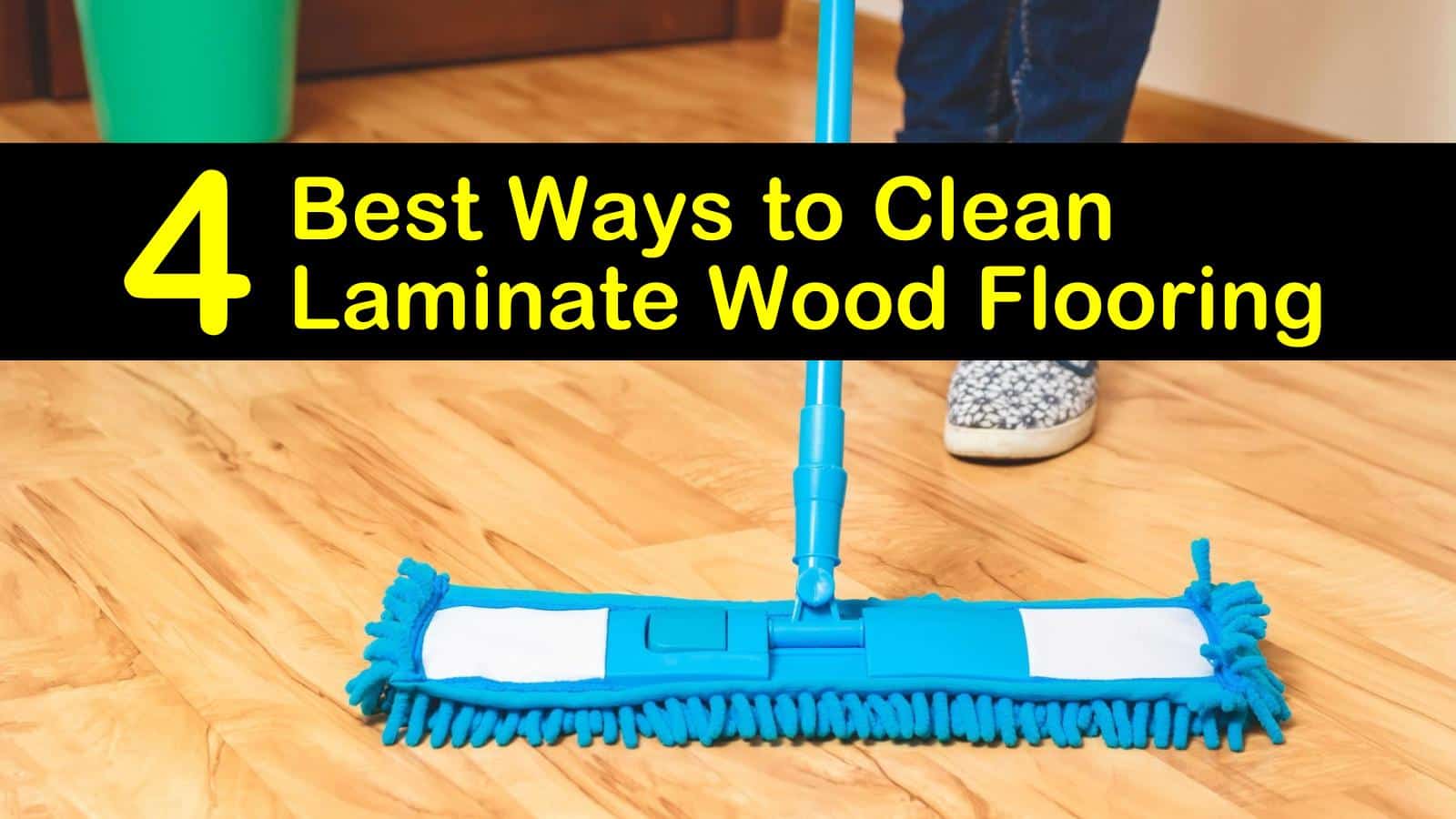 Best Ways to Clean Laminate Floors
Cleaning laminate floors doesn't have to be difficult. It's all about using the right products and following simple steps. Do not use too much water or take care of cleaning laminate floors with a steam mop. These typical cleaning remedies, along with abrasive cleaners, can damage the floor and are not worth it.
This also applies to a hard wood floor cleaning solution. We recommend using a dry cleaning method for regular maintenance and wet cleaning with mild ingredients for cleaning soiled laminate flooring or hardwood floors.
At the same time, you want streak-free laminate floor cleaning. What's the point of getting rid of dirt and grime if you are left with ugly water marks and streaks afterward?
Dry Clean a Laminate Wood Floor
A laminate wood floor needs to be dry cleaned regularly to remove dust, sand, and dirt particles to prevent tiny scratches from accumulating on the hard floor.
At first, these faint scratches are not apparent, but over time they result in a laminate floor that has lost its ability to shine. There are a few different ways that you can dry clean your laminate wood flooring.
Use a dust mop or dry mop on your laminate flooring to remove dirt and debris. It is essentially the same thing as sweeping the floor, but you are using a microfiber cloth on a swiveling mop head that is attached to a long handle.
When dust mopping the floor, begin at one end of the room and push the mop along the floor. When you get to the far end of the room, swivel the mop head around and work your way back. Repeat until you reach the last area of the room.
If you sweep your laminate flooring with a broom, use one with soft bristles to prevent scratching the protective surface of the floor. Begin by sweeping beneath cabinets and along the outside edges of the wall. Sweep each section of the room from one end to the other until it is clean.
Use a vacuum cleaner to clean the dirt off of your laminate wood floors. Remove the beater bar before vacuuming to prevent scratching of the floor surface. Use the vacuum handheld tool to clean along the edges of the wall and then vacuum the entire room to remove dust and dirt.
Mop Laminate Floors
While a laminate wood floor does need to be wet mopped regularly, do not get the flooring overly wet. Laminate flooring can warp over time if you apply too much liquid to its surface.
This cleaning solution will show you how to mop laminate floors properly using a DIY laminate floor cleaner that not only does a great job cleaning but also smells wonderful.
To make this simple and effective essential oil floor cleaner, combine the water and vinegar in a spray bottle and add a couple of drops of your favorite essential oil. A citrus scent like lemon or orange works well.
The oil not only helps eliminate the vinegar smell but makes the room smell fresh and clean. Use either a Swiffer mop or microfiber mop to clean the laminate floor.
Before wet mopping, ensure the floor has been dry mopped to remove any dust and dirt. Begin at the far side of the room and lightly spray the cleaning solution onto a small section of the floor.
Use the mop to clean the floor in a back and forth motion. Use a dry microfiber cloth to wipe any excess liquid off the floor. Repeat this process in sections until the floor is clean.
What to Use to Clean Laminate Floors
Steer clear of cleaning products that contain harsh chemicals when cleaning your laminate floors. These products are not only bad for the environment but may damage your flooring. This recipe shows you what to use to clean laminate floors to protect their clear coat surface and how to make a homemade floor cleaner.
Combine the water and several drops of liquid Castile soap into a spray bottle. Shake the bottle gently to mix, but try not to make it sudsy. Start at one corner of the room and work in sections.
Spray the cleaning solution onto the floor sparingly and use the sponge to clean the area using a circular motion. Make sure that the sponge or mop is not too wet when applying to the floor.
Use a soft cloth to dry the area and then move onto the next section. Continue doing this until the flooring is clean.
Simple Way to Remove Stains Off Laminate Wood Flooring
Even if you follow all the proper cleaning methods for dry and wet mopping your laminate wood flooring, you may encounter a time when you have to pull out something a little different to remove scuff marks, stubborn stains, or even chewing gum off the floor.
If you're trying to remove tough stains or substances such as chewing gum from the floor or are attempting to clean paint off laminate flooring, apply some acetone first. Apply a small amount of the nail polish remover onto a sponge and rub the area gently to dissolve the gunk. Use a damp mop and paper towel to wipe away any leftover residue.
After removing the gunk from the floor, combine the water, dish soap, vinegar, and baking soda in a bucket and use a soft sponge or sponge mop to gently scrub away scuff marks, and stains. Work in sections, making sure that you do not apply too much cleaning solution to the floor at any given time. After each part is clean, use a dry cloth to wipe the floor dry.
Using the right wet cleaning methods to clean old hardwood floors is essential to prevent warping. You must also dry clean floors properly to avoid scratches that can lead to a dull and faded laminate floor.
Now that you understand the best cleaning practices for your laminate flooring, you can enjoy its beauty and shine for years to come.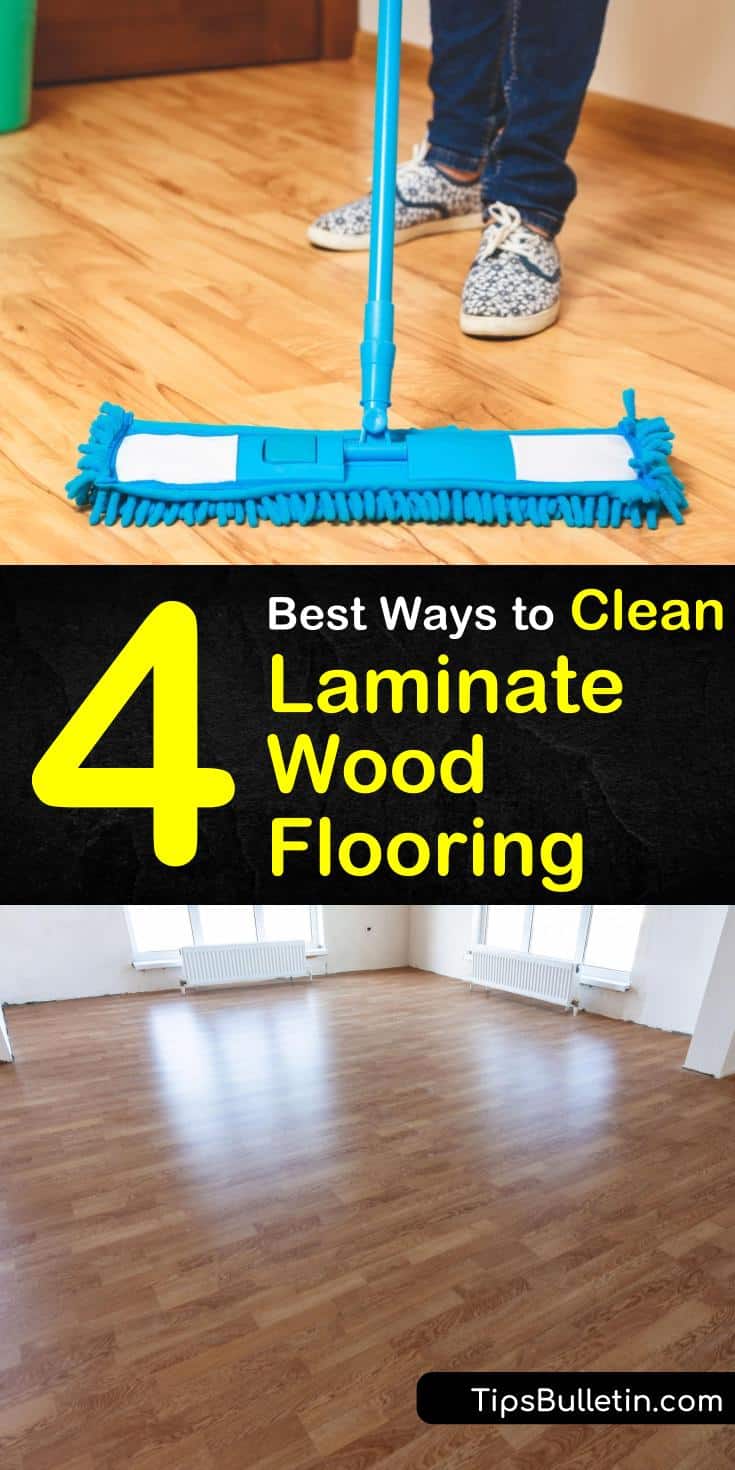 The best ways to clean laminate wood flooring are to use natural and gentle cleaning solutions to restore its beauty and shine, so why not share these laminate wood floor cleaning tips with your friends and family on Facebook and Pinterest?