You decide to try a new bok choy and turnip stir-fried recipe, so you head to the grocery to pick up the ingredients. However, you discover bins filled with leafy vegetables, and they all seem to look the same. So, what's the difference between bok choy vs cabbage, and are they interchangeable in recipes?
We all have enough to deal with in our day-to-day life without trying to figure out the differences between certain veggies while shopping at grocery stores. There are many types of leafy green veggies, from Swiss chard and pak choi to white cabbage, Shanghai bok choy, and Chinese mustard greens, and some have dark green leaves while others are light green with white stalks.
While some cruciferous vegetables are suitable substitutes for each other, others have a uniquely crisp texture and flavor that makes them the key ingredient for certain dishes. It's good to understand how veggies like bok choy (Brassica rapa chinensis) and cabbage (Brassica oleracea var. Capitata) differ to ensure you choose wisely for your next recipe.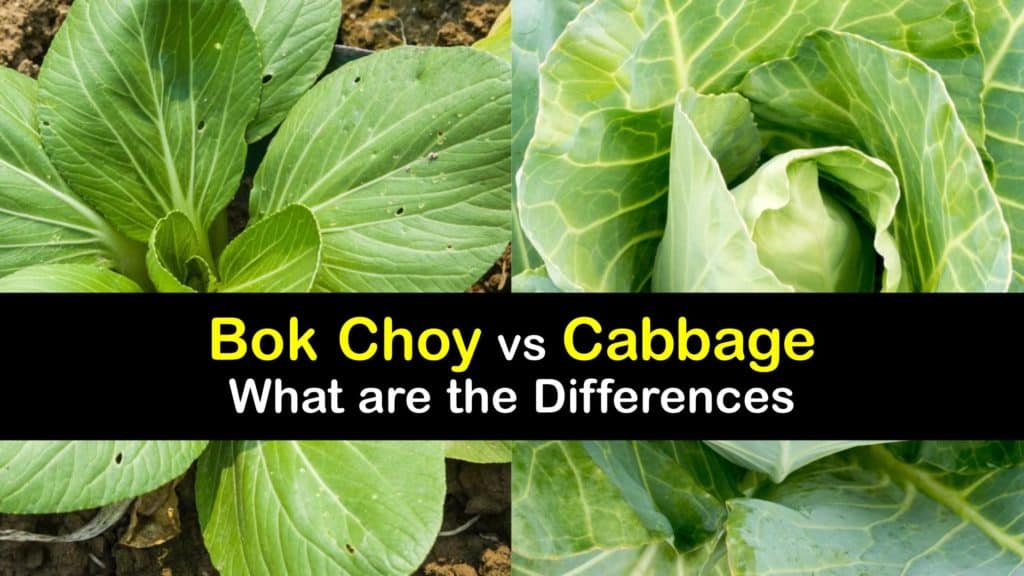 Differences and Similarities between Bok Choy and Cabbage
Is Napa cabbage the same as bok choy? No, these two vegetables come from different plants. While they are both types of Chinese cabbage, closely related mustard family (Brassicaceae) members, and staple ingredients in Asian dishes, they have different textures and tastes.
However, it is just as easy to grow one plant as the other. Growing bok choy from scraps, as well as cabbage, is worthwhile and a fun project. Learn what you can plant with bok choy in the garden to increase insect and disease resistance and harvest a larger yield.
Learn the difference between bok choy and cabbage, their flavor, appearance, nutritional values, and health benefits. Discover their growing habits and uses and a delicious recipe that brings the flavor of these two veggies together in one dish.
Is Napa Cabbage the Same as Bok Choy?
These two vegetables look similar, but is Napa cabbage the same as bok choy? While they are green vegetable plants from the Pekinensis group, they are different cabbage types. Growing lettuce or cabbage is quite worthwhile and yields a lot of tasty veggies fresh from the garden.
Napa Cabbage vs Bok Choy
Bok choy, not to be mistaken for choy sum, gets its name from the Cantonese loan word that means white vegetable. It is oblong with long white stalks and broad, dark green leaves, and there are different types, including baby bok choy and Shanghai bok choy. Vegetables like bok choy grow in USDA hardiness zones 2 through 11 and take 45 days to reach maturity.
Green cabbage is the most popular of cabbage types, and it has a tightly wrapped head, while the Napa variety looks more like leafy lettuce. Napa cabbage is oval with light green-color leaves, takes 70 to 90 days to mature, and grows ideally in zones 4 through 7.
It's simple to learn to grow cabbage in a container or pot, just like it is with bok choy. Care is virtually the same as for these veggies in your garden.
Nutritional Difference between Bok Choy and Cabbage
We all know that leafy greens are excellent for our health and great for lowering our daily caloric intake. However, different types have more or fewer nutrients than others. Explore the nutritional difference between bok choy and cabbage and the many health benefits of incorporating them into your diet.
Both green vegetables contain zero cholesterol, have similar carbohydrates and nutrients, and contain calcium, magnesium, potassium, and vitamins like vitamin C and vitamin K.
However, bok choy has higher levels of vitamin A and the antioxidant beta carotene than all other cabbage cultivars, while green cabbage contains more dietary fiber. Both veggies help fight inflammation, lower the risk of heart disease, and improve digestion, along with other health benefits. Combining them in your diet provides you with the best of both worlds.
Flavor and Uses of Bok Choy vs Cabbage
While it's good to know how bok choy and cabbage differ in appearance and texture, understanding their flavors is equally important. Find out how these two veggies taste and which dishes they complement best.
Bok choy has a strong taste, it takes longer to cook than Napa cabbage, and it is popular for making kimchi, a traditional Korean food. The stalk is very fibrous and is often removed and cooked first when preparing bok choy. Cabbage has a mild flavor and takes less time to cook.
Both bok choy and cabbage are good in stir-fry, egg rolls, dumplings, potstickers, and other Chinese cuisines, but cabbage is better suited for dishes like coleslaw and other raw salads.
Before cooking bok choy or cabbage, you need to know if cabbage is bad or if your bok choy has spoiled. Look for a slimy texture and an unpleasant smell and discard if you notice these characteristics.
Preserving cabbage and bok choy employ similar techniques. Can cabbage or freeze it or make your own sauerkraut.
How to Combine Bok Choy and Cabbage to Create a Dish
Stir fry is one of the most popular dishes for preparing bok choy or cabbage, and there are many different types with varying ingredients. One of our favorites combines the flavor of both veggies with the surprising addition of bacon.
Slice the bacon into your desired size and cook it over medium heat until brown and slightly crispy. Transfer the cooked bacon to a paper towel and set it to the side.
Add the bok choy, cabbage, and ginger to the leftover bacon grease and cook for two to three minutes. Toss in the bacon pieces and add the pepper flakes, soy sauce, hoisin sauce, honey, and sesame oil. Heat the stir fry for one more minute while tossing, and serve the dish hot.
While it's possible to substitute bok choy for cabbage and vice versa, they are not interchangeable in all dishes, and it's vital to understand their flavor and texture differences when preparing food. Fortunately, they are easy to tell apart when you know what to look for and are great additions to the garden and diet.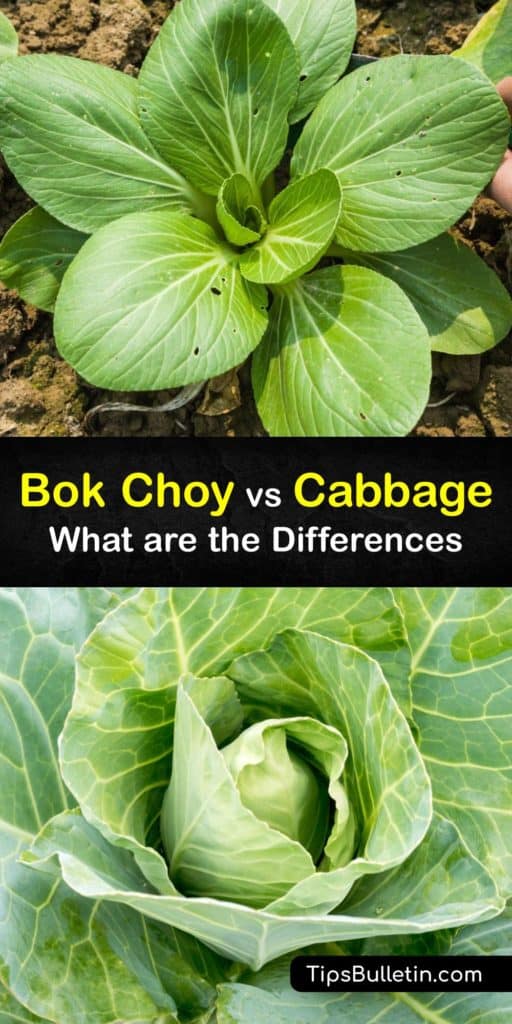 We hope there is less confusion the next time you create a new recipe now that you understand the differences between bok choy vs cabbage, and we'd love it if you'd share our bok choy vs cabbage guide with your friends and family on Facebook and Pinterest.