It's becoming more common to take a comfort dish and transform it into a healthier, low-fat meal using alternative dairy products like evaporated milk. The one downside to using this product is that it expires only a few days after opening. Can you freeze evaporated milk to make it last longer?
Freezing evaporated milk certainly seems like the best option for cutting down on food waste. We have utilized the freezer for decades and rely on it to keep our food fresh for months at a time.
Freezing dairy products like fresh milk, whipping cream, heavy cream, and half-and-half is not always recommended because they tend to separate. But does this apply to evaporated milk and other similar merchandise?
Learning how to freeze evaporated milk is a smart step on your journey to food preservation. After you understand all its fantastic uses, you'll want to use every last drop in the most efficient way possible.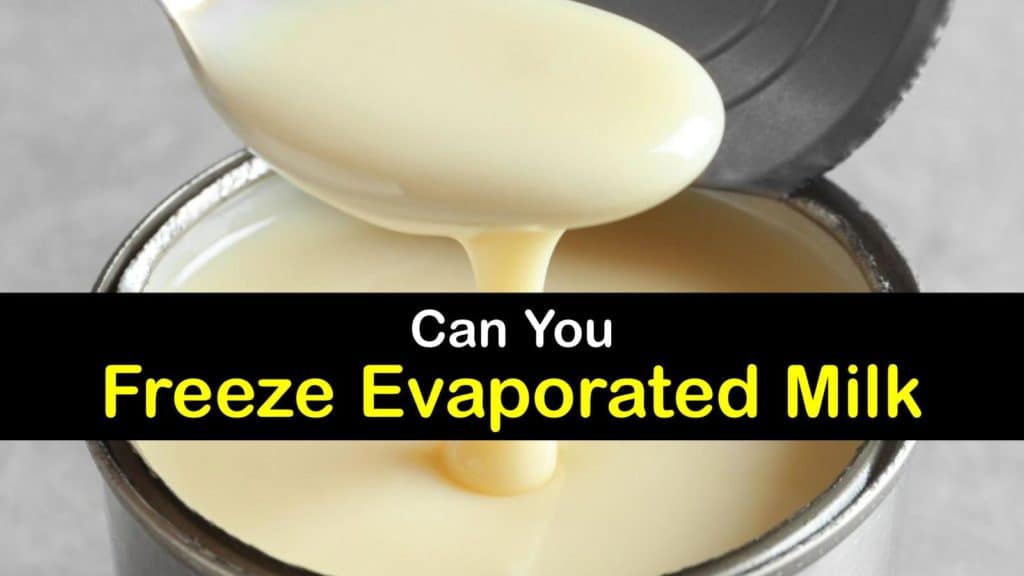 Things to Know before Freezing Evaporated Milk
Before you learn how to freeze evaporated milk, it is crucial to understand the ingredient you're working with. Evaporated milk is a canned product in a lot of people's pantries.
Sweetened condensed milk is similar to evaporated milk, except that it has sugar added and is more popular for desserts. Carnation is one of the most popular brands that people buy at the grocery store.
Evaporated milk goes through a process with high temperatures that get rid of 60 percent of the water content.
The texture after the process is creamy and smooth but has only a quarter of the cream fat left in it compared to regular milk. There are even lighter versions that are low in fat but still high in calcium.
There are dozens of uses for evaporated milk, and all of them turn a usually heavy dish into a low-fat version. Stirring evaporated milk into stews, mashed potatoes, and fudge are all popular and give foods a creamy texture.
Some people even like to make it into ice cream and whipped cream. There are endless things to do with evaporated milk and, if you enjoy this ingredient, we bet you've asked yourself more than once, can I freeze evaporated milk?
Can You Freeze Evaporated Milk?
Storing a whole can of evaporated milk at room temperature is the best way to keep this product in your home. It has an average shelf life of one year when left in a dark cupboard.
However, the shelf life drastically changes once opened. If you're unsure if it is still edible, check the best before date printed on the can.
Finding the best way to freeze evaporated milk after opening the can is a smart move. Can you freeze skimmed milk or whole milk the same way? Yes.
How Long does Evaporated Milk Last in the Fridge?
Unopened cans last for a year, but how long does it last once opened? It's possible that you find yourself in a situation where you have a bunch of leftover evaporated milk that you don't know what to do with. You can refrigerate evaporated milk for up to three days if you store it properly.
Either pour the leftover milk in an airtight container and keep it in the fridge or cover the open can with plastic wrap or aluminum foil and put it in the back of the refrigerator.
Covering the can's opening is critical so that the milk doesn't absorb unpleasant odors and flavors from other foods nearby. Before you use the leftover milk, make sure to skim off the milk skin before pouring it into a dish.
Does condensed milk need to be refrigerated after opening like evaporated milk? Yes, definitely. Follow the same guidelines for condensed milk as for evaporated milk after the can or carton has been opened.
How to Freeze Evaporated Milk
Can you freeze evaporated milk? You're finally about to discover the answer to one of the most common questions. Freezing evaporated milk isn't only possible, but it is encouraged for already opened cans. This is the way to preserve milk for a long time no matter what type you have.
However, this doesn't mean it is always done right. Dairy products tend to separate when frozen, and the texture changes drastically once thawed.
When learning how to freeze evaporated milk, start by grabbing several cans stored in the pantry. You must transfer the milk from the can and into a freezer-friendly container.
Punch two holes on each side of the top of the can and pour the liquid into an airtight container or an ice cube tray if you prefer to divide them into single portions.
Cover the containers with plastic wrap and then, if applicable, put the airtight lid on and freeze the container. Try using the frozen evaporated milk within three months, but store it safely in the freezer for up to six months.
Did you know that storing powdered milk in the freezer is also possible? Ensure that the freezer bag or container is airtight so no moisture can penetrate it and powdered milk will last for three years or more.
How to Thaw Frozen Evaporated Milk
Thawing frozen evaporated milk is a good option if you don't want to put a frozen chunk directly into a dish. Thawed evaporated milk might separate slightly, so make sure to stir it thoroughly to bring it closer to its original consistency before using it.
Making Evaporated Milk at Home
If you prefer to save some money on your grocery bill, you might try making your own evaporated milk at home. Doing this requires only three ingredients, and the result is often more flavorful than canned versions.
Grab a very heavy-bottomed saucepan and heat it over a medium-low temperature. Add the salt and powdered milk into the pan and whisk to remove any lumps. Slowly whisk in the whole milk and continue to stir it until the liquid comes to a boil.
Immediately remove the hot pan from the heat once it starts boiling. If there are any lumps, strain the milk to get rid of them. Allow the milk to cool completely and thicken before storing it in an airtight container in your fridge for up to one week.
Learning how to freeze evaporated milk is an excellent tool to use in the kitchen that minimizes food waste. Once you realize how many dishes you can alter to become low-fat simply by substituting evaporated milk for regular milk, you'll want to stock up on it as much as you can.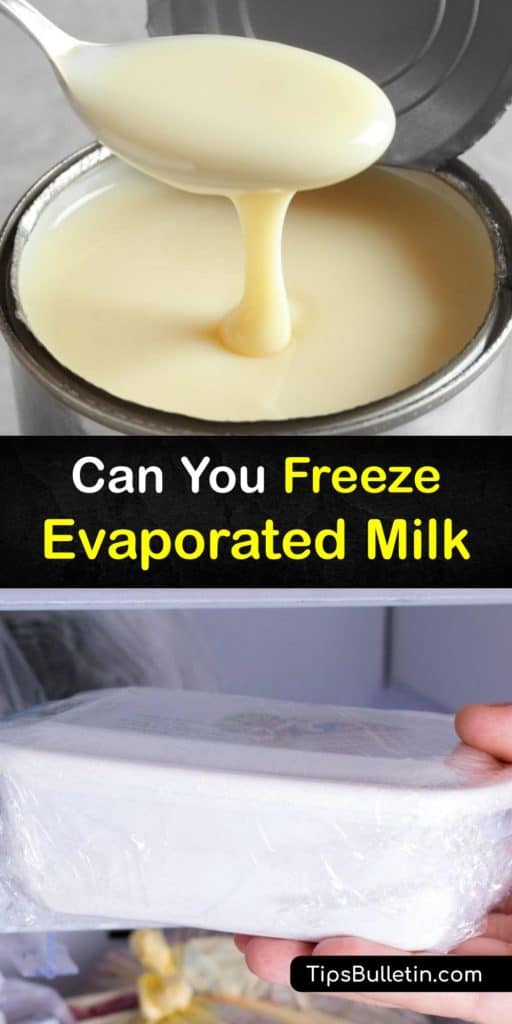 If asking can you freeze evaporated milk has led you to this informative article, share these tips on storing and freezing evaporated milk on Facebook and Pinterest.