Concrete flooring is a popular, durable material used throughout the home. Found on porches, in basements, and even living room floors, using a floor cleaning that maintains their appearance is critical. When cleaning concrete floors, using the appropriate cleaner becomes a lifesaver for efficiently washing them.
As with any material, there are also cleaners to avoid and necessary precautions to take to ensure a long-lasting lifespan for your cement floors.The very best way to clean concrete floors is to tailor the cleaning products to the floors themselves. Not all concrete floors were created the same way, and each deserves its own unique treatment.
After all, you wouldn't clean the sealed and polished floors in your living room the same way you would your concrete garage floor. If you're ready to find the cement floor cleaner of your dreams, we have some fantastic tips for you.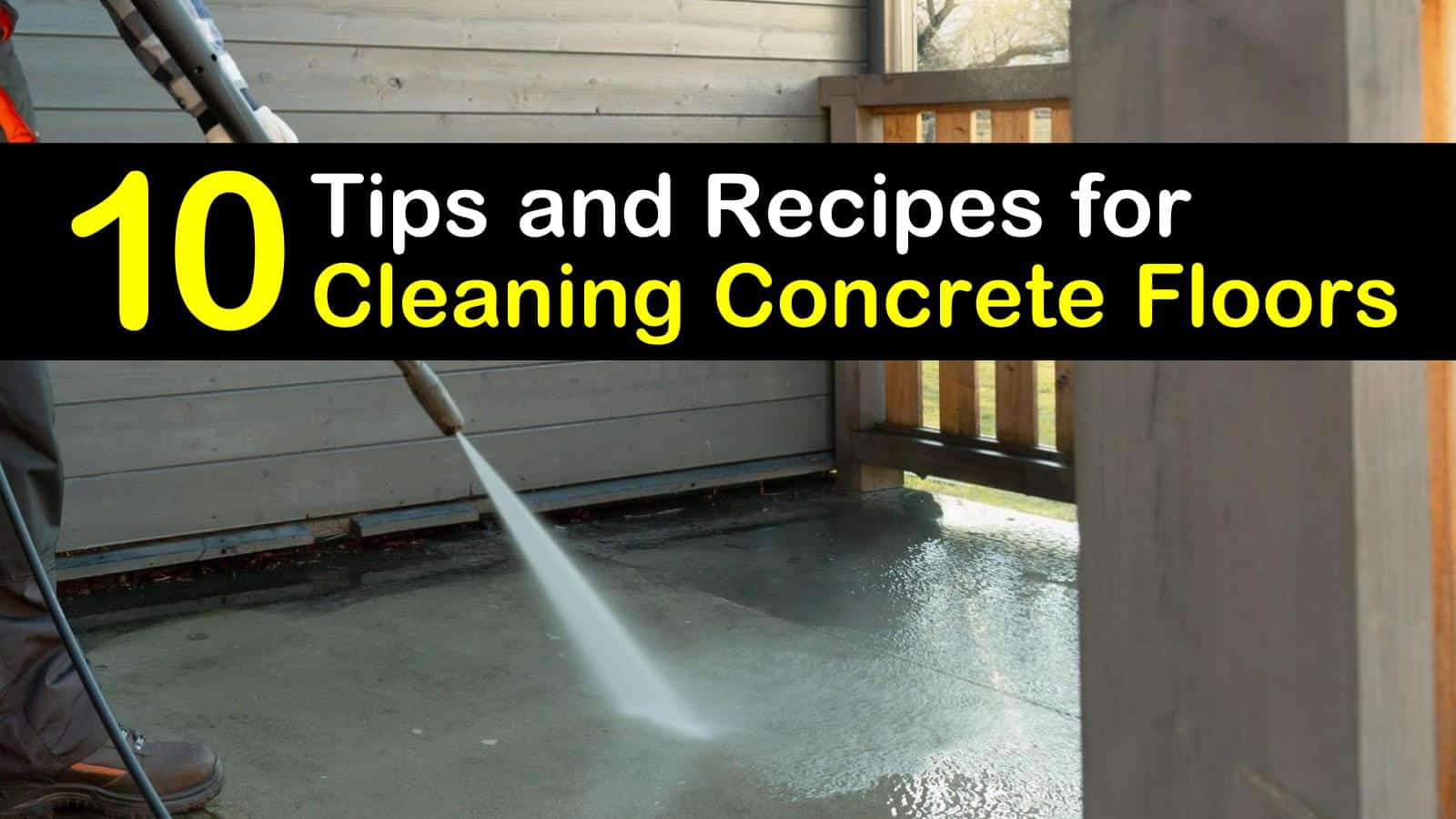 Simple & Powerful Cement Floor Cleaner Tricks and Recipes
What's the first thing you'll need on your path to cleaning concrete? Learning how to clean cement includes gathering all the fabulous cleaning supplies that make your job even easier.
Not all of these supplies are necessary when cleaning, however. One deciding factor is the location of your floor. It's still a great idea to keep them on hand anyway, just in case. This keeps you from having to abandon the project part of the way through without a crucial component.
Choose your cleaning equipment carefully, so as not to damage the floors. When selecting a scrubbing brush, for example, avoid using one with metal bristles.
These often break off into the concrete and eventually cause rust to form on your concrete floor. Optional equipment, like goggles and rubber gloves, should be used mainly with power chemicals like bleach or muriatic acid.
Clear Away Dirt and Debris from Floors
The first step in your concrete cleaning process is to do a quick sweep and dust of the area. No matter what concrete flooring you have, stamped, polished, or unsealed, clear off as much dirt and debris as possible prior to cleaning.
Doing this requires using a dust mop or broom to gently remove the floor of gritty particles that may scratch the surface and damage it. If you are cleaning concrete floors outdoors, especially when using a power washer, ensure that all patio furniture and fixtures are safely out of the way.
Start with a Gentle Cement Floor Cleaner
Even though cement floors consist of durable building materials, they still benefit from a light touch when cleaning. For a basic clean, the best solution is a gentle cleaning solution like dish soap. Liquid dish detergent is already an excellent degreaser and cleans away dirt and grease stains without using harmful chemicals.
The best way to apply this formula is by adding the ingredients to a bucket and stirring. Then use a damp mop to thoroughly clean up any grime or dirt. Using a pH-neutral cleaner like dish soap is the best way to clean polished floors, since acidic ingredients may damage the surface.
Best Way to Clean Concrete Floors Outdoors
If you have an outdoor patio or porch made of cement, the best way to clean concrete is with a power washer, which removes grime and oil stains with ease, as well as any loose dirt. For stronger cleaning power, add detergent or a pressure washer detergent substitute.
To use, mix the ingredients, then add them to the concrete using a low setting on your garden hose. Scrub the surface of the floor with a stiff brush to work the soap into the concrete surface.
Rinse the flooring using the pressure washer, slowly moving from one corner of the floor to the next until all the cleaning solution is thoroughly gone.
Use a Power Washer Detergent Alternative
If you want another excellent cleaner to add to your power washing method, try trisodium phosphate. This cleaner works wonderfully when it comes to removing oil and grease stains outside. When using this cleaning solution, always use gloves and a ventilation mask to avoid contact with the cleaner.
To use it, follow the same strategy as using a cleaning detergent. Dilute the trisodium phosphate with water, then scrub the area until all oil stains have vanished. Finally, rinse away any remaining cleaner with your power washer.
Cleaning Concrete Floors with Vinegar
A natural, all-purpose cleaner, white vinegar is one of the best ways to clean concrete, especially if your floor has stubborn stains caused by mildew or grease. Vinegar also works as a phenomenal spot treatment and stain remover. If you have rust stains, it will help remove those, too!
To use this homemade concrete cleaner, dilute the vinegar in equal parts warm water. Allow the vinegar to soak for approximately ten minutes, then scrub the area with a soft bristle brush.
Rinse with clean water afterward. If the stain does not disappear using the diluted solution, try using pure vinegar instead. You can also try this solution to remove concrete adhesive. If you pulled up some old carpet and have glue residue on the concrete, vinegar can help. Apply a little heat, if necessary, to loosen the glue.
Use Bleach to Remove Mold and Mildew
Because concrete is a porous material, it retains moisture better than most building materials and can sometimes grow moss. As a result, unsealed concrete may develop mold and mildew over time if water doesn't thoroughly dry from the surface. One great way to reduce mildew stains or remove moss from concrete is by using a chlorine bleach cleaner.
For every gallon of water to clean your floors, add one cup of bleach to get the job done. Scrub areas with mold and mildew using a soft scrubbing brush, then rinse when finished. Do not use this method on polished or stamped floors.
Use a Commercial Cleaner like Simple Green
If you want to purchase a commercial cleaning product and save yourself the hassle of creating your own, Simple Green is one of the best cleaners. This concrete cleaner is a safe, non-toxic cleaning solution that uses natural ingredients like citric acid and sodium carbonate to clean your floors.
It also capitalizes on the convenience factor by reducing the need for multiple cleaners. With one floor cleaner, Simple Green removes oil and grease while also deodorizing.
It also cleans almost every surface, including upholstery, carpets, tiles, and concrete. To use, add to a spray bottle, mopping solution, or a carpet cleaning machine.
Use Muriatic Acid to Remove Rust Stains
If you are looking for a powerful technique to eliminate mineral deposits, known as efflorescence, that will also remove rust from cement. Muriatic acid is one option. This powerful cleaning agent is potent, and most recommend using this only at the professional level. If you must use muriatic acid, always wear protective covering, goggles, and face mask.
When using a muriatic acid solution, it is vital that the concrete flooring remain wet throughout the process. Evenly distribute the acid across the entire floor, then wait approximately ten minutes.
Don't wait until the acid dries to rinse the floor, however. Use plenty of water when rinsing the acid away, then neutralize any product remainders with a few sprinkles of baking soda.
Clean Grease and Oil Stains with Cat Litter
Your garage floor sees a high volume of oil stains and grease from vehicles and power tools. One way to counteract this problem is by using kitty litter to absorb the oil. That's right! Kitty litter.
The absorbent powers of cat litter extend far beyond the reach of the litter box and are a perfect way to soak up any oil residue on your concrete garage floors. For cleaning oil stains from concrete, spread a thin layer of litter over the stain and let it sit overnight.
Afterward, sweep the area. Stubborn oil stains may need another treatment. Enjoy your freshly cleaned floors.
Protect Your Floors with a Sealant
If you have an unsealed concrete floor, you are already leaving your floor open to the risk of damage. Sealed concrete floors are easier to clean, and don't retain water the same way unsealed floors do. Adding a sealer to your floors gives them added protection against stains, rusting, and developing mildew.
One way to apply sealer is by using a paint roller. Run the roller along the cement floors to ensure a smooth, even finish. If you have cement tiles, don't forget to seal the grout, as well.
All sealants should be replaced every two to three years. Just because your floor had a sealant at one point doesn't mean it is still protected now.
You are probably thinking, I'm ready to treat my floors to a clean-concrete-floors shine. With these fantastic cleaning tips to choose from, you are already well on your way to making that happen. All that's left is to make your choice to make it happen!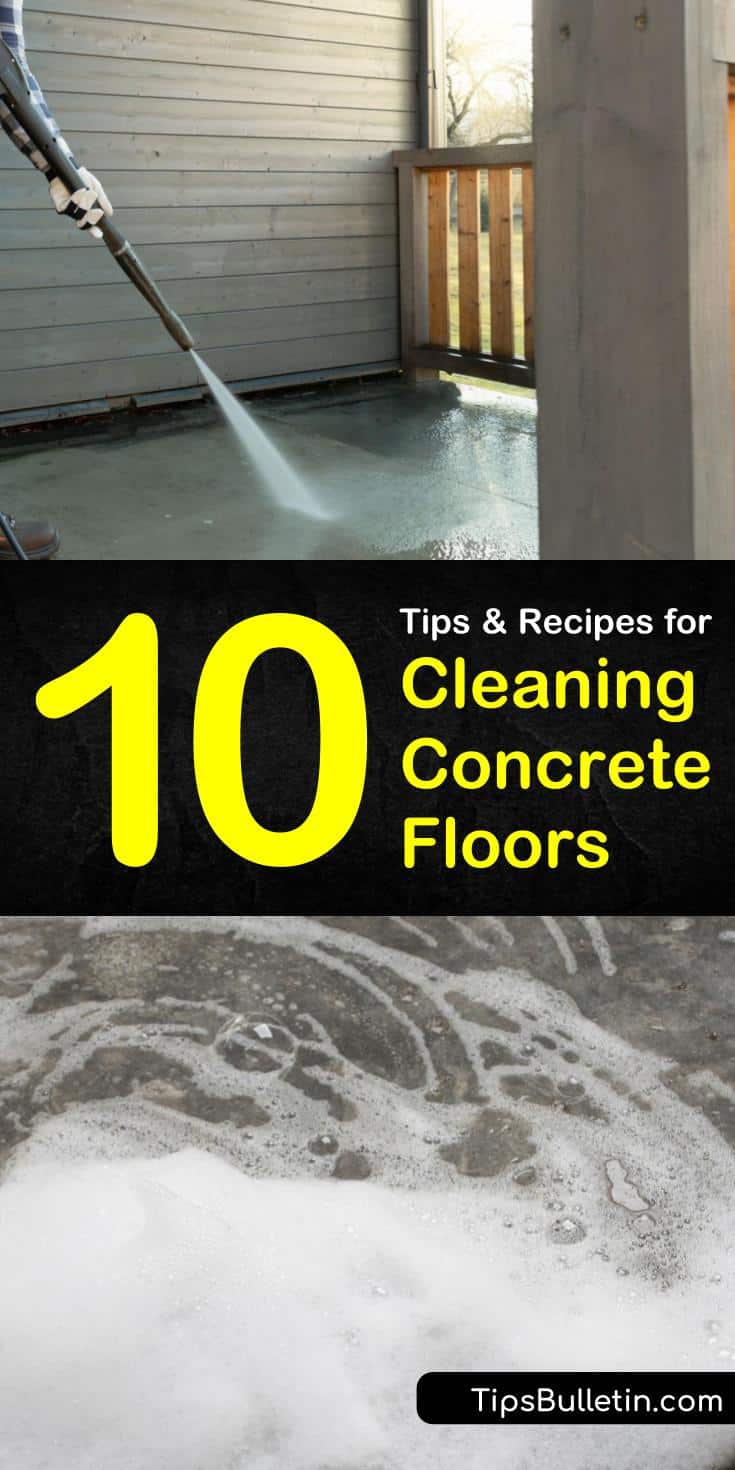 If you loved these discovering these marvelous concrete cleaning ideas, please remember to share how easy cleaning concrete floors can be with everyone you know on Facebook and Pinterest.