Refinishing a concrete subfloor is no easy task, whether pulling up carpeting, laminate, linoleum, or ceramic tile. Removing the top layer is one thing, but now there is the floor glue to contend with, and it refuses to budge. Learn how to remove adhesive from concrete to give your flooring a smooth finish.
Home improvement projects are tedious and rewarding, whether restoring hardwood floors or pulling old carpeting off a concrete floor. Unfortunately, the reward doesn't come until after you complete the job, and more often than not, there are more steps in the process than you initially thought.
Carpet adhesive is meant to stick, and so it does. Ripping up old carpeting is bad enough, but removing glue residue becomes a whole new headache. However, this step is vital to the floor renewal process, especially if you plan to install new carpeting or tiling over the subfloor.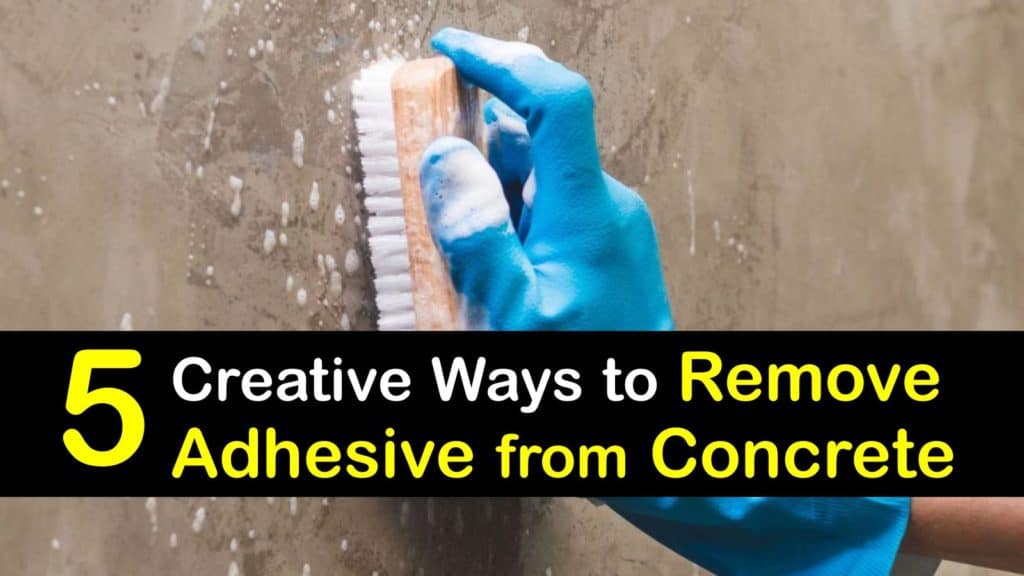 Ways to Remove Adhesive off Concrete
While it's tempting to leave a job half-finished and call it a day, this is never a good idea. Removing glue off concrete or removing adhesive from wood surfaces may seem like an impossible task, but it's not as difficult as you think if you use the right techniques. We'll show you several easy ways to remove carpet glue from concrete floors.
Get Adhesive off Concrete with Boiling Water
Dried glue is nearly impossible to remove with scraping alone. The simplest and cheapest way to get carpet glue off wood floor or concrete without using a stripper is to use boiling water. The high heat and liquid work to soften the glue for quick removal.
Put a pot of water on the stove over high heat and bring it to a boil. To get carpet adhesive off cement or another glue type, pour the hot water over the glue areas and then lay large towels over the spots to soak. Once they cool enough for you to handle, remove them from the floor, one at a time, and use a scraping tool to scrape up the soft glue.
Remove Adhesive Residue from Concrete with Ammonia
If boiling water doesn't do the trick to remove adhesive residue from concrete or to get sticky paint off your garage floor, try using an ammonia solution. This liquid is a solvent and mixing it with water and soap helps dissolves the glue from the concrete.
Mix the ammonia, hot water, and liquid detergent in a large bucket. Put on rubber gloves and pour the liquid slowly over the first patch of carpet glue. Allow it to rest for a short bit, and then use a putty knife or scrubbing brush to remove glue.
Move on to the next glue spot and repeat until all the adhesive is gone. Clean the entire floor with water after you finish to remove the cleaning residue.
This ammonia cleaning solution can also be used for removing strong adhesive from metal. Adhesive needs to be dissolved lightly to be scraped off a smooth surface like metal.
How to Remove Adhesive from Concrete with Heat
Heat is the most effective tool for softening and removing glue from concrete, and boiling water is a bit messy. A good alternative floor adhesive remover for concrete is an iron or heat gun.
To remove vinyl flooring adhesive from concrete or another type of glue, pour some hot water over the first section of glue and use a heat gun to heat the spot for a couple of minutes. Scrape away the soft glue with a putty knife and discard the pieces in the trash can.
If you do not have access to a heat gun, try using a clothing iron. Spread a sheet of newspaper over the adhesive and press the iron on the surface to heat it. Set the iron aside and immediately use a putty knife to scrape up to pliable glue.
Removing Concrete Mastic with White Vinegar
White vinegar has many uses in the home. Vinegar will remove paint from concrete, and dissolve sticky substances left on your driveway. This cheap and natural solution works well to get adhesive off concrete and is also useful for removing wall stickers.
To make a safe and effective DIY floor adhesive remover, pour equal parts of white vinegar and very hot water into a bucket and use a utensil to mix it well. Working with one section at a time, pour the solution on the glue and let it sit for a couple of minutes.
Press the edge of a scraper on the concrete and push it away from you to remove the pieces of adhesive. Continue doing this across the floor until all of the bond is gone. After removing spray paint from concrete or glue from cement, use a sponge and clean water to wash away the vinegar residue.
Vinegar is an ideal tool to remove moss from a concrete driveway, too. Apply it on a dry day for best results.
Getting Adhesive off Concrete with a Reciprocating Saw
If you like your power tools, a reciprocating saw works wonders to remove adhesive residue from concrete, especially if you have a large area to work with. To perform a final cleaning of the floor, consider using a homemade concrete cleaner for pressure washer.
Fit your reciprocating saw with a scraper blade and put on goggles to protect your eyes from dust and debris. A two-by-four-inch blade is adequate for the job ahead. Position the beveled edge towards the ceiling and the flat edge on the floor while holding the saw at an angle.
Start by turning it on half speed and gradually work up to full speed once you get a comfortable routine. After you finish removing all the glue, use sandpaper for sanding the floor smooth.
Pulling up old flooring is a messy and challenging job, especially when you discover that you also have to remove mastic.
Not being prepared ahead of time means more trips to homedepot than working on the project. With the right preparation and tools, the adhesive removal process is almost headache-free.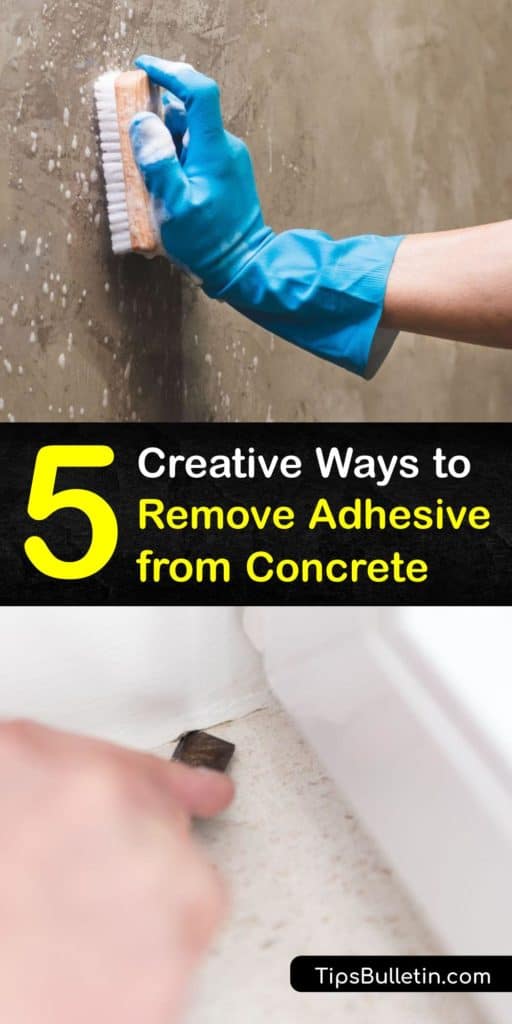 Now that you know how to remove adhesive from concrete to give your subfloor a clean, smooth finish, why not share our concrete adhesive removal tips with the DIY people in your life on Facebook and Pinterest?