Many homeowners discover some unpleasant surprises while performing a home improvement DIY project. The desire to pull up old carpeting and put in new flooring after watching a DIY TV show can sometimes turn into a headache when you don't know what to expect. Our DIY carpet glue remover tips and recipes will help guide your way out of that mess and into the new flooring you so desire.
When the old carpet is removed from the subfloor, there is often carpet gunk left behind.
That dried goo is carpet glue that needs to be removed using some form of adhesive remover technique before installing new laminate, linoleum, or hardwood floors.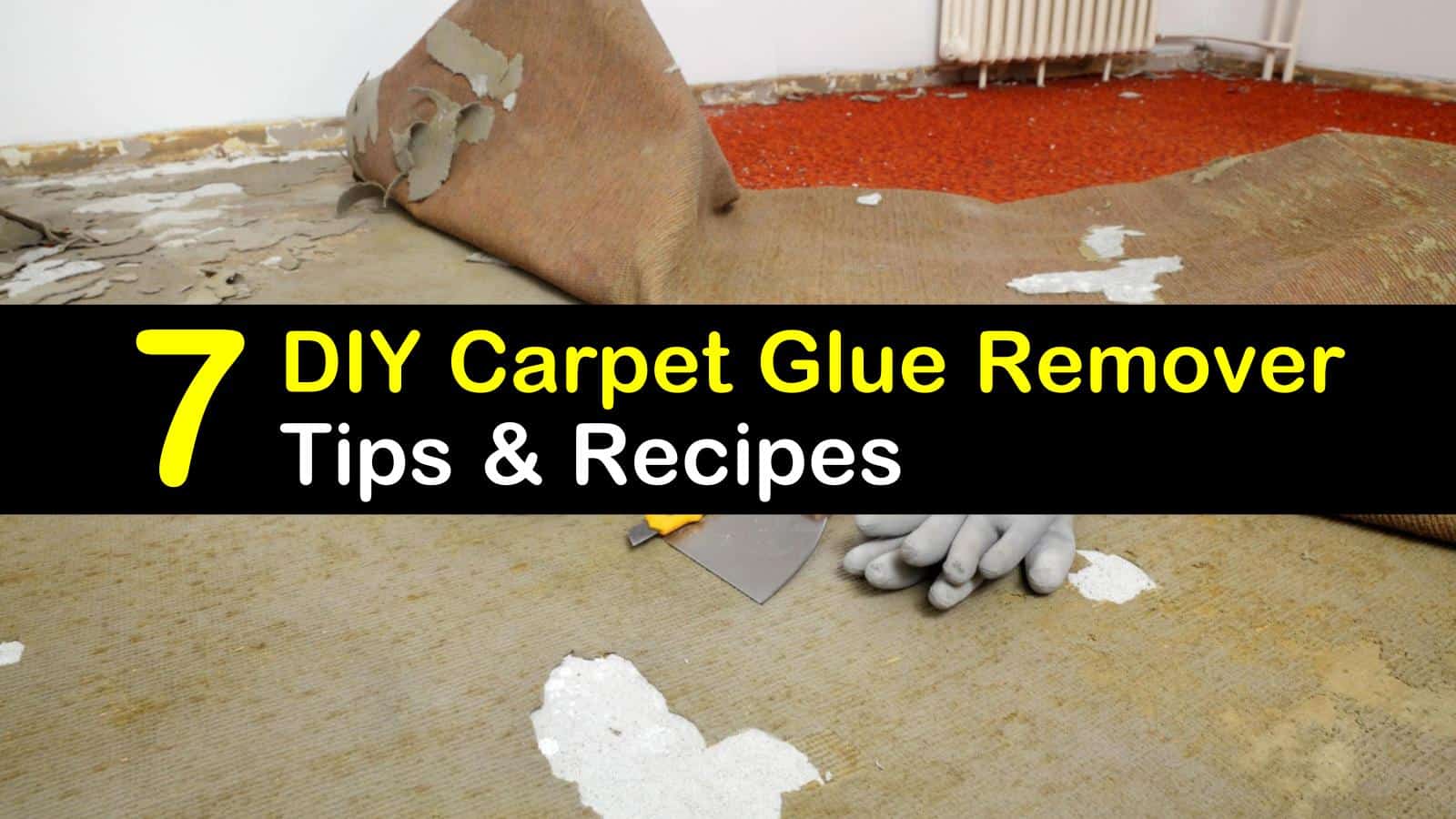 If you plan on installing new carpeting, you may also be interested in how to make a carpet cleaner to keep the carpet clean.
DIY Ideas for a Carpet Glue Remover
You don't need to use chemicals or a floor stripper to remove the old adhesive from the floor. Use an eco-friendly mastic remover to soften the adhesive for easy removal, or use one of our doityourself projects to remove glue and tile adhesive from the floor. Our step by step methods show you how to remove concrete glue efficiently.
How to Remove Concrete Glue
Carpeting that has been glued over concrete floors can be a bit tricky to remove. Once the carpeting is removed, you may notice leftover adhesive on the concrete. One way to remove the glue is to scrape it off.
Scraping Concrete Glue
You'll want to use a floor scraper with a sharp razor edge to clean the concrete subfloor. Use a utility knife to remove glue from tight corners and crevices.
Employ a simple scraping motion while applying pressure to remove as much of the adhesive as you can. You may be able to remove all of the carpet glue using a scraper and some elbow grease.
You can also try scraping for getting Gorilla Glue off wood surfaces but you need to be careful that you don't damage the material.
How to Loosen Leftover Carpet Glue
Depending on the age of the glue, you may be able to loosen the glue by using water and heat. Make sure that you wear proper clothing while attempting this method to prevent burning your skin.
Removing Leftover Carpet Glue
Pour some water into a large pot and bring it to a boil. Gently pour the boiling water onto the areas of dried glue on the concrete subflooring to act as a floor adhesive remover. Allow the hot water to sit for a few minutes to loosen the glue. Use a paint scraper to pull up and scrape away the softened glue.
This remedy can also work to remove wallpaper glue leftover on the wall after the wallpaper has been pulled off. Use the scraper carefully to prevent damage to the wall.
How to Remove Carpet Adhesive Using Heat
The following method may surprise you. Heat is useful as a natural adhesive remover, and you probably already have the tool for this in your home. You can use the everyday iron that you use to remove wrinkles from your clothing.
Heat the iron to a medium temperature, and lay newspapers over the glue areas on the concrete flooring to prevent the glue from sticking to the iron. Run the hot iron over the paper until the adhesive has softened. Scrape away the glue using a putty knife.
How to Scrub Away Floor-Adhesive
You'll need to make sure that you have removed all of the old glue from the flooring before installing a new, clean carpet or another type of flooring. Use simple household items to scrub away the leftover adhesive.
You can also try this remedy to remove paint stains from carpet. Try it in an inconspicuous area first to ensure that it won't discolor the rug.
Mix the water, ammonia, and dish soap in the bucket and pour the solution onto the concrete glue. Let the ammonia solution sit for a few minutes to allow the adhesive to loosen up. Use the scouring pad to scrub away the glue and rinse the area with clean water.
Homemade Carpet Adhesive Remover
You can easily make a homemade carpet adhesive remover out of water and white vinegar. Vinegar is an acidic solution and works well at dissolving gunk and sticky residue. You may also find that it works well as a homemade super glue remover, as well.
Vinegar can also be useful to remove Gorilla Glue from skin, as well as other types of adhesives.
Removing duct tape residue, as well as other strong tapes, is usually easily accomplished by rubbing the area with vinegar and water.
Removing Carpet Glue with Vinegar
To make this easy but effective floor adhesive remover, add equal parts hot water and white vinegar in a bucket. Pour the solution onto the areas of leftover adhesive on the concrete. Let the solution sit for several minutes while the vinegar dissolves the glue.
Use a scrub brush to remove any remaining glue and rinse the area thoroughly with clean water. This is the same way you can remove sticker residue from car bumpers and windows, although you may not want to let the vinegar sit on the window since it may drip onto the car paint, potentially damaging it.
If you had to use duct tape to make a quick repair on your vehicle, you know that the gunk left behind can be challenging to eliminate. Remove duct tape residue from car with this vinegar and water solution, too.
Use a cloth dipped in vinegar to get adhesive off fabric, plastic, metal, and a variety of other surfaces. Vinegar is incredibly useful for a variety of household projects.
How to Remove Mastic
Mastic is a type of resin-based adhesive that is typically applied beneath tiles and other surfaces. Similar to when removing mortar from tile, this type of adhesive can be tricky to remove but not impossible if you use the right method.
Mix equal parts hot water and degreaser and pour the solution directly onto the mastic. Allow the liquid to rest for about half an hour, making sure to keep the area wet. Use a scraper to chisel away the old mastic. Once all of the adhesives are gone, rinse the area with clean water.
Sanding the Concrete Floor after Glue Removal
The pores of the concrete can also become clogged with the carpet adhesive. Once you have removed the visible traces of glue using one of the other methods, finish up the process by sanding the concrete.
Concrete Floor Sanding
Many hardware stores have floor sanders or a floor buffing machine equipped with a sanding disk that you can rent for the day. Start sanding the floor using an aggressive grit and then finish up using a fine sand grit. Make sure not to go too crazy while sanding. Sanding too deep may expose the aggregate.
DIY projects can be enjoyable and satisfying when done correctly. It's quite simple to remove old glue after pulling up carpeting if you use the right glue remover. With the proper tools, you can clean large areas without the hassle and headache.
Recipe for a DIY Carpet Glue Remover
DIY Carpet Glue Remover
Simple ingredients for a tough job.
Ingredients
1 gallon of hot water
1 tbsp of dishwasher detergent
8 ounces of household ammonia
Bucket
Brush or mesh scouring pad
Bucket of clean water
Instructions
Add the detergent, water, and ammonia to the bucket.
Mix well.
Carefully pour the solution onto the concrete glue stain.
Let the mixture sit for about 15 minutes to loosen the adhesive bond.
Scrub the glue residue with the brush or scourer.
Rinse with clean water.
Reapply if necessary for stubborn glue.
Notes
A scraping tool may be beneficial for removing tough adhesive.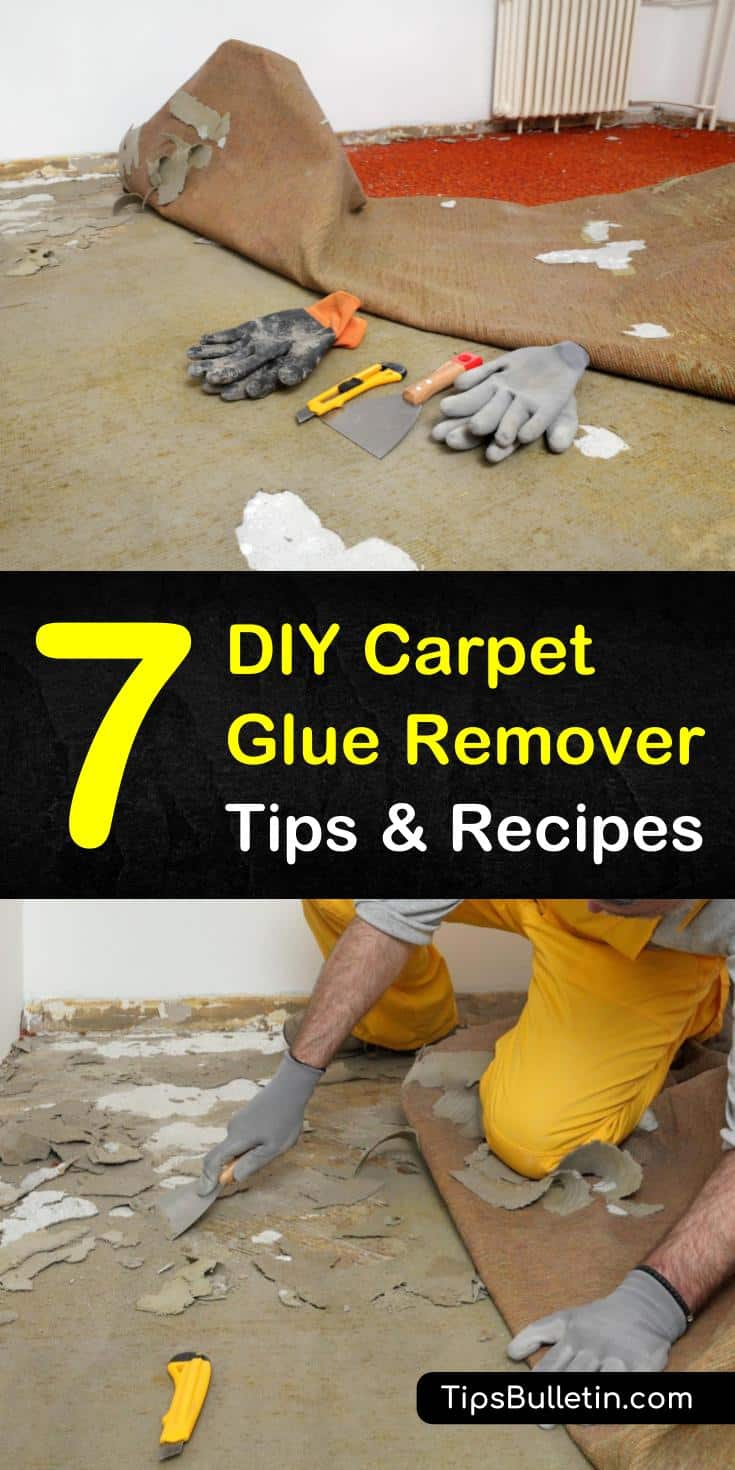 Using the right DIY carpet glue remover can bring you closer to installing new flooring in your home, so why not share these carpet glue remover tips with your friends and family on Pinterest?