There are many positive parts of owning a home, but negatives come up as well. Ant invasions are one of the most irritating complications. There are many commercial chemicals available to kill ants, but learning DIY organic ant control keeps the cost down, and the damage to soil or danger to children minimal.
Somehow, these hard-headed creatures sense the goodies that lay within our walls, so they wiggle their way inside, and before we know it, are everywhere. It is useful to understand the way an ant works to be able to target it with more significant results.
They always live in large groups, called colonies, and have different types of ants working in their community. One of these types is called a worker ant; they are the ones that head out into the world to find sustenance for the colony and bring it back.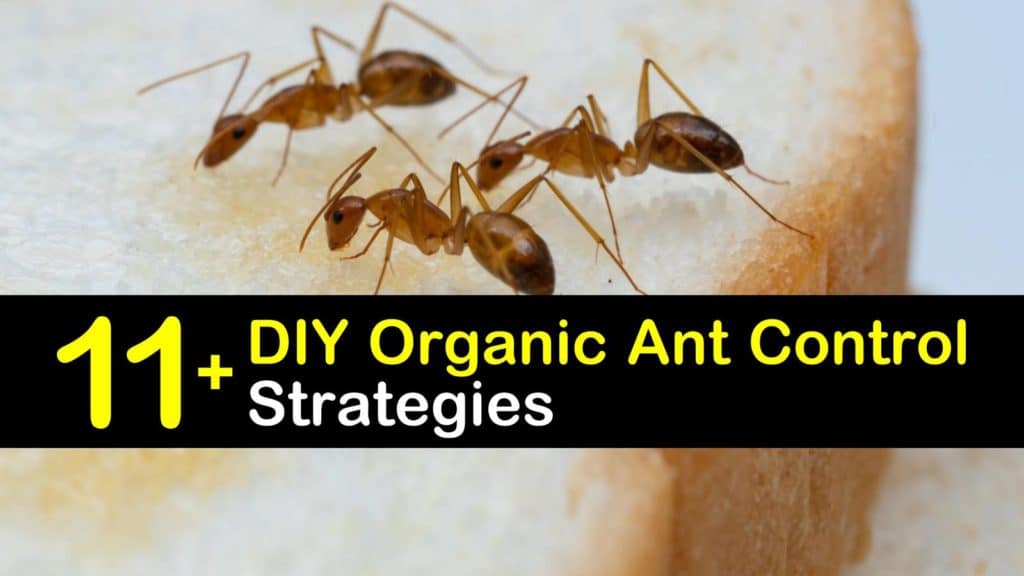 Natural Ways to Get Rid of Ants
Sugar ants are tiny and are some of the most common ants to cause ant infestations. Making an organic ant killer tends to be safer for children and pets than using ant traps. Doing things the natural way means that even if something other than an insect gets into the natural homemade ant killer, bait, or repellent, it shouldn't be harmed.
Worker ants leave their ant hills and make their way through to the house, under windowsills and over countertops to cause an ant problem in the home. They leave ant trails created from pheromones to find their way back to their favorite spots.
It is often surprising how many home remedies there are to act as an exterminator for a lower price.
Coffee Grounds
There are millions of daily drinkers of coffee in America, many who go the cheaper option at least once a week by making their own, so why not use coffee grounds for ant control? Coffee grounds not only make a delicious drink but are also a potent natural carpenter ant repellent, along with several other kinds of common ants.
If you have many grounds going into the garbage in your house, repurpose them by putting thin layers in front of entry points to the house. Knowing where the hill is is even better. Cover the hill with coffee grounds, and it forces them to move.
Cornmeal
Cornmeal is a controversial substance when it comes to DIY organic ant control. It is easy and one of the natural ways to get rid of ants; however, many people tout it as an effective ant killer.
There is currently no scientific backing for this, although some report it working as an ant repellent. The mainly agreed-upon strategy for using cornmeal as a pest control lies in its baiting potential.
Ant bait is a portion of food they want to eat mixed with a small amount of poison. The poison has to be something slow-acting for the ant to get back to the colony before dying.
Mixing nine parts cornmeal to one part poison is a quick way to kill an invasion of carpenter ants and several other kinds that favor cornmeal.
Sweet, Sweet Borax
Killing ants is one of the most sure-fire ways to get rid of them. Borax, or boric acid, does this job well, especially as a bait. There are multiple different recipes you can use Borax in, depending on the handiest ingredients, as well as precisely what kind of traps are best to set out.
Mix this recipe to place in specific areas where the ants typically come. This bait works exceptionally well if you don't know where the central hill is but can see them in particular areas of the home.
Place small blobs in plastic lids in cabinets or next to entry points of the house. The ants climb up, take some of the peanut butter, bring it back to their colonies to eat, and kill the other ants.
Be careful exactly where you set the deadly ant traps since they harm kids or pets if eaten in more substantial portions, depending on their size.
Mix the Borax, water, and sugar until dissolved. Slather small pieces of bread or cotton balls with a little peanut butter and then dip them into the Borax mixture, so it soaks some up. Place the pieces into a bottle with holes in the lid for the ants.
Set the traps around the yard or near entry points in the home. Containing it inside a bottle makes it less dangerous for pets or children.
A similar approach is used as an organic roach killer since these traps work similarly to the Borax and sugar mixture found in Terro traps.
Organic Ant Killer: White Vinegar
White vinegar is among the best natural remedies for homeowners, acting as a handy cleaning solution for many, and having properties that enable killing ants.
For example, vinegar and water make an excellent aphid control method for cleaning off a plant, and many areas of the home can be cleaned with vinegar for mold removal. To use vinegar as an ant repellent in the house, don't clean the floors with a water and floor cleaning chemical.
Instead, mix hot water with a little vinegar and wash the floors thoroughly. It cleans it well and is a significant deterrent for ants. Vinegar is also capable of killing ants if you know where they live.
Take two to four cups of white vinegar or cider vinegar to the mound and pour it over the whole thing. Also, put a syringe into the cracks of the hill to reduce damage to surrounding plants. Vinegar works by breaking down the hard layers of an ants exoskeleton, resulting in death.
Powder Mix
Some varieties of ants contain an acidic substance internally for protection, such as fire ants that sting. Take advantage of this by making up this powder mix with the result that resembles a mini science experiment.
Mix the baking soda and powdered sugar in a small bowl, whatever quantity necessary for the size of the infestation of fire ants. Place it in plastic lids in easily accessible areas.
The mixture ends up reacting in their bodies like a mini-explosion or a volcano science experiment with Mentos and soda.
Food-Grade Diatomaceous Earth
Diatomaceous earth is a useful organic way to get rid of ants. There are multiple types of diatomaceous earth, or DE, that are available, but the safest for the family and other animals is food grade DE.
Sprinkle food grade diatomaceous earth for organic pest control around the outside of the home, and anywhere the ants have been spotted inside for immediate results.
This organic ant killer scrapes and cuts along the bottom of the ants as they move across it, slowly killing them and deterring more ants from coming into the home in the future. Don't get DE wet, or it will no longer be useful.
Hose Them Out
Sometimes using the most straightforward tactic ends up being one of the most practical. If ants haven't ended up inside the home yet, or if you know that their ant hill is close by, take out a high pressure hose.
Turn on the water and spray them out, targeting right above their hill to completely flood it and drown any inside. The rest that escape will move.
Baby Powder
Baby powder is a very fine substance that is gentle on a baby's sensitive skin. As with most insects, ants do not breathe with lungs as mammals and other animals do.
Instead, they breathe through tiny little pores in their abdomen called spiracles. Through these, they take in the oxygen they need to maintain their systems and activity levels.
Use this body structure to your advantage by killing them with baby powder. Sprinkle baby powder directly over a hill or a line of marching ants. The concentration of fine dust covers them and clogs up these tiny spiracles, suffocating them.
Boiling Water and Dish Soap
Boiling water makes a surprising solution to several home and yard issues. Pouring boiling water on weeds in sidewalks or mulch kills them, and pouring it on ants does the trick as well. As one of the best home remedies to kill fire ants, this recipe usually doesn't require a second treatment.
Bring the pot of water to a boil on the stove, adding more water if there are many hills or one large hill. Once it is rolling, squirt in the half cup of soap.
Dawn does well since it isn't a very harsh chemical that won't majorly impact the plants around the hill. Once the soap mixes into the water, carefully remove the pot from the stove, and immediately take it outside to the mound.
Dump it in a steady stream all over the hill, making sure to go slowly enough that it soaks into their entryways and doesn't run down the mound. The ants that are hit or caught in the water will die, and any survivors move away.
DIY Organic Ant Control using Natural Oils
Essential oils make for the perfect DIY organic ant control solution. Cinnamon and peppermint oils are natural insect repellents. They are highly effective for repelling ants and other bugs, even mosquitoes. Harness their power by making a spray.
Combine the essential oil of your choice with the water in a spray bottle. If you know where the ant hill is, spray down the entire surface with peppermint oil, soaking it thoroughly.
Doing this forces them to move as they hate the smell. If you don't know where the ant hill is, spray areas known to be entry points and around locations with food.
Dry Herbs
If you don't want to invest in expensive essential oils, buy ground cinnamon, cloves, or a small peppermint plant. All of these have strong smells that act as ant deterrents.
Sprinkle or lay any one of these down outside of entry points in the home to deter them and quickly sweep them out once the ants are gone. Find the hill and dump cinnamon on it to make them move.
Use a Chalk Line
An idea passed down mostly from older generations is that ants don't like chalk and won't walk across a chalk line. Part of this is false: ants don't mind chalk at all.
When you lay down a chalk line on a windowsill or other entryway, it disrupts their scent trail, making it difficult to follow. They scatter at the line because they are trying to backtrack and figure out where to go.
Using a chalk line, or something similar that doesn't act as a repellent but only an obstacle, should be used in tandem with one of the other techniques. For example, use a chalk line to direct them to bait you have set outside the entry point. Then, they take it, turn around and go home, and die.
For all the many ways to kill and repel ants, it is good to know that it can be done organically to reach the desired results and keep your family and pets safe at the same time.
Since there are numerous different types of ants, it stands to reason that they are not do not all react the same way to the many different types of repellents.
Test out the different approaches for repelling and killing ants to find the one that fits your situation the best and works the smoothest.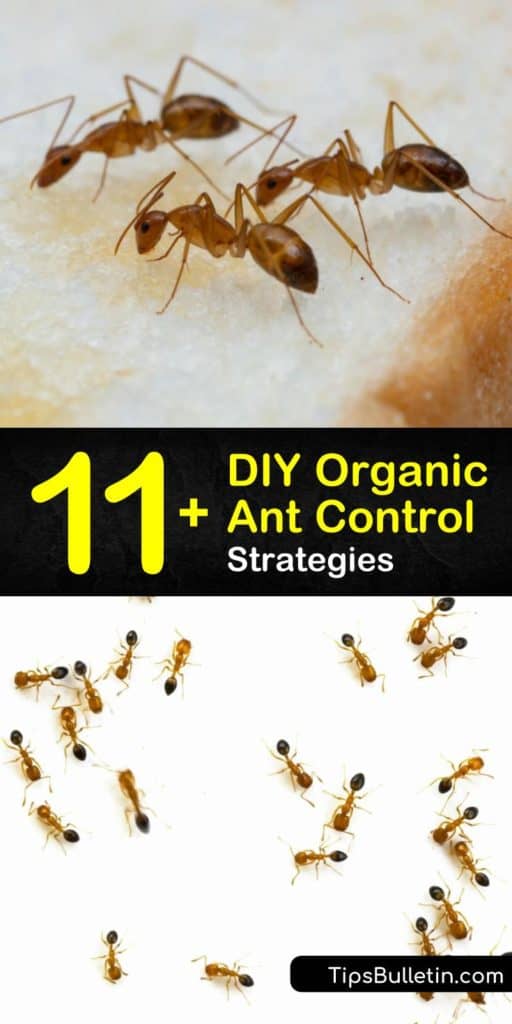 We hope that you have found something new to try out around your home and garden and that no matter what kind of ants try to break in, you don't have to live with them. If you learned something new about organic ant control, please share these DIY pest recipes on Facebook or Pinterest.