It isn't easy to keep our shoes clean. One wrong step into a mud puddle or a brush-up against grass can result in stains on your leather shoes, rubber flip-flops, and white sneakers.
When you find stains on your footwear, it's time to break out the DIY shoe cleaner and get them looking like new. In this article, we provide ten shoe-cleaning tricks and show you how to get your shoes looking beautiful using homemade shoe cleaner.
Our home cleaning products use safe, household ingredients and are a snap to make and use. With a little effort and our help, your shoes will look and smell great again!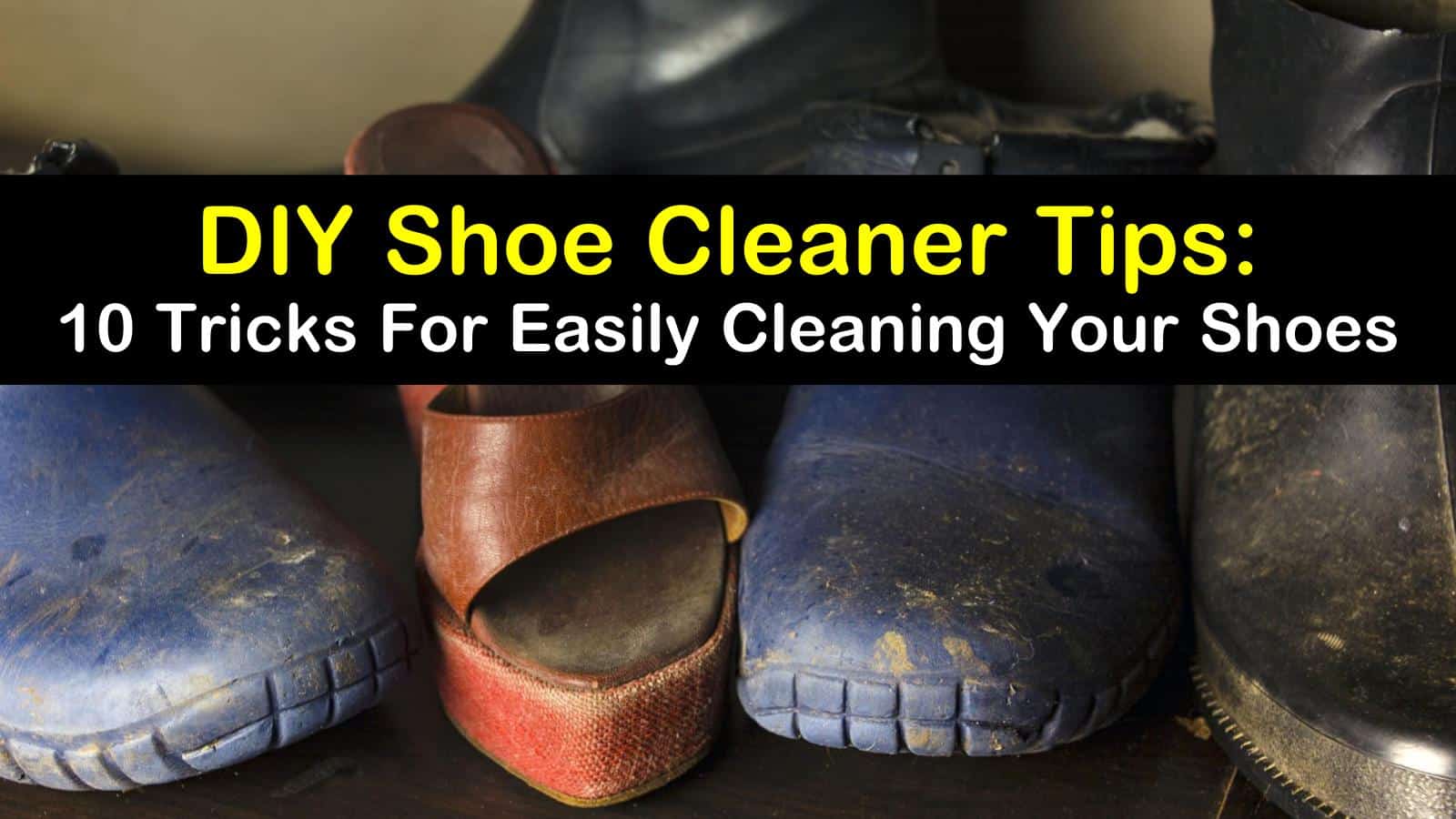 Cleaning Shoes Without Liquids
While shoes are usually designed to be tough, some shoe fabrics are sensitive and react badly to liquid cleaners. Before using a liquid option, you should try to get your shoes clean with simple household tools.
You have several household tools available that can be used to attack dirt on your shoes without resorting to liquids. These tools are often the best way to wash shoes, as they remove the risks for damage that liquid solutions may cause.
Simple Homemade Cleaners for Shoes
Try a White Cloth
Sometimes, the most straightforward options work the best. A good old-fashioned white cloth can often take care of your shoe-cleaning needs. White fabric is a fantastic starting point, as the odds of staining your shoes with it are zero.
A white cloth is an excellent choice for all sorts of shoe types. To clean your shoes with a white cloth, gently rub the fabric on any affected areas. If you are working on scuffs or other rubbing marks, use a light buffing action to remove the blemishes and take advantage of a simple DIY shoe shine.
Use a Toothbrush to Clean Your Shoes
If you are dealing with dried dirt, an old toothbrush is often all you need to get your shoes looking beautiful. Toothbrushes are very effective at cleaning canvas shoes, rope wedges, and rubber flip-flops, as well as working as an Ugg® boot cleaner.
Scrub at any dirt and stains with a dry toothbrush until the soil loosens. Wipe the debris away with a damp cloth, and dry the shoe with a dry cloth. Repeat if needed.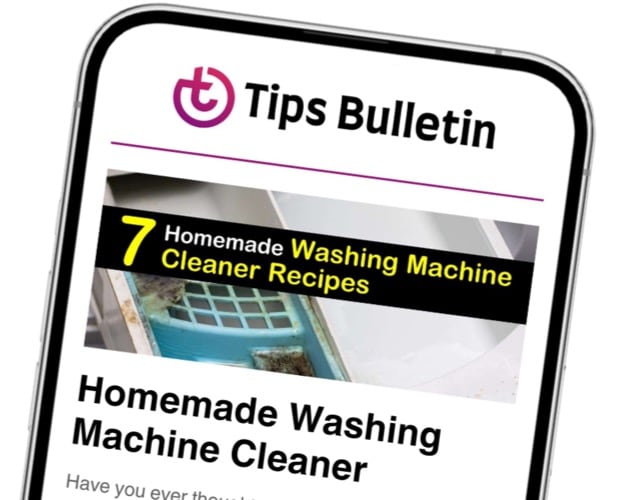 Finally, an email that Transforms Your Home.
Get the latest home and garden tips from our experts, delivered straight to your inbox.
Clean Your Shoes with a Nail File and Nail Brush
For larger dried-dirt areas, consider moving up to a nail file and nail brush. The tools work well together to lift off deep dirt stains, and they won't stain your shoes while doing so. The combination makes an excellent DIY suede leather cleaner.
Be sure to use caution when using the file to avoid scratching the shoe fabric.
Begin by carefully applying a back-and-forth motion with the file, and then brush the area with the nail brush. Alternate between the two tools on all scuffs and stains. After you have dislodged all dirt, shake the shoes free of any loose debris, and wipe them with a dry cloth.
Shoe Cleaning Solutions
Sooner or later, you're going to run across a stain that you can't clean with a file, brush, or cloth. But, no liquid homemade shoe cleaner works on all shoe types. Your DIY suede shoe cleaner might not work to whiten yellowed shoes, for example, or your white-sneaker cleaner could ruin your suede pumps.
The shoe-cleaning recipes in this section are divided into shoe types to let you find the right cleaner for your type of shoe. If you follow our instructions, your shoes will shine!
Make Your Patent Leather Shoes Shine
Patent leather shoes can be a nightmare to keep looking nice. Their mirror shine is easily scratched and scuffed, and ground-in dirt can ruin your favorite patent leather shoes' good looks. This recipe uses petroleum jelly and glass cleaner to restore your patent leather to a bright gleam.
Begin by wiping the shoes free of all loose dirt with a rag, then apply petroleum jelly with a cotton ball to any stains using circular motions. Rub until the stains are gone, and wipe the petroleum jelly away with a soft cloth.
When all stains are gone, and the shoes are dry, finish by applying a glass cleaner with a rag.
Clean Your Leather Shoes with Vinegar and Baking Soda
Vinegar and baking soda are the dynamic duo of the cleaning community and can be used to clean a full spectrum of household items, including clothes, drains, and floors.
Vinegar's natural mild acidity makes it an ideal leather cleaner, and the baking soda, also called bicarbonate of soda, works like a dream on scuffs. Use this cleaning product to clean all non-suede leather shoes.
Combine the water and vinegar, wet a clean cloth with the mixture, and wipe away any stains. Once you've cleaned off all stains, dry the shoe completely, shake some baking soda onto a dry cloth, and buff out any scuff marks. You can also use the vinegar to get rid of shoe odor!
After you take care of cleaning your leather shoes, you may want to address the size. If your shoes don't fit as well as they used to, stretch leather shoes wider or even stretching boots wider is easily accomplished with a bag of water (double-bagged is even better) stuffed into each shoe.
Put the shoes or boots in the freezer for several hours. The expanding water in the bags stretches the shoes and will make them more comfortable for everyday or occasional wear.
Restore Your Suede and Sheepskin Shoes with Vinegar and Rubbing Alcohol
Vinegar to the rescue again! Both vinegar and rubbing alcohol work well as a safe DIY suede shoe cleaner.
Because suede shoes can react badly to some cleaning solutions, it is best to test the vinegar or alcohol on an inconspicuous spot. If cleaning sheepskin, do not use alcohol, and be sure to dilute the vinegar with equal parts cold water.
If cleaning suede, use a rag to apply undiluted vinegar or alcohol to any stains, and gently clean them off the fabric using circular motions. If cleaning sheepskin, combine the vinegar and water. Apply the mixture to any stains with a rag.
Get Your Rope and Cork Wedges Pristine with Dish Detergent
Believe it or not, it's possible to bring your rope wedges and cork wedges back to brand new condition with a little elbow grease and some dishwashing detergent. Use our leather-cleaning recipe to clean up any leather areas on the shoe, and then use this recipe to take care of the cork or rope covered section.
Mix the soap, water, and vinegar. Apply the mixture to any stains, and scrub with a toothbrush until clean. Wipe the area with a damp rag.
Make Your White Sneakers Shine
White shoes seem to attract dirt, don't they? These methods are great at cleaning white sneakers, and they make white sneakers glow. If you've ever wondered how to wash Vans®, this is the recipe for you!
If your sneakers have laces, take them out before cleaning the shoes. Get the Magic Eraser wet and rub it on any stains and scuffs on the shoes. A Magic Eraser is often enough to clean off stains and get the shoes white again.
If stains remain, mix the laundry detergent and water and apply it with the toothbrush. Scrub stains with a circular motion. When the sneakers are clean, wipe them down with a damp cloth. Allow them to air dry completely.
Learn how to clean shoe laces separately, as you don't want to put dirty laces back in your nice clean shoes. The laces can usually be washed in the machine as long as they are placed in a mesh bag. It wouldn't be fun if the laces get tangled in the machinery while washing.
Make Your Running Shoes Beautiful with Nail Polish Remover
Nail polish remover isn't just for nails! You can use it to clean mesh and plastic fabrics such as those found on running shoes, as well. Nail polish remover contains acetate, which can react with some plastics, so test it on an inconspicuous section before applying it to the entire shoe.
Nail polish remover is a simple cleaning product – use a rag to apply the nail polish remover to any stains and rub in a circular motion until the stain is gone. You can handle more stubborn stains with a solution of one part bleach to five parts water.
Running shoes can also take a spin in the washing machine, but be sure to air dry them; do not put them in the dryer.
Clean Your Rubber Flip-Flops with Toothpaste and Dish Soap
Humble toothpaste is a powerful cleaning agent when used on rubber flip-flops. Make sure to use non-gel toothpaste for the best cleaning effect.
Apply the toothpaste to stained areas with the brush, and scrub until the stains are gone. For stubborn stains, mix the dish soap with 3 cups of water, apply with the brush, and rub. Rinse the flip-flops with a cup of water, and allow them to air dry.
None of us enjoy getting stains out of shoes, but with these shoe-cleaning tricks, all your shoes will be back to beautiful in no time. Clean shoes make the wearer happier, and they keep you looking your best!
Homemade Cleaner for Shoes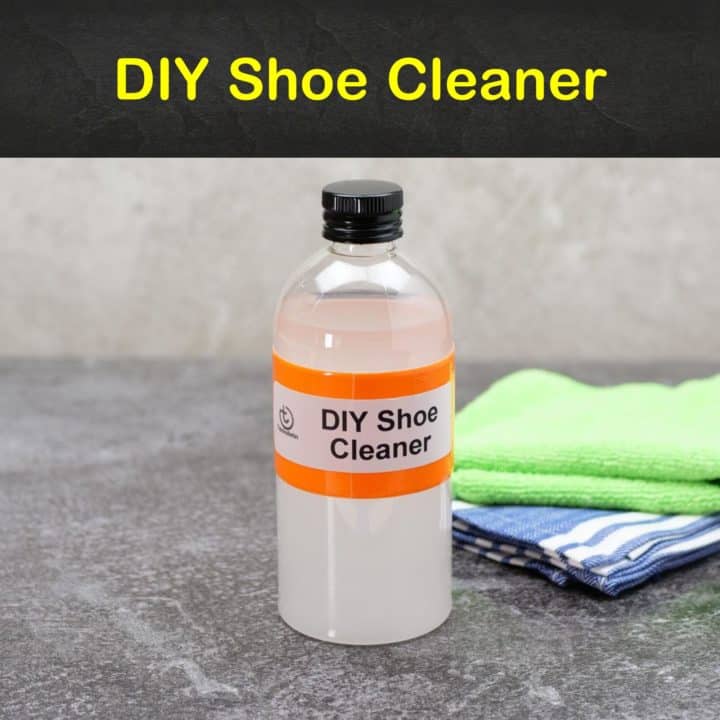 DIY Shoe Cleaner
Shoe cleaning made simple with ingredients from your pantry.
Materials
16 ounces cool water
16 ounces white vinegar
Tools
32-ounce spray bottle
Microfiber cloths or old rags
Measuring cup
Instructions
Pour the water and vinegar into the spray bottle and shake to mix.
Spritz a cloth with the cleaner and wipe shoe stains.
Allow the shoe cleaner to dry.
Sprinkle a little baking soda on a dry cloth and buff scuff marks and wipe away any cleaning residure.
Notes
Vinegar and baking soda are also ideal for eliminating unpleasant shoe odors.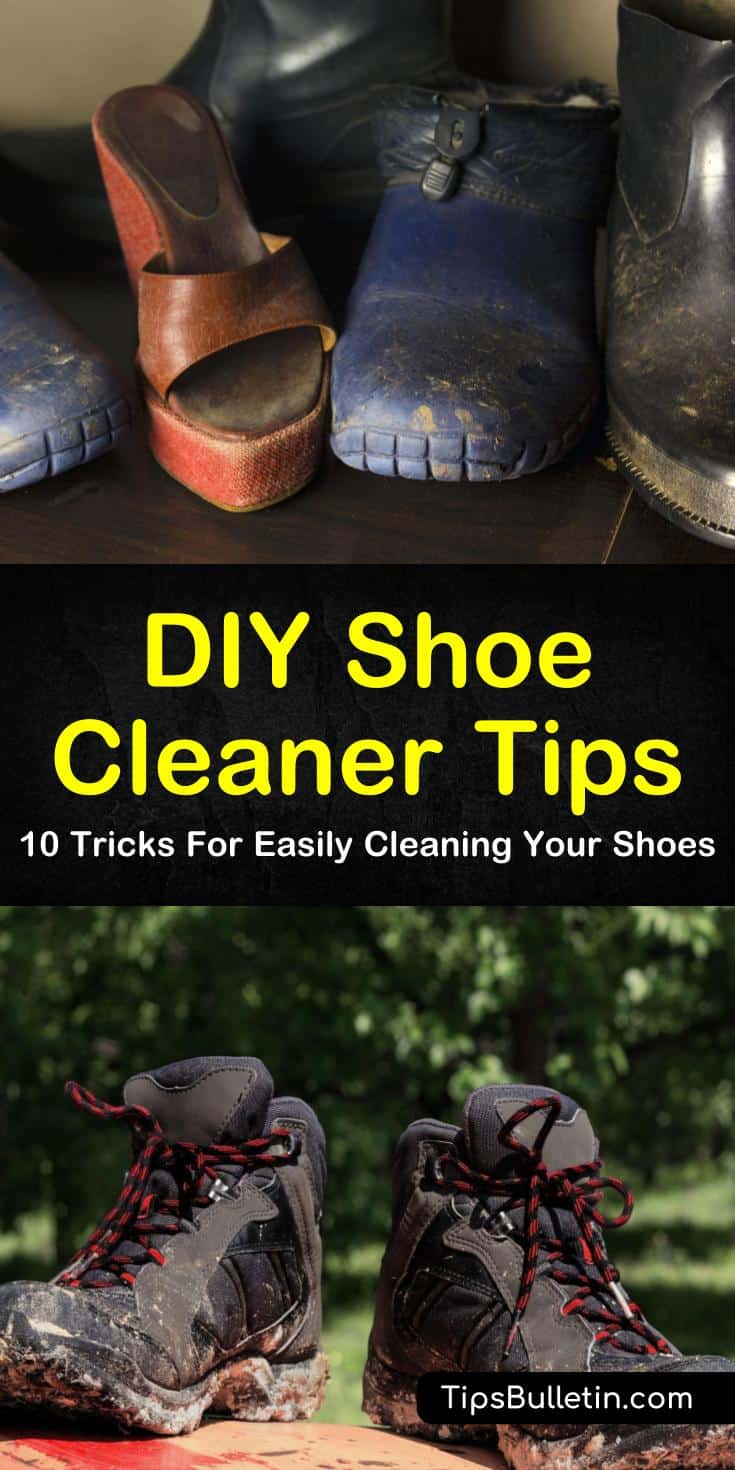 We hope you enjoyed reading these shoe-cleaning tips. If you found our homemade shoe cleaner recipes to be of use, please spread the word by sharing our shoe-cleaning guide on Pinterest and Facebook.