Since the late 1800s sheepskin boots have been used as a way for people, from Australian shepherds to World War I pilots, to keep their feet warm and dry. However, it wasn't until the 1970s that UGG® boots became extremely popular, in thanks partly to Australian surfers who rode the cold waves of Australia's Byron Bay. A hefty price tag makes it extremely vital to learn how to clean UGGs®so you can keep them clean and looking new.
By the late 1990s, the shoes had become all the rage in women's fashion. Every pair of UGGs® is made from sheepskin and wool, making it extremely important for you to learn how to properly clean UGG® boots at home with a few everyday products.
When these types of materials become dirty, then begin to look shabby. Along with learning how to clean UGGs® boots, it is also important to take preventative steps to keep them from becoming dirty. When you combine proper cleaning and maintenance, your sheepskin UGGs® should last a long time.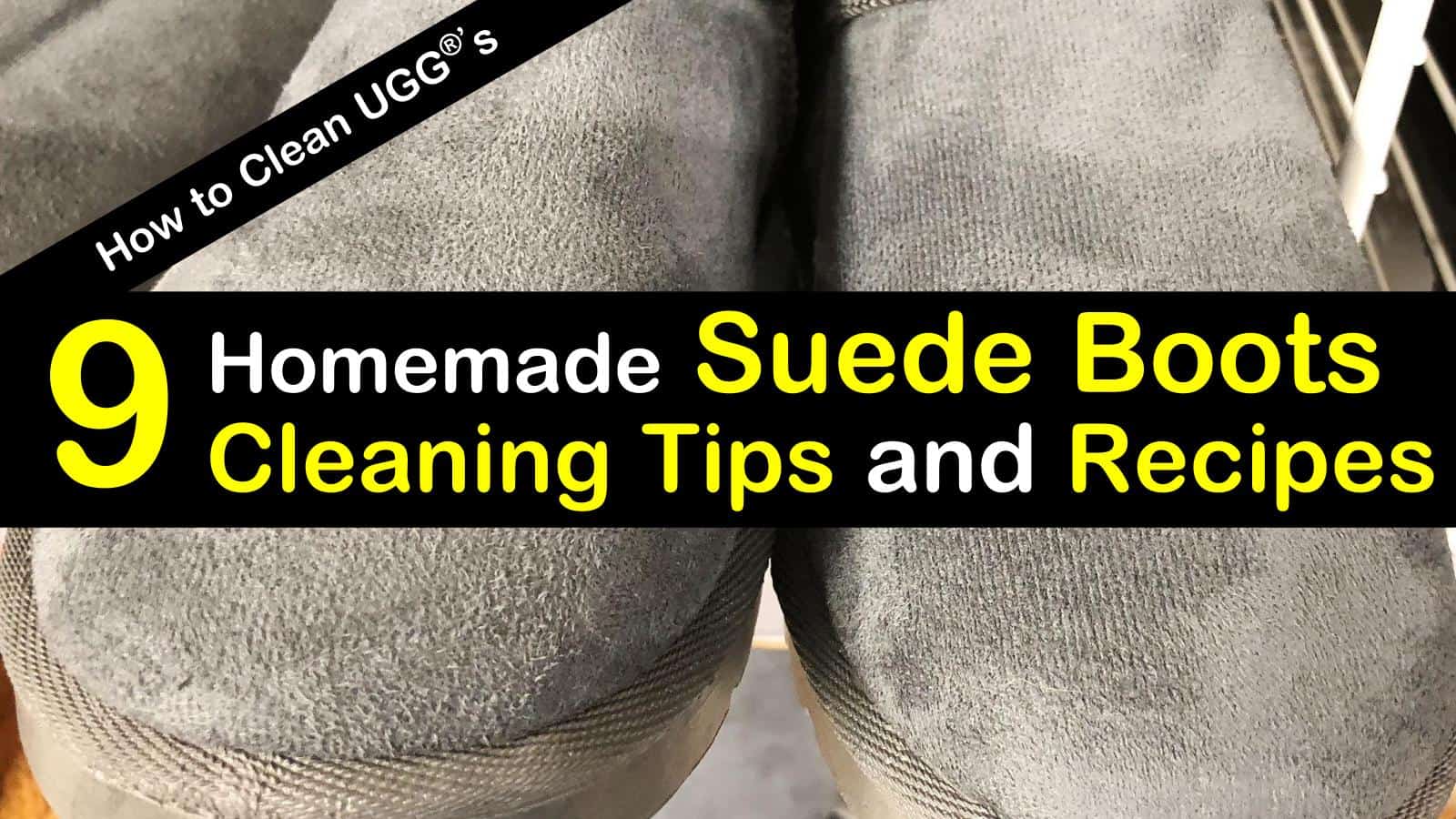 Cleaning UGG® Boots
It's relatively easy to keep black canvas shoes clean – you can often throw them in the washing machine. However, suede is another story.
Learning how to clean suede boots like UGGs® is an excellent way to ensure they continue to look great for a long time. While there is a specialized UGG® cleaning product that you can use, you can save yourself some money with these DIY tips for cleaning your UGG® sheepskin boots.
The first thing that you want to do is use a suede brush to remove dirt on the surface, whether you need to wash UGG® slippers, shoes or boots. If you don't take this step to remove the surface dirt from your suede boots, you'll end up pushing the dirt further into the fibers during the deep cleaning.
After you brush the surface of the shoes, you will then want to scrub them with a damp cloth gently. It is essential that you use the water sparingly to avoid over-drenching the suede material.
Using too much water when cleaning UGG® boots can stretch out shoes. Of course, if they're a little small, this is a good thing!
When you've completed the UGG® boot cleaning, take some old rags, socks, or newspapers and stuff them into the boots. Doing this will help keep them from losing their shape as they dry.
Finally place them in a cool, dry area and allow them to dry for at least 24 hours. Avoid putting them in direct sunlight, as this can cause the suede material to wrinkle, damaging the shoes.
Deodorizing UGG® Boots
Wearing UGGs® on a regular basis not only causes them to become dirty, and start to develop a strong odor.
Fake, cheap UGGs® will produce an unpleasant smell faster than the authentic ones because the inexpensive materials that are used to make them don't breathe as well, which can lead to excessive sweating and buildup of bacteria. Learn more about deodorizing shoes in our cleaning vans tips.
UGG® Boot Deodorizer Recipe
Whether your UGG® boots are fake or not, you can use a good sheepskin cleaner to clean the outside of your shoes.
Mix the baking soda and corn flour and the essential oil, stirring to combine. Add the mixture to the inside of each boot to deodorize them.
Let the baking soda sit for 24 hours, then turn them upside down and shake them out. Do this every week to keep your boots smelling fresh. Use this solution as the way to clean smelly Ugg slippers, too.
How to Remove Tough Stains
Grease stains and other oily substances can be a challenge to get out of UGG® slippers and shoes. If you notice a grease stain on your suede or sheepskin footwear, you can use cornstarch or talcum powder to get it out.
Sprinkle the cornstarch or powder over the stain and allow it to sit for several hours to overnight. The cornstarch or talcum powder will absorb the stain.
You may have to repeat this process several times until the stain disappears. After you successfully remove the stain, clean the boots to get the surface the same color.
Get off Excess Grime
Here's how to clean suede shoes that have a buildup of dirt and grime. All you need a UGG® sheepskin cleaner. Follow the UGG cleaner directions and scrub the boots to remove the dirt and grime.
Once you've finished cleaning the shoes, stuff them with paper towels or old newspapers to ensure they keep their shape as they dry. Let them dry for at least 24 hours, then remove the stuffing and enjoy your clean shoes.
How to Clean Suede Shoes with Vinegar
While washing shoes with other textile shoes or sneakers might be possible, soaking suede in water can ruin the material, which means you should never place your UGG® boots in the washing machine. Instead, here's how to clean suede sneakers and other shoes with vinegar, and avoid damaging the material.
Start by loosening the dirt on the surface of the footwear when getting salt stains out of UGG boots® by brushing the material with an old toothbrush or suede brush. Next, pour one cup of white vinegar into a bowl. Dip a clean sponge into the vinegar. Test an inconspicuous area on the boot to check for colorfastness. If dye transfers to the sponge, don't use the vinegar. Instead, consult a professional leather cleaner.
Rub the white vinegar into the dirty areas of the shoe. Allow the suede to thoroughly dry, then use the suede brush to raise the nap to its original splendor. The vinegar will leave an unmistakable odor for a while after cleaning, but don't worry as it will eventually fade.
Remove Tough Stains like Marker
If you have tougher stains like marker marking your UGGs®, there is a simple way to remove them and save your favorite boots. Hairspray has been shown to be extremely useful in removing tough stains from the surface of UGG boots.
To remove ink or similar stains, cover the stain with hairspray and let sit for several hours. Then, take a teaspoon of liquid dishwashing soap, like Dawn, and apply it to the stain with a damp cloth. Allow the cleaner to dry. You don't have to wash out the Dawn, but if you notice any remaining stain, merely repeat the process until it is no longer visible.
How to Renew the Color of Your UGGs®
If your UGG boots have started to fade because of age or cleaning you can restore the color with a suede dye. You can purchase suede dye from most shoe stores, and it comes in a variety of colors and shades to match your boots perfectly.
You can safely dye sheepskin using suede dye as it won't damage the integrity of the boot. Remember to stuff your boots with something to help them hold their shape before you begin to dye them. Follow the product directions and allow them to dry completely before removing the stuffing.
Preventing Stains
The best way to protect your UGGs from stains and issues with wetness is to treat them with a stain repellent and water repellent. There are many products on the market that you can use to seal your boots against moisture and protect them from stains. It is essential that you purchase a product that is safe to use on suede and leather.
Before you go outside with you UGGs®, be sure to treat them with the proper water and stain repellent. When you eliminate water's effect on your boots, you can help stretching and shrinkage.
What Can You Do if Your UGGs® Shrink?
Getting your UGGs® wet, either by wearing them in the rain or putting them in the washing machine, could cause them to shrink. If your boots are now too tight because they have shrunk, you can stretch them back into shape using the following technique.
To stretch suede shoes, take some newspaper or old rags and stuff them into the boots. Make sure that you add enough material for them to hold their shape.
Once you've stuffed them with newspaper, wet them slightly and allow them to dry for at least 24 hours. The moisture allows the sheepskin to stretch so you can start wearing them again.
Women UGGs® have become a trendy option in women's shoes over the last several decades. To keep them looking new, it is vital that you know how to clean them to avoid damaging the suede material.
The tips and techniques in this article are practical and safe for tackling stains and renewing your boots, so they look and feel new. With these budget-friendly life hacks, you don't have to invest a lot of money in expensive cleaners or treatments to bring your UGGs back to life.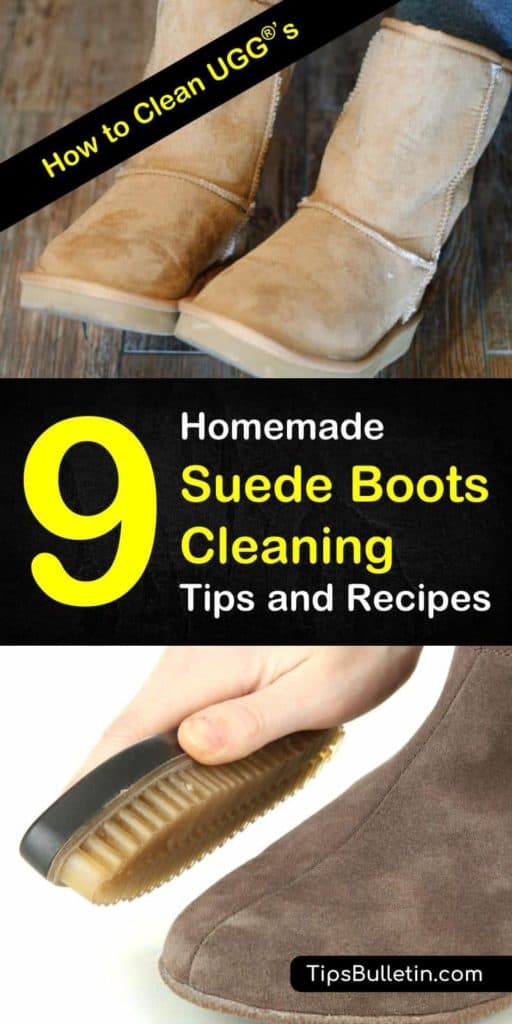 We hope you enjoyed learning about how to clean UGGs®. If you found the information in this article useful, please feel free to share it with your friends and family.