Nothing is more startling than seeing a mouse scurry across your walkway as you enter a room. While it is not as terrifying as venomous spiders or snakes, mice spread diseases like hantavirus, and keeping them out of the area is vital. Learn how to use essential oils to get rid of mice and make your home smell pleasant while keeping rodents at bay.
Mice are common house pests, especially if you live in an area that experiences cold temperatures during the winter. Just like rats and spiders, they seek shelter during unpredictable weather, and your living area is an inviting place for them with its warmth and food sources.
Unfortunately, a couple of mice quickly turn into many, eventually leading to a mice infestation. It's crucial to take mouse control steps to keep these rodents in check. However, if you find using a mouse trap inhumane, some essential oils are natural mouse repellents that effectively keep mice out of the house.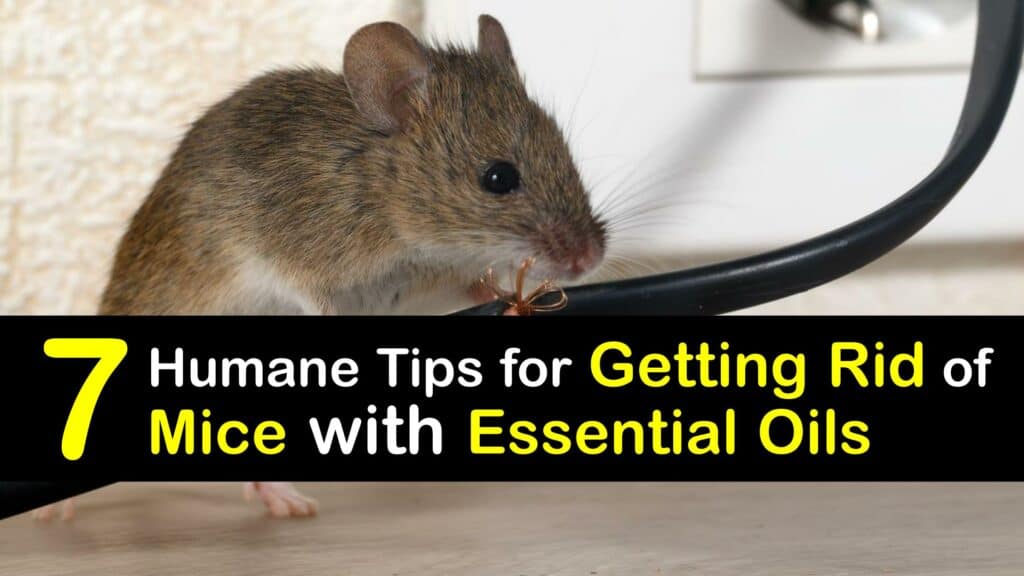 I Use Essential Oils to Keep Mice at Bay
There are over 90 essential oil types, and not all of them get rid of rodents. Discover how these oils repel mice, which are the smells that keep mice away and are effective for pest control. Learn how to use them to prevent a mouse infestation.
How I Keep Mice Away with Essential Oils
Some essential oils are great for keeping insects and rodents away, but how do they work to repel mice? Explore the power these oils have and why they effectively keep these pests away.
Essential Oils and My Challenge with Mice
Like other rodents, mice rely on their power of smell to locate food sources and follow pheromone trails left by other mice. Essential oils have an intense smell that distracts the pests from finding what they're looking for, causing them to look in other places for food and shelter.
I Keep Mice Away with Minty Essential Oils
We love adding leaves from a peppermint plant to tea and desserts. However, mice and other pests detest the smell of mint, and there is more than one type of minty or menthol oil. You can even use peppermint oil to repel squirrels and other pests outside. Use various mint-scented essential oils to keep mice away.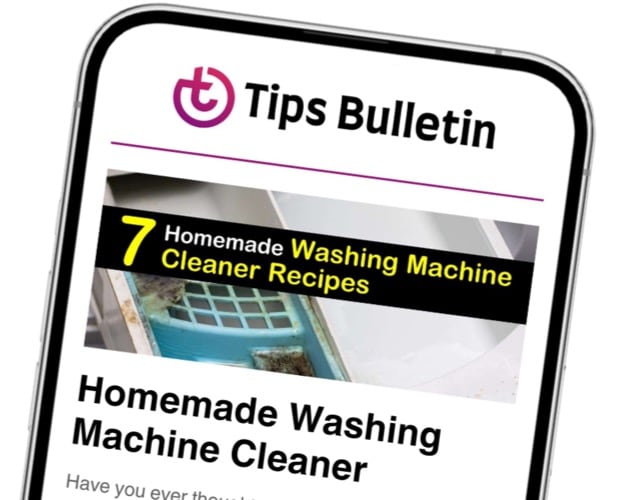 Finally, an email that Transforms Your Home.
Get the latest home and garden tips from our experts, delivered straight to your inbox.
Add several drops of undiluted oil, such as peppermint, spearmint, tea tree, or eucalyptus oil, to cotton balls to lightly soak them and place them in areas where you notice mouse activity to drive them out of the house.
Consider placing the minty balls of cotton near small cracks in baseboards, wall corners, and other mouse entry points to keep them outside.
I Repel Mice with Lemony Essential Oils
While lemons have a fresh smell that we find desirable, mice cannot tolerate the odor and avoid areas where they come across lemony scents. Find out about the different lemon essential oils to repel mice and how to use them to keep the pests from entering your living space.
Walk around the inside edges of your home and look for areas where you suspect mice get inside the house. Check for small holes, crevices, or cracks where the wall meets the floor and other small nooks and crannies.
Apply lemon-scented essential oils to a cotton swab and rub it over the entry points. Lemon, lemongrass, and lemon myrtle essential oils have a lemony smell that mice cannot stand, and they are good for repelling pests.
I Repel Mice Using Clove Essential Oil
Adding spice to baked goods and other dishes is not the only use for cloves. Clove oil has a strong smell that deters pests and is one of four favorite essential oils to keep mice away. Prepare a clove essential oil spray to eliminate mice in your house and to deter mice from coming inside.
Pour distilled water into a plastic spray bottle and add about 20 drops of clove oil to make your own natural mice deterrent spray. Shake the container well and spray the liquid directly in areas where you see mice activity. Apply it beneath the kitchen sink, around the garbage can, in small crevices, and other suspicious sites.
How I Use Citronella Essential Oil to Deter Mice
You may have heard that citronella keeps mosquitoes away, but this is also one of the many essential oils to repel mice. Eliminate a mouse problem with a homemade citronella repellent.
Take a rag and cut it into small pieces. Add a few drops of citronella oil to each rag section and stuff the bits of cloth into small holes where mice enter and exit your home. This method also keeps spiders and other pests out of your space.
I Combine Essential Oils to Get Rid of Mice
While individual essential oils are helpful for keeping a mouse out of the house, sometimes something with a little more kick is necessary to prevent an infestation. This essential oil based mouse repellent combines a variety of powerful oils to create a strong scent that mice hate. Using a glass container when working with essential oils is important since the oils may damage plastic materials.
Add ten drops each of peppermint, cayenne pepper, and lavender oil to a plastic spray bottle of water. Close the container, shake it well, and label it for regular use.
Apply the sweet and spicy peppermint oil spray for mice along the baseboards of each room, in the attic and basement, and in other places where mice have easy access to the inside of your house.
Other Ways I Get Rid of Mice
While the scent of essential oils works well to repel the occasional mouse seeking sanctuary in your house, there may come a time when an essential oil is not enough to get the job done. Here are a few other ways to get rid of mice without using harmful chemicals.
Since essential oils come from plants, the next best way to keep them from entering your space is to grow mice-repellent plants. Rosemary, lavender, mint, marigolds, catnip, citronella grass, garlic, lemongrass, and chrysanthemums are great choices for plants that repel mice. Grow them near entryways to keep mice out.
The plant's dried herbs and flowers are also natural mouse repellents and helpful for repelling mice. Consider placing dried lavender flowers, mint leaves, cedar, and rosemary in sachets in strategic locations as a natural mouse repellent.
Ways I Prevent Mice from Getting Inside
Treating the areas around your house with essential oil applications is a great way to convince rodents that your home is not a cozy place to live. However, additional steps are needed to keep the mice from entering in the first place.
Perform routine maintenance to keep mice from hanging out in the yard and making their way indoors. Keep wood piles away from the foundation, rake up and remove leaf piles, maintain the garden and shrubs, and keep a lid on the outside garbage can at all times.
Another way to prevent mice from getting inside is to make home repairs. Walk around outside the house and look for wall and foundation structure damage. Use caulk to seal cracks, stuff steel wool into larger holes, repair damaged window screens, and apply weatherstripping around doors.
Since rodents constantly seek food sources, it is crucial to keep a tidy home by cleaning it regularly. Take out the trash nightly, wash dishes daily, clean up spills on countertops, keep food items in storage containers with lids, and sweep the kitchen floor to remove food crumbs.
Place deterrents like human hair, pet hair, moth balls, essential oils, plants, and herbs in areas where mice are a problem. One of the best deterrents for a rodent is pets, especially cats. If you're an animal lover and don't already have one, consider getting a furry friend to help care for the pest problem.
If you find yourself with a house mouse, think about using a trap and release system to remove them. This non-lethal method allows you to lure and capture the rodent with peanut butter without causing it harm, and you can release it in an area away from your home.
Essential oil is pleasing to your senses and a natural repellent for mice. The key is to use oils that rodents hate the most, such as peppermint oil, citrus oil, or tea tree oil, and making an essential oil blend keeps the mouse population in check.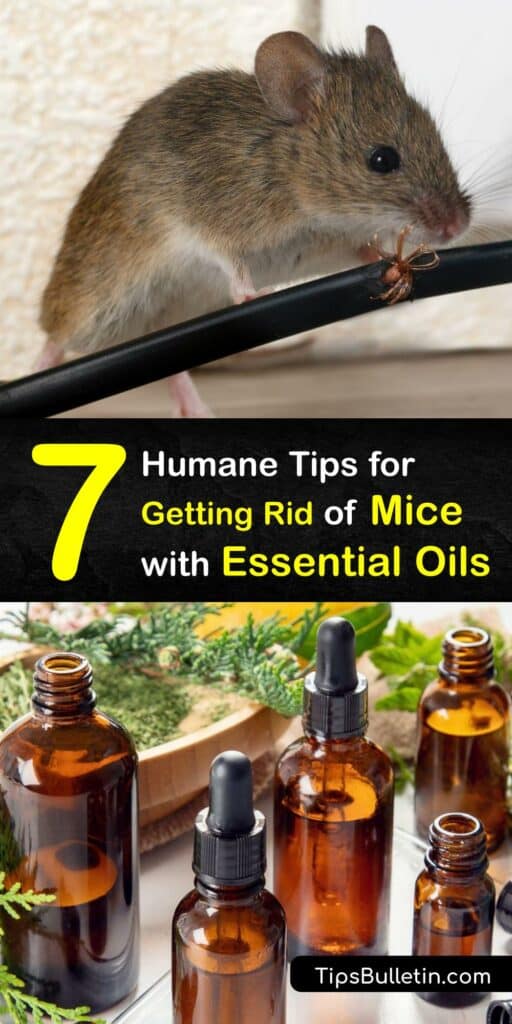 We hope that using essential oils to get rid of mice keeps your home rodent-free, and we'd love it if you'd share our essential oil mouse-repellent guide with your friends and family on Facebook and Pinterest.