There is so much to look forward to during the summer-time. You get to stroll through a pathway of fragrant herbs, prune rose bushes, plant impressive baskets of annual flowers, tend to a vegetable garden, and maintain perennial flower beds. But, have you ever thought of planting everlasting annuals to enjoy year-round?
Perennial plants have their perks. They are relatively low maintenance and grow back each year looking better than the year before. However, many of them only bloom once during the season. On the other hand, annual plants tend to blossom through the entire growing season, filling the garden with consistent color. Unfortunately, they die off once fall arrives.
Are there flowers that provide us with beauty all year? Yes, everlasting flowers are the perfect candidate for the job. These cut flowers create beauty in the yard and garden and are simple to bring indoors and dry when all other annuals wither and die.
Growing Garden Annuals for Everlasting Flowers
Before you run out and purchase a basket full of annual flowers, it's important to note that not all annuals are everlasting. We'll show you what flowers to look for and how to choose the right ones for your home.
What are Everlasting Annuals?
Have you ever noticed a bouquet of dried flowers that almost look like a vase of fresh blossoms? They are more than likely everlasting annuals.
Like perennial wildflowers, these flowers look beautiful in the garden and retain their color and form after drying, making them ideal for crafting and indoor decor.
One of the most popular everlasting flowers is the strawflower with its stiff and papery petals and vibrant tones. However, there are many other flowers to grow if you want to preserve them for flower arrangements.
How Long do Everlasting Flowers Last?
There are two answers to this question. Everlasting annuals usually flower from spring through fall in the garden, but die off at the end of the season.
Many of them are excellent for cutting and last in a vase of water for up to five days. If you plan on drying them for a bouquet or craft project, they last a lot longer, depending on how you preserve them.
Generally, they keep their appearance for six to twelve months. But, some last one to three years or more under the right environmental conditions.
Where is the Best Place to Plant these Flowers?
These long-lasting flowers grow in flower beds, patio containers, window boxes, and are ideal for an indoor plant basket or one for outdoors, so there is no limit to their placement, except for sunlight.
It's essential to do some research on your plants before planting them in the yard. Some love a cool spot of dappled light, while others need a fair amount of sunshine to survive.
Choose an appropriate area of the yard that provides your annuals with what they require, and group them accordingly.
How do I Dry Everlasting Annuals?
The drying method depends on the flower. Generally, you start by cutting annuals from your garden in the morning after the dew dries to prevent mildew growth. Remove the foliage and tie the stems together in small bunches with a rubber band.
Hang them upside-down in a dim, dry area, such as a closet or attic, until dry. Everlasting flowers are also simple to dry in the microwave by placing them in a microwave-safe jar alongside a glass of water for two minutes.
Strawflower (Xerochrysum bracteatum)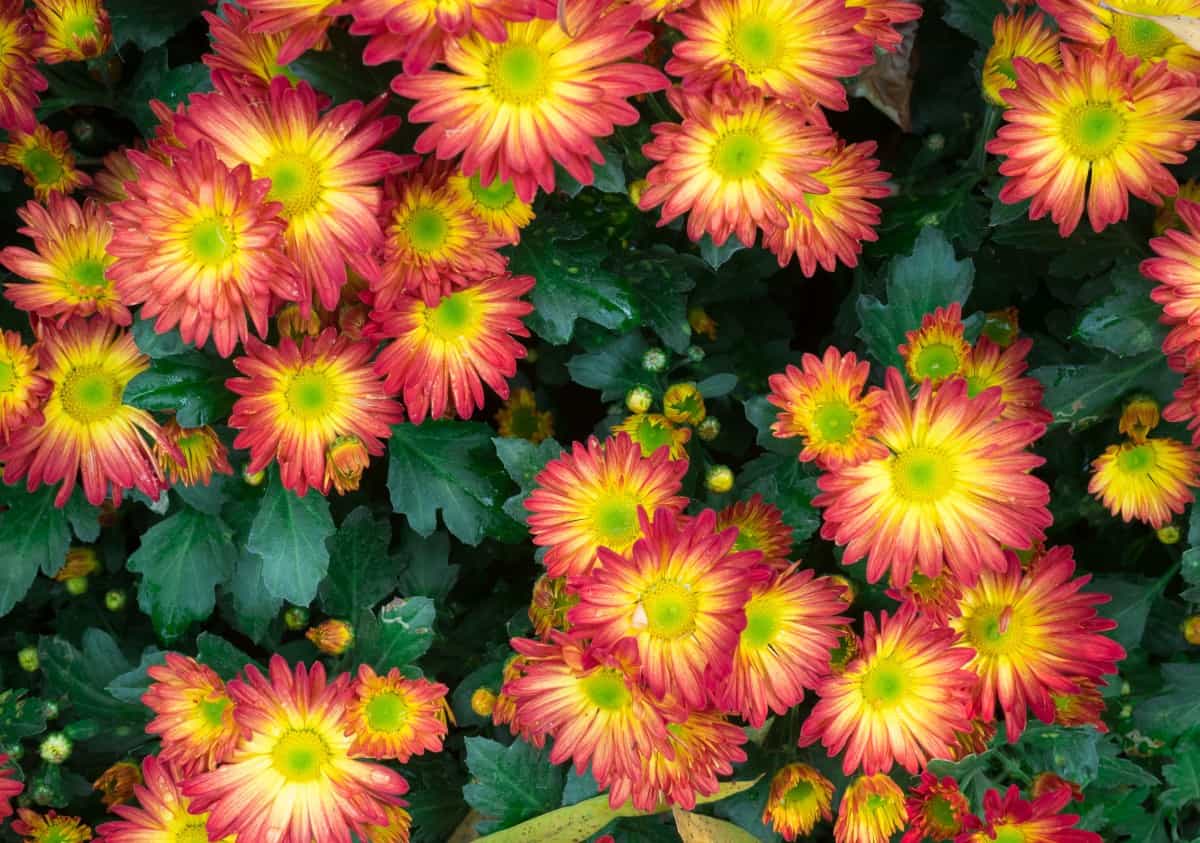 Strawflowers have vivid flowers that resemble daisies, with papery, stiff petals, and are among the most popular for drying. They have blue/green or gray/silver foliage and purple, pink, orange, yellow, red, and white flowers from spring through fall.
These tough plants grow good in any well-drained soils and tolerate both part and full sun. Strawflowers grow 6 to 18 inches wide and 2 to 3 feet tall, are low maintenance and drought tolerant.
Cockscomb (Celosia cristata) – Exotic-Looking Everlasting Annuals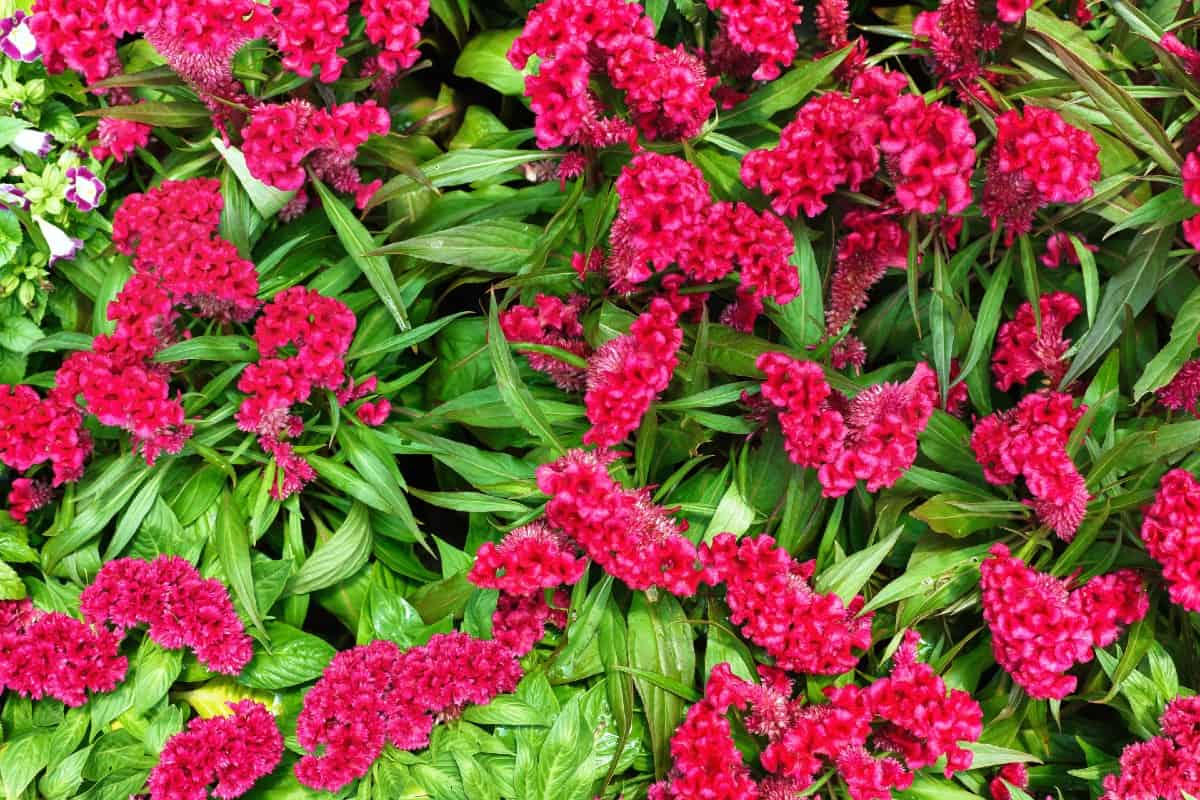 These flowers grow in two shapes – a plume type with upright spires and a crested type with a uniquely twisted form. They are striking in the garden with their bold red, orange, pink, yellow, and white flowers.
Cockscomb is a low maintenance plant that thrives in sunny areas. They are some of the best annuals for containers, as well as a garden setting and reach 6 inches to 3 feet tall with a width of 6 to 18 inches, depending on the variety.
Black-Eyed Susan (Rudbeckia hirta)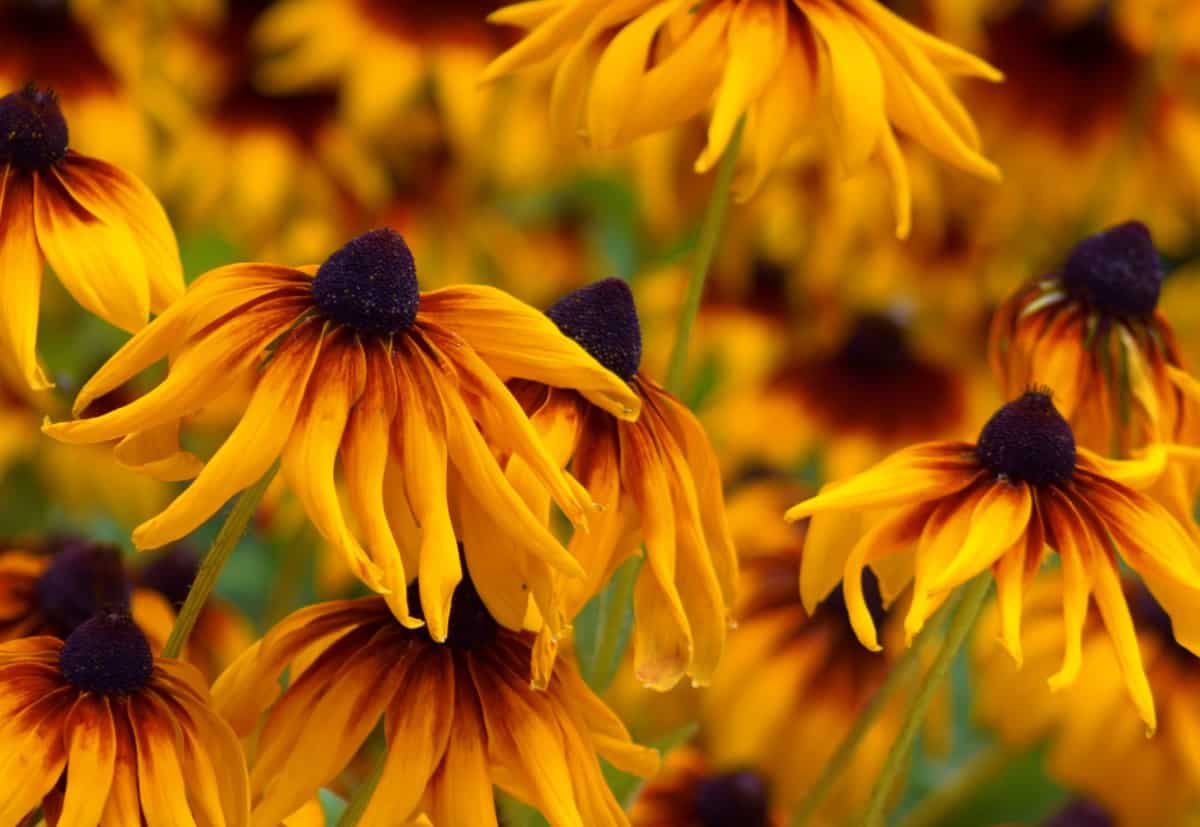 Black-Eyed Susans are one of the most known wildflowers in North America. They have daisy-like flowers with a raised dark brown center surrounded by yellow-orange petals and are excellent for a dried bouquet of fall color.
They blossom from summer through fall and grow 1 to 2 feet wide and 2 to 3 feet tall. These sun-loving flowers establish themselves well and desire little maintenance to thrive. Regular deadheading encourages vigorous growth.
Aster (Asteraceae) – Everlasting Flower for Potpourri
Asters have a wildflower look on a compact plant and grow in a variety of shapes and sizes. Their purple, pink, blue, and white flowers attract pollinators well into the fall when other plants fade. Their flower heads are an excellent choice for dried potpourri.
These annuals need direct light to flourish and have a mature size of 1 to 6 feet tall. They are low maintenance, drought tolerant, and great for growing in containers and attracting birds.
Zinnia (Zinnia elegans)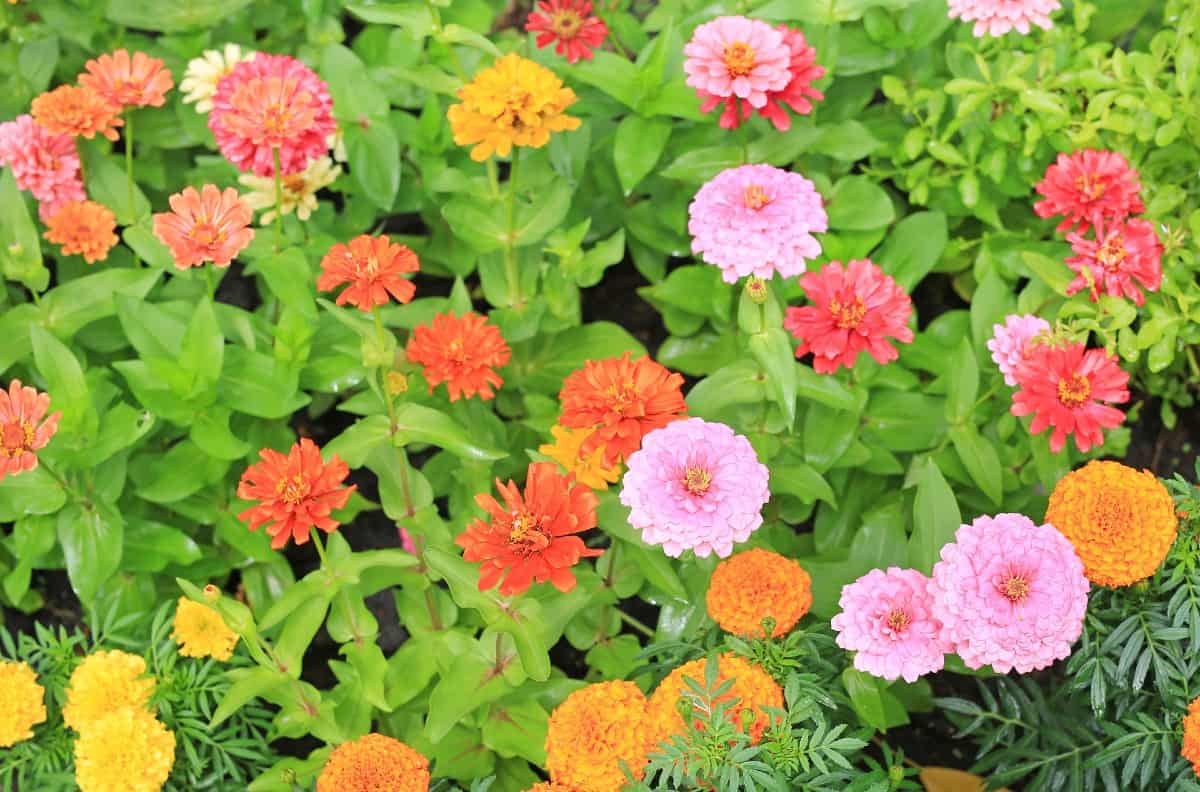 Zinnias are easy annuals to grow from seed and are one of the toughest flowering plants. They grow in a wide range of sizes, hues, and shapes. Some are low growers that are ideal for borders while others grow tall and look fantastic as a cut flower. Cutting them as needed produces bushier plants.
These low maintenance plants grow well in containers and beds and flourish in the sun. Zinnias grow anywhere from 1 to 4 feet tall and come in bold round flowers.
Globe Amaranth (Gomphrena globosa) – Versatile Flowering Annual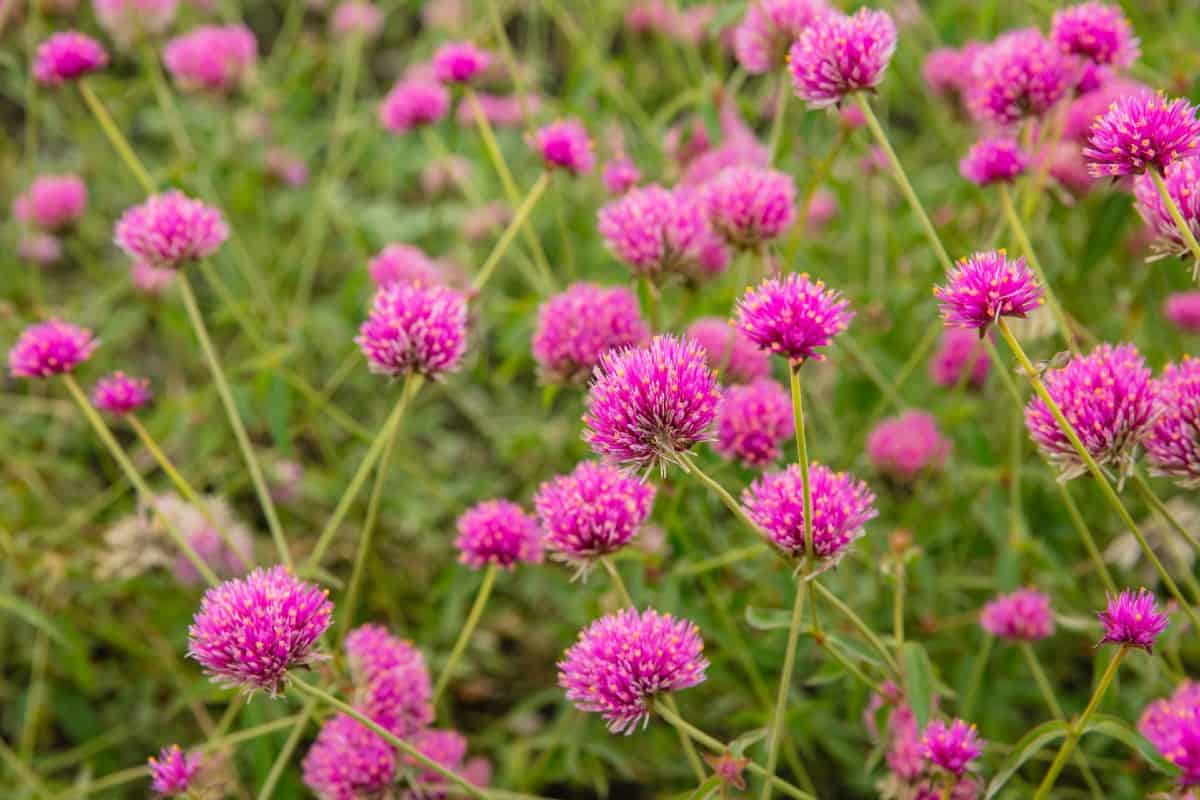 This low-care plant has clover-like bracts in magenta tones and attracts a variety of pollinators all summer long. They are suitable for arrangements and are desirable for drying as potpourri and crafting.
Globe amaranths are versatile full sun annuals that bloom all summer. It has a 12 to 18-inch spread and reaches 12 to 24 inches tall with bright pom-poms from June through the first frost.
Yarrow (Achillea millefolium)
This classic garden plant comes in various sizes and shades, including red, orange, yellow, pink, and white. Yarrow has tall stems and fern-like leaves and maintains its intensity and shape after cutting. It often needs no further help to dry.
Yarrow flowers from summer through fall and reaches 6 inches to 2 feet tall and wide. It prefers full sun and attracts birds and butterflies. This low maintenance plant is deer resistant, drought tolerant, and ideal for containers and gardens.
Pansy (Viola tricolor var. hortensis) – Low-Growing and Cheerful Flowers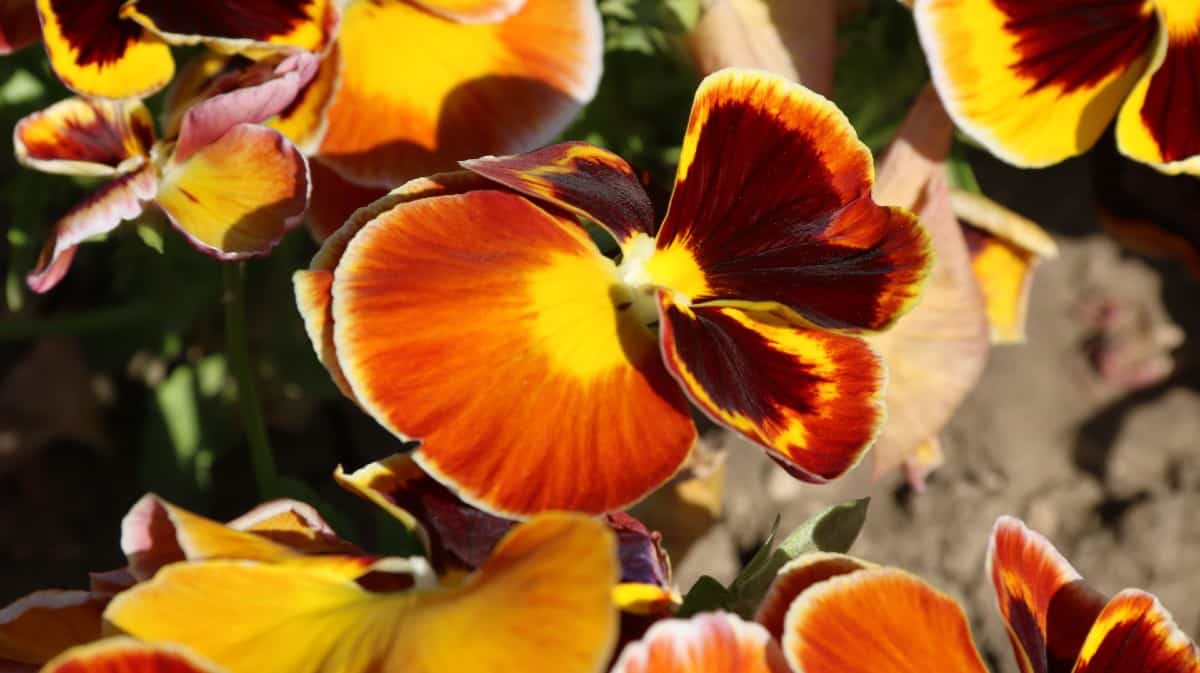 Pansies grow in many varieties, and they all have a distinct look with their cheerful combinations of white, yellow, purple, and blue. While they aren't great for dried arrangements, pansies are useful for drying and pressing for art projects and crafting.
These delicate flowers and plants for dry shade or full sun show their brilliance in spring and early summer. They are low growers and only reach 8 to 12 inches wide and 4 to 8 inches tall.
Salvia (Salvia officinalis)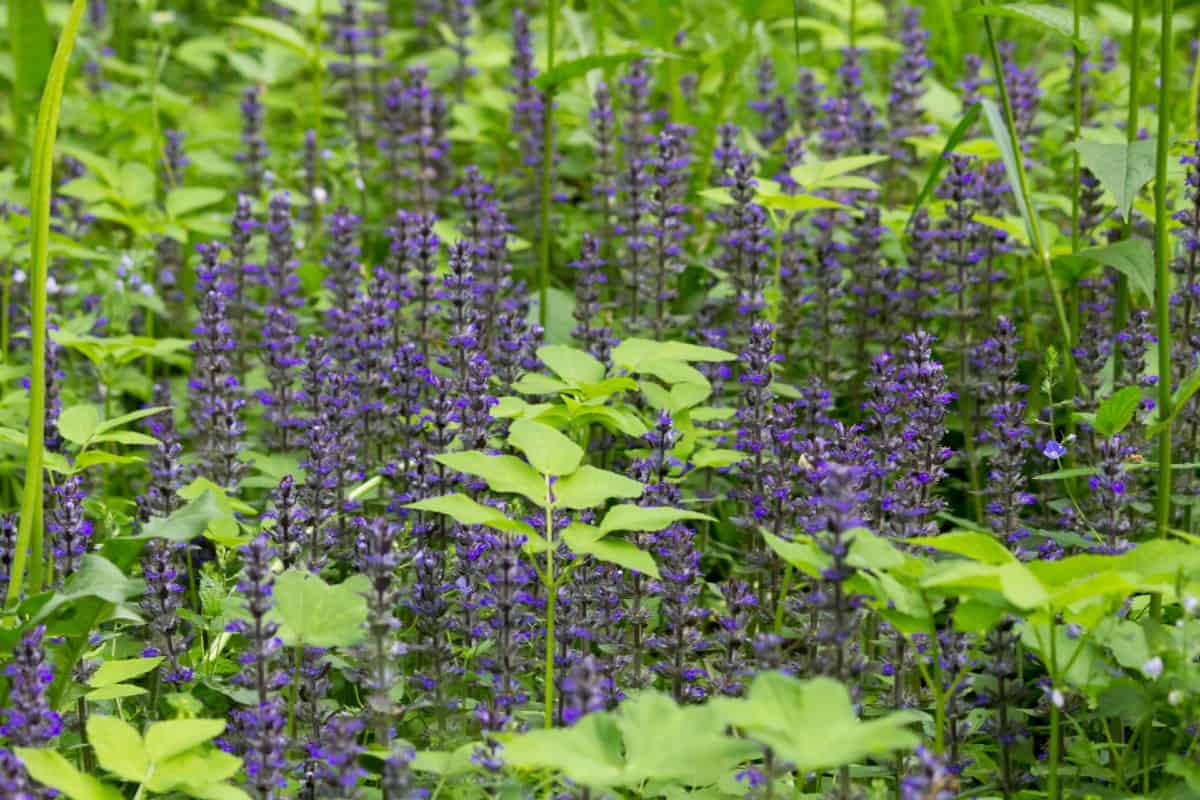 There are numerous types of salvia, and all of them are good drying candidates. Some have bright bursts of red flowers, while others have a clear blue or purple tint. These fragrant annual flowers grow well in containers and attract hummingbirds.
Salvia grows under many conditions, even heat, and drought. They are a low-maintenance plant that prefers part or full sun. These herbs grow 1 to 3 feet tall and have all-season interest.
Curry Plant (Helichrysum italicum) – Low Maintenance Plant with Scented Foliage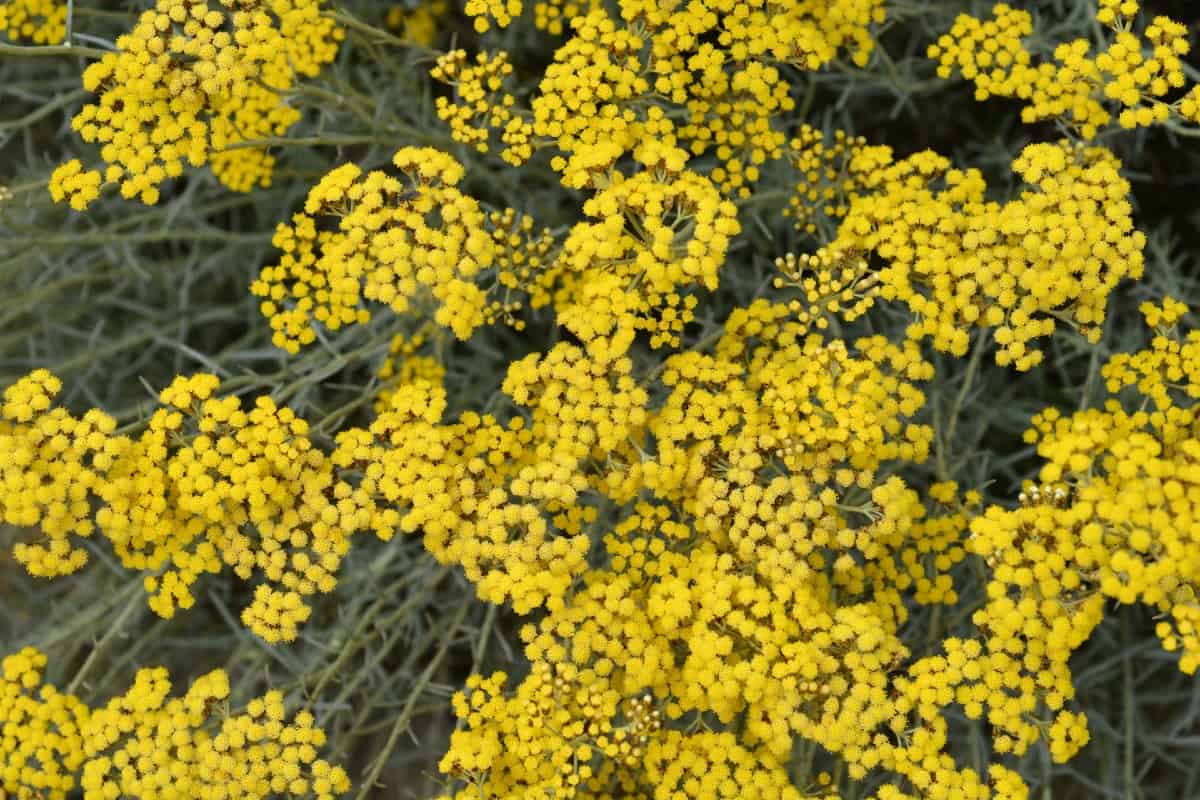 This plant has beautiful foliage and clusters of domed yellow flowers. The silvery foliage has a curry scent, and it grows with a busy appearance. The flowers retain their character wonderfully and look stunning in dried arrangements.
Curry plants are suited for full sun and grow 3 feet wide and 2 feet tall. They require very little care and watering and are drought tolerant. The deer hate this flower, and it is virtually pest-free.
Sea Lavenders (Limonium)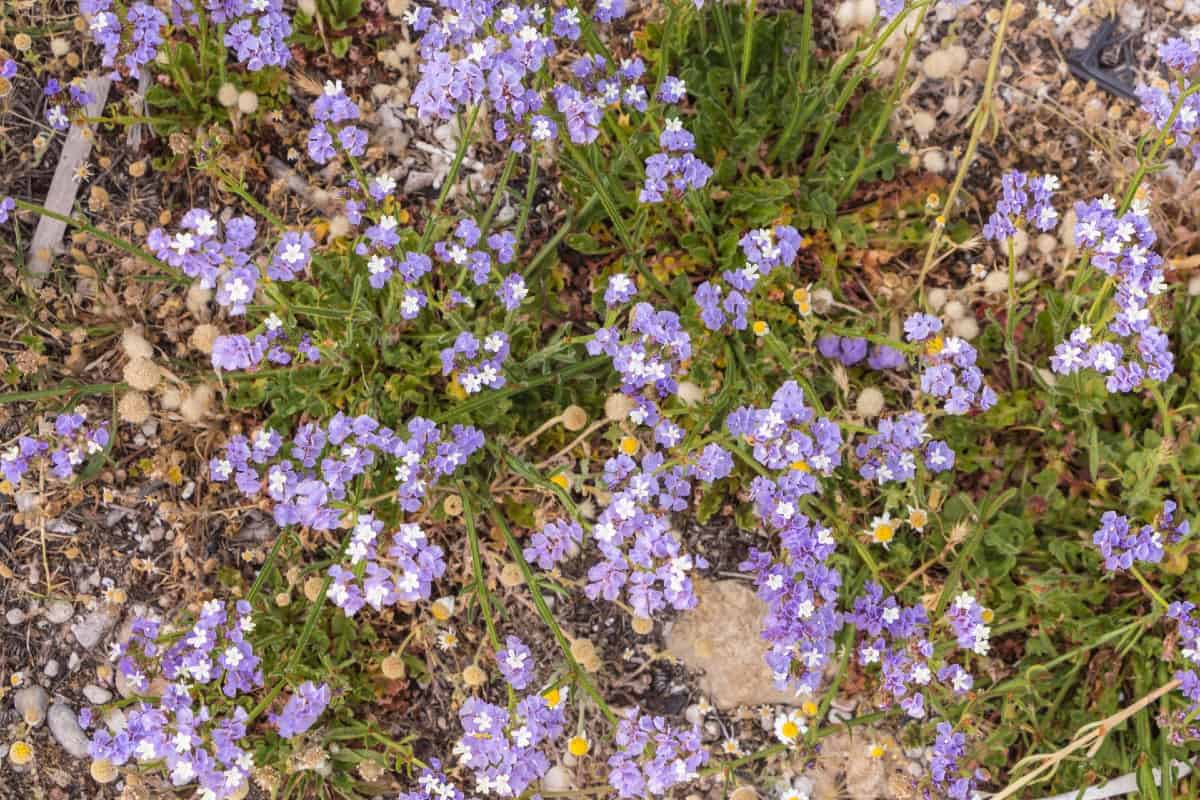 Sea lavender or statice has low-growing foliage with tall stems of delicate whitish-purple cup-shaped flowers. This plant is uncomplicated to grow in just about any garden setting and is famous as a cut flower for dry arrangements.
They tolerate heat and wind and perform well in part or full sun. Sea lavenders are low maintenance, deer resistant, and drought tolerant and have an average size of 1 foot tall with a spread of 1 to 2 feet.
Common Daisy (Bellis perennis) – Cheerful and Easy-Growing Wildflower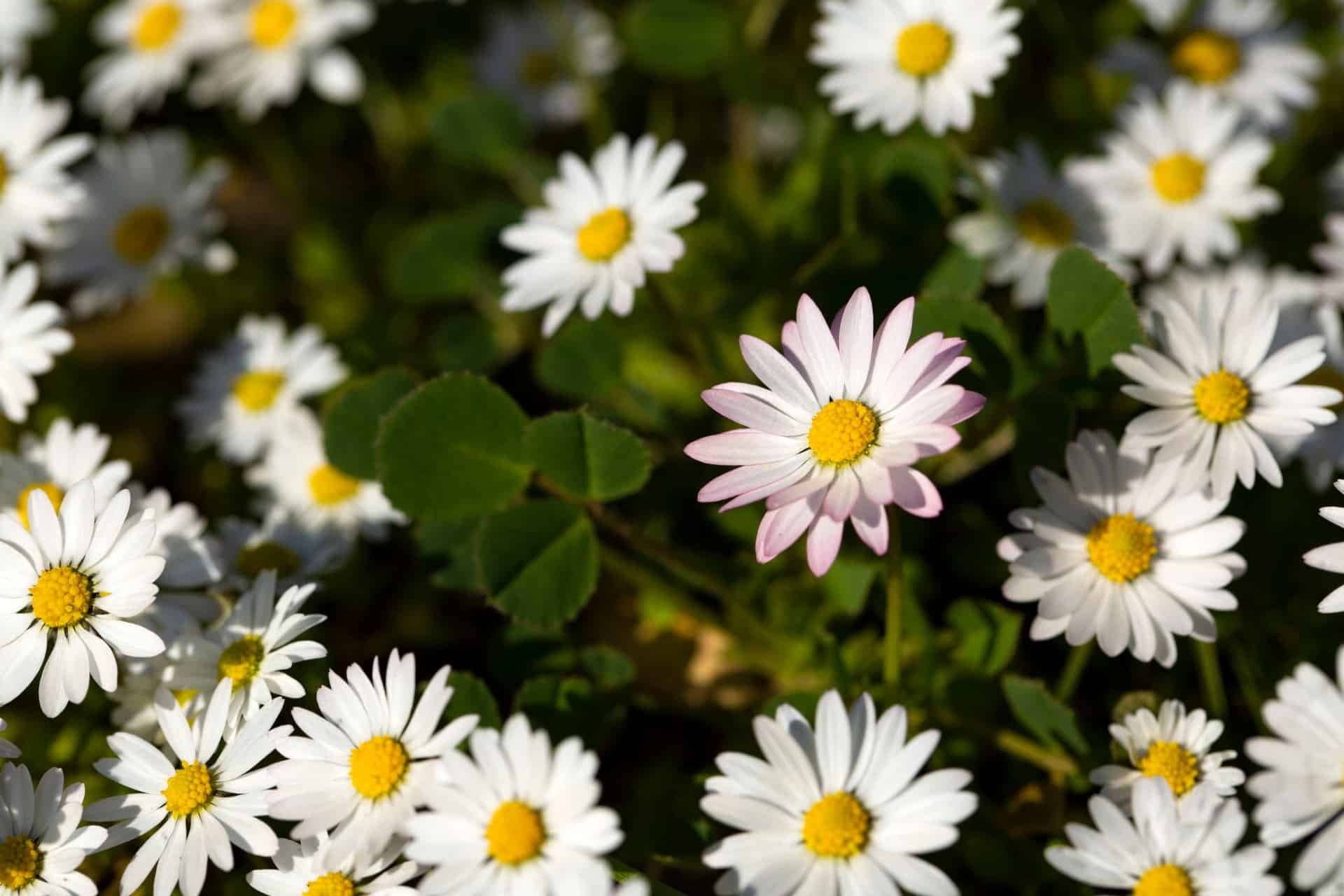 This wildflower is one of the most famous varieties of daisy, and it pops its gorgeous head from spring into winter, if the weather is calm. The yellow center, surrounded by rounded white petals, is hard to mistake and brightens the garden and home.
Common daisies produce the best in full sun with consistent deadheading. They are simple to grow in both pots and beds, grow about 12 inches in height, and attract butterflies and other pollinators.
Baby's Breath (Gypsophila)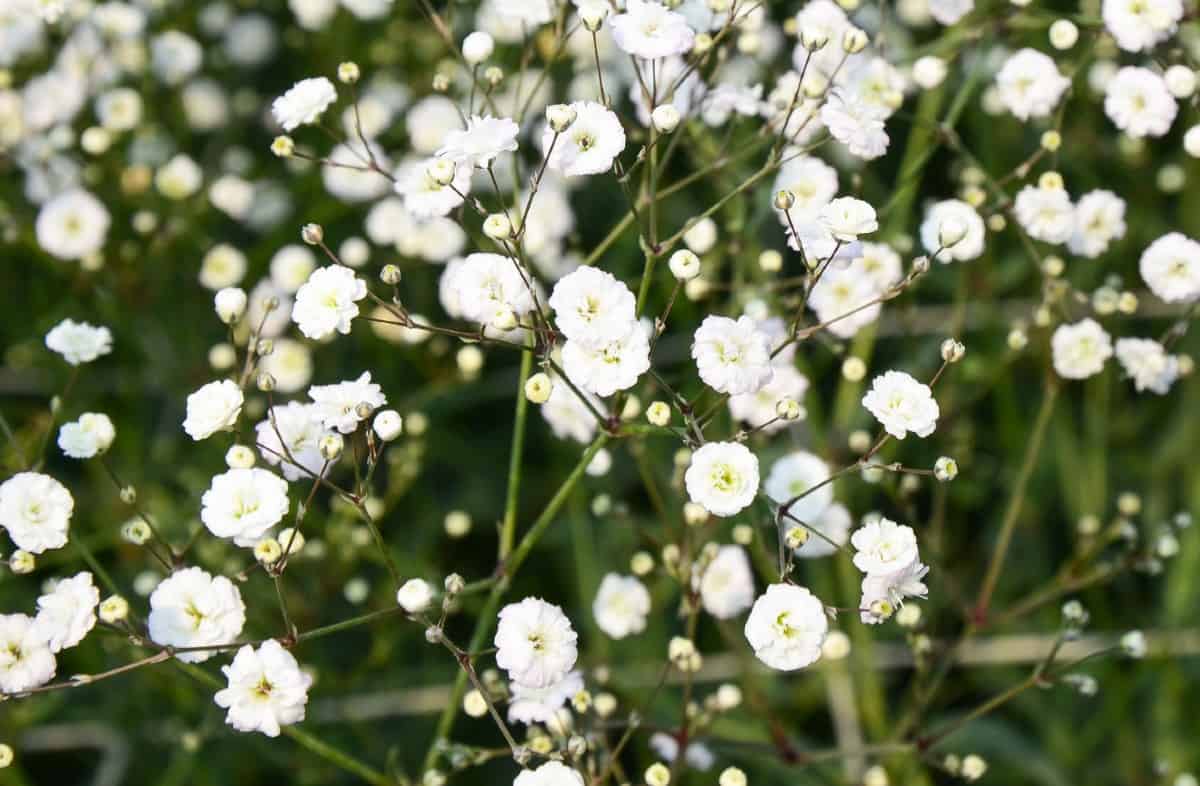 Baby's breath is a light and airy plant that is a favorite in cut flower arrangements. The crisscrossing stems have tiny double or single white and pink flowers that are dainty-looking but tough.
These summer-flowering plants tolerate full sun and grow up to 4 feet tall. Baby's breath requires no deadheading, is pest-free, and is drought tolerant. They are easy to dry for crafting and make a great filler for bouquets.
Bells of Ireland (Moluccella laevis) – Tall Ornamental Flower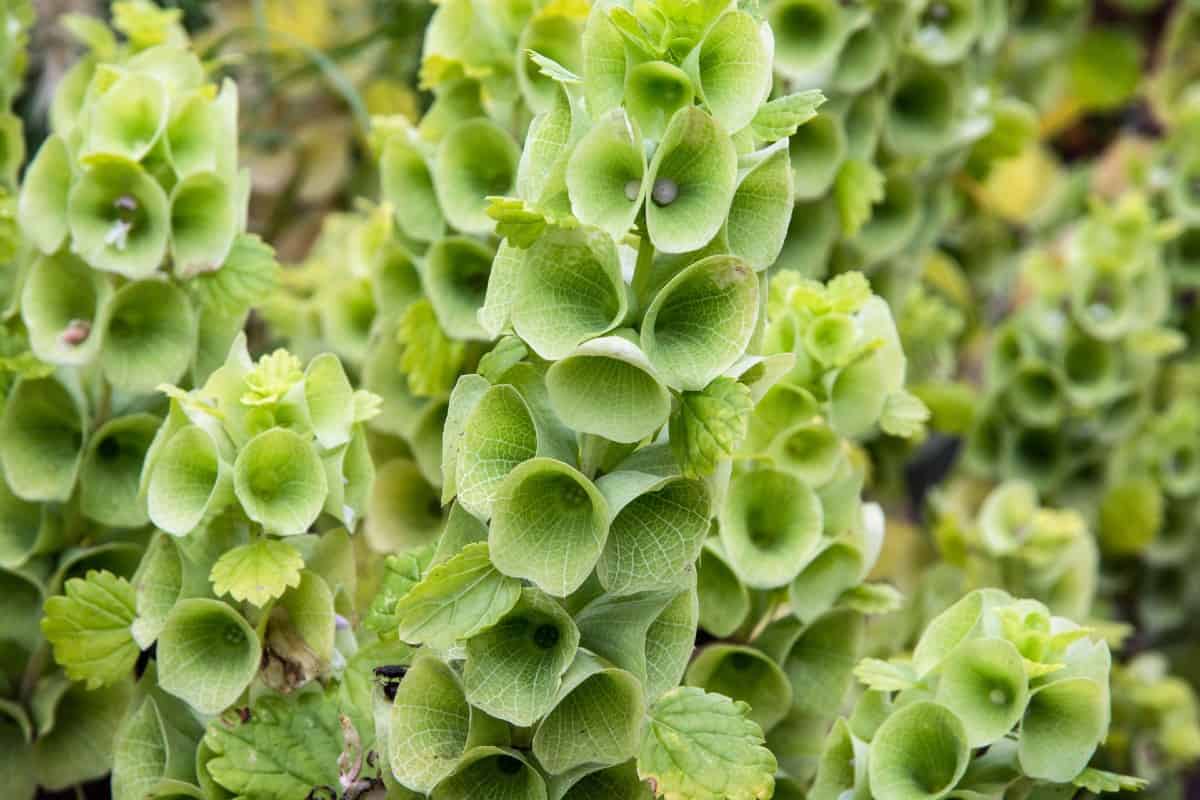 Bells of Ireland is popular for weddings and St. Patrick's Day celebrations. The plant supports bell-shaped, green calyxes on tall stems with tiny, white fragrant flowers from summer through fall.
This plant stands 3 feet tall and is ornamental in appearance. Bells of Ireland prefer part shade or sun and desire protection from the heat of mid-summer. They do not rebloom, so picking them just past their prime is best for drying.
Thinking that any flower is easy to bring indoors for drying is a common mistake because not all types hold their form and color after cutting them.
Some of them refuse to cooperate and fade or wilt. However, some flower heads keep their shape and are the perfect choice for an everlasting flower.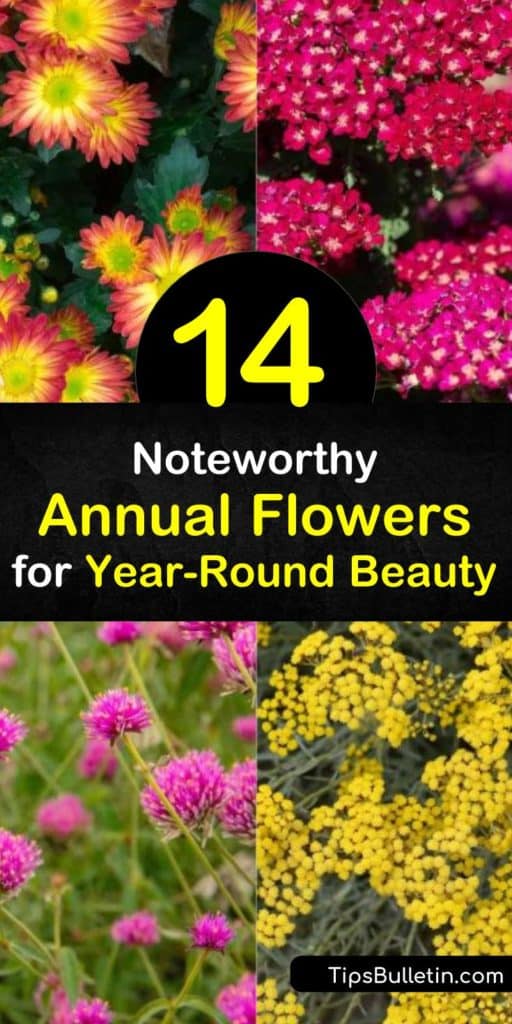 Planting everlasting annuals in your garden provides your home with blooms during the summer and dried flowers during the winter, so why not share our everlasting annual guide with your flower-loving friends and family on Pinterest and Facebook?