Container planting offers many practical uses, whether it pertains to weather conditions, housing, or just to enhance outdoor aesthetics. Many gardeners begin planting flowers they intend to transfer to their gardens in containers first to avoid complications with frost and to have better control over the seedling's nutrients. Some of the best annuals for containers are also relatively easy to care for and look stunning when in bloom.
Annuals flourish and produce large bundles of flowers for one growing season before dying out. In some cases, seeds stay behind and create new flowers, though in general, the growing process begins again the following year.
Container gardening makes this process even easier to manage by giving you the ability to bring the pot in and out of the home whenever necessary. In areas where climates constantly fluctuate, it also provides the plant with a type of failsafe.
Instead of dying out, whether due to extreme heat or cold, the plant temperature is regulated indoors. For some of the best candidates to plant in containers, check out our suggestions.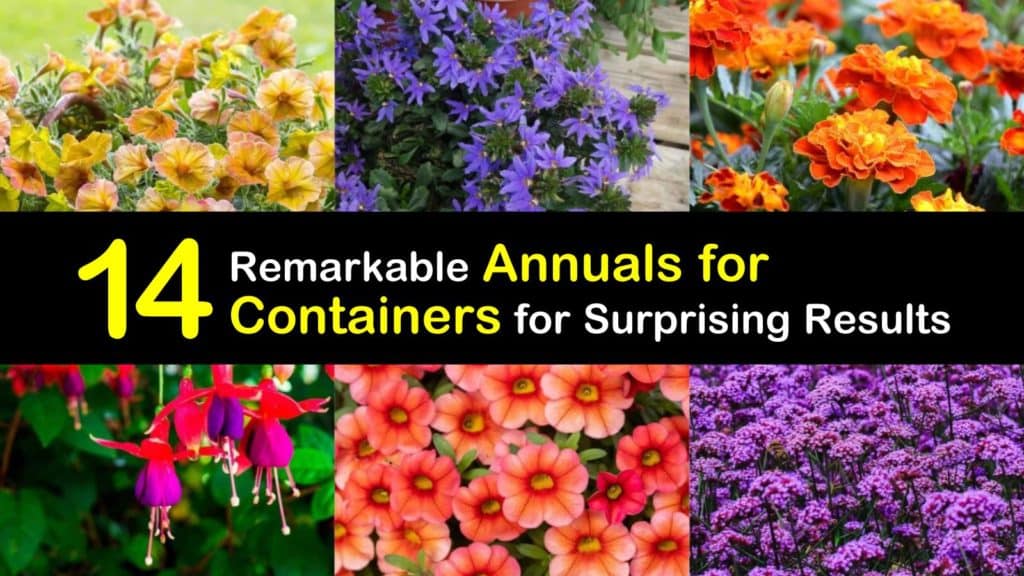 Sensational Flowers for Easily Planting in Containers
Beyond the climate-controlled benefits of growing plants in containers, sometimes it's the only way to grow them. Not only can you grow annuals and perennials, but you can also have evergreens for pots, dwarf trees, and more for variety no matter what the size of your space.
If you live in an apartment with no backyard, then adding a few of these lovely flowers brightens up any porch. Even if you do have a backyard, adding pots to the space creates a unique curb appeal.
As an additional benefit, sometimes you can make annuals behave as year round plants if you bring them indoors over the winter. Many will continue to grow and bloom.
Petunias (Petunia × atkinsiana)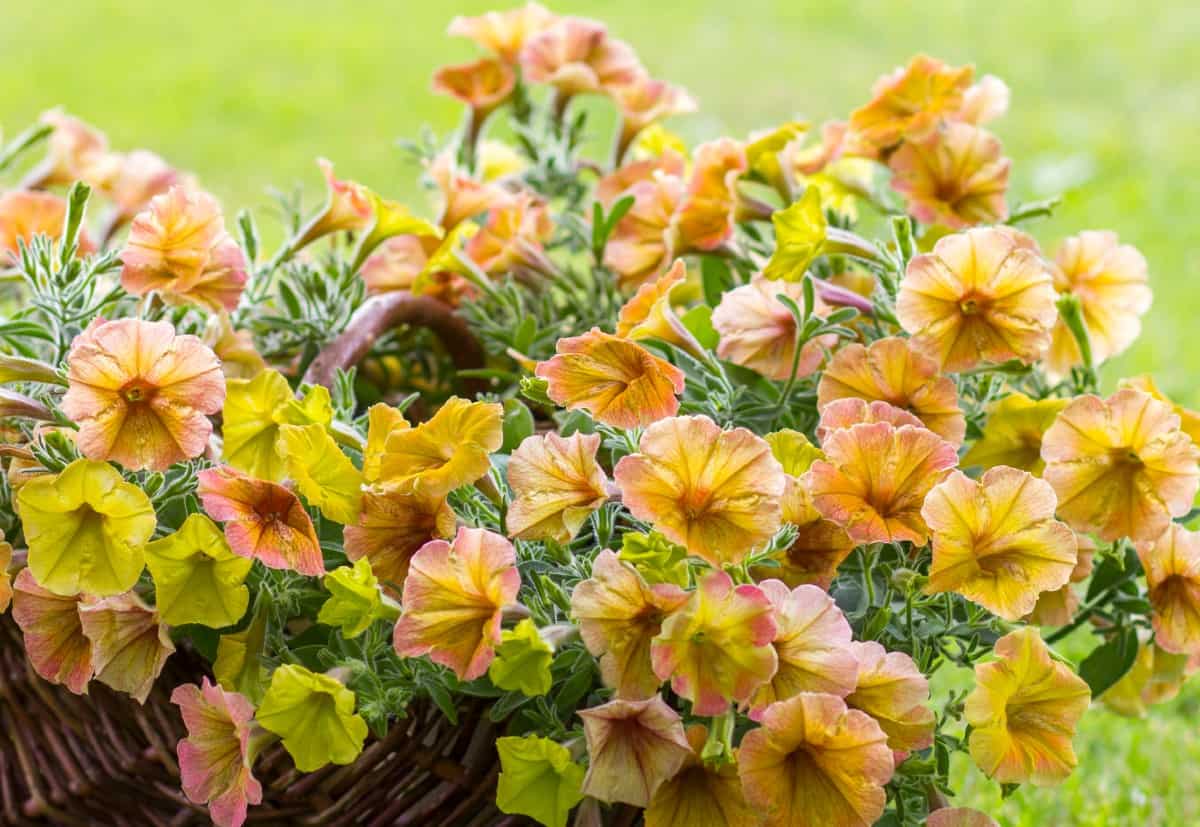 One of the best annuals to start with is the petunia. These brightly colored flowers grow in three different distinct types, all of which offer their own unique appeal when planting in containers.
Grandiflora is the largest type of petunia and displays the biggest flowers of about 4-5 inches in size. This makes them easier to spot from windows and is much more notable than the others.
Multiflora is somewhat smaller petunias, only about two inches, but grow in denser abundance.
The Milliflora Petunias are the smallest and prized more for the daintiness of the flowers and an understated appeal. All varieties require at least 5-6 hours of sunlight and are fantastic additions to any container garden.
Touch-Me-Not Impatiens (Impatiens walleriana): Lovely Flowers that Enjoy Deep Shade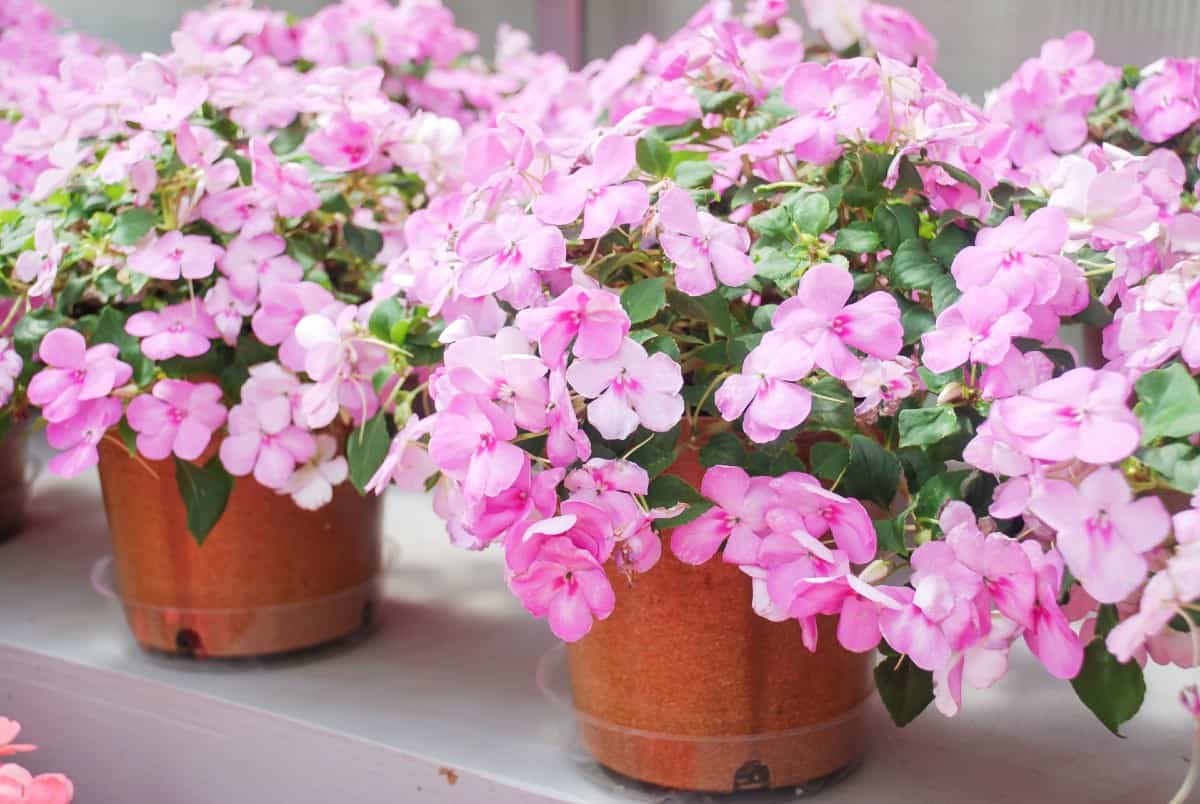 Another set of annual flowers that make great houseplants are impatiens. These flowers go by many different names, including balsam and "touch-me-not." The latter moniker does not imply that the plant is poisonous or harmful.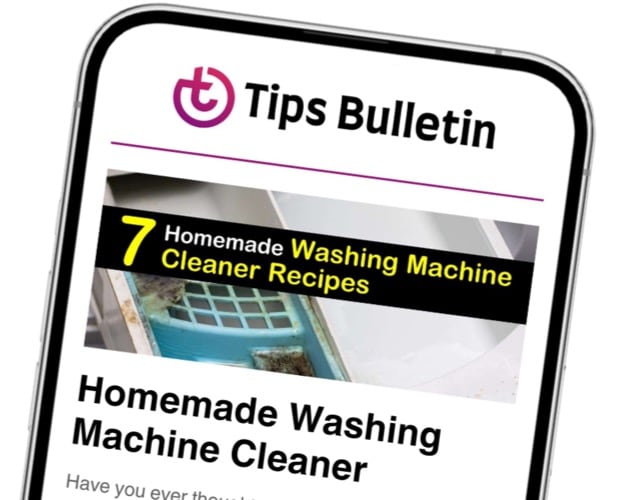 Finally, an email that Transforms Your Home.
Get the latest home and garden tips from our experts, delivered straight to your inbox.
It relates more to the plant seeds than the plant itself. If someone touches the seeds, ever so slightly, then the seeds explode, flying as far as 20 feet into the air.
The flowers, on the other hand, are hardy little plants that withstand heatwaves if given enough water to sustain them. For the most part, they enjoy partial to deep shade and bloom starting in early summer. Flowers appear orange, with some displaying reddish hues, as well.
Coleus (Plectranthus scutellarioides)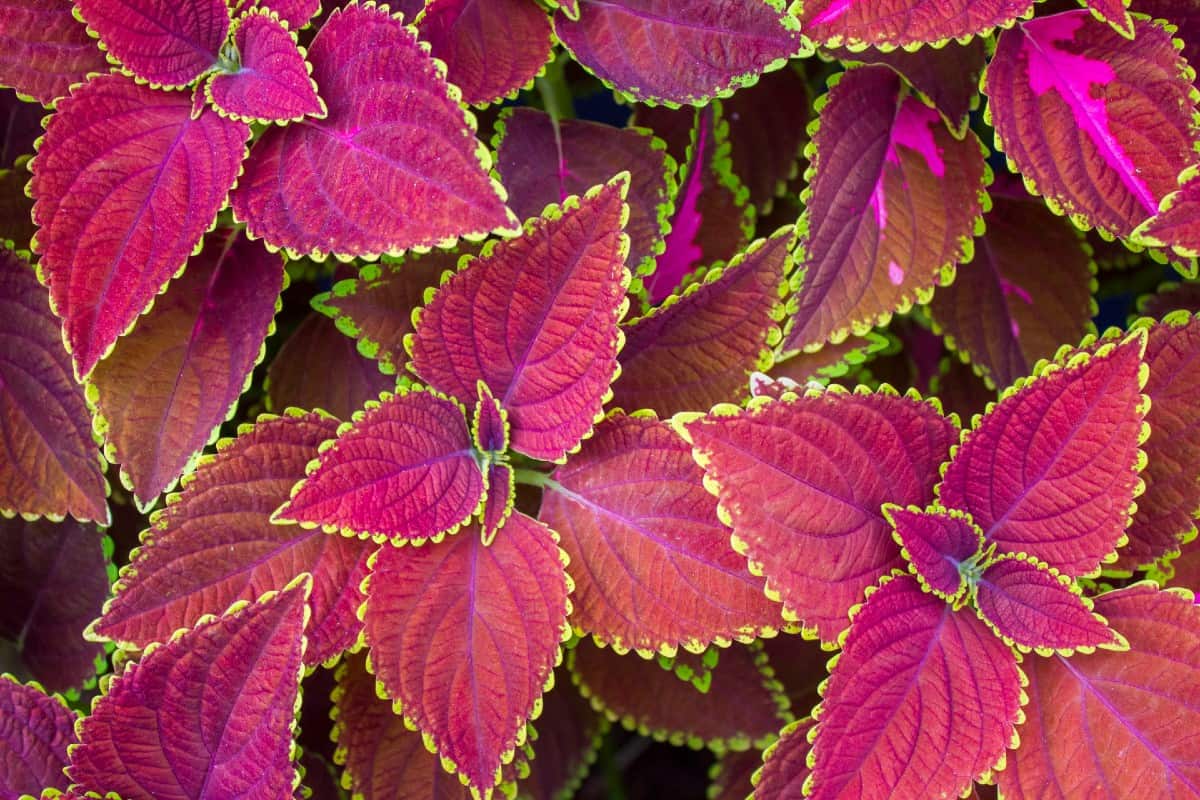 Coleus is another incredible idea for container plants, whether growing them outside or indoors. The container should at least be sturdy enough to hold the plant since they grow up to two feet in height.
The most notable part of this plant has very little to do with flowers and more so to do with the vibrant colors of its leaves, which come in many different shades.
These shrubs are full sun plants and require well-draining soil and a moderate amount of fertilizer.
Adding too much fertilizer may cause the leaves to lose part of their color, however. Indirect sunlight is best, so placing them in partial shade or in patches of the home where there is an awning is ideal.
Million Bells (Calibrachoa)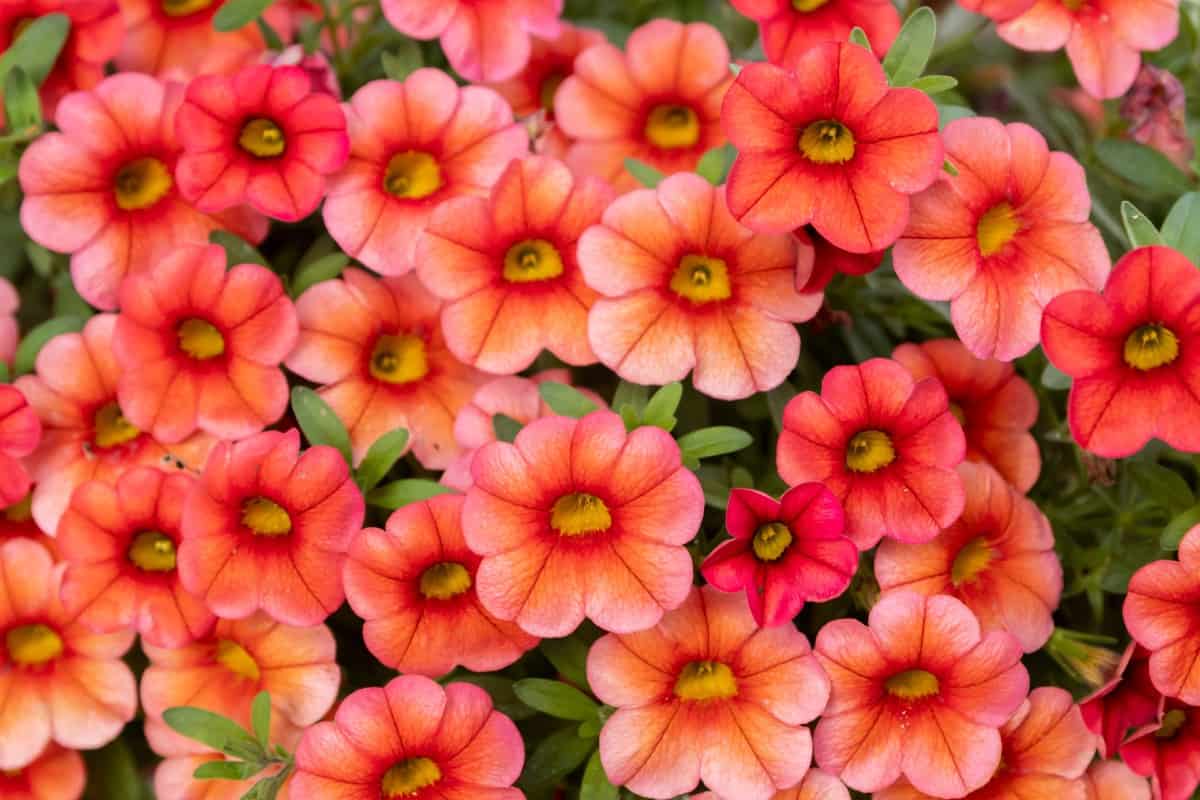 Other well-known flowers commonly used in hanging baskets and containers are Million Bells. Also known as Superbells, these flowers create a remarkable cascading effect with their tendrils of leaves and flowers.
This same, unique look even makes them a favorite for growing them in unusual containers. Many consider Million Bells to be "self-cleaning plants" as they do not require deadheading to continue flourishing and blooming.
Flowers bloom in spring until the first frost, for the most part. Planting them in containers means they can be brought inside and avoid the intense heat of specific locations, which might otherwise be harmful to them.
Geraniums (Pelargonium): Gorgeous Plants Prized for their Fragrance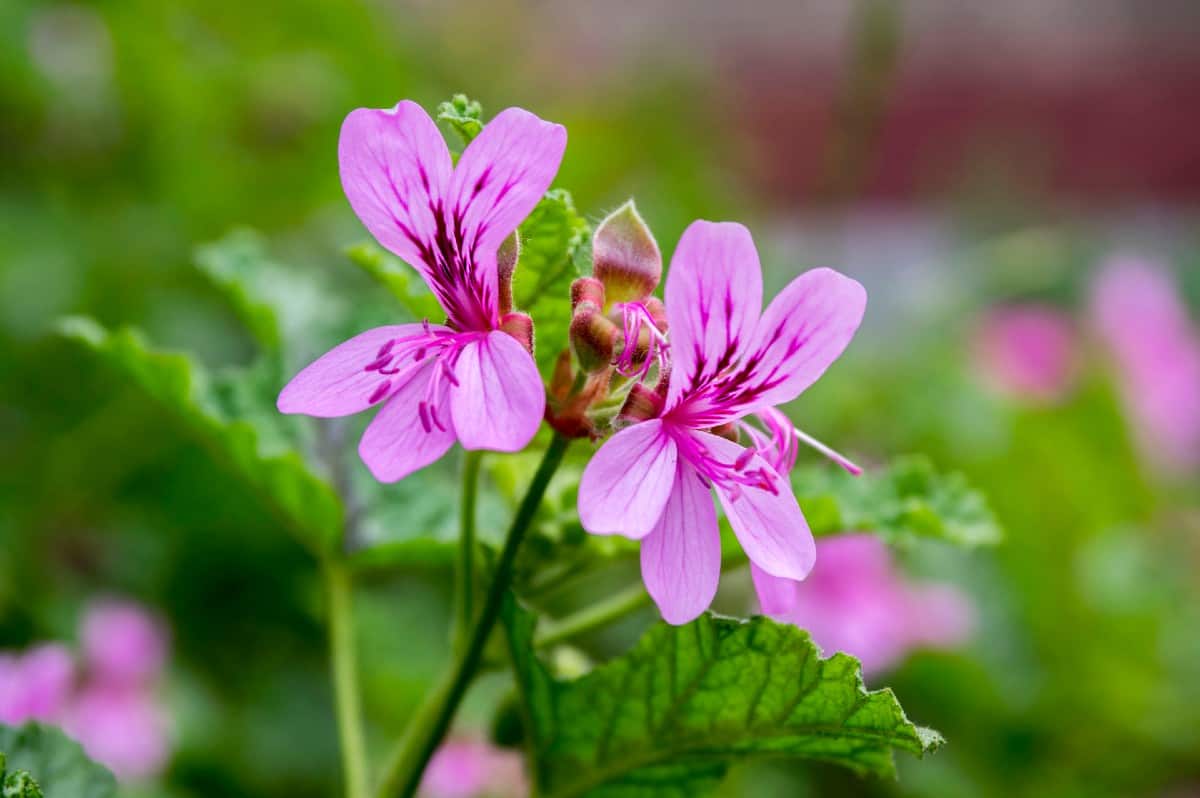 If fragrance is something important to you when planting, one of the best candidates for the task is the geranium. There are hundreds of species of this beautiful little plant, but the scented geraniums are in a league of their own.
Many of these bear a heavy scent, ranging from floral rose smells to vanilla or chocolate. Favored for their ability to spruce up any room with both fragrance and color, they are a favorite in kitchens.
They ask for a sunny space beside a window to survive and are relatively drought tolerant. Fertilize the plant with a 20-20-20 combination of potassium, phosphorus, and nitrogen every two weeks while the plant is still developing.
Hardy Fuchsia (Fuchsia magellanica)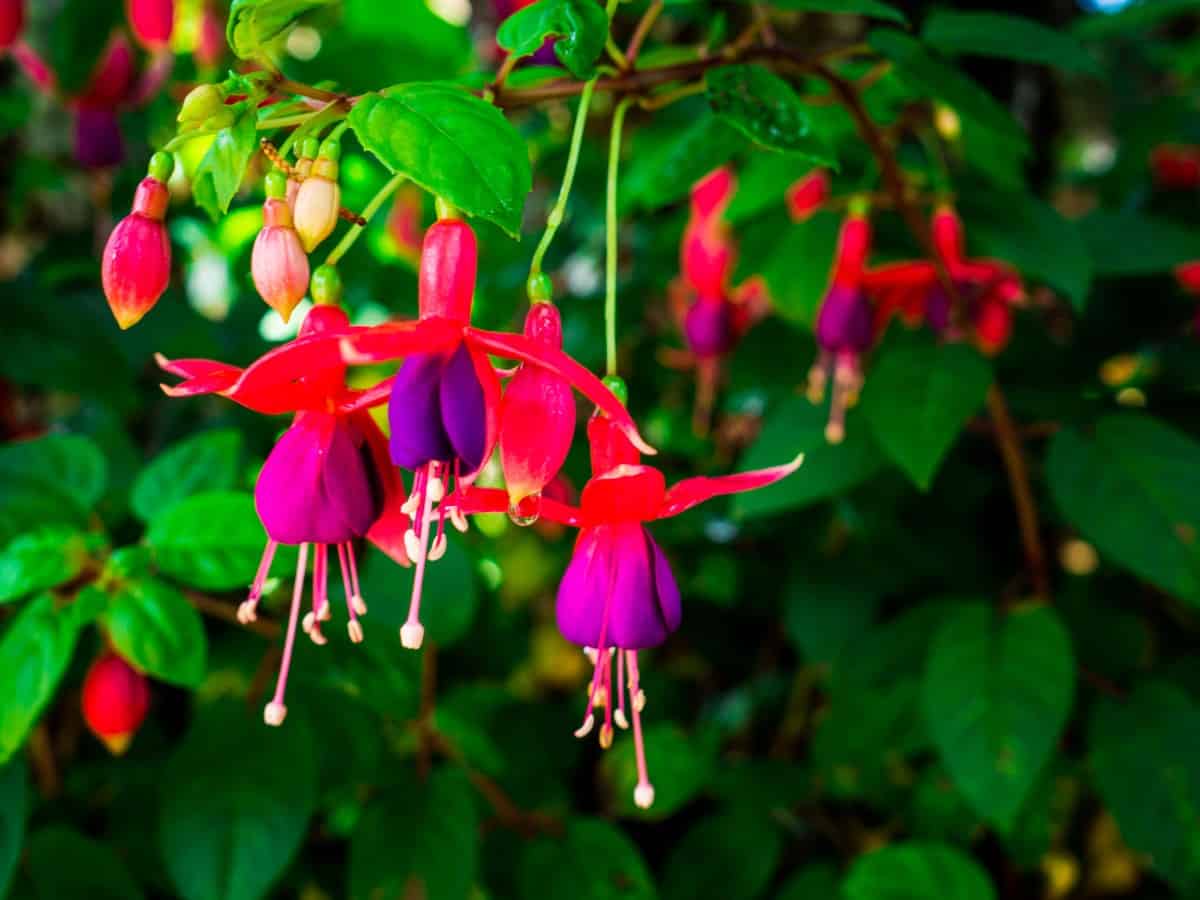 If shocking pops of color are more your speed, then Hardy Fuchsia is the one for you. These gorgeous flowers display vivid purple flowers with accents of bright pink and magenta.
The stunning combination is not the only appeal these tropical plants possess, and they are also favored in window boxes for their dropping effect. Provide them with plenty of nutrients in their soil to keep them happy and healthy.
Fuchsias have a deep root system, so they also require plenty of space between them and other flowers to spread out. Part shade works for them, so placing them on porches or beneath awnings in houses does not inhibit their ability to flourish.
Begonias (Semperflorens Cultorum): Stunning Annuals for Containers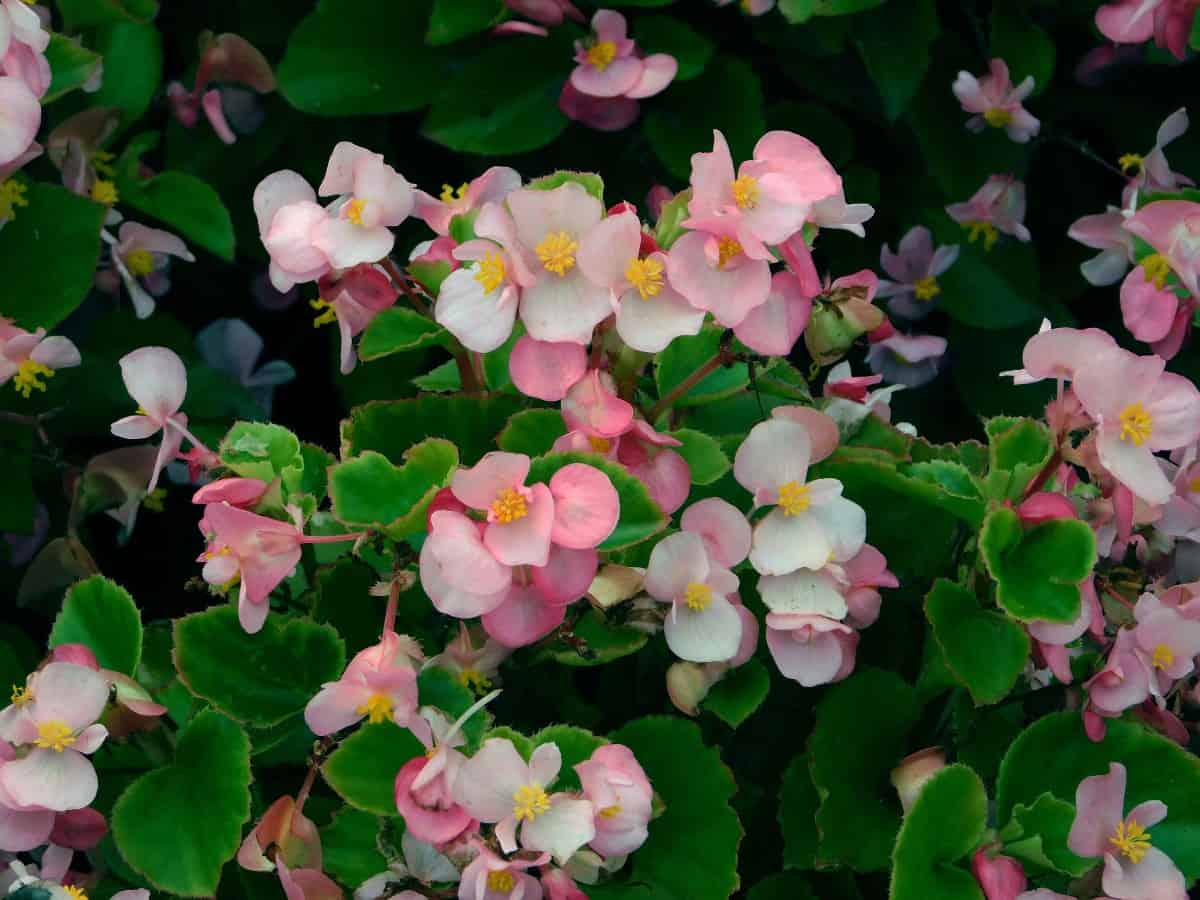 Begonias are another fantastic option that asks for nothing more than a sunny spot in the home to thrive in a container. These flowers work best on windows or in sunrooms and also benefit from being on a regular watering schedule.
Overwatering swiftly becomes an issue at times, especially if the pot is much too large. In these cases, it is imperative to find a pot suitable to the plant's current size to prevent water from sitting in the container and drowning the roots.
Species grow in all different sizes, with some as small as 8 inches tall and others reaching as high as two feet.
The dense foliage is another enjoyable quality that keeps the plant looking beautiful and ornamental even after the flowers have faded away. Keeping them in containers allows them to survive the winter. Then they can be brought back outside in spring.
Barberton Daisy (Gerbera jamesonii)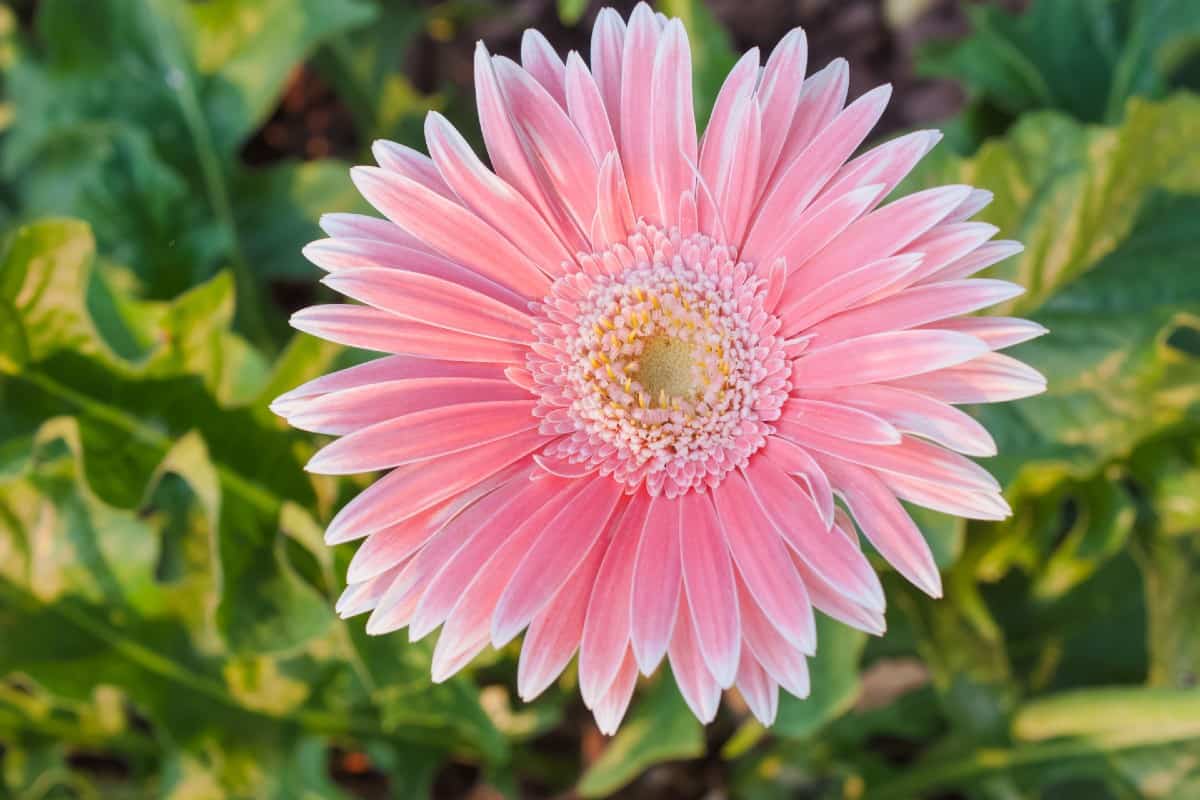 One of the most classic flowers, the gerbera daisy is loved most for their bright flashes of colors and dainty appearance. While the petals make it look as though it is one flower, the daisy is actually composed of numerous flowers all blended into one.
If growing them inside, place them in any bright window except a north-facing one. Maintaining water levels is essential to the success of these flowers.
The soil should remain moist since going with water for any length of time causes these flowering plants to wilt. In containers, the soil may be allowed to dry out a little in between watering but not for very long.
Zinnias (Zinnia elegans)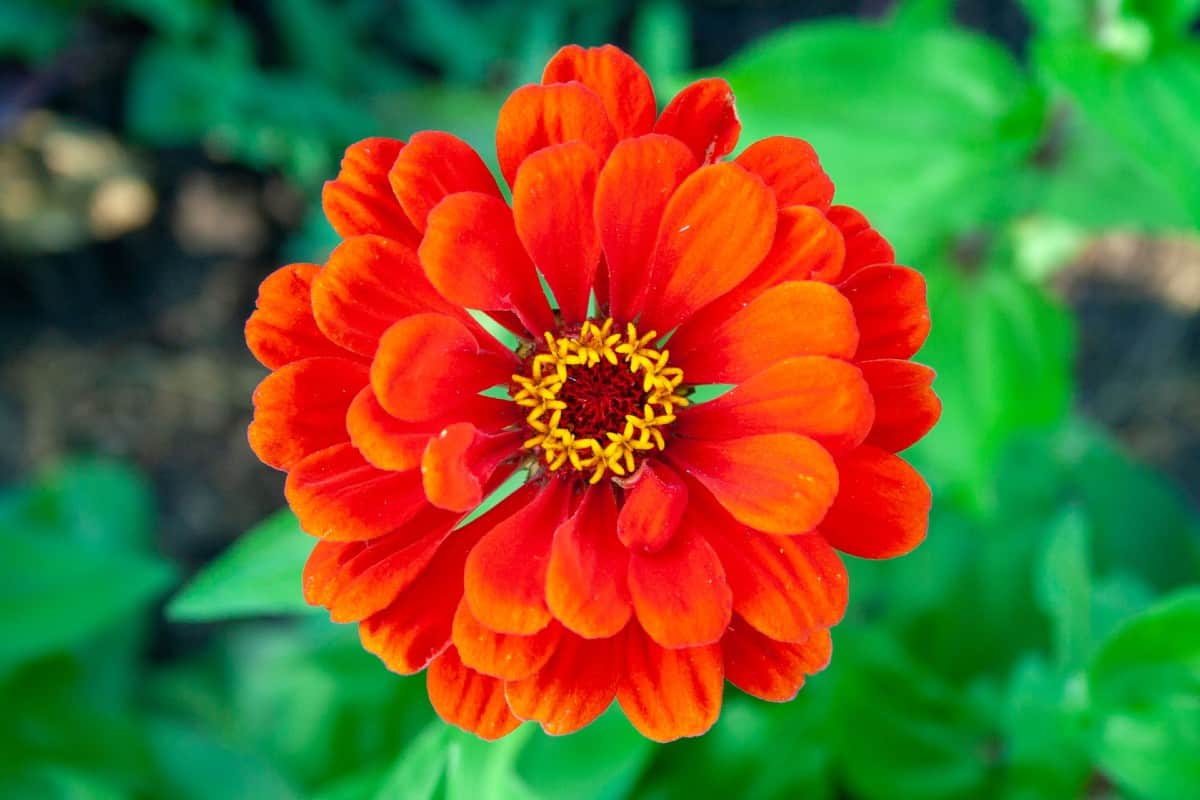 Native to South America, Zinnias are tropical flowers that love heat and withstand most conditions. Traditionally, these flowers symbolized the absence of a friend and were planted to remind the owner of the friend they missed.
These daisy-like flowers are a part of the Asteraceae family, which is the same family to which asters and sunflowers belong. Relatively low-maintenance, the biggest concern for these plants is too much moisture in their potting soil.
This often occurs when laying down mulch. The mulch retains moisture in the soil, though it may lead to other complications for Zinnias, such as promoting fungus.
Marigold (Tagetes): Container Plants that Deter Pests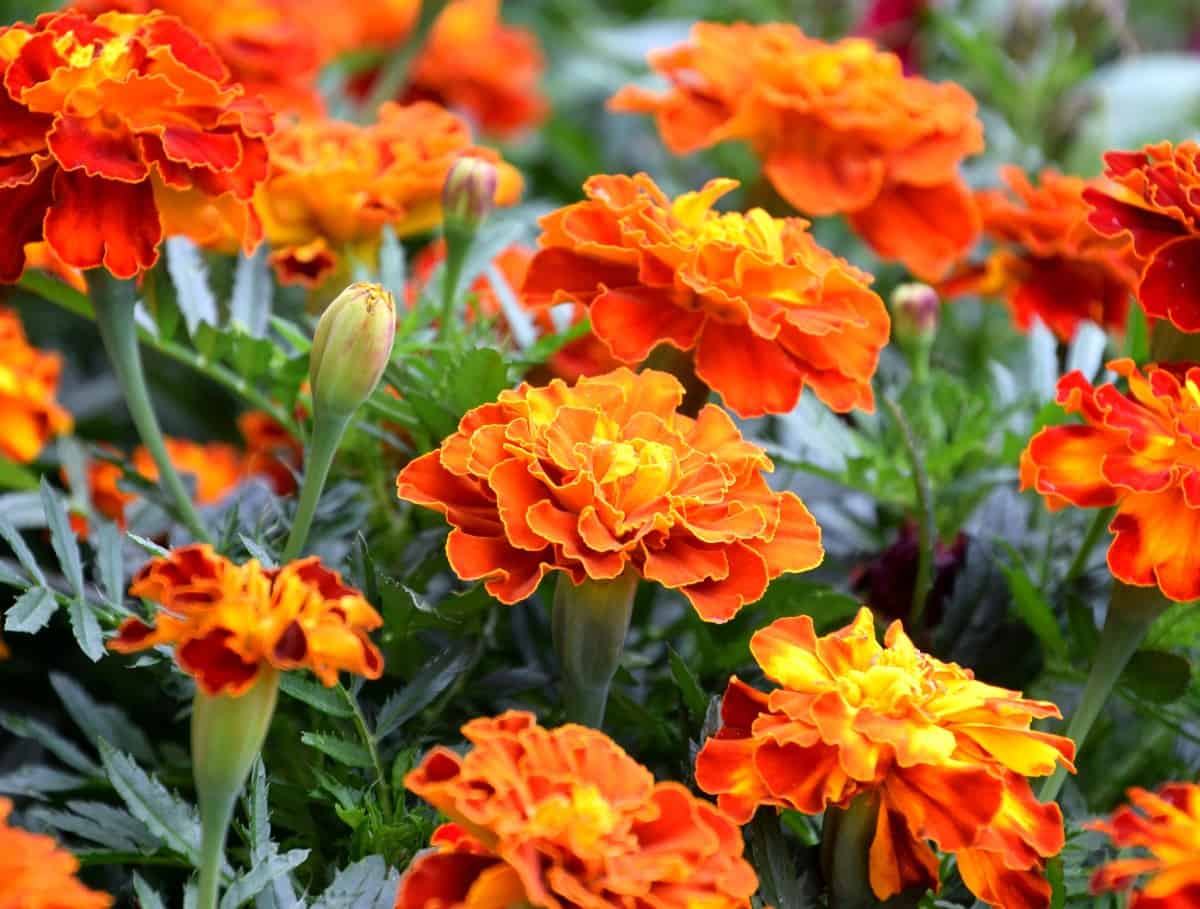 There are many benefits to planting a flower like marigold. Some of the best-kept gardening tips include using this plant as a natural repellent for multiple pests, including those that affect both humans and plants.
The strong scent of marigolds deflects bugs like mosquitos and nematodes. It also attracts natural predators of aphids, making it an excellent companion plant for flowers with these types of issues.
Fertilizing this plant is not mandatory, as this often leads to fuller leaves rather than more abundant flowers. Deadheading is also not required. Flowers bloom in late spring into the fall without much extra help, reaching as tall as 48 inches in some instances.
Fairy Fan Flower (Scaevola aemula)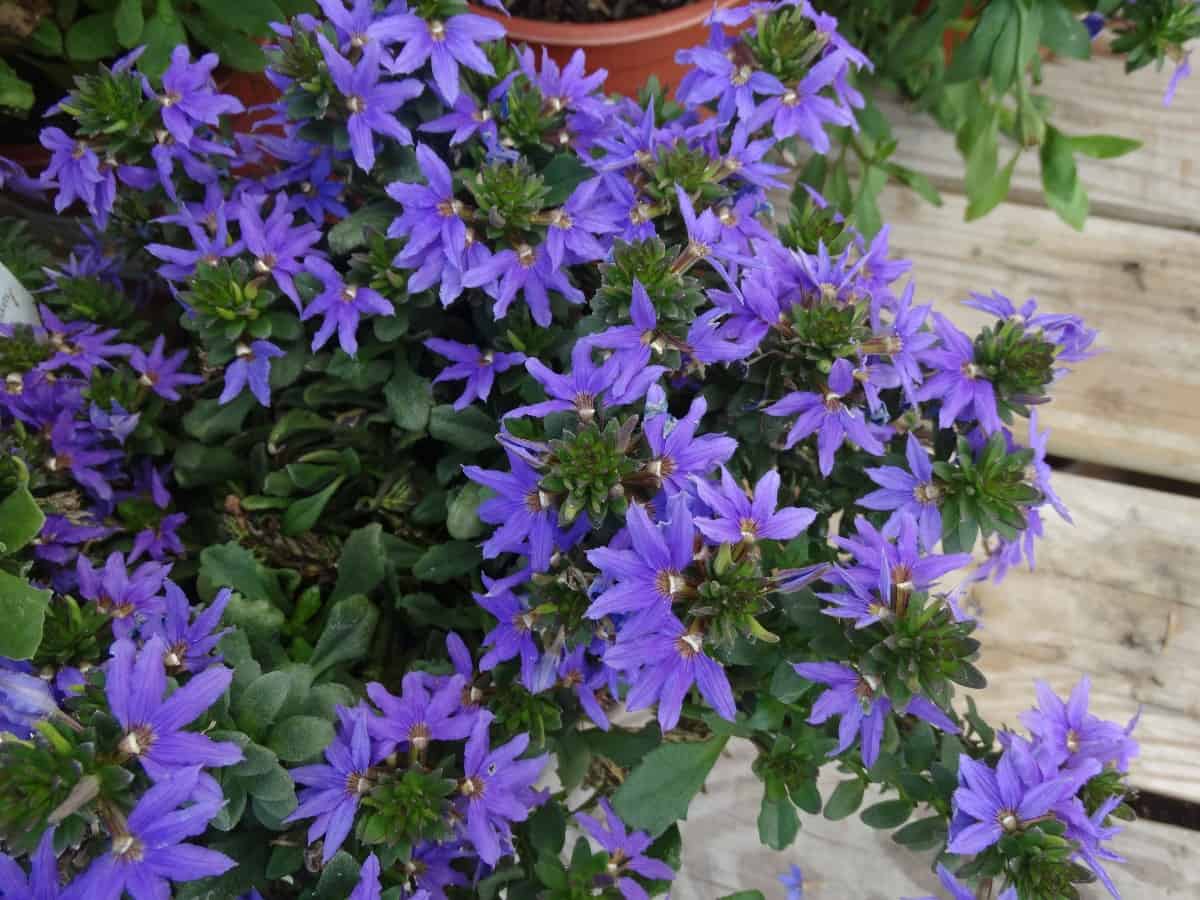 Native to Australia, fan flowers make excellent contenders to those listed above when it comes to finding the best option for your containers. They thrive in full sun conditions, soaking up as much as 8 hours of sunlight each day.
Their thick stems allow them to absorb water for use later. This characteristic lets them survive in even triple-digit temperatures. Fan flowers do best in USDA hardiness zones 10-11, especially since they love the tropical weather.
Each of the vividly-colored flowers displays five petals, with hues ranging from white to purple to blue. Flowers bloom in summer, so ensure the soil remains acidic to promote growth.
Sweet Potato Vine (Ipomoea batatas): Beautiful Flowers with Impressive Foliage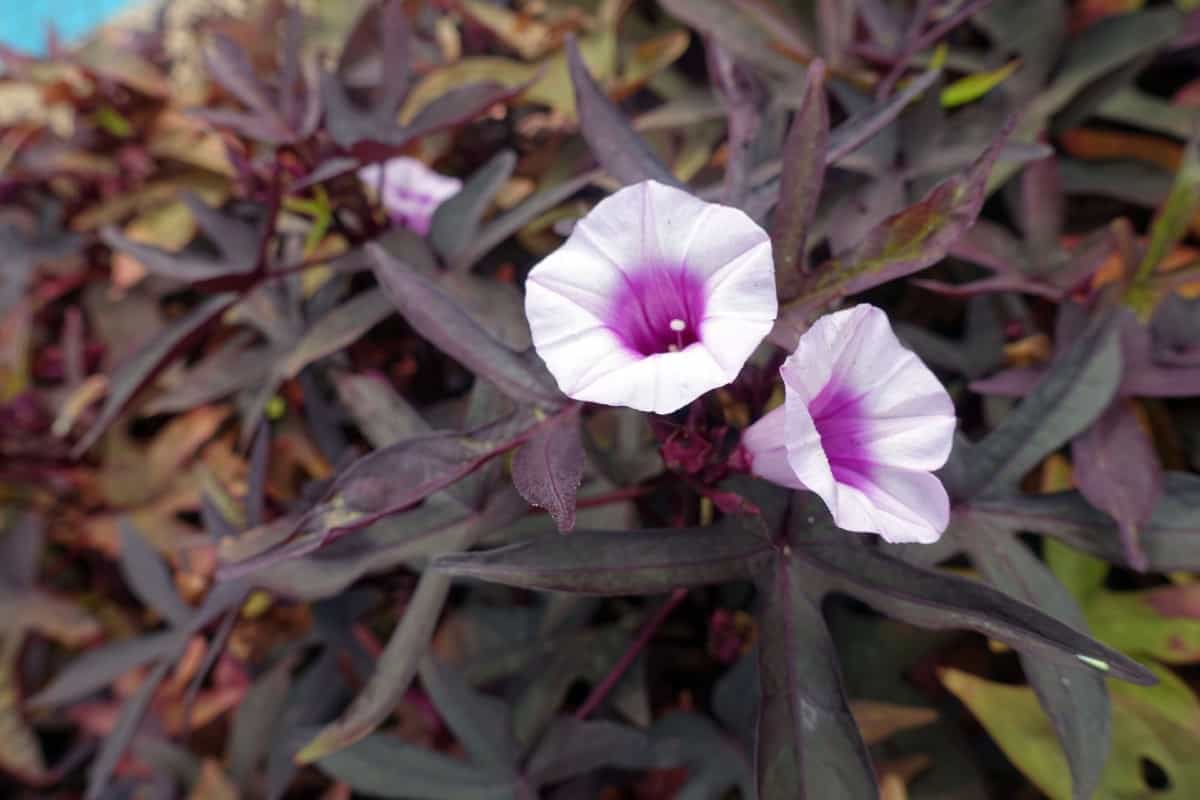 Sweet Potato Vine is a plant more noted for its stunning foliage than it is for the flowers. While the flowers look similar to Morning Glory, a relative of Sweet Potato Vine, the colorful accents of the foliage cannot be ignored.
These trailing vines display bright purples, gold, reds, and even black-colored leaves throughout the year. Partial to USDA zones 8-11, the vine enjoys both full sun and part shade.
Branches spread out to approximately 6 feet in length, while the plant itself only grows about one foot high, at most. Proper drainage in the pot is essential for maintaining the vine's health and bringing about its success.
Raspberry (Rubus idaeus)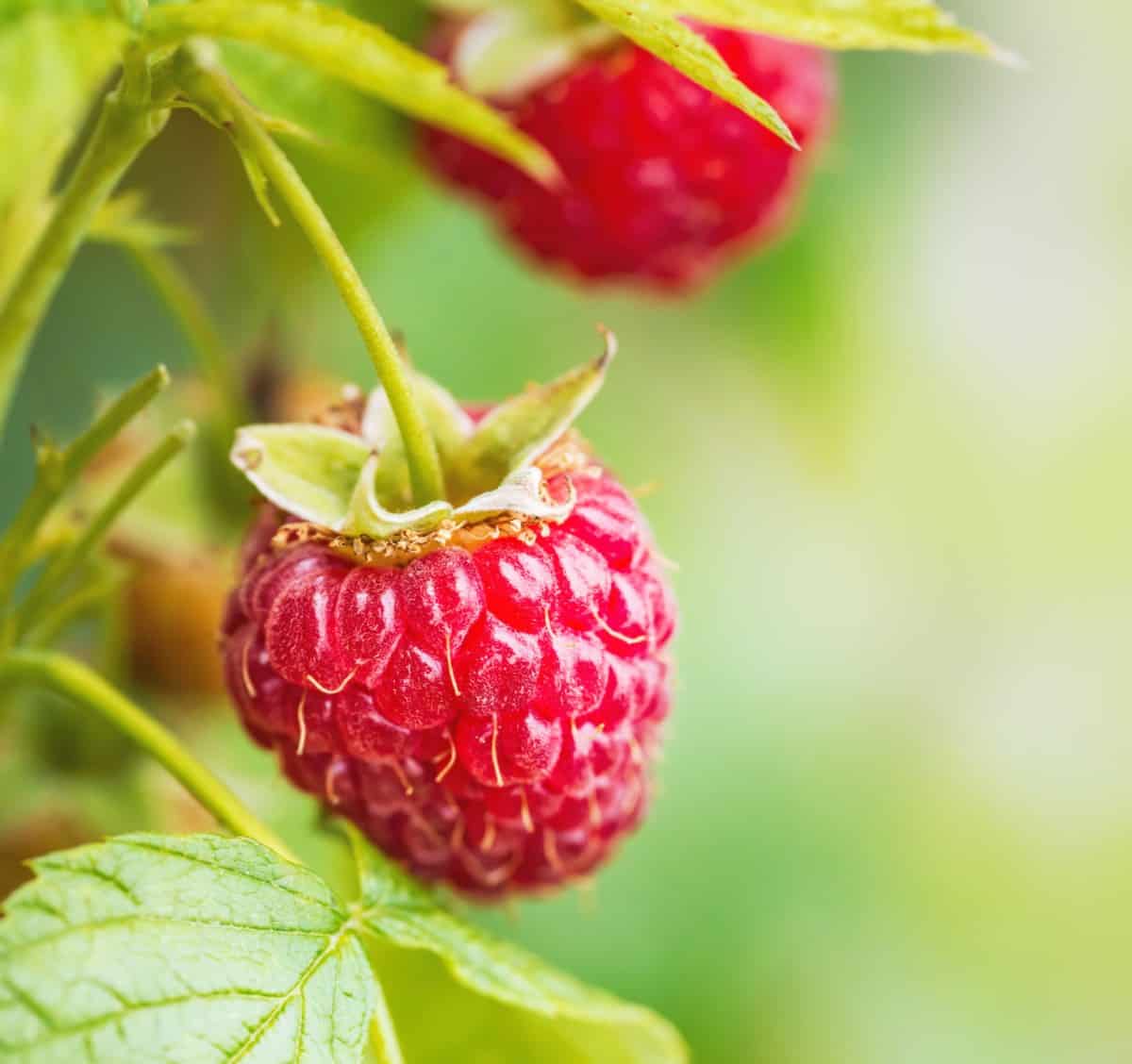 There's nothing better than growing something edible. A raspberry bush not only thrives in container plantings, but it allows you closer access to plucking delicious berries.
These berries start in late spring, are tart in early summer, and become ripe by the time July rolls around. Since raspberries often grow into larger plants, it is best not to plant them with any other species in the container.
Growing dwarf fruit trees in containers regulates their size, although pruning raspberries routinely is still recommended to keep them small. Another advantage of propagating small fruiting trees in containers is that it reduces exposure to common pests and infections they might otherwise encounter outdoors.
Verbena (Verbena officinalis)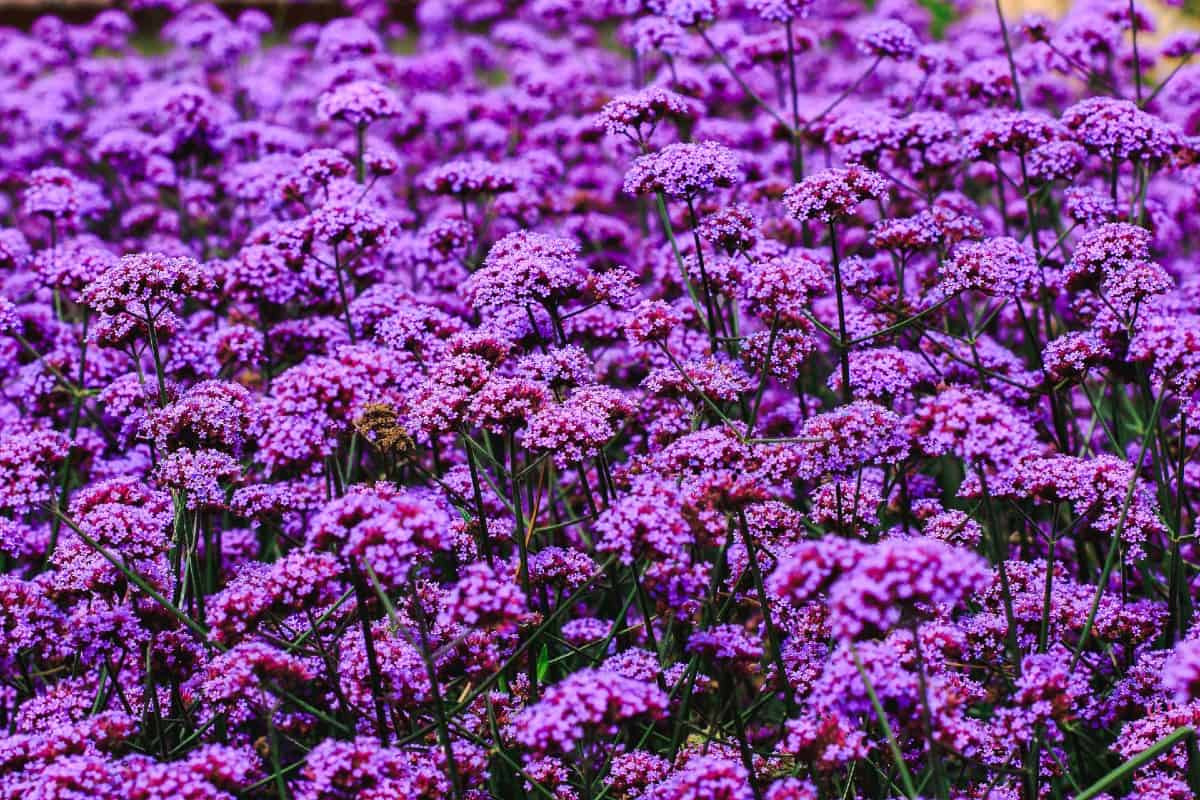 Verbena is one of the most easy-going plants you'll ever encounter, with rewards achieved with very little input. It has a longer flowering period than most plants, with flowers appearing throughout almost every month except during the winter.
When these flowers are kept in containers, the temperatures and sunlight are more easily regulated. This means being able to enjoy more flowers for even longer. Verbena craves at least 6 hours of sunlight each day and well-drained soil to flourish.
Their lovely shape and bright colors allow them to be annual flowers that attract hummingbirds, bees, and other pollinators. Wide-spreading branches make them perfect additions to hanging baskets on porches or indoors.
There are so many fantastic ways to dress up porches and windows with lovely annuals you keep in containers all year round.
Equally, planting flowers this way makes it even easier for you to control how much cold or heat flowers receive in your region, whether the plant is suited to your location's climate or not.
No matter what your reason for container gardening, these are some of the best annuals to get the job done.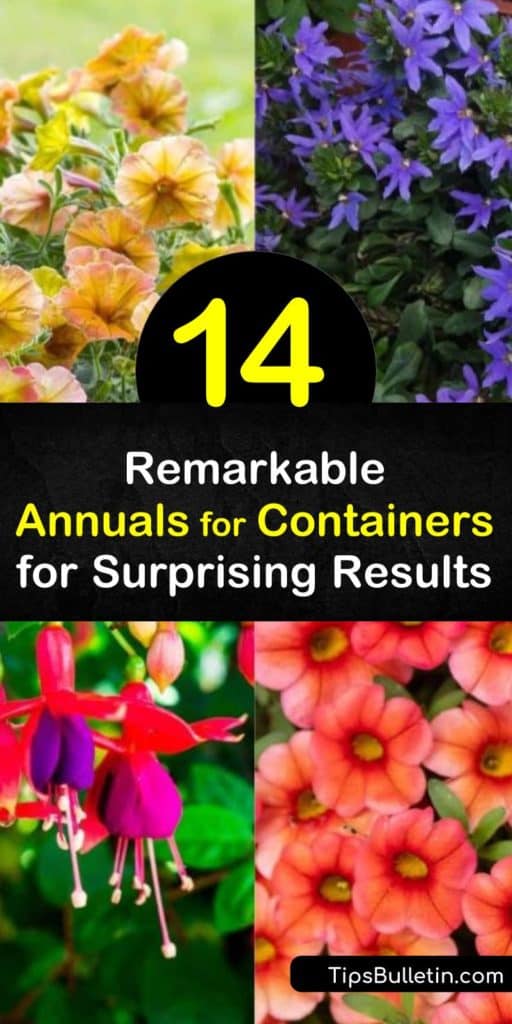 If you found these container gardening tips useful, then please remember to share your favorite species of annuals for containers with everyone you know on Facebook and Pinterest.