Relaxing in a hammock while reading a book is blissful unless you have a nosy neighbor who likes to talk just a little too much. Luckily, there are many fast growing plants for privacy available to create an oasis of nature and solitude.
There are many reasons you may desire privacy around your home, and putting up a privacy fence solves that problem. However, the last thing that you want is to disturb the natural flow of grass, flowers, and trees by putting in an unsightly wall.
Fortunately, there are many plants, shrubs, and trees that work wonders for creating a natural barrier between you and the rest of the world. While some of these plants take many years to build a natural fence, others are fast-growing and fill empty spaces with ease.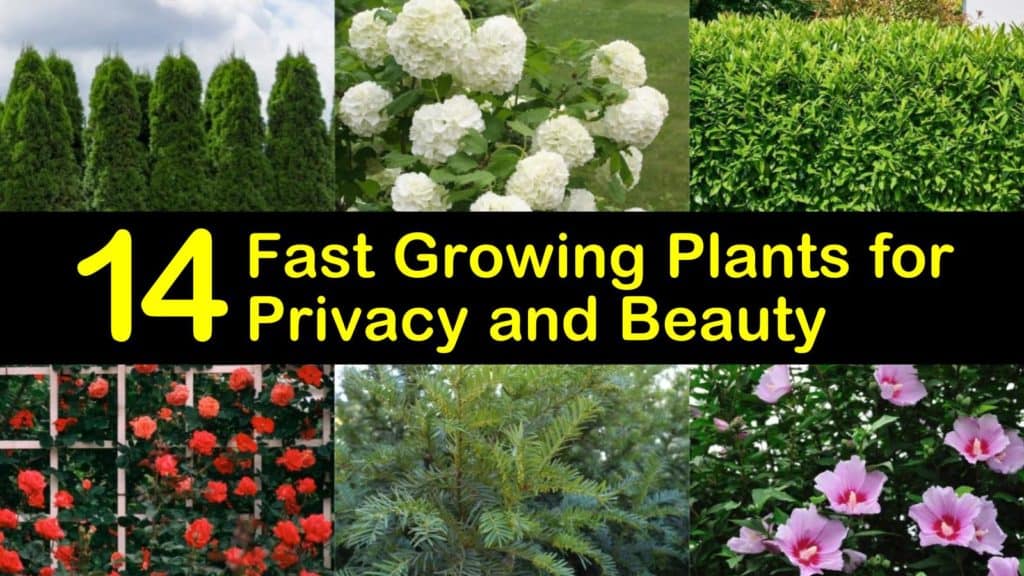 Fast Growing Privacy Plants
While evergreens are the most popular choice for creating a natural privacy fence, they are not the only option. There are many fast-growing vines, bushes, and flowering plants that not only create areas of privacy but add color and charm to the yard.
How are Plants used for Screening and Privacy?
Plants create a natural privacy screen by eliminating visual areas of your property. Depending on the type of plants you use, it's easy to block partial or whole areas of the yard from onlookers. A privacy hedge also acts as a windbreak.
There are two things to consider when choosing privacy plants. If you want privacy year-round, then evergreens are the way to go since they do not lose their foliage during the winter months. On the other hand, vines and flowering plants are a good choice if you're looking for summer-time privacy with the added benefit of flowers.
How Long Do Fast Growing Plants for Privacy Last?
That all depends on the plant and where you live. While evergreens continue growing year after year without losing their foliage, other plants such as flowering vines die back at the end of each growing season. This plays an important determining factor when deciding how much privacy you desire and for how long.
How Do I Maintain Privacy Plants?
The plant type determines the answer to that. Maintaining privacy plants is not difficult once you understand their basic needs. Prune and shear evergreens regularly to ensure good health and an attractive appearance. If left on their own, they become leggy, scraggly, and unsightly.
Other privacy plants such as climbing roses and flower vines also require pruning to keep them attractive and productive. Some vines need training to get them to fill open areas of the natural screen while others are capable of doing the work on their own.
Are There Ways to Enhance Privacy in the Backyard with Plants?
Instead of sticking a few plants in the ground and calling it a day, there are a few things that enhance the look and feel of a natural privacy fence. If you plant climbing vines, consider placing a decorative trellis to encourage the plant to grow a specific way. If you're planting shrubs or evergreens, try alternating types to create visual appeal.
Choose plants that complement each other and add some variety. You may want to grow the fastest growing plant on earth next to ones that don't grow quite as quickly. One may have flowers and another may have berries. It all depends on the look you want for your yard.
If you don't like bugs, choose plants that deter flies and other flying insects. If you love birds, grow shrubs that attract them. The possibilities are virtually endless for creating a yard that not only gives you privacy but also enjoyment.
Arborvitae (Thuja)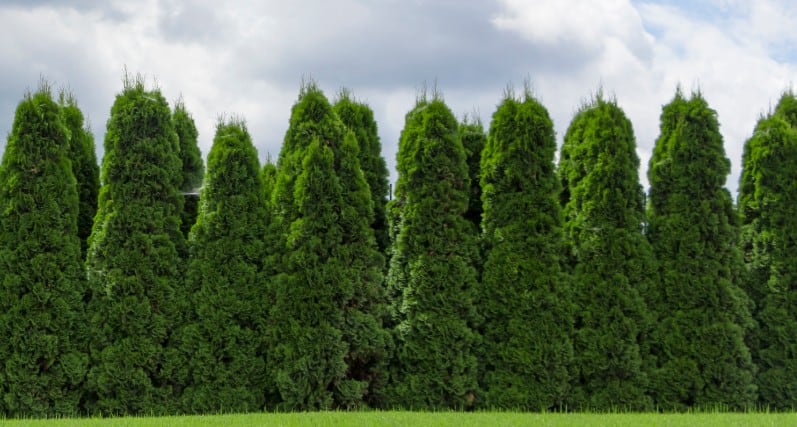 The arborvitae, also known as the Green Giant, is commonly used around the home to create a living wall of privacy. This evergreen tree produces dense foliage and adapts well to trimming and pruning. With some varieties, the blue/green foliage takes on a bronze cast during the winter months, giving them a striking appearance.
These evergreen trees are low maintenance and require partial to full sun and grow well in zones 2 through 7. Once mature, the trees reach a height of 20 feet or more and a width of 10 to 15 feet.
In addition to being ideal for surrounding your property, the arborvitae is one of the best shrubs around a pool. It provides separation and the feeling of your own private oasis.
Holly (Ilex aquifolium) – Unique Display of Texture and Color with Fast Growing Privacy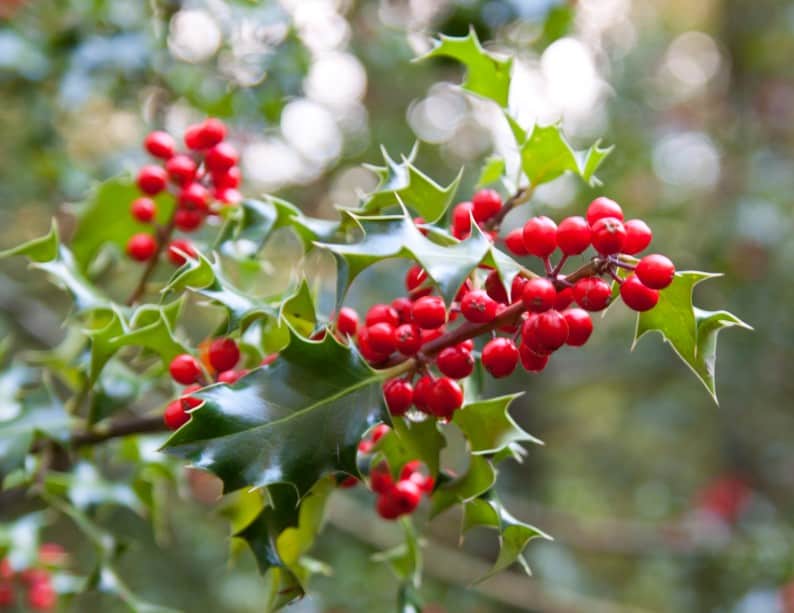 There are many different varieties of holly, and they range from petite shrubs to 70-foot tall trees. They also vary in appearance, and there are some with small, glossy leaves and others with large, spiny leaves.
Place holly shrubs and trees in a partial or full sun location in zones 3 to 10 for best results. They produce colorful fruit for three to six months of the year, adding a splash of color to the natural fence. While the berries are not edible for people and pets, birds are attracted to them and flock to the area during the winter.
Photinia (Photinia × fraseri)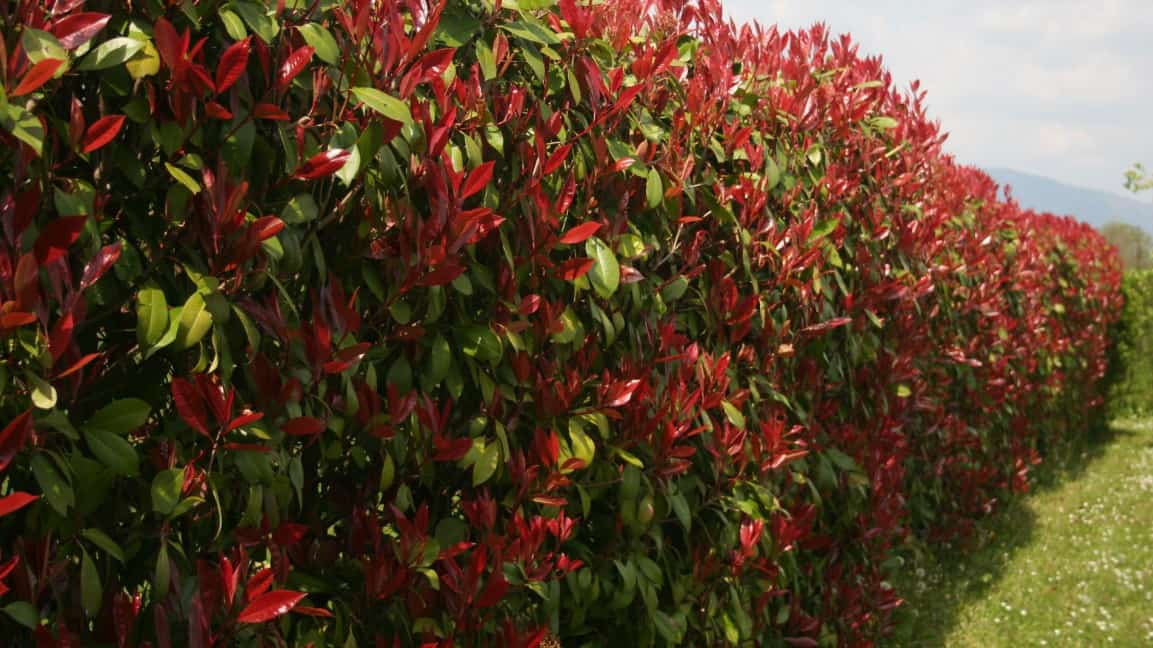 This flowering evergreen shrub not only gives you privacy in the yard but provides visual appeal with its striking appearance. The leaves of the Photinia are dark green when mature and a stunning red color when young, and creamy white flowers bloom on this shrub in the early spring.
Photinia grows between an average of 12 feet in height and width and requires full sun to part shade. This ornamental shrub provides informal landscaping privacy and is a hardy plant that grows well in zones 7 to 9.
Boxwood (Buxus) – Fast Growing Privacy Hedge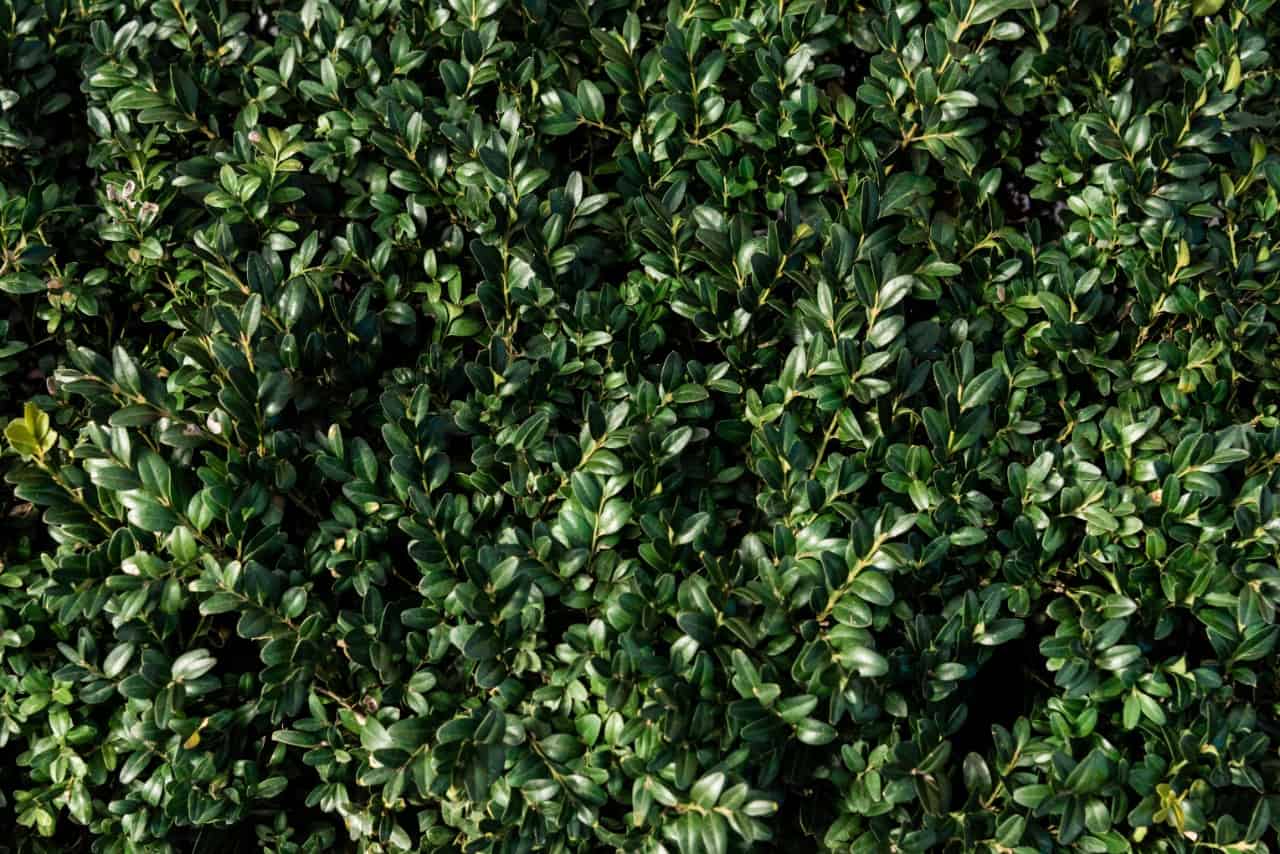 Boxwood is a favorite among gardeners not only because it works well as a privacy fence, but trimming and shaping it is easy. It maintains its tidy evergreen leaves even after pruning. Its shiny green leaves and durability make this shrub ideal for use as a formal screen.
The shrub grows well in both shade and sun and reaches a height of 1 to 20 feet and a width of 2 to 8 feet depending on the variety. Boxwood grows well in zones 4 to 8 and is easy to shape with very little fuss.
Viburnum (Viburnum opulus)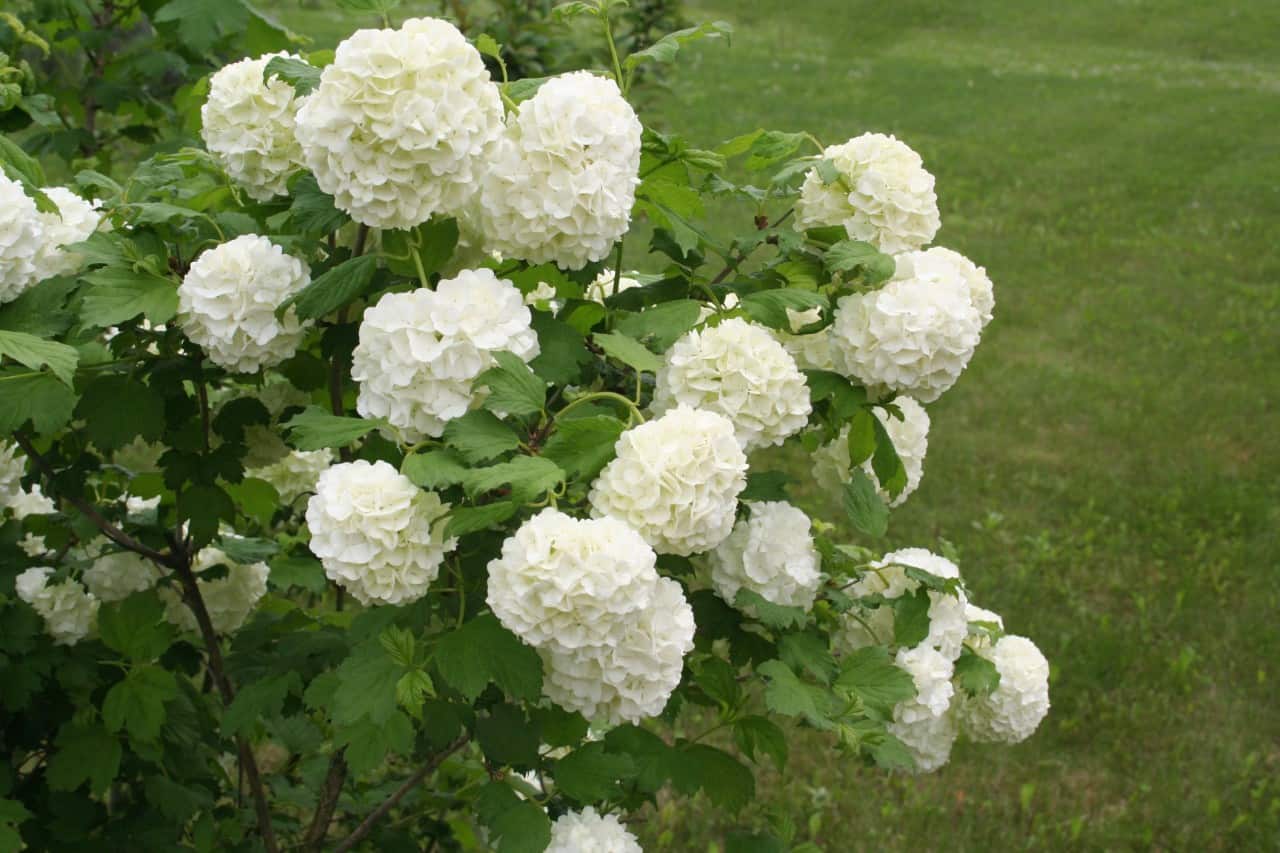 Viburnum is a very diverse group of shrubs that are vigorous and hardy. Enjoy fragrant spring flowers, colorful berries, and brilliant foliage on your natural fence, depending on the variety you choose.
These shrubs are easy to care for in zones 2 through 9 and prefer partial to full sun exposure. Depending on their type, they grow anywhere between 3 to 20 feet tall and 3 to 12 feet wide. Birds are attracted to their berries, and their showy flowers make great cut flowers.
Privet (Ligustrum) – Quick Growing Decorative Hedge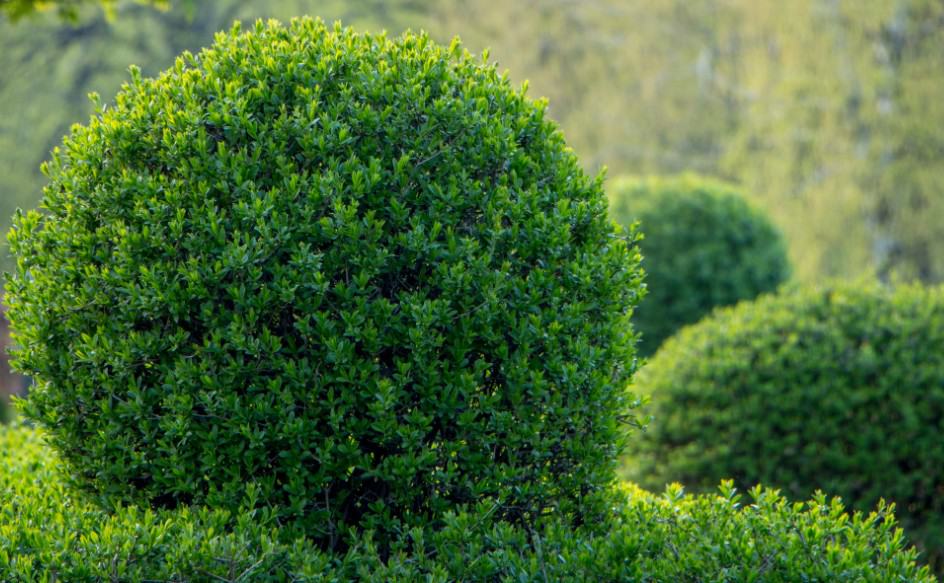 The lush green foliage of the privet makes it a favorite when it comes to natural privacy. Enjoy fragrant, white blossoms on your privet fence in late spring to early summer. The flowers turn to black colored berries that attract birds of all types.
These fast growing privacy hedges are both evergreen and deciduous, depending on where you live and what your hardiness zone is. Privet are easy to grow outdoor plants that reach heights up to 15 feet with a spread up to 8 feet.
Plant these shrubs in partial or full sun in zones 5 to 9 for the best results and optimum growth. Privet can be pruned into all different kinds of shapes to add even more interest to your yard or let them grow freely to create a dense privacy screen.
Cypress (Cupressus)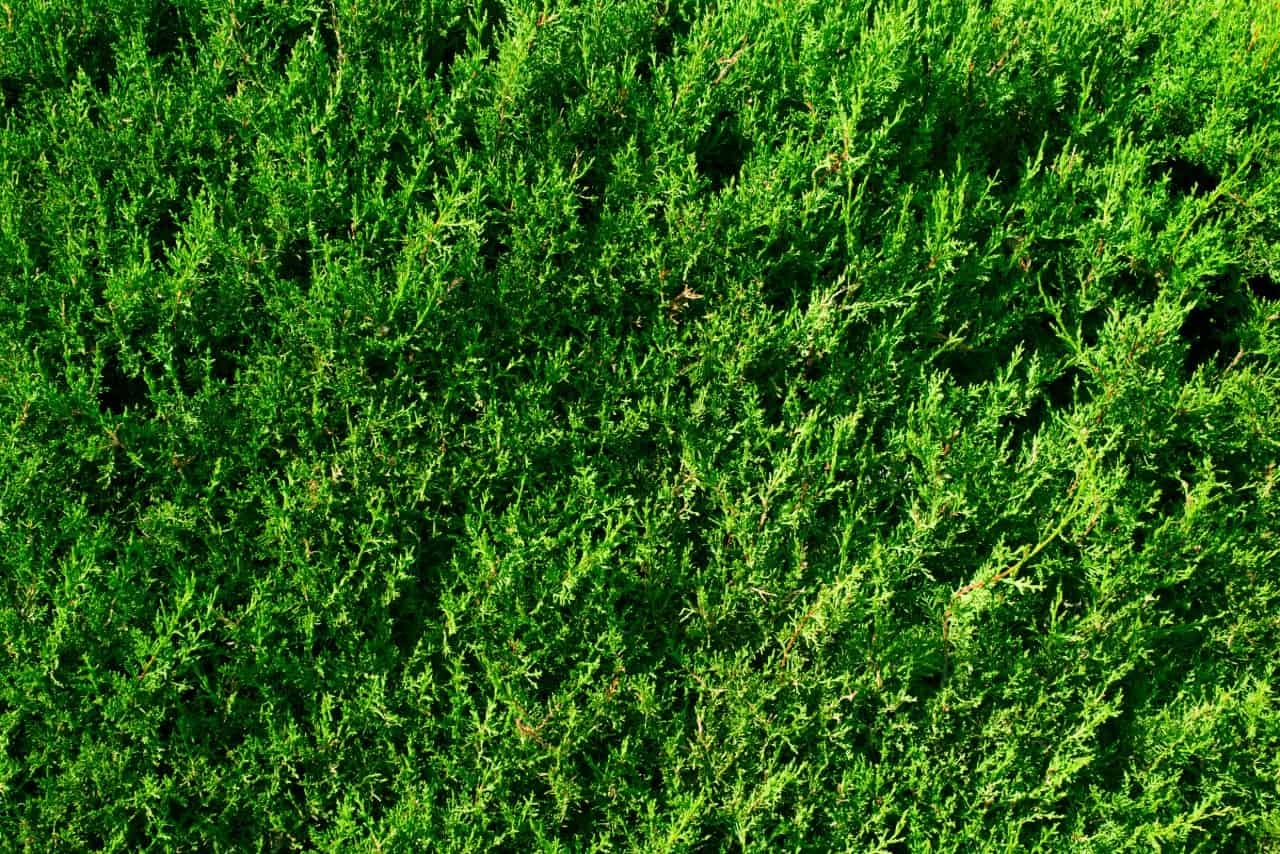 A variety of cypress common for use in privacy hedges is the Leyland cypress. Its enormous height and green/blue needles give it majestic quality and is ideal for creating the optimal privacy screen between your home and noisy areas such as a busy road.
As the best tree for privacy, cypress is easy to grow and adapts well to most soil types. It enjoys areas of full sun and is moderately drought resistant. It grows well in zones 6 through 10 and grows up to 5 feet a year, reaching a staggering height of up to 60 feet at maturity. For a big privacy tree, you can't beat a Leyland cypress.
Climbing Rose (Rosa setigera) – Fast Growing Privacy with Stunning Floral Display
Climbing roses are a great way to create a natural fence if you enjoy fragrant blooms throughout the summer. The large canes quickly adapt to a fence, trellis, and other structures, and fill in the gaps with lush foliage and blue, red, orange, white, yellow, and pink rose blooms.
This form of rose plant grows well in zones 4 through 11, and it enjoys sunny locations. They reach from 3 to 20 feet with a spread of up to 6 feet, depending on the variety. Not only do climbing roses fill the air with a sweet scent, but they attract birds as well.
Yew (Taxus baccata)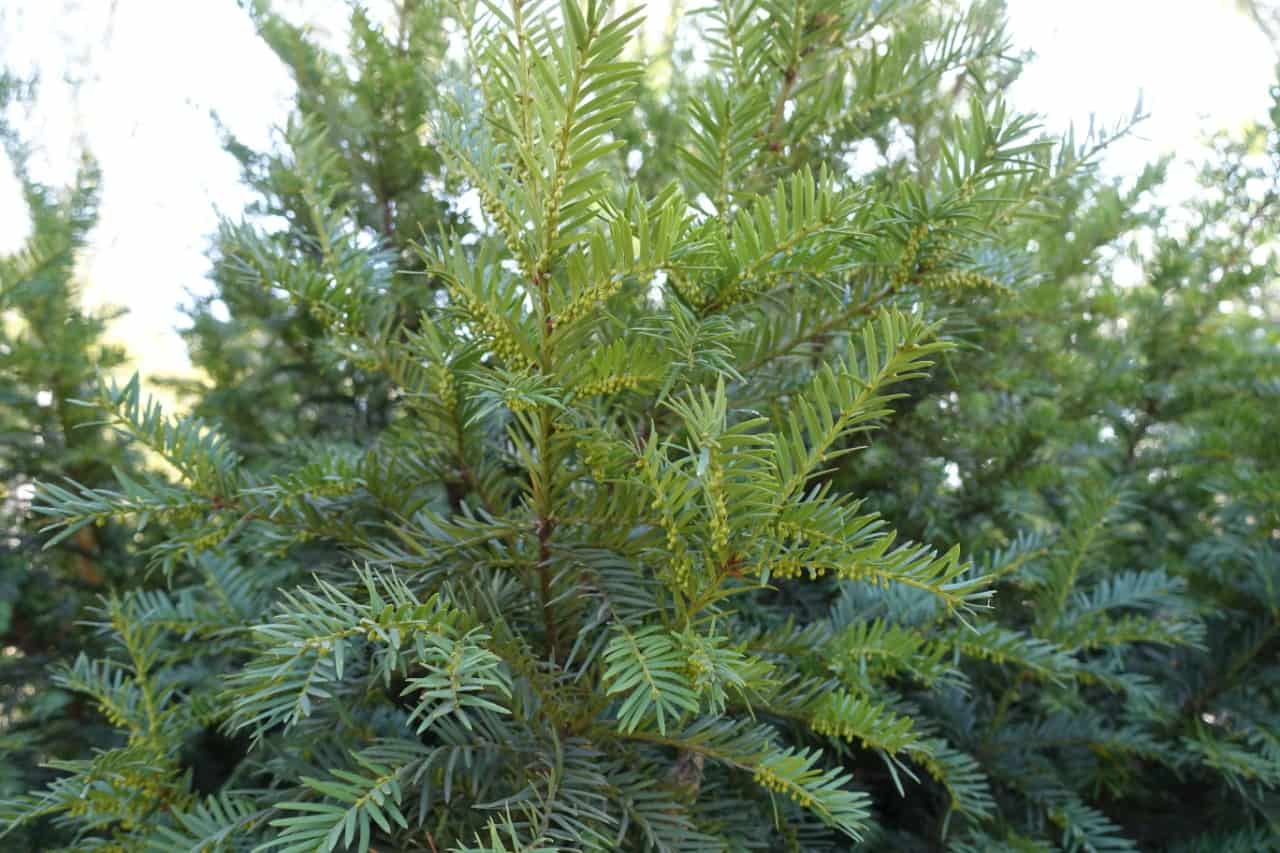 This long-lived evergreen shrub has attractive foliage in shades of green/blue and chartreuse/gold. The female yews produce a berry that attracts birds while adding color to the yard. If you have seasonal allergies, be advised that males yews produce strong pollen and may not be the ideal choice for you.
Easy to maintain, yew bushes for privacy grow in zones 4 through 7 and thrive in both shade and sun. With a height of 20 feet or more and a width of 4 to 20 feet, depending on the variety, these shrubs make an ideal fence for year-round privacy.
Clematis (Clematis x jackmanii) – Fast-Growing Flowering Vine
Clematis is a fast-growing vine filled with an abundance of large colorful flowers. Enjoy blooms in vibrant shades of purple, blue, red, white, pink, and yellow as the vine spreads to create a seasonal privacy fence.
These showy vines reach heights that range from 3 to 20 feet or more, depending on the variety and quickly fill a trellis or fence in no time at all. These low-maintenance, fragrant flowers grow in zones 4 through 9 and require partial or full sun. To make them even more appealing to the yard, they also attract birds.
Cherry Laurel (Prunus laurocerasus)
The cherry laurel is an evergreen shrub that holds its leaves all year round. This large bush is filled with dark green foliage and bears fragrant, creamy white racemes in the spring and berries in the fall, which birds love eating.
Not only does the shrub make a good privacy fence, but it is ideal for reducing noise pollution near a busy roadway. It tolerates both shade and sun and grows best in zone 5. They reach up to 25 feet in height with a spread of up to 12 feet, depending on the type.
Ivy (Hedera) – Fast Growing Decorative Privacy Vine
Ivy is popular for covering up walls and structures, and for use in creating a natural fence. This fast-growing plant has three-lobed leaves that grow on vigorous vines, with bright green foliage in the summer and colorful shades of orange, red, and yellow in the fall.
Ivy grows quite long, depending on the variety. Boston ivy gets to heights of 20 feet or more and produces purple/black-colored berries in the fall months. These berries attract birds but are toxic to people and pets. This plant grows well in both shade and sun and is deer resistant.
Ivy is sometimes grouped in the same category with invasive wildflowers as it takes over an area quickly. Keep it under control with regular pruning.
Bamboo (Bambusoideae)
This medium to fast-growing plant is a unique choice for creating a natural fence since it is not as common as other privacy hedges. During the spring, Heavenly Bamboo gets adorned with white or pink flowers, followed by visually appealing red berries.
While bamboo is often associated with tropical areas, it grows quite well in zones 5 to 10. It reaches heights up to 7 feet with a spread of 3 to 5 feet. This easy to grow privacy fence does well in partial shade and requires a fertile, acidic soil for optimal growth.
Rose of Sharon (Hibiscus syriacus) – Fragrant and Fast Growing Flowers
Rose of Sharon is a versatile and stunning plant that grows profuse blooms from late summer to early fall. This shrub is also easy to shape, making it a great choice when it comes to creating a privacy fence. Enjoy a naturally blooming screen of white, red, blue, and purple, depending on the variety.
This deciduous shrub requires partial to full sun and grows well in hardiness zones 5 to 9. With a mature height of 10 feet and a width of 5 feet, these plants offer the perfect solution to privacy.
Strategically planting shrubs, plants, and trees create a screen of green foliage that is not only a pleasure to look at but keeps your personal space private. Planting fast-growing varieties ensure that you don't have to wait years to enjoy your green sanctuary. Add a few screening plants that bloom with scented flowers to add a little color to the yard.
It's easy to create a personal oasis in the backyard using fast growing plants for privacy, so why not share these fast-growing privacy plants with your friends and family on Pinterest and Facebook so they can enjoy a little privacy of their own.