There's never a better time to embrace nature than when the blossoms of spring start to appear and fill the air with sweet, floral scents. The great thing about fragrant perennials is that they not only smell good, but they often have some of the most memorable flowers.
After all your hard work, why not savor the bonus of pleasing another of your five senses? There are many reasons to plant fragrant perennials around your home.
You may use them so you're able to take a whiff of your favorite scent or plant them for nostalgia purposes. Whatever your reason, it's important to remember that perennials have specific needs to supply you with the most benefits possible.
Caring for Perennial Plants
The biggest perk to perennial gardens is that they come back every year without replanting like annuals. Unfortunately, most perennials have profoundly different living requirements.
You can't handle them all the same and produce the colors and scents that you're expecting. When shopping for fragrant perennials, always double-check the care requirements listed on the tag.
If that plant requires eight hours of sunlight, don't purchase it and transplant it to a location that only receives four hours of daylight.
If new plants require daily watering, ensure that you're up for that task. Giving your perennial flowers the proper care is the only way to guarantee you get what you paid for.
Design a mixture of fragrant flowering trees, shrubs, annuals, and perennials for a garden and yard that is delightful from spring through fall. Ensure that the scents complement each other rather than being overwhelming.
Some fragrant annual flowers do not mix well with perennials of different smells. A sweet-scented garden allows you to enjoy the different fragrances without competition.
Lilacs (Syringa vulgaris) – An All-Time Favorite Perennial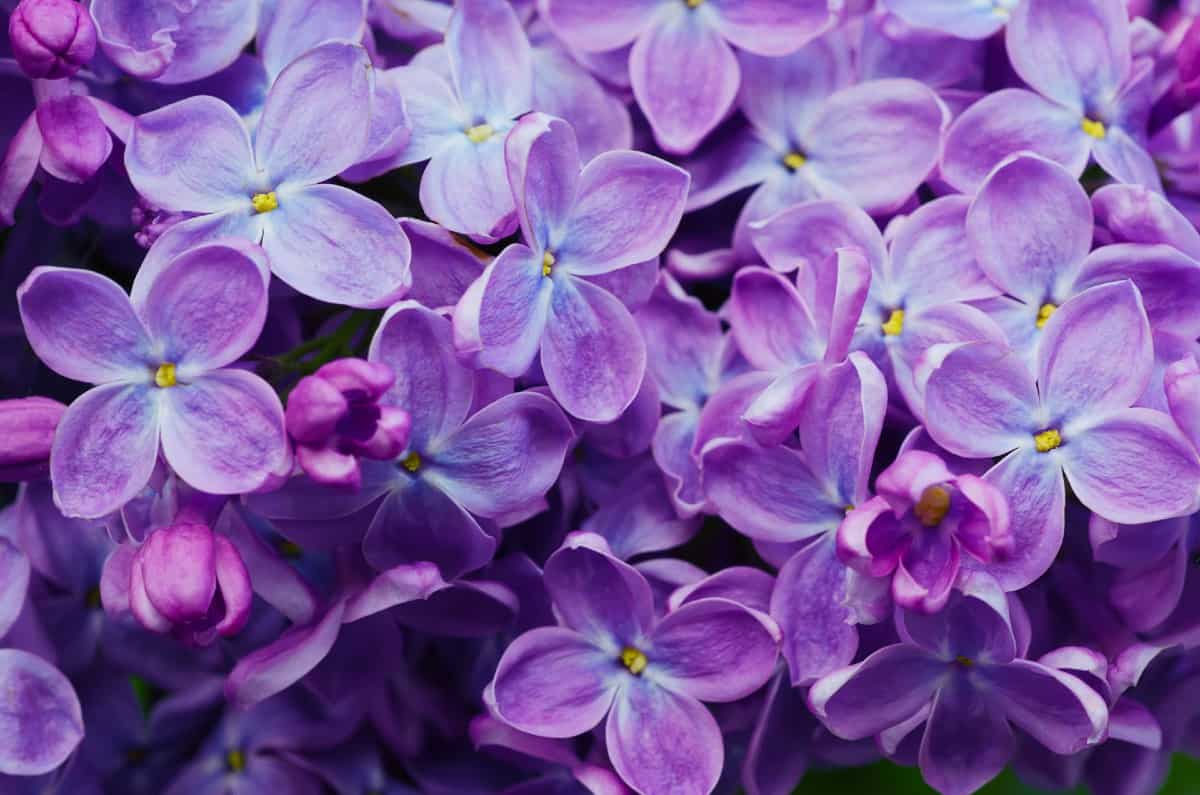 The common lilac is one of our favorite fragrant perennials. They have an unforgettable smell and eye-catching purple flowers. These shrubs are easy to grow, deer resistant, and free from most dangerous pests.
Lilacs are deciduous shrubs that flower for three to four weeks in the late spring. Most become eight to 15 feet tall, although there are dwarf sizes that reach only four feet.
Provide your lilacs with full sun and humus-rich soil that has a neutral pH. Some shade is tolerated in southern regions and during the hottest parts of summer.
Anise Hyssop (Agastache foeniculum)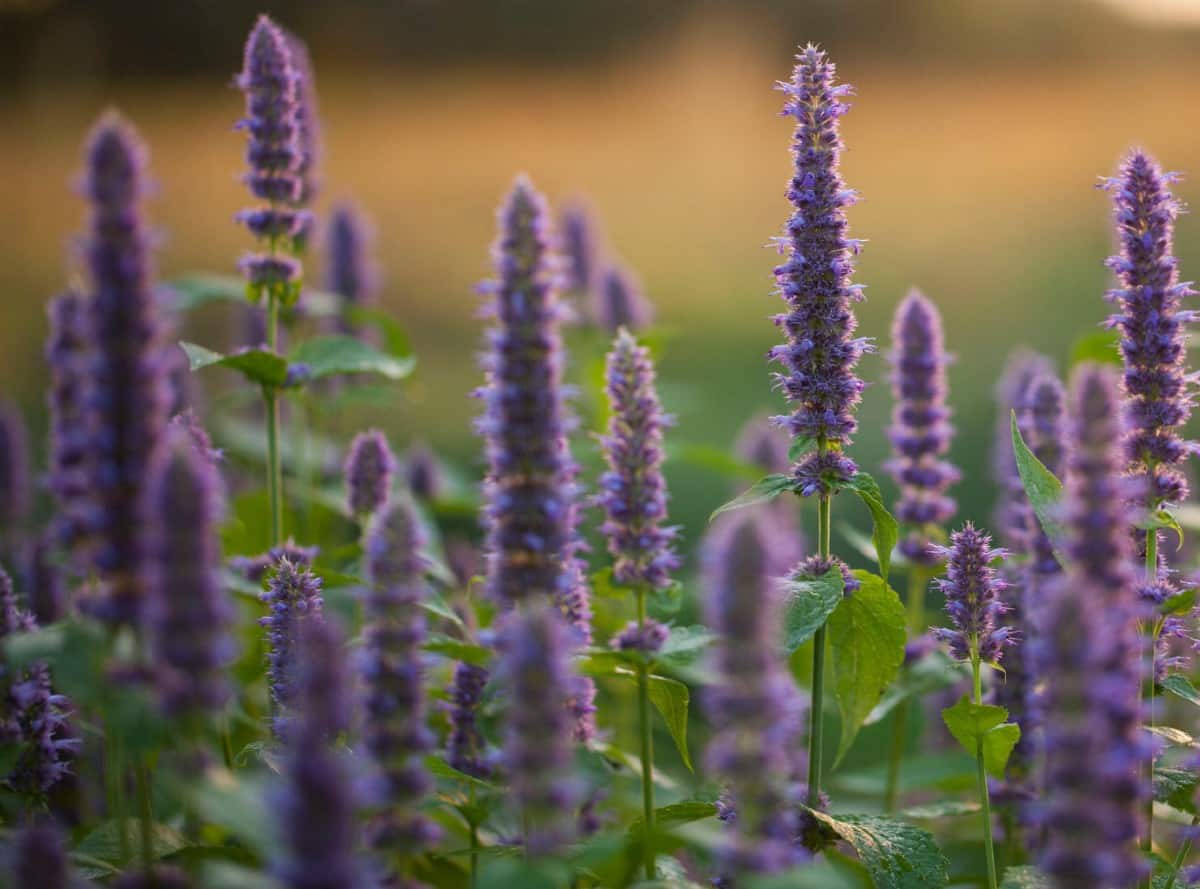 Anise hyssop is used in culinary and medical practices. They have spikes of lavender flowers that make a statement in the garden. Although this is a short-lived perennial that lasts about three years, it is easy to care for and is self-sowing.
These plants are hardy in USDA zones four through nine. Mature anise hyssop plants reach up to four feet tall and three feet wide.
They have a sweet smell and taste similar to a combination of licorice and mint. Place these sunny perennials in an area with full sun to part shade and soil with a pH of 6.0 to 7.0.
Peony (Paeonia lactiflora)
Peonies have been beloved among gardeners for a long time. Their big white or pink blooms and dark green foliage combined with their subtle sweet smell make these fragrant perennials irresistible.
Peonies bloom in the early spring through the early summer but have varieties with different blooming times. Plant peonies along walkways, for edging, or as a low-growing hedge.
Transplant these best smelling shrubs in the early fall to give them six weeks to settle before the winter freezes the ground. They enjoy sunny areas with six to eight hours every day. Choose spots that protect them from strong winds and don't plant them too close to other trees and shrubs.
Peonies make excellent cut flowers but be sure to give them a good shake before bringing them indoors. Ants like them as much as we do.
Fragrant Perennials that withstand Tough Conditions: Lily of the Valley (Convallaria majalis)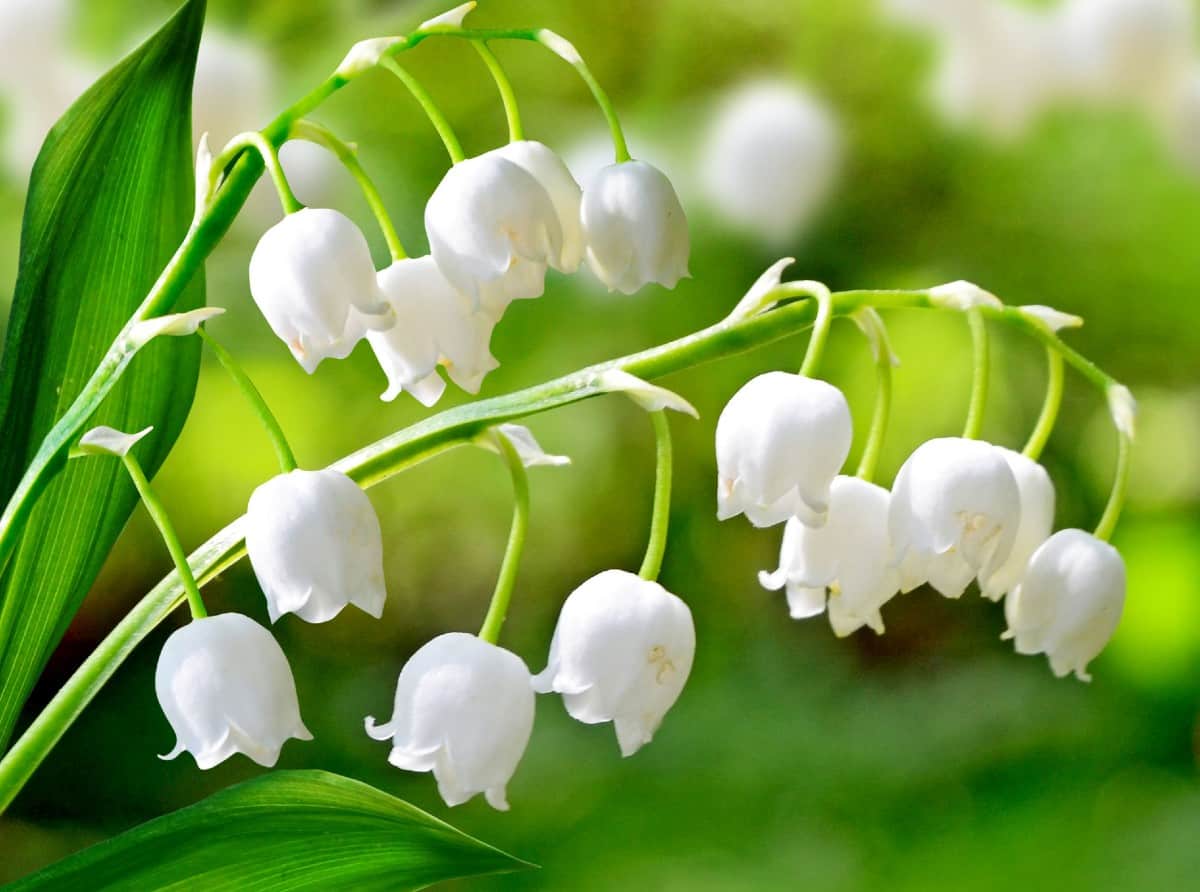 Lily of the valley flowers are some of the most fragrant plants during the spring and summer. They have bell-shaped, white flowers and bright green leaves. These sturdy plants are hardy in USDA zones two through nine.
Lily of the valley prefers to have partial shade and moist soil. They are very adaptable, however, and often grow in locations even without ideal conditions.
Be cautious when planting these flowers because they are poisonous, so keep them away from children and pets.
Garden Phlox (Phlox paniculate)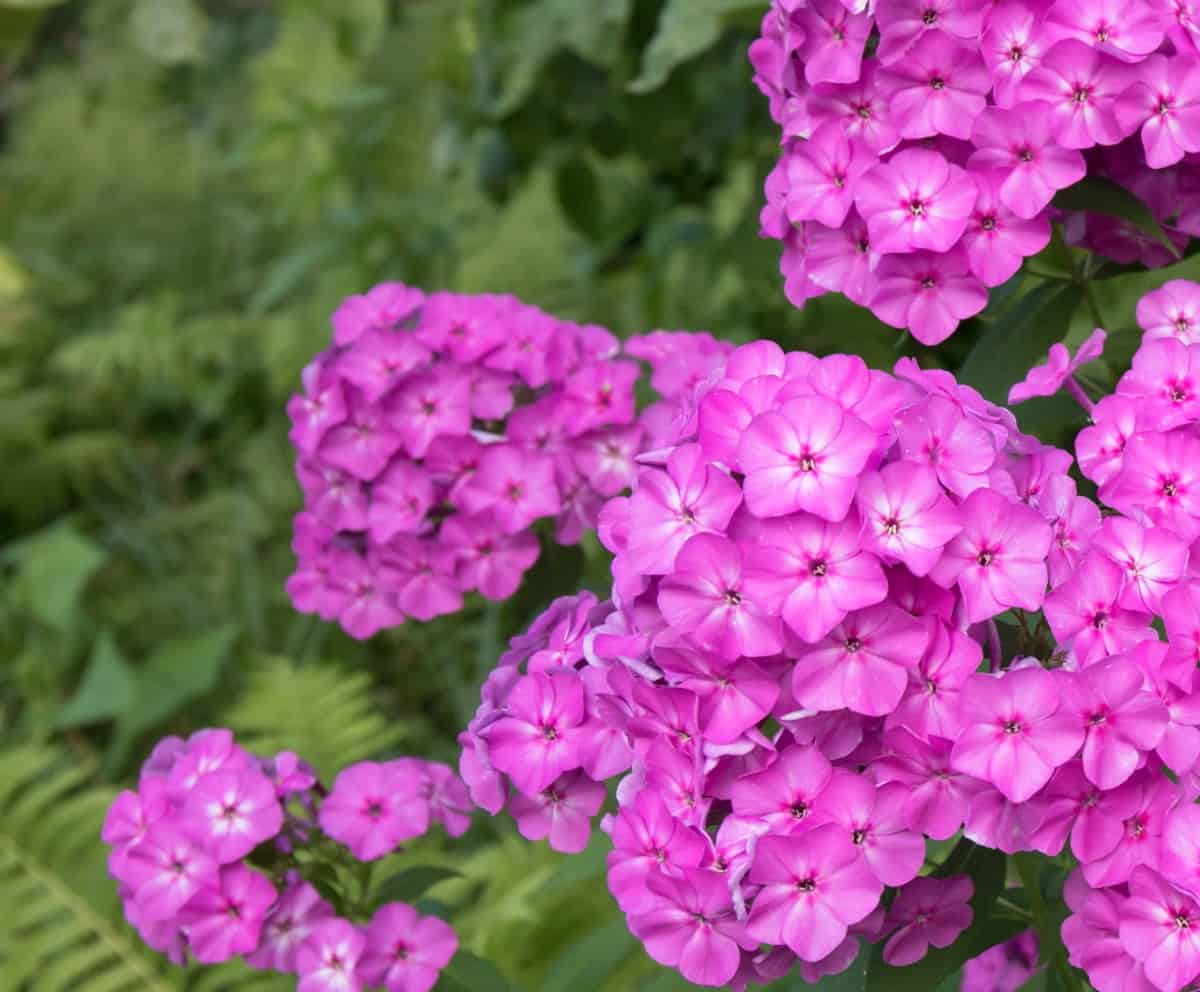 Garden phlox is sure to brighten up your home with its billowy blooms of nearly every color. Phlox has a long flowering season starting in July and lasting until the frosts of autumn begin.
Garden phlox is native to the eastern and central United States and hardy in zones four through eight.
Allow garden phlox to have at least six hours of sun exposure every day. Grow them in fertile, moist soil and enrich the ground with compost or organic matter once per year.
Carnation (Dianthus caryophyllus)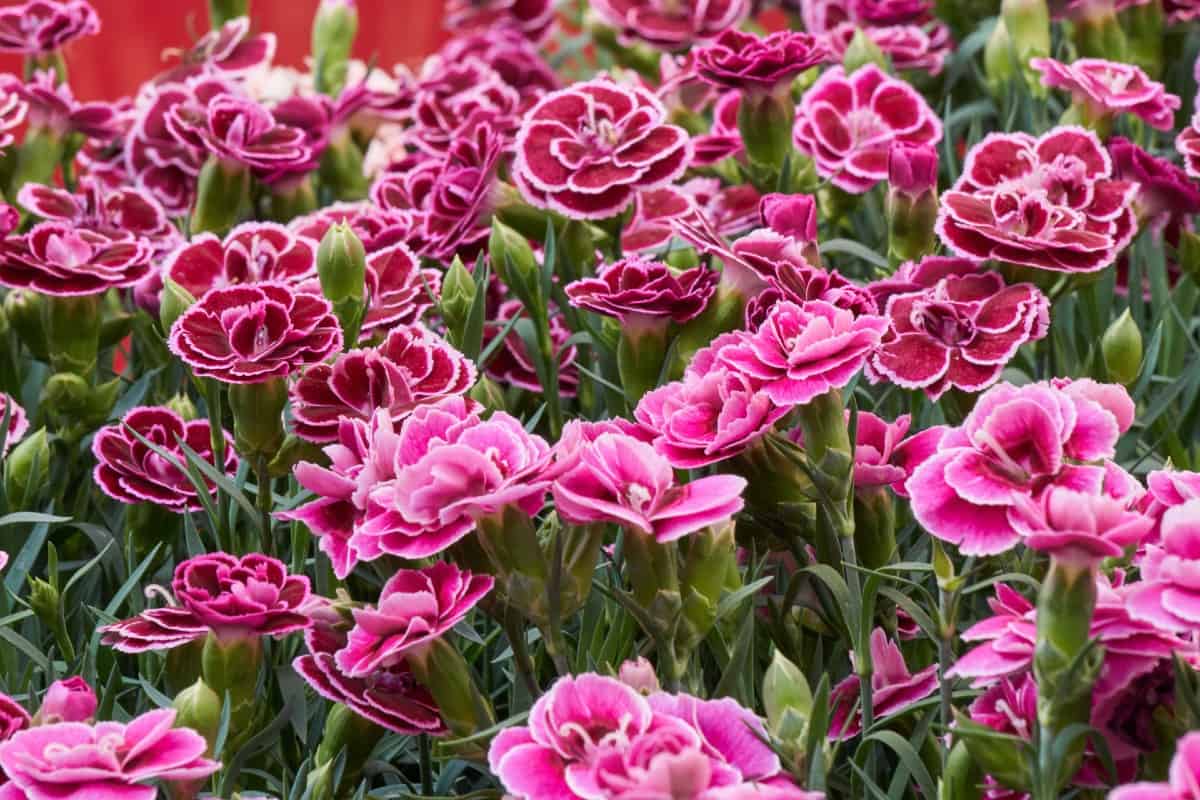 Carnations were once believed to be the gods' flowers and date back to Greece and Roman eras. These fragrant perennials are extremely popular. The plants offer many colors and make beautiful cut flowers.
Plant carnations in full sun to partial shade. Add compost or organic matter to the top of the soil when planting and space each one about a foot apart to get good air circulation.
Provide them with an inch of water every week and cut the stems about one or two inches above ground level at the end of the season.
Honeysuckle (Lonicera periclymenum) – Perennials with the Sweetest Scent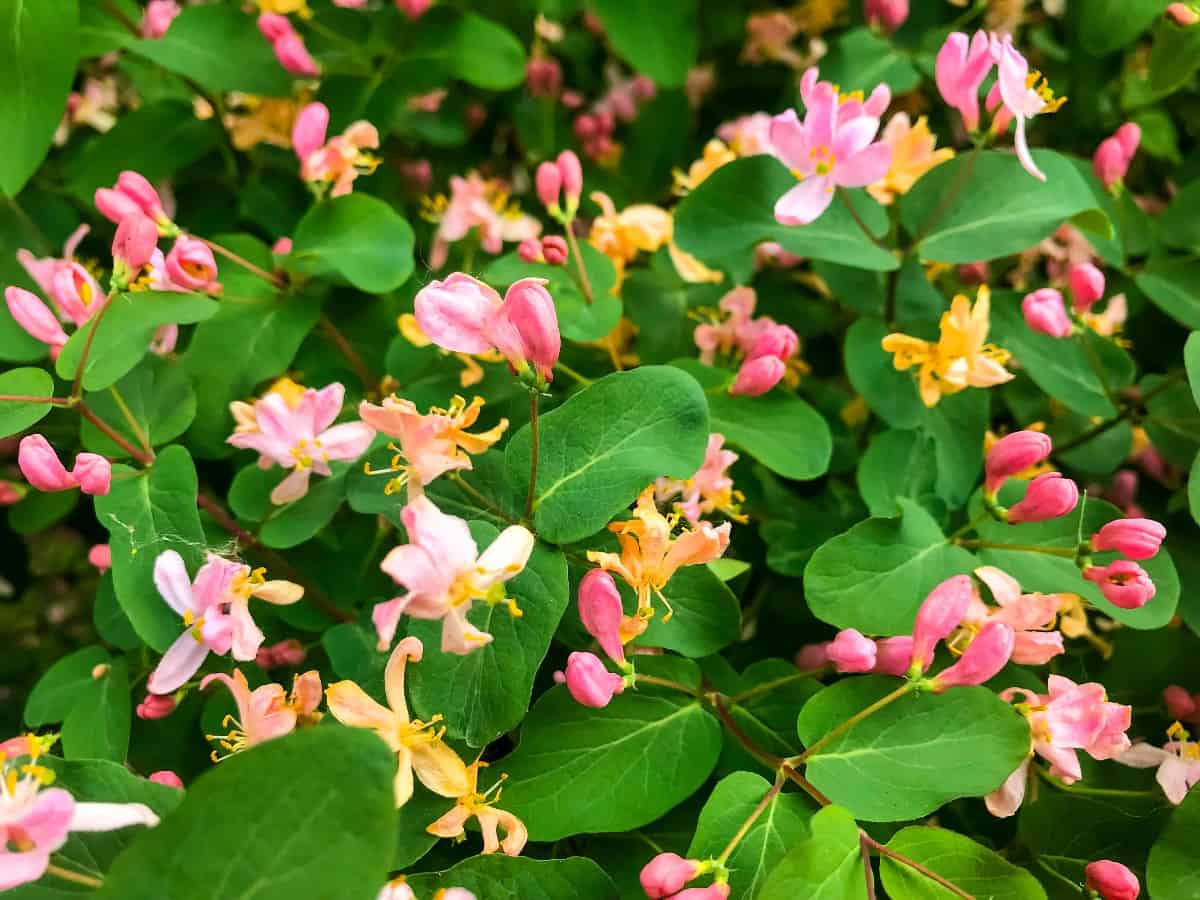 Honeysuckle flowers attract hummingbirds and other pollinators with their sweet, honey-like smell. They have trumpet-shaped yellow, orange, and pink flowers that bloom from early to midsummer and grow up to 20 feet tall and 6 feet wide.
Honeysuckles tolerate both full sun and part shade and thrive in various soil types. Use them as groundcover plants for areas of your yard that require filling. Water flowers that smell like honeysuckle regularly and prune the plant when it starts becoming overgrown.
Gardenia (Gardenia jasminoides)
Gardenias have creamy-white flowers and leathery, dark green leaves that contrast against the other beautiful flowers around your home. These aren't the most low-maintenance shrubs to grow, but their floral scent attracts homeowners to these picture-perfect perennials.
Gardenia plants are native to tropical and subtropical regions of Asia, Africa, and Australia, but are hardy in USDA zones eight through 11. Plant gardenias in a location with a light shade to full sun, although more sunlight leads to better, more abundant blooms.
Keep the ground moist and ensure it is well-draining before planting a gardenia, as they require one inch of water per week. Spread a two or three-inch layer of mulch around these fragrant tropical plants to maintain temperature and moisture.
Hyacinth (Hyacinthus orientalis)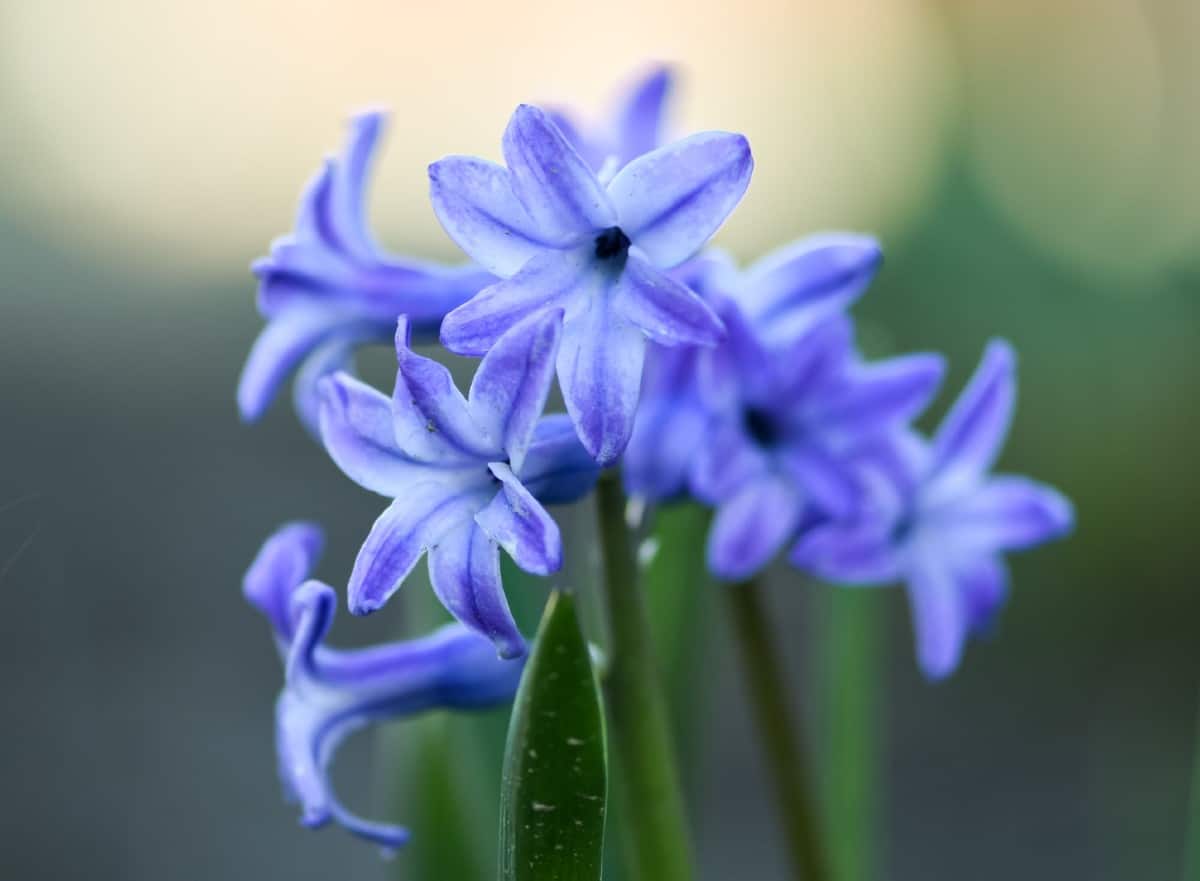 Hyacinths are unique-looking flowers. The colors range from bright pink to pale blue and form clusters of blooms with a strong fragrance. They are hardy in USDA zones four through eight.
Grow hyacinths in well-draining, fertile soil. They enjoy being in sunny areas but tolerate partial shade. Add organic compost or other matter to the ground before planting and space each plant at least three inches apart.
The bulbs of the plant should be three inches deep. Use gloves when handling the bulbs since they contain oxalic acid, which may irritate the skin.
Daylily (Hemerocallis fulva) – Fragrant Flowers with Endless Blooms
We all know and love daylilies. They are extra hardy, have a long blooming season, and have a pleasant, sweet fragrance. One mature clump of daylilies produces up to 400 blooms over only one month.
Daylilies tolerate a lot of soils, but amending sandy or heavy clays soils helps increase their chances of survival. Give them a minimum of six hours of sun every day.
Morning sun with afternoon shade is the best so that the leaves don't get scorched in the late summer heat.
Scarlet Bee Balm (Monarda didyma)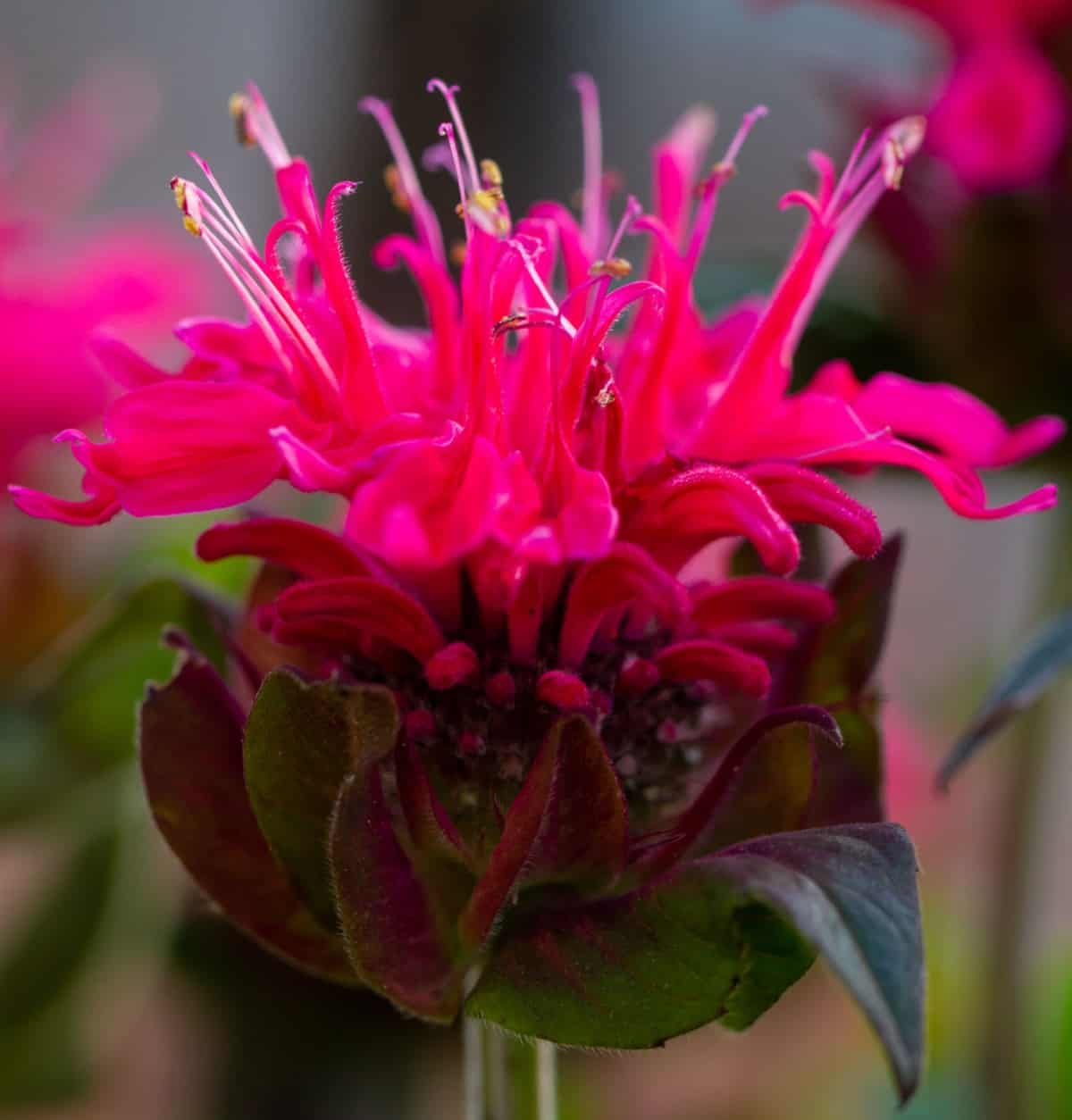 Bee balm plants are native to North America and add a one-of-a-kind look to a garden. They attract bees, butterflies, and hummingbirds with blooms that have tubular petals of red, pink, white, and purple flowers. They come back every year.
Bee balms prefer moist, fertile soil. They do great in sunny locations with shade in the hot hours of the afternoon.
Most plants grow a maximum of four feet tall, with dwarf varieties reaching only ten inches tall. Pinch the stem tips for a bushier looking plant and don't overwater to prevent powdery mildew.
Daffodil (Narcissus pseudonarcissus)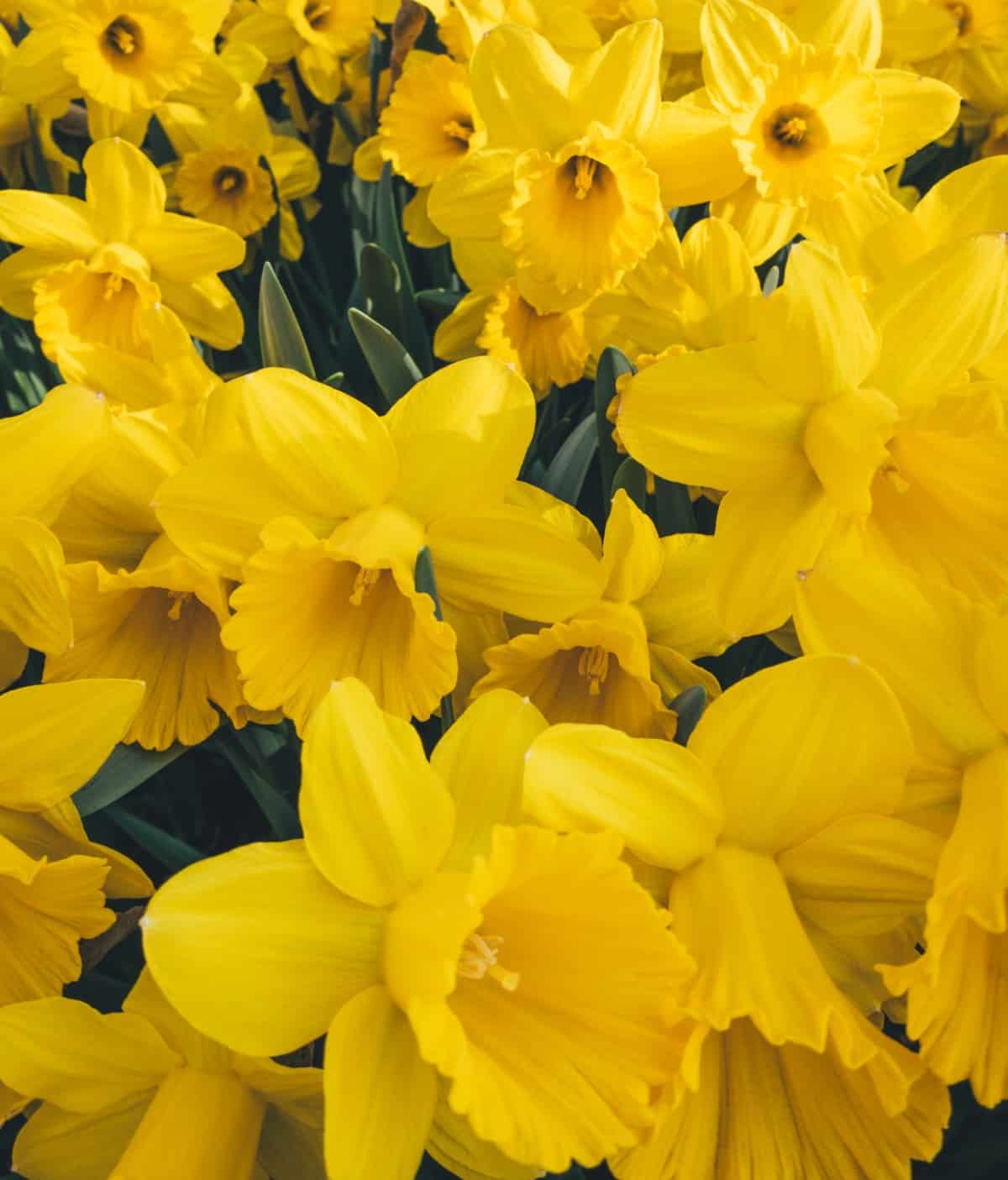 You're likely familiar with the beauty of daffodils. These are easy to grow, fragrant flowers that last for several years. They have a trumpet-shaped inner structure, and the petals make a star-shaped background.
Remove the blooms from the daffodil as soon as they begin to fade. Plant them in bright sunlight. If planted in full shade, the flowers won't be as big and healthy. Water these plants generously during the blooming period and keep the soil drier once it is dormant.
Multi-Purpose Perennials – Lavender (Lavandula angustifolia)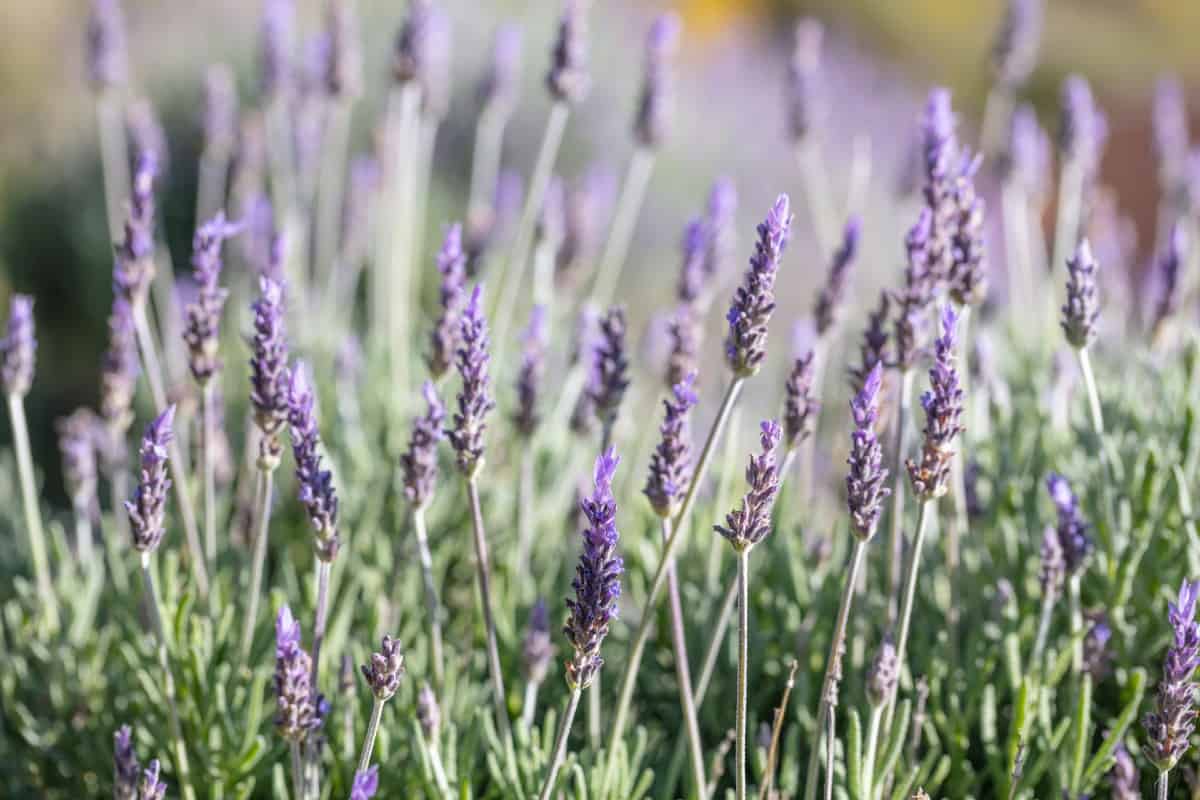 Lavender is an herb with tons of uses. This flower has skyrocketed in popularity and used in cooking, soaps, and potpourri. The purple clusters of flowers and silvery-green foliage make them an excellent choice for borders and perennial gardens.
They bloom from June to August and reach up to three feet tall. Lavender is hardy in zones five through eight. Give them a bright spot with full sun and provide them with ample water until they become established. Prune back your lavender plants every spring to keep them healthy and happy.
Valerian (Valeriana officinalis)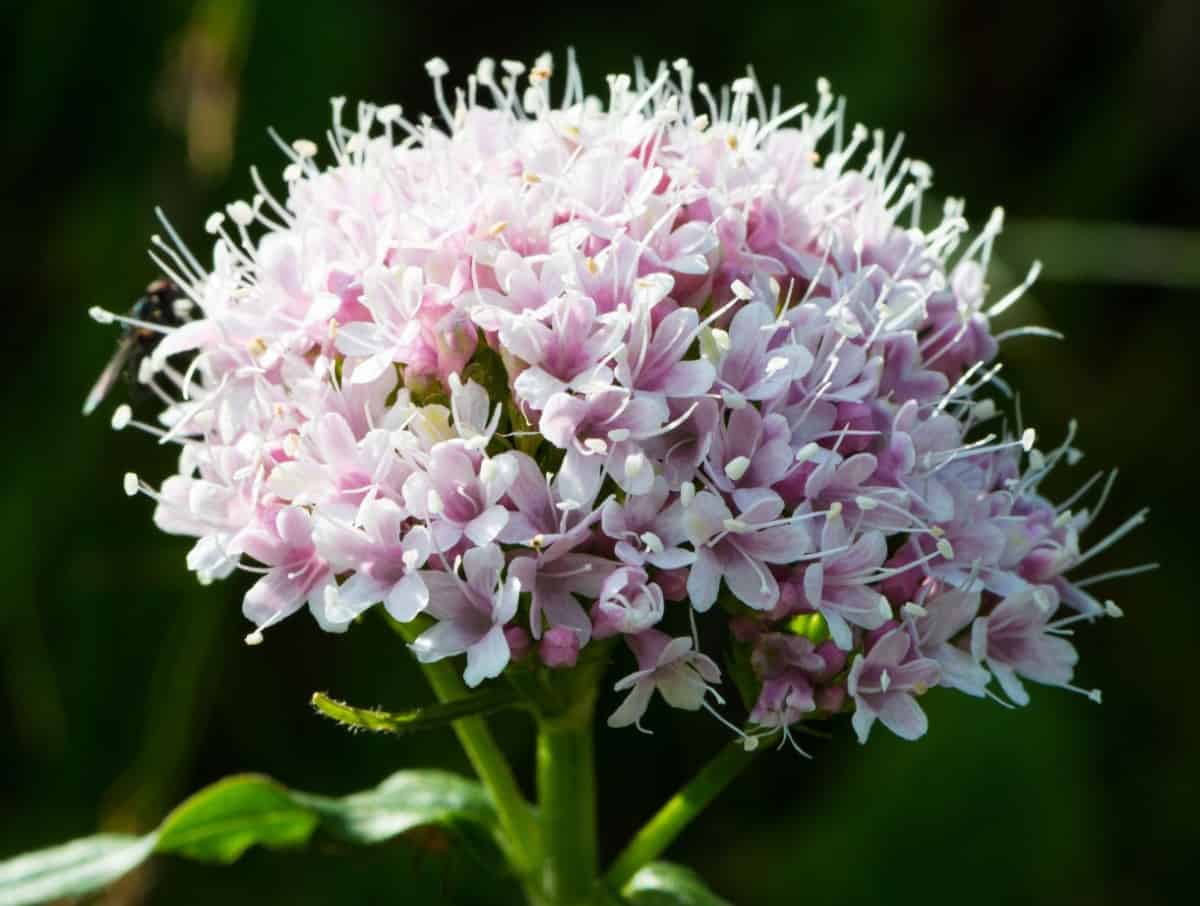 Valerian Plants are herbaceous plants that have been used in medicinal practices for centuries. This is a robust plant and hardy in zones four through nine. The plants die in the winter but emerge every spring as strong as ever.
Valerian grows in a range of conditions. They withstand full sun to partial shade and nearly all soil types, making them perfect even for a rock garden.
They do prefer moist and mulched soil to retain as much moisture as possible. With the right conditions, they grow five feet high and produce clusters of white and pink flowers on top of long stems.
This list doesn't begin to cover the number of options for fragrant perennials. There are so many species and varieties of plants that the choice often becomes overwhelming.
We hope that this list has put you at a good starting point for finding the right flowers for you and your yard. When you make the right choice, it won't be long before your home is overflowing with unforgettable floral smells.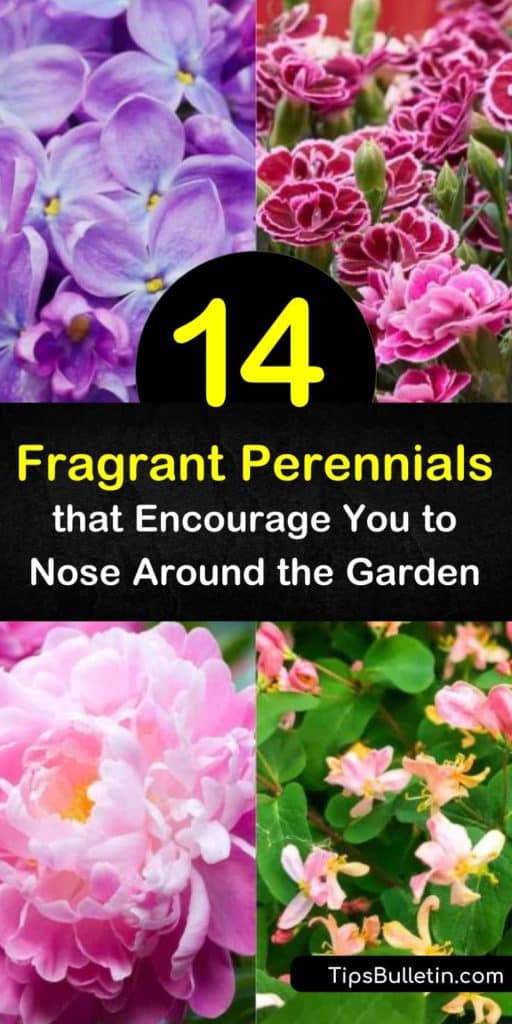 If you can't stop smelling these fragrant perennials, share these flowers with exceptional smells with friends on Facebook and Pinterest.