The arrival of spring means that the crisp air fills with pleasant scents and surrounds you with pops of color. It also means that it's time to get your planting done so that plants have time to establish themselves in their new home. Adding trees with fragrant flowers around your house is a great way to boost your home's curb appeal and create the aesthetic that you desire.
There are a large number of flowering trees that create a pleasant sensory overload. Trees with fragrant flowers make an impressionable impact on both you and your neighbors. Sometimes the scents are so strong that they demand attention and become impossible to forget and leave you wanting more.
When you step outside on a spring day, they practically force you to take the biggest inhale of your life. If you're looking to add floral scents around your property, this list supplies you with the best-smelling trees for homeowners.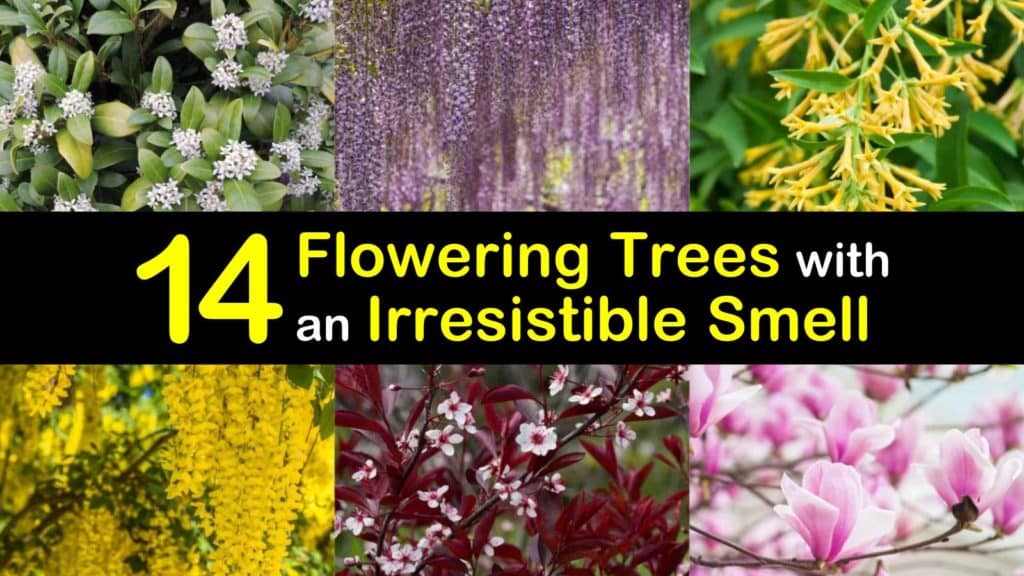 How to Plant Young Flowering Trees
Unlike small flowers and shrubs, planting a tree in your yard is a lifelong investment. It's not always easy, or affordable, to remove a tree that has already established itself for years.
Ensuring you pick the right tree species for your home's location is essential to the success and health of that tree. Trees that are off to a healthy start ensure that they mature to their full size and provide the blooms and scent you initially fell in love with.
Most trees with fragrant flowers are planted after the leaves drop in the fall or early in the spring before buds open. Some may go into transplant shock, which slows their growth and reduces their blooms.
Double-check that your tree can survive in your region and has the right amount of soil, sunlight, and water.
When planting, dig holes that are two or three times larger than the root ball, firmly pack in fertile soil, stake the tree as necessary, and water it thoroughly.
The Best Smelling Trees with Fragrant Flowers: Gardenia (Gardenia jasminoides)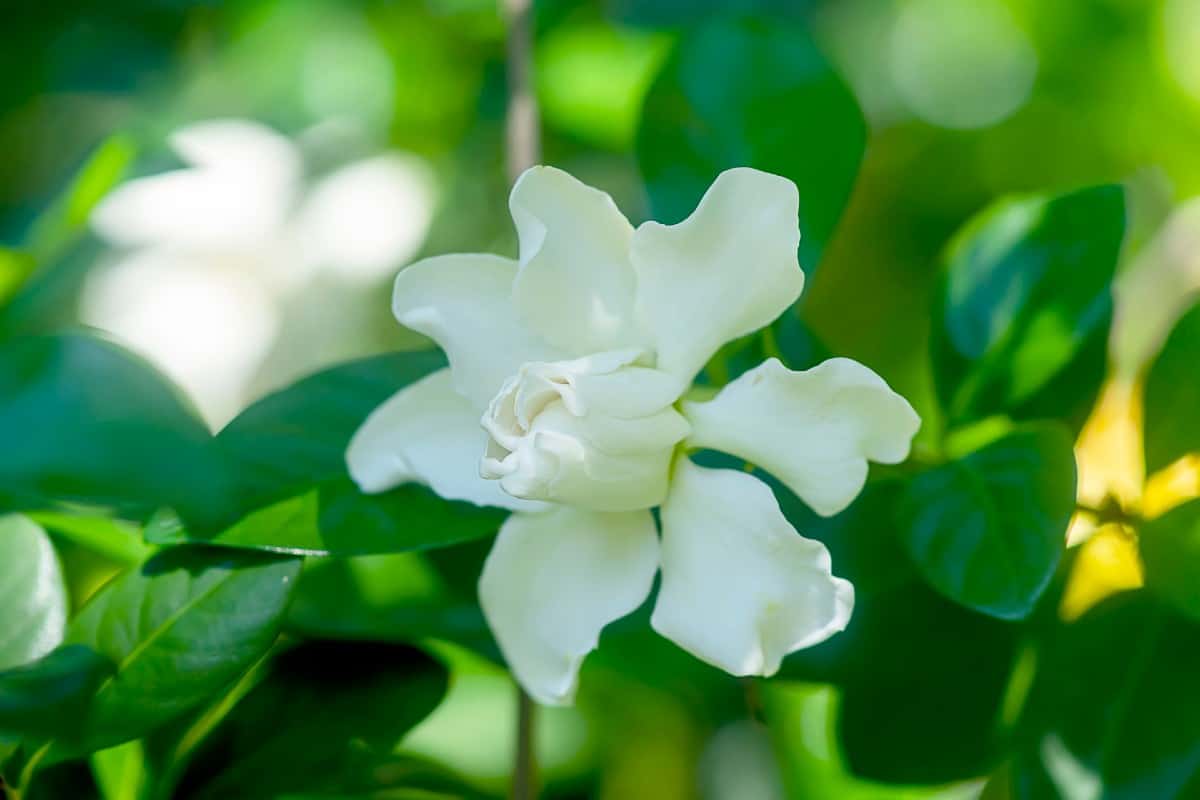 Gardenia is one of the most popular trees with fragrant flowers. They have an intoxicating, sweet scent with creamy white blossoms and dark green leaves. Gardenia is native to tropical and subtropical areas of Africa and Asia.
Although they aren't the most low maintenance plant around, these trees have beautiful white flowers that smell good, and that makes up for it. Gardenia flowering trees must have either full sun or light shade, preferably with morning sun and afternoon shade.
Keep well-draining soil moist with at least one inch of water every week. Spread a two to three-inch layer of mulch around the plant's roots to keep them damp and maintain temperature.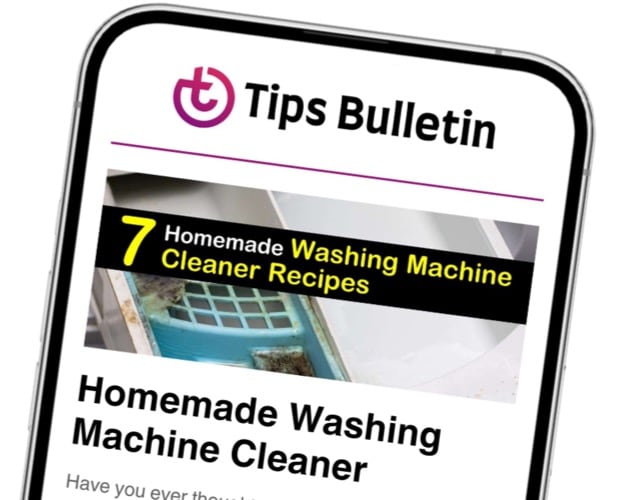 Finally, an email that Transforms Your Home.
Get the latest home and garden tips from our experts, delivered straight to your inbox.
Wisteria (Wisteria sinensis)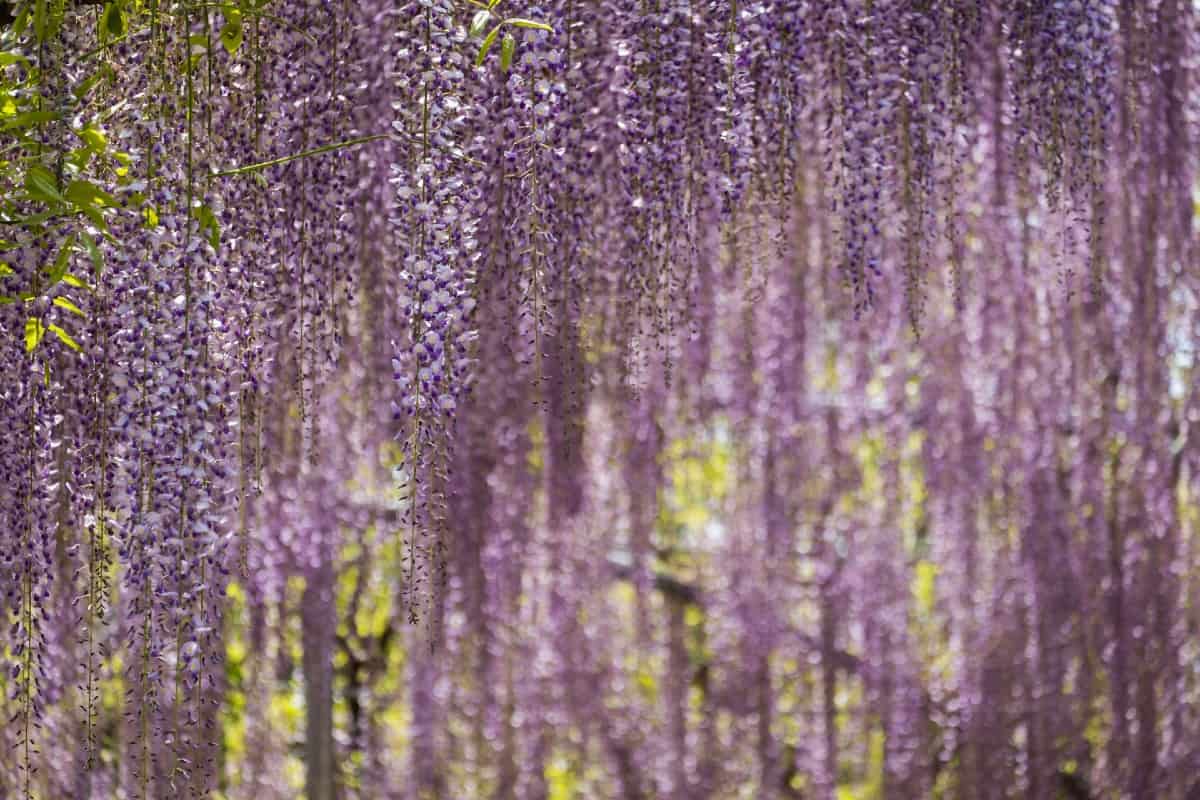 Wisteria is available for purchase as either a tree or a vine. This small tree has clusters of lilac and bluish-purple flowers that droop from the stems. They bloom from mid-spring to late summer.
Plant wisteria in the early spring or fall in a location with full sun to ensure that the tree blooms. Shade hinders its ability to produce flowers.
They thrive in fertile, well-draining soil. If you have poor quality soil, add compost to the ground when planting and add a two-inch layer of mulch to the base each year.
Crabapple (Malus domestica)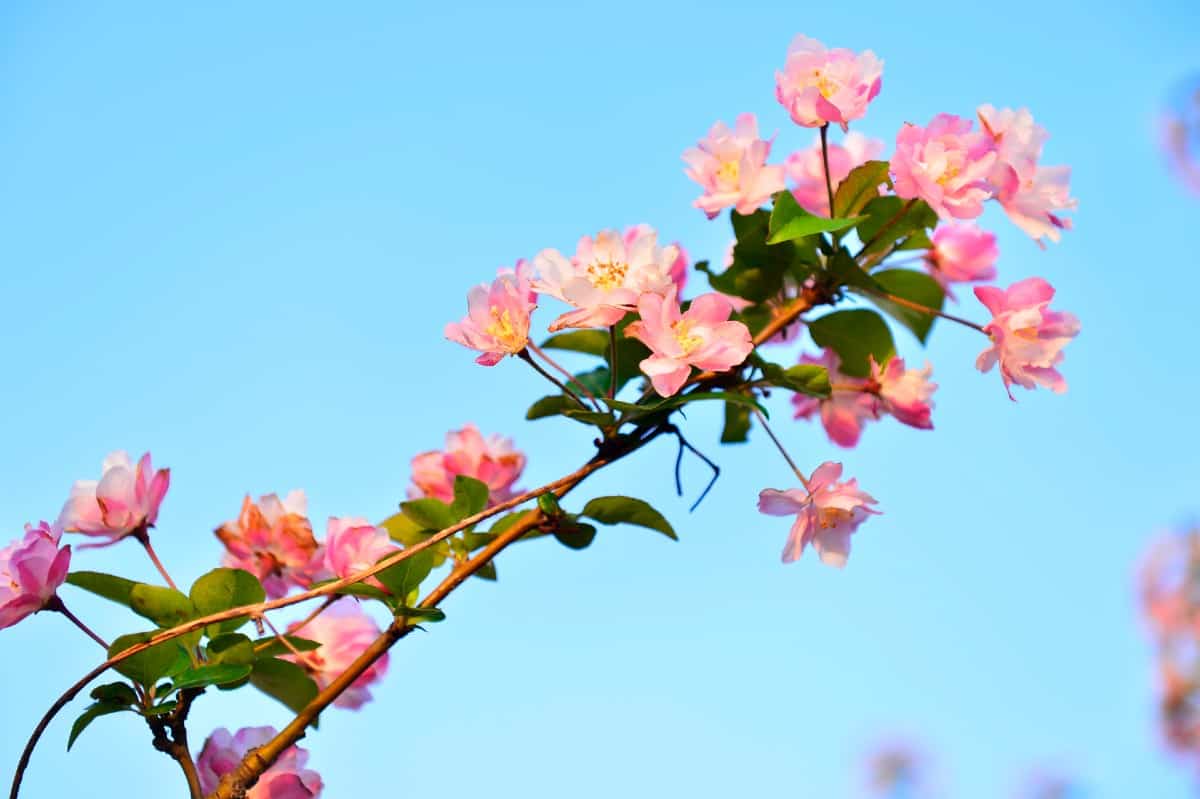 Crabapple trees are fragrant trees with pink flowers, and sometimes white flowers. These are small to medium-sized trees, with some varieties producing edible fruits called crabapples known to be slightly sour and bitter.
These fragrant plants are native to cold areas like Asia and Russia, although they are hardy in USDA hardiness zones three through eight.
Crabapples are narrow trees for landscaping in smaller yards that require full sun and slightly acidic and fertile soil. Water them regularly and prune the trees into the shape you want in the early spring.
Honeysuckle (Lonicera maackii)- Trees with a Sweet Scent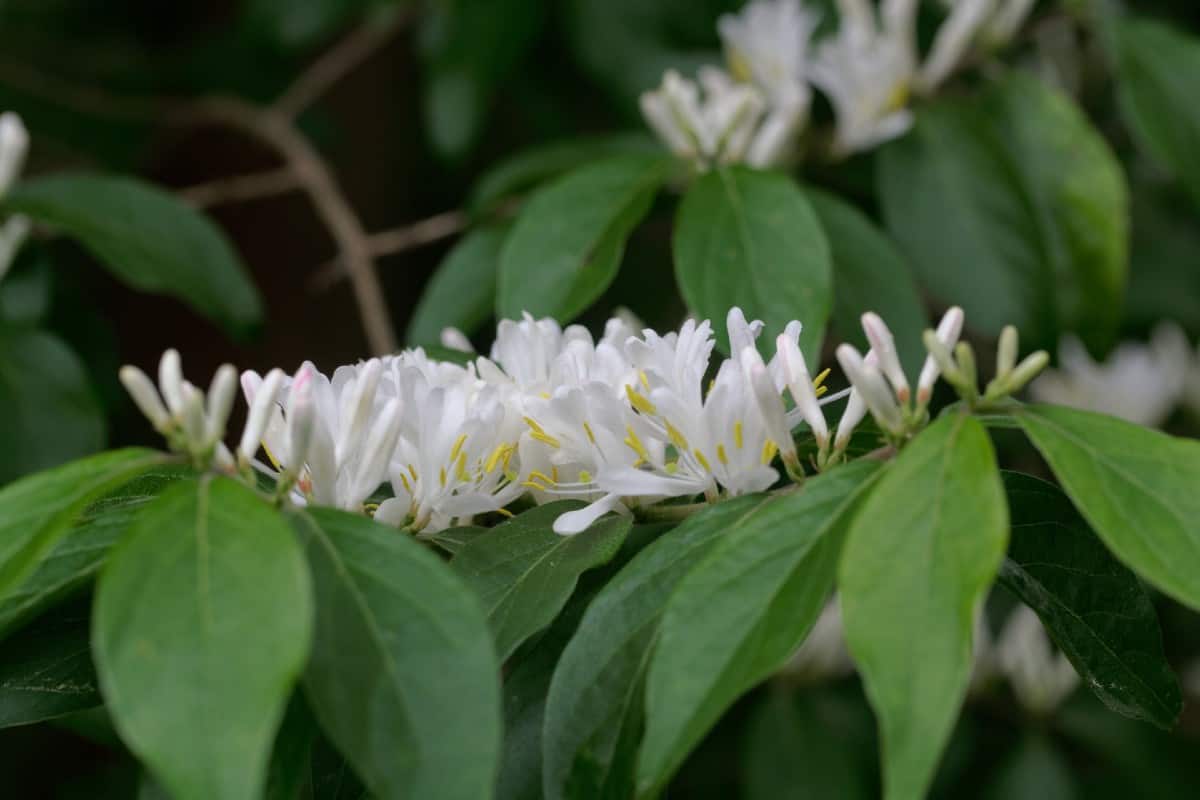 Although not technically considered a tree, honeysuckles are wonderfully smelling flowering shrubs and vines popular for their sweet scent that comes from their yellow and pink flowers. They are heat-tolerant and attract wildlife to your garden.
Honeysuckles prefer full sun but also tolerate light shade. They may require some sort of sturdy support, like a fence or trellis.
Prune whenever this plant starts to become overgrown, so it doesn't become invasive. Give them soil rich in organic matter that is well-draining. Keep the ground moist without being too soggy.
Lilac (Syringa reticulata)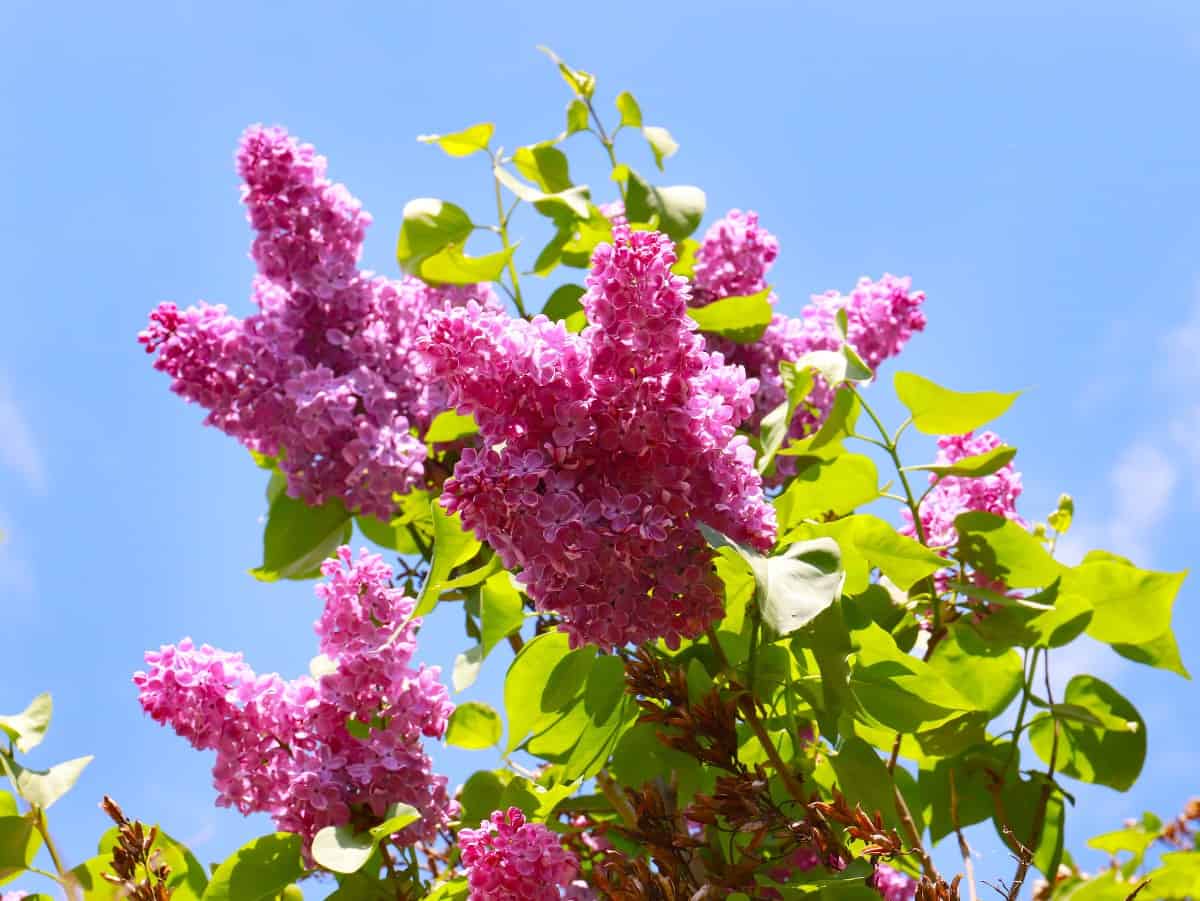 Lilacs are one of the best smelling plants that produce many people's favorite scent in late spring. Purchase them as a small or large shrub or as a tree.
Their stunning flower clusters range from purple and pink to white. Lilac trees grow up to 30 feet tall, although smaller varieties reach only around eight feet tall.
Plant lilacs in the early spring or fall and space each plant at least five feet away from one another. Lilacs thrive with afternoon sun and well-draining soil. Fertilizing the plant in the spring helps produce more abundant blooms.
Magnolia (Magnolia grandiflora)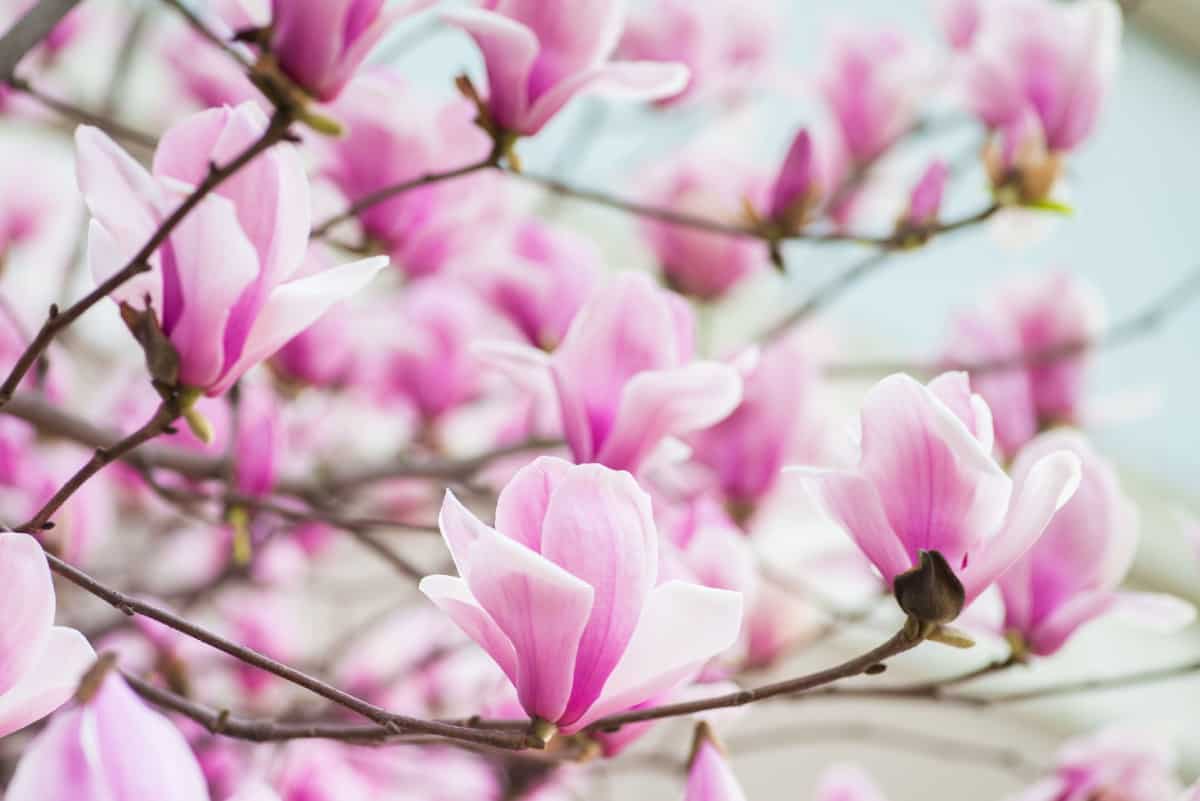 Magnolias are some of the most visually appealing trees with fragrant flowers. Their large, fragrant, pinkish-white blossoms and dark green foliage look stunning around a home. They are native to East Asia and North and Central America.
They grow 40 to 80 feet tall and spread up to 40 feet wide and are most hardy in USDA zones seven through nine.
Magnolias are ornamental trees that tolerate soggy soil. They do best in fertile, slightly acidic soil and appreciate compost or other organic matter every year.
Flowering Shrubs with Fragrance – Viburnum (Viburnum opulus)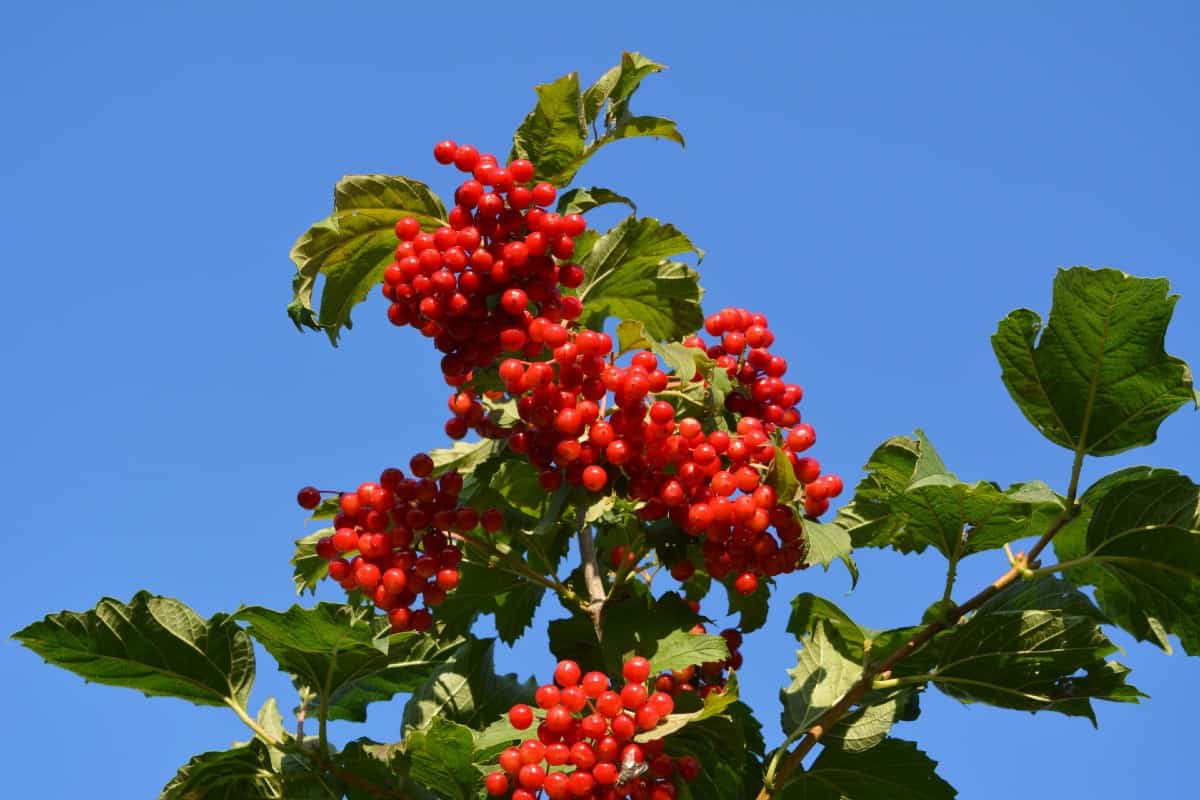 Viburnum is an attractive evergreen shrub. Some of these trees with white flowers reach up to 20 feet high. These shrubs have fragrant blooms from early spring to early summer and look pretty for borders and hedging.
Larger species make an excellent focal point around your yard. Some of these trees with berries also produce stunning fall foliage. Most viburnums prefer full sun but double-check your specific plant's needs before planting.
Viburnums are not too picky about soil conditions, as long as it is fertile and well-draining. When planting multiple shrubs, place each one five to 15 feet apart, depending on the mature size.
There are even viburnum varieties that serve as a tree on the beach or in coastal areas. Check the care tag of the species you want to ensure it can survive the harsh salt air.
Night Blooming Jasmine (Cestrum nocturnum)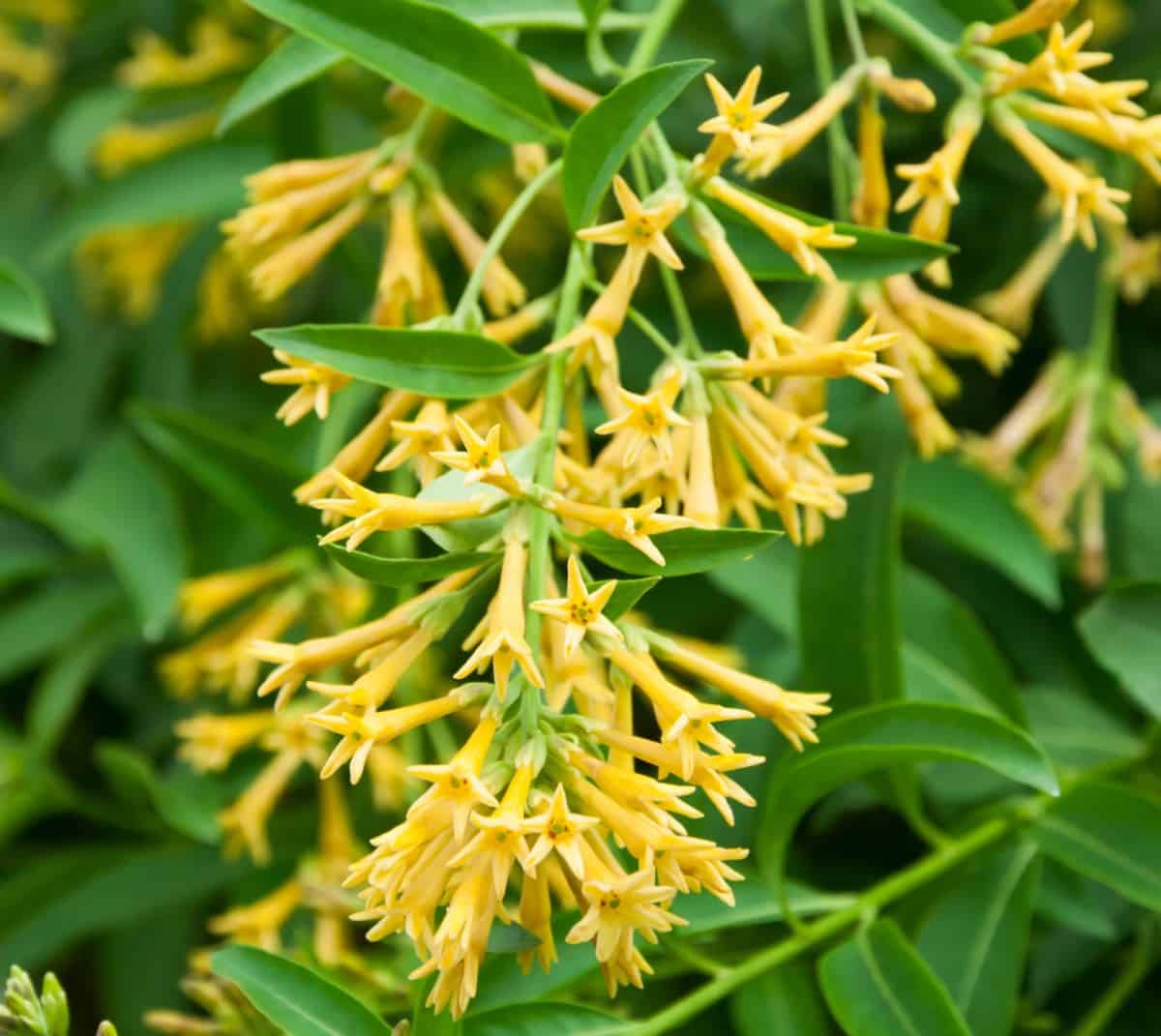 Night blooming jasmine has an intoxicating smell and unusual blooming habits. Although it has jasmine in the name, this tree isn't actually jasmine. This tree is more closely related to tomatoes and peppers and grows up to ten feet tall and three feet wide.
It is the perfect candidate for areas requiring privacy hedges. Night blooming jasmine has light green foliage with tubular, yellow flowers that open at night. They bloom through the early summer and then turn into white berries that attract birds to the garden.
This tree thrives in partial to full sun and nearly any soil. Once established, night blooming jasmine is drought tolerant and withstands colder climates as well.
Sweet Almond (Prunus dulcis)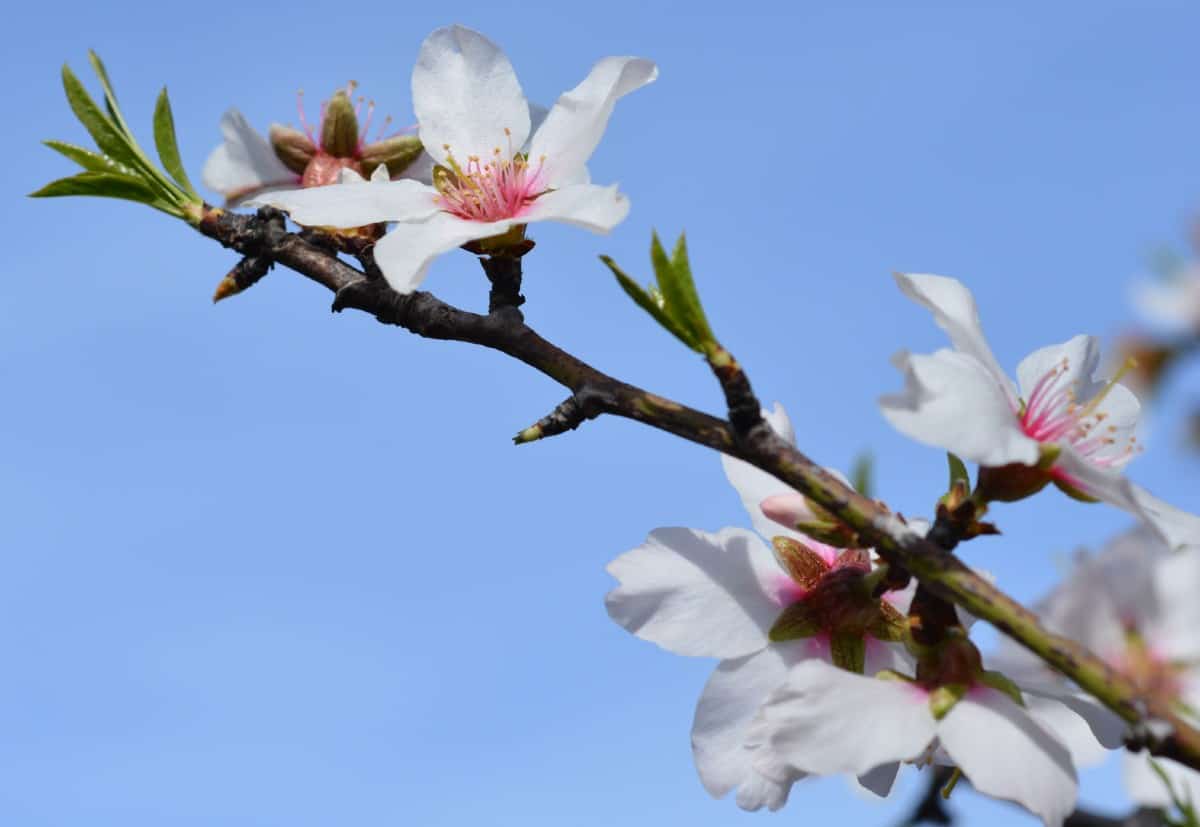 Sweet almond is a plant that has risen in popularity in America's southern regions. It has scalloped leaves and feathery, white flowers that produce the scent of honey. It is hardy up to USDA zone 7, although it grows as a deciduous dwarf tree in colder regions.
Grow sweet almond in full sun or partial shade. Once established, this plant requires little water and care. Propagate the plant with cutting from the original in the late spring or early summer and give them plenty of water.
Winter Daphne (Daphne odora) – Late-Season Flowering Trees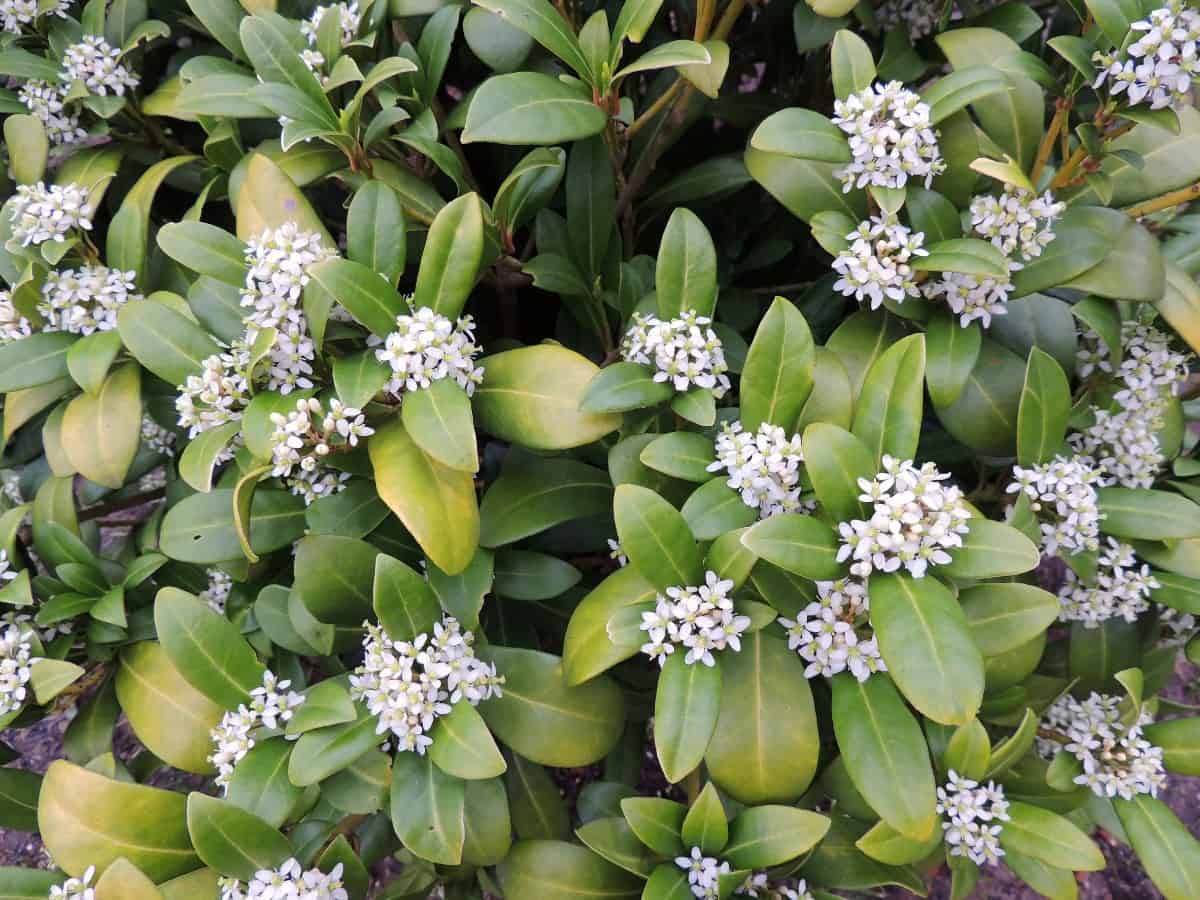 Winter daphne is a short-lived shrub, but the fragrant flowers are worth the little amount of time they spend blooming. These trees with winter flowers develop small, pink buds that begin to emerge from February to March and offer color around your home when everything else is still dead during colder weather.
Although this is a shrub that only grows four feet high and three feet across, the captivating scent and pink and green colors bring something special to your home.
Winter daphne requires well-drained soil, especially since this evergreen shrub is prone to root rot if its feet get too wet. It likes locations with morning sun and afternoon or dappled shade. Prune the shrub very lightly and only as necessary.
Banana Shrub (Magnolia figo)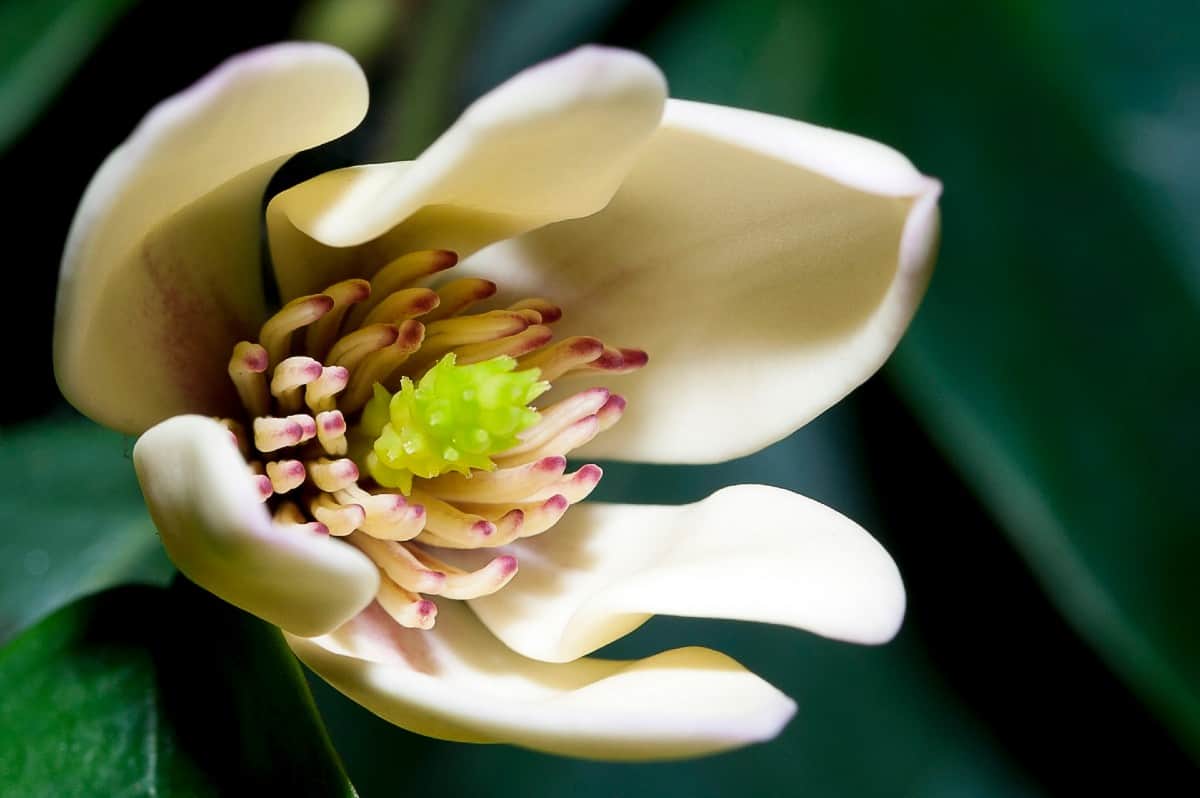 The banana shrub is another plant with a pleasant scent similar to bananas. It is hardy in USDA zones seven through ten and grows up to 15 feet tall. These shrubs are members of the magnolia family and look similar in bloom shape and size.
The banana shrub leaves are about three inches long and slightly fuzzy while the petals are creamy yellow with touches of rose and maroon. Place banana shrubs in a sunny location and in well-draining soil that's rich in organic matter.
Unfortunately, this isn't the hardiest plant, so you must live in the right area for it to thrive. They are prone to scale insects, but resistant to nearly all other pests and diseases.
Royal Empress (Paulownia tomentosa)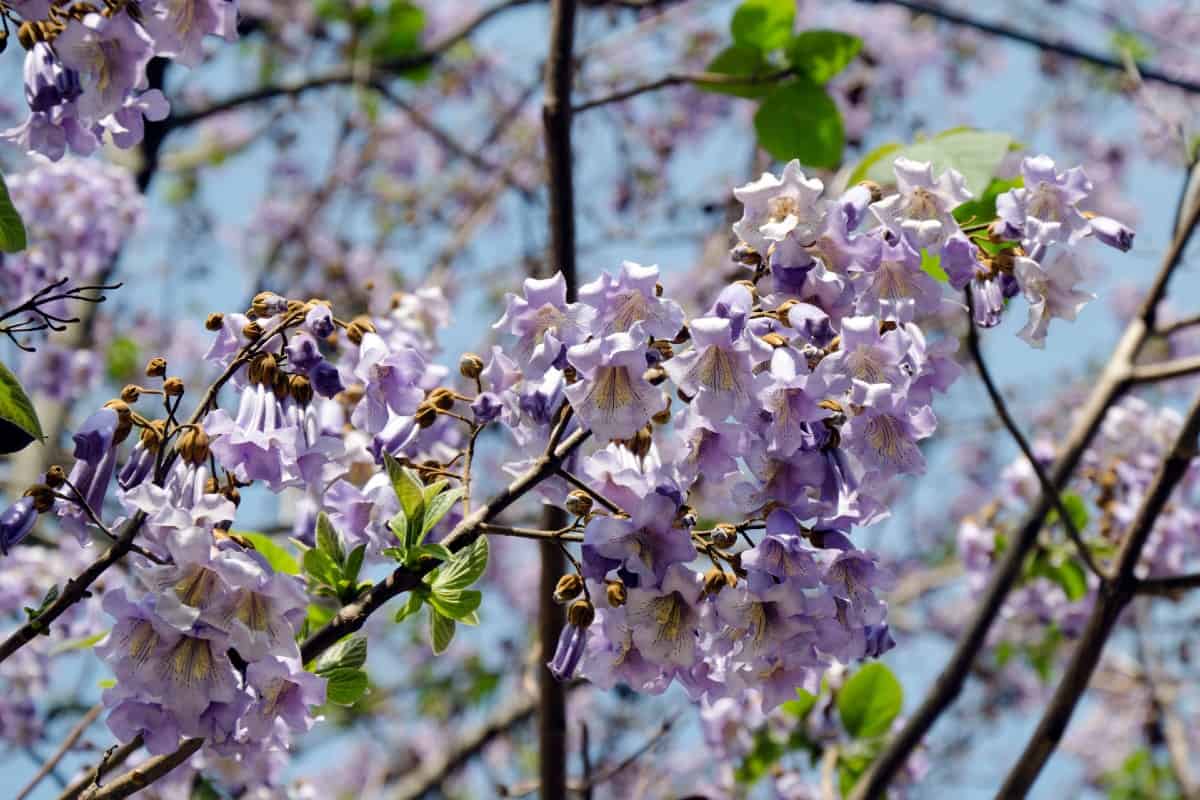 A lot of trees with fragrant flowers don't stand up to the unique beauty of the royal empress tree. Although it looks exotic, it is hardy in USDA zones five through nine and is now natural in most of the eastern United States.
Its distinctive characteristics produce fragrant pink or purple flowers that bloom upright. The clusters grow up to a foot high and two feet across.
Give royal empress trees plenty of water during the growing season. It will tolerate dry spells but is much more healthy with damp soil. Apply a thin layer of mulch around the ground to retain moisture and improve soil conditions. This tree is highly invasive.
Trees with Impressionable Colors and Scents – Golden Chain (Laburnum x watereri)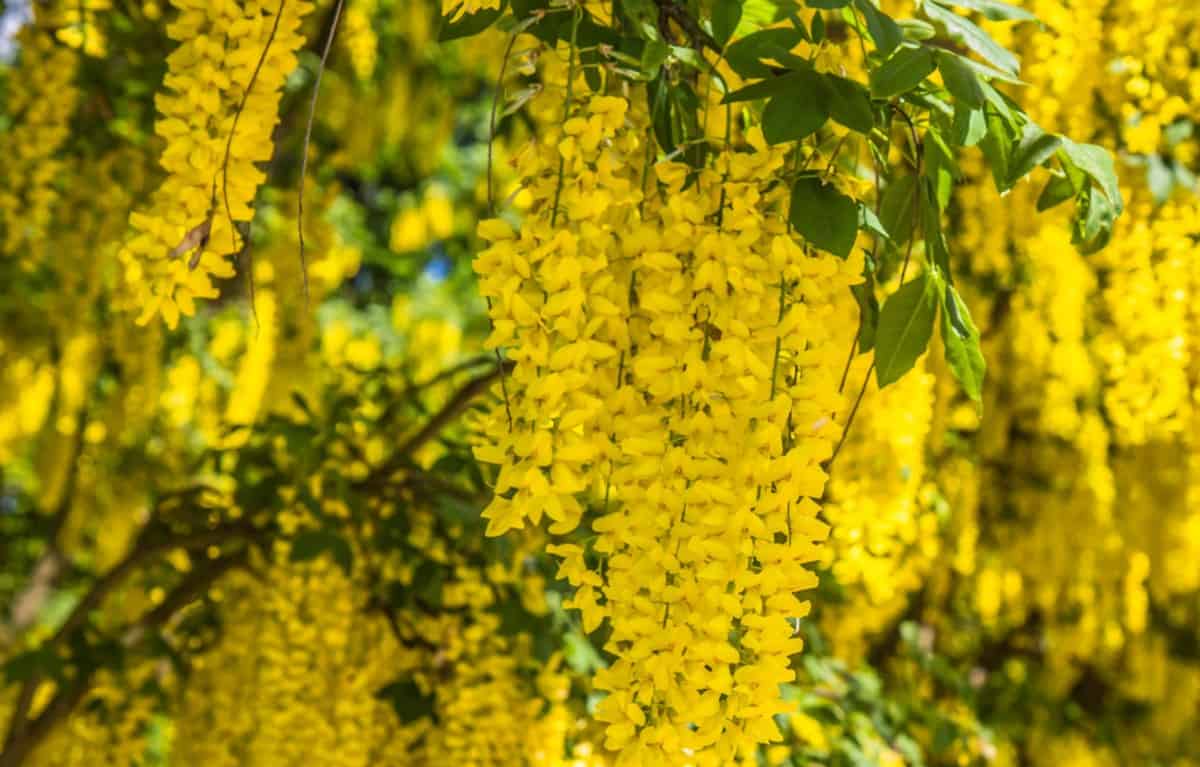 Golden chain trees stand out because of their abundant blooms of golden-yellow flowers. Although it is fussier than most trees, this fragrant plant is beautiful when given the proper growing conditions.
Place golden chain trees in a location where they are protected from harsh winds. Young plants require staking and may need to be sprayed with water to remove aphids or mealybugs.
Lightly prune overgrown branches of these trees with yellow flowers as necessary. Give golden chain trees full sun and well-draining soil and apply compost to the ground every spring.
Purple Leaf Sandcherry (Prunus x cistena)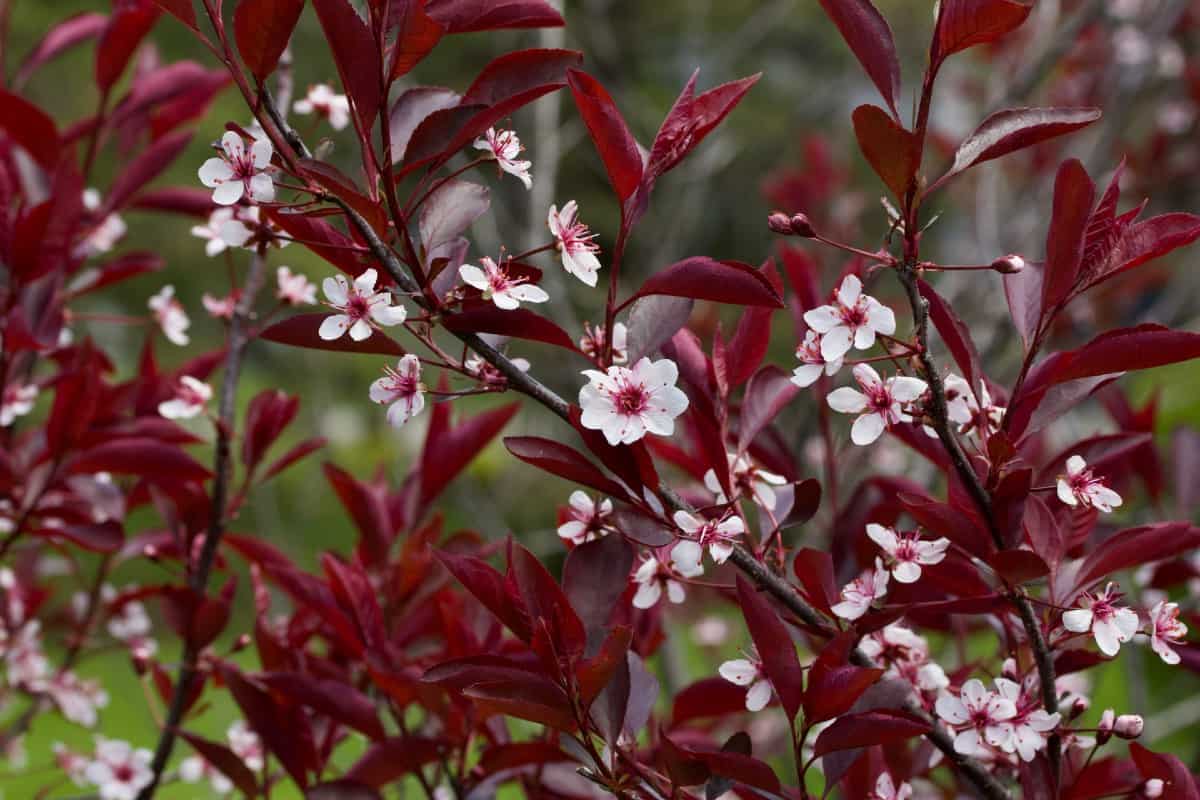 The purple leaf sand cherry tree stands out from the rest with its rich, maroon foliage and fragrant white flowers. This small tree reaches about eight feet tall and wide and is an easy-to-care-for addition to any garden.
It is hardy in USDA zones two through eight. Sand cherry trees are sensitive to transplanting, so be sure to give them all the right conditions. Fertilize the soil and heavily water when being transplanted.
Place them in an area with full to partial sun and with moist yet well-draining soil. Because it is related to roses, keep an eye out for diseases like trunk canker and pests such as beetles during the middle of summer.
These trees with fragrant flowers won't disappoint. We have carefully selected the best-smelling species with the highest chances of survival. Not only that, but they are some of the most beautiful and have become famous for good reason.
We all have a favorite scent that comes from plants, and adding these trees to your yard gives you the satisfaction of inhaling their sweet smells every spring and summer. With a happy home, these trees fill the neighborhood with pleasant aromas for a lifetime.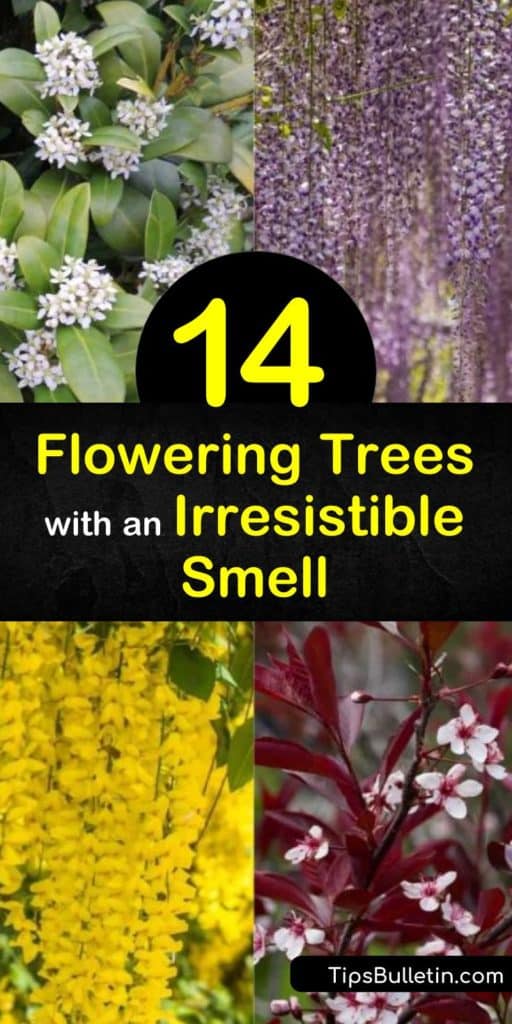 If you found your favorite trees with fragrant flowers here, please share these aromatic trees on Facebook and Pinterest.