We all love our BBQ chicken, hot dogs, and hamburgers cooked on the grill, but grilling creates a huge mess on our cooking surface that will have us on the lookout for a grill degreaser. It doesn't matter if you use a gas grill, or prefer the old fashioned charcoal grills, once you use it a few times it will need cleaning.
Your barbeque grill can be tough to clean, often requiring plenty of elbow grease and harsh chemicals. Many times, you are required to scrub the grill while it's hot, which can lead to burns and other injuries.
However, there are many solutions to clean your grill that only require some simple ingredients that you probably already have at home. Check out our seven grill degreasers and make one up today!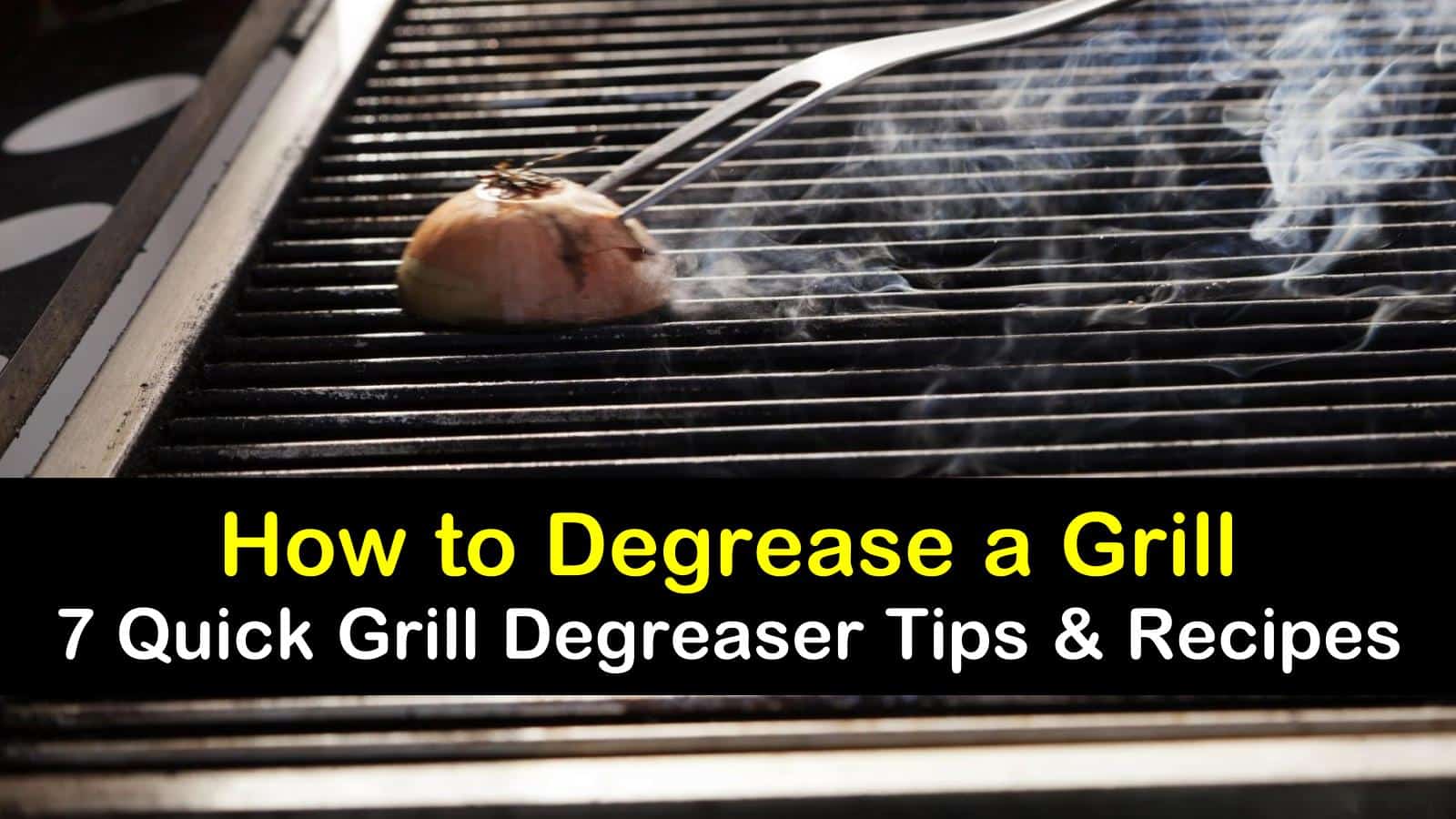 Tools for Degreasing Your Grill
Besides the grill cleaning products that we will mention here in this article, there are a few cleaning tools that you might want to have on hand that will help make an excellent barbeque cleaner. You probably already have them somewhere around the house.
The Best Grill Cleaners
Let's learn how to degrease a grill using the best BBQ degreaser and a little elbow grease. Some of these same solutions are ideal as a natural degreaser for kitchen cabinets and other surfaces, too.
Aluminum Foil Grill Cleaner
Scrub your dirty cooking grates with some crumpled up aluminum foil and be amazed at the results. The aluminum foil works like sandpaper to penetrate the grime and polish your grill.
Aluminum foil works as well as a grill brush to break up the baked-on food. Once clean, wipe off the gunk with a paper towel. Now that you know how to degrease a grill with aluminum foil try it as an oven cleaner and a rust remover.
Steam Cleaner
A handheld steam cleaner is a powerful cleaning machine that will quickly remove grease and grime from BBQ grills, cookers, smokers, ovens, broilers, microwaves, and more. Steam cleaners use jets of scalding steam to penetrate stuck-on grime, and you can remove remaining dirt with paper towels.
Steam is non-toxic because it trades chemicals for heat, making it one of the best grill cleaners. Use steam to clean porcelain grill grates or those made from cast iron or stainless steel with excellent results.
Onion Grill Degreaser
To clean your grill and get rid of grease and other stains, you can't get much better than the best natural degreaser around. Strangely enough, onions do an excellent job of removing grease and grime from your grill.
Heat your propane or charcoal grill first then use half an onion to scrub it clean. Use gloves, and grip the onion with a grilling fork to scrub it across the grill grates. Viola! No more baked-on food and other greasy debris.
Coffee Degreaser
Coffee is a natural degreaser that you can use to help keep your grill clean. Brew a few pots of strong coffee and pour it into a large tub, then soak your grill and utensils for a few hours to remove the stuck-on grease. Wipe clean with a paper towel and repeat often.
How to Degrease a Grill with Hot Scrub
One of the best grill cleaners is heat, and you can get plenty of that by turning up your grill to burn off some of the stuck-on food. Use your scrubber or a large spatula and a little elbow grease to remove any stubborn gunk. Once the charcoal and grease are removed, clean up with paper towels and a hose.
Vinegar and Water Homemade Degreaser for a Grill
To create a DIY all-purpose cleaner with vinegar and water, fill a spray bottle with equal parts of each and add a little lemon juice if you have it to make a homemade degreaser for a grill. As a homemade stainless steel grill cleaner, spray it on grease and grime and wipe off.
Use the mixture with a microfiber cloth as a perfect way to clean the control panel and other sensitive areas around the grill, too, to get at grease stains that may linger in the cracks and crevices of the appliance.
Vinegar also makes a fantastic stainless steel cleaner and is a great way to clean a dishwasher. The acidic nature of vinegar makes it well suited for cleaning many things in the home and even makes a perfect way to clean plastic patio furniture, as well.
Baking Soda and Essential Oil
Baking soda and essential oils make an excellent homemade grill cleaner.
Mix the water, baking soda, and essential oils in a small bowl to form a paste. Spread the solution evenly over the caked grill and let it soak in for 30 minutes. Use a scrub pad to remove the now loosened debris before wiping it down with paper towels and water.
Some Commercial Degreasers
Weber Grill Cleaner spray is a non-toxic product designed for cleaning the grease from your grills without needing to leave them on, or unattended.
Citrusafe Grate Cleaner is a citrus-based degreaser by Bryson designed to remove tough stains from grills. It is biodegradable, non-toxic, non-flammable, and USDA certified to contain at least 66% bio-based ingredients.
Goo Gone makes a couple of non-corrosive products that can be helpful to degrease grills that are powerful enough for a professional oven.
Easy-Off BBQ Grill Cleaner dissolves tough burned on grease and removes stains from your grill and your grill grates. It is safe to use on a stainless steel grill and any other cooking surface.
CLR BBQ Grill cleaner is also known as clr pb-bbq-26 and is formulated to break down caked grease, splatter stains, and burnt-on food. CLR is non-toxic and biodegradable.
A Few More Tips
Be careful when using commercial products on the outside of your grill because they can remove decals and ink from knobs and control panels.
Safety needs to be a consideration when learning how to degrease a grill. If using cleaners indoors, be sure to use adequate ventilation. If you are using these cleaners outdoors, be sure that there is not a lot of wind, and that it is not blowing toward you.
You should not use any heavy-duty grill cleaner on aluminum, cast iron, or faux stainless steel.
Clean a cast iron grill immediately after use with mild dish soap and a wire brush. Dry and season the grate and heat the oiled grill. Allow it to cool and store until needed.
We hope we have given you some ideas about how you can clean your BBQ grill and keep it that way. We have even shown you how to make a homemade degreaser for a grill. Each of the products on this list should make life much easier for you and make your barbeque grill look new without affecting the flavor of your food.
Recipe for Homemade Grill Degreaser
Homemade Grill Degreaser
Remove grease from your grill and leave behind a fresh scent!
Materials
8 ounces baking soda
2 ounces water
3 teaspoons of lemon juice
Tools
8-ounce wide-mouth jar
Stirrer
Measuring cup
Teaspoon
Gloves
Scrubber
Paper towels
Instructions
Combine the baking soda, water, and lemon juice in the jar.
Put on the gloves and spread the paste over greasy grill surfaces with your hands.
Let the mixture sit for half an hour or so.
Scrub the grill.
Rinse with water and wipe dry with paper towels.
Notes
Substitute 10 drops of lemon or lemongrass essential oil for the lemon juice if desired.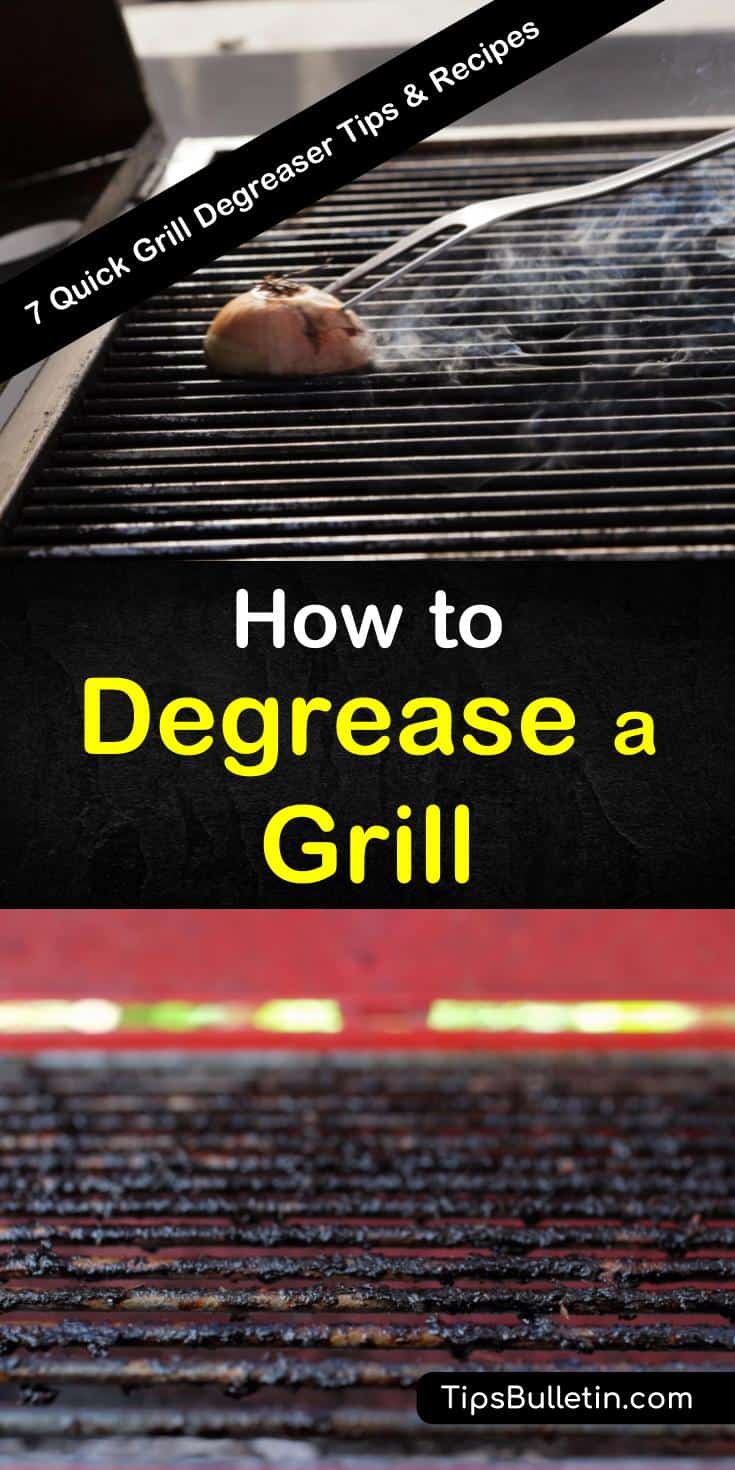 If you found this article about grill degreasing helpful, please share our seven quick grill degreaser tips on Pinterest and Facebook.