When looking for grills, many of us are drawn to shiny stainless steel, because nothing says backyard grilling as they do. The problem is that after just a few uses, the stainless steel is no longer shiny and no longer looks new. To keep it looking bright and fresh, you have to learn how to clean a stainless steel grill.
Despite its name, stainless steel is not immune to stains, discoloration, or even worse, rust. Some grills show wear and tear faster than others because not all stainless steel grills are made from the same grade.
Keeping your BBQ looking and working its best involves learning all the tricks to follow when cleaning stainless steel grills and the best stainless steel grill cleaners to use.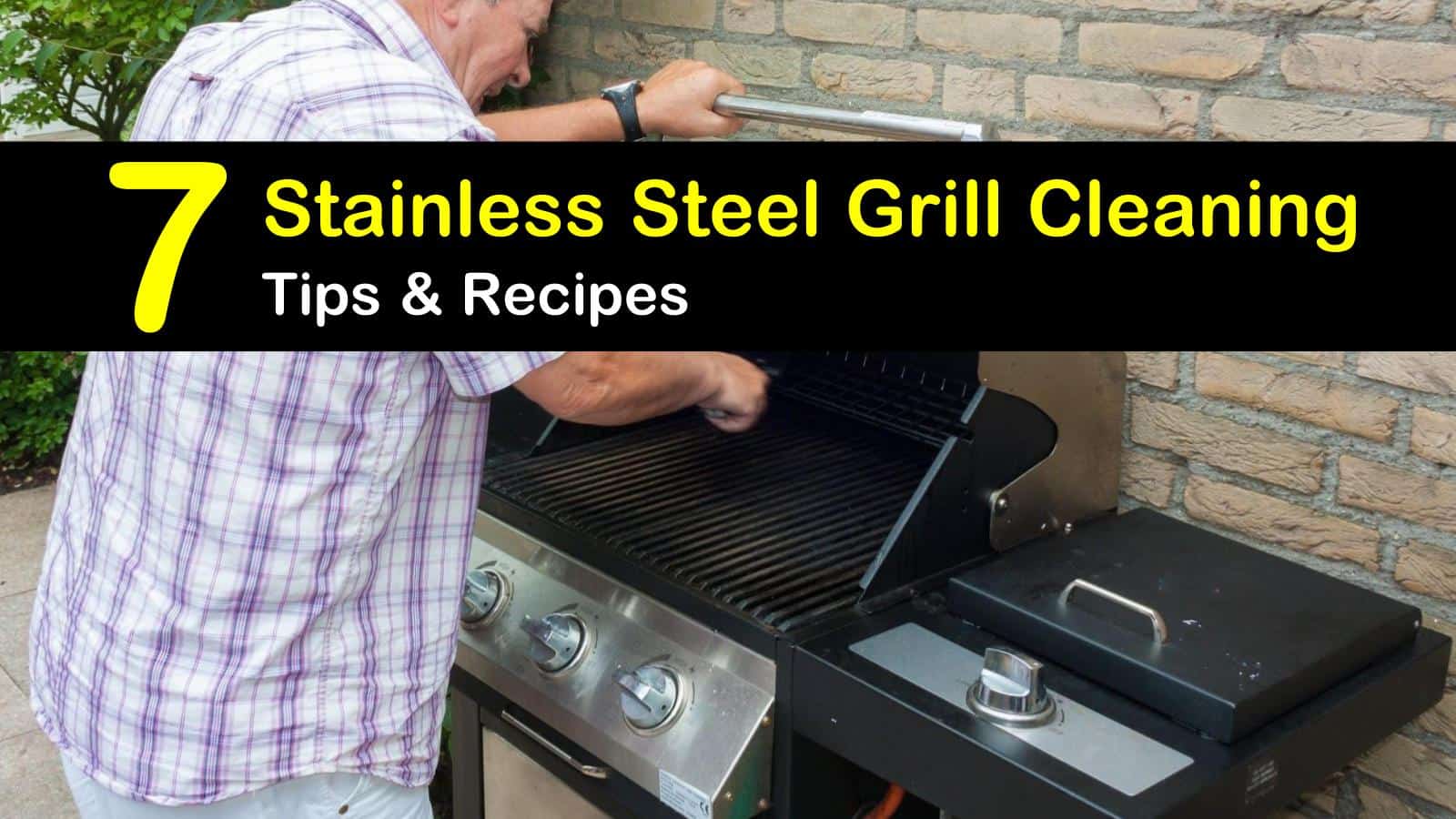 What You Need to Know about Cleaning Stainless Steel Grills
Regular cleaning of your grill or any stainless steel tools or appliances is essential to prevent corrosion and to maintain the shiny surface. How often you clean your BBQ grill and other stainless steel items depends on how much you use them and your environmental conditions inside and out. The harsher the conditions, the more cleaning your stainless grill requires.
Salty air speeds up rust and corrosion, while chlorine damages the finish. If you live near the ocean or have a pool, clean your grill inside and outside weekly. Once clean, invest in a cover so you can protect it from the elements when it's not in use.
How to Clean Stainless Steel Grill Grates
No matter whether you have a propane or charcoal grill, part of deep cleaning the grill means cleaning the inside, as well as the outside every time you set out to clean the grill. Sometimes the grates are the nastiest part of the process.
However, you can learn how to clean stainless steel grill grates the easy way. Baking soda and water make an excellent homemade stainless steel grill cleaner for the inside of the grill.
Cleaning stainless steel grill grates is not difficult and doesn't take a lot of time unless they have a lot of caked-on grime and debris. Before applying the cleanser to the cooking grates, remove them from the grill and place them on an old sheet or tarp on the grass or driveway.
Make a paste with warm water and baking soda and apply it to the grates with your hands or a rag. Cover the entire surface and allow it to sit for at least 20 minutes.
Using a wire grill brush that is safe for stainless steel, scrub the baking soda covered grates. Scrub everywhere, including between the bars and on both sides to remove as much grime as possible.
After you clean grill racks thoroughly, rinse grates well with warm water or a garden hose and dry the surface with a clean towel. For extremely dirty grates, you may need to repeat the cleaning process or use a heavy duty grill cleaner made by a grill company like Weber.
Best Tip for How to Clean the Inside of a Stainless Steel Grill
Part of learning how to clean a stainless steel grill is learning how to clean the inside of the stainless steel grill, which includes the flame tamers, burners, and venture tubes. If you are unsure where any of these parts are on your grill, consult your owner's manual. All of these pieces need regular cleaning, as any buildup can lead to uneven cooking.
Flame tamers cover your burners to create a barrier. To clean them, make sure the grill is turned off and cool before beginning. Use a wire brush to clean away food particles and then wipe down with a clean paper towel.
Cast iron, flat, tube, or u-shaped burners require a wire brush for cleaning, including the burner port area. Never use a wire brush on ceramic burners.Instead, heat the grill for 10 minutes, turn off and allow to cool.
Remove large pieces of food with a pair of tweezers. Cleaning the venture tubes requires removing the burner assembly and wiping everything down with a damp, soapy rag. Then rinse with a clean, wet cloth.
If your tubes are clogged with debris, use a small wire brush to clean them carefully. If only a few are clogged, use a paperclip or some other kind of small wire. To check for clogs, use your garden hose to flush water through the tubes.
Cleaning the Outside of the Grill
There are many strategies you could use for grill cleaning. When cleaning the outside of your grill, we do not recommend using stainless steel cleaners and polishes. Instead, use warm water and dish detergent to create a soapy solution as one of the best ways to clean a grill safely and effectively.
Avoid abrasive and acidic cleaners as they damage the grill's finish. Dampen a microfiber cloth in the dish soap and water solution. Wring it out and wipe down the exterior of the grill. Always go in the same direction as the grain to prevent scratching.
Microfiber is the best material to use as it won't scratch the steel, while other fabrics may. For stubborn areas with caked-on grease or other stains, use a soft sponge. Never use a scouring pad or steel wool.
Once everything is clean, rinse with warm water to remove all of the dirt and soap residue left behind from cleaning. Dry with a microfiber cloth, making sure to follow the direction of the grain once again to prevent scratches. You can use some of the same cleaners you use to clean a stainless steel kitchen sink to clean the exterior of your grill.
How to Clean a Stainless Steel Grill with Vinegar
Distilled white vinegar is one of the best DIY cleaning products for grates of all types of grills and is ideal to clean steel pans, as well. The great thing about using vinegar for cleaning is it naturally fights grease and rust and virtually everyone has a bottle or jug on hand.
Add vinegar and water to a spray bottle. You can use different measurements; make sure to add both ingredients in equal amounts, the same as you do for a kitchen cleaner spray.
Spray cool grates with the solution and allow to sit for one hour. Never spray this homemade grill cleaning solution on hot cooking grates and always turn gas off before cleaning. Wipe clean with a soft cloth.
You can also use vinegar for cleaning porcelain grill grates. Follow the same procedure above. Be sure not to use steel wool or a brush for scrubbing as you may damage the material. A nylon scrubber or cloth works best.
Aluminum Foil as a Stainless Steel Grill Cleaner
This method works, but should only be used as a last resort, as BBQ tools provide far better results. To remove food residue and grease from your cooking grates before cleaning, ball up some aluminum foil and scrub off the grime.
You can also try using a homemade aluminum cleaner recipe for aluminum grates. If your grill grates are cast iron, it's essential to reseason them after cleaning a cast iron grill.
Ensure that you take care of seasoning a cast iron grill after cleaning it. This process involves using oil to rub all over the grates after washing to ensure they don't rust and provide a non-stick surface for your next grilled meal. Always reseason your cast iron grill after cleaning.
Polish Your Stainless Steel Grill
Vegetable oil is a great way to keep your food from sticking to the grates. It can also be used to polish the outside of your stainless steel grill. To shine your BBQ, you need to start with a clean grill.
Dampen your microfiber cloth with some cooking oil and buff the outside. Go along with the grain of the stainless steel for the best results. If you are unhappy with how it turns out, use a stainless steel polishing wipe to shine your grill up nicely.
Keeping your Grill Clean
After you cook your meal on the grill, it's a good idea to scrape grates while they are still warm with a stiff-bristled brush or scraper as that removes all food particles.
Bottle brushes work great on burners, as they easily reach in between the slats. For cleaning a charcoal grill, remove old coals and ashes once cooled, and for gas grills, clean food from lava rocks and replace ones that won't come clean.
The rock bed requires cleaning with hot, soapy water. Coat the grates with cooking oil, close the lid, and cover your grill to keep moisture out.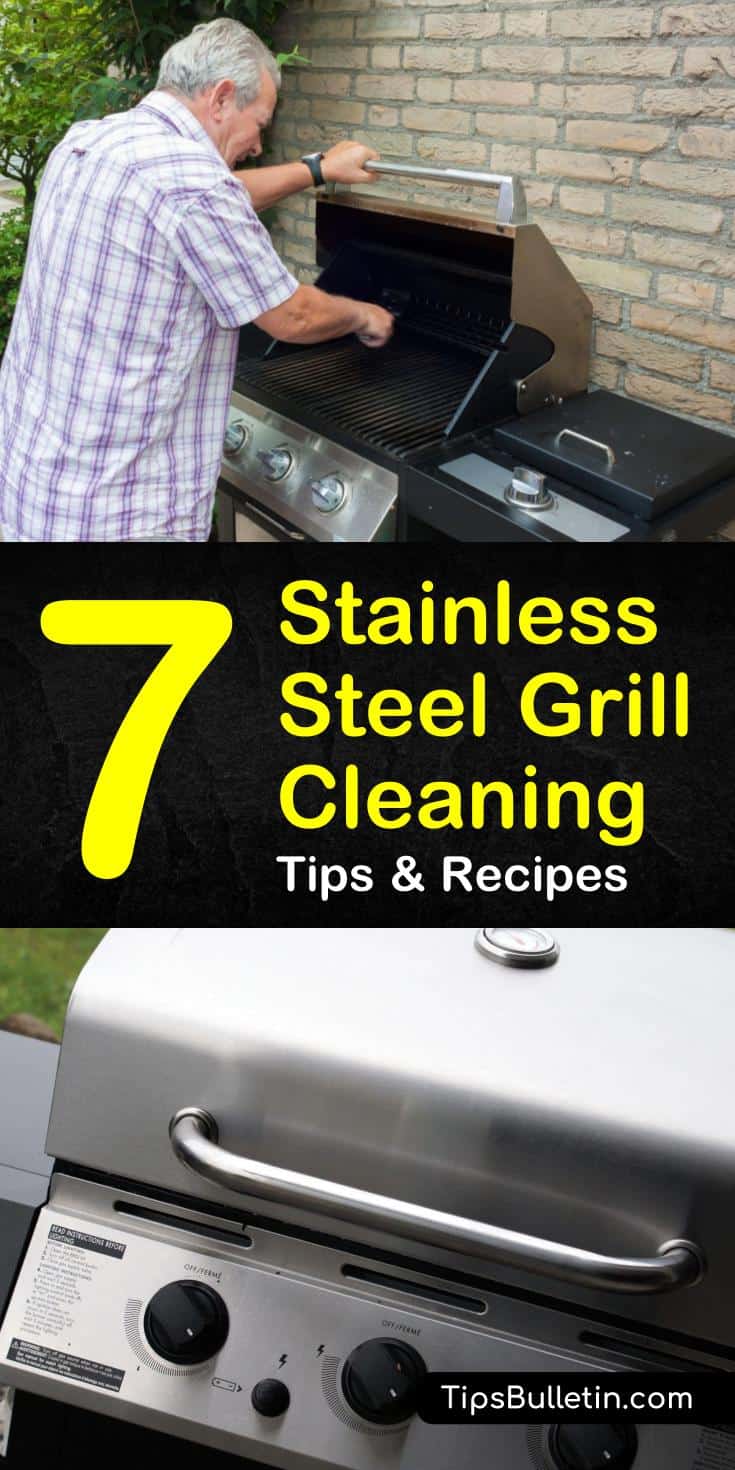 Thank you for reading all about cleaning stainless steel grills. If you found any of our stainless steel grill cleaner ideas helpful, please take a minute and share with others on Facebook and Pinterest how to clean a stainless steel grill quickly and effectively.