Keeping a clean home means keeping out pests. However, that's easier said than done, especially if you're dealing with ants or any other insects that form colonies. It doesn't take a lot for these tiny pests to take over your home, so it's essential to get rid of these insects as soon as you spot them. Luckily, there are many natural ant killer remedies that you can use around the home to keep them out.
An ant infestation can spread quickly because a colony can hold up to thousands of tiny insects. You should also know what kind of ant you're dealing with, as they each have different habitats. The odorous house ant is the type most commonly found in homes.
While they sometimes nest outdoors under stones and mulch, they also like the indoors, including inside wall voids and bricks. Carpenter ants will make their home inside of wood surfaces and will nest in walls, hollow doors, boxes, or ceilings.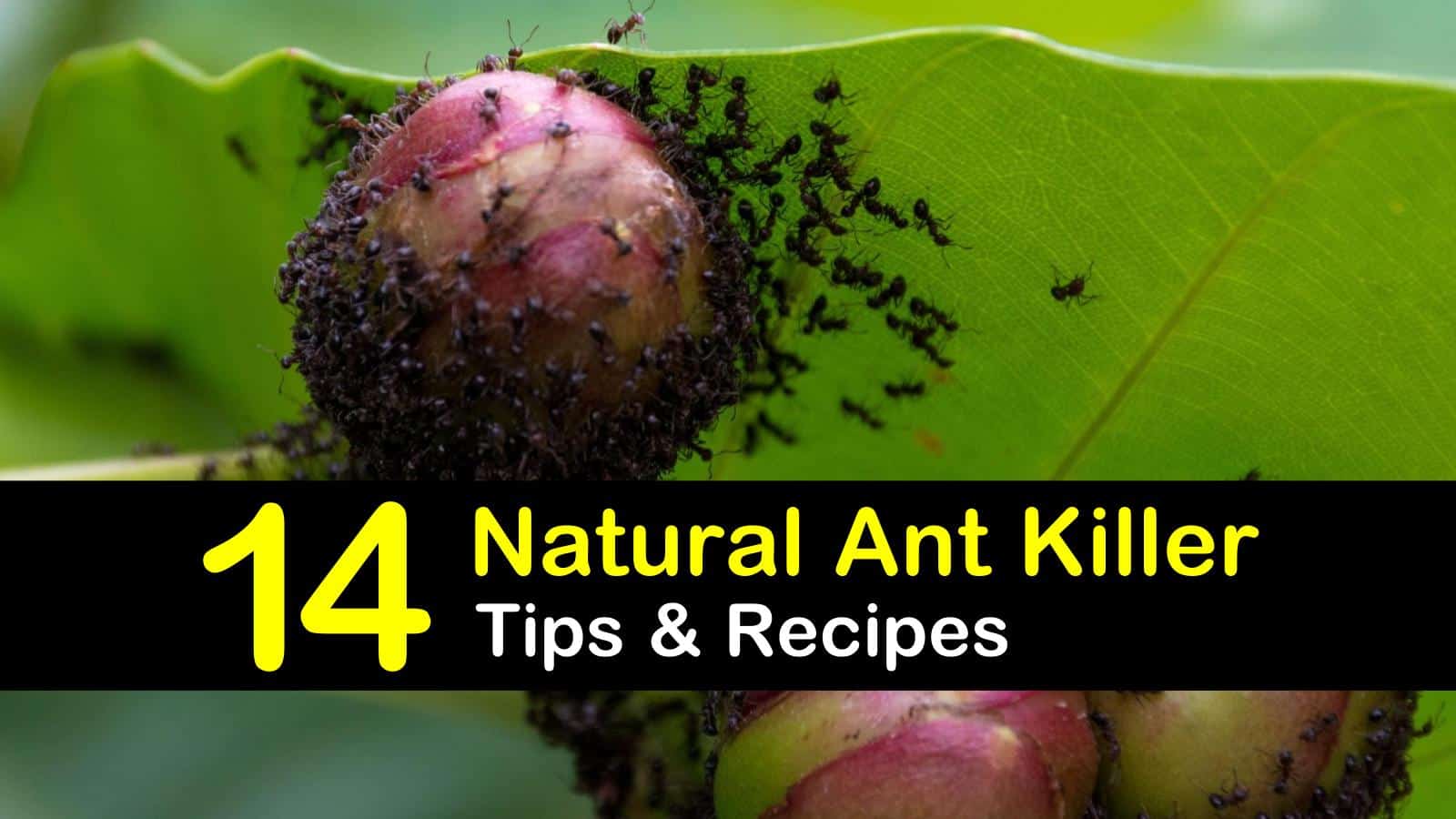 DIY Ant Killer Recipes & Tips
Fire ants are also a common problem, particularly in southeastern parts of the U.S. (..) They prefer the outdoors, but can become an issue in the summer when they head inside to find food and water. In this article, we'll be sharing natural remedies to get rid of all types of ants.
Keep Your House Clean
Ants enter your home because they are looking for a food source, such as crumbs, bits of sugar, or anything else that will sustain them, so it's important to remember that getting rid of your ant problem means addressing the source of the invasion with a simple clean up of your home.
The best way to avoid attracting ants, or making sure they stay away, is to keep your house clean and as unappealing as possible. This means sealing off entry points, eliminating water and food sources, and destroying existing scent trails, so no more ants get inside.
Natural Ant Killer
Borax is a perfect natural ant killer ingredient because it affects the insect's digestion, making it a slow killer. When one ant consumes Borax and takes it back to the nest, it can wipe out the entire colony.
To kill ants with Borax, mix the ingredients and dip cotton balls in the ant killer solution. Put the cotton balls on a lid and place these in strategic locations to use Borax for ants in the house. This remedy is also ideal for ants in the garden or wherever else you see ants and don't want them.
It's important to note that some ants can be beneficial in your yard. They eat other bugs that might be harmful to your plants, like aphids.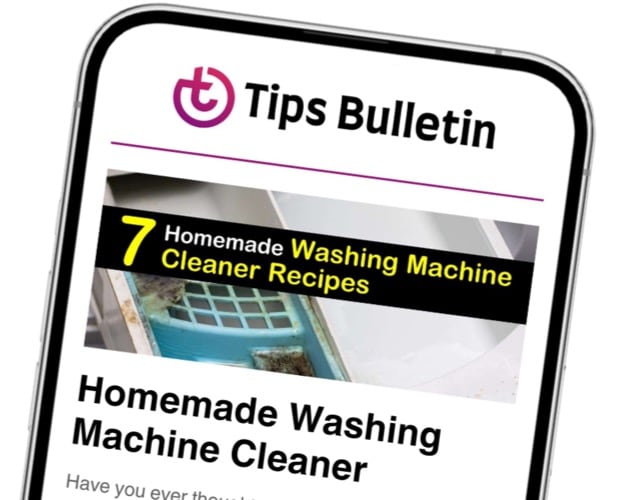 Finally, an email that Transforms Your Home.
Get the latest home and garden tips from our experts, delivered straight to your inbox.
However, no one wants fire ants in the yard. This recipe is one of the best home remedies for how to keep ants out of your garden so they won't be a nuisance to you, your family, pets, or your plants.
Baby Powder
Baby powder helps you get rid of your ant invasion with hardly any effort. If you don't already have a container of baby powder in your home, pick some up at any grocery store or drug store.
Ants cannot stand the smell or texture of the baby powder, so if you sprinkle it over ant trails and nests, the colony will disperse. You can also place it at any entry points to keep them out. Best of all, baby powder is perfectly safe if you have small children or pets in your home.
Borax Ant Bait
One of the best ways to get rid of ants in the house is to use bait, which lures the insects to the killer. The pesky ants then take the bait back to the nest, eliminating the entire colony.
To make this Borax based DIY ant killer, stir ingredients in a small bowl and place the bait inside a plastic straw. Cut the straw into pieces, about a half inch in size. Place the bait-filled straw near nests, ant hills, and trails.
The ants take the bait back to the rest of the colony where they eat it and die. It's an easy remedy for a common problem.
Food-Grade Diatomaceous Earth
It's a good idea to invest in purchasing some food-grade Diatomaceous Earth to help around the house with pest control issues. Diatomaceous Earth is an easy product to use to get rid of unwanted insects like roaches, fleas, and spiders, and is the best way to kill ants outside, as well as other bugs who wander into your space.
This natural ingredient attacks insects' exoskeleton, leaving them to die of dehydration. Sprinkle the chalky substance along known trails or nests, and at entry points such as windowsills, doorways, and baseboards.
Be sure to only use food grade Diatomaceous Earth as an organic ant killer. As a bonus, this powder is safe to use around pets and young children.
Natural Ant Spray
This natural ant spray stops these pests in their tracks. It includes many ingredients that are overpowering to the insects and will have them scurrying in the opposite direction.
Combine ingredients in a spray bottle and shake it to mix. Squirt the ant repellent along the baseboards inside your house, around the perimeter of your outside garden, or anywhere else you've spotted the pests.
Baking Soda
Baking soda is another effective ant killer and makes excellent bait. Combine equal parts powdered sugar and baking soda and sprinkle it in along cracks, baseboards, windowsills, or anywhere else you've spotted these tiny insects. The sugar lures the ants to the mixture, where they will consume the baking soda and die.
Essential Oil
Did you know that ants are sensitive to certain smells that will have them search for a new home? What smells do ants hate? One of the most potent smells they do not like is that of essential oils.
This is only one reason why these oils are so useful. Mix about ten drops of oil with one cup of water and spray, or dip cotton balls in the oils and drop them around your home.
Some essential oils also make an excellent stink bug repellent, particularly peppermint oil.
Citrus Fruits
While citrus oils work well to keep ants away due to their overpowering scent, you can use the fruits themselves around your home. Either spray lemon juice around your house or place orange peels in areas of entry.
We love this method because the materials are easy to come by, and you can hold onto your citrus peels and get more use of them before throwing them away. However, be sure to replace the skins or frequently spray the area, as the scent fades.
Homemade Ant Trap
Make a simple homemade ant trap in seconds that will kill ants and help eliminate your infestation. Create a sugar water mixture by dissolving one cup of granulated sugar in a half cup of water, and then add one tablespoon of boric acid.
To make an ant trap, pour the solution into a plastic container and poke holes in the top through which the ants can crawl. For added temptation for the ants, sprinkle some sugar around the tub.
Cayenne Pepper
Ants hate pepper, especially cayenne pepper. To keep the insects away, sprinkle cayenne pepper around windows, doorways, or anywhere else the ants crawl.
If you don't have cayenne pepper, then black pepper or red chili powder also works. Sprinkling any kind of pepper is most effective if you find the ant hill or infestation. Sprinkle it around the ant hill or the source of the outbreak, and it makes the nest uninhabitable.
Cinnamon
Ground cinnamon is another common household ingredient that you can use in your home to get rid of ants naturally. Sprinkle the powder wherever you've noticed ants, particularly in food-heavy areas.
The insects don't like the scent of the cinnamon and will promptly leave. As it is harmless, you can feel safe using cinnamon powder anywhere inside and outside your home and you don't have to worry about it harming your children or pets.
If you'd prefer a spray, mix some cinnamon powder with water to create a repellent and spritz it wherever ants lurk.
Natural Ant Killer for Outside
When it comes to finding a natural ant killer for outside, you have a few options that are all simple yet effective. The key to any of these methods is to find their home, which could be ant hills or nests inside wood or trees. Some of these remedies may also work for killing fire ants naturally, too.
These are all pet friendly ant killers that are easy and fast-acting.
Chalk
This may sound like one of the most straightforward tips on the list, but it is very useful. Chalk disrupts communication between ants, which means they will avoid crossing a chalk line.
Draw a chalk line around any area where ants are entering your home. Not only is this method easy, but it is also safe for kids and animals.
Learning that you have an ant problem is never fun, but solving the issue doesn't have to be a hassle. With these natural ant killer and repellent tips, you'll be able to get your home back to its best in no time without having to shell out a lot of money.
Recipe for Natural Ant Killer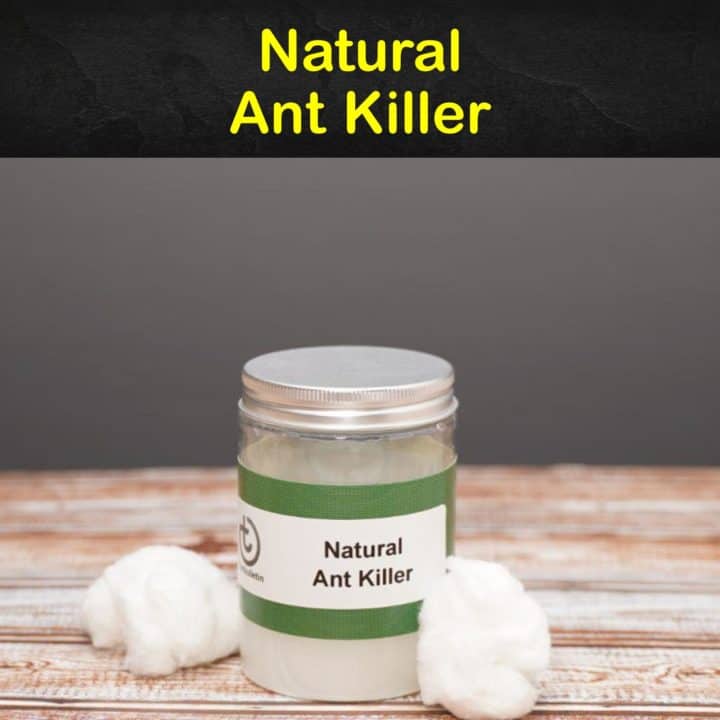 Natural Ant Killer
Easily eliminate ants with this effective bait recipe.
Materials
12 ounces warm water
1.5 tbsp Borax
4 ounces table sugar
Tools
Wide-mouth jar
Tablespoon
Cotton balls
Measuring cup
Instructions
Add the water, sugar, and Borax to the jar.
Stir well to ensure everything dissolves.
Dunk cotton balls into the solution and squeeze out extra liquid.
Place cotton indoors or out in areas where ants are a problem.
Notes
Ants cannot resist the sugar and the Borax kills them.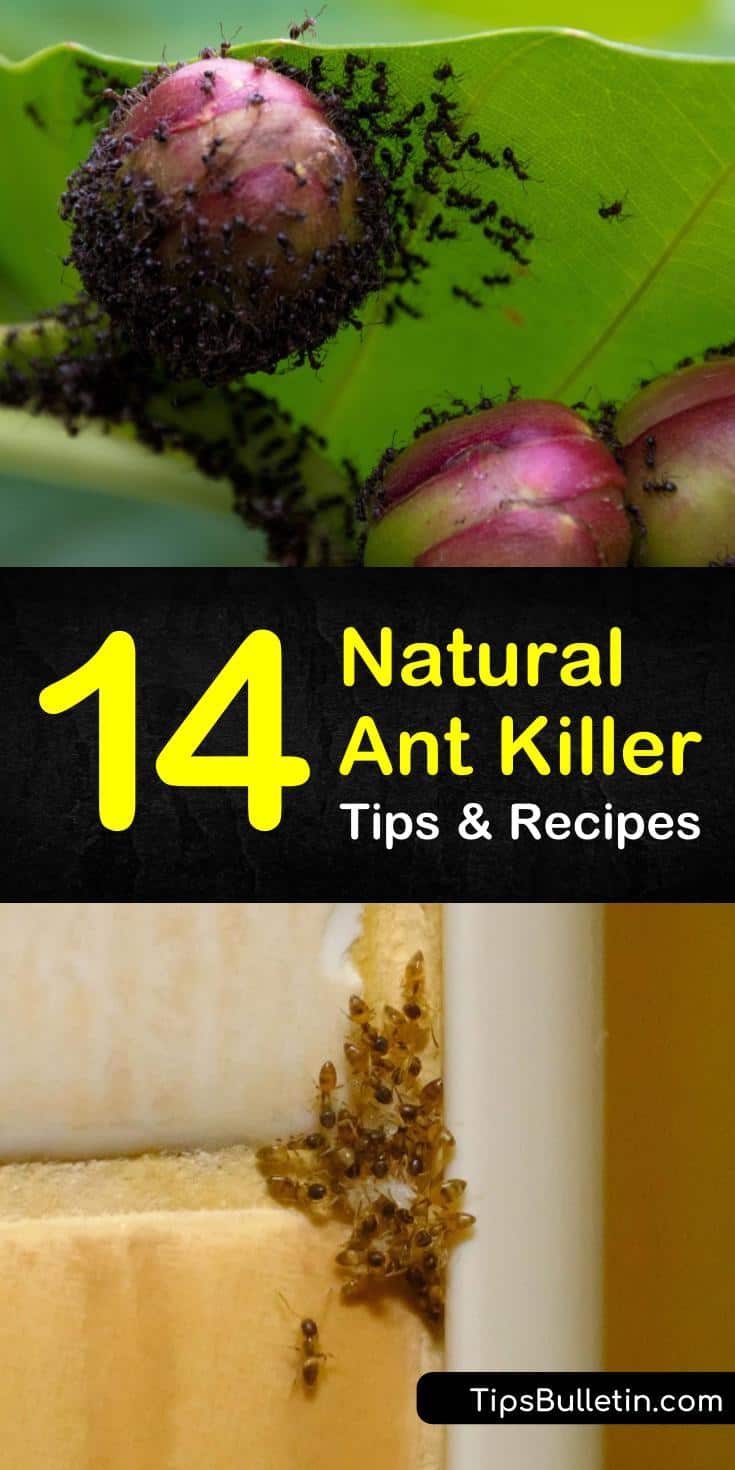 We hope that you found these pest control tips and methods helpful! If you tried one of our recipes, share these natural ant repellent tips with your friends and family on Facebook and Pinterest.