All it takes is one fast-growing brush plant to make your yard look like something out of a Sleeping Beauty nightmare. While some brush is aesthetically pleasing as privacy barriers or borders, if left unmaintained, these wide-spreading plants become a nuisance fast. One of the best ways to handle these types of vegetation is to use a homemade brush killer made from natural ingredients.
If an organic brush killer is what you're interested in, there are plenty of ingredients found in your very own pantry that are perfect for eliminating weeds of almost every kind.
If making your own natural weed killer is not convenient for you, we also discuss the best types of commercial weeding products to use and the appropriate ways to use them. If you're ready to find the DIY brush and weed killer of your dreams, then read on to find everything you need.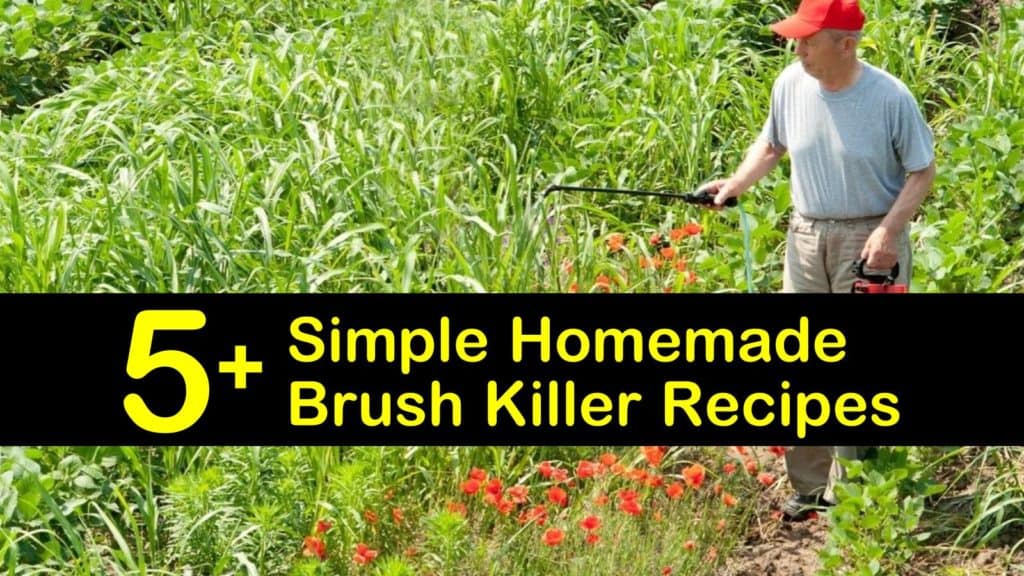 Amazing DIY Brush and Weed Killer Recipes
The first step in removing brush weeds from your yard is identifying them. Knowing the type of plant you are dealing with makes the difference between using an effective brush killer versus one that one works on specific plants.
Brush weeds are a part of the broadleaf division, which also includes other plants like dandelions and chickweed. As a result, the non-selective chemicals and those explicitly geared toward these broadleaf plants also damage any other plants in the area.
Take care when using them near your flower or vegetable garden. Equally, using a grass weed killer designed explicitly for dealing with grassy weeds, like Bermuda grass or crabgrass, is ineffective against these brush weeds.
White Vinegar: Organic Brush Killer
One of the best ways to kill weeds naturally is by using vinegar. Vinegar comes in many different types and concentrations, and most variations work. The most potent examples of vinegar to use, however, are those with a higher concentration, such as horticultural vinegar.
This type of vinegar has a concentration level of about 20%, a big difference when compared to its cooking equivalent of only 5% concentrated vinegar. If regular white vinegar or apple cider vinegar does not work, then try the horticultural version next.
When you are ready to learn how to make homemade weed killer, start by mixing the two ingredients in a medium-sized spray bottle. The acetic acid prevents the plant from retaining moisture and ultimately leads to it drying out.
Using a dish soap like Dawn allows the vinegar to break the surface tension on the plant and latch onto the weed you are trying to kill more efficiently. Because you rely on the plant drying out as fast as possible to prevent it from spreading any further, apply the vinegar concoction on a hot, sunny day to speed up the process.
Killing Brush with Salt
For a twist on the homemade weed killer made with vinegar, adding a cup of salt or two makes a huge difference. Just as the vinegar reduces the plant's ability to retain moisture, table salt also dries out the plant by increasing the salinity levels in the soil.
This is an excellent way to kill kudzu and other weeds, but note that complete eradication may require several applications over a period of weeks, as the roots may be deep.
Only certain types of salts make this recipe useful. Salt containing sodium chloride, such as table salt or rock salt, is the only one that works. Epsom salt does not contain sodium chloride and nourishes the soil surrounding the weed, helping it to grow even stronger.
Add all ingredients to a large spray bottle and coat the surface of the weed with the solution. Soak any surrounding areas as well. Be careful not to get the homemade herbicide on any plants you want to save, as the main ingredients destroy any plant it comes into contact with.
Avoid overusing this method, as too much salt may damage the soil over time. These combined ingredients may take a couple of weeks before you see results but are also the perfect natural moss killer for lawns and gardens.
Using Commercial Weed Killer Properly
When it comes to killing weeds, sometimes the easiest thing to use is a commercial weed killer. With so many different options for you to choose from, it's challenging to determine which one works best for your yard. Non-selective weed killers like Roundup use glyphosate as the active ingredient to destroy any plant they touch.
These types of weed control work exceptionally well when you need to remove many weeds from your yard as quickly as possible. If using this option, apply using a sprayer to cover large areas at a time. Plan to treat your yard on a day without wind so that the weed killer does not float onto other more desirable plants.
Another choice you have available is to use a selective herbicide known as triclopyr. This chemical is found in many store-bought brush killers and is generally safe to use around other plants. When killing brush weeds, it's important to note that typical time frames for killing weeds do not always apply.
Where an herbicide may kill a smaller plant, such as dandelion, within a couple of days, it may take weeks for the weed killer to make its way through larger, sprawling plants like brush weeds. If your brush does not die back within a few days, do not lose hope. Reapply the weed killer once a week until you see results.
DIY Brush and Weed Killer
Another excellent weeding strategy to use involves Borax. Similar to how Borax works as an insecticide, the agent works well for killing thistle and other unwanted vegetation by drying them out and withholding moisture.
While not as effective as vinegar against the more common lawn weeds, Borax is one of the leading ways to remove more expansive brush like ground ivy.
This recipe makes enough solution to treat at least 100 square feet, so administer accordingly. Warmer water also makes it easier for the Borax to dissolve. Boiling water is even better and adds to the weed-killing properties of the mixture.
Homemade Brush Killer
When used on its own, vinegar kills the plant from the leaves and eventually works its way down to the root system. As a result, it usually takes a little longer for the plant to wither and die. Adding an extra ingredient like gin to the formula increases the potency of the homemade tree stump killer and affects the roots immediately.
A spectacular DIY poison ivy killer, this technique works similarly to the others and is applied directly to the plant. Spray the surrounding soil as well to ensure the mixture soaks down to the roots. As with most recipes, allow a few weeks for the brush eliminator to kick in, spraying the soil intermittently until you notice a change.
Prevent Weeds from Coming Back
One other step people often overlook when it comes to removing weeds from their lawn is taking preventative measures to keep weeds from coming back in the first place. In most cases, adding a pre-emergent herbicide to your lawn and garden areas ahead of time works wonders.
The best time to apply pre-emergents to yards is typical during early spring, before the little seedlings in your lawn even begin to grow. Other strategies include using mulch or ground cover plants to use up as much space in your gardens as possible.
Taking up all the space with lower, wider-spread plants like Alyssum make it that much more difficult for the brush to sweep in and overthrow your veggies or rose bushes. Without any access to light or space, any minuscule particles of creeping vines and large brushes left beneath the soil after weeding won't stand a chance.
Hopefully, you now have your new favorite strategy for ridding your yard of unwanted brush. There are multiple ways to get rid of invasive weeds, so finding the right technique depends on what you have available and the location of the brush in your yard.
When you plan to use an organic brush killer or one with whatever chemicals you have handy, you can't go wrong with these easy, DIY weed killing recipes.
Recipe for Homemade Brush Killer
Homemade Brush Killer
Destroy unwanted vegetation with this simple recipe.
Materials
1 quart of apple cider vinegar
1/2 cup dishwashing liquid
Tools
48-ounce spray bottle
Measuring cup
Instructions
Pour the ingredients into the spray bottle.
Stir or shake to combine without making too many suds.
Liberally spray weeds, brush, and grass you want to kill.
Notes
Using this solution on dry brush yields the best results.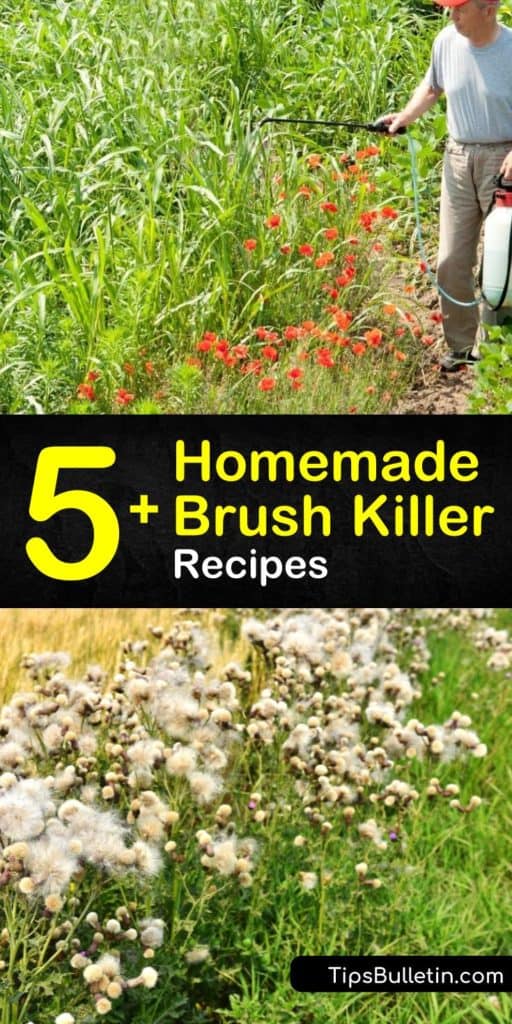 If you found these weed control tips and recipes helpful, then please remember to share your favorite homemade brush killer with friends and family on Facebook and Pinterest.