All plants require the right amount of sunshine, water, and food for healthy plant production, and eggplants are no different. Without nutrients, plants struggle to thrive and produce a small fruit yield. While your local garden center carries a range of fertilizers, it's easy to make a homemade fertilizer for eggplant plants to ensure you have an abundance of fruits at the end of the growing season.
While plant food may seem straightforward, it's a little more complicated. For example, some plants want more nitrogen, while others desire higher amounts of potassium or phosphorus, and learning about their differences goes a long way to crop production.
In addition, your soil type plays a vital role in plant growth, whether growing onions or growing carrots and eggplants. However, you don't need synthetic fertilizer to feed your eggplants. There are many ways to correct the soil pH and give your plants the nutrition to flourish without wasting time and money.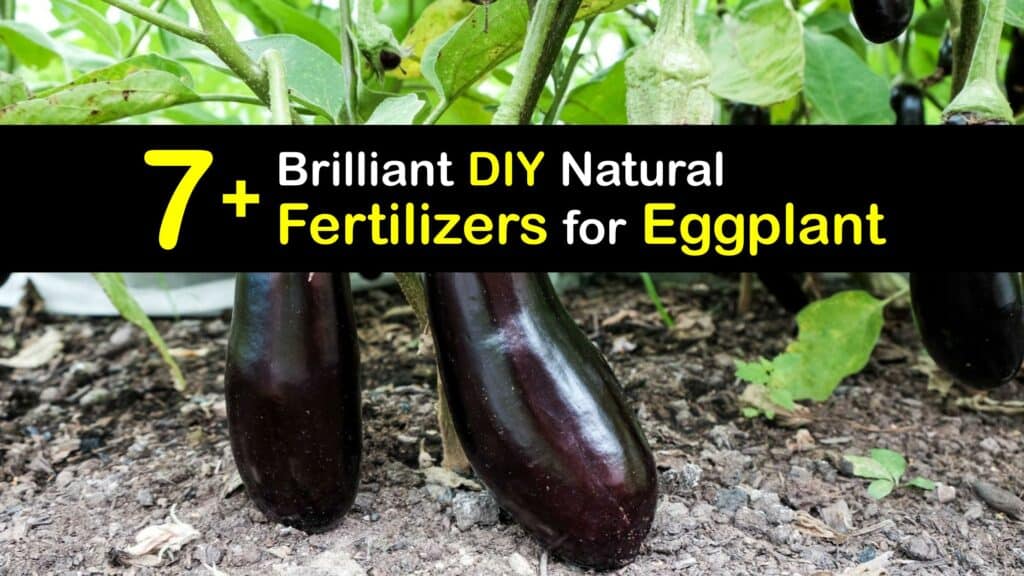 Fertilizing Eggplants for Optimal Growth and Fruit Yields
Growing eggplant in the home garden is an excellent way to produce organic eggplant fruit. The key is to give your plants a head start and encourage healthy growth throughout the season by supplying them with the proper nutrients. The easiest way is by growing companion plants and feeding them with homemade fertilizer.
There are many different aubergine eggplant varieties. Some grow best in pots and others thrive in a garden setting. Choose what works for you.
Why Do Eggplants Need Fertilizer?
While it's easy to assume that nature provides fruits and vegetables with everything they want to thrive, it's essential to give them eggplant plant food to ensure they grow strong stems and leaves and produce fruit. Learn which nutrients eggplants need for optimal growth.
Fertilizer improves the plant's overall health, from the roots and stems to the leaves, flowers, and fruit. It's vital to feed eggplants during their growing and fruiting stages to reduce the chance of plant stress, resulting in a poor yield.
Eggplants are heavy feeders and want equal amounts of nitrogen, potassium, and phosphorus to ensure they set and grow fruits. Too much nitrogen causes large leafy plants that look nice but fail to fruit.
When is the Ideal Time to Fertilize Eggplants?
Some plants require no fertilizer, while others need plant food at specific times of the year. Discover when to apply organic eggplant plant fertilizer through the season to give your plants a boost.
Eggplant Feeding
There are three times to fertilize eggplant throughout the growing season. First, work organic fertilizer into the ground before planting. Then, feed the plants again after the flowers form and the fruits begin growing. Finally, fertilize the eggplant after you harvest the first crop for continual eggplant production.
How to Fertilize Eggplants
Different ways to feed your plants depend on whether you use a liquid or granular fertilizer, and knowing the proper way to apply them allows optimal results. Here is how to fertilize eggplants using a few popular methods.
Fertilizing Eggplant
When fertilizing in the spring, mix manure or organic fertilizer six inches into the ground before planting to ensure plenty of food is available for the eggplant roots. After the eggplant flowers, check them daily and side-dress the plants as soon as you notice the fruit.
Spread a six to eight-inch wide circle of eggplant or tomato fertilizer three inches deep into the soil, taking care not to bother the roots. Side-dress the plants with fertilizer again after the first harvest.
Organic Eggplant Plant Fertilizer
The eggplant (Solanum melongena) is closely related to the tomato plant, and they both have similar growing requirements. The ideal way to give your plants a head start as seedlings is to prepare the garden bed or planter with organic eggplant plant fertilizer.
This is extra helpful when you plant eggplant and your soil lacks nutrients or if you cannot incorporate companion planting near your eggplant plants. Mix an organic fertilizer for lettuce plants and tomatoes the same way.
Many types of organic matter are perfect for use as fertilizer for eggplants. Aged animal manure is one of the most popular, including cow manure and dried chicken dung, and it works to enrich the soil at the time of planting.
Bat guano is useful and comes in powder or palette form. Sprinkle it around the plant's base and water it well, or add a couple of teaspoons to a gallon of water before watering your plants.
Other options are leaves, grass clippings, and seaweed, which provide nutrients and trace elements to the soil. Another good choice is cotton seed meal if your garden is low on acid.
Homemade Fertilizer for Eggplant with Epsom Salt
Epsom salt is a mineral salt of sulfate and magnesium. It helps an eggplant seed germinate and encourages bushier growth and flower production. Quickly grow eggplant in pots and container or your garden and watch them flourish. Make a DIY fertilizer for eggplant with Epsom salt.
Epsom salt is excellent as a bi-weekly foliar spray, allowing more nutrients to absorb through the root system, whether you fertilize cucumbers, eggplant, or another garden veggie.
Add one teaspoon of Epsom salt to each gallon of water when watering your plants. In addition to adding nutrition to the soil and improving the fruit set, Epsom salt deters slugs, voles, and other pests.
Make a Liquid Fertilizer for Eggplant
Cow manure encourages a plant to grow more fruits by helping the soil retain water and hold its structure. Not only does the plant produce more, but the length, diameter, and weight of the fruits increase. Here is how to fertilize eggplants with homemade manure tea.
The best and easiest natural fertilizer for eggplant plants that are underperforming is manure tea. It enriches the soil while adding nutrients to the plant and is similar to compost tea. Mix five parts water with one part cured cow manure by shoveling the manure into a burlap sack and suspending the bag in a large bucket of water.
After the manure steeps for a week or two, remove the bag and let it hang above the bucket until it stops dripping. Fill a garden sprayer with the tea, use the fine spray setting, and apply it to your plants in the early morning while the soil temperature is cool.
Making a Banana Peel Fertilizer for Eggplants
Banana peels are a natural eggplant fertilizer that is great for boosting your plants while preventing food waste. They contain calcium, magnesium, sulfur, and phosphorus and are easy to use to feed eggplants.
There are three ways to use banana peels to fertilize and grow eggplant. The first uses fresh peels and is the easiest. Bury the peels beneath the mulch around your eggplant, and they release nutrients each time you water your plants.
Another way is to make tea. Place some banana peels in a jar, cover them with water, and let them steep for a week or two before using the liquid as a fertilizer.
You can also feed your plants dried peels. Set the banana peels on a paper plate to dry and crush them in a blender. Sprinkle the banana powder around the plant's base and water it thoroughly.
The calcium adds oxygen to the soil for strong root growth, the magnesium assists with photosynthesis, the sulfur repels pests, and the phosphorus improves flowering and fruiting.
Fertilizing Eggplants with Eggshells to Prevent Blossom End Rot
One of the best tips for fertilizing eggplants to prevent blossom end rot is eggshells. Plants take up calcium through their roots, and soil with low calcium causes this disorder, damaging the blossom end of the fruit. Use leftover shells from eggs to prevent this problem.
The simplest way to use eggshells as an eggplant fertilizer is to crush them into a powder. Wash and rinse the shells, let them dry completely, and grind them into a powder in a blender or food processor. Sprinkle the shell powder around the eggplant and water the soil thoroughly.
Use eggshells as plant food by making fertilizer tea. Fill a saucepan with a gallon of water, bring it to a boil, and add about 20 clean eggshells. Remove from the heat, let the shells steep overnight, and strain the liquid into a container. Water each plant with two cups of fertilizer every two weeks to promote plant height and fruit production.
Planting eggplant is rewarding, no matter which eggplant variety you grow. However, it's vital to feed your plants nutrients after sowing eggplant seeds and transplanting eggplant seedlings to promote lush foliage and tasty eggplant fruit.
We hope that employing a homemade fertilizer for eggplant helps you produce the best crop at the end of the growing season, and we'd love it if you'd share our DIY eggplant fertilizing techniques with the gardeners in your life on Facebook and Pinterest.