Eggplant is a beautiful plant to grow in your home garden because of its deep purple hue. There are many types of eggplant to produce at home for a delicious eggplant recipe like stuffed eggplant, grilled eggplant slices, or Eggplant Parmesan.
While this warm-weather crop has a long growing season, the patience is worth it once you produce a flawless purple eggplant to enjoy.
Eggplant is scientifically known as Solanum melongena or S melongena and is sometimes known as aubergine. An eggplant is a warm-season perennial nightshade in various shapes, sizes, and colors.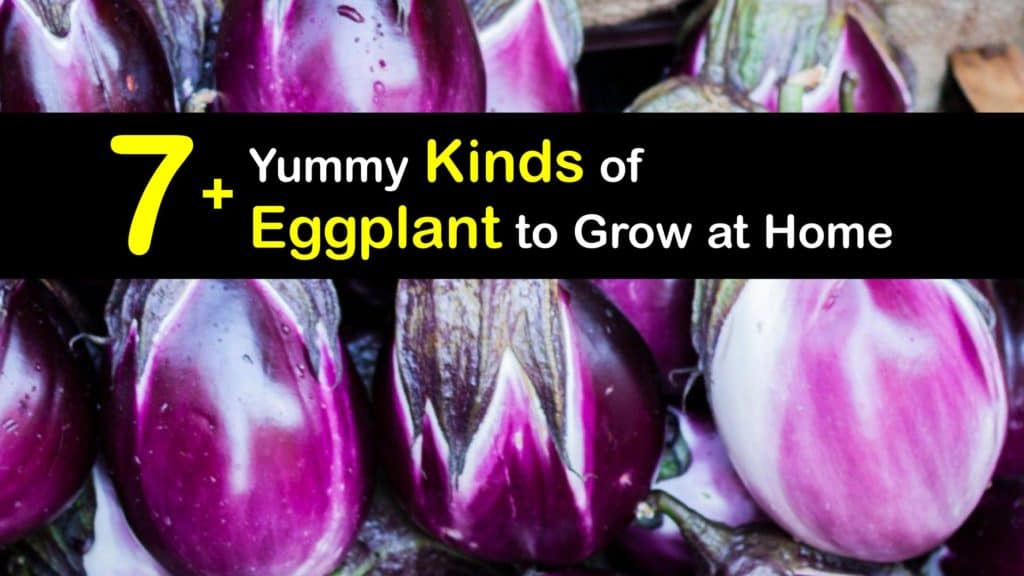 Eggplant Types for Your Home Garden
The globe eggplant is one of the most popular eggplant types in North America with the typical appearance we associate with the fruit – glossy dark purple skin and soft flesh.
If you're unsure about eggplant, you likely haven't tasted your favorite species yet. There's lots of variety in this tasty nightshade, so it's great to learn about some of the more common eggplant varieties before prime eggplant season begins from July to October.
Since a berry has tiny edible seeds growing from a single bloom, eggplants, like bananas, tomatoes, grapes, and cucumbers, are categorized as berries, despite often being called fruits or vegetables.
Different types of eggplant have diverse characteristics, from flavor to color and growing conditions. Understanding what common types of eggplant have to offer allows you to select the perfect eggplant varieties for your garden and culinary goals.
Eggplant Types – Globe
Globe eggplants, often known as American eggplants, are the most common variety found in grocery stores. They have a rich purple color and a short, squatty shape.
It's a versatile eggplant with a meaty texture, making it a good protein substitution in meals like Eggplant Parmesan. Globe eggplants are the biggest, usually dark purple, and one of the best eggplant varieties for roasting and grilling with their mild flavor.
Types of Eggplant – Chinese Eggplant
The Chinese eggplant variety has a long, narrow shape with white flesh and light to mid-toned purple skin. It tastes less bitter than the familiar globe (American eggplant) sort because it has fewer seeds.
The Chinese eggplant's consistent slim shape makes it ideal for chopping into rounds and sautéing eggplant slices. According to the findings of the United Nations' Food and Agriculture Organization and related articles, China is the leading supplier of eggplants, accounting for nearly 63% of global production.
Eggplant Varieties – Fairy Tale Eggplant
The name of these charming eggplants is accurate. The Fairy Tale eggplant features a beautiful purple and white stripy surface with delicious soft flesh. These striped eggplants grill well and cook quickly due to their hand size proportions.
Common Types of Eggplant – Graffiti Eggplant
With its mottled-purple and white striping, the Graffiti eggplant (also known as zebra or Sicilian eggplant) is similar to a fairy tale eggplant. Aptly named for its colorful exterior, Graffiti eggplant is ideal for eating whole or pureeing because the seeds are tiny and thin. Alternatively, use them in any recipe calling for globe eggplants.
Eggplant Types – Italian Eggplant
The Italian eggplant is similar in color and shape to its counterpart, the globe eggplant, but it has a smaller size and is sweeter. Furthermore, its flesh is softer than its meatier American cousin. Use Italian eggplant anywhere globe eggplant is required; it's incredibly delicious in Italian cuisine like Eggplant Caponata.
Eggplant Varieties – Rosa Bianca Eggplant
The Rosa Bianca eggplant is an ombre eggplant type and is one of the best choices for picky eaters. If you've avoided eggplant in the past because of the bitterness you sometimes find in the fibrous plant, you'll be delighted to try the Rosa Bianca eggplant.
The flesh of this Sicilian cultivar is relatively light and delicate with a mild flavor, and it is not bitter at all. Rosa Bianca eggplants are ideal for grilling because of their petite size.
The White Eggplant
There are a variety of White eggplant cultivars available, and they all have the same stark white skin. On the inside, however, they're essentially identical to regular eggplant. All eggplant varieties used to be white, but the more insect-hardy and drought-tolerant globe eggplant took over as time passed.
As a result, most white cultivars on the market now are heirloom. Use white eggplant in any recipe calling for a globe or Italian eggplant for a delicious and unique dish. White eggplants provide a great talking point when grown in your home garden or served up in the kitchen.
Indian Eggplant Types
These charming nightshades resemble cherries or grapes and are sometimes known as baby eggplants. They have a spherical form and a dark reddish-purple tint. They're frequently found in Indian recipes such as curry and are rich and spicy in flavor.
Black Beauty Eggplants
The Black Beauty eggplant tastes excellent and lasts a long time. This heirloom eggplant variety has smooth, glossy, purplish-black skin with bright green calyx.
Black Beauty eggplants are large and round to oval in shape. These eggplants are delicious and versatile, with the bonus of maintaining their color and quality after being picked, making them aesthetically pleasing and delicious in a dish.
Other Eggplant Varieties
The delicious array of eggplant types doesn't end with this list. In addition to the diverse options above, consider the Thai eggplant, Japanese eggplant, Asian eggplant, or Ping Tung eggplant for your garden.
In addition to the common types of eggplant, hybrids are becoming increasingly popular. Consider a hybrid to achieve the flavor you love combined with pest resistance or cold tolerance, depending on the needs of your area.
Planting Seedlings of Your Chosen Varieties of Eggplant
Begin germination of eggplant seed indoors two months before your area's last frost date. Transplant eggplant seedlings into the garden once the weather warms in your area. Plant eggplant with tomatoes since they have the same basic growing needs.
After germinating your seed, it's time to transplant your seedlings and begin the process of growing eggplant in your garden. Plant carefully to ensure your favorite eggplants thrive, whatever different varieties you choose.
Care of Common Types of Eggplant
Care is a big part of eggplant growing success. Eggplants require consistent, even watering. Even with one missed watering, the yield will most likely drop.
Every week, eggplants require 2 to 3 gallons of water per plant. Mulch around eggplants once they've established themselves to keep the soil moist. After the fruits have set, feed the plants with manure tea every two weeks to ensure a bountiful harvest.
Pour over the soil every two weeks to fertilize your eggplant crop.
Harvesting Eggplants
Whatever types of eggplant you grow in your garden, all eggplant varieties are relatively similar to harvest. Eggplants won't reach maturity until they are around 100 days old, but because the flavor of young eggplants is the best, most gardeners determine when to pick eggplant well before this stage.
Prepare to harvest your eggplants at 70 to 80 days after transplanting. Harvesting your eggplant begins when the eggplant is between six and nine inches in length and the skin is shiny.
A sharp implement, such as garden pruning shears or a sharp knife, is the best tool to harvest eggplants. Remove the eggplant from the stem by cutting it in half. Leave around two inches of stem on the plant to continue to grow and yield more crops.
Keep veggies fresh in the fridge short-term or learn some other ways to preserve eggplant longer to enjoy all year.
As long as you provide eggplants with a warm location, warm soil, consistent watering, and a stress-free environment, they repay you with both beauty and flavor.
With so many eggplant types to experiment with, this versatile berry offers no shortage of growing fun in the garden, followed by lots of cooking pleasure in the kitchen.
In addition to being aesthetically pleasing and straightforward to produce, eggplant is also highly nutritious. This purple fruit is low in sodium and calories and a great source of vitamins, minerals, antioxidants, and fiber.
Grilling, tossing into a stir-fry, or cutting into eggplant slices are all options for using eggplants, which are available in different colors, shapes, and sizes.
It's no surprise the culinary circuit has many delightful ways to prepare eggplant because the botanical world is home to a plethora of eggplant species hailing from all around the world. Choose your favorite types of eggplant and add some color and variety to your garden, then enjoy a delicious, versatile, and nutritious harvest.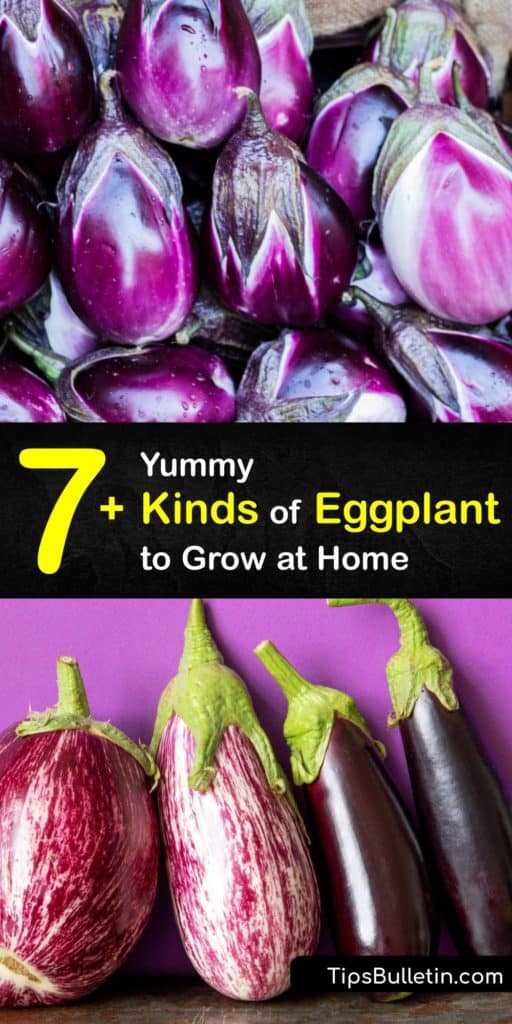 If you enjoyed this article on types of eggplant to grow in your garden, consider sharing this handy information on eggplant varieties with your family and friends on Pinterest and Facebook.