Your laundry loads keep piling up, laundry detergent prices are through the roof, and you feel like it flushes your money down the drain after each wash. Do most brands of detergent leave you with more than just an empty wallet? Are you tired of feeling guilty about the effects your favorite detergent has on the environment?
While many think you need the expensive HE washing machine soap – you don't. Homemade laundry detergent for high-efficiency washers is easy to make and is environmentally friendly.
But how do you make it? What ingredients make the best laundry detergent? Is it safe for people with sensitive skin?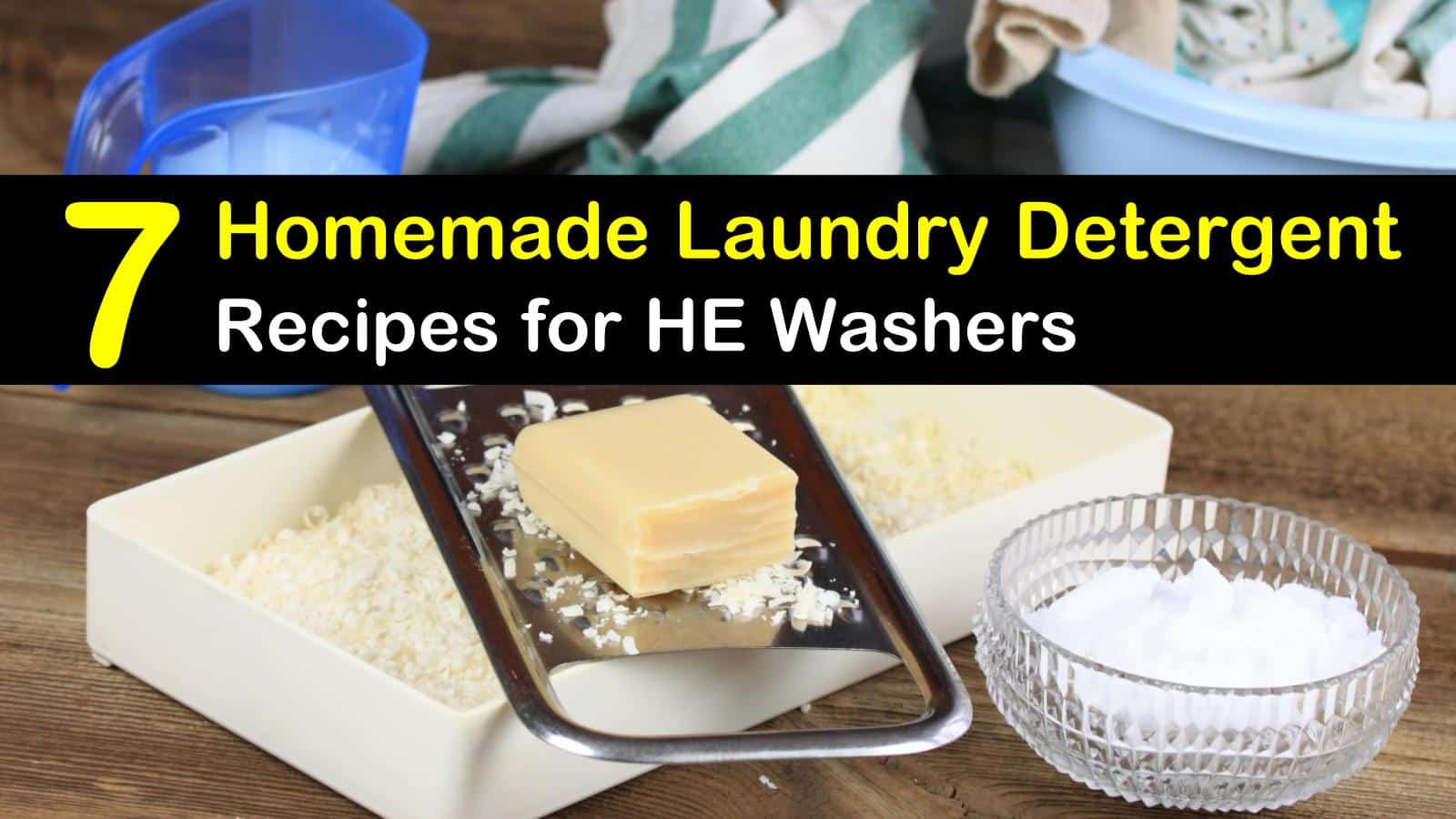 The Ingredients: Knowing is Half the Battle when Tackling Your Laundry
Paying attention to the list of ingredients isn't something you do just for your food. You should pay attention to ingredients for many products that come into contact with your skin. Some products, unfortunately, aren't as customer-friendly as they say. Many laundry detergents contain phosphates that can cause allergies and are bad for the environment.
Other harmful ingredients you should avoid are 1,4-dioxane, NPE (non-polyphenol ethoxylate), sodium lauryl sulfate (SFS)/sodium laureth sulfate (SLFS), ammonium lauryl sulfate. They have many other alternative chemical names too. If you are unsure about whether your laundry detergent is safe, you can always check out ewg.orgfor product information.
Try one of these recipes for homemade laundry detergent for HE washers. There are also many solutions that work in the same way for your dishwasher. You can also make your own DIY dishwasher detergent with the same results.
DIY HE Laundry Detergent Recipes that Work
For tackling your growing mountain of clothes, you need cleaning products that work well without leaving you penniless and itchy. Finding the right homemade detergent for high-efficiency washers can seem hard at first so we have simplified your search by offering only the best DIY HE laundry detergent recipes.
This fantastic list of all-natural laundry detergents will remove a grease stain from clothing, be gentle on your sensitive skin, and prevent stretching shirts and other delicates.
Making Your Own Laundry Detergent for HE Washers
No Bar Soap Washing Powder
Bars of soap can be a great ingredient for many homemade laundry detergent recipes. However, not everyone has the time or strength to grate by hand or owns a food processor and may not like accidentally mixing their food with soap granules.
Use a medium bowl and pour in the liquid Castile soap first. Stir in the washing soda and baking soda and, in small amounts, pour in the vinegar, breaking any lumps while you stir. You will see foaming as the mixture thickens.
Once you have the ingredients mixed, it will break down into a powdered detergent. Store the mixture in a sealed container and use ½ cup per a load of laundry. Be careful not to use too much of whatever washing soap you use.
Excess soap in HE washers leads to a sticky film that coats the inside of the drum. Learn the different ways to clean your washer periodically to eliminate that soapy residue and have a clean washer for your next load of laundry.
Brighten Your Clothes
Some people worry about their clothes looking faded or dingy. With this home laundry detergent for HE washers, you can make sure your colors stay vibrant, and your whites are bright.
When using bars of soap, make sure they are natural brands such as Ivory soap or are specifically for laundry usage. You will need a bowl and a cheese grater to grind the soap into small crumbles.
Once you have the desired amount of soap, you can then add in the washing soda and baking soda. Add in the oxygen-based brightener of your choice and mix the ingredients and store them in a sealed container. Use ½ cup of the laundry detergent per load.
Scented with a Touch of Essential Oils
Everyone has heard about the benefits of essential oils. Adding a touch of your favorite scents allows you to feel more in control instead of having to pick from Walmart's limited scented laundry soap displays.
Grate the Fels Naptha soap or Zote until you have the required amount. Slowly mix in the washing soda and baking soda. Then mix in the Borax and Oxyclean.
After you have most of your ingredients mixed, you can add in your choice of essential oils, although this is optional. Store the mixture in a sealed container. Use two tablespoons for regular loads and increase the amount for larger loads of laundry.
Borax-Free Laundry Detergent
Not everyone is on board to play chemist in their kitchen. Simple, short and sweet is all you need to get the job done or in this case – clean.
Mix washing soda and baking soda in a small bowl. Get a sealed bottle and pour in the Sal Suds. Add the dry soda mixture into the container and fill the rest of the bottle with water. Use ¼ cup of detergent during the wash cycle, then use ¼ cup of white vinegar in your rinse cycle.
Laundry Soap with Lemon
From pancake recipes to your laundry basket, lemon is versatile. Adding a few drops can make your clothes smell and look great!
Grate one bar of soapin a medium-sized bowl. Add the washing soda, Borax, and oxygen-based brightener. Once you have thoroughly stirred the dry mixture, add in the lemon essential oil and slowly mix it with the rest of the ingredients.
Place the finished mixture into a sealed container. Use one to two tablespoons per load. For white loads, add one tablespoon of OxyClean or other oxygen-based brighteners along with your homemade detergent.
Powdered Laundry Soap
Sometimes the best recipes only need a few easy to find ingredients and none of the extra oils and oxygen-based brighteners.
Add the washing soda and Borax to the grated soap while stirring the ingredients. Once you have the mixture thoroughly stirred, store it in a sealed container. Use two tablespoons per load and one more tablespoon for larger loads.
Liquid Laundry Soap
While dried soap stores well for long periods, not everyone wants to grind out entire box loads of dry detergent. Liquid detergent is an excellent choice for those who are beginners in DIY HE laundry detergent.
Heat grated soap and water on medium-low until melted. Combine the washing soda, borax, glycerin, and melted soap into a large bucket of hot water. Stir until the contents dissolve in the solution. Pour the solution into a sealed bottle. Use ½ cup of detergent per load.
How Homemade Natural Laundry Soap Works
Each of the ingredients serves one of a few basic functions. Vinegar acts as a natural softener. Baking soda acts as a water softener since hard water is a common issue in most households. The different choices of soap serve as the main cleansers that help remove dirt and grime from your laundry.
OxyClean and other oxygen-based brighteners work well for removing stains along with washing soda. Borax is a natural mineral that also boosts the cleaning potential of soaps and other cleansers. By combining all these natural ingredients, you create a detergent that can rival most liquid and powdered detergents on the market for a smaller price.
Will the Detergent Work for My High-Efficiency Washing Machine?
Unlike other brands of synthetic detergent that may be too sudsy for your washing machine, these homemade detergents for high-efficiency washers will work perfectly fine because none of the ingredients in these recipes are overly sudsy.
Another benefit of these recipes is you can make small batches and see which methods work best for your washer.
The Drawbacks of using Homemade versus Artificial Detergents
There is only one real drawback to using these types of homemade detergents. They don't clean items as well as other all-natural brands of HE washing machine detergent.
These detergents are appropriate for regular clothes washing and can be perfect for soaking laundry before throwing it into the washing machine.
If you are interested in safe laundry detergent alternatives, then you have come to the right place! Each of these recipes satisfies a variety of preferences ranging from scented to unscented, powdered to dry, and so on.
The best part is since these recipes are cheap, you can try all of them to see which will work for your machine without the fear of money loss.
Recipe for Homemade Laundry Detergent for HE Washers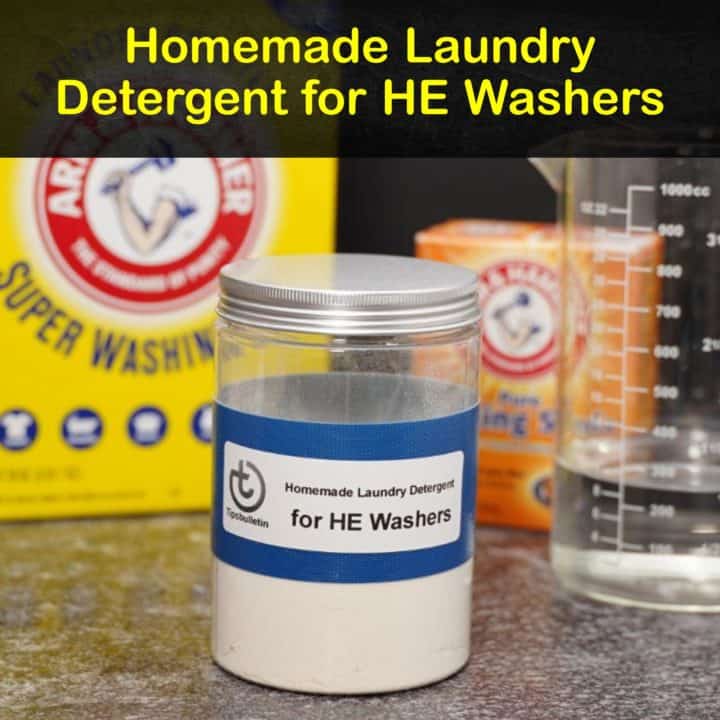 Homemade Laundry Detergent for HE Washers
A simple DIY recipe for the cleanest clothes ever!
Materials
2 ounces liquid Castile soap
8 ounces washing soda
8 ounces baking soda
8 ounces vinegar
Tools
32-ounce container with a lid
Measuring cup
Stirrer
Instructions
Pour the soap into the container.
Stir in the baking and washing sodas.
Add the vinegar and stir well.
Use 1/2 cup per laundry load.
Notes
Do not be tempted to use more than 1/2 a cup. It will cause buildup in your HE washer.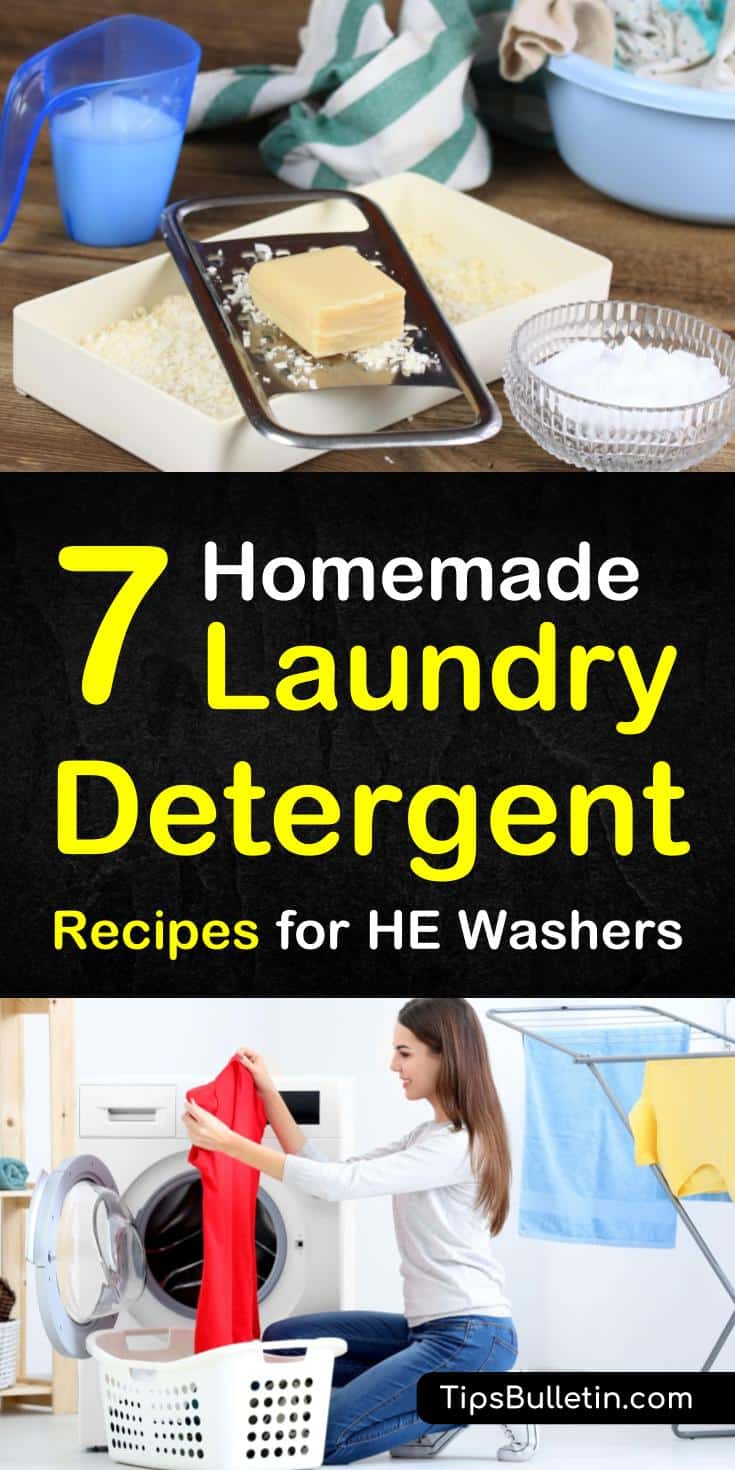 If you liked these delightful laundry soap recipes, then share with your friends so they too can enjoy the benefits of homemade detergent for high-efficiency washers!