Everyone would prefer to have clean, germ-free houses. However, people also don't want their cleaning products causing more health problems than the germs. With all these cleaning products on the market, it can be difficult to determine products actually worth your while.
If you're worried about your health and the environment, you may shy away from harsh chemical cleaners. Natural cleaners are the sensible alternative. However, many brand name cleaners slap on natural labels whether or not they are natural. Worse, truly natural cleaners are often not even advertised as such. So, how do you chose the best natural cleaning products?
The Difference between Commercial Chemical Cleaners and Natural Cleaners
Chemical cleaners use harsh and often harmful chemicals. Hence, these products are not often easily biodegradable.
Some brand name cleaners claim to be natural because they use ingredients found in nature. But almost all brand name natural cleaners used some chemical process to obtain their product. Cleaners with "organic" labels are better. But be aware even these are not guaranteed to use any chemical processes. However, these cleaners are often biodegradable and contain fewer chemicals than their chemical-cleaner cousins. 
What are Truly Natural Cleaners?
Truly natural cleaners often don't claim to be household cleaners. In fact, they may be simple household staples. These products have not been chemically processed to kill bacteria or fight grease. However, they naturally do the job without any artificial help. You likely have a few natural cleaners in your house right now and don't realize it. 
Advantages of Natural Cleaners
Natural cleaners are useful for many household tasks. Instead of having different cleaners for your countertops, floors, and windows, you can just have one cleaner for everything. In fact, you can use some household cleaners for other things, like cooking.
You can combine natural cleaners to create more potent or task-specific cleaning supplies (like laundry detergent). Combining commercial cleaners, on the other hand, can cause serious health hazards.
Natural cleaners are free of toxic chemicals and mystery ingredients. Chemical cleaners have little to no regulations and can contain many chemicals harmful to humans.
Natural cleaners don't often have health risks. For example, Borax can irritate your skin, but it is not classified as dangerous. Minor exposure to chemical cleaners is unlikely to hurt you, but prolonged exposure has serious health risks.
Natural cleaners are often cheaper than chemical cleaners.
Natural cleaners are better for the environment since they don't have a bunch of chemicals. Some chemical cleaners, however, take 1000 years to biodegrade.
Do Natural Cleaners Work as well as Chemical Cleaners?
Chemical cleaners get things clean with very little effort. Natural cleaners may take a bit more elbow grease, but they get surfaces as clean as the chemical cleaners. In fact, sometimes they clean better because they don't leave chemical residue behind. Although all natural cleaners may not be able to kill bacteria, they all remove it.
In fact, studies show that very strong disinfectants, like those in chemical cleaners, may lead to serious health problems. 
Product Review White Vinegar For Cleaning
White Vinegar is one of the most versatile natural cleaning products out there. Together with baking soda it is easily the best natural cleaner for home cleaning.
Vinegar is an acid, but it is mostly harmless. It occurs naturally when plants ferment. Any white vinegar sold in a store is diluted, so it is safe to consume.
Click to Learn More / Buy from Amazon
What we Love
Poses no harm to your health or the environment
Cleans almost any surface, as well as coffee pots, microwaves, refrigerators, and other appliances
Deodorizes rooms, clothes, or other items
Brightens brick, shines wood and leather, unclogs drains, and polishes silver, brass, and copper
Excellent to get urine smell out of carpet
Cuts through grease and remove wax stains
Removes mold
Sanitizes and disinfects
Versatile, vinegar is an excellent home remedy to get rid of pimples and acne
Multiple uses in Garden e.g. natural ant killer
Key part of many homemade laundry and dishwasher detergents
Easily transferred to a spray bottle or mixed with a bucket of water 
Very cheap: Can buy 128 oz for a few dollars
Used in cooking, making it even more versatile
Its versatility makes it easily the best natural cleaning product
Does not leave a residue after use.
Product Review Baking Soda for Cleaning
Baking soda is a very versatile staple product. In addition cleaning, people use baking soda in baking and to put out grease fires. Also, when mixed with water, it settles an upset stomach.
Baking soda is an alkaline or a base that can dissolve in water. This is why it works on your stomach and on fires. Arm & Hammer baking soda contains no additives, although some brands do.
Click to Learn More / Buy from Amazon
What we Love
Safe for you and the environment
Gentle cleaner
Sprinkle on to carpets, clothes, or other surfaces and in litter boxes, trash cans, and ashtrays to deodorize. You can place an open box in the fridge.
Prevents stains, removes scuff marks, polishes silver, and cleans up grease on car windows
Use on pets to keep that wet dog smell at bay
Removes stuck on food in pans
Key part of homemade detergents
Versatil home remedy ( canker sores )
Very cheap (sometimes as little a one cent per ounce)
Safely cleans children's toys
Removes mildew
Points to Consider
Baking soda leaves a mess. After use, you'll need to rinse the item or surface or vacuum the floor
Does not disinfect areas
Product Review All Natural Washing Soda
Unlike baking soda and vinegar, washing soda is marketed as a household cleaner and a detergent "booster". Washing soda is a stronger alkali than baking soda.
Although washing soda is safe and natural, it is not safe to eat. It also isn't as gentle on skin as baking soda. Hence, the only use for washing soda is in cleaning.
Click to Learn More / Buy from Amazon
What we Love
Non-toxic, so safe for you and the environment
Strong water softener
Combine with regular laundry or dishwasher detergent to use half as much of your standard detergent
Helps whiten clothes and contributes to a fresh smell
Used in homemade liquid or powdered laundry and/or dishwasher soap
Used to clean out pipes/drains
Points to Consider
Should only be used when cleaning in water
Caustic, so wear gloves when handling
Product Review Borax for Cleaning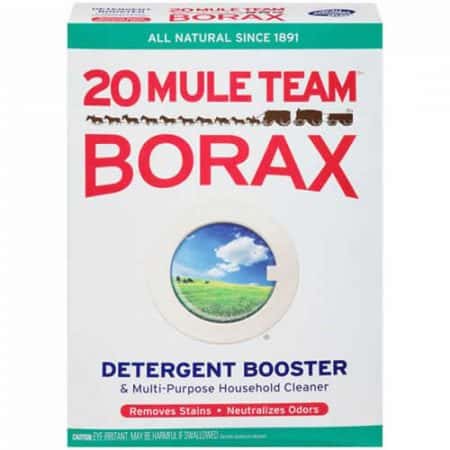 Borax is a salt found in dried lake beds. Although it is not safe to consume, it is no more harmful than many other natural ingredients.
Both commercial and homemade recipes for cleaning products use Borax as a primary ingredient. This makes Borax one of the best base ingredients for cleaning products in general. Borax does not have the same chemical composition as boric acid. Therefore, boric acid's dangers do not transfer to Borax.
Click to Learn More / Buy from Amazon
What we Love
Naturally occurring
Safe for you and the environment (Dial's safety sheet compares Borax to salt and baking soda in terms of danger).
Key part of many homemade cleaners
A natural pesticide
Cleans bathrooms, kitchens, and other surfaces
Can kill weeds (large amounts) or fertilize plants (small amount) and make candle wicks
Key part of homemade slime and other crafts.
Remove mildew, rust, and mold
A deodorizer
Cheap
Softens water and whitens clothes
Points to Consider
May cause minor skin or eye irritation
Product Review Liquid Castile Soap for Cleaning
Castile soap comes in solid or liquid forms. It is made with vegetable oils so is often gentler on skin than other soap.
Dr. Bonner's is known for organic cleaning and personal hygiene products.
Click to Learn More / Buy from Amazon
What we Love
Contains no harsh chemicals
Biodegradable, so safe for you and the environment
Bronner's comes in 100% recycled containers
Used in homemade laundry detergent and dish soap
Cheaper than other commercial products
Used in homemade general purpose cleaner spray
Used for shaving, hand and body washes, and shampoo (with vinegar as a rinse).
Still works when diluted, so one bottle lasts longer than another product of the same size
Product Review Hydrogen Peroxide for Cleaning
Hydrogen Peroxide is often used as an antiseptic. People also use it for bleaching materials and even to make rocket fuel.
But any store-bought bottle is very diluted (usually 3%) and so is safe. Hydrogen Peroxide occurs naturally, even in the human body.
Click to Learn More / Buy from Amazon
What we Love
Cleans tile, removes stains from carpet or clothing, and whitens grout
Disinfects surfaces and objects, including towels, toothbrushes, lunch-boxes, and cutting boards
Used in the best homemade all-purpose cleaners
Kills mildew and mold
Laundry whitener
Kills germs
Used for other purposes, such as a mouth rinse, to lighten or dye your hair, to remove ear wax, to help acne, and to treat foot fungus
Points to Consider
Can discolor darker carpets and clothes. 
Product Review Alcohol for Cleaning
Like hydrogen peroxide, Isopropyl Alcohol is often marketed as a disinfectant.
It is mostly the same as rubbing alcohol, but rubbing alcohol has a concentration of 70%. Isopropyl alcohol's is 99%.
Click to Learn More / Buy from Amazon
What we Love
Leaves no residue behind
Cleans sticky messes, and removes hair spray residue and permanent marker, making clean up much easier
Disinfects as well as cleans
Used in homemade window cleaner to clean and help prevent frost build up (so great for car windshields)
Safe for surfaces and stainless steel
Used for other purposes, such as to help prevent swimmer's ear and as a pesticide against ticks. It is also frequently used to get rid of fruit flies and house flies
Safe to use on a microfiber couch
Safe for mobile phone screens, keyboards, and CDs.
Points to Consider
Flammable and not safe to ingest
Product Review Microfibre Cloths for Cleaning
Zwipes is a brand of ultra-soft microfiber cloths. They are on this list because they do not contain any harsh chemicals and do not require any to clean.
They are an environmentally conscious alternative to paper towels.
Click to Learn More / Buy from Amazon
What we Love
Very absorbent
Gentle enough to use on mobile phones and computer screens
Machine washable
Used alone or with any type of liquid cleaner
Do not leave streaks when cleaning glass
Used on cars, electronic equipment, and general surfaces
Catches lint and dirt, so great for dusting
Reasonably priced
Points to Consider
Zwipes are thinner and lighter than other microfiber cloths
Product Review Olive Oil for Cleaning
Although extra virgin olive oil is often just thought of for cooking, it can be used to clean as well. Certified organic olive oil, like Kirkland's, ensures that the olives were grown without pesticides and harsh chemicals.
Thus, you can be confident the olive oil you are buying is actually natural.
Click to Learn More / Buy from Amazon
What we Love
Safe for the environment and you. In fact, extra virgin oil is good for your health when consumed
When combined with salt, olive oil is one of the best cleaning products for pans
Polishes and shines wood and stainless steel and protects wicker items
Used for other purposes, like in cooking, as a shaving cream, and as a hair conditioner
Works great to clean makeup brushes
Repairs scratches in leather
Cleans grease and remove paint from hands and hair
Used to dust and shine fake plants
Points to Consider
Extra virgin olive oil is often more pricey than other natural cleaning options.
Cannot be used on carpets or clothes because it will stain
Product Review Club Soda for Cleaning
Club Soda
Club soda is just carbonated water that has some salt (and other minerals) added to it. It's often used in mixed drinks or occasionally as a stand-alone drink. It is a stain remover.
Club soda is safe and more or less just bubbly water with extra minerals your body uses anyway.
What we Love
So safe you can even use flat soda to water your plants
Removes stuck on food from pans
Polishes chrome and jewelry and clean surfaces
Removes fabric stains
No need to worry about it bleaching or staining your carpet or clothing
Removes bird droppings from cars
Removes rust
Used in cooking, to fix chlorine-tinted hair, and to help an upset stomach
Points to Consider
Every natural cleaner on the list is worth trying out. However, distilled white vinegar is the most versatile and the overall best natural option for general household cleaning products. Vinegar, especially when combined with baking soda can clean, shine, and deodorize almost everything.
It can disinfect as well as clean, and it's cheap. Many homemade natural cleaning products use vinegar. Best of all, vinegar doesn't leave stains, like olive oil could, and leaves no residue to clean up, like commercial cleaners or baking soda.