It seems quite silly to have to clean a washing machine when its sole purpose in life is swishing around soapy water, but these machines don't clean themselves. Over time they begin to smell bad as a result of stagnant water, and this transfers odors to your clothing. Learn how to clean a washing machine to keep it smelling fresh and operating its best.
Soap scum, chemicals, and minerals get locked inside of your washing machine. These create a thin film that traps bacteria and clogs inner mechanisms. This bacteria prevents water from getting hot and makes laundry detergents weak.
Performing regular cleaning of your washing machine will not only remove sewage smell from a washer but get your clothes cleaner. Using chemical cleaners to clean your front loader or top load washer has the potential to cause damage. Clean grime, gunk, and mildew from the washer drum using mild and straightforward cleaners.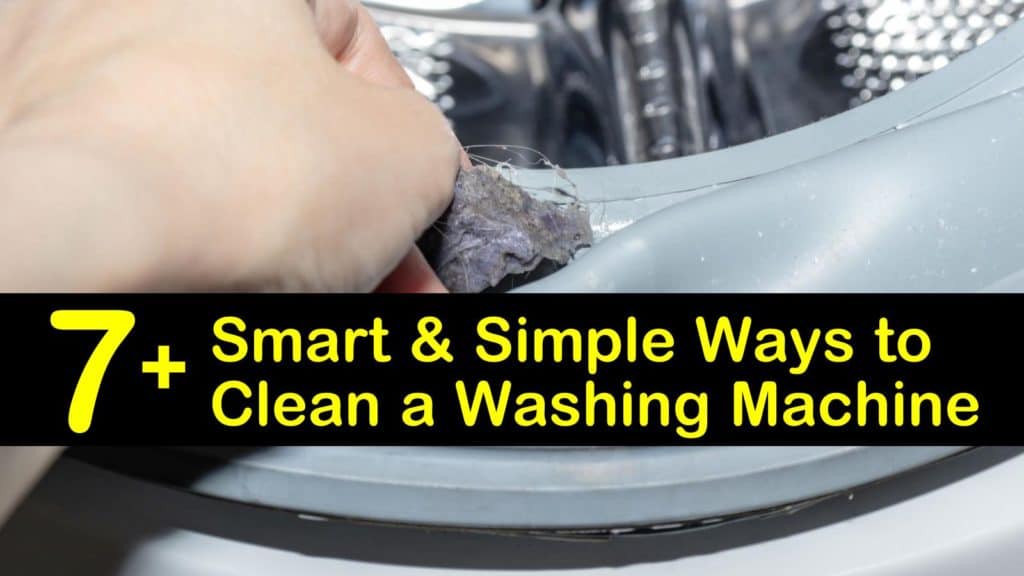 Ways to Clean Your Washer
There are several DIY cleaning solutions to maintain your washing machine for the best performance. We'll show you simple steps for cleaning your washing machine routinely, along with deep-clean solutions for both a front-loading washing machine and a top-loading washing machine.
These solutions are easy to implement and will get rid of your washing machine smells with very little effort. Enjoy clean clothes and a clean washer.
Ways to Clean Your Washer Well and Dispenser
There are several dispensers and wells located inside your top loader washing machine. These are the small compartments where you add laundry detergent, bleach, and liquid fabric softener.
Over time, these become crusted with cleaning solutions and require proper cleaning to ensure that your clothes do not get stained or damaged. Here are ways to freshen a washing machine and clean your washer dispensers.
Get an old toothbrush wet with hot water and scrub the inside corners and curves of the bleach dispenser, detergent dispenser, and fabric softener well. For larger areas, use a wet scrub brush. Continue rinsing and scrubbing the dispensers until they are clean of all old residue.
If there are any removable parts, place them in a container of warm water and let them soak for 20 minutes. Use a toothbrush to scrub them clean and rinse them before putting them back in their place. Wipe down the dispensers thoroughly with a wet washcloth.
Cleaning a Washing Machine Seal
There is a rubber seal located around the door of your front-loading washing machine. This seal tends to get stained from mildew as a result of damp conditions. Cleaning a smelly front load washer seal is simple by using household vinegar, which is also an excellent cleaner for a dishwasher.
Fill a sprayer bottle with white vinegar and label it for future cleaning purposes. For rubber gasket cleaning, spray the solution liberally over the gasket, and wipe the area clean with a soft sponge.
For stubborn mildew, leave the vinegar spray on the seal for 20 minutes and then use a toothbrush for scrubbing away grime. Wipe away the dirty residue with paper towels.
How to Clean a Washing Machine – Top Loading
Use household vinegar to clean the washing machine drum during a long, hot washing cycle. Performing this task helps to sanitize your washing machine while eliminating mildew and odors.
To clean a top loading washing machine, set your washer to extra large load setting and use the heavy-duty cycle or drum clean cycle with the hottest water. Pour in the white vinegar as the washer fills with water.
Keeping a large container of white vinegar in the laundry room is handy for monthly cleaning or adding to each load of laundry. Vinegar softens fabric and easily eliminates odors.
Close the lid of the washing machine and let it agitate for one minute to mix the vinegar with the water. Open the lid to pause the cycle. If your washer has a locking mechanism, press the stop button to open the cover.
After half an hour, close the lid and allow the washer to resume cleaning. Once the washer completes the entire cycle, open the cover and wipe down the washing machine drum with cleaning rags.
Deep Cleaning a Top Loading Washing Machine
Deep clean washing machine with vinegar and baking soda to remove hard water stains, mildew, and residue from cleansers. The vinegar and baking soda interact with each other to create a gentle yet powerful cleaner. This homemade washing machine tub cleaner is ideal for periodic deep cleaning.
If your machine has preset cycles, use the drum cycle or heavy-duty cycle. Turn the washer machine on and allow it to fill with some of the water before you add the white vinegar. When the water is almost full, add the baking soda.
Close the lid and allow the agitator to combine the water, vinegar, and baking soda. After one minute, lift the top to stop the washer. If your machine has a lock, press the pause button to open the lid. Let the cleaning solution sit in the washer drum for st least one hour before closing the lid and completing the wash cycle.
Use cleaning rags to wipe down the washing machine drum after the cycle finishes. Clean all areas inside the machine, including the inside lid, drum rim, and sides.
The vinegar cleaning solution is also an easy way to clean a washing machine agitator. The agitator can often become dirty with grime from the wash, so cleaning it can be essential to getting your clothes cleaner.
Routine Cleaning of a Front-Loading Washing Machine
A front loading washing machine needs regular cleaning to ensure that both your clothing gets appropriately cleaned and your washer stays fresh. This cleaning solution is ideal to use once a month. To clean the outside of the appliance, try a homemade cleaner with vinegar and Dawn dish soap.
The best way to clean front load washer is to complete a little preparation first. Get your washing machine ready for cleaning by setting it to the hottest and longest wash cycle.
Pour the white vinegar directly into the drum of the front load washer and close the door. Use the hottest water setting and run a normal washing cycle. Once the cycle is complete, use cleaning rags to wipe down the inside of the washer.
How to Deep Clean a Front Loading Washing Machine
While using a basic solution to clean your washing machine is ideal for preventing mildew and bad odors, there are times when heavy-duty cleaning with baking soda is needed to loosen and remove grime, soapy residue, and hard water stains. We recommend that you clean dishwasher with baking soda as well to eliminate mildew.
Pour the white vinegar directly into the drum of the washer and shut the door. Pour the water and baking soda into a container and mix before pouring the solution into the laundry detergent, fabric softener, and bleach wells.
Run the washing machine on a regular cleaning cycle using the hottest water setting. Open the door and wipe the inside of the drum with a cleaning rag. Wipe down the inside of the door and seal, making sure to clean any nooks and crannies.
Cleaning the Outside of a Washing Machine
The interior of your washing machine is not the only area that gets dirty. While you can get cat hair off clothes in the washing machine, the hair has to go somewhere. The top, sides, and front of your washer attract dirt, hair, grime, and sticky soap residue that requires cleaning to prevent stains from transferring to your clothing. This solution is also safe for cleaning stainless steel washers.
Combine equal amounts of water and vinegar in a bottle sprayer and shake well to mix and use for removing mold from washing machine parts. Label the container and keep it stored in your laundry room for regular cleaning purposes. Start at the top of your washing machine and spray the solution along the surface.
Use cleaning rags to wipe away loosened dirt, mold, and accumulated grime. Continue spraying and wiping areas of the machine by cleaning the sides and front. Dry the entire washer surface with a microfiber cloth.
Add vinegar to laundry when washing clothes to eliminate odors, keep the washer clean and to soften clothing without using dryer sheets or other chemical means.
How to Maintain a Washing Machine
You probably put your washing machine through a lot of work. Performing regular cleaning and maintenance on your washer ensures that it continues doing its job.
Washing Machine Maintenance
So that you don't have to worry about whether to clean mold from a washing machine, prop the lid of the washer open in between washes and after cleaning. Air circulation and the opportunity to dry thoroughly prevents the build-up of mold and mildew. Keep the lint collector clean to ensure that the machine operates efficiently.
Do not overuse detergent while washing clothes. Follow the instructions on your washing machine for proper amounts, especially if it is a high-efficiency washer.
Make sure that your washing machine is at least four inches away from the surface of the wall to prevent kinking in the hoses. Check the hoses regularly for cracks, kinks, and wear. Make sure that the washing machine is level to prevent rocking during the spin cycle, which damages the floor and washer.
Don't Forget about the Dryer
While you are cleaning the washing machine, it's a great time to wash the dryer, too. Clean gum out of a dryer, get rid of excess lint that could be dangerous and wipe down the interior and exterior so that both your laundry appliances are in good working order.
A smelly washing machine is a tell-tale sign that it is overdue for a deep-clean. Prolonging routine cleaning or using harsh chemicals cause your washer to operate ineffectively. Cleaning and maintaining your washing machine, whether it is a top or front-loading machine, is easy using the right cleaners.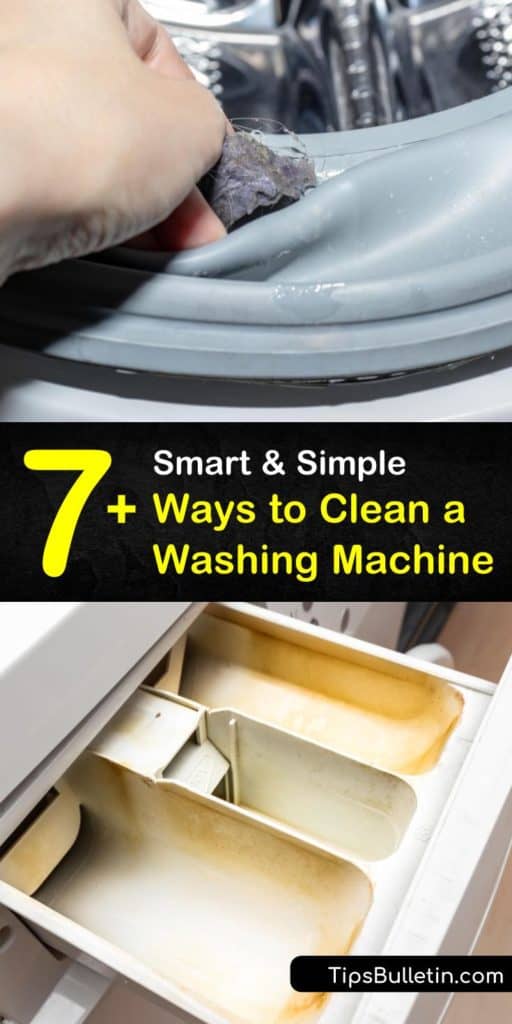 We're happy that we could show you how to clean a washing machine so that your clothes come out fresh and clean, and we'd love it if you'd share our washing machine cleaning tips with your friends on Pinterest.