There are many different types of metal, and over time these metals tend to attract dirt and tarnish. You can find many commercial cleaners that remove the build-up of dirt and bring back the shine, but it's easy to make a cleaner at home using simple ingredients. Learn how to make a homemade metal cleaner to restore its original luster.
There are various ways to clean precious and semi-precious metals, whether they are gold plated jewelry, sterling silver dinnerware, or chrome trim on your car. The first step to bringing back the shine and beauty to your bling is to know which cleaning products are right for your type of metal.
Many commercial metal cleaners contain toxic chemicals that need proper disposal to prevent contamination. Using gentle, non-toxic ingredients to make a homemade metal cleaner not only removes time-related dirt and tarnish but is safer for the environment.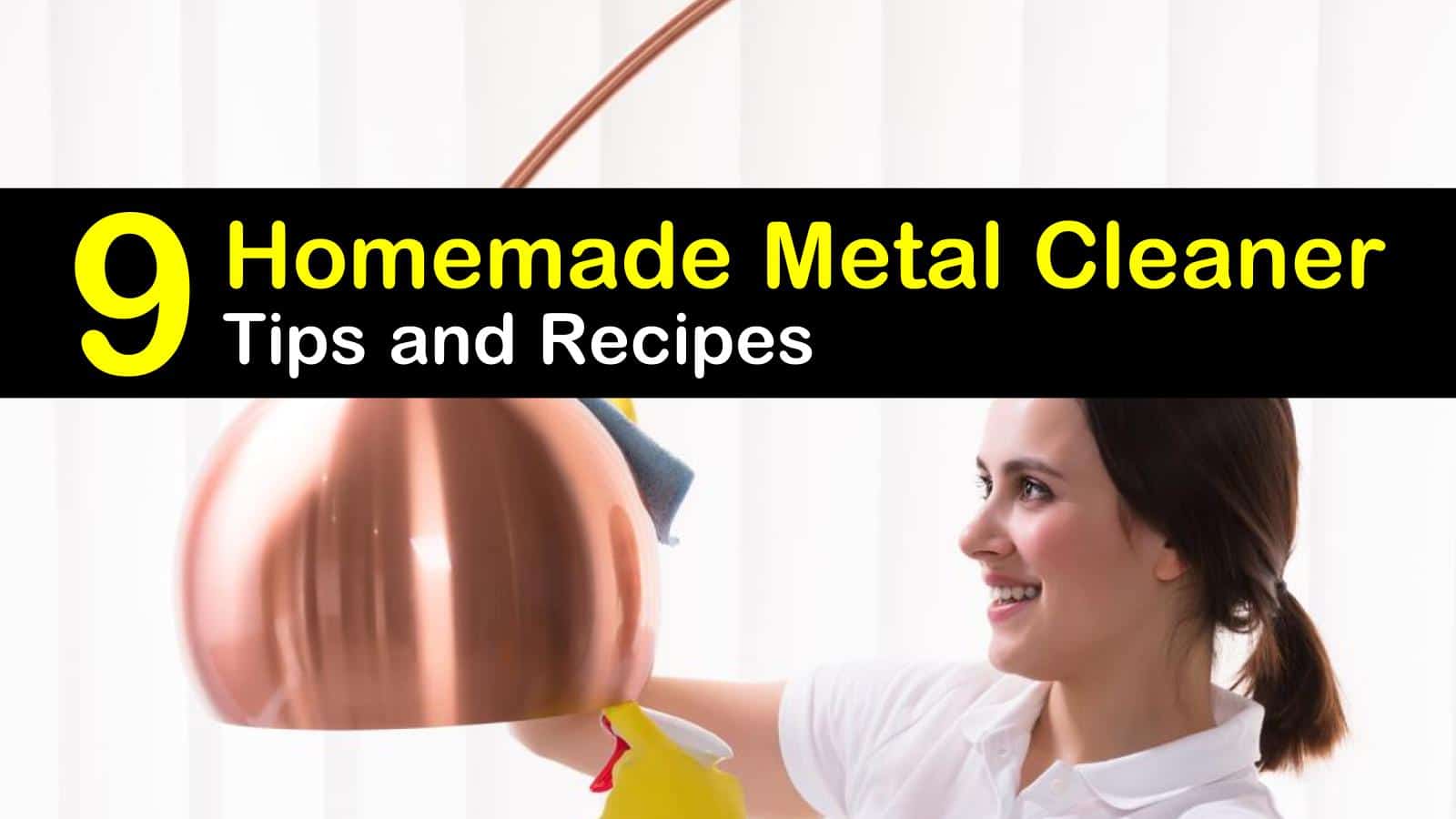 DIY Metal Cleaner
With the different types of metal, it's hard to know which kind of cleaner is safe for removing dirt, rust, and tarnish without damaging the quality of the metal. We'll show you how to remove rust, and clean silver, gold, aluminum, chrome, copper, and bronze using non-toxic cleaners and polish.
Homemade Metal Polish and Tarnish Remover for Silver
This homemade metal polish technique removes tarnishing from household silver items and silver jewelry by using the power of aluminum foil and baking soda.
Line the inside of a large pan with aluminum foil and add the water and baking soda. Bring the saucepot of baking soda and water to a boil. Remove from the heat and add the silver items to the hot water with a pair of tongs. Let the silver sit for about five minutes.
The foil turns black as the sulfide from the silver is attracted to the aluminum foil. Remove the silver from the pot, rinse with cold water, and dry with a soft cloth.
You may find that this simple remedy will also clean sticker residue off metal like silver.
Cleaning Gold Jewelry Naturally
As a malleable and shiny metal, gold is a favorite when it comes to jewelry. Clean gold to remove everyday dirt using soapy water. This solution is safe to use for cleaning gold jewelry but has the potential to damage gemstones and jewels such as opals, so be cautious.
To clean jewelry, fill a small bowl with warm water and add a squirt of mild detergent or dish soap. Soak the gold jewelry in the soapy water to loosen dirt and fine debris.
Use a soft bristle toothbrush for scrubbing within small crevices to remove old lotion, dirt, and other gunk. Wipe the entire surface clean with a soft cloth. Rinse with cold water and buff dry with a towel.
Making a Homemade Metal Cleaner for Aluminum
Aluminum is a very soft metal that requires a balanced pH cleanser to remove dirt and grime. This DIY metal cleaner is mild and works well to clean most aluminum surfaces.
To make this homemade aluminum polish, fill a saucepan with water, add two tablespoons of lemon juice or white vinegar, and place the aluminum items into the water. Bring the water solution to a boil and continue boiling for 15 minutes before removing from the heat. Allow the aluminum to cool, rinse with cold water, and dry each piece with a soft cloth.
You can also use this home remedy for cleaning metal blinds. Either remove the blinds and place them in the tub to clean them or dip a rag in the hot mixture and wipe each slat individually. Be sure to use gloves!
Cleaning and Polishing Chrome Metal
Use a simple and easy cleaning solution to remove dirt from chrome fixtures and other household items. This DIY metal polish works well on chrome surfaces, and we recommend using it regularly to avoid tarnishing.
Pour some warm water and a couple of squirts of mild dish soap into a bowl. Dunk a cloth into the soapy water and use it to wipe away dirt and scum from the chrome metal surface. Use an old toothbrush to clean in hard to reach areas. Rinse the metal with clean water.
Dab a small amount of toothpaste to a damp, soft cloth, and wipe down all areas of the chrome. Use a dry cloth to buff the metal surface until it shines.
How to Clean Copper Metal
Copper is a metal commonly used in metal jewelry, figurines, and other household objects. When clean, copper has a unique color and luster. This metal cleaning solution is the best copper cleaner when it comes to cleaning jewelry and other household items made of copper.
Fill a bottle sprayer with white vinegar and add the salt. Shake the container well and spray the solution liberally onto the copper. Let it sit while the cleaner does most of the work for you to loosen old dirt. Wipe the copper clean with a soft cloth.
For cleaning pewter, there is an unlikely candidate. Use non-gel toothpaste to clean pewter and remove tarnish and stains. It works like a charm!
Removing Rust from Metal
Rust is iron oxide and occurs when an alloy containing iron comes into contact with moisture and oxygen. This homemade natural rust remover is ideal for cleaning up everyday household items that are not delicate.
Get the metal item wet and place it on top of an old towel. Sprinkle the entire surface with baking soda, making sure to get extra coverage on rusty areas. Let the metal sit for about an hour while the baking soda does its job.
Use steel wool to scrub at the baking soda to remove the rust down to the bare metal. Rinse the item under warm water and dry thoroughly with a towel. Do not let it air dry to prevent further rusting.
DIY Stainless Steel Cleaner
Stainless steel does not stain as quickly as other materials, so it is relatively easy to clean. This homemade cleaner for stainless steel works well to remove grease and burnt stains from cookware.
Get a soft cloth or sponge wet with warm water and use it to clean within the crevices of the stainless steel. To remove grease stains, apply some rubbing alcohol to the cloth and rub the grease away gently.
If the stainless steel has burnt stains, make a paste with some hot water and a little bit of baking soda. Rub the paste over the burned stain with a soft cloth until the area is clean. Rinse away the residue with water and dry with a towel.
How to Make a Brass Cleaner
Polished brass has a lovely look when it's new, but it becomes dull and unattractive over time. This homemade brass metal cleaner restores shine and beauty in a few simple steps.
Combine the white vinegar and salt in a small bowl and add just enough flour for the mixture to become a paste. Apply the paste to the brass by rubbing gentle circular motions throughout the surface.
Allow the paste to sit for about ten minutes before rinsing with cool water. Use a soft cloth to buff the brass dry.
Cleaning Tarnished Metals
Tarnish is a chemical reaction that happens to many types of metals, including brass, copper, silver, and aluminum. If you come across old costume jewelry in your jewelry box and it has a dull and gray or black film on its outer surface, this is a sign that it's tarnished. Clean away tarnish from metal using soapy water and a vinegar solution.
Pour water into a bowl and add a squirt of dish soap. Soak your tarnished piece in the soapy water for 15 minutes, and then use a soft cloth to clean the surface. Empty the soapy water from the bowl and add equal portions of white vinegar and water to the container.
Dip the toothbrush head into the vinegar solution and gently scrub away any leftover tarnish from the metal. Dunk the brush back into the solution as it dries out. Continue scrubbing the metal gently until the tarnish is gone. Rinse thoroughly under cold water and dry with a towel.
Restoring your favorite piece of jewelry without having to take it into a jeweler by using gentle and natural cleaners not only brings beauty back to your fine jewelry but saves you money in the long run. Removing dirt, grime, and tarnish from silver, copper, gold, chrome, bronze, and other metals is a safe and easy process once you know the right cleaner and polisher to use.
Homemade Metal Cleaner Recipe
Homemade Metal Cleaner
Salt and vinegar have many uses!
Materials
3 tbsp table salt
1 cup of vinegar
Tools
Measuring cup
Tablespoon
Microfiber cloth
16-ounce sprayer bottle
Instructions
Pour the salt and vinegar into the spray bottle.
Shake to mix well.
Spritz metal with the cleaning solution.
Let it sit for about five minutes.
Wipe with the microfiber cloth.
Repeat for stubborn stains.
Notes
Safe to use on a variety of metals.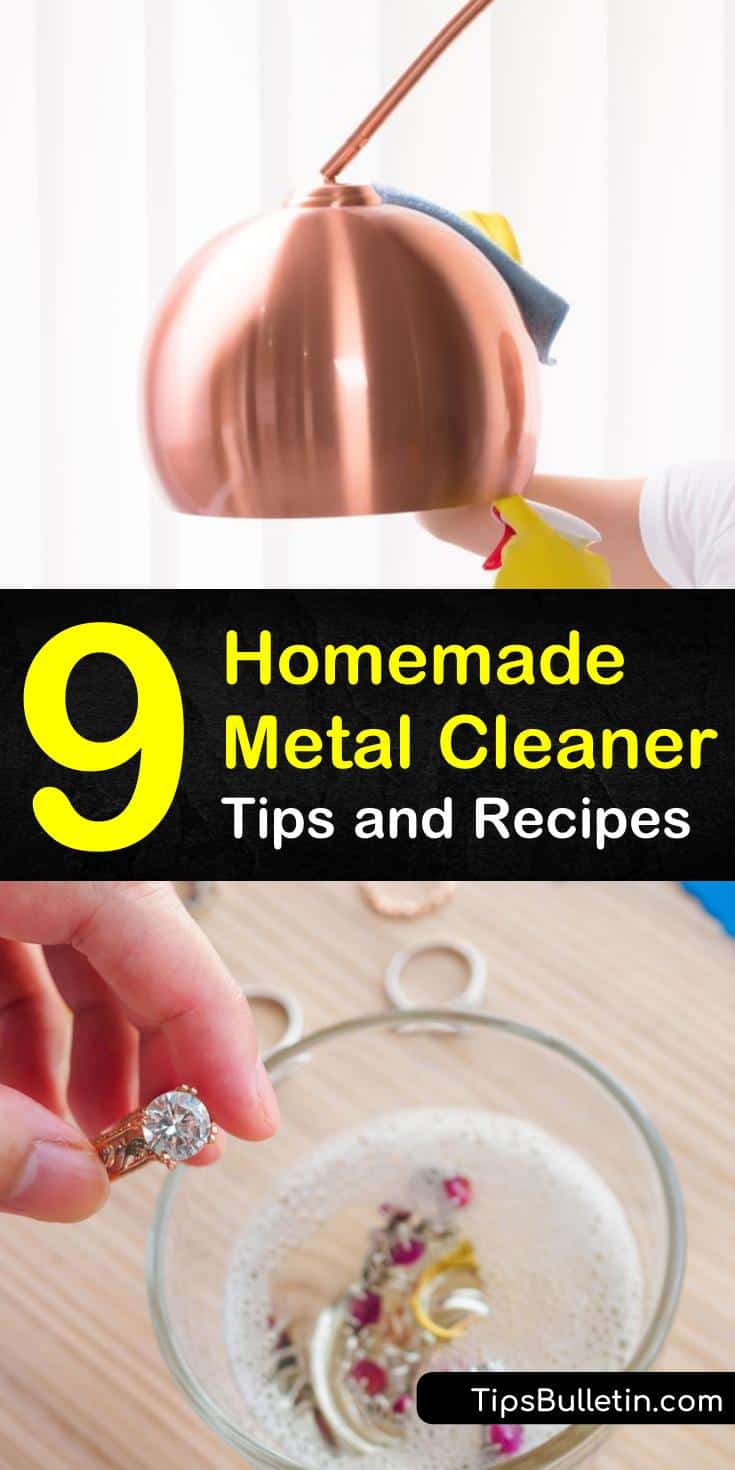 Now that you know how to make a homemade metal cleaner to clean your jewelry pieces and valued household items, why not share our metal cleaning tips with your friends and family on Facebook and Pinterest?