Try these easy recipes for naturally safe and effective homemade vinegar cleaner to keep your house clean without using harsh chemicals or bleach. Use vinegar to disinfect most surfaces around your home.
Whether you're doing your regular house cleaning or have a big mess to take care of, we have a recipe for a DIY vinegar cleaner that will suit your needs. Vinegar is an effective multi-purpose cleaner because it naturally contains acetic acid. This organic compound gives vinegar its sour taste and strong smell.
The acidity allows the vinegar to dissolve mineral deposits, kill bacteria and viruses, and erase dirt, grease, and grime. There are countless benefits of a natural homemade cleaner with vinegar. It costs less and is safe for your family and the environment. Vinegar cleaning solutions also tend to work faster than chemical-based products. Check out the recipes below for the best homemade vinegar cleaner.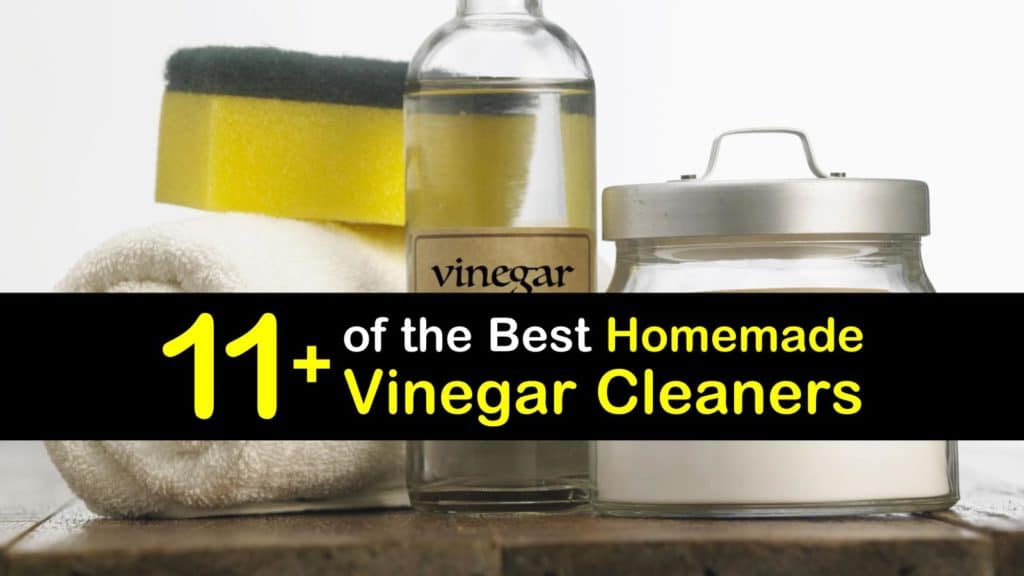 Ways to Make the Best Homemade Vinegar Cleaner
DIY vinegar cleaner is suitable for just about anything. And don't worry, there are plenty of ways to infuse your natural vinegar cleaner so that your house won't smell like pickles.
Read on and discover tips and tricks for how to ditch the chemicals for good and keep your home clean naturally with these simple but effective white vinegar recipes that include ingredients you probably already have at home.
All-Purpose Homemade Vinegar Cleaner
Use white vinegar or apple cider vinegar to make a powerful all-purpose cleaner that's safe for disinfecting most surfaces around your home.
However, avoid using vinegar cleaning-solution on natural stone surfaces like marble or granite countertops because the acid in vinegar can damage the finish.
Blend equal parts vinegar and hot water in a clean spray bottle, then add lemon juice and essential oils. Tea tree and lemon essential oils are a natural antibacterial cleaner, giving you extra disinfecting power. Spray surfaces thoroughly, then wipe clean with a sponge or paper towels.
DIY Vinegar Cleaner for Windows and Mirrors
Vinegar cleaning spray is more effective than commercial cleaning products. Use vinegar for cleaning windows in the house and on your car, and mirrors wherever you have them. Adding dish soap to the mixture helps erase fingerprints and smudges, and essential oils repel future marks.
Vinegar is often used for smudge removal and a nice shiny glass surface. Mix equal parts vinegar and warm water in a spray bottle with a squirt of dish soap and your favorite essential oils. Spray surfaces thoroughly, then wipe clean with paper towels.
This easy to make glass cleaner is simple to make a batch of to have handy whenever you need it.
Use Baking Soda and Vinegar to Clean Toilets
Cleaning toilets with baking soda and vinegar is a fun science experiment that will leave your bathroom shining.
Add baking soda to the toilet bowl, then pour in one cup of vinegar. Let the bubbly reaction subside, then scrub the toilet clean. Baking soda also works to deodorize your bathroom.
Clean Hardwood Floors with a DIY Vinegar Cleanser
Use a small amount of apple cider vinegar, lemon juice, and Castile soap to mop your hardwood floors. Apple cider vinegar is better for hardwood floors than white vinegar because it's less acidic and won't damage the finish.
Sweep or dust mop to remove large particles and avoid scratching your hardwood floors. In a bucket, mix the apple cider vinegar, lemon juice, and Castile soap in warm water. Add your favorite essential oil to get your house smelling divine.
Remove Smudges from Stainless Steel Appliances
Fingerprints and grease marks leave your stainless steel appliances looking dingy and dull. It's easy to get them shining again using nothing but olive oil and vinegar.
Find the direction of the grain, which runs either vertically or horizontally. Dip the corner of a soft cloth in vinegar and rub the surface in the direction of the grain to lift grease and smudges.
Dip the other side of the cloth in olive oil and, still going in the direction of the grain, polish your appliance to repel future grime.
Use Vinegar and Borax to Eliminate Mold
It's never pleasant to find mold around your home. Vinegar and Borax combine to form a powerful disinfectant for eliminating mold and mildew.
Combine Borax with equal parts white vinegar and warm water in a spray bottle. Using warm water helps the Borax dissolve faster. Spray mold or mildew and let it sit for one hour, then wipe clean with paper towels or a sponge.
Natural Vinegar Cleaner for Your Cabinets and Pantry
If you have stains from food spots on your cabinets or pantry, vinegar cleaning spray cuts through grease and lifts stains. Add lemon juice and your favorite essential oils for a fresh scent.
Combine equal parts vinegar and warm water with lemon juice and a few drops of essential oil in a spray bottle. Spray surfaces thoroughly and wipe clean with a sponge or paper towels.
Use Vinegar to Clean Your Oven
Loosen buildup and grime in your oven with baking soda, vinegar, and Castile soap. Buildup will easily wipe away without the use of harsh chemicals. Skip the "self-clean" cycle, which puts your oven out of commission for hours and causes unpleasant odors.
Cover the bottom of your oven with plenty of baking soda and spritz with the vinegar spray. Let the chemical reaction between the vinegar and baking soda loosen buildup overnight. Add Castile soap to a damp cloth and wipe the oven clean.
Make Homemade Furniture Polish
An easy way to keep your wood furniture sparkling is to make your own furniture polish. Apple cider vinegar is better than white vinegar since it's less acidic and won't damage the finish. Only make as much as you'll need since it may go rancid before you use it again.
To clean a wood table with vinegar, or any other wooden furniture, mix ingredients in a bowl, then dip the corner of a microfiber towel into the polish. Gently rub the polish in the direction of the grain. Wipe excess oil from your furniture with a new microfiber towel.
Remove Hard Water Stains with Natural Vinegar Cleaner
Vinegar is an effective natural cleaning solution for removing hard water deposits. Add dish soap to your homemade cleaners to lift stubborn stains and prevent mineral deposits from attaching to surfaces in the future.
Blend equal parts vinegar and water with a little dish soap in a spray bottle. Spray surfaces thoroughly and let it sit for at least 15 minutes. For stubborn hard water stains, let it soak in overnight. Rinse, then dry with a microfiber towel.
Clean Grout in Your Shower and Bathroom with a Vinegar and Baking Soda Scrub
Baking soda is a natural scrubbing agent that cleans grime and soap scum without scratching surfaces. Borax provides similar results.
Combine a small amount of water with the baking soda to create a paste similar to cake frosting. Apply the paste to grout and use a soft-bristled brush to work it in before spraying the surface with vinegar cleaning solution.
Once the mixture stops fizzing, scrub again with your brush, rinse with warm water, and wipe clean with a microfiber towel. Use an old toothbrush for hard-to-reach areas.
Use Vinegar to Remove Stains from Your Clothes
Vinegar is an excellent addition to your laundry routine. Undiluted vinegar removes stains from clothing without causing discoloration.
Pour undiluted white vinegar onto the stain, then scrub with an old toothbrush to work the vinegar into the fabric. Wash the garment as usual.
Clean Your Carpet with Vinegar and Baking Soda
Vinegar and baking soda work wonders to remove stains and clean carpets and rugs. This combination works incredibly well to deodorize pet accidents or food spills. Add a few drops of your favorite essential oil for fresh-smelling carpets.
Combine two parts water and one part vinegar in a spray bottle and add baking soda and essential oil. Wait until it stops fizzing. For large areas, make a bigger batch in a bucket.
Apply the cleaning-solution to your carpet and let it sit for at least 15 minutes. Scrub the stain with a soft-bristled brush, then rinse with a clean cloth dipped in warm water.
We hope that you enjoyed reading all about the best recipes for homemade vinegar cleaner. Vinegar is an inexpensive and versatile product that takes care of most of your household cleaning needs.
It's better for both your family and the environment than other chemical-based cleaning solutions. No matter what kind of mess, we have a recipe for the best DIY vinegar cleaner to take care of your needs.
Homemade Vinegar Cleaner Recipe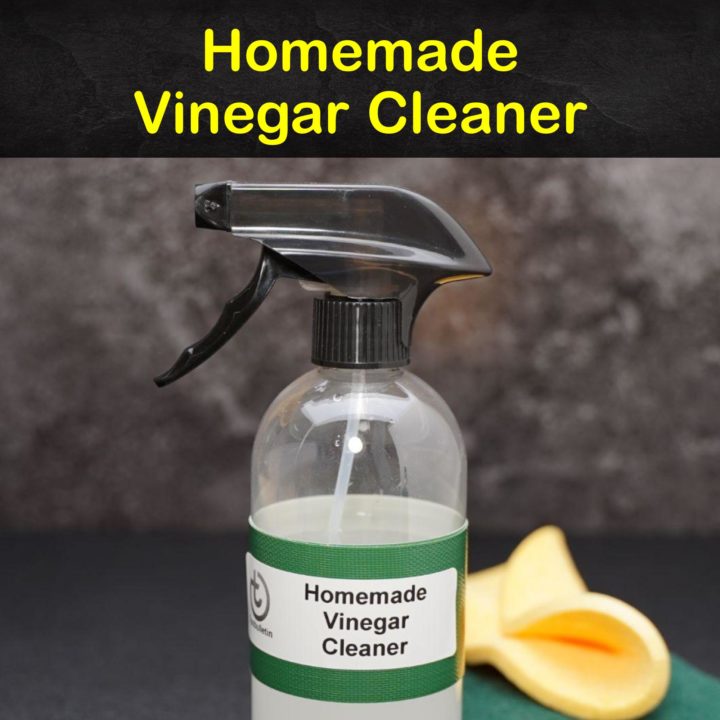 Homemade Vinegar Cleaner
Vinegar makes cleaning easier!
Materials
8 ounces hot water
8 ounces apple cider vinegar
7 drops tea tree oil
2 tsp lemon juice
Tools
24-ounce glass spray bottle
Measuring cup
Microfiber cloth
Instructions
Add the liquid ingredients to the sprayer.
Shake to mix thoroughly.
Spritz surfaces liberally.
Wipe clean with a microfiber cloth.
Notes
White vinegar is also acceptable.
Essential oils degrade plastic. Be sure to use a glass sprayer.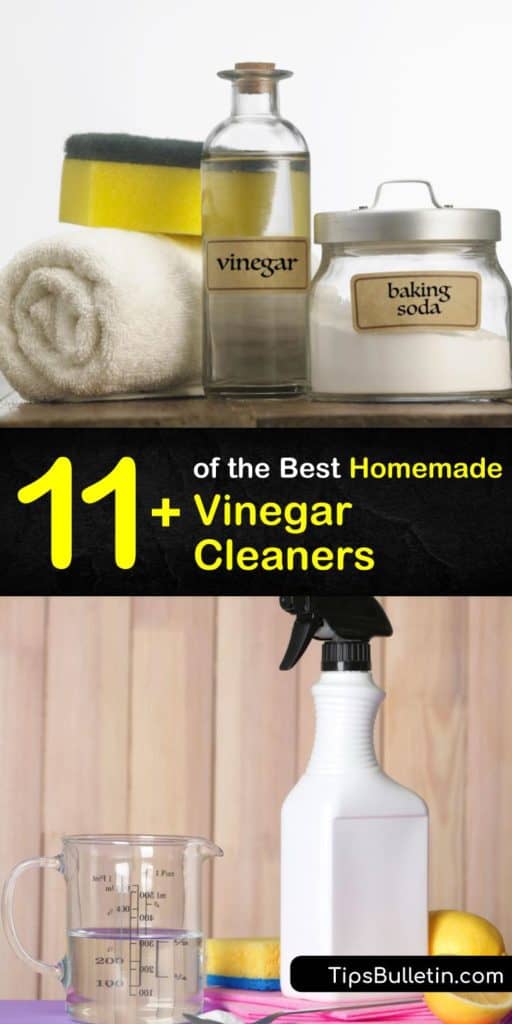 If you found these cleaning tips helpful, please share this article with your friends and family who want to learn about ways to make natural vinegar cleaner on Facebook and Pinterest.