For many gardening enthusiasts, harvesting homegrown cucumber plants is the highlight of their growing season. While these plants aren't a lot of work, there is a lot of information to help you throughout the summer. One of these pieces of information involves how far apart to plant cucumbers.
Cucumber plant spacing doesn't get taken as seriously as it should. Cucumber vines are long plants that take up a lot of space. Knowing how far apart to plant cucumber seeds is what could give you a bountiful harvest instead of a lackluster one.
When you take care of your crops, you are rewarded with large, crunchy cukes perfect for pickling or throwing in a salad.
Don't worry if you're tight on outdoor space. Even small gardens can accommodate these veggies when you pick the appropriate bush cucumber cultivars. With our helpful tips, you'll have more refreshing cucumbers than you'll know what to do with.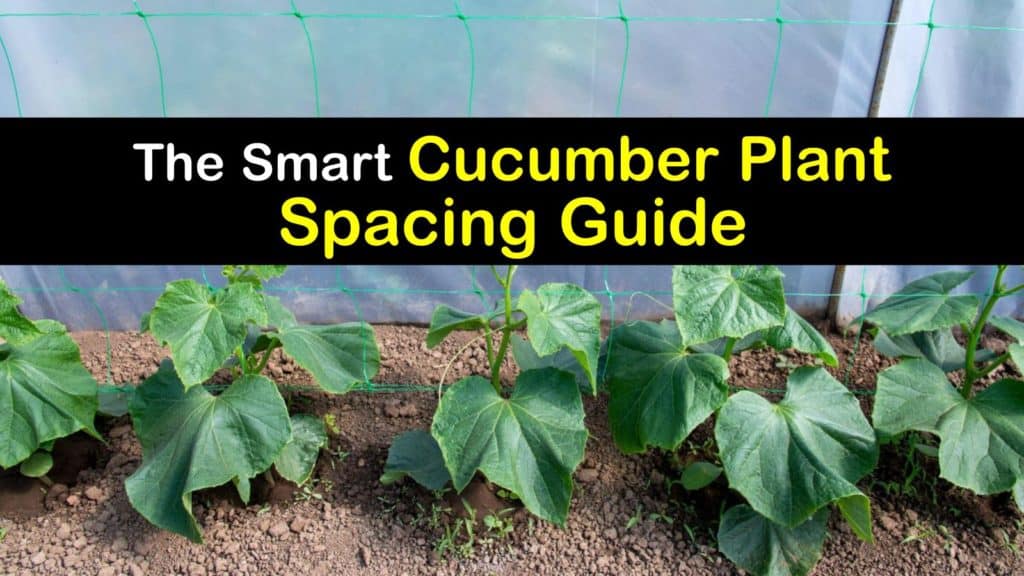 Cucumber Varieties
The amount of space in your garden beds is going to be a massive indicator of which growth habit you choose. Cucumis sativus or cucumbers have bush varieties and vining varieties of cucumbers to choose from.
A bush cucumber is more compact and doesn't require a support system from trellises as they mature. These are ideal for small gardens or container growing for cucumbers.
Vining cucumbers produce more fruit but need a larger area than bush kinds. Vines are either sprawling down on the ground or upward on a trellis or fence.
If left on the ground, they are more likely to catch and spread diseases to nearby crops. Growing them vertically improves the airflow and limits crowding issues that lead to diseases like powdery mildew.
Aside from the two growth habits, many different cucumbers fit your needs. Some are grown explicitly as pickling cucumbers. Others have soft flesh and are more suitable as slicing cucumbers. It is best to go with a disease-resistant heirloom variety.
One popular cultivar choice is the Calypso cucumber, a hybrid created to make high-yielding pickle cucumbers. They are quite disease-resistant and beautiful.
Another type you might go with is the Burpless Bush Slicer. This cucumber is a compact plant, perfect for a container garden. They have a smooth, dark green surface, and each one is about ten inches long.
There are plenty of other kinds out there. Do a little research and match the cucumber with the purpose you have planned for them.
Why It's Important to Know How Far Apart to Plant Cucumbers
Figuring out how far apart to plant cucumber seeds has many benefits that gardeners may not know. Cucumber plant spacing is crucial for the health of your plants.
Suppressing Diseases
There are quite a few plant diseases that gardeners must handle when you sprout cucumbers. It's best to avoid bacterial wilt, downy mildew, and mosaic virus whenever possible.
Many fungal diseases thrive in humid conditions. The closer you plant cucumbers, the less air circulation you have around your plants. This lack of circulation leads to a higher risk for disease.
Better Yields
There isn't anything more exciting than reaping the cukes you sow. Even though you'd think that planting more cucumber plants in an area would produce more fruits, the opposite is true. Planting cucumbers means that each one competes for resources.
With too many close together, none of them have enough nutrients, water, or sunlight to thrive. The more time they spend searching for resources, the less time they spend growing your cukes.
Utilizing Garden Space
The proper spacing between plants means that you utilize minimal garden space in the best way possible. This is especially true if you use trellising or fencing for your vertical-growing plants.
Growing your plants upward instead of horizontally allows you to use the space for other crops you hope to raise.
Preventing Pests
Cucumber beetles are the number one pest for cucumber plants. Even if you have them under control, you might be facing other issues with aphids, flea beetles, and whiteflies. Spacing your plants properly plays a role in keeping unwelcome garden pests away.
Healthier plants have a higher resistance to pest damage. Unfortunately, some also transmit deadly pathogens. Discouraging them in multiple ways is ideal. Use proper plant spacing as well as row covers or insecticides.
If using row covers, make sure to take them off during the day to expose both the male flowers and female flowers for successful pollination. Your plants won't set fruit if essential pollinators can't reach them.
Cucumber Plant Spacing
Now that you understand the importance of cucumber plant spacing, you can start to think about the location of your cucumber bed and all the small details that come with growing cucumbers.
How Far Apart to Plant Cucumber Seeds
Space your cucumbers different lengths apart based on their growing pattern. If growing cucumber plants horizontally along the ground, sow seeds ten to 12 inches apart.
Keep the rows 18 to 24 inches apart. If planting in groups, sow seeds in groups of three about 18 inches apart in all directions.
If growing cucumbers vertically, sow seeds four inches apart at the base of the trellis. If using transplants and a trellis, space them six to eight inches apart from one another.
Another growing option is to grow these crops in containers. Spacing isn't the most important when container gardening. Instead, the size of the container matters most.
Only put one small cucumber plant for every two or three gallons of soil volume. A standard cucumber plant typically requires a five-gallon container for enough growing room.
How to Grow Cucumbers
Cucumber plants are fast-growing with a lot of demands. Because these veggie plants grow so fast, you have to keep up with them to encourage them to grow more fruits.
Only plant cucumbers in an area with fertile soil. If it isn't fertile, make sure to amend your beds with lots of organic matter.
Soil moisture is equally important. These crops have an impressive taproot surrounded by many shallow roots. They use a lot of water and need a minimum of one inch of water per week. It could be more depending on the soil temperature and how quickly it dries out.
Always water at the base of the plants and use mulch to help with moisture. Mulching also helps keep the soil warm to encourage faster germination.
Some gardeners use black plastic around their beds to keep the area even warmer for an earlier harvest. It is best to spread mulch after the ground has already reached 75°F.
Cucumbers appreciate a few meals while they grow. Side dressing them with fertilizer after they send out runners helps keep them happy.
Remember to only sow seeds a couple of weeks after the last frost date of the spring. Grow these crops in full sun when there is no danger of frost.
Harvesting Cucumbers
First-time gardeners usually underestimate the number of cucumbers that come from a single plant. Do your best to stay on top of the picking for a continuous harvest.
This helps the plants produce new fruits instead of putting energy into forming seeds inside already existing fruits. Try plucking ripe cucumbers every other day.
Each cucumber variety has different maturation days and looks different. If you're unsure when they are ripe and need to know when to pick cucumbers, it is better to pick them early and allow the next batch to grow slightly larger.
From there, decide which way you prefer them. Younger fruits are often sweeter and crisper than older ones.
To harvest cucumbers, clip them from the vine with sharp scissors or a paring knife. Do not pull them off by hand, or you might damage the entire plant.
Cucumbers have the best flavor when eaten freshly picked. If you have to store them, only put them in the refrigerator after sitting at room temperature on the countertop for a few days.
If you can't eat them before going bad, turn them into something that lasts a bit longer or turn them into a quick side dish for dinner.
Add your cut cucumbers and red onion to a mixing bowl and mix them with sour cream, vinegar, sugar, salt, dill, and garlic powder. Cover the mixing bowl and let it refrigerate for two hours before mixing and serving.
Pickles aren't the only thing to make with cucumbers. These tasty, refreshing veggies are versatile in the kitchen and provide higher yields than many other crops in your garden. When you care about the little details, you benefit even more.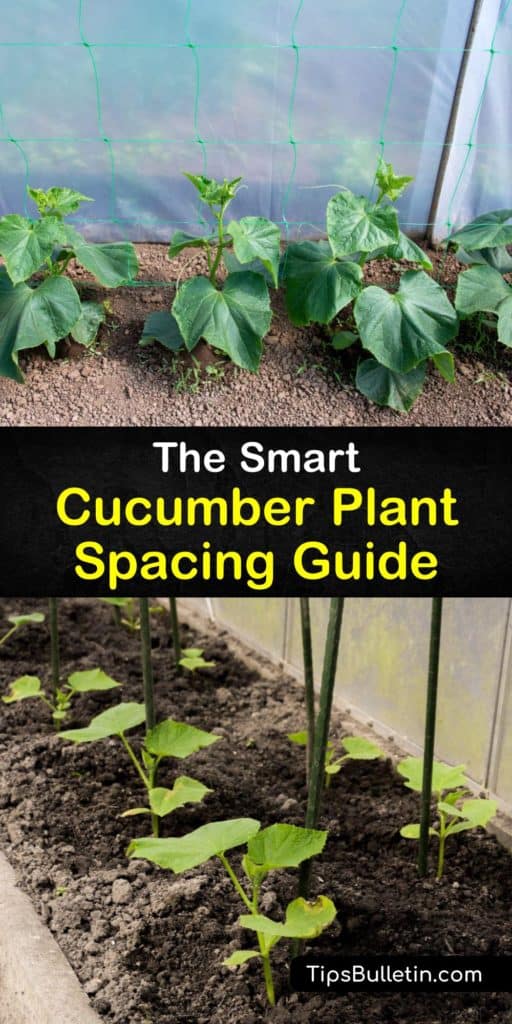 If learning how far apart to plant cucumbers has given you better yields, share these important reasons for cucumber plant spacing on Facebook and Pinterest.