Cucumbers are a great veggie to include in your backyard garden. Before planting cucumbers in your garden, it is helpful to understand what the different cucumber varieties are so you grow the best kind of cucumbers. Believe it or not, there are many types of cucumbers available for you to plant.
We make it simple to understand the three main categories of cucumbers and the more specific varieties of cucumbers. Eating cucumbers, scientifically referred to as Cucumis sativus, also carries several health benefits.
Different types of cucumbers contain antioxidants, aid in weight loss, lower blood sugar, and promote hydration. In this article, we give you all the information you need to know about various cucumber varieties. Learn how to identify and treat common diseases that cucumber plants endure.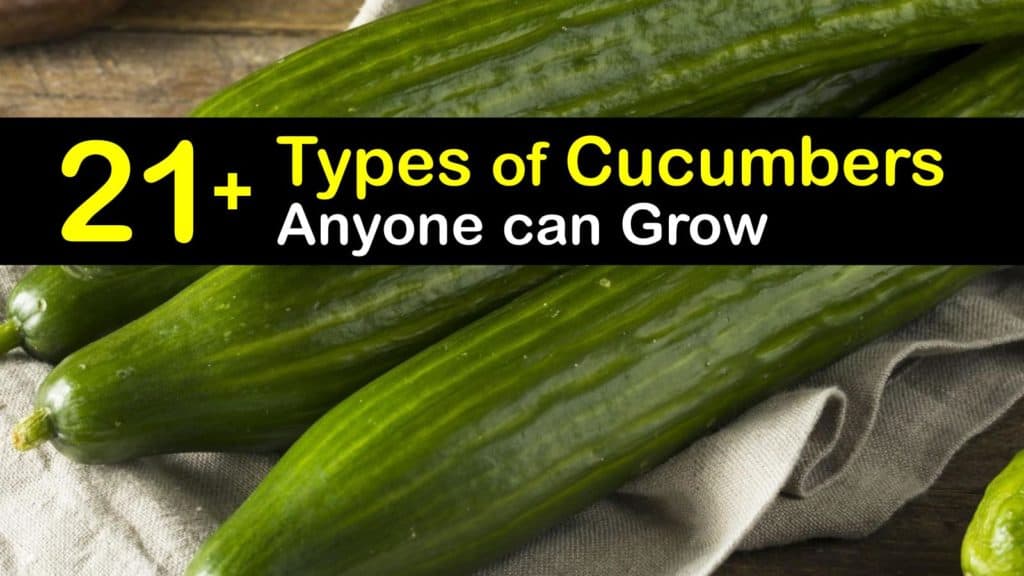 Advantages of Planting Cucumbers in a Garden
Discover the proper tools to plant healthy cucumbers from cucumber seeds, whether you grow them indoors or outdoors.
No matter what kind of cucumbers you decide to grow in your garden, several benefits come with planting your own vegetables. Not only does growing cucumbers in your backyard produce crispy cukes, but it also helps the environment.
Gardening reduces your environmental footprint and allows you to eat vegetables free of pesticides and insecticides found on farmers' market vegetables. Additionally, planting cucumbers saves you money at the grocery store.
Three Main Types of Cucumbers
Cucumber varieties fall into three main categories, with numerous separate varieties within each category. The three cucumber types include slicing, pickling, and burpless or seedless.
Slicing cucumbers are thick with dark green skin and usually longer than other cucumber types. Pickling cucumbers are shorter and much wider than slicing cucumbers. These cucumbers have thin skin with black spines and crisp flesh.
Burpless cucumbers have little to no levels of cucurbitacin, which reduces bitterness. Seedless cucumbers usually have light green skin. Whichever variety of cucumber you grow, it is important to know the differences.
What is a Cucumber and its Growing Habits?
Differences depend on the cucumber cultivar, which affects what you choose to include in your garden. There are various growing habits as well. Bush cucumber varieties are compact and, as the name suggests, grow in a shrub.
Vining cucumbers grow upward when they have support from a trellis. Vining cucumbers produce more fruit compared to bush cucumber types. Although vining cucumbers grow on the ground sometimes, it promotes a higher chance of disease.
All About Burpless Cucumber Varieties
Burpless cucumbers get their name from their chemical structure. This variety of cucumbers has low cucurbitacin levels, which increases the likelihood of burping. Cucurbitacin levels are highest on the skin and stem of this variety of cucumber.
Burpless cucumbers are excellent because they grow well in outdoor conditions or indoors in a container. Place about three seeds in a hole that is one inch deep.
If you grow multiple rows of burpless cucumbers, give them about one foot apart so the roots have plenty of room to develop.
What Cucumber Variety is Kirby Cucumbers?
Similar to gherkins, Kirby cucumbers are very short and have bumpy skin. Because Kirby cucumbers are crunchy, most people eat this cucumber variety raw. However, Kirby cucumbers also make excellent pickling cucumbers because they are so small.
With a sharp knife, cut each cucumber into slices about ¼ of an inch thick and place them in a mixing bowl. Add your sugar and salt to the bowl and transfer the mixture into a quart-sized resealable container.
Place the container in the refrigerator for an hour. Kirby cucumbers stay fresh for about a month with this storage method.
Everything to Know about Diva Cucumbers
Are you looking for cucumber with an exceptionally sweet flavor that also produces a high yield? Consider growing Diva cucumbers in your backyard garden.
What is a cucumber that is a Diva? Diva cucumbers have a crisp texture and grow to around six to eight inches long. Unlike most other plants, Diva cucumbers do not demand pollination to produce fruit.
Other notable traits about Diva cucumbers include the fact that they are generally seedless and produce all-female flowers. These traits allow the Diva cucumber plant to sprout a considerable yield during harvesting season.
What are Persian Cucumbers?
Another common cucumber type used for numerous recipes is the Persian cucumber. Persian cucumbers are a seedless variety. However, some of the Persian cucumbers do have a few seeds in them. Another way to identify a Persian cucumber is by its skin.
Persian cucumbers grow to about five or six inches long and have thin skin. These narrow baby cukes are very crisp and have a lot of water, accompanied by a mild and sweet flavor that is extremely tasty.
Seedless Cucumber Varieties Include English Cucumbers
There are a few names for English cucumbers – Greenhouse, European, or simply seedless cucumbers. This variety of cucumbers is usually ten to 12 inches long, more slender than other cucumbers, and has thin skin.
Because English cucumbers have delicate skin, they are perfect for slicing and adding into salads or sandwiches. Another characteristic about English cucumbers is that they are sweeter than the common cucumber because they have fewer seeds.
Are Lemon Cucumbers Bitter or Sweet?
Lemon cucumbers are best known for their unique look, as they do not look like most other cucumbers. As an heirloom lemon cucumber ripens, its color changes throughout maturity.
At first, the veggie is green, like a watermelon. Then, lemon cucumbers change from light yellow to dark yellow when they are ready to harvest.
When harvesting a lemon cucumber, you should pick them when they start to turn yellow to ensure you have the best tasting cucumber possible. An easy way to identify a lemon cucumber is its shape, which is round and about a tennis ball's size.
Grow Marketmore Cucumbers on a Trellis
The Marketmore cucumber is relatively new to the cucumber family. This dark green cucumber was created in 1968 by scientists at Cornell University and is perfect for pickling.
Marketmore cucumbers grow to about six to eight inches long and have disease resistance in their chemistry.
Another notable feature of Marketmore cucumbers is that they can still produce a bountiful harvest despite cold weather conditions. If you plant Marketmore cucumbers in your garden, consider growing them on a trellis to support their numerous vines.
What is an Armenian Cucumber?
Armenian cucumbers are also commonly called yard-long cucumbers because of their length at maturity. Most people do not know that the Armenian cucumber is not a cucumber at all.
Armenian cucumbers are a ribbed variety of musk melon, but they taste and look like a cucumber. When fully grown, Armenian cucumbers reach 30 to 36 inches in length. One benefit of keeping these in your garden is that they grow on the ground or a trellis.
Advantages of Growing Park's Whopper Cucumbers
Perhaps one of the best cucumber varieties to incorporate into a home garden in the Park's Whopper cucumber. This plant produces fruit that is about eight to 12 inches long with dark green skin.
When planting Park's Whopper cucumber seeds, they can grow indoors or outdoors. Park's Whopper cucumbers have an incredibly fast-paced growing schedule, as it only takes 55 days to reach full maturity.
Another fantastic thing about these cucumbers is that they are disease-resistant to problems like scab, leaf spot, and downy mildew.
What Cucumber Varieties are Disease Resistant?
Over several years of creating hybrid cucumber varieties, scientists have developed more disease-resistant cucumbers.
Having a cucumber type that is less likely to catch a common fungal or bacterial disease is particularly helpful for farmers, as they do not have to worry about losing crops.
Some diseases are virtually unavoidable because insects like cucumber beetles carry and spread harmful illnesses wherever they go. It's easy to know if a cucumber is bad, usually just by looking at it.
However, some diseases like bacterial wilt, leaf spot, anthracnose, powdery mildew, and cucumber mosaic virus are avoidable with the proper cucumber seeds.
Planting types of cucumbers that are more resistant to disease increases your chances of harvesting crisp cucumbers at the end of the growing season.
How to Set up a Cucumber Trellis
Some cucumber varieties grow better when a trellis supports them. What is a cucumber trellis? A trellis is a wooden structure that supports fruit trees or climbing plants like some cucumbers.
When you use a trellis to help vining cucumbers, they are less likely to catch a disease because the fruit does not rest on the ground.
Ensure the trellis legs are well-secured in the ground, so the structure is strong and supports several cucumbers' weight.
As your cucumber vine continues to grow longer, gently wrap the stems around the trellis. Weaving the stems around the frame encourages the plant to continue growing upward.
Signs and Symptoms of Downy Mildew
Downy mildew is a foliage disease caused by a fungus organism spread from plant to plant via airborne spores. Signs that your cucumber plant is infected with downy mildew include spots on the leaves that are green, brown, black, yellow, or purple and leaf loss.
It is crucial to catch the signs of downy mildew right away, so the other plants in your garden are not infested. The best way to stay away from downy mildew is to water the plants from below.
Sometimes, if water sits on the cucumber plant's leaves for too long, it gives downy mildew a way to spread quicker.
Does Your Cucumber Plant have Mosaic Virus?
One of the most destructive viruses that attack cucumber vines is the cucumber mosaic virus. Although this virus originated in the world's tropical environments, it affects over one thousand plant types around the world.
Fortunately, identifying the cucumber mosaic virus is straightforward. A cucumber's leaves become stunted along with the rest of the plant when infected with the mosaic virus.
Another way to know if your cucumber plant has the mosaic virus is pale and bumpy cucumbers. The primary insect that spreads this disease is aphids, so it is important to repel these pests.
Insects that Invade Cucumber Plants in Your Garden
Two insects are commonly found on cucumber plants. Although they may appear harmless at first, treat an insect infestation right away if you have one. If left untreated, insects continue to steal nutrients from the cucumbers until the plant dies.
Aphids and cucumber beetles are two of the familiar pests that attack cucumber plants. Both insects are visible to the naked eye.
Aphids are tiny green bugs that primarily lie on the leaves of a plant. Cucumber beetles are about ¼ of an inch long and have yellow and black bodies, making them easy to spot on a plant.
How to Repel Insects on Your Cucumbers
To deter aphids and cucumber beetles without harmful chemicals, there are many all-natural remedies to eliminate these pests. Certain essential oils emit odors that insects and other pests like skunks or squirrels hate, forcing them to leave your garden alone.
Pour your measured ingredients into a spray bottle and spritz your plants to evenly spread the solution.
Then, spray the mixture directly on your plants' leaves and around the soil to repel any pests that attempt to invade your garden. Growing marigolds near your garden is another terrific way to repel aphids and cucumber beetles naturally.
Companion Planting with Cucumbers
Learning how to companion plant is a wonderful skill that can benefit every single plant in your garden. A pollinator like a bee is more likely to come to a garden with plants that complement each other.
Companion planting saves room in your garden, promotes quicker growth, and keeps weeds out. Some plants that grow well with cucumbers include corn, marigolds, dill, legumes, sunflowers, root vegetables, and nasturtiums.
Corn stalks act as a natural trellis for vining cucumbers, allowing you to save space in your garden. Marigolds and nasturtiums naturally repel harmful bugs like aphids.
Utilizing the Best Soil for Cucumbers
No matter what kind of cucumber variety you decide to include in your garden, it is vital to plant the veggie in the correct soil. Potting mix plays a big part in your cucumber plant producing fruit, receiving nutrients, and drains excess water.
When growing cucumbers, use sandy loam soil, which allows cucumbers' roots to develop deep into the ground. Additionally, this kind of potting soil is well-draining. Well-draining soil ensures water does not pool at the base of the roots, which causes cucumber diseases.
Do Cucumbers Need Fertilizer?
Incorporating fertilizer in your garden is not a requirement for growing cucumbers. However, using fertilizer speeds up the development process, provides your plant with extra nutrients it does not get from potting mix, and protects your plant from bacteria.
An excellent way to help the environment is to use old compost as your fertilizer. Excess peels and other parts of old fruit and vegetables degrade in the soil and give your cucumber plants nutrients.
When purchasing fertilizer at the local gardening store, use a liquid fertilizer that is low in nitrogen and high in potassium and phosphorus for the quickest growth.
How Much Sunlight does Your Cucumber Plant Demand?
Most fruits and vegetables require between six to eight hours of direct sunlight every day. However, that is not the case for cucumbers.
Compared to other vegetables, cucumbers are considerably more delicate and do not have to be in the sun for as long as other foods. Cucumbers thrive with just five hours of direct sunlight a day and grow best in temperatures 70℉ or warmer.
The warmer the weather gets, the faster the water in the soil evaporates. To help lock in moisture, we recommend sprinkling a layer of mulch on top of your soil.
Picking your cucumbers is the best part of the process. Don't wait too long before harvesting as yellow cucumbers indicate over-ripeness and a bitter flavor.
Can You Grow Cucumbers Indoors?
Do you want to harvest cucumbers year round? Planting cucumbers indoors is an incredible way to have access to fresh cucumbers, even in cold temperatures.
To grow cucumbers in a pot, use a container that is at least nine inches in diameter for your cucumber seeds. A critical part of planting cucumbers indoors is to make sure the plant gets a lot of sunlight.
Place your pot near a window that receives plenty of direct sunlight every day to ensure the plant produces fruit. After you harvest your cukes, you usually cannot eat them all at once and cucumber expiration is relatively quick.
Learn the best ways to store cucumbers, from canning to pickling to freezing, so you always have some on hand.
There are many excellent cucumber recipes for canning that you can try. You may find several that become your favorites.
Cucumbers are very diverse veggies. Whether you use cucumbers to pickle, add to a salad or recipe, or even for an at-home skincare routine, these vegetables genuinely do it all.
What is a cucumber that grows well in your garden? With the vast array of cucumber varieties, it is critical to know each cucumber type's distinct traits.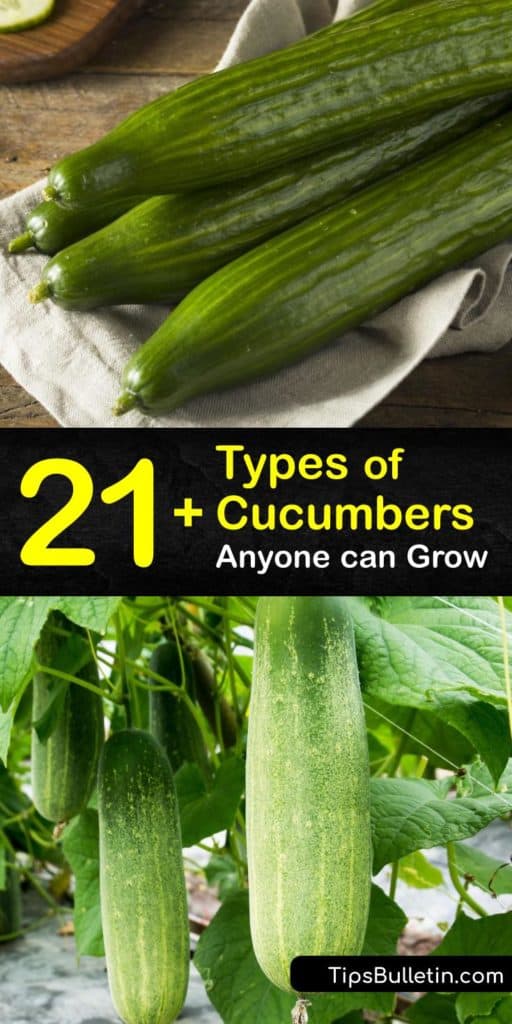 If you learned about the various types of cucumbers, share this article about cucumber varieties with your family and neighbors on your Pinterest and Facebook accounts.