A common question is whether the tomato is a vegetable or a fruit. The answer to that question is both, which brings us to the next question. How long do tomatoes last? The answer to that depends on how you store them.
This fruit, which is considered a vegetable by nutritionists, grows in abundance in the garden but unfortunately has a relatively short shelf life. As your countertop and refrigerator begin to spill over with plum tomatoes and other fresh vegetables, you probably wonder how in the world you'll be able to eat all of those veggies before they spoil.
It can be tempting to stock up on fresh garden tomatoes from the farmers' market or grocery store at the end of summertime. Ripe tomatoes only last so long before their skins begin to soften, and their insides become mushy. Once they get to this point, they are not as tasty for tossing in a salad or enjoying a sandwich.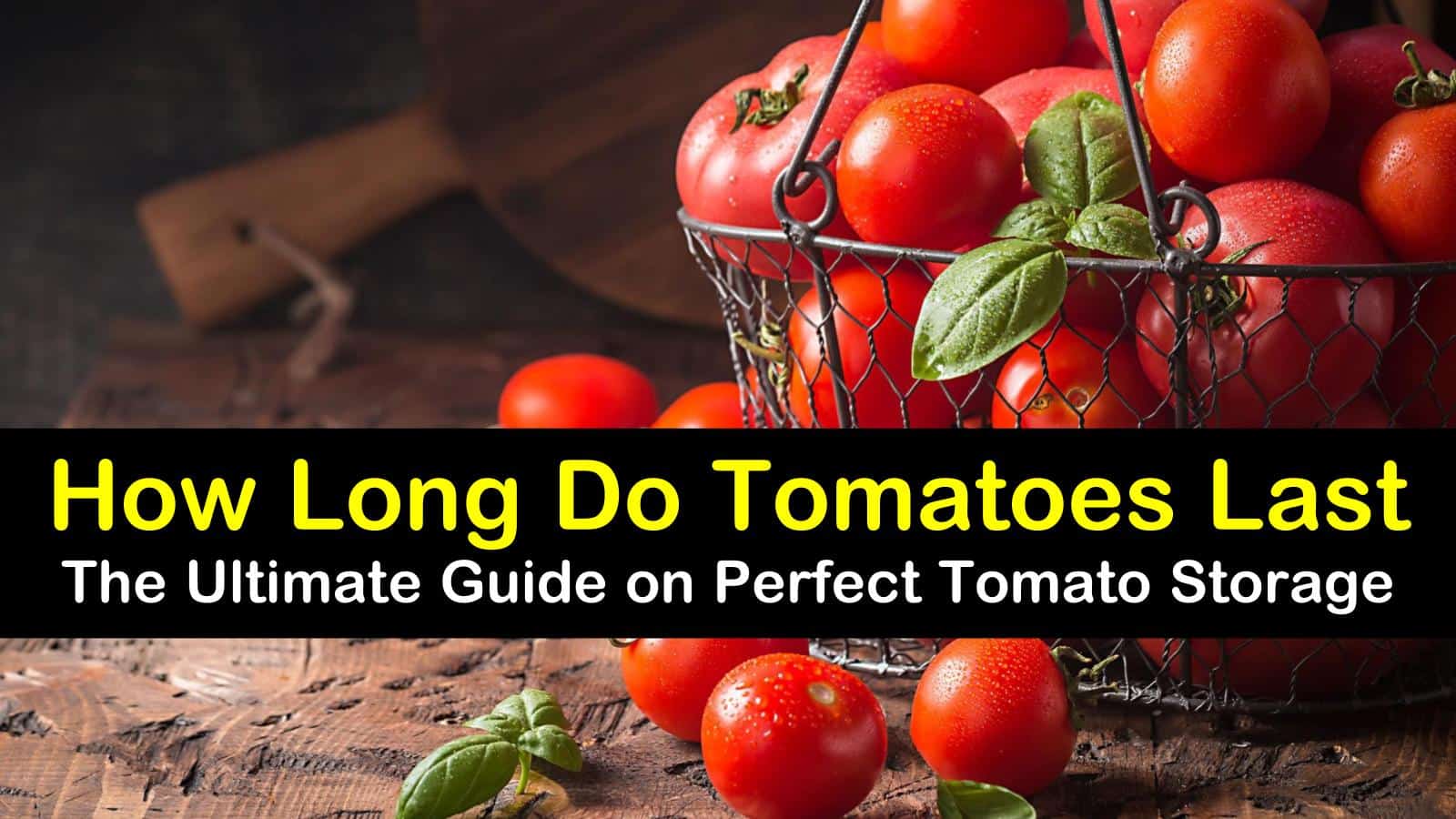 How Many Days Do Tomatoes Last?
Knowing the best way to grow tomatoes is only part of what you need to know about this delicious veggie. If you're like us, you probably wait excitedly for the end of summer when you can reap the rewards of your gardening labor.
Finally, you have an abundance of fresh, juicy tomatoes. You pop grape tomatoes into your mouth as you pick them, slice an heirloom tomato onto a burger, and toss cherry tomatoes in a salad.
A common question that arises during harvest season is how long do tomatoes last in the fridge or on the counter? Unfortunately, they only last for a few days. Learn how to keep tomatoes fresh on the countertop and fridge to be enjoyed within a few days, along with ways for storing them long term by canning and freezing.
Choosing the Right Tomatoes for Storage
Tomatoes come in all sizes and colors, and knowing which ones to use for short and long term storage ensures that you have the best-tasting variety. Not only should you choose specific tomato types for storage, but also choose wisely based on appearance and ripeness.
Tomato Selection
When choosing tomatoes at the market, smell the stem end for a fragrant tomato odor. Choose round, full, and heavy tomatoes with tight skins. Make sure there are no bruising or blemishes.
The three most common shapes of tomato are the round beefsteak, pear types of Roma tomatoes, and small cherry-sized varieties. Most types you find in the grocery store are red, but there are also yellow ones which are less flavorful and acidic than the red varieties.
What are heirloom tomatoes? Heirloom tomatoes have more flavor and come in a variety of colors ranging from red and maroon to purple-brown.
If you plan on canning tomato sauce, your best bet is to use Roma tomatoes. This variety has low moisture content and works best for sauces. However, they lack in flavor. For canning whole tomatoes, consider using heirloom tomatoes with more taste appeal.
Keep Tomatoes Fresh at Room Temperature
When keeping tomatoes fresh, avoid storing them in the refrigerator to prevent the skin from becoming mealy. They naturally release ethylene gas, which promotes ripening and also attracts fruit flies.
However, cold hinders the tomatoes development process, which results in a mealy texture and flavor loss. Here is how to store tomatoes at room temperature correctly.
For storing tomatoes long term at room temperature, use green tomatoes or unripe tomatoes, which continue their ripening process as they sit in storage. Place the dry, unwashed tomatoes in a box layered with a newspaper or a paper bag. Lay them out in a single layer while placing the paper between each layer.
Place a lid on the box to keep them out of direct sunlight. Check the tomatoes weekly for spoilage and use them within six months. Storing fresh tomatoes that you plan on eating right away is a lot easier.
Keep unwashed, dry tomatoes at room temperature, in a dark area of the kitchen. These tomatoes last for one to five days stored this way, depending on how ripe they are. This is also a technique that keeps garlic fresh.
How Long Do Tomatoes Last in the Fridge?
Refrigeration is the best way of keeping sliced tomatoes fresh. Keeping whole tomatoes in the fridge is fine, but they may lose their flavor. If you're also wondering, how long do onions last in fridge, both tomatoes and onions have a similar refrigerator shelf life.
If you can not eat ripe tomatoes right away, store them whole in the fridge. For leftovers, place sliced or chopped tomatoes into an airtight container or Ziplock plastic bags. Store them in the refrigerator for a maximum of three days.
Can You Freeze Tomatoes?
Freezing tomatoes is a convenient way to store them for future use in sauces and for adding flavor to your favorite dish. How long do tomatoes last in the freezer? This simple and effective form of storage keeps them from spoiling and retains their flavor for up to 18 months.
Can you freeze tomatoes? Yes, and here's how to do it the right way. Cut an "x" into the skin at the bottom of each tomato. Boil a stockpot of water and add the whole tomatoes.
Blanch them for about one minute and then transfer them to a bowl of ice water. Once they cool, peel away the skins starting at the base of the tomato, and remove their cores and stems.
Place the prepared tomatoes into freezer bags and push as much of the air out as possible before sealing shut. Label them and place in the freezer.
Canning Tomatoes
Canning tomatoes is an excellent way to store them so that they don't lose any of their flavor and they last for up to one year unopened. Here's how to can whole tomatoes in a few simple steps, or use your favorite cookbook tomato recipes for canning to liven things up.
Boil a pot of water, slice an X on the bottom of each tomato, and place them into the boiling water for half a minute to blanch them. Transfer them into an ice bath and allow them to cool before peeling away the skins.
Pour two tablespoons of lemon juice into the bottom of each canning jar and fill them with tomatoes, leaving a half-inch of headspace. Place the lids onto each jar and set them into the boiling water for 45 minutes. Remove the canned tomatoes from the water and allow them to cool on the counter before storing them.
Canning Tomato Juice
Tomato sauce and juice are both healthy and tasty, but they're even better when made from fresh garden tomatoes. This canning tomato juice recipe is simple, but you can add some zing by putting in your favorite herbs and spices such as basil, garlic, and onion. Canned tomato juice lasts up to one year if not opened.
Wash the tomatoes and then slice them into half-inch chunks before placing them into a large stockpot over medium-low heat. Simmer them, stirring every five minutes until they have broken down.
After cooking, run them through a food mill to separate the tomatoes from the skins and seeds. Pour the strained tomatoes back into the stockpot and bring to a boil for ten minutes.
Heat the quart jars in a large pot of boiling water and carefully remove. Place one tablespoon of lemon juice and half a teaspoon of salt into each jar, and then add the tomato juice, leaving a half-inch of headspace.
Place the lids onto each jar and set them back into the hot water bath for 40 minutes. Remove the jars and let them cool for 24-hours before storing them.
Drying tomatoes for Long Term Storage
Dehydration is another excellent alternative to consider when storing tomatoes. They last six months at room temperature and one year in the freezer. Dry all types of tomatoes, including the heirloom tomato and Roma. For serious eats, add dried tomatoes to soups, sauces, sandwiches, and dip, or rehydrate them and add to salad dressing or pesto.
Wash the tomatoes and slice each one in half from top to bottom. Remove the stems and scoop out as much of the seeds as you can. Place the cut tomatoes cut side up onto the dehydrator tray. If you set them upside down, they may stick and be difficult to turn. Dehydrate them at 135°F for four hours before turning them over.
Continue turning the tomatoes every hour until dried to a leather-like texture. The total amount of time is typically eight to ten hours. Grind tomatoes into tomato powder if they have gotten too crispy. Place the dried tomatoes into a plastic bag and refrigerate for one month or freeze for up to one year.
For room temperature storage, place the dried tomatoes into a jar and cover with a lid for one day. After 24 hours, put them back into the food dehydrator for one more hour and then store in a closed container at room temperature.
There is no need to rush through eating all of those tomatoes when you know how to store them. Place them on the countertop and eat right away, or freeze, can and dry the rest for later days of enjoyment.
Not only are you able to enjoy sweet and juicy tomatoes longer than the harvest season, but you have ready-to-go veggies to add to almost any meal.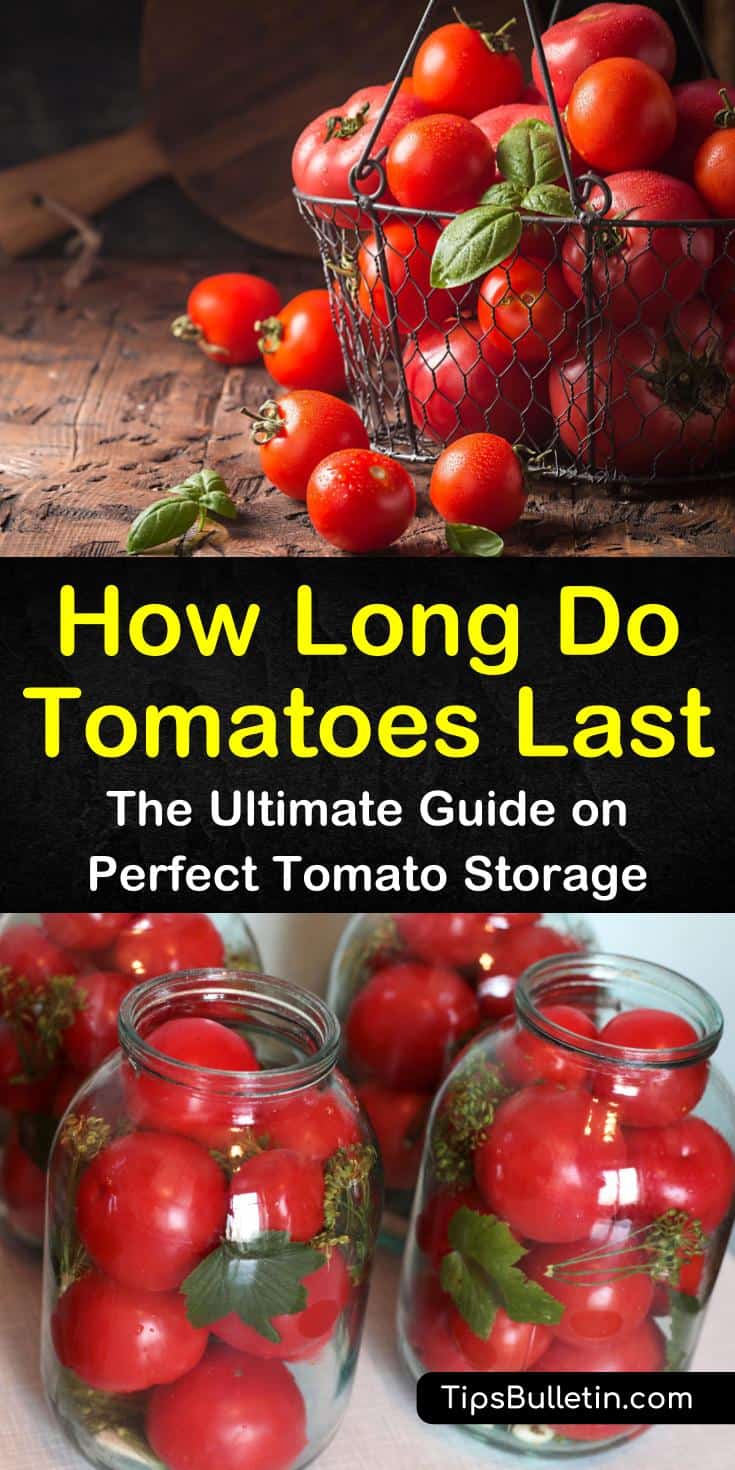 Now that you have learned the answer to how long do tomatoes last, why not share our tomato storage tips and recipes with your family and friends on Pinterest and Facebook?