Fresh mozzarella is a staple in Italian cuisine, but you do not have to travel across the globe to enjoy the delicious taste of mozzarella balls. As one of the most popular cheeses globally, fresh mozzarella is found in most local grocery stores or farmer's markets. If you are asking, "How long does fresh mozzarella last?" you came to the right place.
This article provides you with all the information necessary to understand how to keep fresh mozzarella cheese fresh in the refrigerator and freezer. This article not only answers common mozzarella cheese questions like, "How long is mozzarella cheese good for in the fridge?"
We also provide you with the knowledge to identify when your cheese has reached its expiration date, how to store the cheese for the longest shelf life, and how to make a wonderful Caprese salad. You will understand how to correctly keep your fresh mozzarella for longer shelf life and a delicious addition to any main course.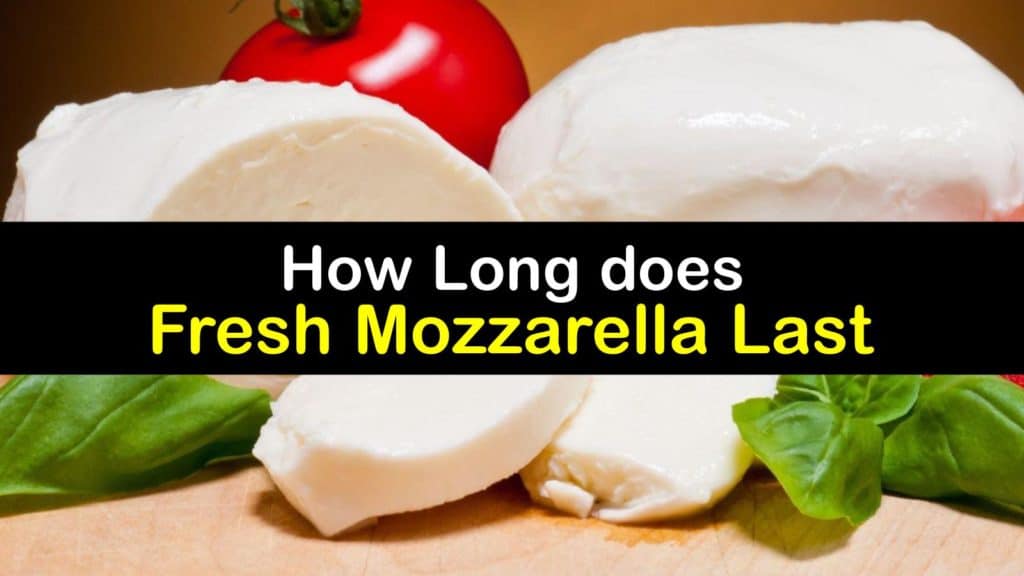 Different Kinds of Mozzarella Cheese
When referencing mozzarella cheese, there are various subcategories of delicious cheese to choose from. There are 12 types of mozzarella cheese, all of which offer a flavorful punch to your recipes.
Some of the most popular types of mozzarella cheese are bocconcini, low-moisture shredded mozzarella, mozzarella di bufala, and ovolini.
Bocconcini and ovolini are mozzarellas that have been formed into a ball-shape. Ideal for recipes and long-term storage, find low-moisture shredded mozzarella at your local grocery store.
Mozzarella di bufala is made entirely out of buffalo milk, providing a rich and creamy flavor that is ideal for snacking.
What Type of Cheese is Mozzarella?
There are several categories of cheese. Hard cheese, like Parmesan, has low moisture and is great for slicing or grating on foods. Mozzarella is a fresh, soft cheese. Softer cheeses, like Brie, have more moisture in them.
One unique aspect of soft cheese is the milk used to make the cheese. Most cheese uses cow's milk during production.
However, whey and mozzarella cheeses often use water buffalo milk to provide a richer texture. If you prefer something other than buffalo mozzarella, there is a mozzarella made from cow's milk.
How is Mozzarella Cheese Made?
The cheese-making process is relatively simple for mozzarella cheese. After harvesting buffalo milk, the only other ingredient added is called rennet, which comes from a young calf.
If you are a vegetarian, some mozzarella cheese contains a type of mold in place of rennet. After the ingredients form a paste, curds rich in flavor and texture are dropped in hot water to form a stringy mixture.
The mozzarella cheese is kneaded to eliminate air holes. The cheese transforms into a smooth texture, where it is baked. Traditional mozzarella cheese contains no extra preservatives, as they take away from the delicious flavor of the cheese.
How Long does Fresh Mozzarella Last in the Freezer?
If you have a lot of extra mozzarella cheese, do not worry about it going to waste. Can you freeze fresh mozzarella cheese? Freezing mozzarella cheese is feasible. A freezer slows down the rate molecules move, effectively preserving mozzarella cheese for three to four months.
Learning how to keep mozzarella fresh in the freezer is easy. Lightly wrap the pieces with aluminum foil after cutting the cheese into your chosen portion sizes. Aluminum foil blocks light and bacteria from reaching your cheese.
Place the pieces of cheese in a large freezer bag and put them in the freezer. Can you freeze crumbled feta cheese the same way? Definitely.
Does mozzarella go bad in the freezer? Yes, eventually, the cheese goes bad after about four months, along with several other types of cheese.
How Long is Mozzarella Cheese Good for in the Fridge?
How long does cream cheese last in the fridge? Refrigeration is an ideal way to store your fresh mozzarella cheese or cream cheese if you plan to eat it within two to three days. How long does Brie cheese last in the fridge? It is also good for around three days.
Because mozzarella cheese contains a lot more moisture than other cheeses, keeping it moist is important to extend the food's shelf life.
Does mozzarella cheese go bad in the fridge? How long does mozzarella cheese last in fridge? What about goat cheese? How long is goat cheese good for in the refrigerator? When appropriately kept, these cheeses last up to five days.
Pour a little bit of cold water into an airtight container and place your mozzarella cheese inside the container.
The extra water helps maintain your cheese's moisture levels while the airtight container blocks bacteria in the air from spoiling your mozzarella. Place the airtight container in the fridge, ensuring the lid is sealed completely.
Does Mozzarella Cheese Go Bad at Room Temperature?
The main thing to consider when keeping mozzarella cheese at room temperature is the moisture level. If mozzarella cheese sits out too long, all the moisture leaves the cheese, and it loses most of its flavor.
How long can mozzarella cheese sit out until it spoils? Does mozzarella go bad at room temperature? The recommended amount of time to keep your mozzarella cheese at room temperature is around two hours.
Most soft cheeses are made with certain bacterias that give the mozz balls their texture and flavor.
The longer the mozzarella sits in warmer temperatures, the more likely the bacteria will transform into a mold that is dangerous to eat. Keep a careful eye on how long your mozzarella cheese sits out to prevent potentially harmful bacteria.
Identifying Spoiled Mozzarella Cheese
Even some of the best-tasting mozzarella found in New York City or Italy goes bad eventually. Uncovering the answer to the question, "How long does fresh mozzarella last before it spoils?" is essential, as consuming bad cheese carries several risks.
Eating spoiled cheese may lead to food poisoning or other foodborne illness, which come with unpleasant side effects.
If you notice your mozzarella has a sour smell or taste, be safe and throw it out. Another sign mozzarella has gone bad is if there is mold growth on the cheese.
Even if the mold is on a small area, throw the entire ball of mozzarella out. Does mozzarella last longer if you wrap it in plastic wrap? No, plastic wrap speeds up the spoilage and negatively affects the taste.
Making a Homemade Caprese Salad
Mozzarella is used in various recipes, including soups. One of the most familiar ways to use mozzarella is in a Caprese salad. Does mozzarella cheese go bad in a Caprese salad? Yes, so eat the salad right after making it.
After slicing both your tomatoes and mozzarella into slices about ¼ of an inch wide, layer them on a plate as you alternate between tomato and mozzarella. In between each layer, place a single basil leaf.
Drizzle olive oil over the salad before adding salt and pepper to season. How long is mozzarella cheese good for in a salad? This salad lasts bout three days in the fridge.
To add a rich flavor to your meals, use mozzarella cheese. The cheese gets its creamy texture from buffalo milk. How long is mozzarella cheese good for?
When you learn how to keep fresh mozzarella fresh with the right tools, it can last five days in the fridge and four months in the freezer.
If you are ever on the fence about your mozzarella cheese's freshness, it is better to play it safe and throw it in the garbage to avoid food poisoning.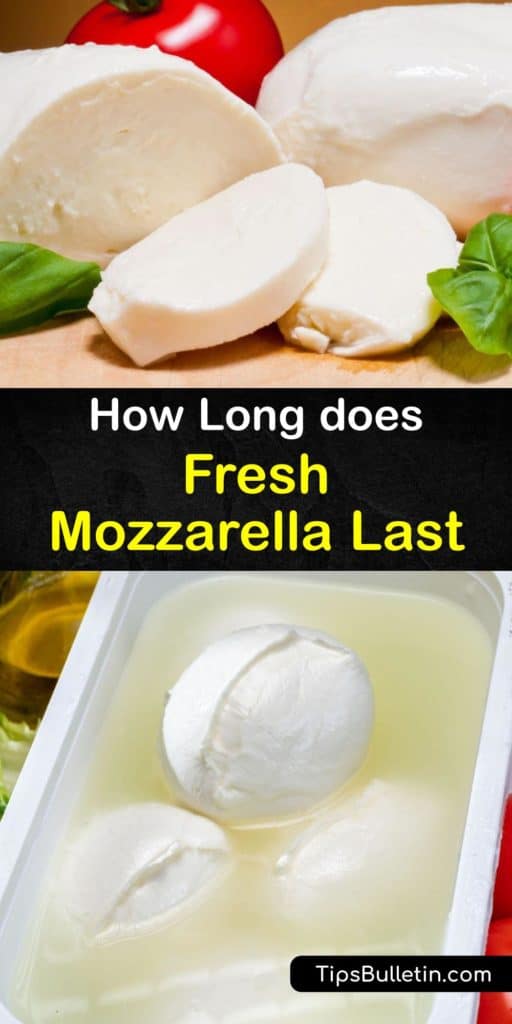 If we answered your question, "How long does fresh mozzarella last?" share this article with tricks for keeping mozzarella fresh with your family and cheese-loving friends on Pinterest and Facebook.