Have you ever wondered, "How long does salad dressing last?" In this article, you'll find out the best ways to store salad dressing and how to tell if a salad dressing is fresh anymore.
Salad dressing is a staple ingredient in many kitchens. Most households have several different types of sauces on hand to create the perfect pairing with various salad ingredients, so it's essential to know the proper storage methods and how to check for signs of spoilage.
How long salad dressing lasts in the refrigerator after opening depends on what type it is. Salad dressing with dairy ingredients usually lasts one to two months, and dairy-free condiments last three to four months.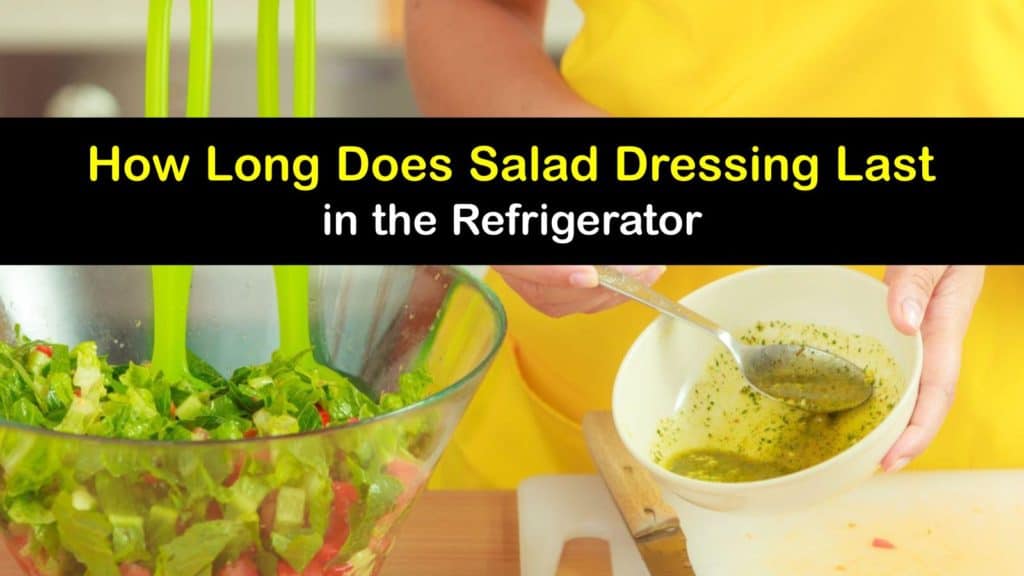 How Long does Salad Dressing Stay Fresh?
The exact shelf life depends on which types of preservatives are present, so always verify the expiration date printed on the product package. Discard expired condiments for the best food safety practices, especially if you notice an off taste or smell.
Most bottled salad dressings at the grocery store are sold unrefrigerated, while some are in the refrigerated section. Dressings that come unrefrigerated contain preservatives that make them shelf-stable at room temperature until opening.
Refrigerated salad dressings typically contain fewer preservatives and should be used sooner. Check the "best before" date that's printed on the product label for an idea of how long condiments like ketchup, horseradish, pesto, and salad dressing stay fresh, just as you would for store-bought chicken salad shelf life.
Always keep an open bottle of salad dressing refrigerated when it's not in use. For peak quality, try to use your salad dressing as soon as possible after opening because the longer it's open, the lower its quality and the likelihood of spoiling gets higher.
Unfortunately, you cannot keep salad fresh with dressing, like a green or chef salad. The dressing causes the greens to wilt and get mushy quickly. Store salad and dressing separately.
How Long can You Keep Salad Dressing in the Refridgerator?
When cleaning out their fridge, many people ask, "Can you keep salad dressing in the refridgerator indefinitely?" The answer is no. Although most types of salad dressing contain preservatives, they still go bad after a few months.
How long is salad dressing good for? The exact shelf life of an open bottle of salad dressing depends on the ingredients, amount of preservatives, and how it's packaged. Dressings that contain dairy like ranch, thousand island, and Caesar usually last for a month or two after opening with refrigeration.
Storage times for non-dairy salad dressings are a bit longer, more like three or four months.
With oil-based dressings like balsamic vinaigrette and Italian dressing, separation of the ingredients is normal. Simply shake the bottle before each use for a smoother consistency.
How Long does Salad Dressing Last Unopened?
Perhaps you found a great deal on your favorite salad dressing at the grocery store, or you bought an extra bottle for a potluck and never used it. Now you might be wondering, "How long does salad dressing stay fresh before it's opened?"
As long as the dressing wasn't in the refrigerated section at the grocery store, it's safe to store it in your pantry unopened for several months. There are varying factors between brands, so always check the product label for the expiration date.
If the bottle remains unopened in a cool, dry location, it might even be good a bit past the "best by" date, but always monitor for signs of spoilage before consuming it.
Storing Dry Mix Salad Dressing
Dry mixes are a convenient way of making fresh salad dressing. They're basically spice mixes and have an average shelf life of one to two years. Store dry mix salad dressing in a cool, dry place out of direct sunlight.
If you don't use the entire packet at once, tightly seal it for storage or transfer it to a resealable plastic bag. Some of the spices in the blend might lose their potency over time so that older dry mixes may taste a bit less flavorful.
Signs Salad Dressing has Gone Bad
Even though most salad dressings contain preservatives, bacteria can still get in and make the dressing unsafe to consume. How long does egg salad with mayonnaise last? Signs of spoilage for salad dressing and mayonnaise are relatively typical. These include a sour or sickly odor and changes in color and texture.
For non-oil-based salad dressing, separation of ingredients is another sign of spoilage. Some types of dressing may develop a lumpy consistency when they go bad.
To avoid food poisoning, write the current time and date of opening on the bottle and discard it if you notice any unfavorable changes.
Homemade Salad Dressing
Homemade salad dressing is a delicious way to avoid the preservatives present in store-bought products. Store your homemade dressing in a clean, resealable container if you don't use all of it at once.
The signs of spoilage are the same as for bottled dressing, but remember that homemade salad dressing has a much shorter shelf life.
If you're making a dairy-free dressing like vinaigrette, it should stay fresh for up to one week with refrigeration. Dairy-based dressings like Caesar and ranch should be used within three or four days.
If you're interested in making your own salad dressing, try this easy recipe for homemade balsamic vinaigrette.
Mix the ingredients in a clean Mason jar or other resealable container and shake vigorously to blend. Once the dressing is smooth, taste it and add more honey, salt, or pepper as needed.
If desired, substitute olive oil for sunflower or avocado oil. To make this recipe vegan-friendly, substitute the honey for maple syrup or agave nectar. How long does lettuce last in the fridge with this dressing on it? It's best to store the dressing and salad separately for optimal flavor and freshness.
Add this to your favorite pasta salad for a refreshing flavor. How long is homemade macaroni salad good for with this dressing? Eat it within several days for the best taste.
The options are endless when it comes to fresh salads. They make a healthy stand-alone meal or an excellent addition to the dinner menu.
Since there are so many varieties of dressing flavors to pair with your salad ingredients, many people have several open bottles of salad dressing in the fridge at a time.
This leads to the questions, "How long does salad dressing stay fresh?" and "How long can you keep salad dressing in the refridgerator?" The answer is, it depends.
Dry mixes last the longest, and they get prepared as needed. Most store-bought dressings contain preservatives that give them a shelf life of several months. Use homemade salad dressing as quickly as possible, within a few days of preparation.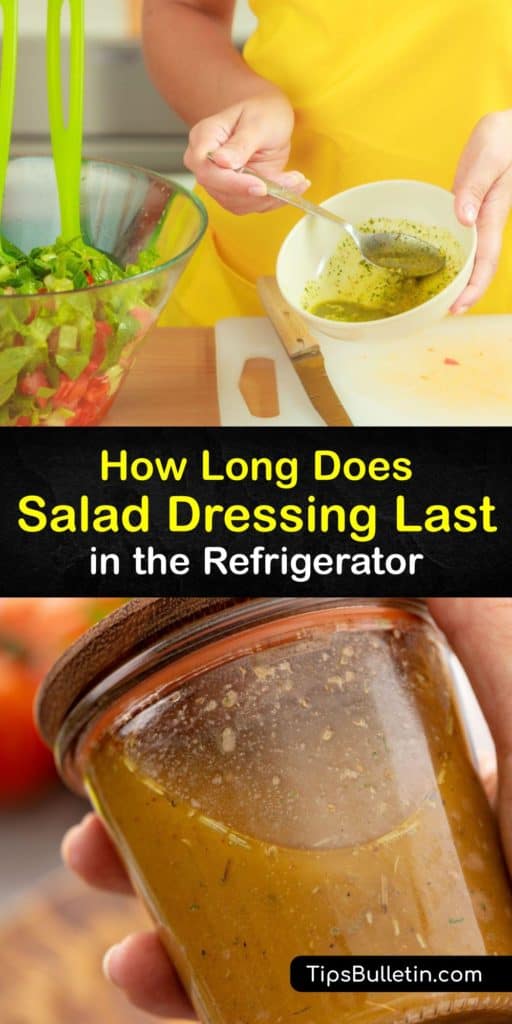 If you found these food safety tips helpful, please share this article about how long does salad dressing last with your friends and family on Pinterest and Facebook.