If you love egg salad, chicken salad, deviled eggs, potato salad, and macaroni salads, you probably find yourself making more than is possible to eat before they spoil, especially if you prepare these salads for a family picnic. How long does egg salad last if it sits out at room temperature, and what about the fridge or freezer?
Having too much egg salad doesn't seem like a problem at the time. However, you might disagree after eating your fifth egg salad sandwich and begin to wonder if it's about to expire. Unfortunately, these salads only last so long since they contain hard boiled eggs. The classic egg salad recipe calls for a cup mayonnaise, which is not actually dairy.
However, eggs have a limited shelf life, especially when sitting out on the kitchen counter. Luckily, there are ways to store egg salad for a longer period to give you more time to enjoy it and prevent food waste.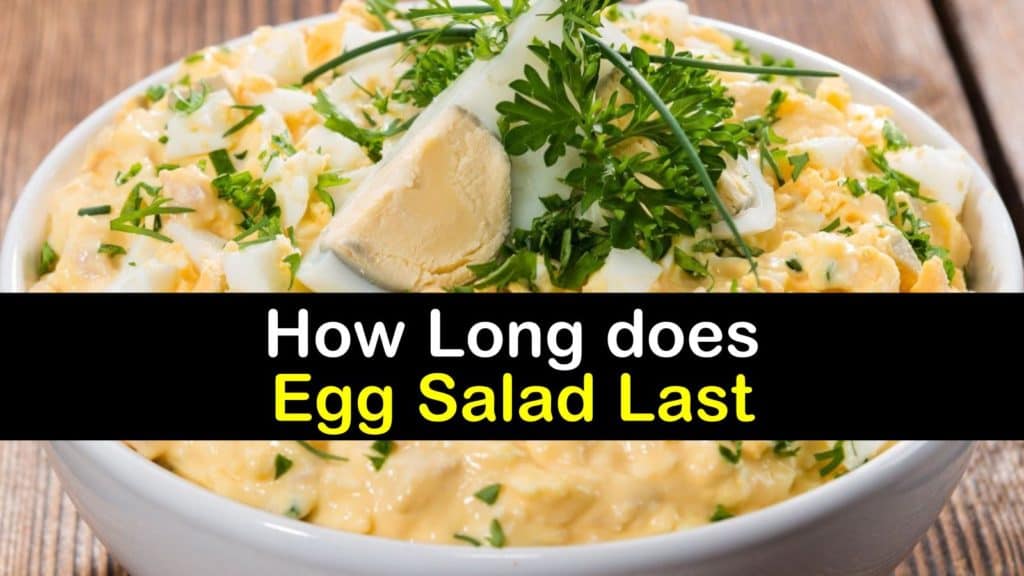 Egg Salad Shelf Life
Everyone thinks they have the best egg salad recipe, but it only stays tasty if it's stored properly – the same applies to wondering how long does potato salad last in the fridge or freezer.
These salads quickly go bad when sitting out, leading to bacterial growth and possibly food poisoning. So, how long does egg salad stay fresh?
Easy Ways to Store Egg Salad
The shelf life of farm eggs and eggs you get from the store play a part in how long your egg salad lasts. The storage time varies from a couple of hours to days and months, depending on the ingredients and how you decide to store it.
Therefore, it's important to follow a few simple steps to keep your favorite egg salad fresh and delicious. So, how long does egg salad last in the fridge, and is it safe to freeze it? You may have the same question for tuna salad. Will tuna salad last in the fridge?
How Long Does Egg Salad Stay Fresh?
Egg salad is one of the most popular dishes for large food spreads, and usually, there are plenty of leftovers.
How long does egg salad stay fresh? Unfortunately, this salad does not hold up well at room temperature for too long, depending on the recipe.
Fresh Egg Salad
There are many egg salad types, from a traditional salad with mayo and deviled egg to avocado and mayo-free. How long is egg salad good for? They all last relatively the same amount of time in the refrigerator.
However, keeping it fresh at room temperature has its challenges. Bacteria grow rapidly in temperatures above 40 degrees Fahrenheit, and egg salad only lasts up to two hours under the most favorable conditions.
If you plan on serving this salad at a picnic or gathering, consider carrying it with ice packs until you are ready to enjoy it.
Since this salad spoils rather quickly, it's best to make sure that it's safe for consumption if it's been sitting too long, whether it's on the counter or in the fridge.
Bad salad has an off-odor and flavor, and its appearance loses its fresh and healthy color and texture.
How Long Does Egg Salad Last in the Fridge?
Refrigeration is the ideal way to store all types of food, including egg salad. Do hard boiled eggs go bad quickly? How long does egg salad last in the fridge? It only lasts three to five days in the refrigerator if you store it properly. The same holds true for keeping tuna salad fresh, particularly if it has eggs as an ingredient.
Refrigerating Egg Salad
How to keep egg salad fresh in the fridge? To make egg salad last longer, spoon it in an airtight container, whether you made a batch of your own or purchase it from the grocery store.
Set it on the refrigerator shelf near the back where it is the coldest and avoid storing it in the door. Refrigerator doors fluctuate too much in temperature, and this causes the salad to spoil faster. Eat the dish within a couple of days for optimal freshness and flavor.
How Long Does Egg Salad Last in the Freezer?
If you cannot eat the salad within a couple of days of refrigeration or are meal prepping, consider freezing it for more extended storage. While the freezer is not ideal for salads that contain mayonnaise, it's safe to keep frozen egg salad for up to two months.
Freezing Egg Salad
If you decide to freeze egg salad, make sure to do it right away. Do not freeze salad that was already sitting in the refrigerator for a few days.
Scoop it into a freezer-safe container and press the lid in place. Label it with the date and contents and set it near the front of your freezer.
To thaw egg salad or thaw frozen chicken salad, place it in the fridge overnight. Frozen egg salad does not have the same consistency as fresh, so it's important to stir it well before serving to revive the texture.
How to Make Quick Egg Salad for Storage
If you have a bunch of eggs on hand and a little bit of time, why not whip up a quick batch of egg salad? This recipe is not only tasty but stores well in both the fridge and freezer.
Cook the eggs with an instant pot or prepare them on the stove. For stove cooking, put the fresh eggs into a large pot and slowly add cool water.
Set it on the stove and bring it to a boil on medium-high heat before taking it off the stove and covering it with a lid. After 14 minutes, drain the water and fill the pot with cold water to cool the eggs.
Combine the mustard, Miracle Whip, and seasonings, and whisk them in a bowl. Peel the eggs, chop the yolks and egg whites into chunks, and place them into the bowl, along with the chopped onion.
To liven up the dish, consider adding chives, fresh dill, and lemon juice. Stir all the ingredients gently and serve the salad right away or store it in the refrigerator or freeze it in a sealed container.
Preparing your favorite egg salad recipe for a family gathering is a great way to bring everyone together for a meal.
However, this salad spoils rather quickly when sitting out. Refrigeration is best to keep it fresh short term, and the freezer is ideal for storing all that leftover egg salad.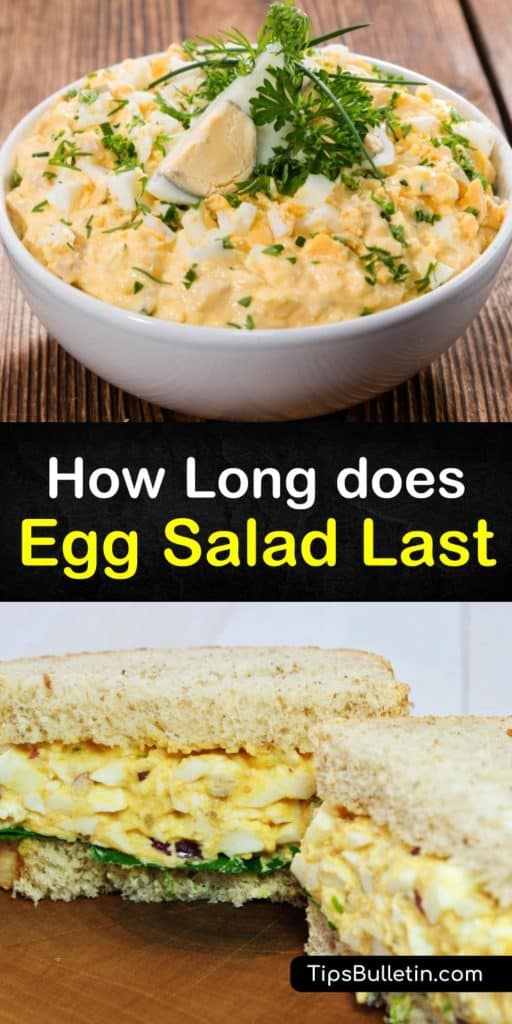 How long does egg salad last is a common question and understanding how to store egg salad keeps it fresh longer, so why not share our egg salad storage guide with your family and friends on Facebook and Pinterest?